ou may be surprised to learn that upgrading your vehicle's battery can be considered an audio upgrade. Sure, a battery stores power, so you can start your vehicle. However, a battery based on newer, alternative designs has several advantages:
it can be cleaner to maintain,
it will offer more consistent power storage,
it will respond faster when your audio system needs the juice to deliver that impact you want
There are two things to consider when buying a new battery for your vehicle: cranking power and reserve capacity.
Cranking power, measured in CCA (cold cranking amps), is the number we see when shopping for a new battery. It's a measure of sheer power at a moment's notice for starting your car.
Reserve capacity refers to the power on hand for running your car's electrical system. It's the detail you want to focus on when using it to power an upgraded sound system.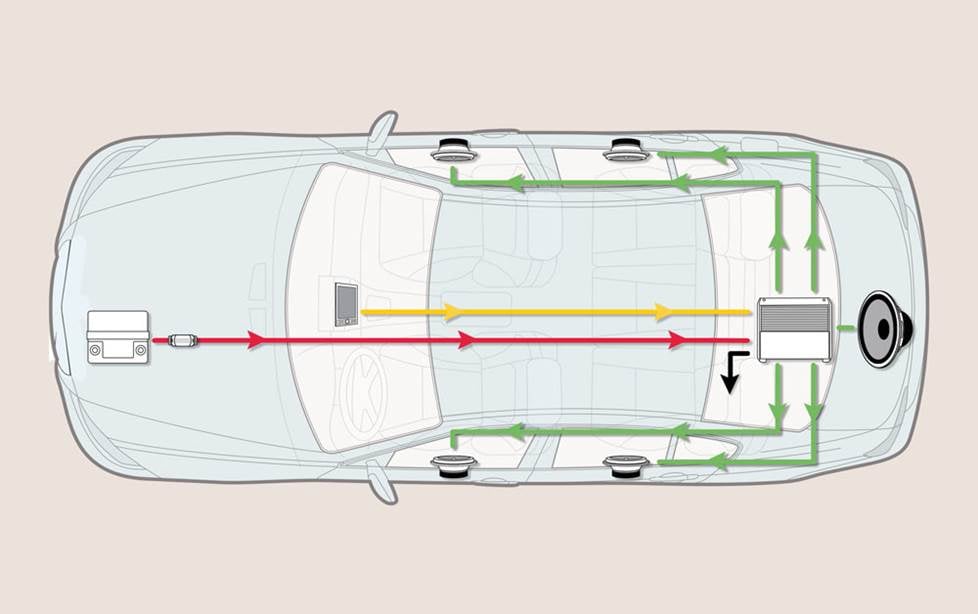 As you can see in this diagram, a sound system really starts at the battery.
Which battery type is best for my sound system (and my vehicle)?
Lead-acid (or "flooded" lead-acid) batteries have been and still are the most common car batteries. It's the one you'll likely see when you buy a new vehicle. They're also usually the most affordable to replace.
They do the job of starting your vehicle and running relatively simple electrical systems, but they rely on acid stored in a sealed case. If there's a crack in the case, or they're tipped excessively (think powersport vehicles), they can leak. And with more extravagant audio systems, they can sometimes struggle in delivering the power you need.
A lithium-ion battery is the latest battery technology, and with advantages like lighter weight for the power they store, they have a lot of promise for the future. But because of their high costs and currently poor recycling programs, they're not yet a consumer darling.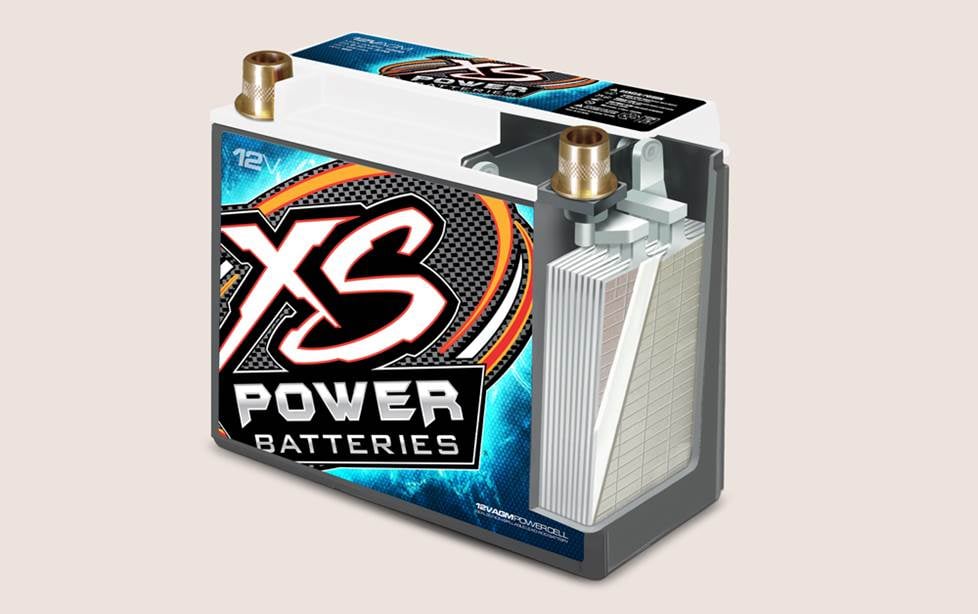 AGM batteries for better performance
AGM (Absorbed Glass Mat) batteries offer a nice balance of starting power and, more importantly for our discussion, strengthened reserve capacity over lead-acid batteries. They're generally more expensive, about twice the price of a lead-acid battery, but far less than the price of a lithium-ion battery.
If you have a lot of powered accessories on your vehicle (such climate-controlled seats, powered lift gates, accessory lighting, etc.) and you have or want to add a sound system with some serious wattage, we'd recommend an AGM battery for your needs.
With an AGM battery, there's no acid sloshing around inside, so they're more resistant to vibrations in a vehicle. Plus, they look cooler than old-school batteries – something to consider if you enter car or sound competitions.
What's the real benefit of an AGM battery?
One of the main reasons to consider an AGM battery is their ability to handle deep drains of power better than their lead-acid rivals.
Why's this important to you? The big bass impact you want to hear and feel sucks power out of your electrical system. Subwoofer hits demand instant power. When properly charged, an AGM battery's reserve can handle the needs of a subwoofer amplifier – even without a capacitor in your system to combat those dimming lights when the boom boom hits. You can apply the money saved on a capacitor to the new battery and support your entire electrical system.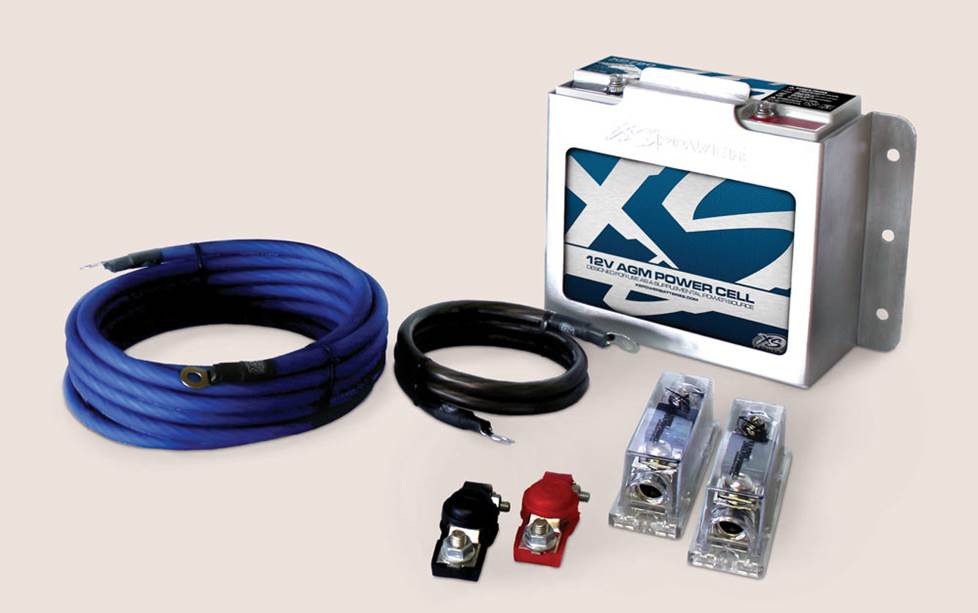 The XS Power XP750CK second battery kit handles audio systems up to 1500 watts and comes with everything you need for the installation.
Adding a second battery
It's not always necessary to replace your vehicle's current battery. Adding a second battery to concentrate on your audio system lets the primary battery focus on starting and your vehicle's other electrical needs. This is also a great way to add-on to a marine-grade audio system, too.
Note: If your main starting battery is more than a two years old, or it's ever been drained to the point to where it wouldn't start your vehicle and had to be charged or boosted, we suggest replacing the main battery first before adding a second battery.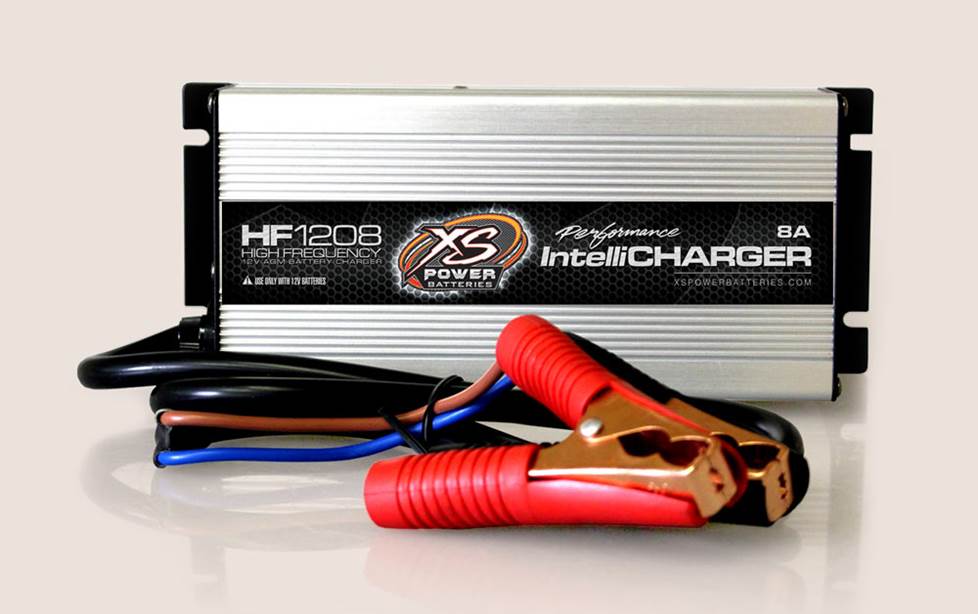 Charging and maintaining your AGM battery
Prior to installation, your AGM battery needs to be properly and fully charged. And, as you've probably noticed, car batteries will self-discharge over time. They don't like to sit around doing nothing.
Your vehicle's alternator recharges your battery when the car is running. If your vehicle (and audio system) won't be running on a regular basis, like a show car that's stored during the winter, a great way to maintain your battery is by connecting an appropriate battery charger to it.
A battery charger that's designed specifically for AGM batteries, like the XS Power models that Crutchfield carries, is a solid investment in keeping your battery full of juice and extending the overall life of the battery itself. We carry XS Power battery chargers that'll work with any AGM battery.
Choosing the right battery for your vehicle
If you're considering a battery upgrade, use our vehicle selector to find the right battery to fit your vehicle. Most XS Power batteries don't include terminal posts, but our website will also show you the right posts to make the battery work with your vehicle.
If you want to install an AGM battery from another brand, you'll need to measure your vehicle's battery compartment (length, width, and height) and you'll need to know the cold-cranking amps required for your vehicle. Most importantly, you'll also need to know the terminal polarity position for your vehicle's battery. This is the location of the positive and negative terminals, and it varies by vehicle.
How Crutchfield can help
The easiest way to make sure you get what you need is to contact us by phone or chat. Our advisors will find the compatible battery and hardware for a proper fit in your vehicle.