Best car audio gear for summer road trips
Great sound and cool tech makes every trip better
It's been a long, weird winter and it's high time to get out of the house and go somewhere – okay, anywhere – that's warm, fun, and absolutely not your living room. In this article, we'll take a look at come of the coolest car audio and electronic gear for your summer road trips.
he upside of a seemingly endless winter is that it gives you plenty of time to figure out where you want to go when your car's not covered in three feet of fluffy white annoyance. The beach? The mountains? An amusement park? A ballgame? The grocery store, to restock all the stuff you went through trying not to go all "Donner Party" on your family? Hey, pick your own adventure, but before you hit the road, be sure to pick up the right gear for your summer adventures.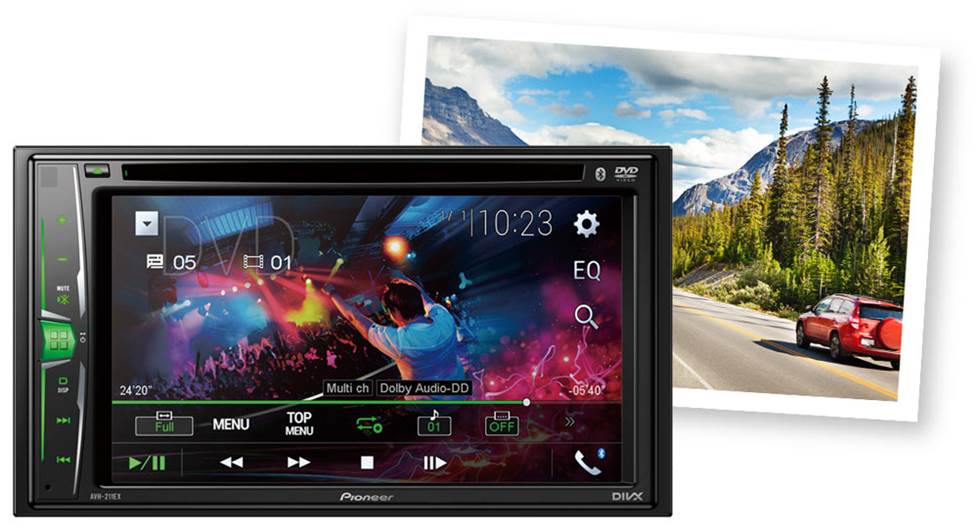 An upgraded receiver will give you great sound and all kinds of cool, road-trip-ready features
Start with a car stereo that rocks
Your car's stock receiver isn't what it used to be, in that it used to be a high-tech device that played all the media you could imagine owning and did all the things you needed a receiver to do. Nowadays? It's just kind of there. And when you're heading out on an epic adventure, anything that's just "there" is basically nowhere.
With a new receiver, you can play all your favorite music, whether you stream your music, still enjoy your CD collection, or both. If you like listening to the radio when you travel, many new receivers let you experience AM/FM radio with HD Radio™. And, of course, you can also choose a receiver that's SiriusXM-Ready and listen to your favorite music, sports, and entertainment programs coast-to-coast.
We carry a great selection of single-DIN (2" tall) and double-DIN (4" tall) receivers, so enter your vehicle information to see which ones fit your car or truck.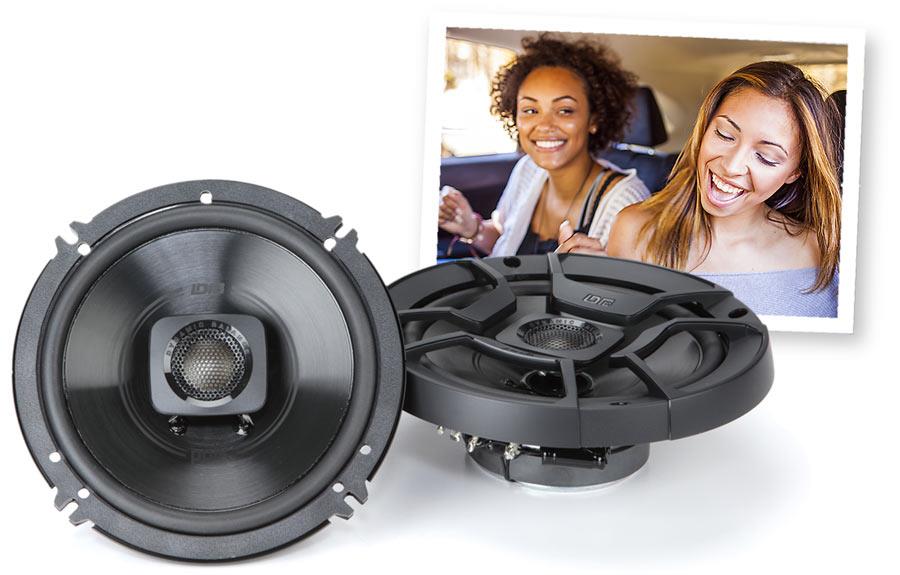 These 6-1/2" Polk DB 652 speakers are among our most popular car speakers
Better speakers mean better sound
Sometimes you don't want to replace the receiver. Sometimes, in some vehicles, you can't. That's a bummer, but you can still upgrade your sound with new speakers. There really isn't a more cost-effective way to improve the sound of your music than replacing your car speakers. Even an average set of aftermarket car speakers will be a healthy improvement over whatever the vehicle manufacturer stuck in there.
These 6-1/2" Polk Audio DB 652 speakers are anything but average. In fact, they're among our most popular car speakers. They sound great, they fit a wide variety of cars, and the price is right in the average motorist's sweet spot. To see all the speakers that fit your car, enter your vehicle information and see what our database has to say.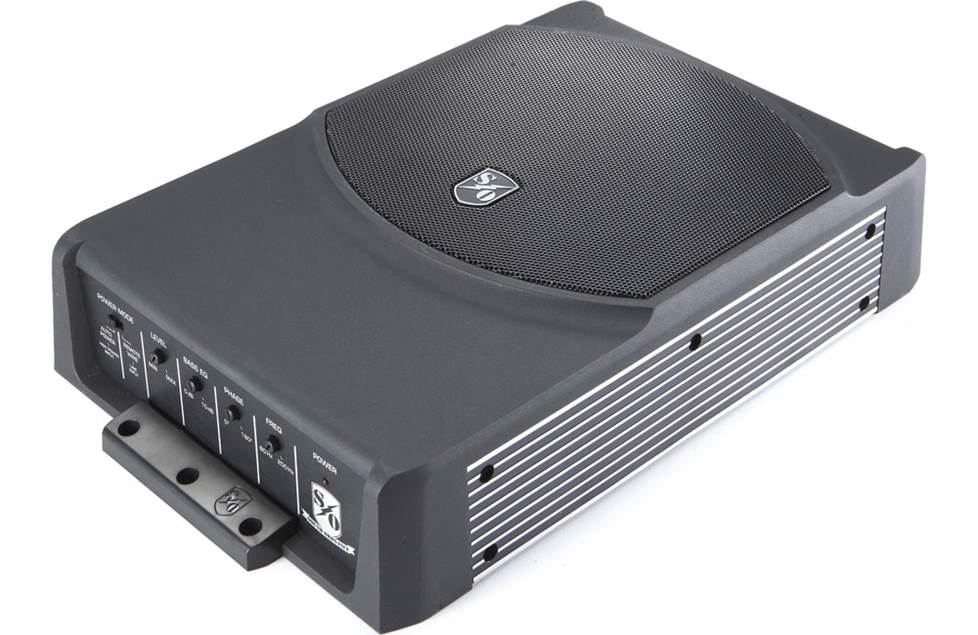 The Sound Ordnance B-8PTD powered subwoofer will fit under many seats and in storage areas
Fill out that sound with a powered subwoofer
Everybody needs more bass. Even you, Mr. or Mrs. Classical Music Lover. The high notes are always a thrill, but when you really hear the lows in your car for the first time, you'll wonder where that sound has been all your life. No matter what type of music you love, the richer, fuller sound that a subwoofer brings to your system will make every drive better.
You don't need a pair of huge 15" subs pounding away and eating up your luggage space, either. There are plenty of compact passive (you'll need an amplifier) and powered subwoofers that'll fill up your ears without taking up your valuable cargo room. Some, like the Kicker model above, can even fit under the car seats.
Check out our entire selection of bass packages to find a great solution for your car or truck.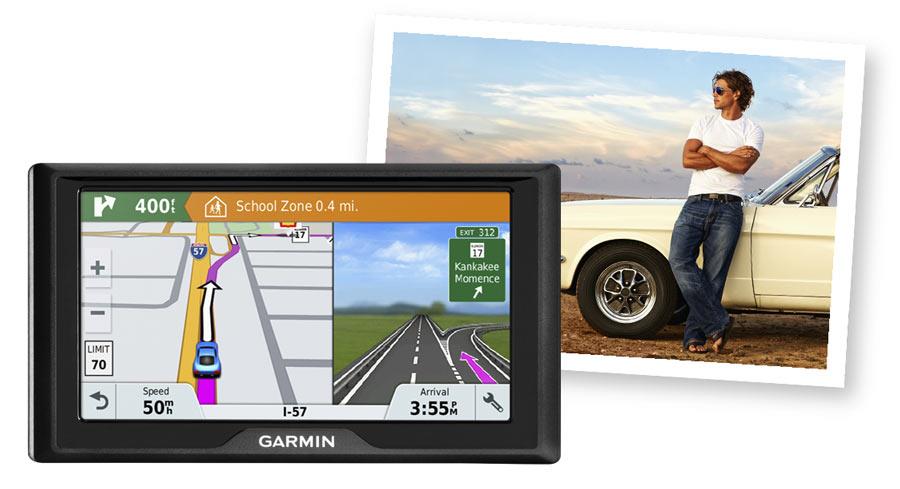 A portable GPS is a road trip essential
Get directions from a portable GPS navigator
Getting directions from an app is fine around town, but when you're driving long distances, it's not the best use of your phone. You might need that to, y'know, call someone. Or text your friends from a rest stop or literally anyplace else that isn't the driver's seat of a moving vehicle. With a portable GPS navigator, you'll get reliable directions, points of interest, traffic info, and more, plus you can put it in your pocket and navigate your way through a new town when you're on foot.
A portable GPS from Garmin, Magellan, or TomTom is also a great solution if you can't wedge a big double-DIN nav receiver into your vehicle's dash. They're a lot cheaper, too, which leaves you more money to spend on travel souvenirs.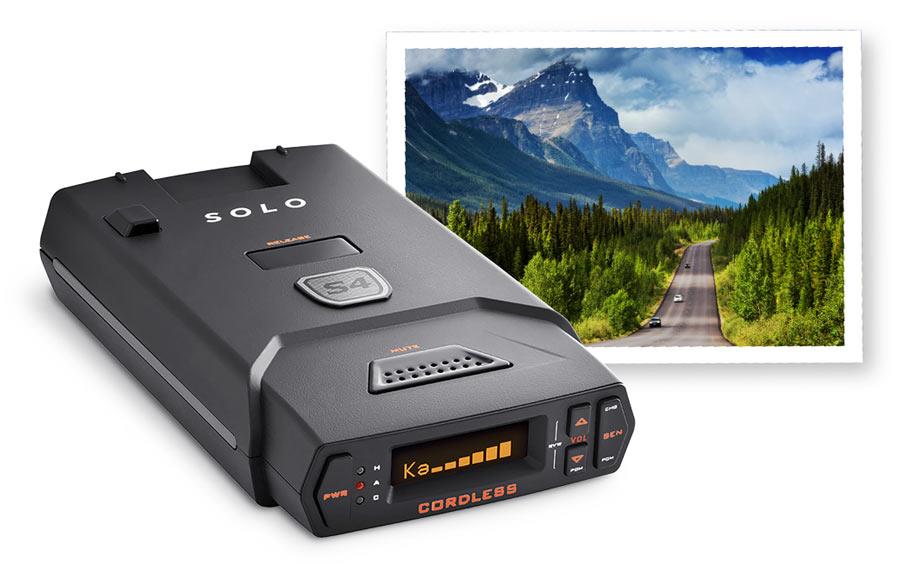 A radar detector gives you long-range protection when you're out on the road.
Drive smart with a radar detector
Adding a radar detector to your passenger vehicle doesn't mean you're a hot rodding hoodlum hell-bent on vehicular mayhem. It just means you're a smart person who doesn't want to spoil your trip by getting a ticket when you drive through an unexpected speed trap enforcement zone in an unfamiliar area. If you're travelling a lot this summer, a radar detector is a wise investment. And cordless models won't take up one of the 12-volt outlets you might need for phones and other devices.
Sorry, but we cannot ship radar detectors to Virginia or the District of Columbia – otherwise known as the two places where operating a radar detector does mean you're a hot rodding hoodlum hell-bent on vehicular mayhem. Or presumed to be, anyway.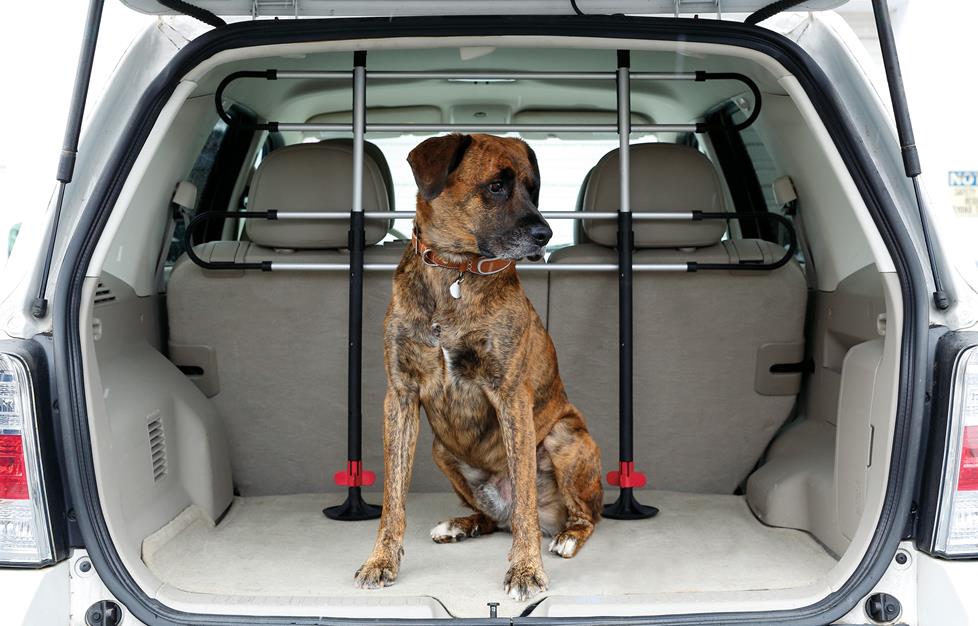 The WeatherTech Pet Barrier will keep your dog safer when you're on the road
Travel gear for your very good dog
Crutchfield is an incredibly dog-friendly place to work. And part of our dog-friendly philosophy involves making sure our best buds get to work safely and stay safe while they're here. The same gear we use every day will come in handy when you take your dog on the road.
You wouldn't let your human friends ride without a seatbelt, so why leave your dog unrestrained when you're on the road? WeatherTech's Pet Barrier will help keep your dog safe in the rear of your car, minivan, or SUV. It installs without the need for tools or drilling and it won't obscure your rearward vision.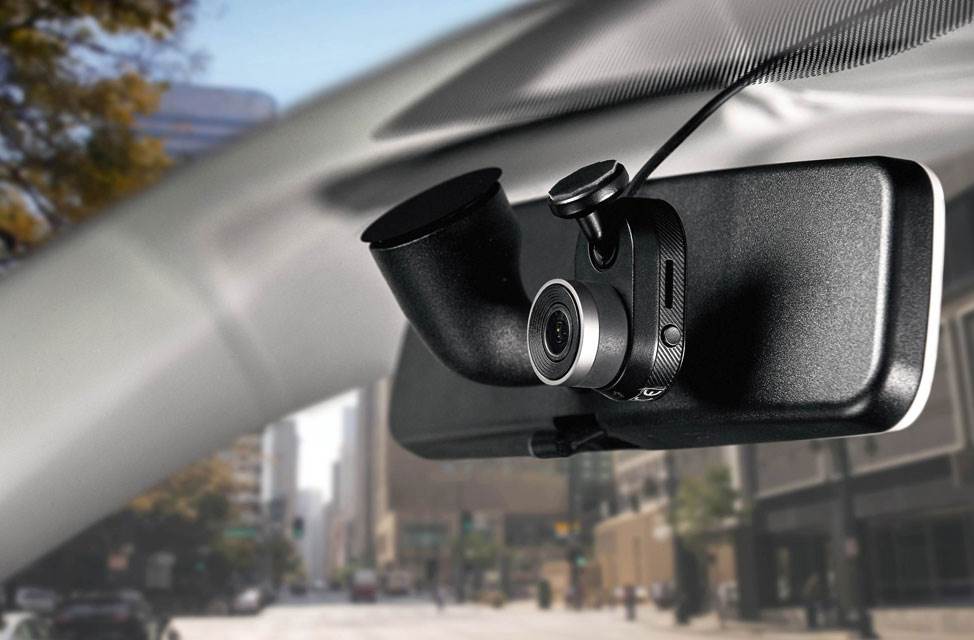 Adding a dash cam to your vehicle is a great way to capture your unique driving experience
Document your drive with a dash cam
Most roads and interstates are little more than long ribbons of pavement connecting one exit full of flair-filled theme restaurants to the next one. But not all of them. Some roads are flat-out spectacular for both drivers and passengers. If your route is going to involve time on some of the continent's most amazing stretches of roadway, add a dash cam to your driving kit. It's a great way to capture every switchback and scenic view for later viewing.
You can also document the foolish thing the guy in front of you just did, which can be handy if you happen to get into a fender-bender. Speaking of which, a dash cam is nice to have around town, too, because we all know how bad the drivers are in (choose a state).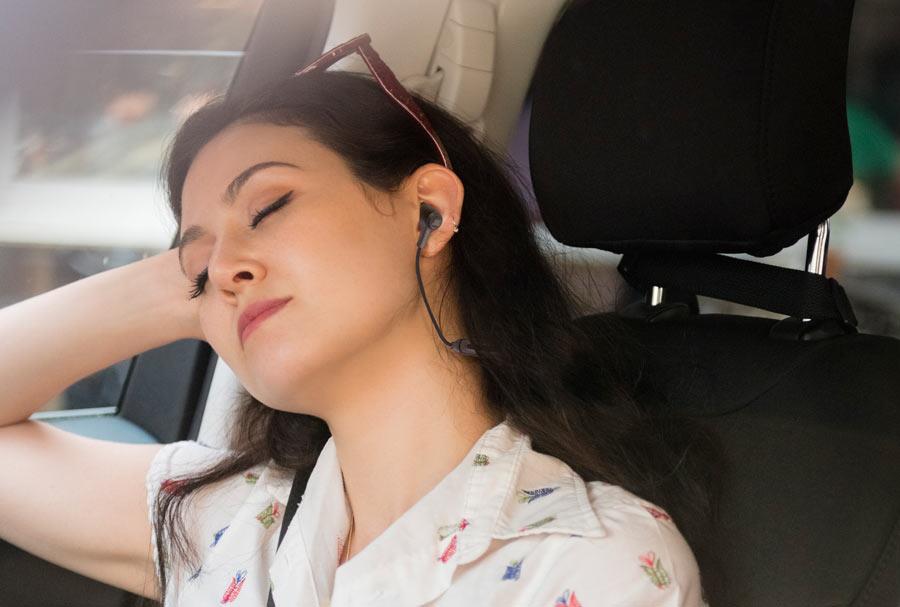 Relax and tune out with earbuds or earphones
Tune in, tune out
It's fun to travel with other people, but sometimes when you're not driving or navigating, it's nice to tune out and watch the scenery go by. With a set of quality earbuds or headphones in your travel bag, you can listen to your tunes or just zonk out and rest up for all the fun you'll have when you get where you're going.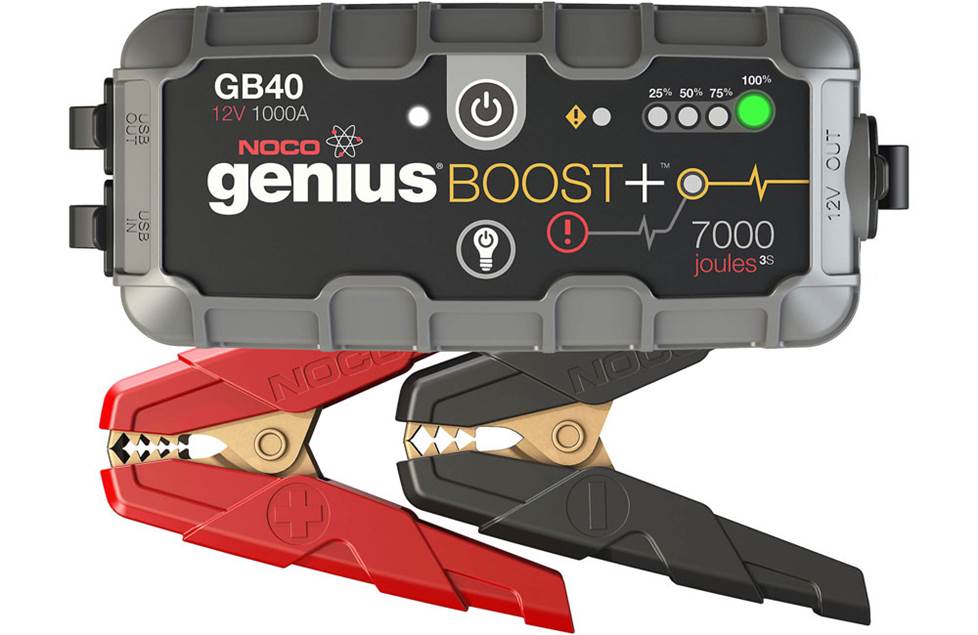 The NOCO GB40 can start your car and charge your devices, so it's a great thing to have when you hit the road
Get a charge when you need one
Life is short and everything dies — especially batteries. What your travel kit needs is a powerful, portable power pack that can charge your smartphone, your tablet, your camera, your gaming system – and even start your car. We carry a full line of portable chargers that'll take the drama out of a dead battery in the middle of nowhere.
The NOCO GB40 Boost+ has the juice to start the most important travel accessory — your car. Plus several others, if need be. It comes with clamps, a USB adapter cable, along with the AC/DC and 12-volt cables you'll need to keep it fully charged at home or on the road. And there's a storage pouch to keep it all together.
Got questions? That's what we're here for!
Ready to start gearing up for your summer road trip? Our Crutchfield Advisors are available by phone or chat. They'll be glad to help you prioritize your gear list for summer vacation.
Popular questions customers ask
Adding GPS navigation requires that you get a touchscreen stereo, of course, and you have two options. First, Android Auto and Apple CarPlay let you use your favorite GPS app including Apple Maps, Google Maps, and Waze. If you want GPS navigation without tying up your phone, you'll have to get a new stereo with built-in navigation.
Yes, when connected via USB or Bluetooth, you can play music from your phone on the radio. And if you're using CarPlay or Android Auto, you can control most music apps from the stereo's touchscreen for a "true" car stereo feel.
Our vehicle database is unmatched. We've taken apart the dashes and door panels of more than thousands of vehicles and measured every space and bolt pattern. We'll also make sure you get the right installation gear when you order.
You'll need a special adapter to keep those handy buttons working with your new stereo. When you shop on our site, we'll show you all the options for installation hardware, including the right adapter for the steering wheel controls.
New stereos will often work with your existing backup camera. We'll let you know before you make your purchase. If your car doesn't already have a camera, you'll find compatible backup cameras under the stereo's "Accessories" tab on our site.