Upgrading the stereo system in an older Toyota
A daily-driver Camry gets an audio makeover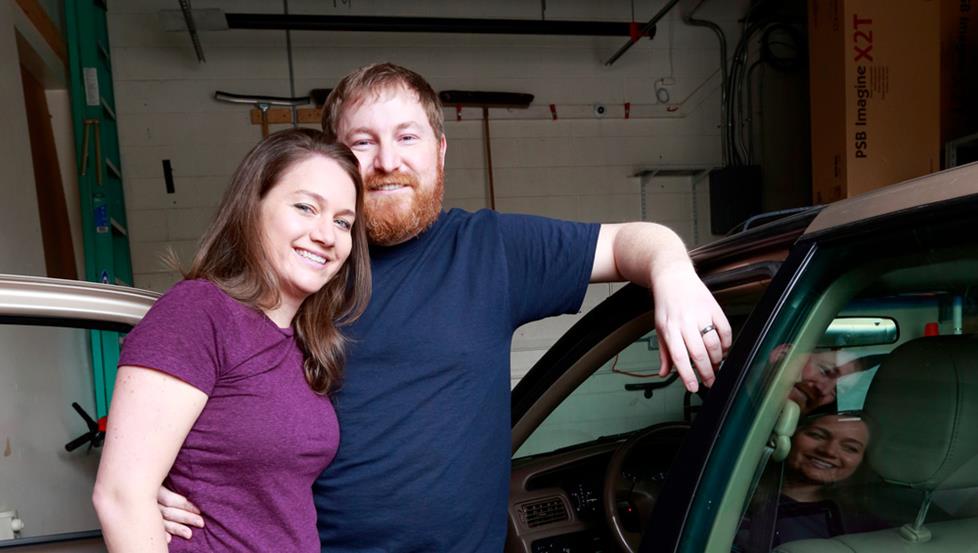 The aged and broken factory system had to go
Longtime Crutchfield Advisor CJ and his wife Kristy recently acquired a 1998 Toyota Camry that was in great shape for its age, with one glaring exception: the sound system was awful. CJ explained that one speaker wasn't working, and sound from the others distorted even at low volumes.
As daily chauffeurs for their three kids, they couldn't take the factory sound system any longer. Calling upon his expertise as an Advisor and Kristy's assistance, CJ decided to take on an upgrade with help from Crutchfield.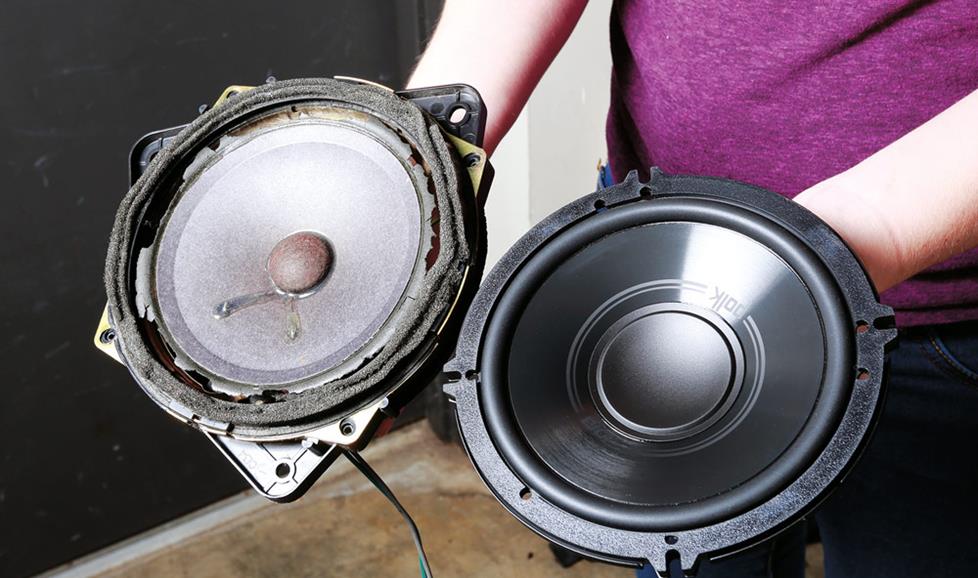 CJ gave us a little demo of the factory sound system, and we only could stand it for a few seconds. There was a lot of buzzing and little volume, somewhat understandable due to its age.
Later, when we pulled out the old speakers, we could easily see the problem. The surrounds were rotted away, typical for a factory speaker that old. They're not made to last like the new Polk DB+ speakers that CJ chose. The Polk DB+ components will deliver a warm, smooth sound.
Kristy and CJ decided to give the car an audio makeover by installing a new receiver, new speakers, and a small powered sub to make their journeys more enjoyable.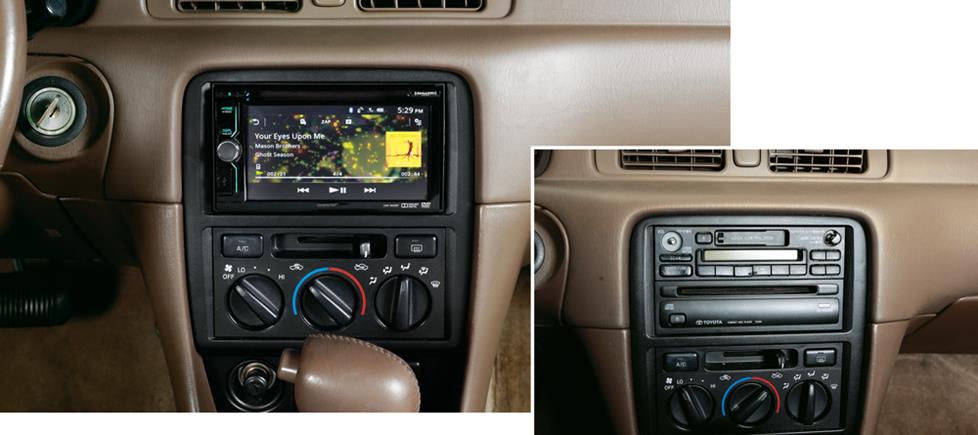 Before and after shots of the factory radio and the Sony touchscreen DVD receiver (left).
Installing a new media center
Kristy and CJ wanted to add some cool modern features like Bluetooth® connectivity and touchscreen controls to their Camry, so they chose the Sony XAV-602BT DVD receiver. It also provided one surprising feature their 14-year old daughter had to have – an old-school CD player.
Staying in sequence with our Crutchfield MasterSheet instructions, they began the installation with the car stereo. Since it was a fairly straightforward process, it gave them some momentum as they progressed to other parts of the installation.

With the help of Crutchfield's MasterSheet instructions, Kristy and CJ quickly removed the factory radio and installed the new receiver in the dash.
If you're looking for step-by-step instructions on how to install a car stereo or speakers in your Camry, there's nothing better than our exclusive
Crutchfield MasterSheet
™. This detailed, well-illustrated document is free with your Crutchfield order, or you can purchase one separately for $9.99.
Replacing the worn out old speakers
With the Sony car stereo installed, Kristy and CJ moved on to the speakers. They opted for the Polk DB+ DB6502 6 1/2" component system up front and matching Polk DB+ DB692 6"x9" 3-way speakers for the rear deck.

After popping the door panels off and checking out the Camry's inner workings, CJ and Kristy installed the tweeter, woofer, and crossover from the new Polk DB+ component speakers.
Installing the speakers was a little trickier than the radio replacement. Even so, Kristy and CJ seemed really excited about seeing the insides of their car and getting closer to hearing better sound.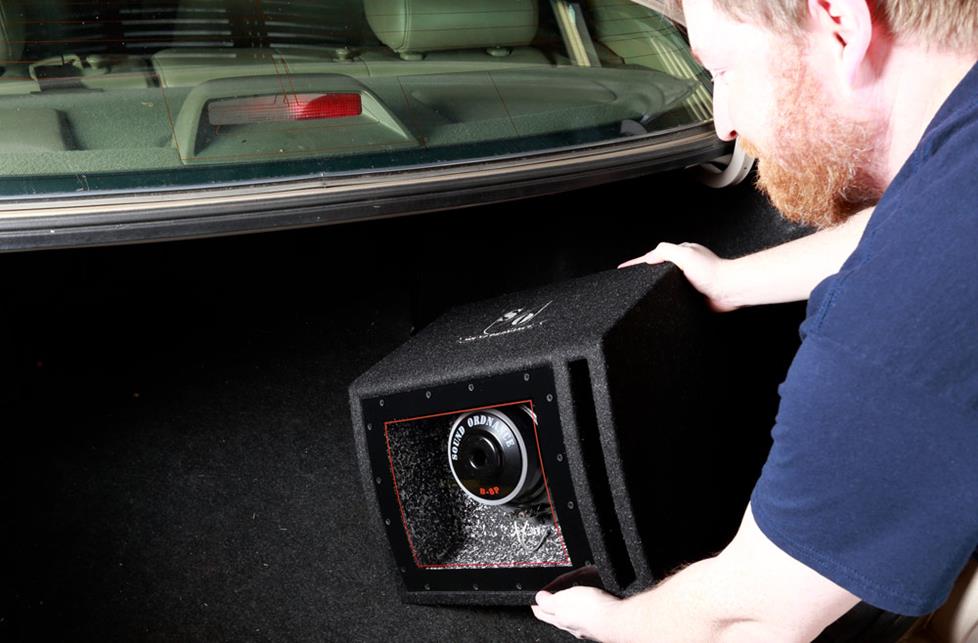 The couple wanted some additional bass to complement the rest of their upgraded system.
Adding some oomph to the music
Kristy and CJ decided that they'd add a little more to the new system in the form of a subwoofer. Subs can really round out the overall sound in your system, even if you're not into a lot of bass. They provide the bass response that smaller speakers simply can't create, and they make the overall soundstage more full and expansive. Since this car is older, Kristy and CJ didn't want to put a lot of money or work into getting more bass, so they installed a Sound Ordnance B-8P powered 8" sub in a bandpass box.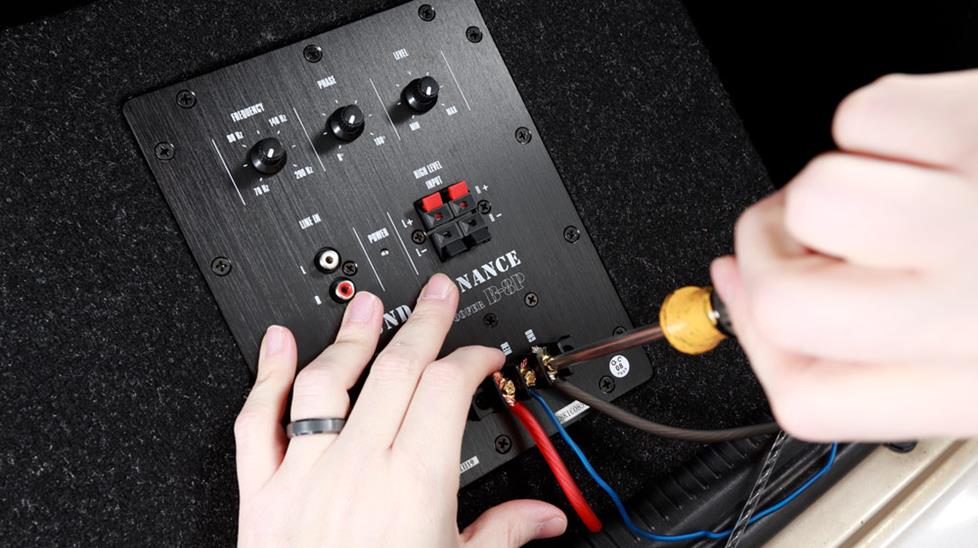 Once the connections for the sub were run throughout the vehicle and secured to the sub, Kristy and CJ were ready for a sound check.
Final thoughts
As we worked closely with Kristy and CJ, we could tell they were enjoying the fact that they were learning more about their Toyota. They were also excited to complete the installation and get to the listening part, which was going to completely change their commute. Kristy stated that, with this new sound system, they "were going to be the coolest parents ever." After that, it wasn't surprising to learn that now CJ rarely gets to enjoy the Camry; it's Kristy's. Maybe next time, CJ?
When you're ready to upgrade your old or new vehicle, use our vehicle selector to see what will fit, and contact Crutchfield by email, phone, or chat. We're here to help improve your system.