1969-1974 Chevrolet Corvette
Upgrading the stereo system in your Corvette
1969 • 1970 • 1971 • 1972 • 1973 • 1974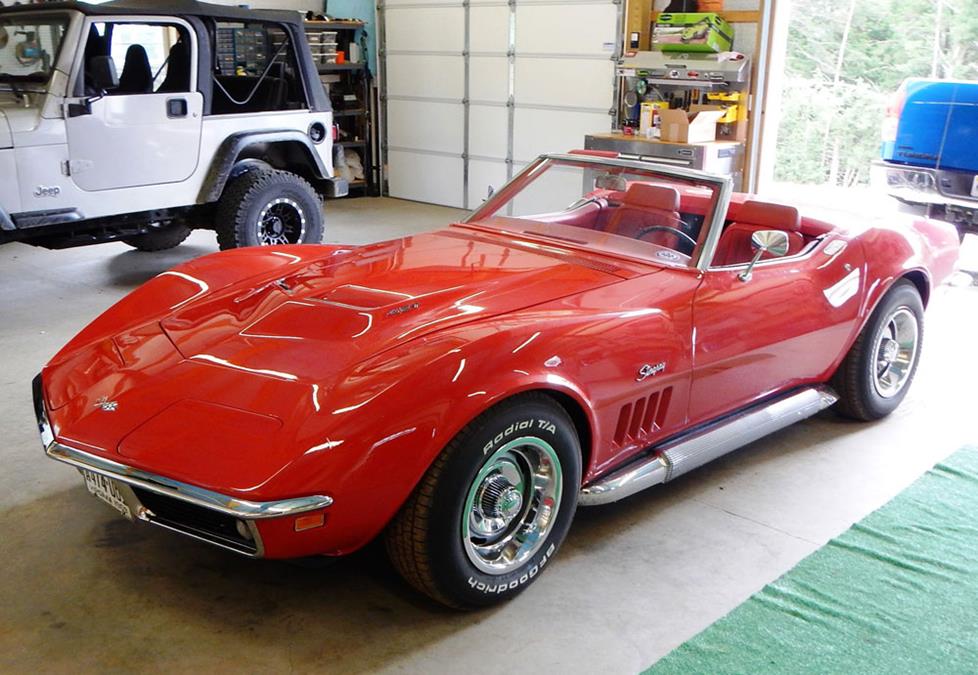 In brief: This Crutchfield Research Garage article gives you an overview of your Corvette's stock stereo system and your aftermarket upgrade options. We'll tell you all about:
Then, use our vehicle selector to find the gear that will fit your car.
Overview of the Chevrolet Corvette
What can we say about the C3 Corvette that hasn't already been said? These classic sports cars are fun to drive, drop-dead gorgeous, and every bit as likely to turn heads now as when they were new. Some of these cars are museum pieces, of course, but there are still plenty of driveable examples that are more than ready for a weekend romp on a country road. If yours is one of them, why not upgrade the stereo and speakers?
"But I don't want to cut into my dash!" you say. You don't have to! RetroSound's shaft-style digital media receivers fit right into your 'Vette and there are plenty of speakers that can be installed behind the factory grilles. Nothing sounds better than a V8 engine, of course, but if you like classic tunes as much as you like classic cars, a new stereo is a great way to add more fun to any drive.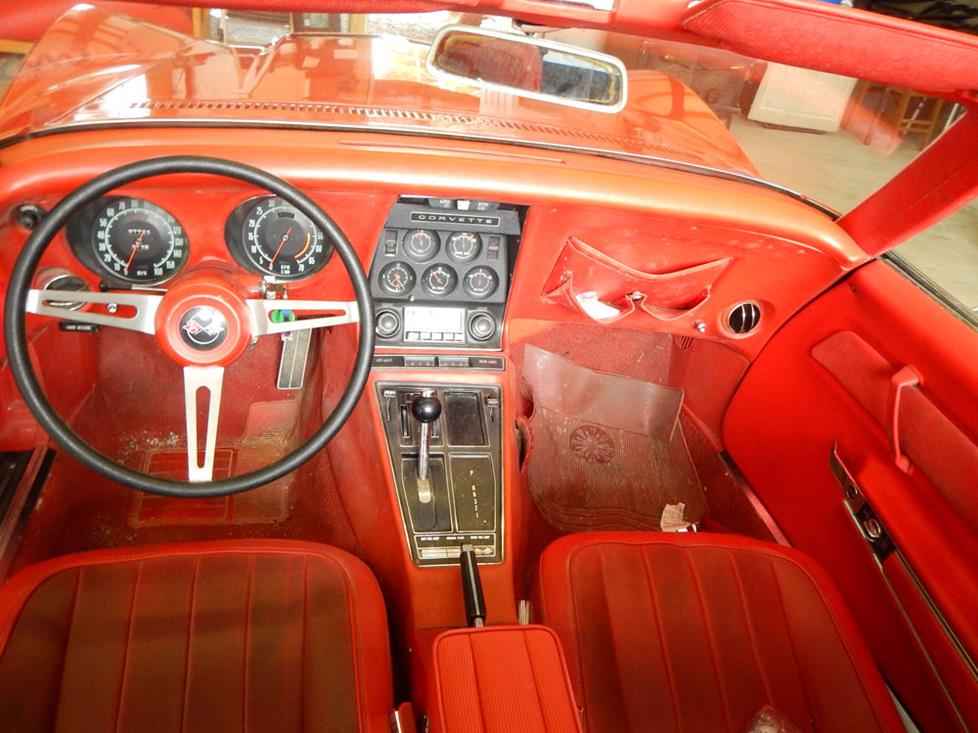 The Corvette's cockpit is a tight space, but there's room for bigger sound (Crutchfield Research Photo)
The factory stereo system
The stock radio is a shaft-style AM/FM piece and while it might still be working, it's probably not sounding all that great. Once upon a time, the only way to replace it was to hack a hole in the dash and install a single-DIN (2" tall) receiver. Lots of people did, including possibly you or one of your Corvette's previous owners. If that's the case, you can swap it out for a more modern CD receiver or, if you use your smartphone as a music player these days, a digital media receiver.
If your car still has the original receiver and you want to upgrade your sound and functionality without cutting into the dash, choose a shaft-style receiver from RetroSound. These super-cool digital media receivers give you up-to-date audio features like Bluetooth® connectivity, USB ports, and an option to add satellite radio, but they're designed to blend right into vintage vehicle interiors. Several models fit your Corvette, so once you choose a receiver, you'll need to choose the knobs you want.
When you buy from Crutchfield, you'll get free access to our Tech Support team for the life of your audio gear. They can help with installation questions and offer advice on how to set up your gear.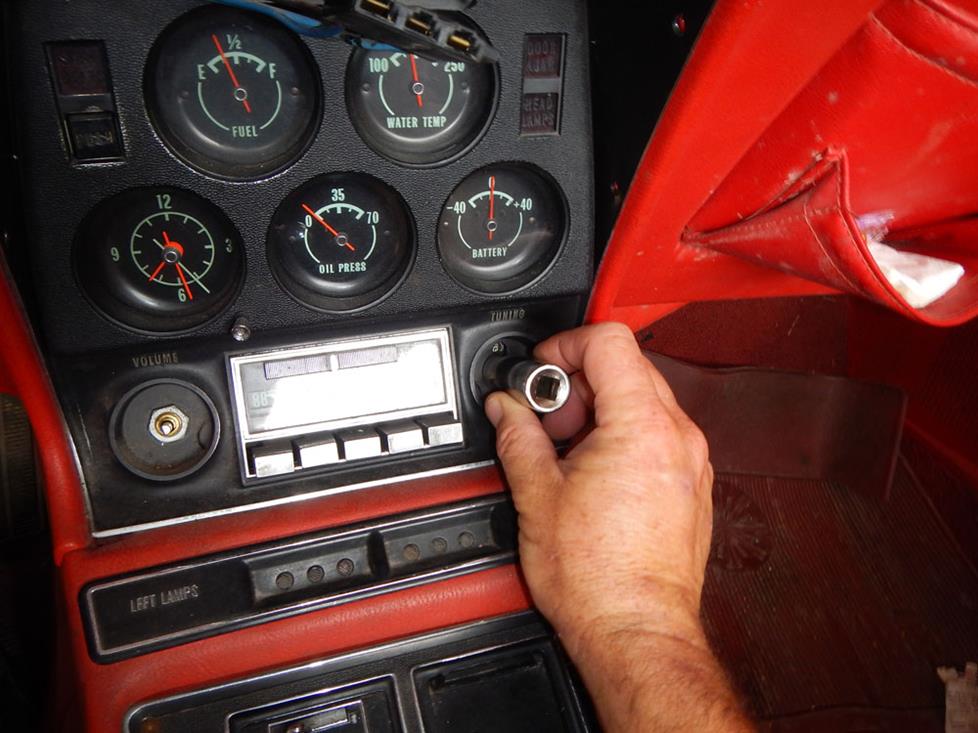 The stock radio is eady to remove, but it's a lot easier when you stay organized and keep track of the hardware (Crutchfield Research Photo)
Removing the factory radio
Removing the old radio isn't difficult, but there are quite a few steps involved, so it's important to work carefully and stay patient. If you're dealing with a stock radio, you'll be removing hardware that hasn't been touched in four decades, so resist the urge to go ape on stuff.
There's quite a lot of hardware to remove, hence the number of steps in the process. Again, none of this is hard to do, but staying organized and keeping the (reusable) hardware together and accessible will make your life a lot easier.
The (slightly) complicated part arises from the fact that the radio and speakers are hard-wired together, so you'll need to cut the speaker wires to remove the radio. There's also no wiring harness available for this installation, but fear not, there is a solution. Make sure you add some PosiConnectors to your order to make good, solid connections between your new speakers and stereo.
Again, if you're installing a single-DIN (2" tall) receiver you'll need to do some cutting and fabricate a dash kit. This is not easy, so unless you're an experienced hand at custom car work, you might want to pass this job on to a professional.
Tools needed: Phillips screwdriver, 3/8" & 5/8" socket, ratchet and extension, 3/8" open-ended wrench
Shop for car stereos that fit your Chevrolet Corvette
Removing the factory speakers
Whether you have a convertible or a coupe, speaker replacement is a reasonably easy (and probably much-needed) upgrade.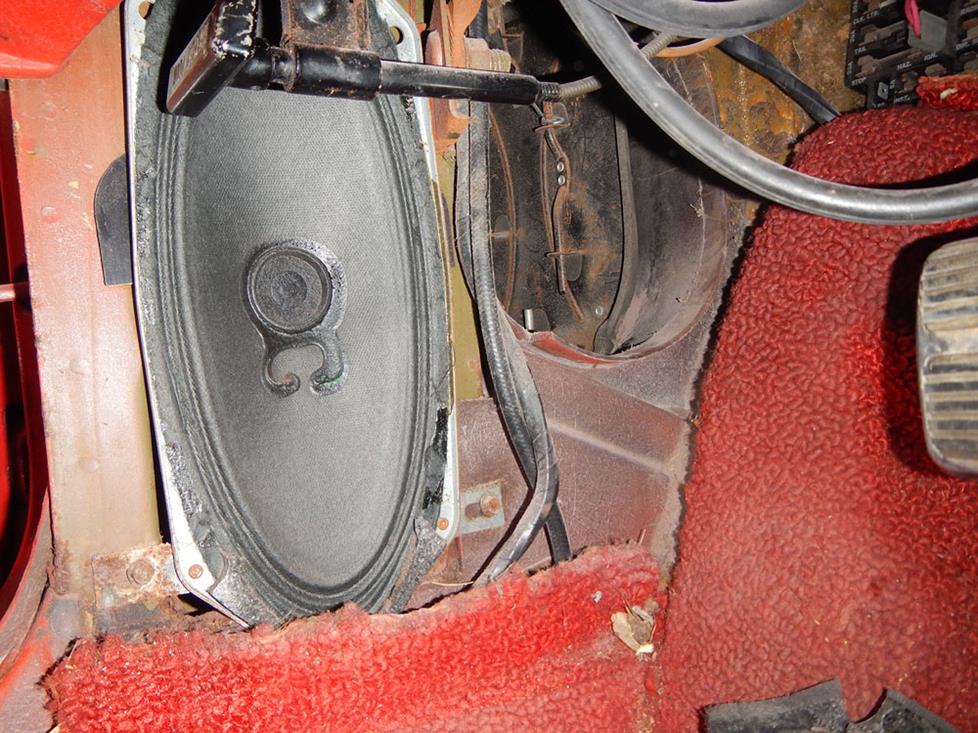 The kick panel speakers are reasonably easy to replace, but you will have to drill new screw holes (Crutchfield Research Photo)
Kick panel speakers (Convertible)
In the ragtop version of this 'Vette, the factory speakers are in the kick panels. They're shallow mount 4"x10" models that are secured using riveted brackets. There's not enough room in here to mount same-size aftermarket speakers, so we recommend installing 4"x6" speakers. You can also go with 4" speakers, which will require mounting brackets. They're included when you buy your speakers at Crutchfield.
In any event, you'll need to drill new screw holes. That's not too challenging for most DIY-ers, but you are drilling into some old metal here, so wear eye protection and be very aware of what's around and behind the area where you're drilling.
You'll also cut the factory speaker wires and use Posi-Products speaker connectors to connect these speakers to your new receiver.
Tools needed: Phillips screwdriver 1/4" socket, ratchet, and extension
Dash speakers (Coupe)
The corner dash speakers were never all that outstanding to begin with, plus they've been in the sun for almost 40 years. Needless to say, a subtle upgrade is a good idea if you're into good sound. You can replace the old speakers with either 4" or 4"x6" aftermarket models, but you'll need speaker adapter brackets if you go with the smaller ones. No worries, we'll include them with your purchase.
We don't have detailed instructions on these models, but based on other Corvette coupes we've seen, the job is pretty simple. Use a panel tool to pry up and remove the speaker grille, then remove the screws securing the speaker to the dash. Pull it out, disconnect it, connect the new speaker, secure it, test it, and (if it works, which it should) reinstall the grille.
Tools needed: panel tool, screwdriver or socket wrench to remove speakers
Rear speaker (Coupe)
The coupe's rear speakers can be found in the rear of the cockpit, and while we don't have a step-by-step guide here, either, we can't imagine it's too hard to replace them with 6"x9" or smaller aftermarket models. You'll need to fabricate a mounting bracket or use a couple of our universal backstraps to hold them in place. There's some room to be creative here, but the more creative you get, the more fab work you or someone else will have to do.
Shop for speakers that fit your Chevrolet Corvette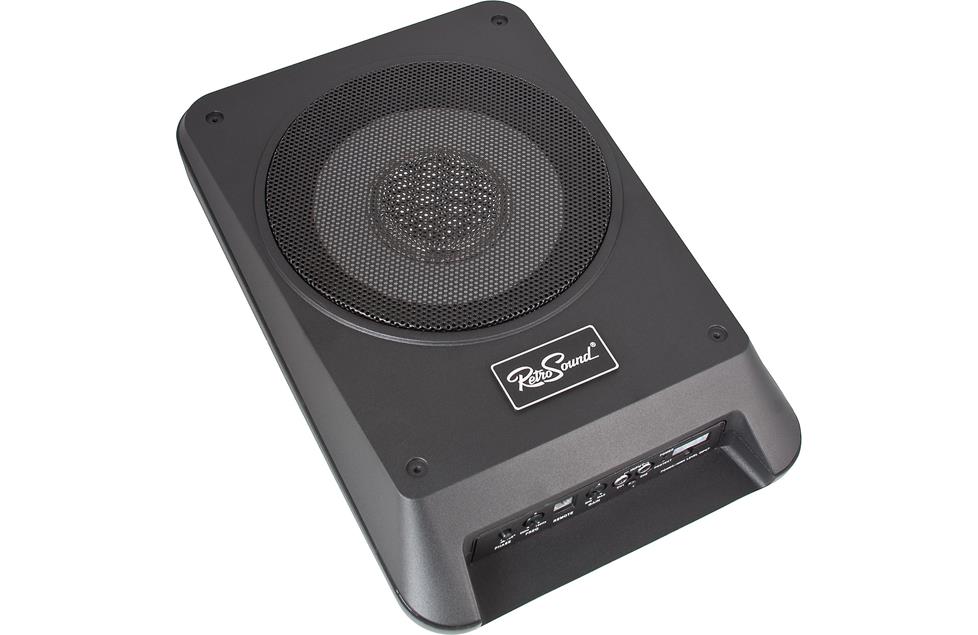 The ultra-compact RetroSound SUB-8100 is a nice sub for your 'Vette.
Bass in your Corvette
There's not a ton of space in this car, obviously, but if you're feeling creative, you can find space for a compact powered subwoofer. Or, you can get really creative and add a component sub to a remade rear panel.
Other options for your Corvette
Here are some other good ideas for your classic Corvette.
Add an amp
A new amplifier will help you get the most out of your new speakers. You'll get cleaner power (and a lot more of it), which will result in much, much better sound.
Security
Installing a security system in your vintage Corvette isn't easy (security systems rarely are), but with a car like this, it's definitely a good idea. Our Crutchfield Advisors can help figure out what you need to get the job done, but we usually recommend taking your car and new gear to a professional installer.
Let's get started!
Ready to shop? Use our vehicle selector to find the gear that will fit your car or truck. If you have questions of your own, give us a shout via phone, chat, or email