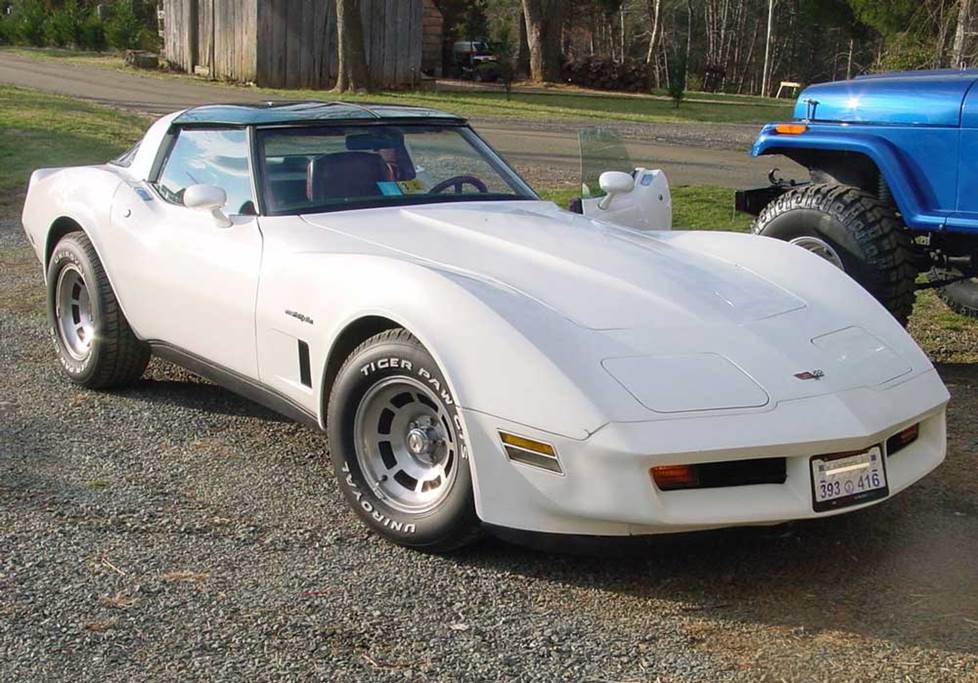 In brief: This Crutchfield Research Garage article gives you an overview of your Corvette's stock stereo system and your aftermarket upgrade options. We'll tell you all about:
Then, use our vehicle selector to find the gear that will fit your car.
Overview of the Chevy Corvette
The final few years of the C3 Corvette era had its share of highs (pacing the Indy 500) and lows (the anemic 305 engine), but overall, this version of the 'Vette was a very successful refinement of a classic design.
Considering how many C3's were sold over the years, it's no surprise to see plenty of thoroughly enjoyable "drivers" on the market, along with the expected assortment of bubble-wrapped-since-new Pace Car replica, Silver Anniversary, and Collector Edition cars. You'll also find some pretty wild custom jobs with body kits, hot-rodded engines, and all sorts of other creative takes on creating the perfect 'Vette.
Whether you're starting with a worn-out factory system or upgrading someone else's idea of a bitchin' stereo circa 1991, there's a lot to be done with these cars. From add-on accessories that improve functionality without disturbing provenance to your own idea of what a stereo should sound like, you have some excellent options to choose from. So take the car cover off, get your tools out, and get ready to enjoy your very own "Corvette Summer" with an upgraded audio system.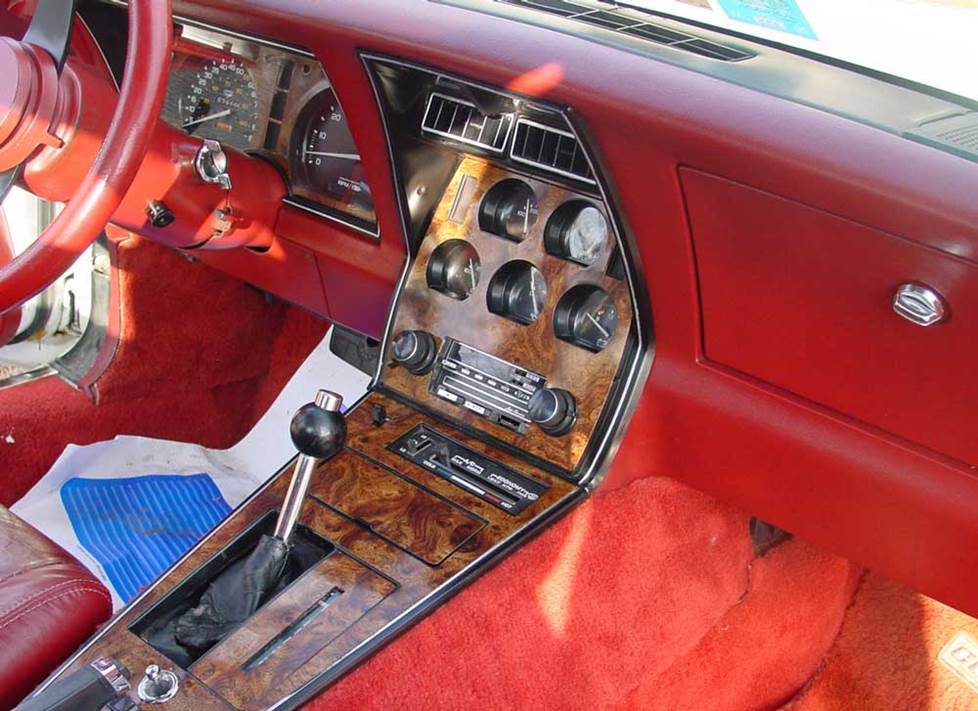 The stock radio is a shaft-style model that blends right into the dash (Crutchfield Research Photo)
The factory stereo system
The stock radio was a shaft-style AM/FM/Cassette radio and while it might still be working, it's probably not your favorite thing about the car's interior. Once upon a time, the only way to replace it was to hack a hole in the dash and install a single-DIN (2" tall) receiver. Lots of people did, including possibly you or one of your Corvette's previous owners. If that's the case, you can swap it out for a more modern CD receiver or, since there's not a ton of space for CDs in this cockpit, a digital media receiver.
If your car still sports its original receiver and you want to upgrade your sound and functionality without cutting into the dash, choose a shaft-style receiver from Retrosound. These super-cool digital media receivers give you up-to-date audio features like Bluetooth® connectivity, USB ports, and an option to add satellite radio, but they're designed to blend right into vintage vehicle interiors. Several models fit your Corvette, and once you choose a receiver, Retrosound lets you choose the knobs you want, for a truly custom look in your dash.
When you buy from Crutchfield, you'll get a very nice discount on the wiring harness you need to connect your new receiver to your car's wiring. You'll also get a free Crutchfield MasterSheet, which contains detailed, illustrated stereo and speaker replacement instructions, plus free access to our Tech Support team for the life of your audio gear.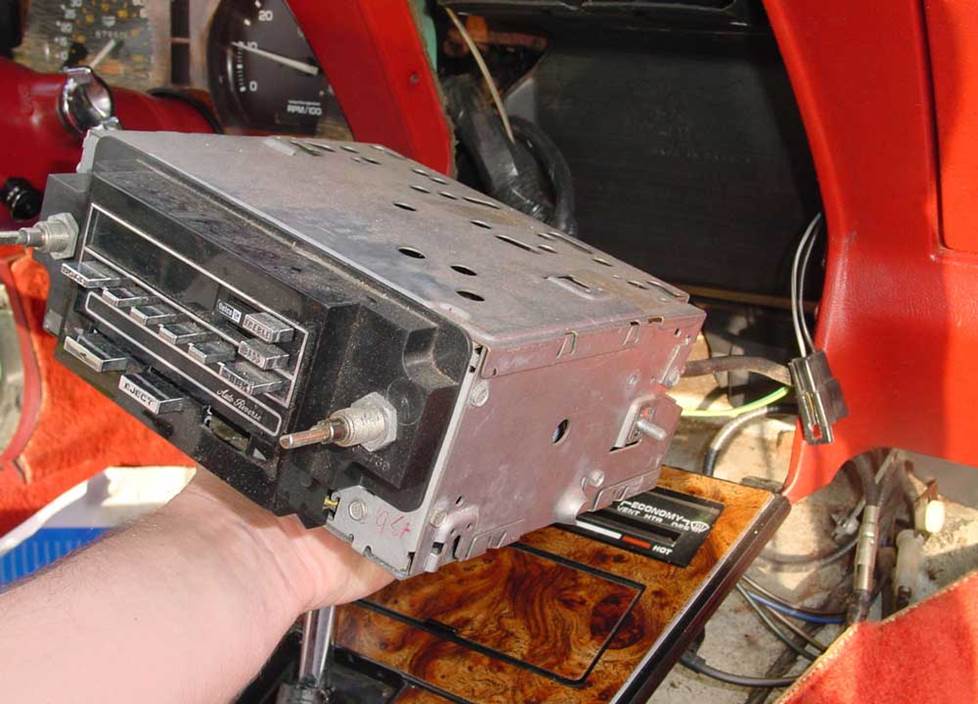 There's a lot of radio behind that woodgrain panel (Crutchfield Research Photo)
Removing the factory radio
The first thing you'll need to do is set the parking brake and disconnect the negative battery cable to prevent any electrical short. With that straight, you can start removing the old receiver.
Remove the two Phillips screws under the top edge of the receiver trim panel, then remove two more Phillips screws (one on each side) of that panel. Pull off the factory radio control knobs, then use needle-nose pliers to remove the shaft nuts on each side.
Next, you'll remove one Phillips screw from the carpet on the passenger's side of the console, then push the carpet down to expose the radio's side bracket. Remove the 3/8" nut from the bracket and store it with the other hardware you've removed.
Detailed stereo and speaker removal instructions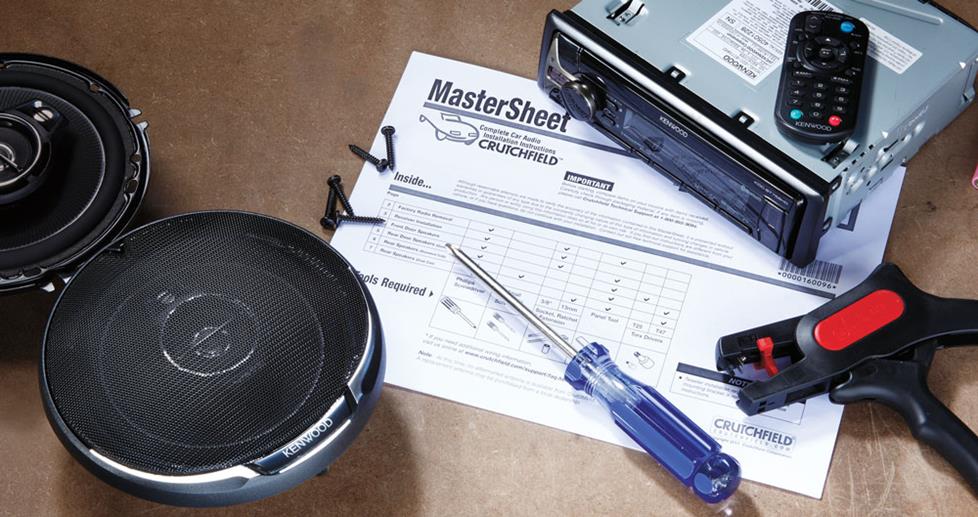 With step-by-step disassembly instructions and plenty of up-close, detailed photos, our exclusive
Crutchfield MasterSheet
™ takes the guesswork out of removing the factory stereo and speakers. It's free with your Crutchfield order, or you can purchase one separately for just $9.99.
Pull the receiver trim panel from the dash and disconnect the wiring harnesses to remove the trim panel. Be careful, because you can accidentally damage the defroster switch when you're doing this. Once you have the radio out of the cavity, disconnect everything and remove it.
Installation instructions for your new shaft-style receiver can be found in your MasterSheet. It's a pretty simple job and if you're any kind of a DIY-er at all, you can handle it. If you run into trouble, our Virginia-based tech team is here for you.
Once everything's reconnected, be sure to test the receiver and make sure it's working before you finish reassembling the trim panels.
Tools needed: Phillips screwdriver, 3/8" socket, ratchet and extension, needle-nose pliers, deep socket (size depends upon receiver)
The RetroSound Long Beach is one of several "shaft-style" receivers that fit your Corvette
Antenna
If your car doesn't have an antenna or the one you have doesn't work, replacements are available and step-by-step instructions are included in your Crutchfield MasterSheet.
Read our Car Stereo Buying Guide for shopping tips and advice.
Shop for car stereos that fit your Chevrolet Corvette
Removing the factory speakers
The C3 Corvette has speakers in the dash and rear deck. And maybe the front doors, but that's a whole 'nother deal.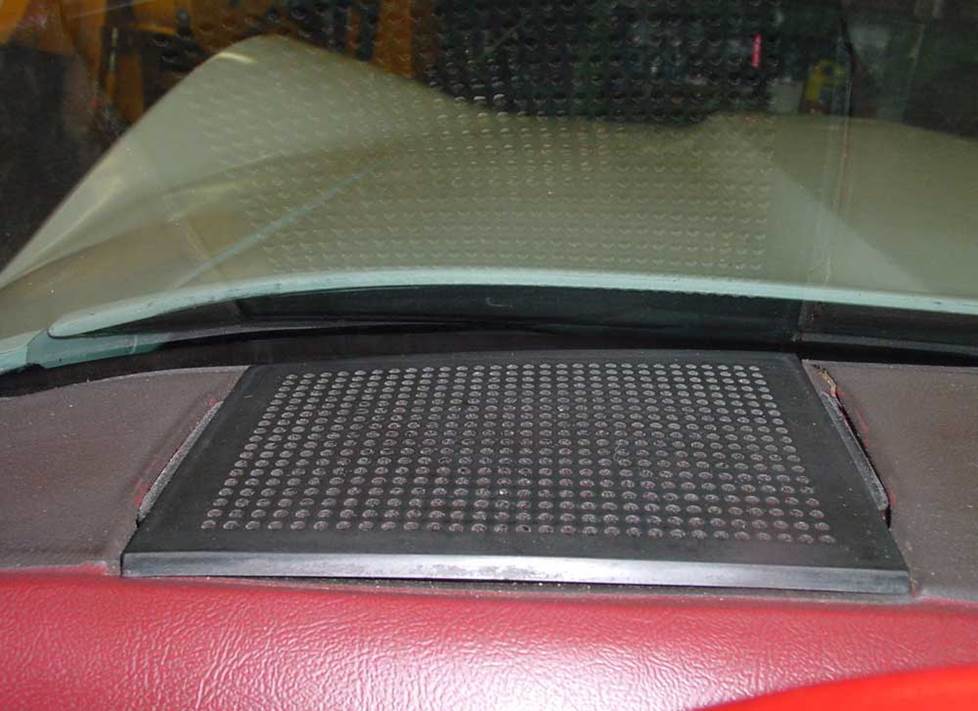 The stock speakers aren't much, but the view's nice from here (Crutchfield Research Photo)
Dash speakers
The corner dash speakers were never all that outstanding to begin with, plus they've been in the sun for almost 40 years. Needless to say, a subtle upgrade is a good idea if you're into good sound. You can replace the old speakers with either 4" or 4"x6" aftermarket models, but you'll need speaker adapter brackets if you go with the smaller ones. No worries, we'll include them with your purchase.
The actual job is pretty simple. Use a panel tool to pry up and remove the speaker grille, then remove the four 7mm screws securing the speaker to the dash. Pull it out, disconnect it, connect the new speaker, secure it, test it, and (if it works, which it should) reinstall the grille. Badda-bing, you're done.
Tools needed: panel tool, 7mm socket, ratchet and extension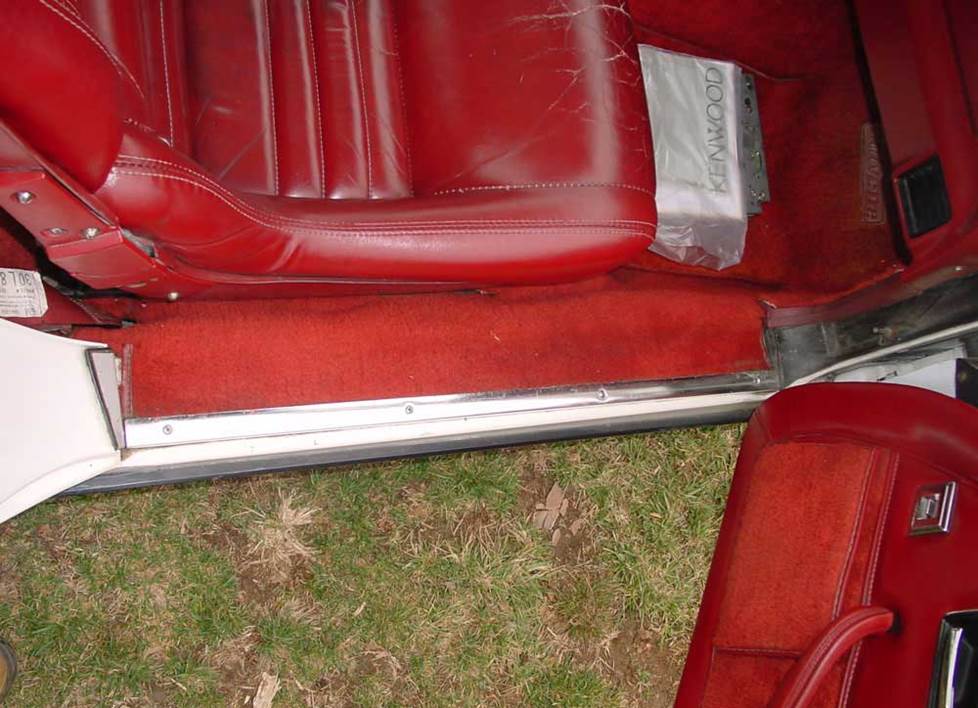 This Corvette doesn't have door speakers. That's probably a good thing, but your opinion may vary. (Crutchfield Research Photo)
Door speakers
Your Corvette did not have door speakers when it rolled off the line in St. Louis or Bowling Green. It might have them now, though, and if so, thank (or not) a previous owner. You'll probably want to replace them with new 4", 5-1/2", or 6-1/2" aftermarket speakers. You'll need to figure out what size is actually in your doors before you order. To help with that, read our article about understanding speaker sizes.
If your car doesn't have door speakers and you want it to, you'll need to cut holes in the doors. Depending on your DIY skills, you might want to farm that work out to a car audio shop. You'll need to run new wiring to this location, of course, which will be an additional challenge for you or somebody else.
On behalf of all the preservationists out there (Not to mention lazy people...), if your car doesn't have door speakers already, there's no need to go nuts with a hacksaw unless you're really, really serious about sound. On the other hand, if someone's already done the deed, you might as well take advantage of the situation and upgrade whatever's in there now.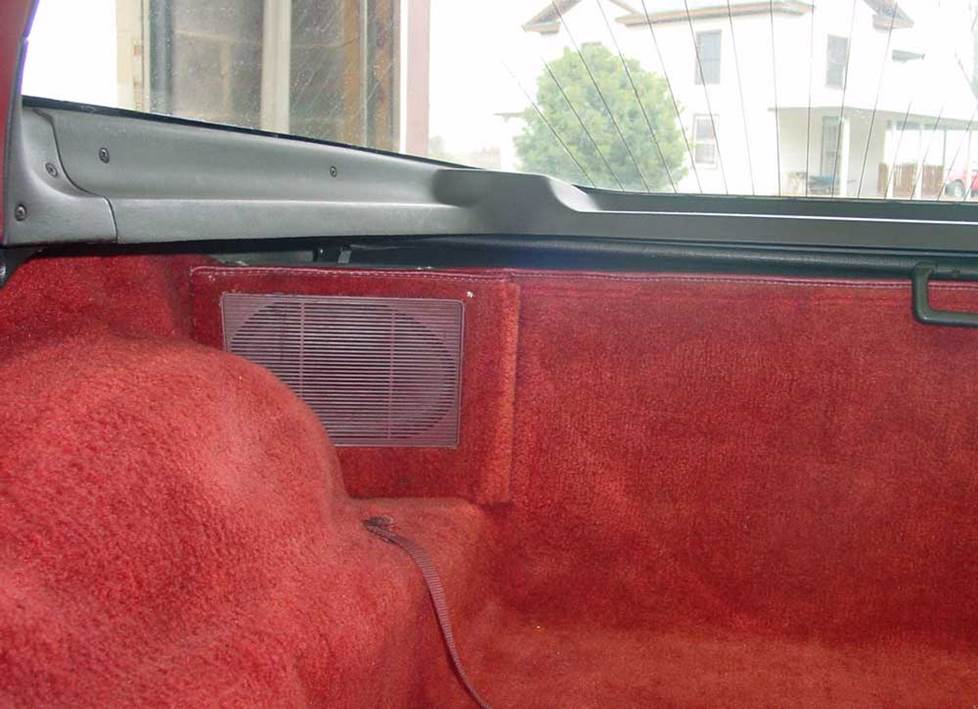 The rear speakers can be replaced by 6"x9" aftermarket models (Crutchfield Research Photo)
Rear speakers
The rear speakers can be found in the quarter panels, and you can replace them with a pair of 6"x9" aftermarket models. You'll need to fabricate a mounting bracket or use a set of our Universal Backstraps to hold them in place.
You'll start by removing one Phillips screw from the carpet located above the top right corner and another Phillips screw from the bottom of the speaker/grille assembly. Fold the assembly down to expose the rear of the speaker, then disconnect the speaker wiring harness.
The old speaker needs to be taken off the grille, so remove the four 3/8" nuts that secure it and get the old speaker out of there. From here, all you need to do is connect the new speaker's wiring adapter to the car's speaker harness and secure it using the 3/8" nuts you just removed. Test the sound, then button it all back up.
Tools needed: Phillips screwdriver, 3/8" socket, ratchet and extension
Read our Car Speakers Buying Guide for more information.
Shop for speakers that fit your Chevrolet Corvette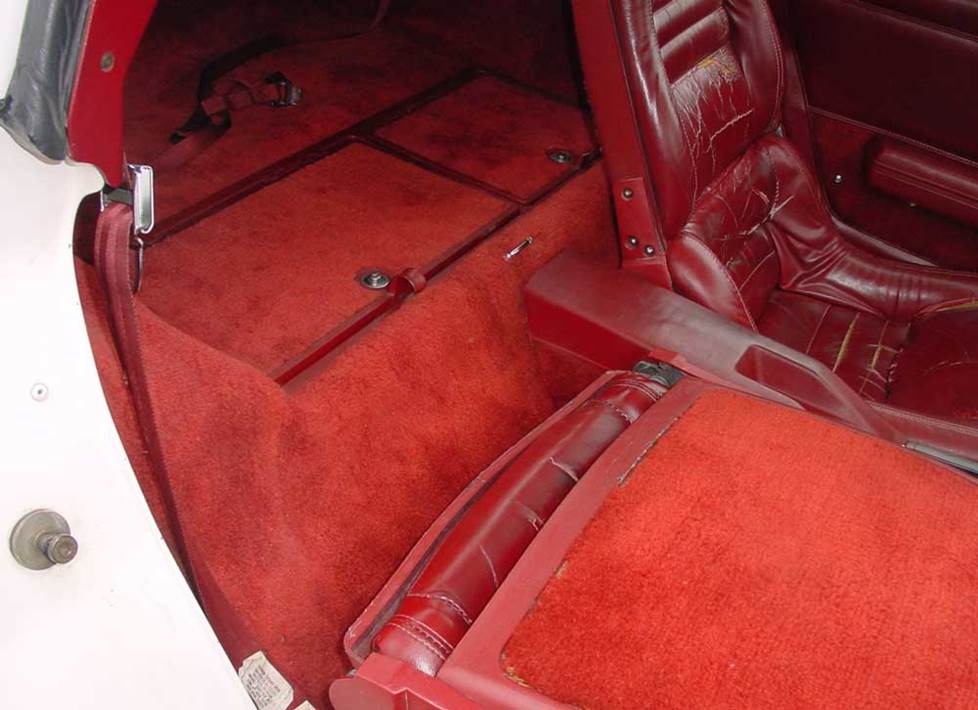 There's not a ton of space for bass in this car (Crutchfield Research Photo)
Bass in your Corvette
At the risk of overstating the obvious, a big subwoofer box just isn't going to work in this car. Nor will anything other than the most compact powered subwoofer. It's not like you're that far away from any of the speakers, so look for rear speakers with solid bass performance and you might be fine. If you do want more bass, a powered sub is your best bet.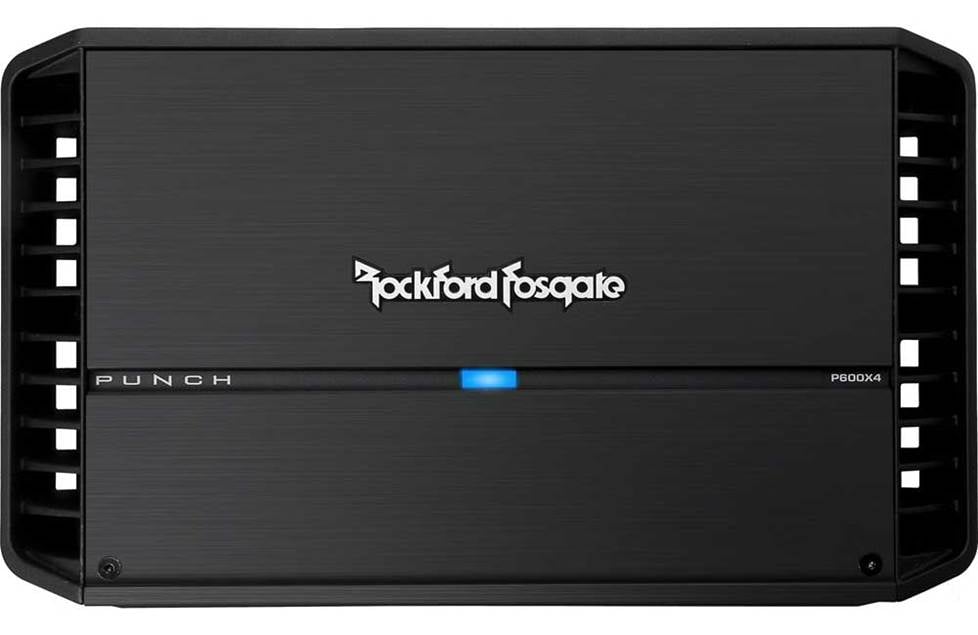 A compact amp will get the most out of your new stereo system
Other options for your Corvette
Here are some other ways to make your Corvette an even cooler ride:
Add an amplifier
If you really want your music to sound clear, especially at highway speeds with the windows down, you need a 4-channel amplifer. And if you want to keep the factory radio, look for an amp that has Bluetooth connectivity — you'll be able to stream music from your smartphone or music player directly to the amp.
Learn more about adding amps to your system in our Car Amplifier Buying Guide.
Security
Installing a security system in your vintage Corvette isn't easy (security systems rarely are), but with a car like this, it's definitely a good idea. Our Crutchfield Advisors can help figure out what you need to get the job done, but we usually recommend taking your car and new gear to a professional installer.
Let's get started!
Ready to shop? Use our vehicle selector to find the gear that will fit your car or truck. If you have questions of your own, give us a shout via phone, chat, or email