1991-2001 Acura NSX
Upgrading the stereo system in your NSX
1991 • 1992 • 1993 • 1994 • 1995 • 1996 • 1997 • 1998 • 1999 • 2000 • 2001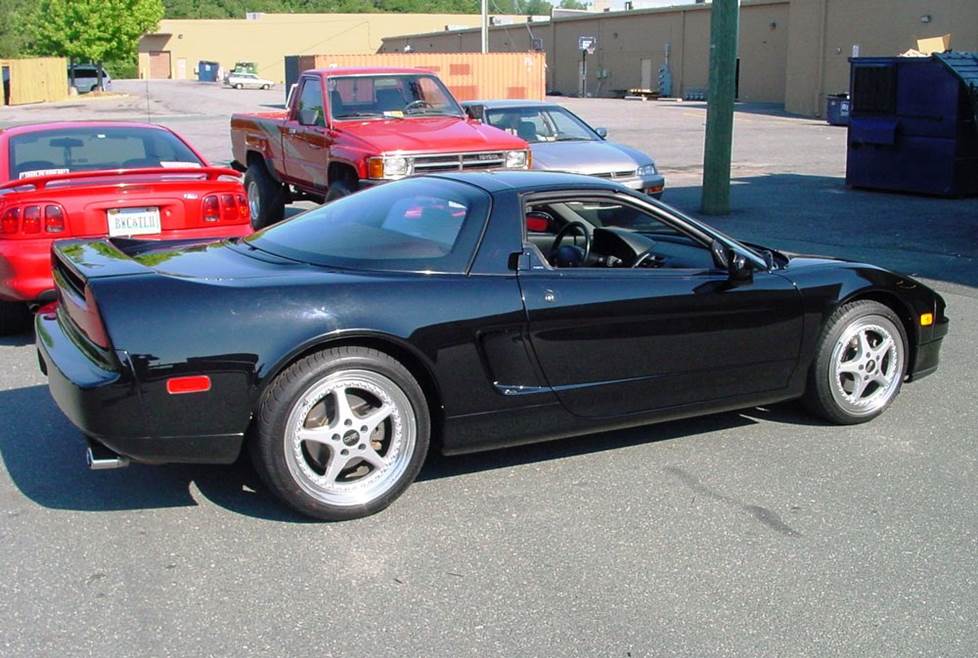 In brief: This Crutchfield Research Garage article gives you an overview of your Acura's stock stereo system and your aftermarket upgrade options. We'll tell you all about:
Then, use our vehicle selector to find the gear that will fit your NSX.
Overview of the Acura NSX
Everybody knows that exotic, high-performance sports cars are supposed to be thrilling to drive and slightly terrifying to maintain. After all, it's pretty much impossible to combine other-worldly performance with real-world drivability, right?
Actually, no. A couple of decades ago, Honda, a company well-known for finding ways to improve everything from motorcycles to cars to jets to lawnmowers, decided to see what they could do with the two-seat, mid-engine sports car concept.
The result was the NSX, a car that quickly joined Ferraris and Lamborghinis and the like on the list of "Car Posters Most Likely to Be Found on a Teenage Boy's Bedroom Wall." Unlike most European exotics of that era, the NSX could actually function in the non-poster world without the benefit of a full-time mechanic in a chase vehicle. And its driver could function without having a chiropractor on speed-dial, which was another somewhat revolutionary concept in exoticar design.
It's not every day that a sports car capable of eyeball-bending speeds can be described as "comfortable" and "reliable," but the NSX isn't your everyday sports car. Except that it kind of is, because it's one of the few true sports cars you'd actually want to drive every day. And if you do that, some mild enhancements to the stereo system will make those trips even better than they already are.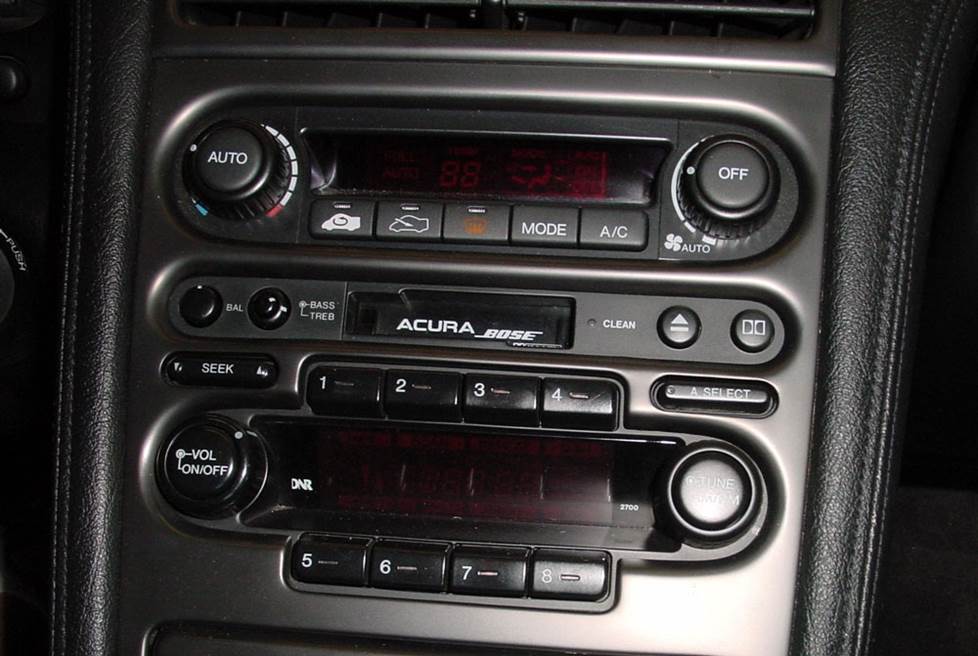 Installing a new stereo involves a ton of dash modification, so we don't recommend it. (Crutchfield Research Photo)
The factory stereo system
The NSX was and is an awesome piece of machinery. The factory stereo system, however, was a bit less than awesome, and now it's old. So what are your options?
The original receiver was an AM/FM/cassette deck that hung around until a factory CD player finally arrived in 2002. We have not had a chance to give a 2002-up NSX the full Research Team treatment. If you know something we don't, please share it in the Comments section below.
The standard Bose Audio system consists of one speaker in each door, a subwoofer built into the passenger side floor, and a single rear speaker located between the seats. There are three amplifiers; one for the sub and rear center speaker and one amp for each door speaker.
Upgrading the stereo in the NSX presents challenges, but it also presents opportunities. We'll hit the high points below, and if you have questions, our Advisors are here to help.
Note that these details apply only to the coupe. We have not had the opportunity to fully research a Targa, and while there are undoubtedly some similarities, we're not absolutely positive about everything. Best not to assume.
Generally speaking, we recommend that you turn any NSX stereo upgrade over to a professional. If you're a skilled, creative, and experienced DIY-er, have at it, but for most owners, going with a pro is the best option.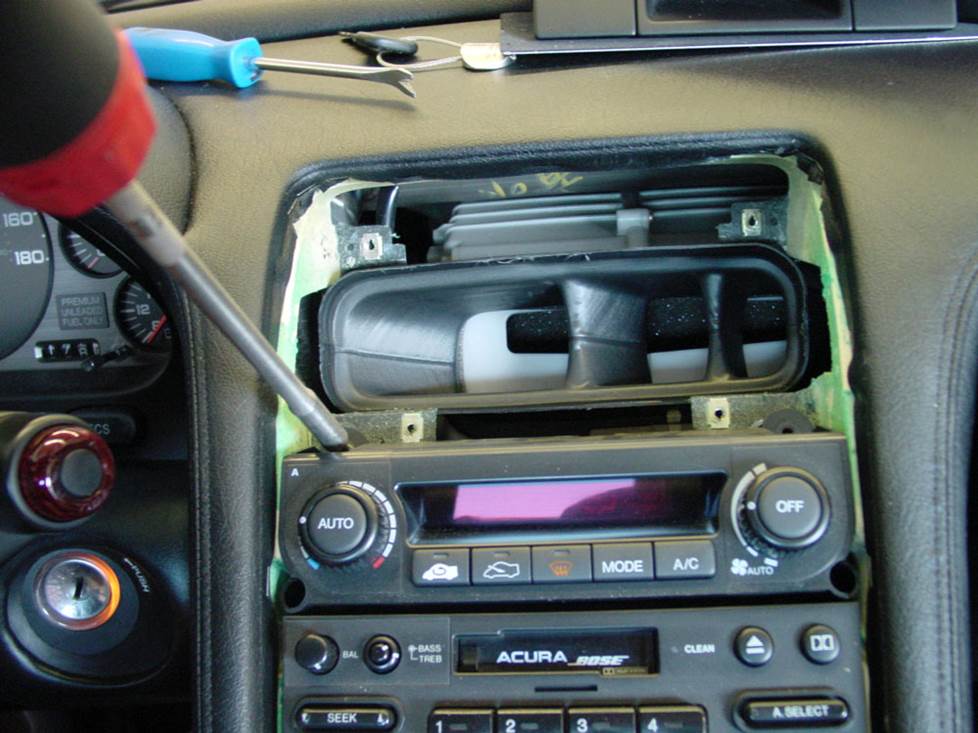 Don't try this at home (Crutchfield Research Photo)
Removing the factory radio (or not)
The stock stereo can be replaced, but it's not an easy project. Removing the radio isn't that hard. Replacing it involves a ton of dash modification, so we don't recommend it. There are other, easier ways to improve sound and functionality.
If you're an average DIY-er, we absolutely do not recommend trying it at home. There isn't an aftermarket dash kit for the first-gen NSX, so if you want to install a new stereo, you'll have to come up with your own solution in that area.
That means custom fabrication work, which is not something most folks are equipped to do. Our exclusive Research Notes will give you all the info you need to remove the stock stereo, but after that, you're pretty much on your own. If you do go full-custom and install a new receiver, we do have a wiring harness that'll work with your NSX, and you'll get a nice discount on it when you buy your new receiver from Crutchfield.
So there's one reason not to replace the receiver in your NSX. Another is that these cars are rather rare and even high-mileage ("well-loved"), mostly stock examples are starting to attract some collector and enthusiast attention these days. Some of those folks like their investments to be as stock as possible, so swapping out the radio could be problematic on that front.
Detailed installation instructions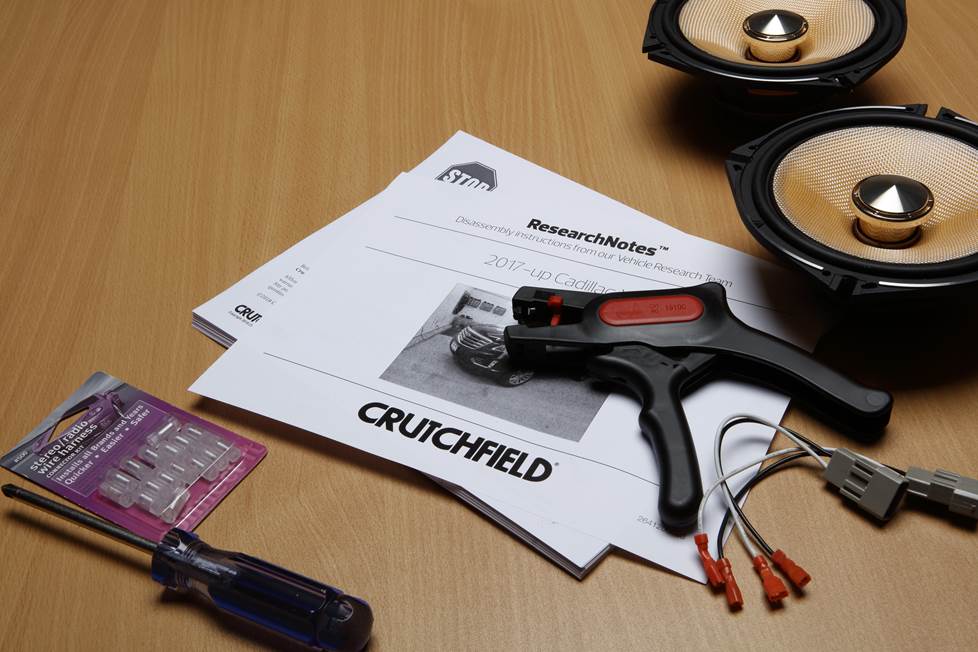 If you're looking for step-by-step instructions on how to install a car stereo or speakers in your car, there's nothing better than our exclusive
Crutchfield ResearchNotes
™. This detailed, well-illustrated document is free with your Crutchfield order, or you can purchase one separately for $9.99.
That said, it's a car, not a mutual fund, so have fun with it. If your younger self spent hours reading car magazines and dreaming of someday owning your own NSX, then by all means, live the dream. If a custom-installed aftermarket receiver will make your grin just a little wider when you're out for a drive, then you should totally go for it.
There are some more subtle options for your NSX, though. You can add a "dock and play" SiriusXM satellite radio tuner and enjoy all sorts of great programming wherever you go. A new set of speakers and an amp will make it all sound awesome.
Tools Required: Panel tool, small flat-blade screwdriver, Phillips screwdriver
Shop for car stereos that fit your Acura NSX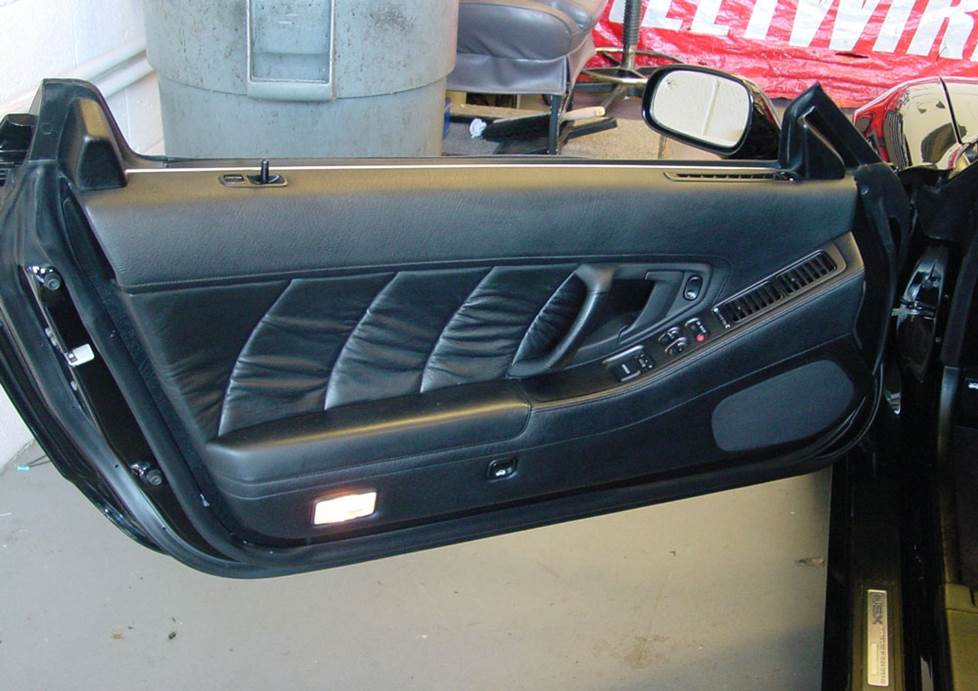 The door speakers are a challenge to replace, but it can be done (Crutchfield Research Photo)
Removing the factory speakers
Replacing the speakers can be challenging in this car, but our Crutchfield Advisors can help you find speakers that'll fit.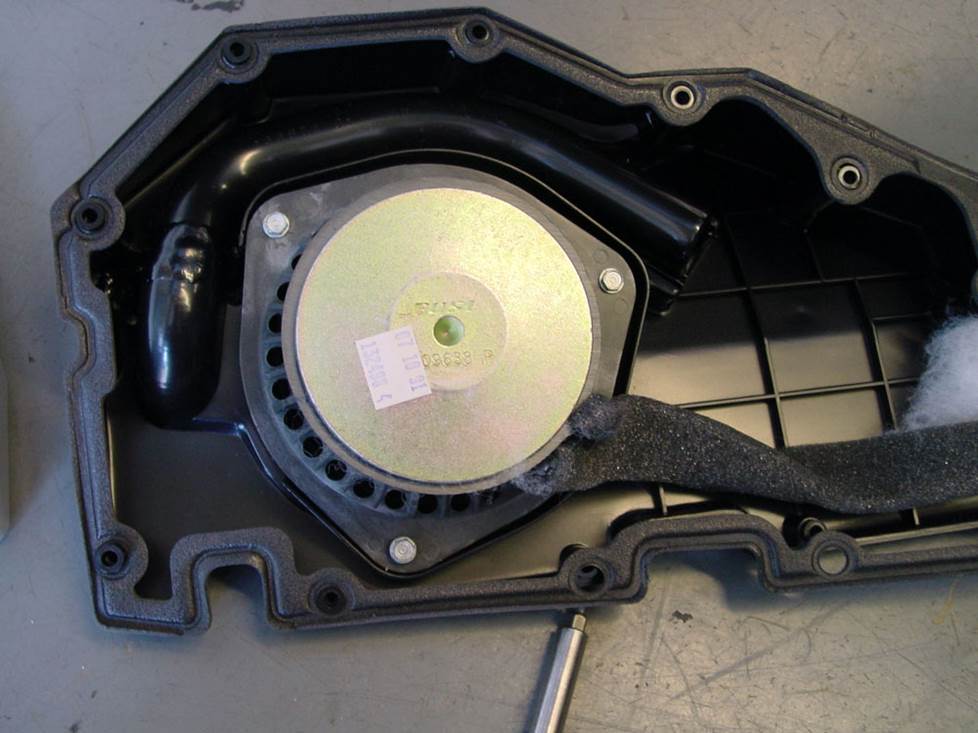 The stock speakers can be found in these clever pods (Crutchfield Research Photo)
Removing the door speakers
The door speakers are mounted in enclosures behind the door panels. You'll need to remove the panels, then separate the speakers and the enclosures. Installing new 4" or 5" speakers will involve enlarging the speaker openings and drilling new holes for the mounting screws.
This isn't an insanely difficult task, but it's not easy, either. And you can't just pop into to the neighborhood auto parts store for a set of new NSX speaker enclosures if there's a problem, so you (or your installer) will need to work carefully.
The entire process is somewhat lengthy, so it's important to stay organized while you're working. You will, after all, need all those screws when it's time to put the door back together. And when you're drilling those new screw holes, it's important to be patient and wear eye protection.
Due to the necessary mods, you won't see door speakers listed in our vehicle fit information page, but you can give us a call and talk to a Crutchfield Advisor about your speaker needs. Complete, illustrated instructions on how to remove the stock speakers can be found in the Crutchfield ResearchNotes included free with your speaker purchase.
Tools Required: Panel tool, Phillips screwdriver, 1/4" socket, ratchet and extension, drill with 1/8" bit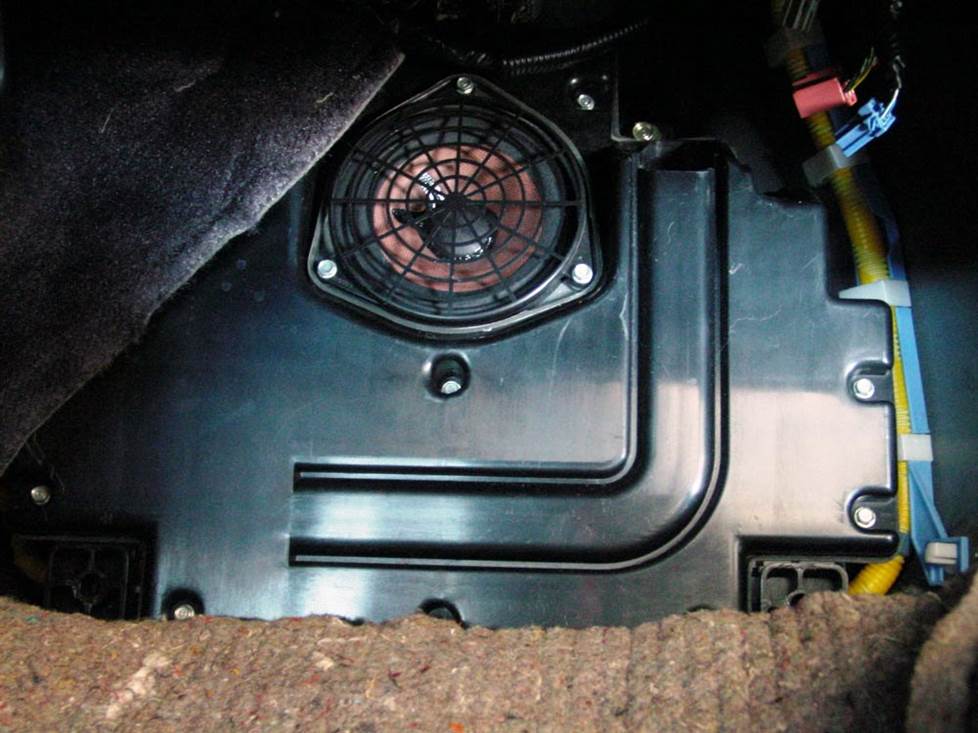 There's a small woofer under the NSX's dash. You'll need to modify the space a bit to install a replacement. (Crutchfield Research Photo)
Removing the under-dash subwoofer
The under-dash woofer can be replaced by a 4" or 5" aftermarket speaker, but you'll have to do some modifications to make it fit and drill new mounting screw holes. As with the door speakers, it's best to give us a call before you order anything.
Removing the speaker, which is in the passenger's side floor, begins with removing the floor mat and pulling back the carpeting. Remove the metal shield, then remove the three screws that hold the grille and the speaker in place. Pull the speaker out, disconnect it, and remove it.
You will need to modify the speaker location to fit your new speaker. What needs to be done depends on the speaker you choose, but pay close attention to the mounting depth. Once you've created the space you need, you'll also need to drill out new mounting holes. This isn't hard, but work carefully, know what's behind and around the area you're drilling into, and wear eye protection.
Crossover points and mounting depth are not known at this time. Again, if you know more than we do, please share your knowledge in the Comments section below.
Tools Required: Drill with 1/8" bit, Torx driver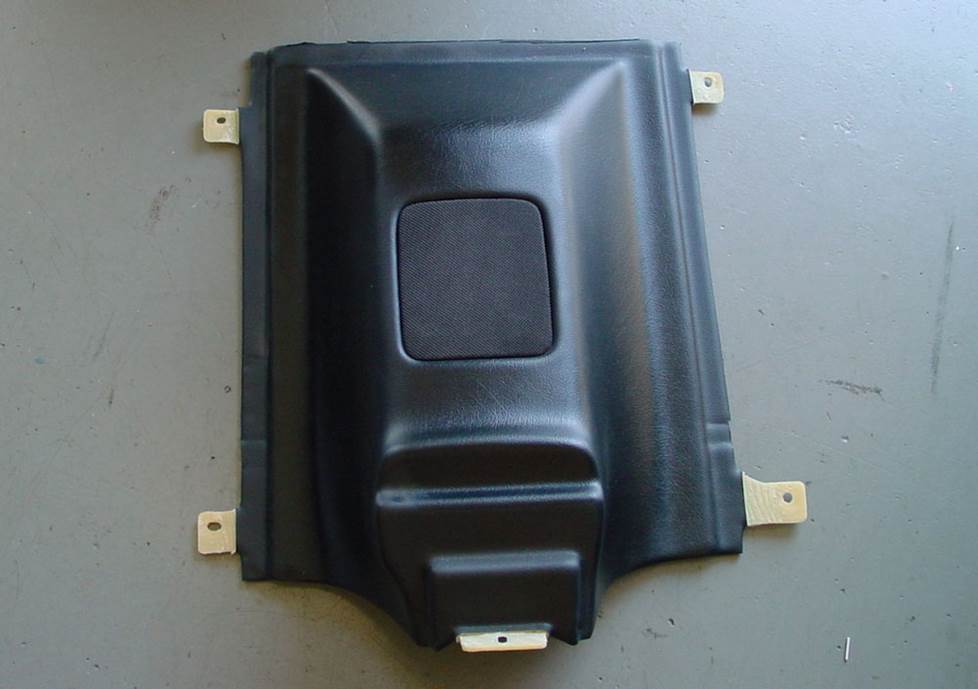 You'll find the tweeter on the back wall, behind this removable panel (Crutchfield Research Photo)
Removing the rear wall tweeter
There's a tweeter mounted in the rear cockpit wall, and it can be replaced by a variety of 1" component tweeters – which ARE listed in our database!
Getting to the tweeter starts with opening the center console compartment door and lifting out the false floor. Remove the four Phillips screws exposed by removing the floor, then lift up the center console and set it aside in a safe location.
Remove one Phillips screw from the front edge of the speaker/grille assembly, then pry out on the top of the rear trim to release three plastic clips, then lift it up to remove the center trim.
Next, remove the large trim covers behind both seats by prying at each corner to release the plastic clips. Remove the panels, then remove two Phillips screws on each side of the speaker/grille assembly. Pull the assembly out, disconnect everything, and remove it.
The speaker and bracket are connected to the grille by four Phillips screws. Remove those, then separate them and remove the four Phillips screws securing the speaker to the bracket.
There is no replacement bracket available, so you'll need to secure the new speaker with one of our universal backstraps (or hot glue or silicone).
Tools Required: Panel tool, small flat-blade screwdriver, Phillips screwdriver
Shop for speakers that fit your Acura NSX
Not a lot of space for bass back here, but if you're feeling creative... (Crutchfield Research Photo)
Adding bass to your NSX
Unless you're planning to go full-custom with your NSX, big bass is probably not a possibility. While this may be the one of the most user-friendly exotics ever made, it's still a two-seat sports car and we're pretty sure that no one on the design team was worried about where to put a 10" sub. The trunk is pretty small, but you could install a small sub and an amp, or better yet, a compact powered subwoofer.
Other options for your Acura NSX
Here are some other cool ideas for your NSX.
An action camera will be a great addition to your NSX
Catch the action with a dash camera
If you enjoy exercising your NSX at the track every now and then, an action camera is a great way to record your hottest laps and analyze your performance. And on the way home, they're very handy for recording the behavior of other, decidedly less-talented motorists.
Get where you're going
Need directions to your town's morning car enthusiast gathering? Mount a portable GPS on the dash or windshield and get the turn-by-turn directions and traffic updates you need to make your road trip go smoothly. Plus, when you get there, you can put your GPS in your pocket and use it to find points of interest around town.
Add a security system
Installing a security system in your Acura NSX isn't easy (security systems rarely are), but with a car like this, it's definitely a good idea. Our Crutchfield Advisors can help figure out what you need to get the job done, but we usually recommend taking your car and new gear to a professional installer.
Let's get started!
Ready to shop? Use our vehicle selector to find the gear that will fit your car or truck. If you have questions of your own, give us a shout via phone, chat, or email