1999-2005 BMW 3 Series sedan
Upgrading the stereo system in your 3 Series
1999 • 2000 • 2001 • 2002 • 2003 • 2004 • 2005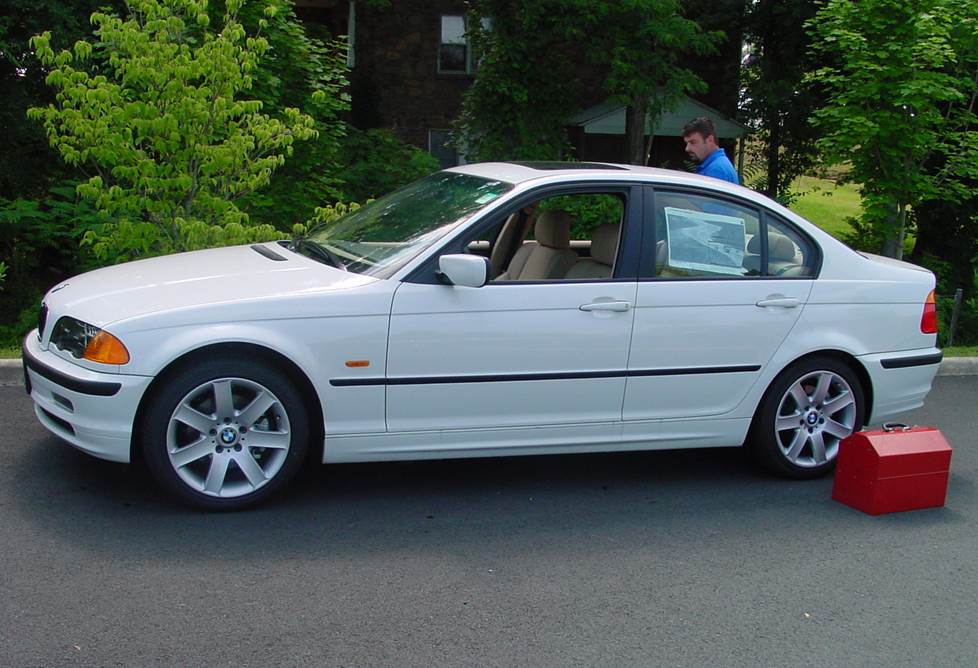 In brief: This Crutchfield Research Garage article gives you an overview of your BMW's stock stereo system and your aftermarket upgrade options. Use our vehicle selector to find the gear that will fit your 3 Series.
Overview of the BMW 3 Series sedan
The BMW 3 Series has changed a lot over the years, but it's never lost that certain something that makes it, for many, the finest sports/luxury car in the world. That's why almost any car magazine's annual "top ten" or "best of" list almost automatically includes a 3 Series. It's kind of become a cliché, but hey, the car really is that good. A lot of manufacturers have tried to imitate and improve upon the 3's all-around excellence, but few have succeeded for long.
The fourth generation 3, known internally and to serious BMW fans as the E46, was, like its forebears, a wonderful combination of comfort, power, and driving feel. In sedan form, it's totally capable of hauling the family, but it's also happy to haul something else when Mom or Dad finds a curvy stretch of road. The styling, a somewhat controversial subject back in the day, has aged remarkably well, and the interior remains a comfortable, well-designed workplace for serious drivers and their lucky passengers.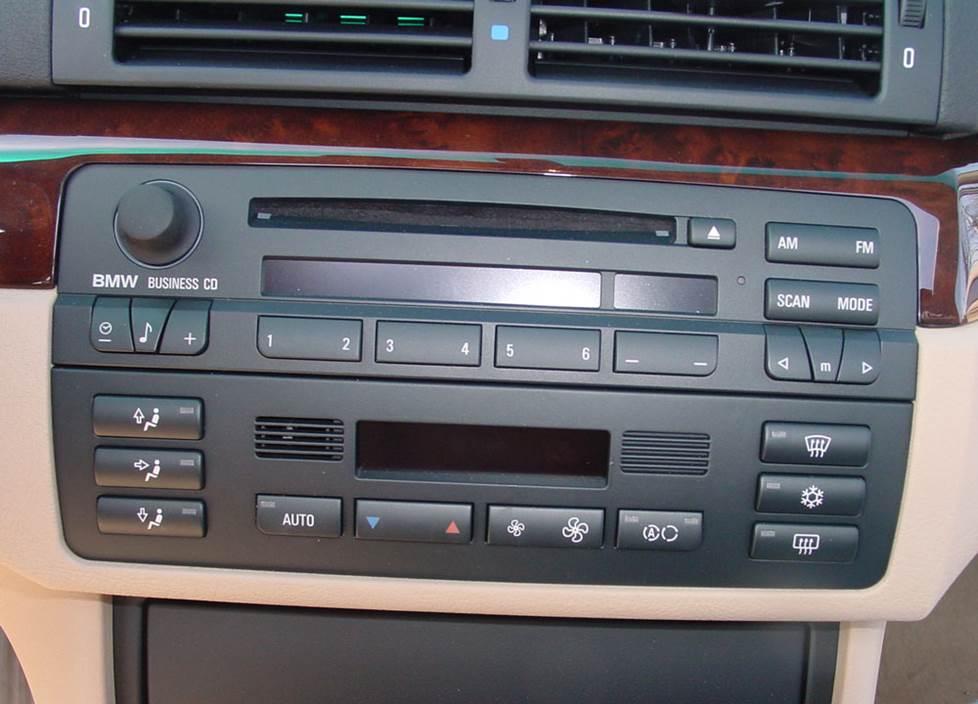 The 3's base radio was somewhat pedestrian (Crutchfield Research Photo)
Factory stereo system
As wonderful as the driving experience might be in a 3 Series sedan, the audio experience was less enthralling. We've seen the stock systems described as "muffled," which is not exactly what you want in a stereo. Muffled or not, the receiver and speakers are still aging rapidly, so if you're serious about sound, you'll want to replace them.
The standard factory system consisted of a BMW-branded AM/FM/CD receiver (or cassette, in early models) and ten speakers. The optional 12-speaker Harman Kardon system used the same radio, but added better speakers and a subwoofer. A trunk-mounted CD changer was another audio option.
A trunk-mounted CD (later DVD)-based navigation system was also available on the 3 Series, and the route information was displayed on a variety of receivers with ever-larger screens over the years.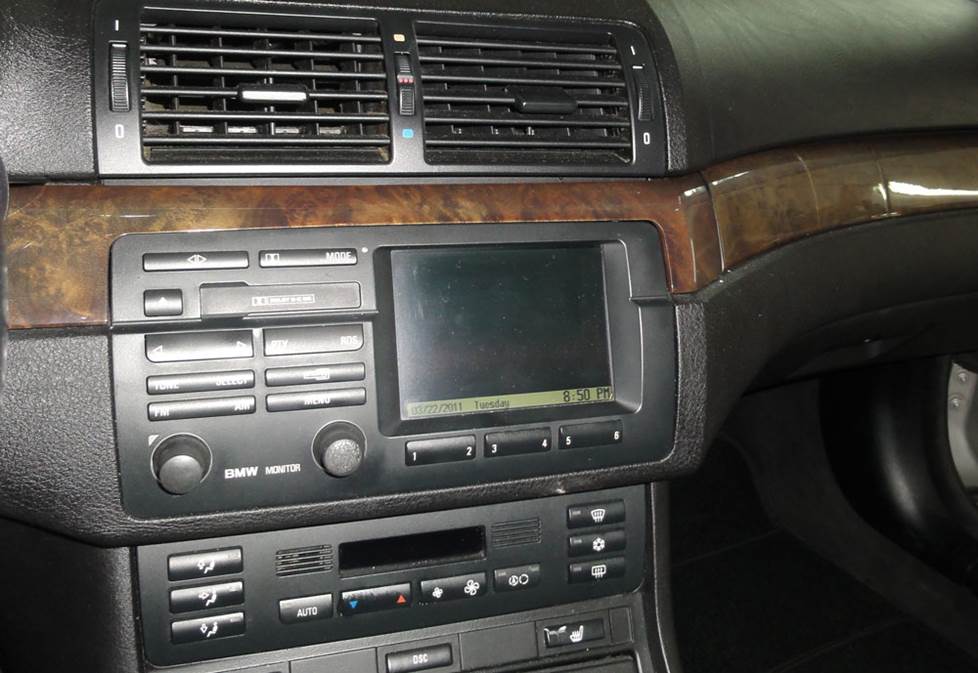 Replacing the factory nav unit is not a job for the average DIY-er (Crutchfield Research Photo)
Replacing your factory radio
You'll face different installation scenarios, depending on which factory system you have. The standard radio is no big deal. The Harman Kardon system adds a little twist. The navigation system is a deal breaker. We'll discuss all three situations below, but the best solution for these systems is a complete system overhaul — replacing the receiver, factory amp(s) and speakers. If speaker-only replacement is your best option, look for aftermarket speakers with an impedance equal to or greater than that of the factory speakers.
If you have questions, give us a call and let our expert advisors help you find the gear you need. After the sale, you'll have access to our Tech Support team for the lifetime of your gear.
Standard stereo system
Replacing your car's standard "BMW Business" receiver with a single-DIN (2" tall) receiver is a bit of a challenge, but it's thoroughly within the capabilities of most DIY-oriented car owners. There's a bit of trimming and adjusting to be done, but other than that, this is a straightforward project.
Installing a receiver with a fold-down face might seem like a good idea, but the screen will block the center dash vents, so we don't recommend it. The good news is that iDrive had yet to trickle down to the 3 Series, so upgrading the factory audio system is much easier than it is on later models. So let's get to it...
Using a panel tool, pry off the plastic trim above the glove box. Then, pry off the trim strip above the radio. You'll want to work carefully, because you don't want to damage these plastic panels. With the panels out of the way, you'll need to remove the two Phillips screws securing the factory radio. Pull it out, disconnect it, and remove it.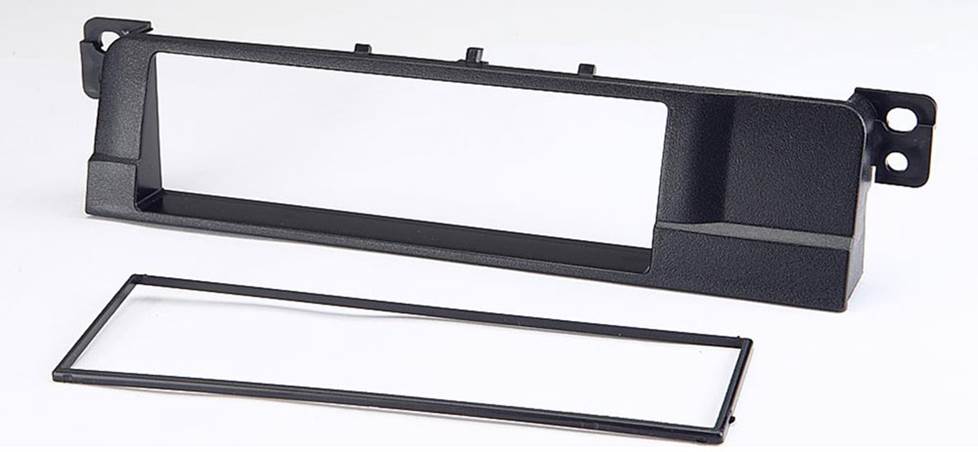 You'll need this dash kit to install a new receiver in your BMW
Remove the DIN sleeve and trim ring from your new receiver, then use a utility knife to trim off the three tabs located on the top of the receiver mounting kit. You'll want to test fit the receiver by sliding the DIN sleeve, then the receiver, into the dash. Check the mounting kit on the face of the receiver to make sure it's flush. If the receiver sits too deep into the dash, your installation kit (deeply discounted with your Crutchfield stereo purchase) includes a spacer ring that can be placed behind the sleeve to space the receiver outward.
From there, connect the receiver wiring adapter (also deeply discounted) to the receiver's wires following the included instructions. Slide the DIN sleeve (using the spacer ring if needed) into the dash. Secure the sleeve by bending the securing tabs. Hold the receiver near the dash, connect the receiver wiring adapter to the factory harness and plug in the antenna lead, using the antenna adapter. Slide the receiver all the way into the sleeve, then install the mounting kit trim plate and secure it to the dash using the screws you previously removed.
Harman Kardon system
When you replace the radio in a Harman Kardon-equipped car, you'll also need a special adapter called a line output converter. That's because the factory amplifier requires a low-level signal from the new radio.
As we've already hinted, when you purchase your new stereo from Crutchfield, we'll make sure you get all of the installation gear you need (mounting kit, wiring harness, antenna adapter, AND this line output converter) and give you a deep discount on them.
Stereo with factory navigation system
Replacing the navigation system's radio is not something to undertake lightly. It requires extensive modification. You'll have to fabricate a custom mounting kit – there aren't any ready-made aftermarket kits available. You'll also have to extend the wires from the wiring harness all the way to the trunk where the car's tuner/amp module is located. That means running those new wires all the way through the length of the car.
This is not a job for the average do-it-yourselfer and we don't recommend trying it. That said, if you HAVE tried it already, feel free to share your trials, tribulations, and successes in the comments below. We'd love to hear from you, and we're sure your fellow owners will, too.
Tools needed: Phillips screwdriver, panel tool, small flat blade screwdriver, utility knife
Shop for car stereos that fit your BMW 3 Series
Steering wheel audio controls
It's relatively easy to retain your BMW's steering wheel audio controls when you install a new stereo. When you enter your vehicle information, our database will choose the adapter you need to make your factory steering wheel controls work with your new receiver.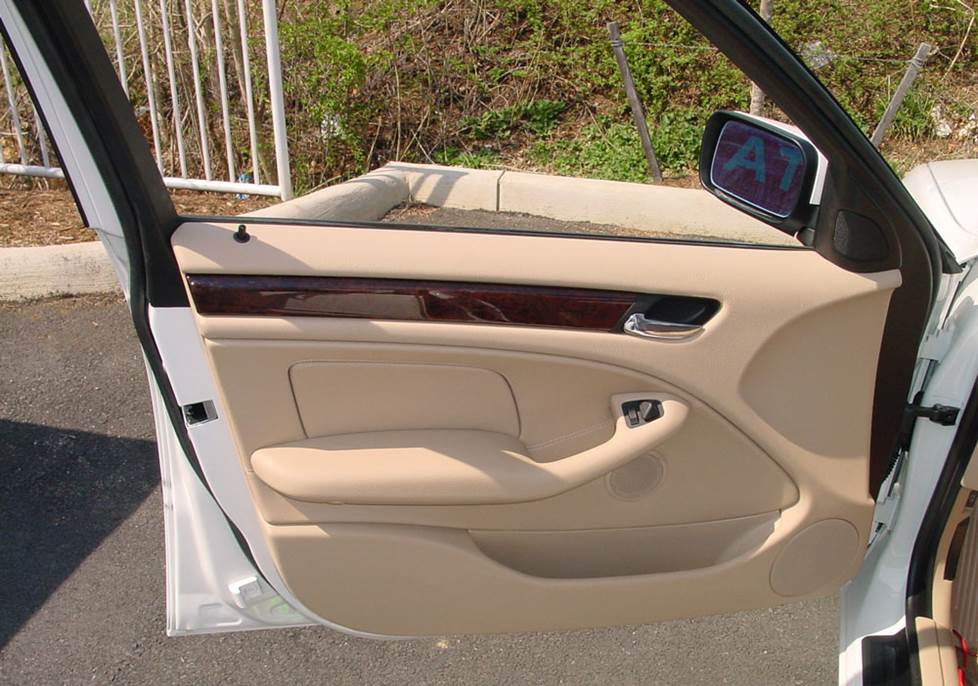 The 3's front doors are reasonably easy to work with (Crutchfield Research Photo)
Replacing your factory speakers
The 3 Series sedan has speakers in the front doors, rear doors, and rear deck. The Harman Kardon system adds a couple of small woofers on the underside of the rear deck.
Front door speakers
The front door speaker array consists of woofers at the bottom of the door, mid-range speakers in (fittingly) the middle of the door panels, and 1-1/2" tweeters in the sail panels. The crossover points for the system are not known (by us, anyway) at this time. If you know, please share your knowledge in the Comments section below!
The woofer can be replaced with 5-1/4" or 6-1/2" speakers with the help of mounting brackets that are included with your Crutchfield speaker purchase. The 2-1/2" mid-range speakers are mounted in the grille, which is attached to the door panel itself. Same-size replacements are not available, but smaller speakers can be secured in this space with the help of a universal backstrap. A wiring harness is not available for this location, so you'll have to splice, solder, or (better, easier idea) use a set of Posi-Products speaker connectors.
Getting to the woofer and the mid involves removing the door panel. This is relatively light duty, requiring little more than some panel and Torx screw removal. There is a bit of a difference between the two doors, though, since the power mirror switch assembly is located on the driver's side. The passenger's side has a blank panel in that space. Both can be removed with a panel tool.
Detailed, illustrated instructions for this disassembly process can be found in the instructions that are included free with your stereo or speaker purchase. The key element here is to work carefully and patiently when removing the plastic door panels.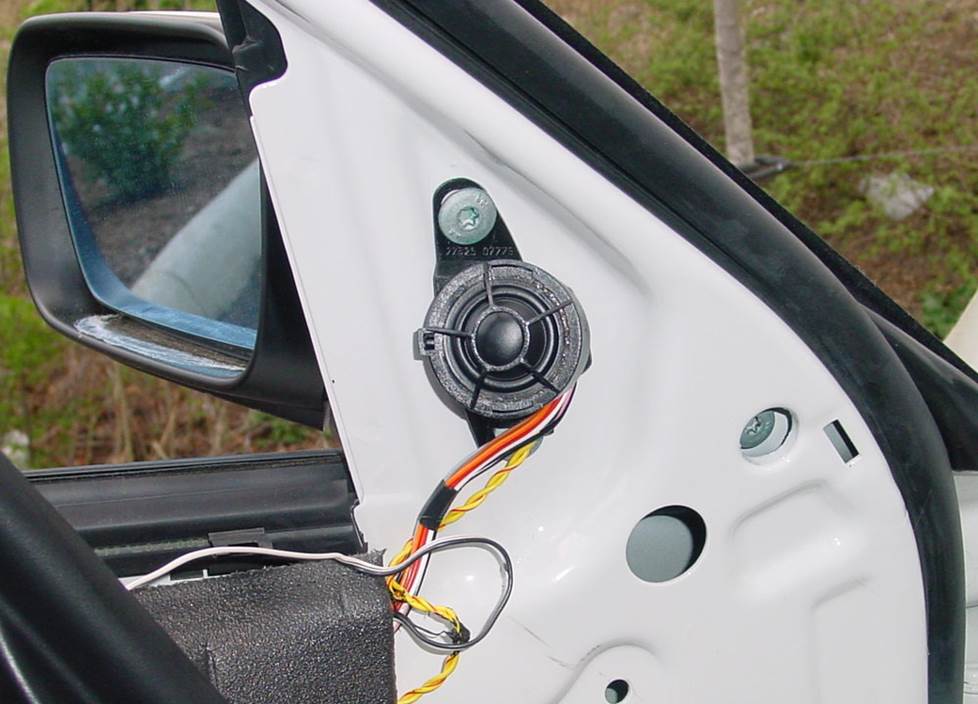 You'll need aftermarket brackets to install your new tweeters (Crutchfield Research Photo)
Tweeters
To remove the tweeters, you'll start by removing two retaining clips from the trim on the front edge of the door. Pull that edge trim out just enough to access the tweeter; then remove the Torx T30 screw that secures the tweeter/bracket assembly. Pull the tweeter out and cut the wires close to the terminal. Obviously, having done that, you'll need some more Posi-Products to connect the new tweeter to the factory wiring. You'll also need a universal backstrap to secure the tweeter in place behind the sail panel.
Tools needed: Phillips screwdriver, small flat blade screwdriver, panel tool, Torx T30 driver, Torx T20 driver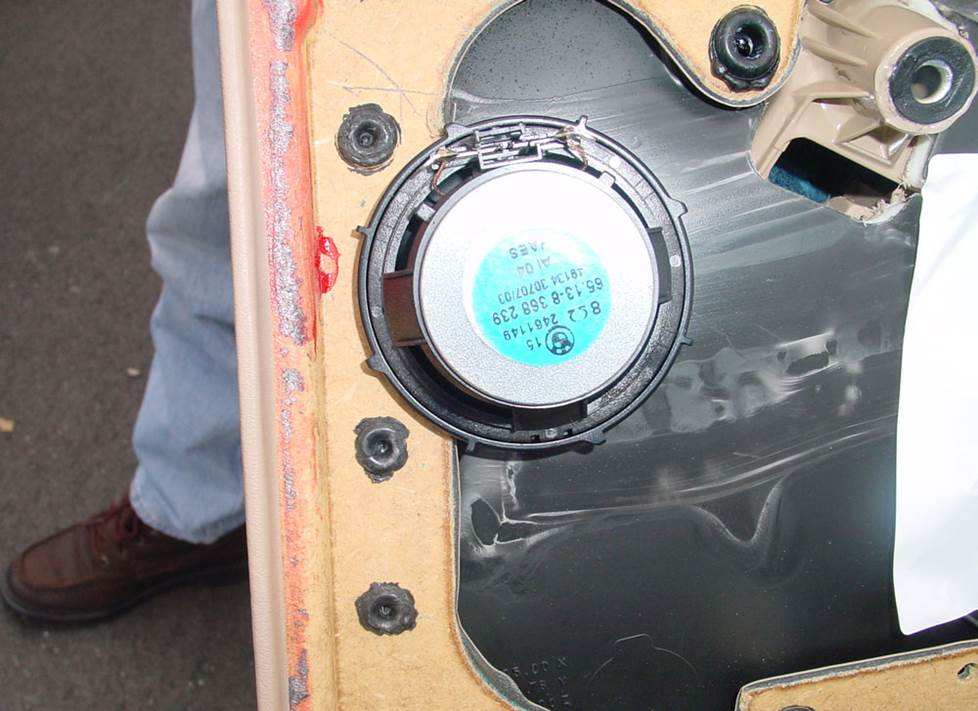 The rear door speakers are mounted in the door panel (Crutchfield Research Photo)
Rear door speakers
With the low-end duties handled by the rear deck speakers (see below), BMW installed 2-1/2" component tweeters in the rear doors. They're easy to reach, but same-size replacements are not available and neither is a wiring harness.
These speakers are mounted in the door panel, so you'll need to remove the panel to replace them. As with the front doors, there's nothing terribly complicated going on here.
Your best bet here is to replace these and the rear deck speakers (see below) with a set of aftermarket component speakers. To install a slightly smaller component tweeter in this spot, you'll need a universal backstrap and Posi-Products connectors.
Tools needed: Panel tool, Torx T20 driver, small flat blade screwdriver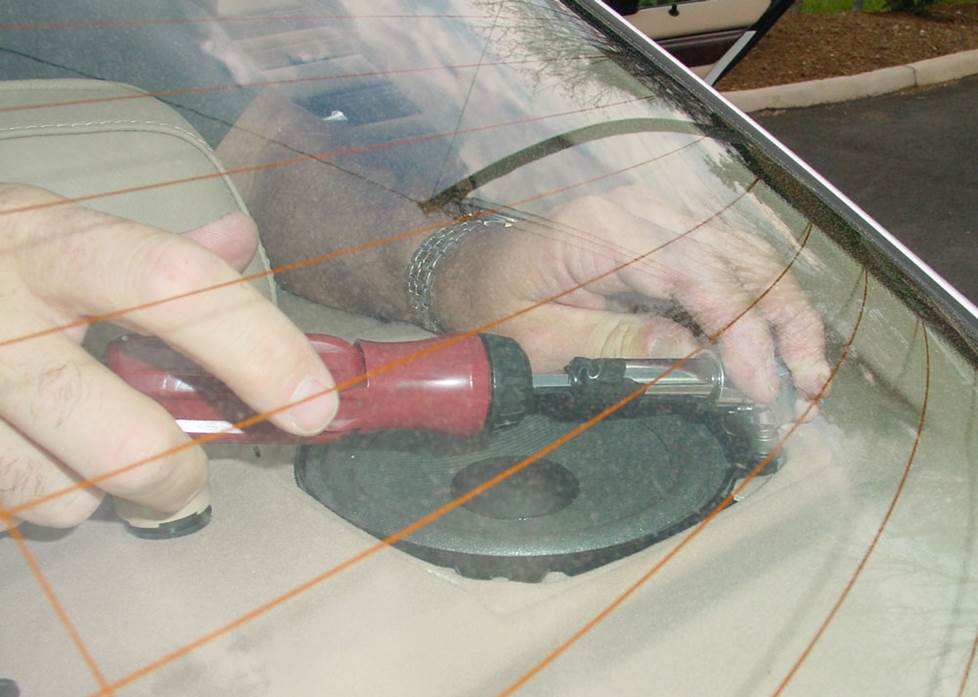 The Harman Kardon system includes rear deck speakers (Crutchfield Research Photo)
Rear deck speakers
The two rear deck speakers are 6-3/4" component models can be replaced with a variety of aftermarket speakers. Speaker mounting brackets are included free, if needed.
These top-mount speakers are quite easy to reach and replace, but there is a bit of drilling involved. Start by prying up the rear speaker grille, then remove the foam ring around the speaker. Remove the three 8mm screws securing the speaker, then disconnect it and set it aside. Place your new speaker in that spot and use it as a template for marking where you'll be drilling the new mounting holes. Remove the speaker and use a 1/8" bit to drill the holes. Use Posi-Products connectors to join the new speaker to the factory wiring, then secure it with the screws supplied. Test it out, make sure it works, then replace the grilles.
Drilling a few holes isn't tough, but you are drilling holes into your BMW, so be careful, wear eye protection, and pay attention to wiring, fuel lines and safety devices. Check your drilling depth and location to avoid damaging your car. Also, the "screws supplied" line used above isn't always true. Check the box to make sure they're there before you start working.
Tools needed: Panel tool, 8mm socket, ratchet, and extension, drill and 1/8" bit
Shop for speakers that fit your BMW 3 Series
The Harman Kardon system also includes a deck-mounted subwoofer assembly (Crutchfield Research Photo)
Bass in your 3 Series
The Harman Kardon system adds two 6"x9" subwoofers in a plastic enclosure mounted to the underside of the rear deck between the speakers. To replace them, you'll first need to remove the enclosure from the trunk. To do so, you'll remove four 8mm screws from the bottom of the enclosure; then pry down at the rear of the enclosure to release two plastic retaining clips. Pull the enclosure out and disconnect the amp harness to remove. Once that's out of the car, you'll remove four Torx T20 screws from each speaker.
You can replace these subs, which are powered by a sub amp behind the driver's side trunk trim, with a variety of same-size, 5-1/4" or 6-1/2" subs. A speaker adapter bracket is required for the smaller models, and it's included free with your speaker purchase. Though the enclosure is rather thin, the cavities in the deck will hold a good sized magnet, so you can choose from a good selection of subs.
If that's not quite enough bass for you, or your car wasn't equipped with factory subs, you have a variety of options for adding bass. If you're thinking about a component subwoofers in a box, your available space is 30"W x 17"H x 29"/36" D. It's not a vast space, but that's plenty of room for some serious bass power.
For those who need their car's trunk to haul more than car audio equipment, a powered sub will provide plenty of thump while still leaving room for real-world concerns like groceries and luggage.
Tools needed: Panel tool, 8mm socket, ratchet, and extension, Torx T-20 driver
Shop for vehicle-specific subwoofers for your BMW 3 Series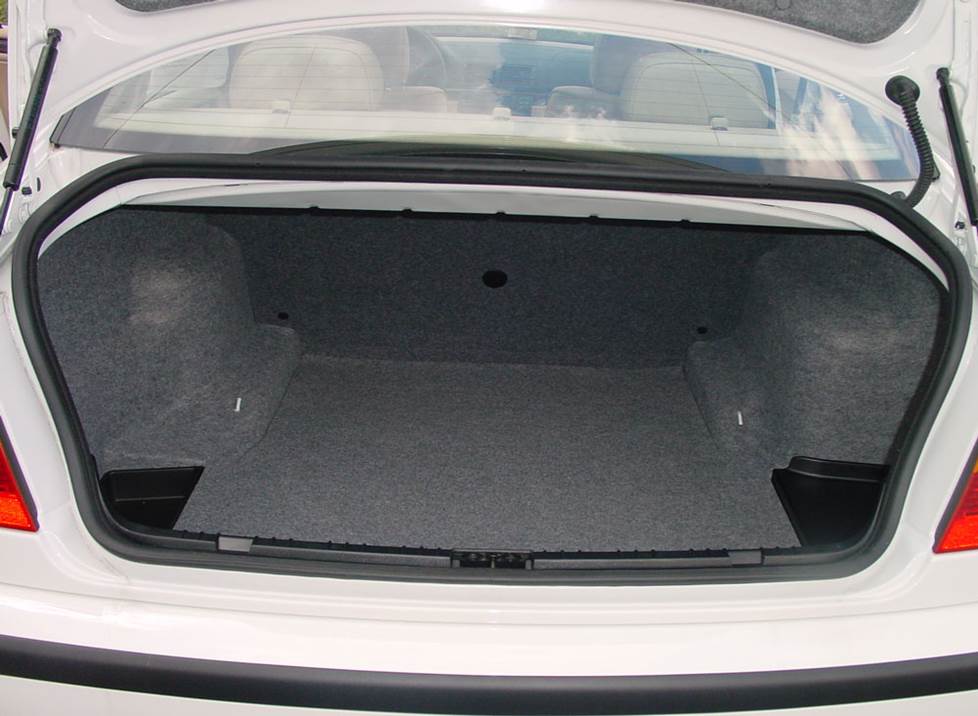 There's room for a small subwoofer back here (Crutchfield Research Photo)
Other options for your 3 Series
There are plenty of other ways to improve your 3 Series sedan. Here are some of the ways Crutchfield can help:
Amplifier
Adding an aftermarket amplifier will really help you get the most out of your new speakers. The 3-Series isn't short on cargo space, but if you still use it for family duties, a compact Class D amp would be the best choice.
Dynamat
If you like your music as pure as your driving experience, hearing more stereo and less road noise is a good start. The Dynamat Xtreme Door Kit is the perfect way to seal in sound. This heavy-duty insulating material is easy to install, and it really makes a difference.
Security
Installing a security system in your BMW isn't easy (security systems rarely are), but it's less complicated than it could be. Our Crutchfield Advisors can help figure out what you need to get the job done, but we usually recommend taking your car (and your new gear) to a professional installer.
Shop for car security systems for your BMW 3 Series
Building your system
The BMW 3 Series sedan is a car that, depending on the project, can be either easy, hard, or almost impossible for the DIY car audio enthusiast.
In the case of nav-equipped cars, the amount of work and expense involved in replacing that receiver makes it a daunting task for many owners. Replacing it with a brand-new touchscreen receiver takes a lot of time, skill, and money. Replacing it with a used or NOS (new old stock) factory model is usually cheaper, but "caveat emptor." Besides, at this point, the "nav" portion of the receiver's functionality can be easily surpassed by almost any portable GPS and most smartphones.
On the flip side of that are cars equipped with the standard radio. Replacement is obviously a lot easier with these cars, but some owners don't want to disturb the smooth factory look of the dash by installing a new receiver.
In both cases, you can make your 3 Series sound a whole lot better without replacing the stock receiver. A new amplifier, new speakers, and a subwoofer can make a huge difference in sound quality, even if the factory receiver is still in place. If you rely on digital sources for your music, there are adapters that will plug into your receiver and let you enjoy music from your smartphone or MP3 player. Satellite radio fans can install compact tuners to gain access to great SiriusXM® programming.
In other words, there are a lot of ways to make your 3 Series sound as good as it drives. Visit our Car Showroom to see what one Crutchfield employee did to improve the sound in his E46 sedan.
Find the audio gear that fits your car or truck
Visit our Outfit My Car page and enter your vehicle information to see stereos, speakers, subs, and other audio accessories that will work in your vehicle.