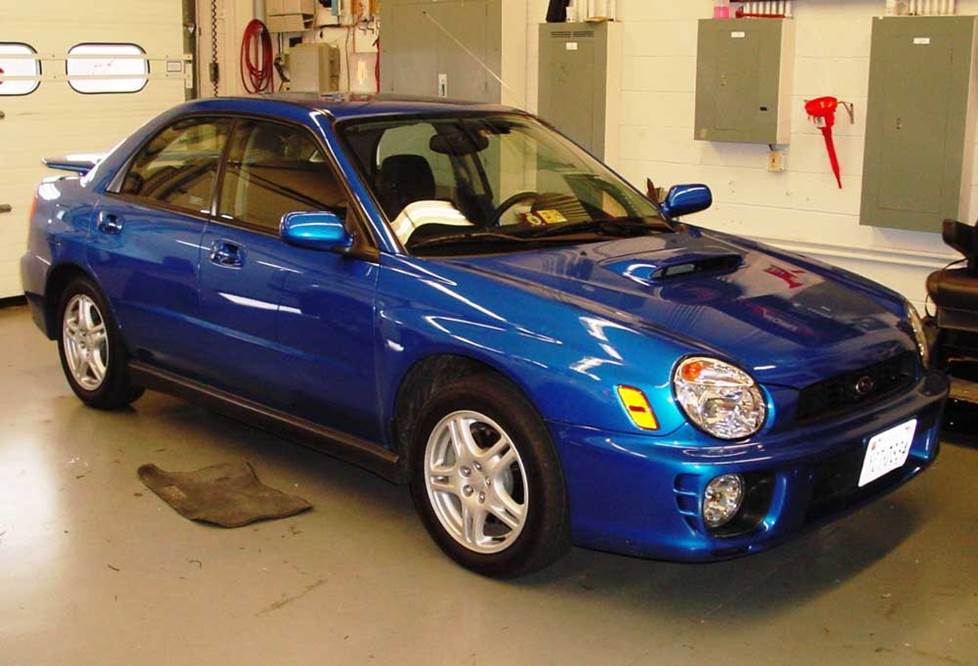 In brief: This Crutchfield Research Garage article gives you an overview of your Subaru's stock stereo system and your aftermarket upgrade options. We'll tell you all about:
Then, use our vehicle selector to find the gear that will fit your WRX.
Overview of the Subaru WRX
The Subaru Impreza sedan originally rolled out in 1992 for the Asia-Pacific and European markets, and the WRX performance variant was added in 1994. After winning a host of international autocross and rally championships with the little pocket rocket, Subaru decided to bring the WRX model to the U.S. market — a very smart move.
In 2000, Subaru offered a number of enhanced performance packages in the Impreza Outback Sport. In late 2001, the WRX officially made its American debut, blowing away the press and public with its impressive speed and freakish ability to hold the road in the most punishing conditions.
Detailed stereo and speaker removal instructions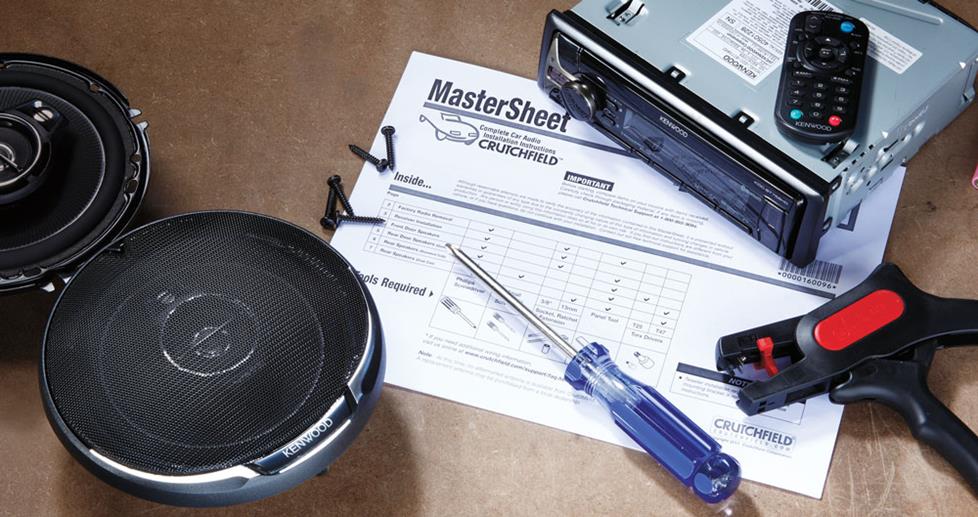 With step-by-step disassembly instructions and plenty of up-close, detailed photos, our exclusive
Crutchfield MasterSheet
™ takes the guesswork out of removing the factory stereo and speakers. It's free with your Crutchfield order, or you can purchase one separately for just $9.99.
The factory stereo system
During the 2002-2004 model years, the WRX featured an AM/FM/cassette deck with a built-in 6-disc CD changer, driving a 6-speaker system with the option for a factory subwoofer. The front doors house 6-1/2" midrange woofers and separate tweeters, while you'll find 5" speakers in the rear doors. The factory sub, when present, is a flat box under the driver's seat. Read on for tips on how to replace your old gear with stereo equipment that performs like the rest of your car.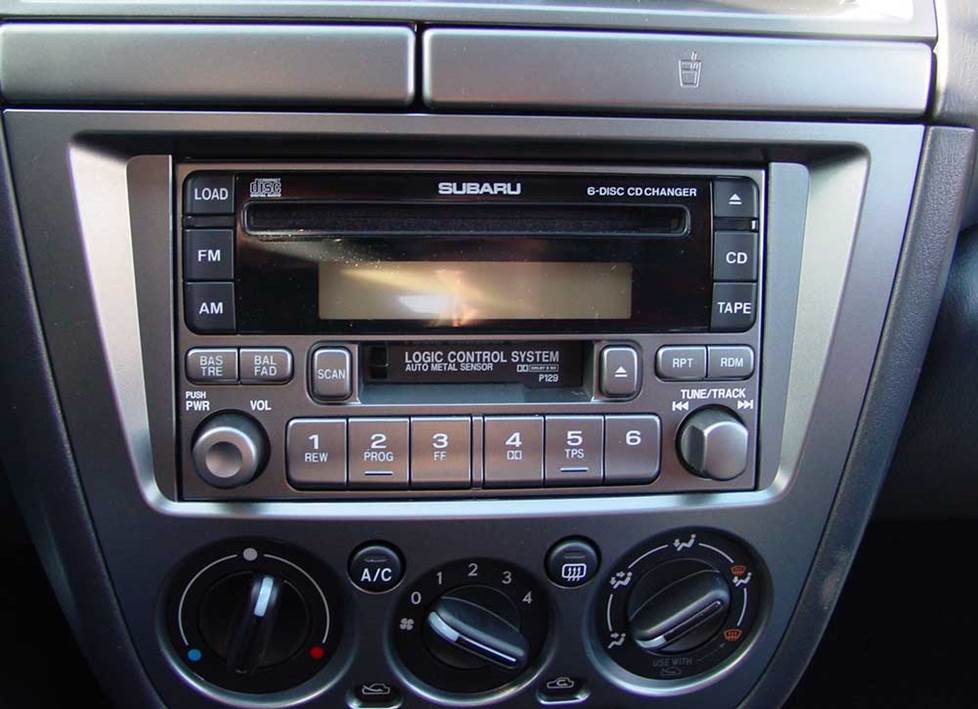 The factory radio in the Subaru WRX (Crutchfield Research Photo)
Removing the factory radio
Removing the factory radio is fairly straightforward, and you can install an aftermarket single-DIN or double-DIN receiver in this Subaru.
You'll need to use the factory brackets in order to install a new car stereo. If you have already discarded them, you will have to order replacement brackets from your Subaru dealer. A double-DIN receiver fits right into the space left by the original radio, and Crutchfield offers a dash kit for installing a single-DIN receiver.
Crutchfield also offers a wiring harness to connect a new receiver with this Subaru's electrical and speaker systems. It comes with a detailed instruction sheet that'll help you connect the harness to the wires coming from your new stereo. The installation parts are available at a deep discount, and you'll get a Crutchfield MasterSheet free with your car stereo or speaker order.
Installation note: Your parking lights may flash when you reconnect the battery after installing a new car stereo. You have two options to stop this flashing. If you still have the keyless entry remote, press "Unlock" to defeat the flashing. If you don't have the remote, you'll find an Emergency Programming Override Button located under the dash (check your Owner's Manual for the location). Turn the ignition to the ON position and press the Override Button at the same time.
Tools needed: Phillips-head screwdriver, panel tool
Read our Car Stereo Buying Guide for shopping tips and advice.
Shop for car stereos that fit your Subaru Impreza WRX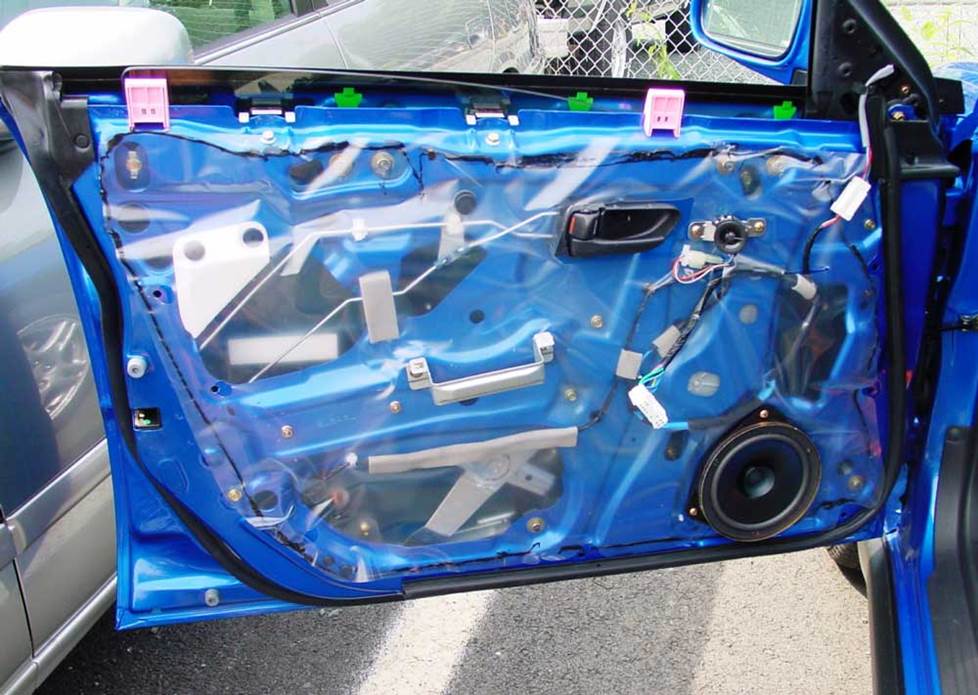 The front door, with the panel removed (Crutchfield Research Photo)
Removing the factory speakers
The Subaru's doors aren't terribly deep, but there are still plenty of high-performace speakers that will fit.
Front speakers
In 2002 and 2003 models, the front doors hold 6-1/2" 4-ohm speakers mounted in a plastic bracket, along with separate tweeters near each door pull. You'll have to remove the door panels with a panel tool to access the speakers, but it's not much of a problem.
You can install an aftermarket 6-1/2" or 5-1/4" speaker in the front door, with the help of a mounting bracket that replaces the factory bracket. You'll also need a speaker harness to connect your new speaker to the Subaru speaker plug. Crutchfield offers both harness and the bracket at a deep discount with every speaker order.
The door is a little cramped, with an available mounting depth of only 2-3/16". You won't find many 6-1/2" speakers that'll drop right in without modifying the doors, but you will find a decent selection of 5-1/4" speakers that will fit.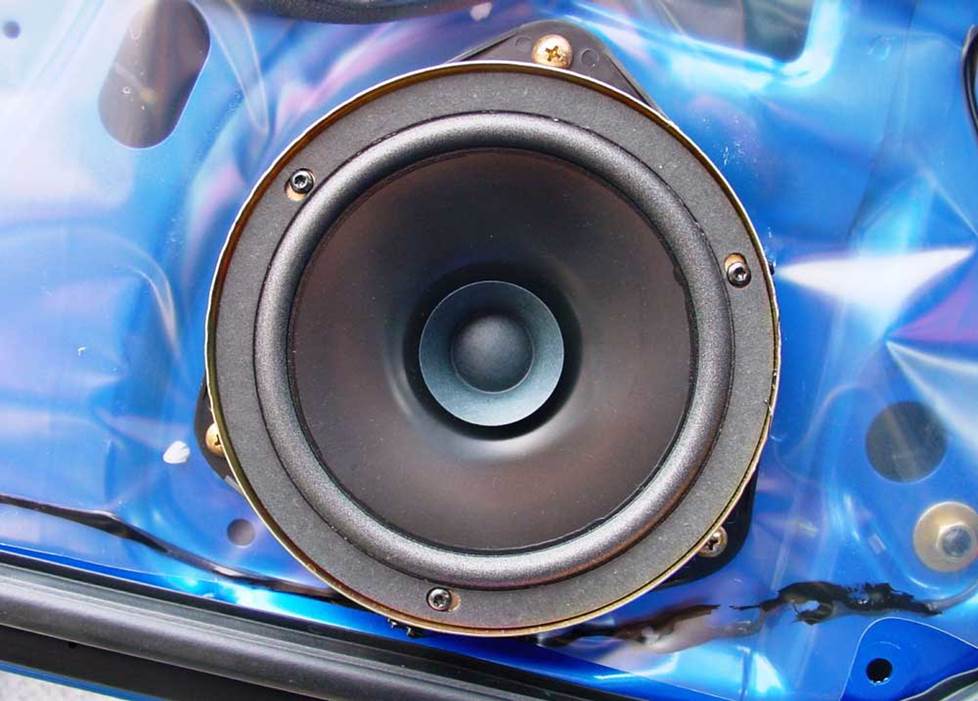 The Subaru's front door woofers are 6-1/2" models (Crutchfield Research Photo)
In 2004, the front door speaker changes slightly, but only if you have a factory sub under your front passenger seat. The factory 6-1/2" speaker sits in a different bracket, and you can drop an aftermarket speaker in without any problem. Although the space in the door is still pretty shallow, you can cut out and remove the rear of the plastic cup that houses the speakers. This will create more depth and allow you to choose from a larger list of speakers.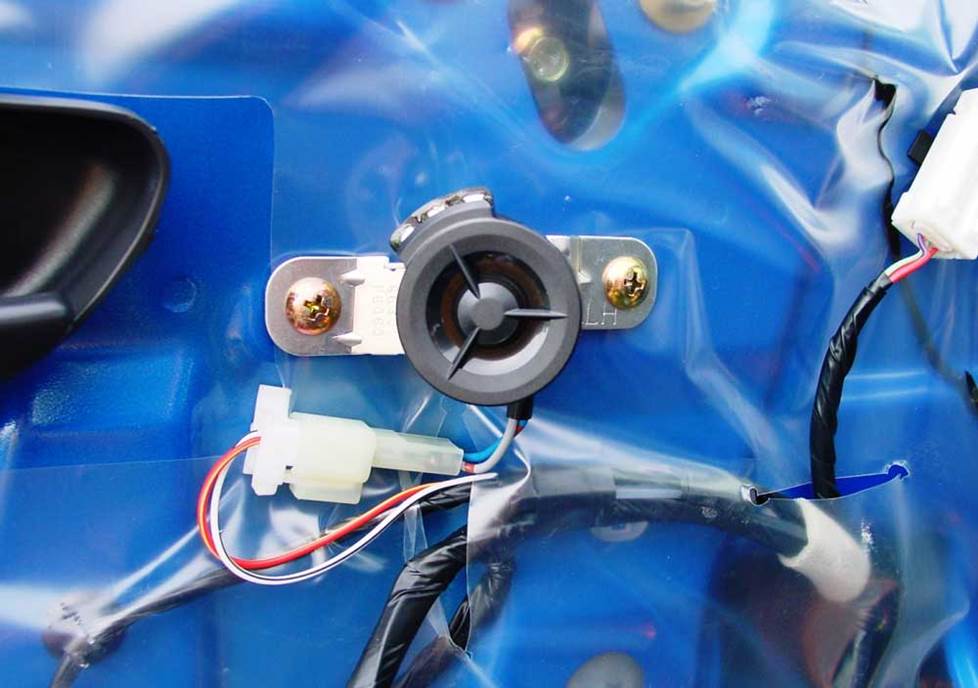 You'll need to use mounting brackets to install new tweeters in your WRX (Crutchfield Research Photo)
The front door tweeters are 1-3/8" diameter with 13/16" mounting height, so keep those dimensions in mind if you decide to replace the original tweeters.
You'll have to fabricate some kind of mounting bracket to put aftermarket tweeters in these openings. Crutchfield carries a universal backstrap that works great for these situations; it can be bent to cut to size as needed.
No speaker harness is available for the tweeters, so you'll have to splice, solder, or use a set of Posi-Products speaker connectors to hook everything up.
Tools needed: Phillips screwdriver, panel tool, flat-blade screwdriver, T15 Torx driver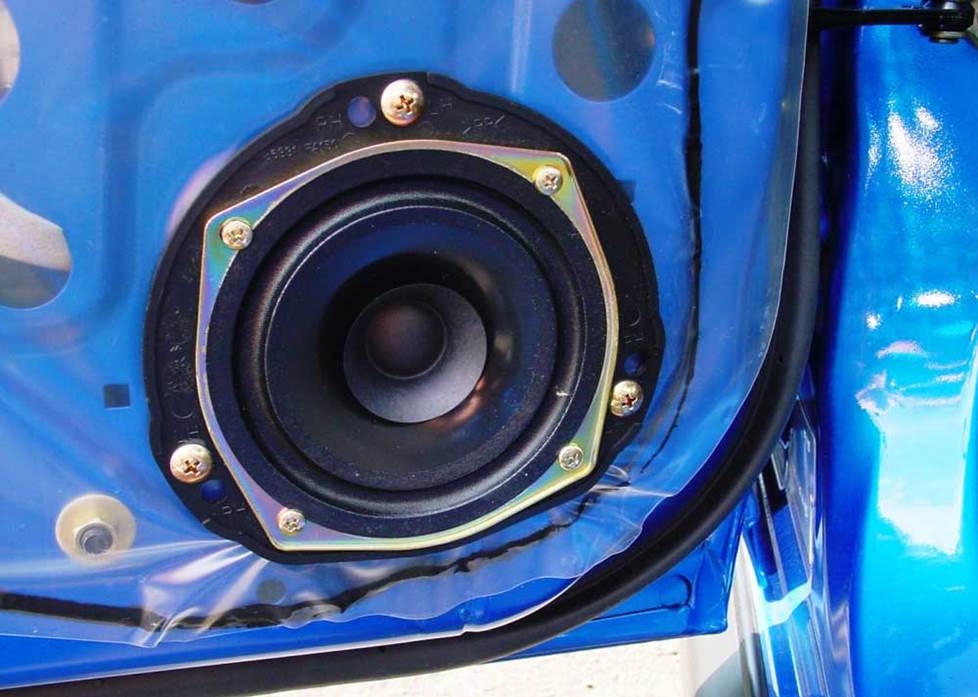 The rear door speakers are reasonably easy to remove and replace (Crutchfield Research Photo)
Rear speakers
The rear door holds a 5" speaker in a plastic bracket, and it's not difficult to get the door panel off. You can install an aftermarket 4" or 5" speaker in this location using the factory mounting bracket. A harness is available.
Tools needed: Phillips screwdriver, small flat-blade screwdriver, panel tool
Read our Car Speakers Buying Guide for more information
Shop for speakers that fit your Subaru Impreza WRX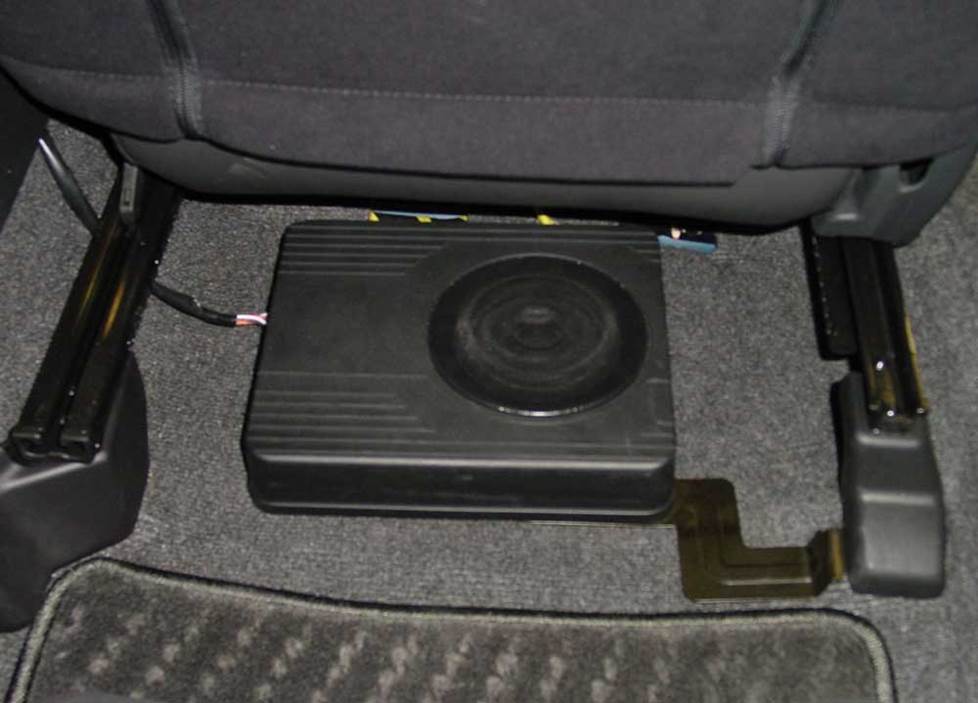 The Subaru's factory subwoofer (Crutchfield Research Photo)
Bass in your Subaru WRX
Some 2002-04 WRX models were equipped with a factory subwoofer housed in a rectangular enclosure beneath the driver's seat. When you replace the stereo, you can keep this sub working by connecting the turn-on lead in the Crutchfield-supplied harness to your new car stereo.
There's currently no way to replace the sub in the factory enclosure, but a smaller, powered subwoofer like the Sound Ordnance B-8PTD should fit into the space nicely.
Learn more about building a bass system in our Car Subwoofer Buying Guide.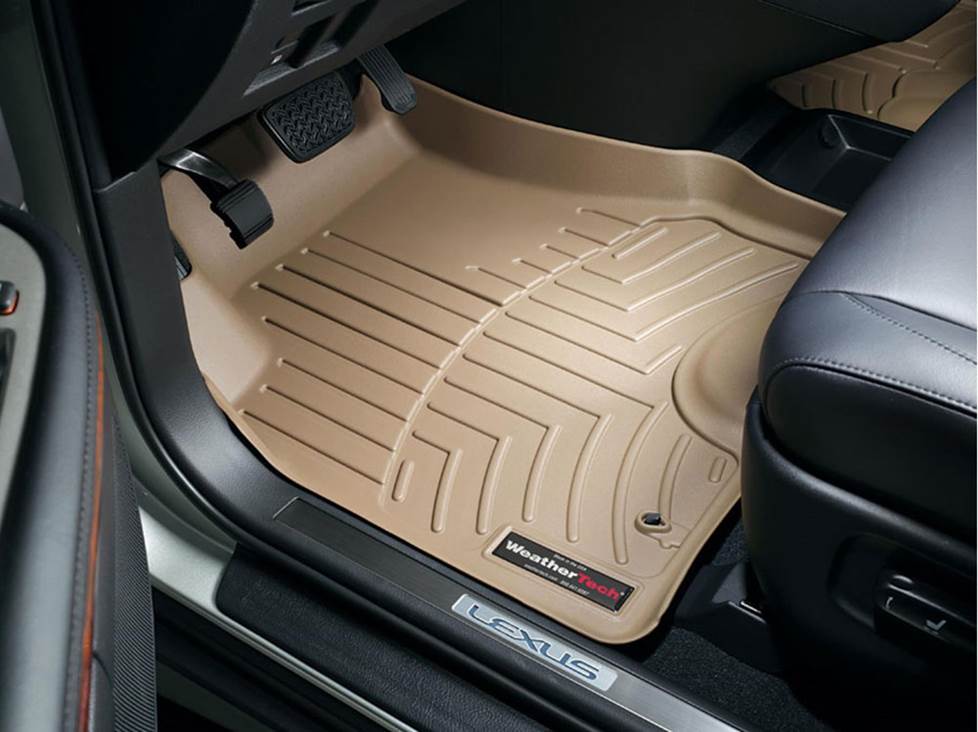 Keep your car's carpeting looking sharp with a set of custom-fit WeatherTech floor liners
Other options for your WRX
Here are some other suggestions for your WRX:
Protect the carpets with WeatherTech floor liners
It's easier than you think to mess up your Camry's interior while you're going about your daily business. Floor mats and liners from WeatherTech will help protect your car's carpeting from dirt and damage. And if they're already dirty and damaged, these mats will cover it up and make your car's interior a nicer place to be.
iPod® and satellite radio adapters
If you don't want to replace the factory receiver, you can still add versatility and great sound to the system. We offer several adapters that will allow you to use an iPod, MP3 player, or satellite radio with the factory system.
Security systems
Installing a security system in your WRX isn't easy (security systems rarely are), but it's definitely a good idea. Our Crutchfield Advisors can help figure out what you need to get the job done, but we usually recommend taking your car and new gear to a professional installer.
Let's get started!
Ready to shop? Use our vehicle selector to find the gear that will fit your car or truck. If you have questions, give us a shout via phone, chat, or email