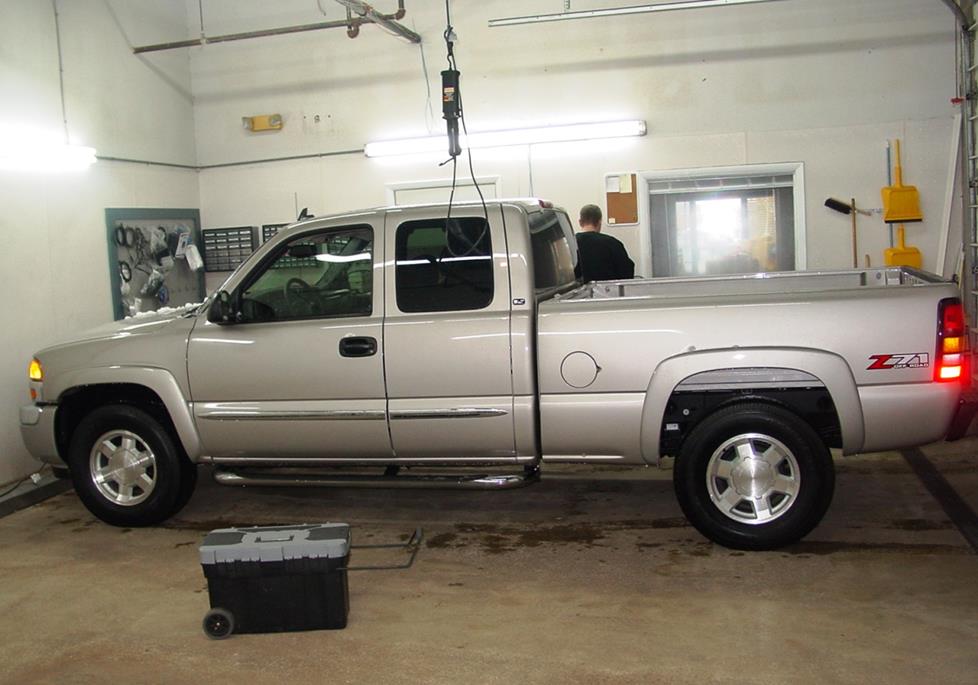 In brief: This Crutchfield Research Garage article gives you an overview of your truck's stock stereo system and your aftermarket upgrade options. We'll tell you all about:
Then, use our vehicle selector to find the gear that will fit your pickup.
Overview of the Chevrolet Silverado and GMC Sierra 1500 Extended Cab
The Silverado and Sierra are popular, hard-working trucks that are built to last. GM built this particular version from 2003 to 2006, and then kept it on as the 2007 Silverado Classic when they switched to the new body style.
They're great-looking trucks, but the factory stereos come up a little short. There are plenty of ways to bring yours up-to-date with better sound and extra features that'll make your Silverado or Sierra an even more enjoyable daily companion.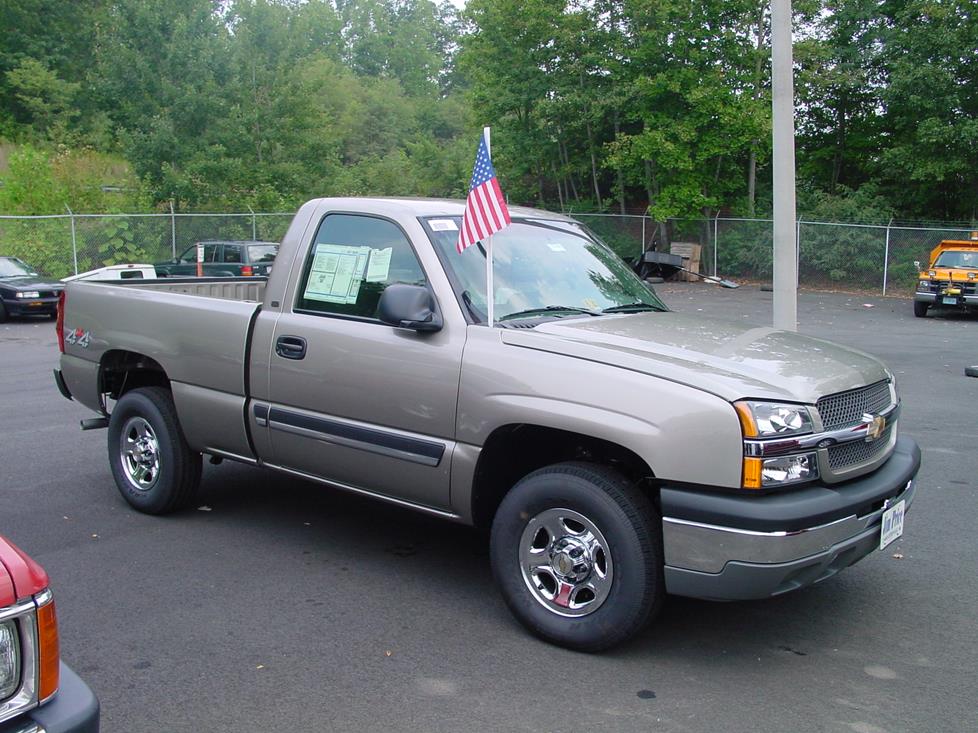 The 2007 Chevy Silverado "Classic" (Crutchfield Research Photo)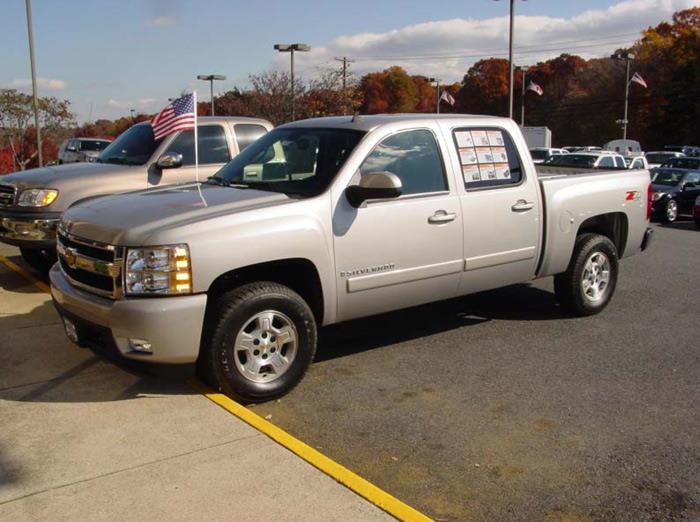 The all-new 2007 Silverado (Crutchfield Research Photo)
Note: The chassis discussed here, known inside GM as the GMT800, was replaced by the new GMT900 models in 2007, but still hung around for another year as the '07 Silverado Classic. If you have an '07 and you're not sure which version you have, check the exterior photos above and see which front end looks like your truck. If yours looks like the more subtle new Silverado, see our profile for the 2007-2011 Chevy Silverado.

The factory radio also includes the truck's warning chimes. (Crutchfield Research Photo)
Removing the factory radio
These trucks were equipped with a 4" tall AM/FM CD player, with options for XM Satellite Radio, OnStar®, and a Bose® speaker system. You can install almost any 2" tall (single-DIN) or 4" tall (double-DIN) stereo in the dash opening, but you'll need to use a hacksaw to remove the metal support bar behind the factory radio to install any car stereo that's over 6-3/8" deep. A receiver with a flip-out screen won't work in this truck, because the dash overhang won't allow the screen to fully extend when open.
Detailed stereo and speaker removal instructions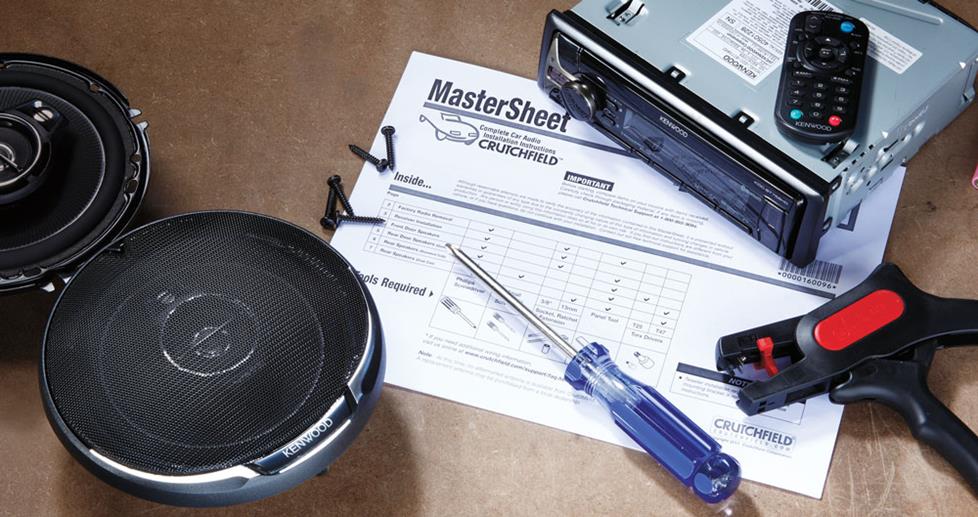 With step-by-step disassembly instructions and plenty of up-close, detailed photos, our exclusive
Crutchfield MasterSheet
™ takes the guesswork out of removing the factory stereo and speakers. It's free with your Crutchfield order, or you can purchase one separately for just $9.99.
You'll need a mounting kit to trim out the new stereo, a wiring harness that allows you to connect it without having to cut the factory wiring, and an antenna adapter that connects the Chevy antenna plug to your new radio. Crutchfield includes these installation parts at a very deep discount with your receiver order. You'll also get our step-by-step disassembly instructions.

You'll have to remove a large dash piece to get to the old radio. (Crutchfield Research Photo)
You'll need an adapter that allows you to retain all safety and convenience features, like the factory warning chime and OnStar. If your truck is equipped with the factory satellite radio option, you'll lose it when you replace the factory radio. You can always pick a stereo that offers satellite radio reception, either from a built-in tuner or an add-on tuner, then call SiriusXM to transfer your subscription.
If your truck is equipped with the Bose system, you'll need a wiring interface to connect your new stereo to the Bose amplifier and speakers, while retaining all warning chimes and OnStar functionality (if activated). When you put the stereo you want in your cart, we'll show you what's available for your truck, and which features you'll be able to retain. You'll also get a discount when you add them to your order.
Tools needed: Panel tool, hacksaw blade (to remove rear support), 7mm socket, ratchet and extension
Read our Car Stereo Buying Guide for shopping tips and advice.
Steering wheel audio controls
In most cases, it's reasonably easy to retain your truck's steering wheel audio controls when you install a new stereo. When you enter your vehicle information, our database will choose the adapter you need to make your factory steering wheel controls work with a compatible aftermarket receiver.
Removing the factory speakers

The front doors can hold some pretty large speakers (Crutchfield Research Photo)
Front door speakers
The stock front door speakers in the Silverado/Sierra are 6-1/2" models, a common size with great aftermarket support. They utilize a simple clip-in plate for easy removal and installation, and you won't have trouble finding a speaker to fit any musical taste or budget. You can put a 5-1/4" or 6-1/2" speaker in the front door with the help of an inexpensive mounting bracket, and you can even fit the slightly larger 6-3/4" speaker in there if you're willing to drill some new screw holes.
Crutchfield includes the mounting bracket (if needed) and speaker wiring harnesses with every speaker order. Trucks with the Bose system will have a tweeter up in the pillars. Non-Bose vehicles may have a tweeter next to the speaker in the door.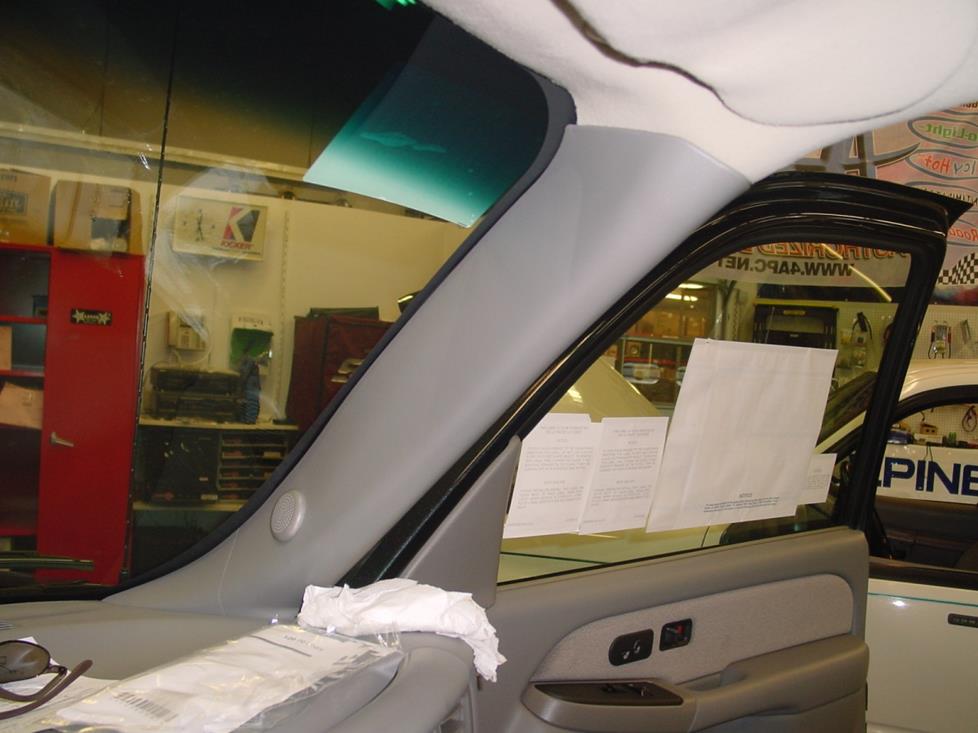 The Bose tweeter is located in the front pillar (Crutchfield Research Photo)
Tweeters (Bose® system only)
Your Bose-equipped Silverado or Sierra will have tweeters in the A-pillars. You'll notice the small grilles just above the dash by the windshield.
These are also easy to remove, and offer a handy mounting spot for an aftermarket tweeter. You'll have to fashion a mounting plate with our universal backstraps to install a tweeter in the pillar. Some tweeters include adjustable brackets for locations like this.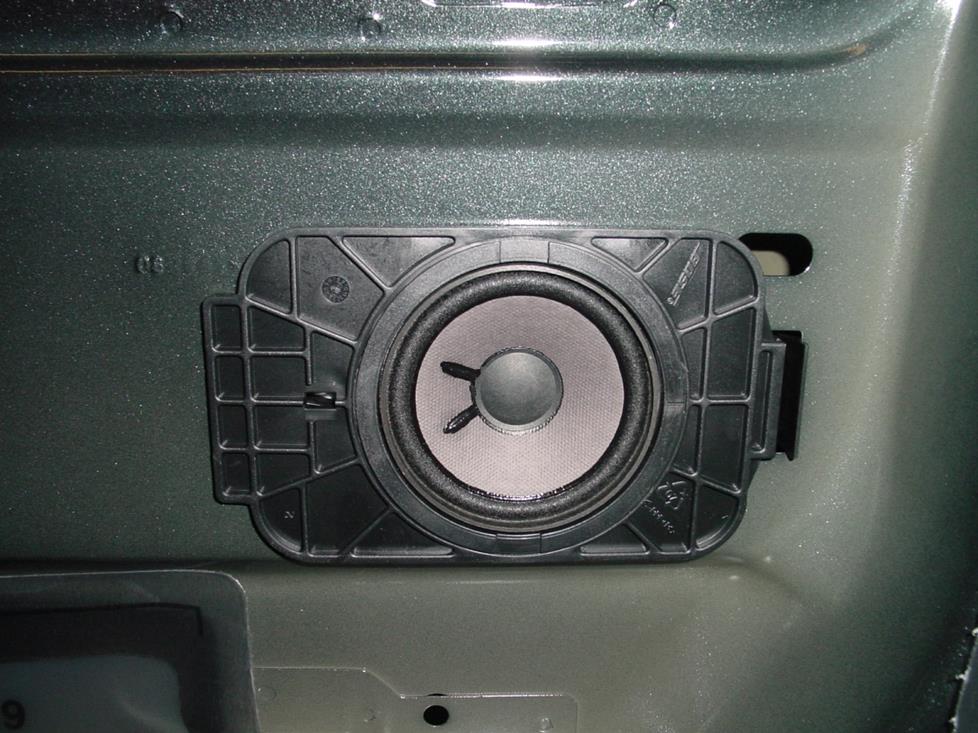 The Bose rear door speaker is a round model in a 4"x6" bracket. (Crutchfield Research Photo)
Rear door speakers
You'll find 4"x6" speakers in the rear doors in this extended cab Silverado or Sierra, or if you have the Bose system, a round speaker in a 4"x6" bracket. Once you've used a panel tool to remove the door panels to get these speakers, they're extremely easy to take out, thanks to their clip-in plates.
You can install 4"x6" and 4"x6" plate speakers in these openings, or go with a 4" or 3-1/2" if you prefer. You'll have to drill new screw holes no matter what you put in there, and we recommend using speaker baffles to act as gaskets because the new speakers will have some air gaps around the frames once installed.
Tools needed: Phillips and flat blade screwdrivers, panel tool, 7mm socket, ratchet and extension, drill with 1/8" bit, Torx T20 driver for 2005-up models
Read our Car Speakers Buying Guide for more information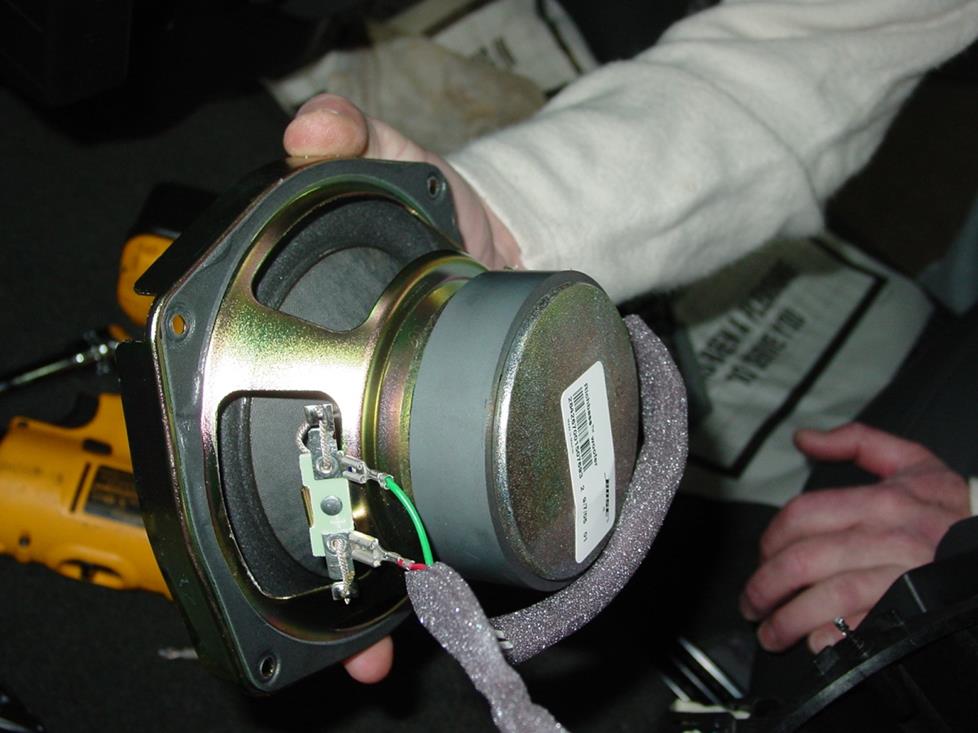 Bose-equipped trucks have a console-mounted subwoofer (Crutchfield Research Photo)
Bass in your Silverado or Sierra
Some later models with the Bose system have a powered subwoofer mounted in the center console. You can remove this sub and its small amplifier, and replace it with an aftermarket sub if you power it with a new amp. We don't recommend this option, though, because removing and replacing this sub will require a truly vast amount of time and effort.
Here's a better way to get great bass in this pickup: You'll find a nice assortment of aftermarket vehicle-specific sub enclosures that are designed to fit into a variety of locations. Many of them are already loaded with a sub, and some even include a built-in amp. These sub enclosures install neatly in your truck, so you'll get plenty of bass without losing valuable cabin space.
Learn more about building a bass system in our Car Subwoofer Buying Guide.
Other options for your Silverado or Sierra
There are plenty of other ways to improve your Silverado or Sierra. Here are some of the ways Crutchfield can help.
Amps
Like most pickup trucks, the Silverado/Sierra has a noisy cabin. If you really want to hear your music without taxing your speakers, add an amplifier. There are plenty of inexpensive options that will give you the ability to hear your music loud and clear, especially when paired with some upgraded speakers. Mounting options abound; a best bet is under the front or rear seats.
Learn more about adding amps to your truck's system in our Car Amplifier Buying Guide.
Satellite radio
If your Silverado or Sierra came with satellite radio, you'll lose it when you remove the factory stereo. Thankfully, there are plenty of aftermarket receivers that will work beautifully with an outboard SiriusXM satellite radio tuner. You can also buy a Dock & Play radio, which will allow you to enjoy your favorite satellite radio programs in your truck or in your living room.
Navigation
An in-dash navigation receiver is an excellent option in this truck, if you're willing to cut out the support that held up the factory radio. Or you can use a portable navigation unit, which you can move between vehicles as needed and keep tucked in a storage compartment when not in use.
Security and remote start
Installing a security system in your Silverado or Sierra isn't easy (security systems rarely are), but it's less complicated than it could be. Our Crutchfield Advisors can help figure out what you need to get the job done, but we usually recommend taking your truck and your new gear to a professional installer.
Let's get started!
Ready to shop? Use our vehicle selector to find the gear that will fit your car or truck. If you have questions of your own, give us a shout via phone, chat, or email