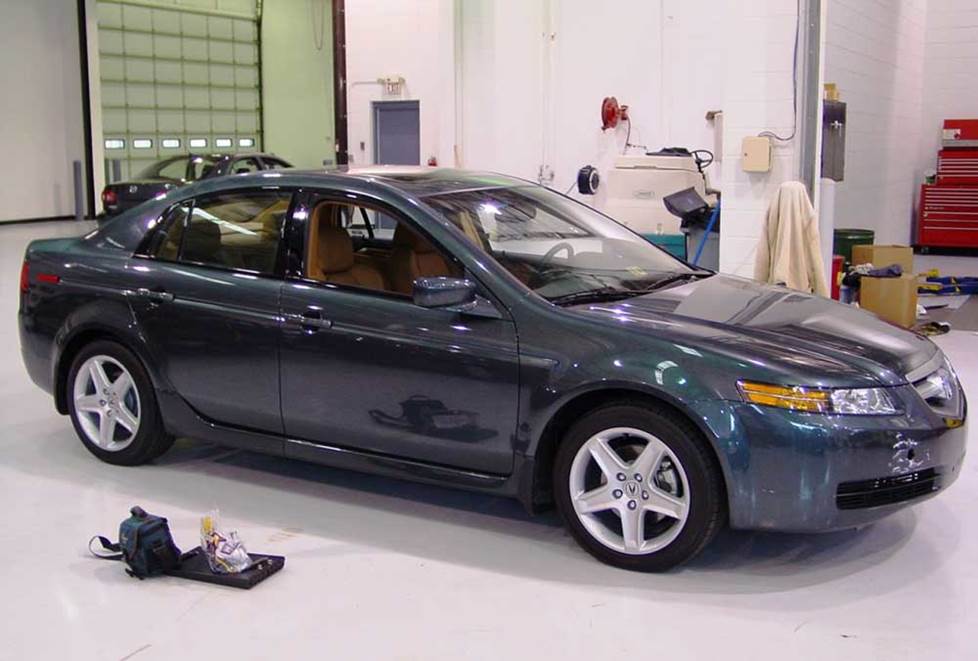 In brief: This Crutchfield Research Garage article gives you an overview of your TL's stock stereo system and your aftermarket upgrade options. We'll tell you all about:
Then, use our vehicle selector to find the gear that will fit your Acura.
Overview of the Acura TL
As Acura nears its 30th anniversary, it's hard to believe that anyone ever doubted Honda's ability to invent a brand and compete head-to-head with European sport sedans. "Not a chance," harrumphed the same sort of "industry experts" who thought the Cadillac Cimarron was a great idea. "Who's gonna pay that kind of money for a Japanese car?"
Quite a few people, as it turned out. Acura quickly went from a risky proposition to a serious player, and it's held station ever since. The brand's success changed the automotive landscape, as Nissan and Toyota quickly followed suit with upscale marques of their own: Infiniti and Lexus.
In the face of increased competition, Acura just kept cranking out great automobiles. The 2004-08 TL, for example, is a comfortable, stylish, sporty sedan that's sure to make both drivers and passengers happy. This car's looks, performance, and typical Honda quality make it a great choice for anyone looking for a sedan with a little something extra.
While upgrading the TL's receiver is incredibly difficult, you can still improve your sound with a well-chosen set of speakers and a subwoofer. We'll tell you all about it below.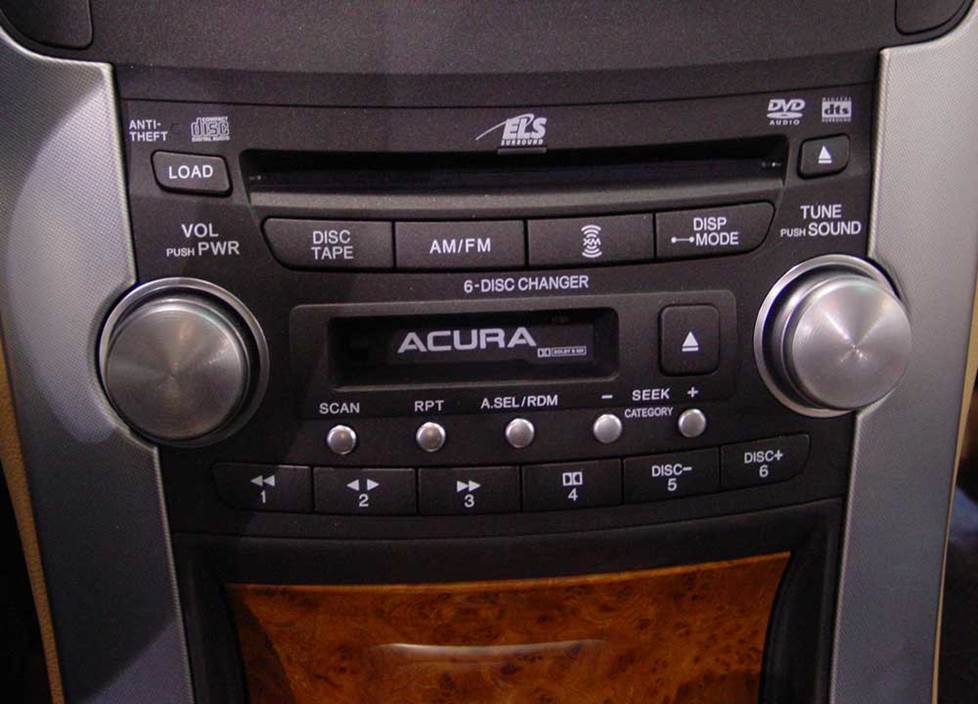 The Acura TL's factory radio (Crutchfield Research Photo)
The factory stereo system
The TL's factory audio system was pretty impressive, with 225 watts of power pumping through eight speakers, plus built-in Bluetooth and XM satellite radio capability. This was actually the first 5.1 surround sound system available in a regular production vehicle, and, though you needed to load the in-dash, 6-disc AM/FM/CD changer with discs specially formatted for 5.1-channel audio (DVD-Audio or DTS Surround – remember those?) to get the full effect, the sound was considered to be quite good with even a regular CD.
The only step-up for the TL was a DVD-based navigation system with an 8" touchscreen, voice-recognition, and a rear-view camera. The nav system also included Acura's 3D solar sensing technology, which would figure out where the sun was in relation to the passenger(s) and adjust the climate controls accordingly.
Pardon us for a moment while we abandon our usual editorial detachment and note, for the record, that a solar-sensing climate control system is just plain nifty. Ahem.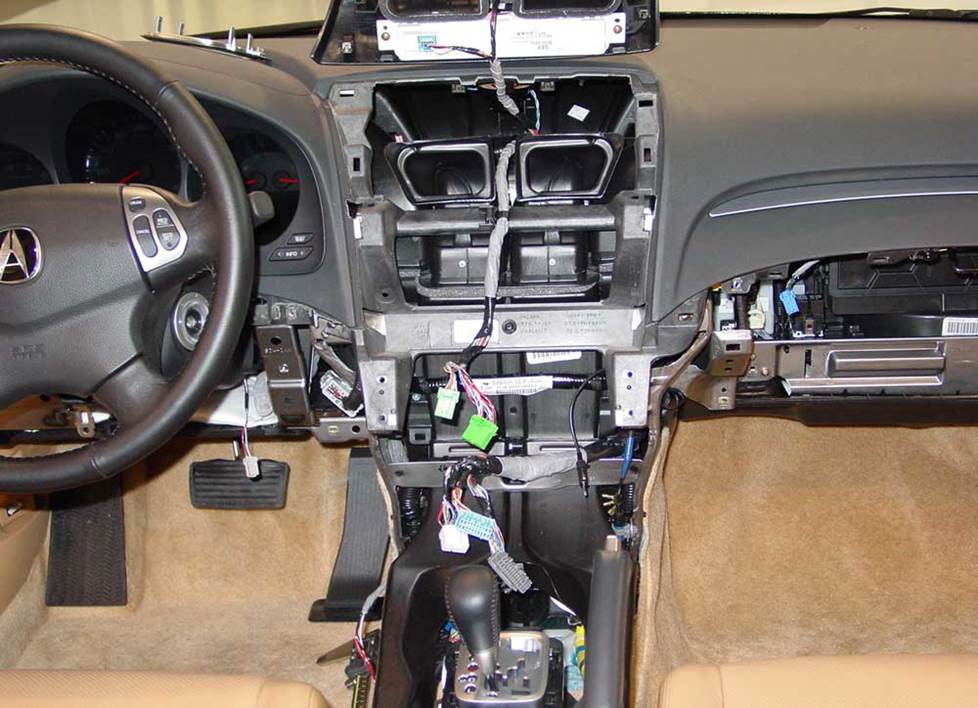 Before you remove the TL's radio, you'll have to remove a lot of other things first (Crutchfield Research Photo)
Removing the factory radio
Here's bottom line when it comes to replacing the stereo in your TL:
You'll need to do a ton of work just to get to the stereo in the first place.

You'll lose the center channel speaker and the factory subwoofer.

You'll lose the ability to adjust the clock when you remove the factory receiver.
We usually don't spend a lot of time and space describing factory systems, but this third-gen TL is an interesting case. Acura was quite proud of the work that went into the TL's stereo, which might explain why it's so incredibly difficult to remove and replace the receiver. It can be done, but the process seems designed to make you think long and hard about why you'd ever want to tamper with the wonderful stock system that Acura and Panasonic worked so hard to give you.
The TL's interior is a beautiful, smoothly integrated design that's lovely to look at and absolutely maddening to take apart. Removing the receiver is a complex, time-consuming 19-step process (trust us, we counted) that involves dismantling the TL's lower dashboard and center console. Oh, and if you replace the factory receiver, you'll lose your factory XM satellite radio.
Detailed stereo and speaker removal instructions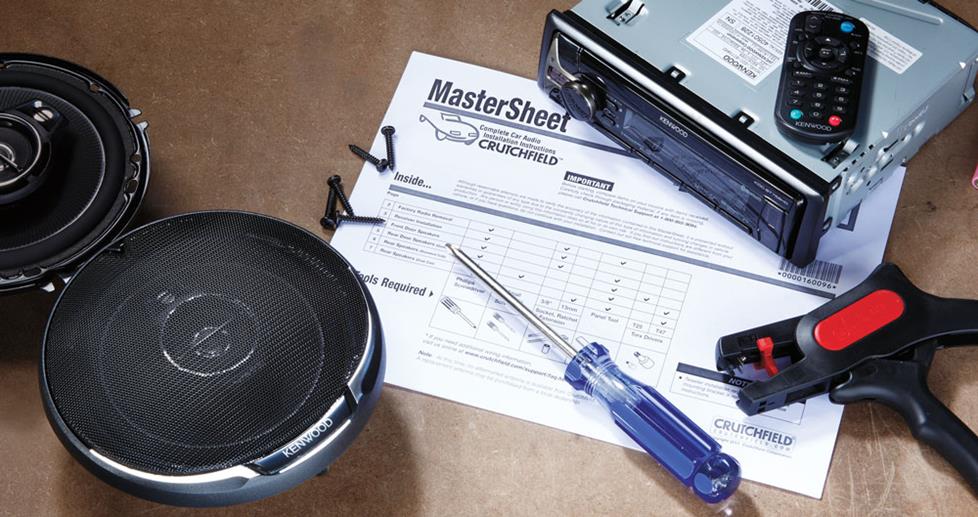 With step-by-step disassembly instructions and plenty of up-close, detailed photos, our exclusive
Crutchfield MasterSheet
™ takes the guesswork out of removing the factory stereo and speakers. It's free with your Crutchfield order, or you can purchase one separately for just $9.99.
On the upside, once you've gotten the radio out of there, you can choose from a wide variety of single-DIN (2" tall) and double-DIN (4" tall) receivers, many of which are packed with great features like smartphone compatibility, built-in Bluetooth® connectivity, and customizable sound-shaping tools. You'll need a mounting bracket, but it's included at a discount with your Crutchfield purchase.
In all honesty, replacing the TL's factory receiver might involve more work than the average DIY enthusiast is equipped to handle. If you're an experienced installer or "good with tools," you might be okay. If that doesn't sound at all like you, it's probably best to have the work done by a professional.
That said, it's totally worth it. The base radio isn't awful, but the nav unit is ancient and likely bested by your smartphone when it comes to finding the nearest coffee shop. Updating those old maps isn't cheap, so it's smarter to just go for a new nav receiver with better maps and a lot more functionality.
Tools needed: Panel tool, Phillips screwdriver, small flat-blade screwdriver
Read our Car Stereo Buying Guide for shopping tips and advice.
Shop for car stereos that fit your Acura 3.2TL
Steering wheel audio controls
In most cases, it's reasonably easy to retain your car's steering wheel audio controls when you install a new stereo. When you enter your vehicle information, our database will choose the adapter you need to make your factory steering wheel controls work with a compatible aftermarket receiver.
Removing the factory speakers
The TL has speakers in the front doors, the dash, and the rear deck.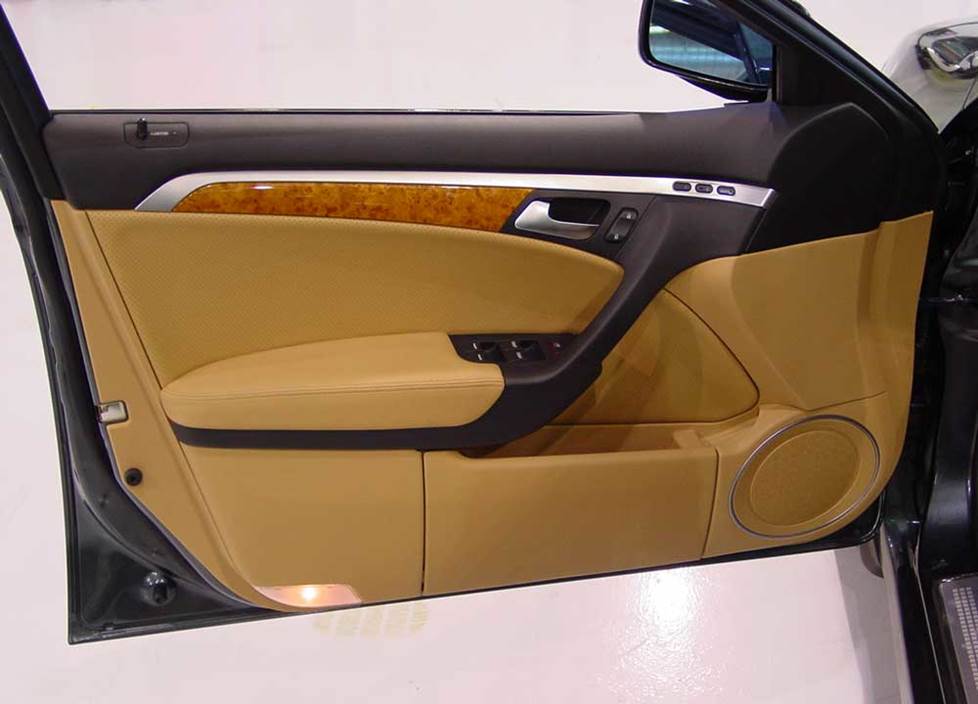 The Acura TL's front door (Crutchfield Research Photo)
Front door speakers
The TL's front doors contain a set of 6-1/2" 2-ohm speakers. Due to a rather shallow speaker cavity, aftermarket 6-1/2" replacements won't fit. And most 5-1/4" replacements won't fit without some modifications to the cavity.
The problem is two-fold. There isn't much space behind the speaker or in front of it. You can solve the "behind" problem by cutting out the rear of the factory mounting bracket to create room for your new speaker. But, alas, there's no way to make more room in front of the speaker.
To access the speakers, you'll need to remove the door panel. Start by prying out the screw cover behind the door release handle. Remove two exposed Phillips screws, then remove one Phillips screw located under the door pull handle. You'll then remove another Phillips screw in the rubber door stop, before removing the stop itself.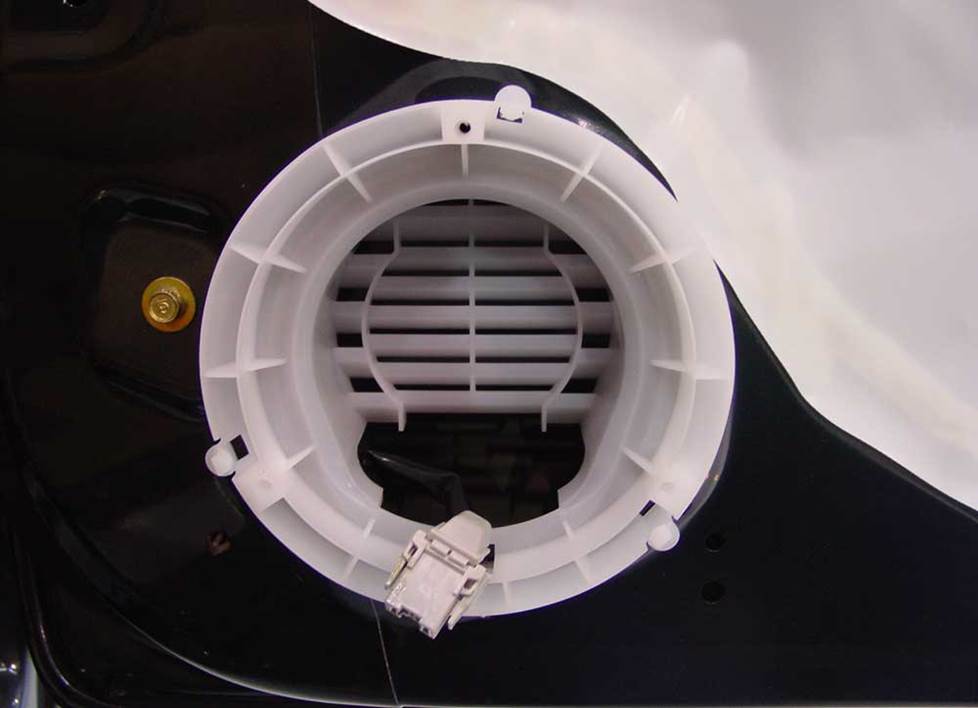 The TL's stock speaker bracket (Crutchfield Research Photo)
Next, you'll pry around the sides and bottom of the door panel to release a series of retaining clips. It's best to work slowly and carefully here, since you're dealing with plastic bits that can break off when treated roughly. Once you've gently loosened the clips, lift the panel, disconnect the wiring harnesses and door release cable, and remove the whole thing. Remove the three Phillips screws securing the factory speaker, pull out the speaker, and disconnect it.
With the old speaker out of the way, secure the new speaker to the speaker adapter bracket that's included free with your Crutchfield speaker purchase. As we mentioned above, you will probably need to remove the factory speaker bracket and cut out the rear portion to create the depth you need for the new speaker.
Connect the new speaker's wiring adapter to the vehicle's speaker harness, then secure the speaker with the screws you removed earlier. Give it a quick listen, and if everything works, you're ready to put the doors back together.
Tools needed: Panel tool, Phillips screwdriver, small flat-blade screwdriver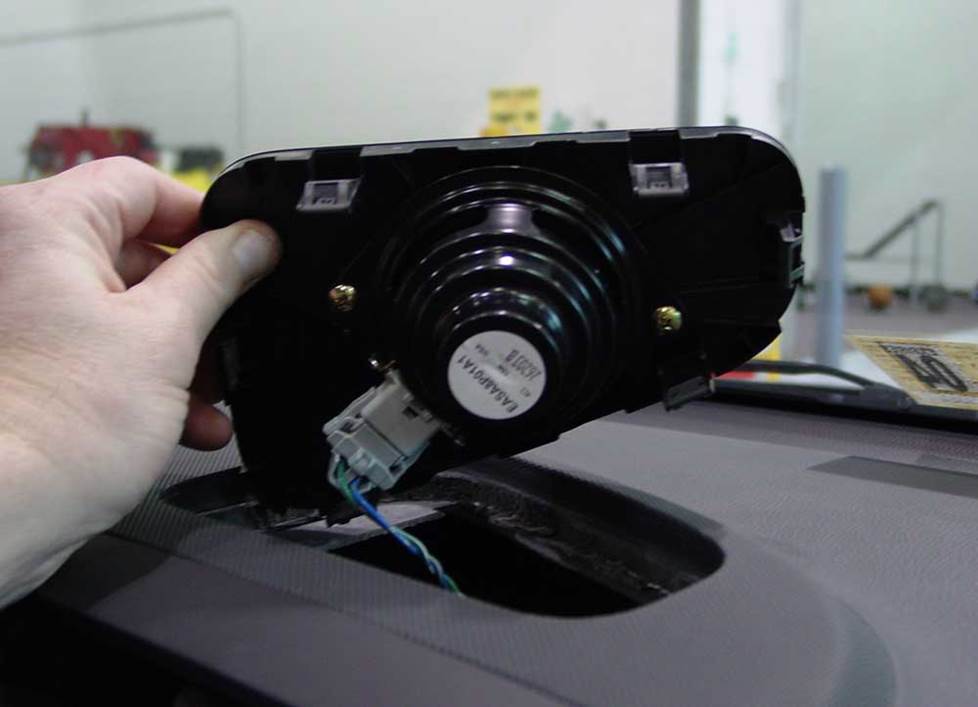 Removing the center speaker is surprisingly easy (Crutchfield Research Photo)
Dash speakers
The TL's upper dash features a center speaker and two tweeters in the corners, near the base of the A-pillars. They're all relatively easy to reach and replace, and it's definitely worth your time. Improving your soundstaging will make it seem as though your favorite band is playing a concert on your dashboard.
The center speaker is a 3-1/2", 4-ohm model located at the top of the center stack. To access this speaker, pry up the speaker/grille assembly; then disconnect and remove it. Remove the two Phillips screws securing the speaker to the bottom of the grille and set the old speaker aside.
Replacement 3-1/2" speakers are available, and they can be attached to the grille using the screws you just removed. Connect the speaker wiring adapter of the new speaker to the vehicle's speaker harness, reinstall the speaker/grille assembly and test to make sure it's operating properly.
While there aren't any individual replacements for the (roughly) 1-1/2" dash tweeters, this is a great place to install the tweeters that are part of any component speaker system. You'll need an adapter to hold the tweeter in place, but our universal backstrap will help here.
To access the tweeter, pry up the assembly, then pry out the clips on the rear of the speaker to release and remove it. Use your universal backstrap to fix the speaker in place, then connect the speaker wiring adapter of the replacement speaker to the TL's speaker harness. Reinstall the speaker/grille assembly, and you're done.
Tools needed: Panel tool, small flat-blade screwdriver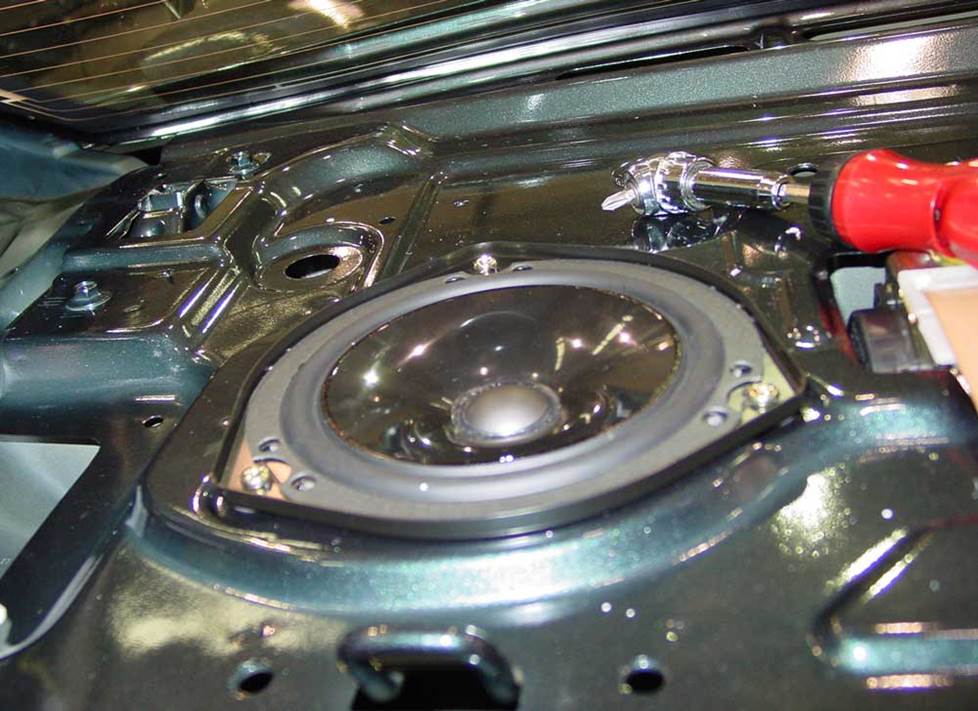 The TL's rear deck houses two speakers and a subwoofer (Crutchfield Research Photo)
Rear deck speakers
The TL makes efficient use of its rear deck, housing two 20-watt 6-1/2" speakers and a 40-watt 8" woofer.
These 2-ohm models are quite easy to replace once you get to them, but getting to them, as with so many sedans, is a bit of a process. You'll need to remove both the bottom and back seat cushions, the rear deck cover, and the C-pillar trim. None of this is hard, as you'll see in the detailed Crutchfield MasterSheet included with your order, but it does take time, tools, and (perhaps most of all) patience.
If you do it yourself, we recommend blocking off at least an afternoon, depending on your level of experience. In other words, don't rush. We also suggest that you have a couple of old (but clean) blankets handy to protect your Acura's nice leather seats from dust and damage.
A wide variety of 6-1/2" or 5-1/4" speakers are available for the TL, and we include adapter brackets that will help them fit right into the factory openings.
Tools needed: Phillips screwdriver, socket wrench and extension, 8mm and 10mm sockets
Read our Car Speakers Buying Guide for more information.
Shop for speakers that fit your Acura 3.2TL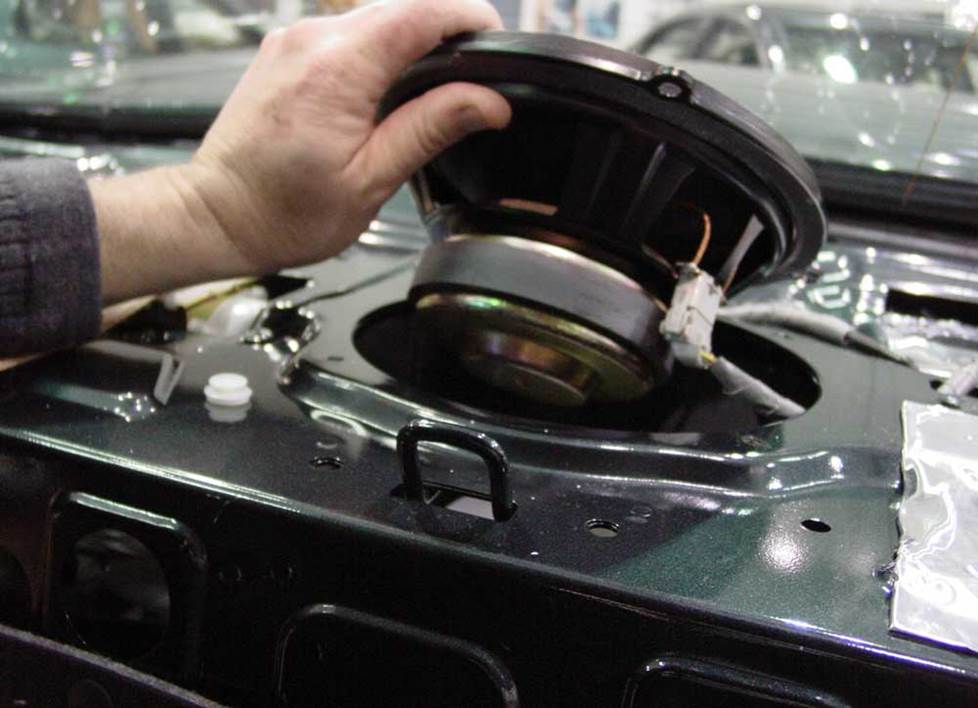 The TL's 40-watt subwoofer is located in the rear deck (Crutchfield Research Photo)
Bass in your Acura TL
As we mentioned above, the factory subwoofer is an 8", 2-ohm woofer. If you replace it with another sub, you'll want to add a new amplifier too, because the factory amp just isn't going to have the power for an aftermarket sub.
If one 8" subwoofer isn't enough bass for you, there's always the trunk. The available space for a sub box is 35" W x 16" H x 37"/33" D. If you only need a bit more bass and still want to occasionally haul luggage and groceries back there, you can choose from a number of powered subwoofers, or pair a compact class D amplifier with a woofer box. Either way, you can take your sound to new places without taking up the entire trunk.
Learn more about building a bass system in our Car Subwoofer Buying Guide.
Shop for vehicle-specific subwoofers for your Acura 3.2TL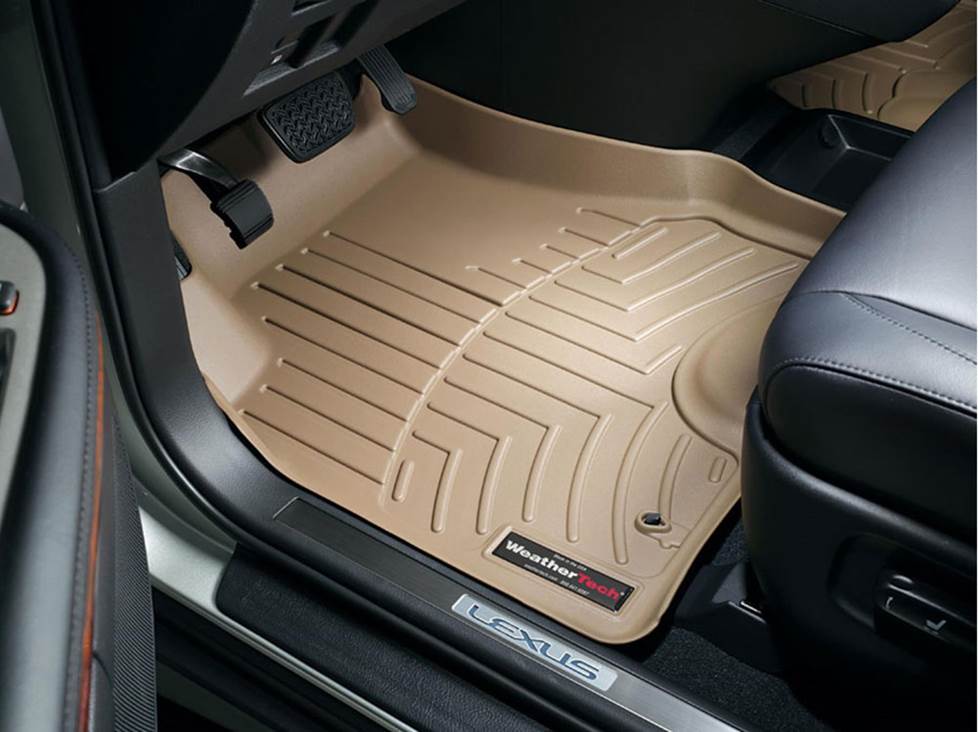 Keep your carpets looking sharp with a set of custom-fit WeatherTech floor liners
Other options for your Acura TL
There are plenty of other ways to improve your Acura TL. Here are some of the ways Crutchfield can help.
Protect the carpets with WeatherTech floor liners
It's easier than you think to mess up your Camry's interior while you're going about your daily business. Floor mats and liners from WeatherTech will help protect your car's carpeting from dirt and damage. And if they're already dirty and damaged, these mats will cover it up and make your car's interior a nicer place to be.
Add an amp (or two)
A new 4-channel amplifier will help you get the most out of your new speakers. You'll get cleaner power (and a lot more of it), which will result in much, much better sound. A mono amp can provide the juice you need for your new rear deck subwoofer, too. Learn more about adding amps to your system in our Car Amplifier Buying Guide.
Sound deadening
One good way to get the most out of your Acura's sound system is to keep more of the sound in your Acura. The Dynamat Xtreme Door Kit is the perfect way to seal out road noise and seal in the sound. This heavy-duty insulating material is easy to install, and it really makes a difference. This is a great thing to do while you're installing new speakers. Why take the doors apart twice if you don't have to? One kit will take care of the front doors on your TL. If you're adding a powerful subwoofer out back, purchase some extra Dynamat and line the trunk lid.
Security
Installing a security system in your Acura TL isn't easy (security systems rarely are), but it's definitely a good idea. Our Crutchfield Advisors can help figure out what you need to get the job done, but we usually recommend taking your car and new gear to a professional installer.
Let's get started!
Ready to shop? Use our vehicle selector to find the gear that will fit your car or truck. If you have questions of your own, give us a shout via phone, chat, or email