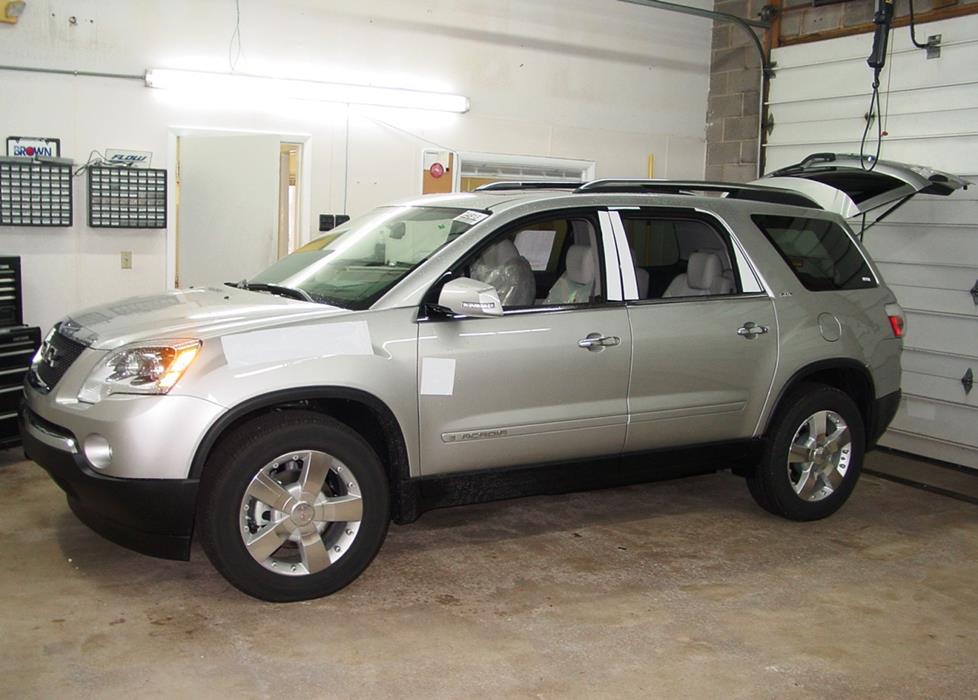 In brief: This Crutchfield Research Garage article gives you an overview of your Acadia's stock stereo system and your aftermarket upgrade options. We'll tell you all about:
Then, use our vehicle selector to find the gear that will fit your GMC.
Overview of the GMC Acadia
Here's a weird piece of trivia found on the Internet: the Acadia is the first GMC-badged front-wheel drive vehicle since the much-loved GMC Motorhome, which was last produced in 1978. If you're too young to remember that groundbreaking RV, look it up. They were kinda cool. The Acadia still is.
It's still a bit early to tell whether or not this GMC will inspire the same fervent fandom as its distant cousin, but the Acadia is an attractive, efficient 21st century people-mover. It's certainly not as big a box as the legendary Motorhome, but it's a whole lot easier to handle in the parking lot of your local big box store. The Acadia's spacious cabin is also a terrific setting for a high-performance aftermarket stereo system.
The factory radios are decent, but you'll get better sound and functionality from an aftermarket model (Crutchfield Research Photo)
The factory stereo system
Even in base form, the Acadia was a very well-appointed vehicle. The standard stereo was a 6-speaker system with an aux input and, of course, OnStar® capability. The top-line stereo was a 10-speaker Bose® system with a subwoofer. A navigation system and a rear seat DVD system were dealer options.
You'll lose some factory features when you replace the stock radio, but with the wide variety of aftermarket receivers and other gear available, you can not only get them back, but get them in a much-improved form. And it goes without saying that aftermarket speakers will really make a difference in how you hear your favorite songs and shows.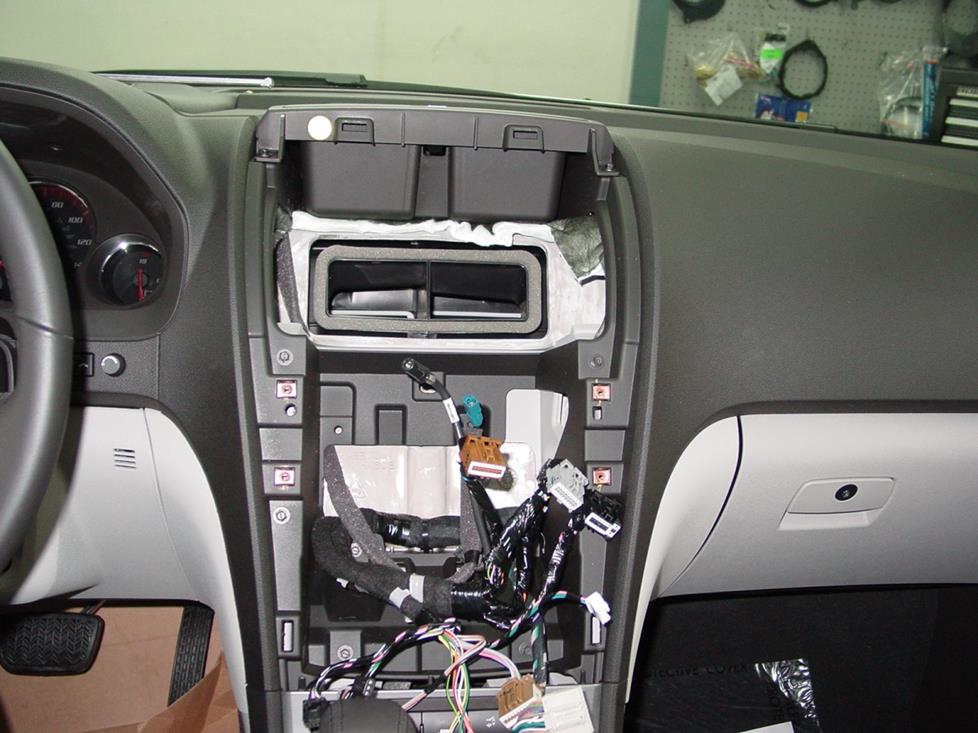 This probably looks scarier than it really is. Replacing the Acadia's receiver is actually pretty simple. (Crutchfield Research Photo)
Removing the factory radio
The Acadia's factory receiver is reasonably easy to remove and replace. Use a panel tool to pry out the receiver trim panel and release the retaining clips, then remove the panel and put it someplace safe, preferably on a non-scratching surface. Next, you'll remove the four 7mm screws securing the radio to the dash, disconnect the harnesses, and remove the radio.
Putting the new one in isn't much harder, but there are a few things you'll need to do the job right. The mounting kit (included at a deep discount with most Crutchfield stereo purchases) will allow you to install a single-DIN (2" tall) or double-DIN (4" tall) receiver in the factory opening.
You'll also need an integration adapter to connect your new receiver and retain the factory safety warning chimes. Thankfully, you don't have to worry about choosing the right one – we'll do that for you. Just enter your vehicle information on our Outfit My Car page, find the receiver you want, and add it to your cart. We'll show you which adapter you need, and you'll get a big discount when you purchase everything together at Crutchfield.
Detailed stereo and speaker removal instructions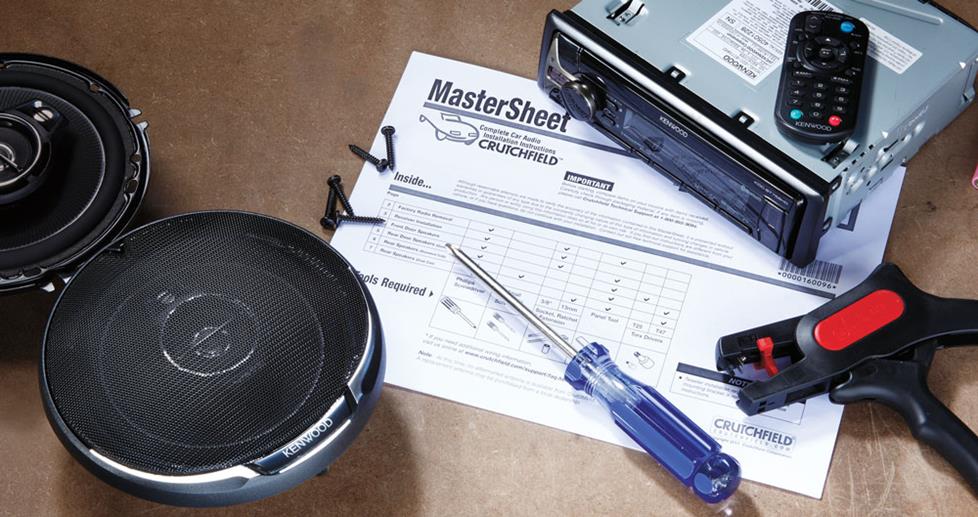 With step-by-step disassembly instructions and plenty of up-close, detailed photos, our exclusive
Crutchfield MasterSheet
™ takes the guesswork out of removing the factory stereo and speakers. It's free with your Crutchfield order, or you can purchase one separately for just $9.99.
We strongly recommend that you use one of the recommended adapters. Failure to do so may result in serious injury or death. It will most certainly result in our polite (but firm) refusal to provide technical assistance when you call us for installation advice. It's a safety thing.
If you're adding a DVD or nav receiver, you should also consider a rear-view camera. These increasingly popular cameras can really help with parking in tight spots.
Tools needed: Panel tool, 7mm socket, ratchet and extension
Read our Car Stereo Buying Guide for shopping tips and advice.
Steering wheel audio controls
It's relatively easy to retain your Acadia's steering wheel audio controls when you install a new stereo. When you enter your vehicle information, our database will choose the adapter you need to make your factory steering wheel controls work with your new receiver.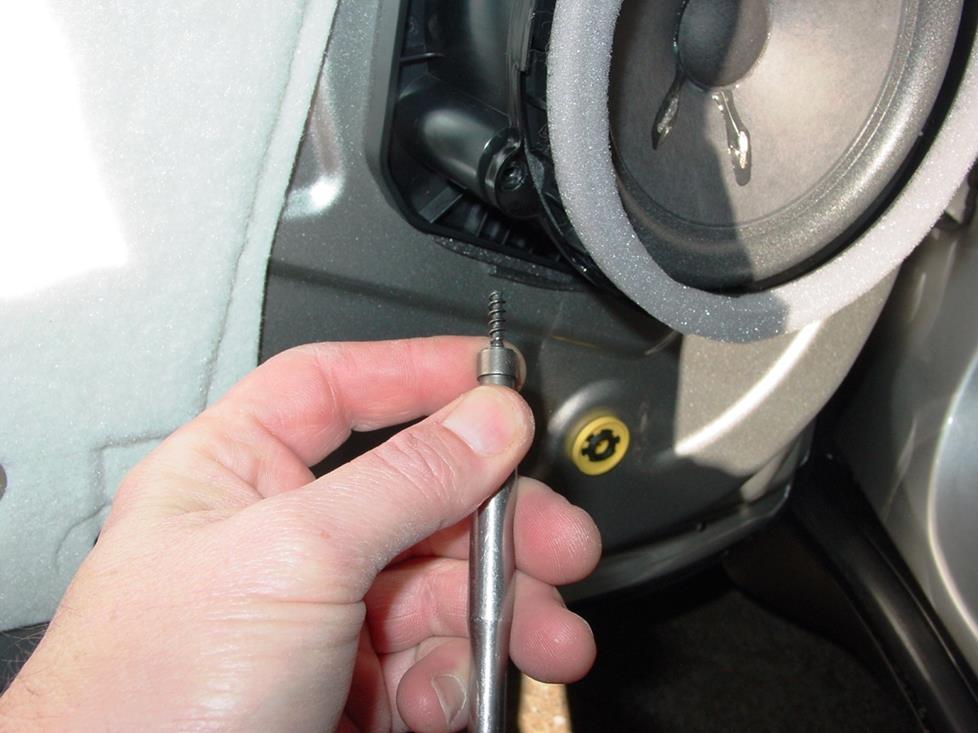 Replacing the factory speakers will make a massive difference in your Acadia's audio quality (Crutchfield Research Photo)
Removing the factory speakers
Depending on how it's equipped, the Acadia can have up to ten factory speakers. Generally speaking, they're not that hard to replace and the improvement in sound quality will make it worth your while.
There are plenty of aftermarket speakers that will fit nicely in the Acadia, but speaker wiring harnesses and mounting brackets are much harder to find. Years ago, that might have been a problem, but not anymore. Posi-Products connectors will allow you to connect your new speakers without splicing, while our universal backstraps will help make it possible to secure your new speakers in any location.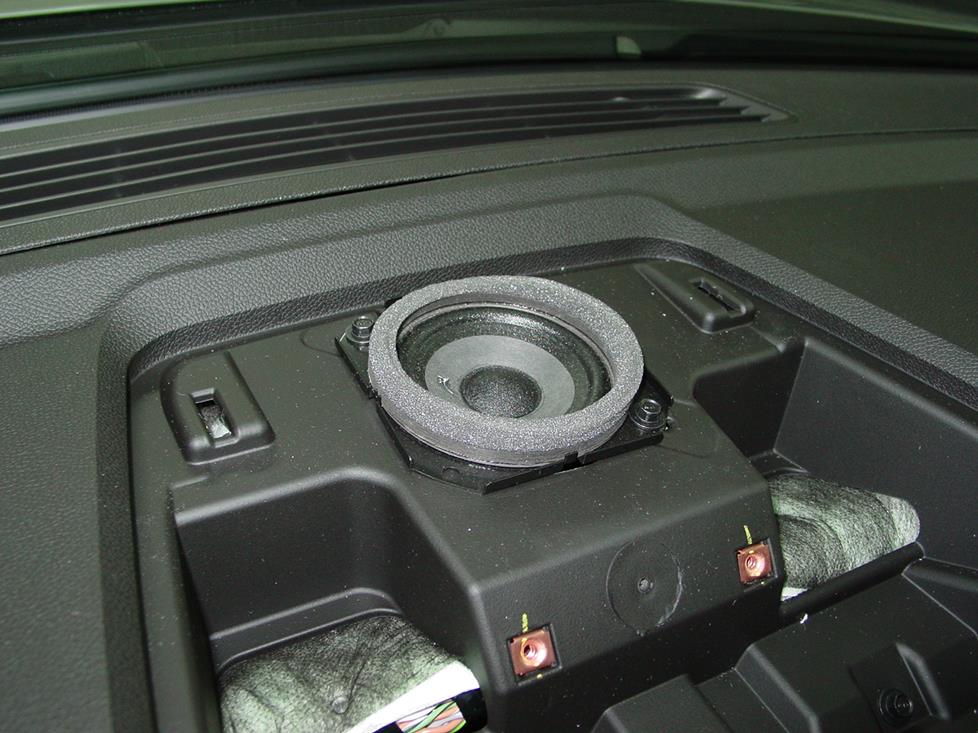 As long as you're in here, why not replace the dash speaker? (Crutchfield Research Photo)
Center dash speaker
If your Acadia is equipped with the Bose system, there's a 3-1/2" speaker in the center of the dash. To get to it, you'll have to do the same stuff you did to get to the receiver, so you might as well replace it while you're in there anyway. Complete, illustrated instructions can be found in the Crutchfield MasterSheet included with your purchase.
This is totally do-able for the average DIY car audio enthusiast, but it's important to be gentle when you're prying and pushing on the various plastic bits. You'll see this panel every day when you're behind the wheel, so you don't want to be reminded of that time you got frothing mad at a piece of plastic. Patience is a virtue, here as in all things.
Tools needed: Panel tool, and 7mm socket, ratchet and extension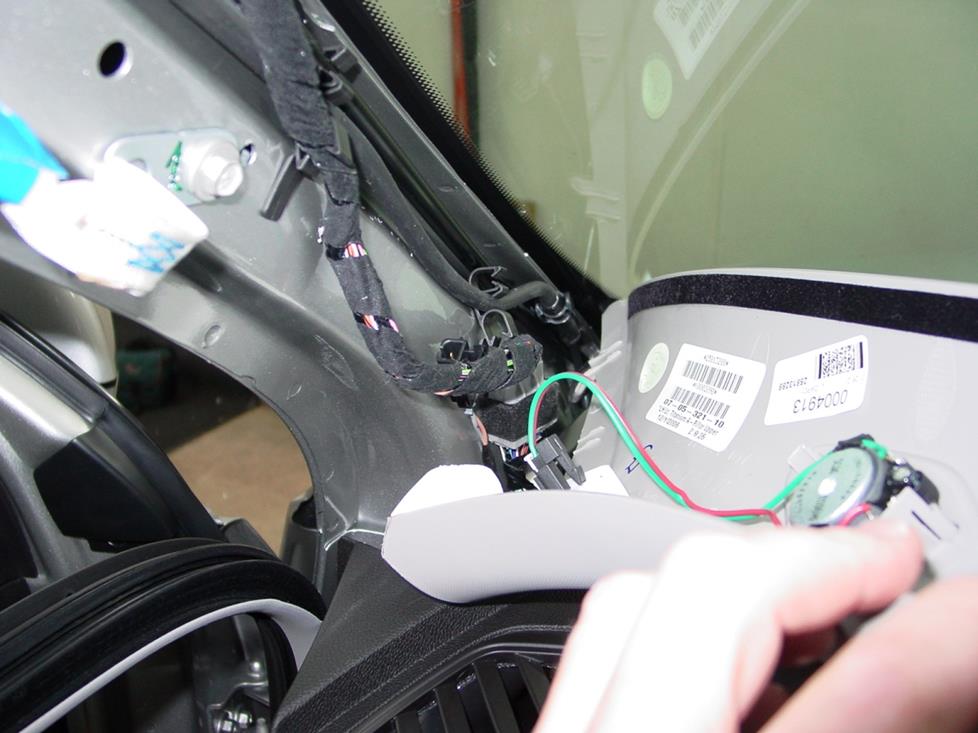 The tweeters are attached to the A-pillar panels (Crutchfield Research Photo)
Front pillar speakers
The factory tweeters are mounted on the back of the front pillar trim panels. Removing them isn't difficult, but the process for the driver's side is a bit different than it is on the passenger's side, so pay close attention to the instructions in your MasterSheet. You'll need to use a set of our universal backstraps to secure the new component tweeters. Hot glue or silicon will do the trick, too.
Tools needed: Panel tool (or flat blade screwdriver), 7mm (left) and 10mm (right) socket, ratchet and extension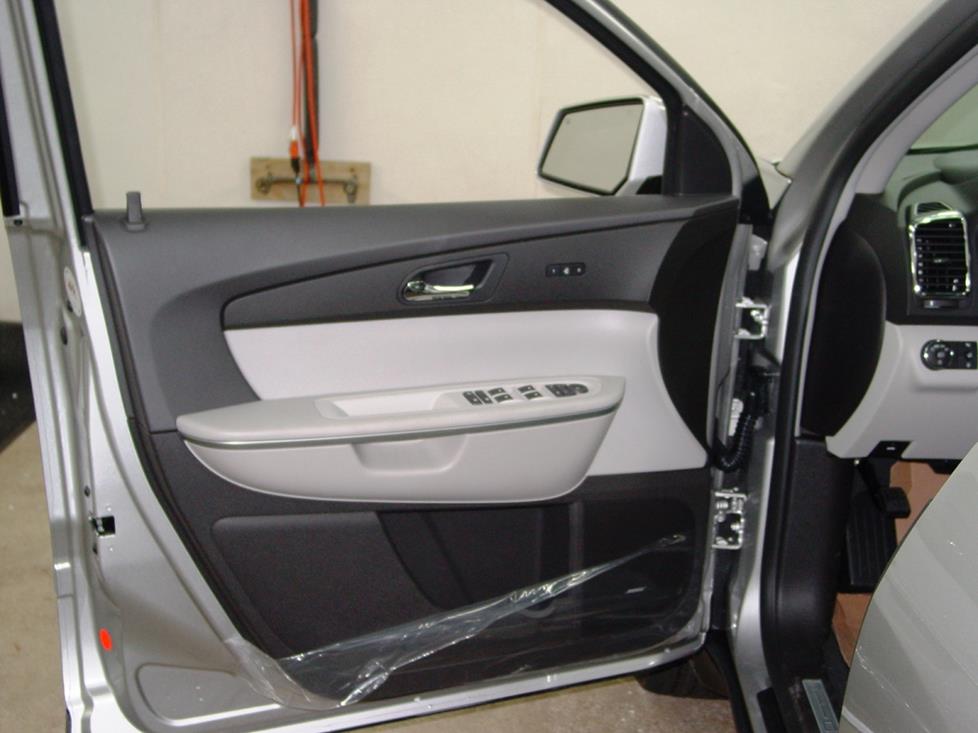 You'll need to remove the door panels to replace these speakers (Crutchfield Research Photo)
Front door speakers
The Acadia's stock speakers, regardless of stereo system, are 6-3/4" units. The Bose system is pretty impressive for a factory set-up, but there's plenty of room for improvement with aftermarket gear.
A wide variety of same-size or smaller aftermarket models will fit behind the Acadia's swoopy door panels, but you may need to remove the locating tabs from the factory speaker bracket before mounting an aftermarket 6-3/4" speaker or the monunting bracket that's needed for smaller speakers. This modification isn't difficult, and it won't affect the bracket's structural integrity.
The removal and replacement process isn't difficult, either, but there are some differences in how you'll approach each of the front doors. You'll be removing both door panels, but the driver's side door has a bit more going on in terms of window and lock controls, so the process is a bit different. Not harder, mind you, just different. The details, including some very helpful illustrations, can be found in your Crutchfield MasterSheet. You'll want to be careful when removing the door pull cover. It's a long-ish piece of plastic and you don't want it to break, so take your time when you're prying it loose.
Once your speakers are installed, make sure they're working properly. Before you button everything up, test the door locks and make sure the speaker wires aren't interfering with the windows. A speaker adapter bracket may be required, and it's included at a hefty discount with your speaker purchase.
Tools needed: Panel tool, small flat blade screwdriver, Torx T-30 driver, 1/4" driver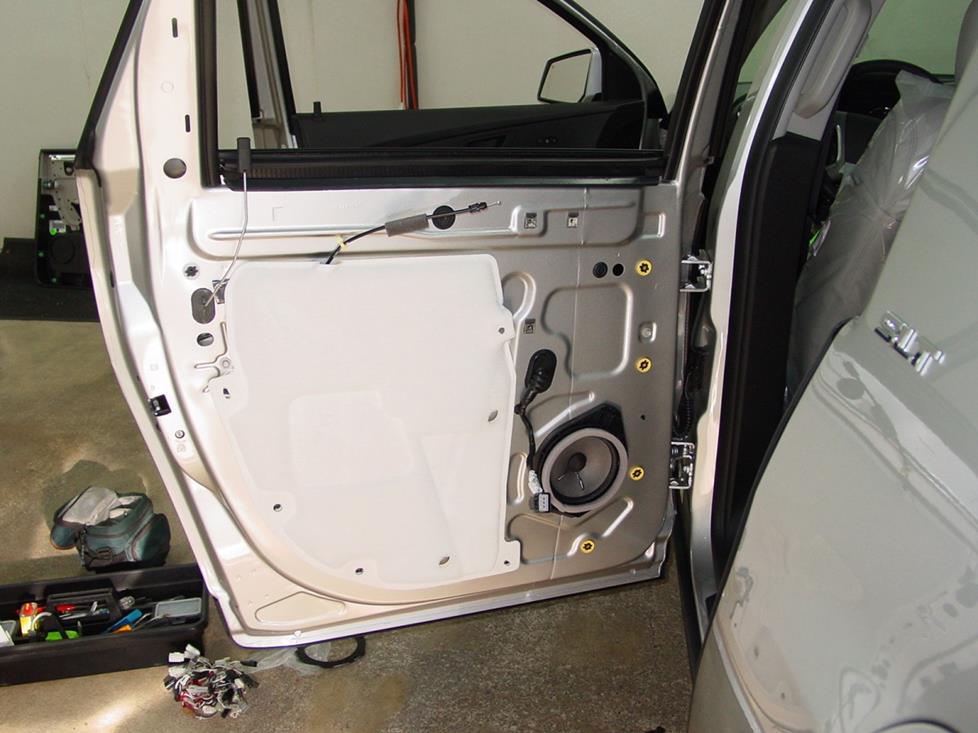 Panel removal isn't hard, but it's important to work carefully (Crutchfield Research Photo)
Rear door speakers
The rear doors house a set of 6-3/4" speakers and, as with the front doors, you can replace them with aftermarket 6-3/4" or 6-1/2" models. Depending on what you're installing in your Acadia, you may also need to cut off four locating tabs on the factory bracket to allow the aftermarket speaker bracket (included with your Crutchfield speaker purchase) to fit flush.
Removing the door panel is a straightforward process and it's exactly the same on both sides. As always, you'll want to be careful when prying away at the plastic panels, especially those door pull covers. Once the door panels are off, store them someplace safe until it's time to put them back on.
Tools needed: Panel tool, small flat blade screwdriver, Torx T-30 driver, 7mm driver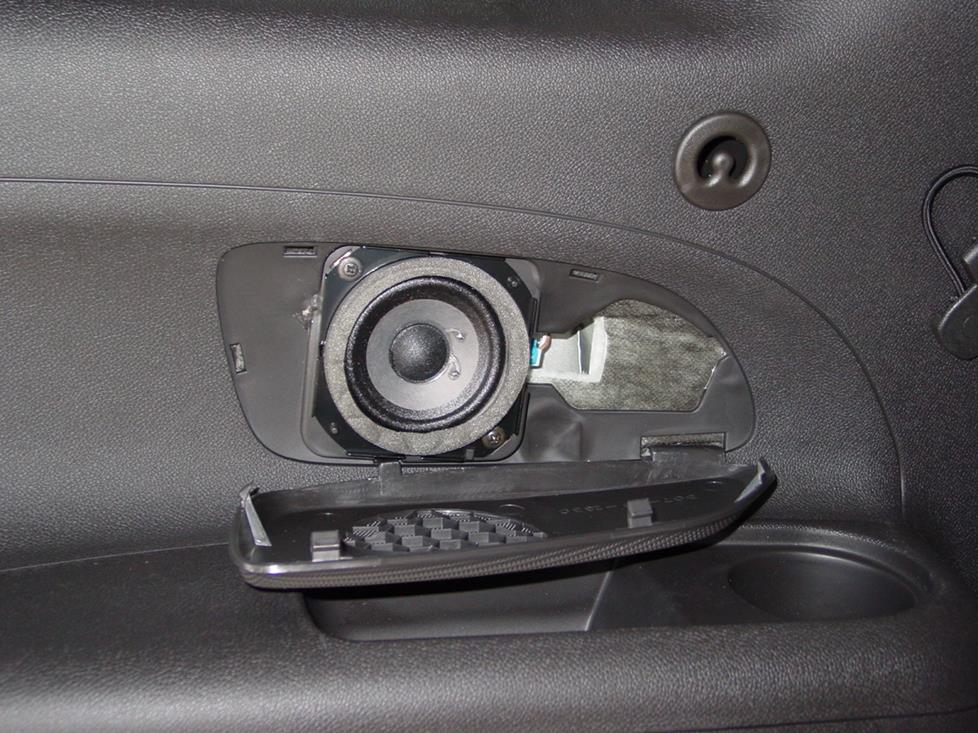 These 3-1/2" speakers are easy to access and easy to replace (Crutchfield Research Photo)
Rear side speakers
The Acadia's Bose system includes a set of 3-1/2" rear side panel speakers located in the third-row seating area. They're easy to reach and replace, since all you have to do is (carefully) pry up the grille and remove the screws that secure the speaker.
You'll need Posi-Products connectors to connect the new aftermarket models, but that's really all there is to it when it comes to replacing these speakers.
Tools needed: Small flat blade screwdriver, Phillips screwdriver
Read our Car Speakers Buying Guide for more information.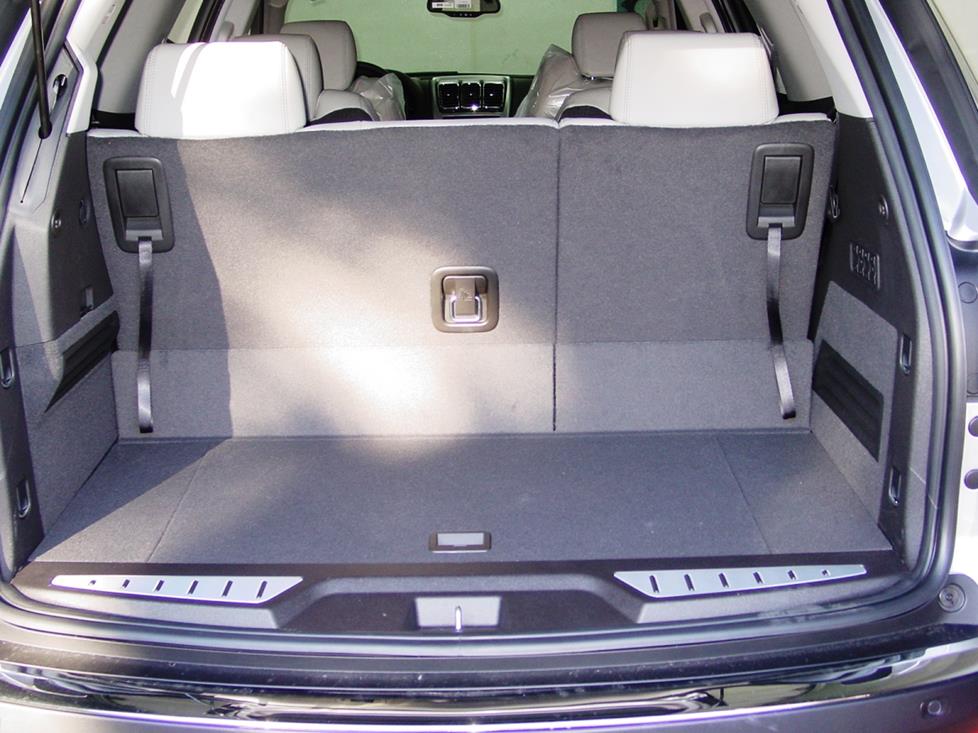 Obviously, there's no shortage of space for bass in the Acadia (Crutchfield Research Photo)
Bass in your Acadia
If your Acadia has the Bose stereo system, there's a factory sub located under the front center console. Getting to the thing takes a ton of work, including the removal of the gear shift mechanism, and it's not easy. Take our word for it.
Ordinarily, we encourage customers to install their own gear, because it's not as hard as you'd think and it can be a lot of fun. In this case, we encourage you to leave the factory sub alone. In fact, we don't recommend replacing this subwoofer under any circumstances, ever, even if a pro is doing the job for you. Use it if you can, bypass it if you must, but definitely leave it where it is. Besides, there are other ways to add bass to your Acadia
With the third row seats up, you have a 46" W x 13" H x 18"/16" D space in the cargo area for a subwoofer enclosure. That's a lot of room to work with, so if you're a connoisseur of great bass, you can go big if you want to.
If you love music, but still love being able to haul people and stuff in your SUV, there are plenty of practical solutions. A jumbo-sized component subwoofer in an box is one way to go, but on the flip side, a smaller powered subwoofer will give you a surprising amount of thump without taking up your storage space.
There's a storage cubby under the rear cargo floor, so you might want to keep that in mind, too. Whether you're planning to use it or not, you can improve performance and reduce rattling by lining the underside of the cover with sound-deadening material from Dynamat.
Learn more about building a bass system in our Car Subwoofer Buying Guide.
Shop our full selection of subwoofers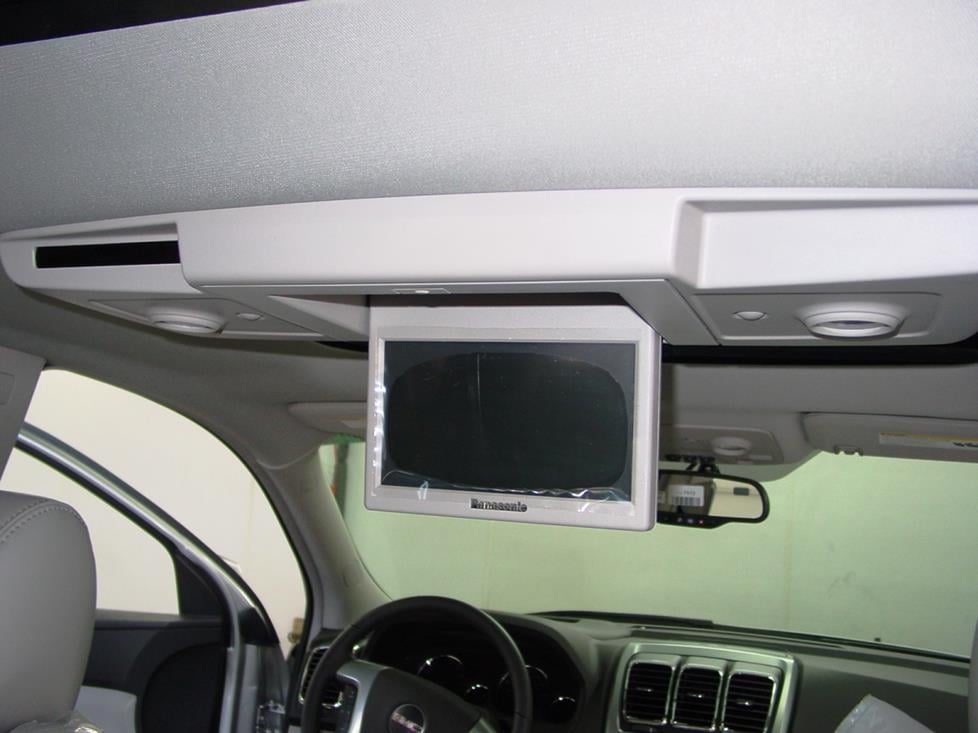 If your Acadia doesn't have factory rear-seat entertainment, you can add an aftermarket model (Crutchfield Research Photo)
Other options for your Acadia
Here are some other suggestions for your GMC SUV.
Rear-seat entertainment
If your Acadia came equipped with factory rear-seat entertainment (above), you can retain that feature when you install a DVD receiver in the dash. If you don't have that feature, and want to add it, we offer a number of aftermarket video solutions that work in a wide variety of cars and SUVs.
Add an amplifier for better sound
When you replace the Acadia's factory radio, you'll continue to use the factory amplifier in your audio system, and that's fine. But to further improve the sound quality, you should consider installing a 4-channel amplifier for your speakers. That will let you bypass the factory amp and get the best sound from your music. And if you install a new subwoofer, you'll also need to install an amplifier to power it. Learn more about adding amps to your system in our Car Amplifier Buying Guide.
Remote start and security systems
Adding remote start capability to your vehicle lets you warm it up in the winter or cool it down in the summer. The iDatastart system is incredibly convenient and makes it easier than ever to install a remote start system, so we highly recommend it. The module requires a vehicle-specific T-harness (sold separately) to connect with your vehicle's computer, security, and ignition systems, so we ask that you call to order so that we can make sure you get the right harness for your ride.
You can also talk to your Crutchfield Advisor about a security system. They're not as easy to install (we usually suggest letting a professional do the job), but we can help you choose a system that'll work in your vehicle.
Let's get started!
Ready to shop? Use our vehicle selector to find the gear that will fit your car or truck. If you have questions of your own, give us a shout via phone, chat, or email