2008-2015 Scion xB
Upgrading the stereo system in your xB
2008 • 2009 • 2010 • 2011 • 2012 • 2013 • 2014 • 2015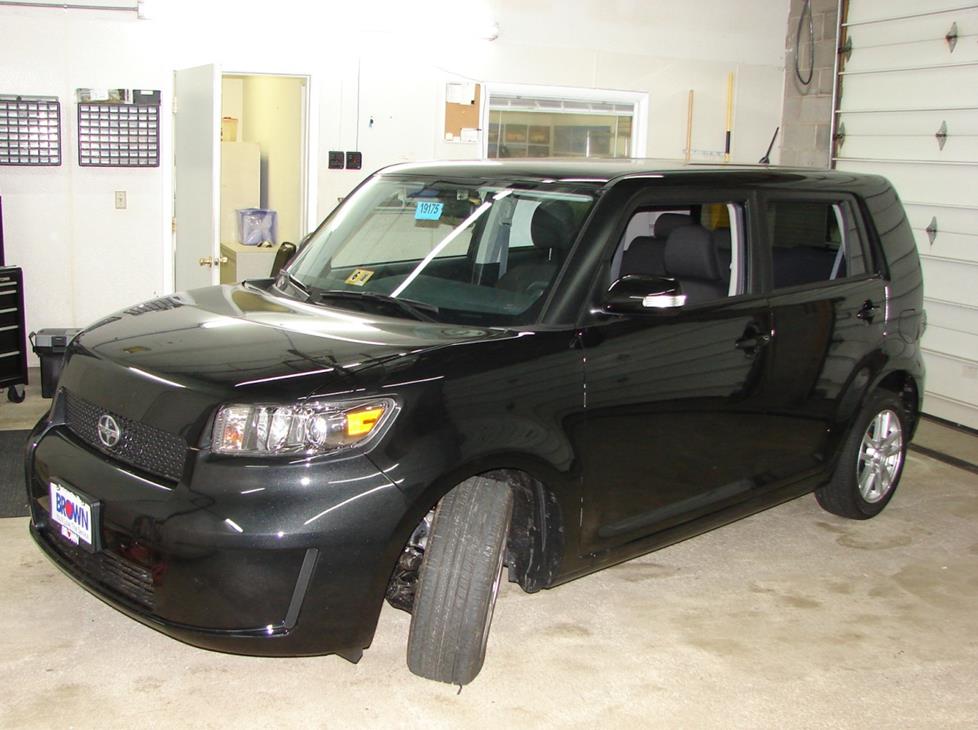 In brief: This Crutchfield Research Garage article gives you an overview of your xB's stock stereo system and your aftermarket upgrade options. Use our vehicle selector to find the gear that will fit your Scion.
Overview of the Scion xB
The original Scion xB was a small, quirky box of a car that quickly found a loyal following in a crowded U.S. marketplace. When it was time for a revamp, Scion (okay, okay, Toyota) stayed close to the original concept by making a bigger box. Still quirky, mind you, just bigger.
It seemed like a great idea at the time, but for whatever reason, the longer, lower, and wider xB never sold as briskly as the car it replaced. That doesn't mean it's not a good car, it just means…well, we honestly have no idea what it means. We do know that we have several of these xBs in our company parking lot these days, and their owners are quite happy.
Detailed stereo and speaker removal instructions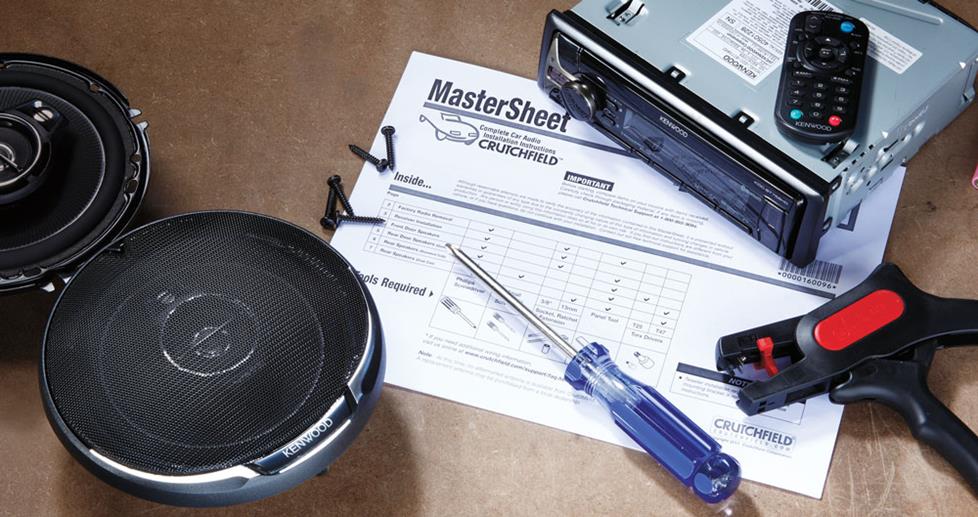 With step-by-step disassembly instructions and plenty of up-close, detailed photos, our exclusive
Crutchfield MasterSheet
™ takes the guesswork out of removing the factory stereo and speakers. It's free with your Crutchfield order, or you can purchase one separately for just $9.99.
The second-gen xB might not have matched the original model's breakout success, but it's still a practical, reliable people-mover with just enough of Scion's trademark Scion-ness to keep things interesting. The center-mount gauge cluster remains, and it remains an acquired taste. If you've been driving an older xB or a MINI, you'll feel right at home. If not, it'll feel as though someone snuck into your house and moved your television two feet to the right. It's different, and quite purposely so, but that's just part of the xB's charm.
If you think an xB is the car for you, you're probably right. And if you're a music lover, giving your bigger box a bigger boom is easier than you probably think it is.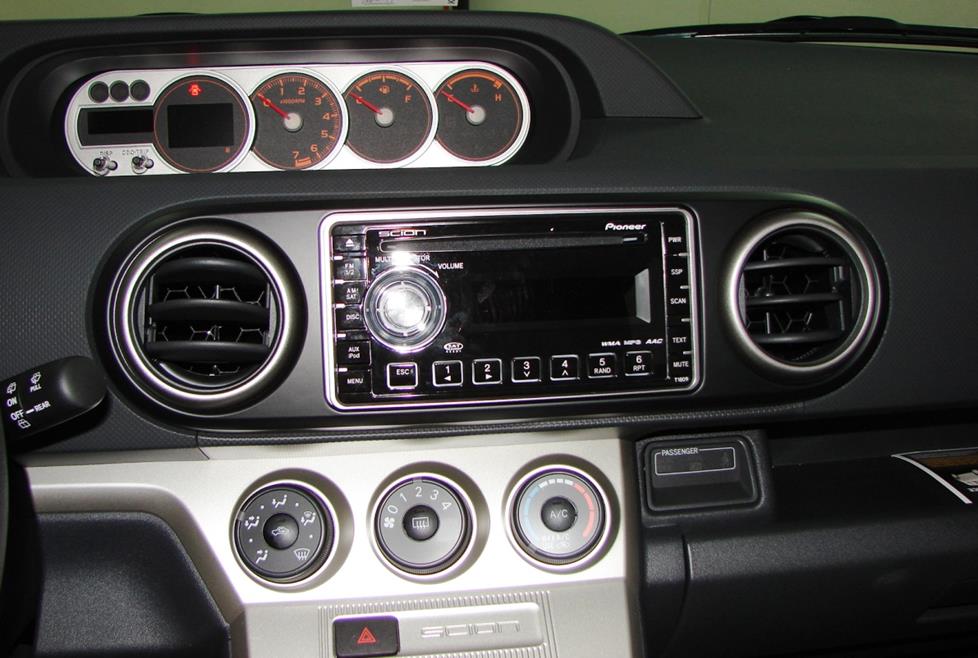 The xB's factory Pioneer radio (Crutchfield Research Photo)
Factory stereo system
The xB's standard system was a 6-speaker set-up centered on a Pioneer AM/FM/CD/MP3/WMA/AAC receiver. Aux and iPod® inputs were located on the center console. Improvements along the way included a new faceplate, an extra RCA output for a subwoofer and, in 2012, a built-in HD Radio™ tuner.
One of Scion's most interesting selling points has always been the vast array of dealer-installed options available. This arrangement allows the buyer to customize their xB with all sorts of appearance and entertainment options, including a premium Alpine system, touchscreen nav, and rear-seat DVD entertainment.
We have not fully researched an xB equipped with the optional gear, but our fit and compatibility recommendations still hold true.

You'll need to remove this trim panel (Crutchfield Research Photo)
Replacing your factory radio
The xB's Pioneer receiver is relatively easy to remove and replace. A variety of 2" single- or 4" double-DIN models will fit with help from the mounting kit that's available at a deep discount with all receiver purchases at Crutchfield. If you're installing a 4" receiver, you'll need to use the factory radio's mounting brackets in order to install your new receiver. If you don't have the brackets, you can obtain them from your dealership.
To remove the old stereo, pry out the edges of the receiver/vent trim panel to release the retaining clips, then remove the panel. Next, you'll pry out the rectangular trim panel above the heater controls, release those clips, and remove that panel, too. With the radio exposed, you can remove the four 10mm screws that hold it in place, disconnect the wiring harnesses, and remove the receiver.
When you replace the factory radio, you'll lose your factory XM satellite radio capability and AUX input connection. Thankfully, both features are available on a wide variety of aftermarket stereos.
You'll need a mounting kit to secure the new receiver and wiring harness that will connect your new stereo to your vehicle's electrical system. If you purchase your new receiver from Crutchfield, the harness is also available at a deep discount with most receivers.
Tools needed: Panel tool, socket wrench and extension, 10mm socket
Steering wheel audio control
It's relatively easy to retain the steering wheel audio controls when you install a new stereo in your Scion xB. When you enter your vehicle information, our database will choose the adapter you need to make your factory steering wheel controls work with your new receiver.
Shop for car stereos that fit your Scion xB
Replacing your factory speakers
Upgrading the speakers in your xB will make an already-decent sound system into something special.

The Scion xB's front door – the tweeters are in the sail panel (Crutchfield Research Photo)
Front door speakers
The xB's factory system isn't bad at all, and the component speakers in the front door are a big reason why. That said, a set of aftermarket component speakers will sound even better. A quality set of separates will bring the soundstage up to your ears and let you hear all the details of your music.
The stock 6-3/4" woofers, which are wired in parallel with the tweeters, can be replaced by a variety of 5-1/4" or 6-1/2" component speaker woofers, all of which come with free mounting brackets from Crutchfield.
The overall process is reasonably straightforward, but you will need to drill out the rivets that hold the factory models in place, then drill new mounting screw holes for your aftermarket speakers.
If you've ever successfully drilled a hole in anything, you're probably equipped to do this. The major difference is that you're drilling a hole in your car this time, so be careful. Double-check your measurements before you drill and always be aware of things like wiring, windows, and safety devices. We're not your Mom, but we're still going to remind you to wear eye protection.
You'll need to remove the door panel first, and you'll start that process by prying out the sail panel assembly that houses the tweeter, then disconnecting the wiring harnesses. Once the tweeter assembly is out of the way and you've removed the power window switch panel, work your way around the sides and bottom of the door with your panel tool, gently prying it away from the door to release the retaining clips. When the panel is loose, disconnect the door lock and release cables and remove the panel.
We're painting with a very broad brush here, by the way. You'll get all the detailed instructions you need in your Crutchfield MasterSheet.
A vast number of component tweeters will fit into the factory assembly, but you may need to trim the cutout a bit to fit a new tweeter in the space. You'll also need to fabricate a bracket to hold the new tweeter in place. Our universal backstrap can help with this. A wiring harness is not available for this location, so you'll either have to cut off the factory connectors and splice the speaker wires, or use a set of Posi-Products speaker connectors.
Tools needed: Panel tool, Phillips screwdriver, drill with 5/32" bit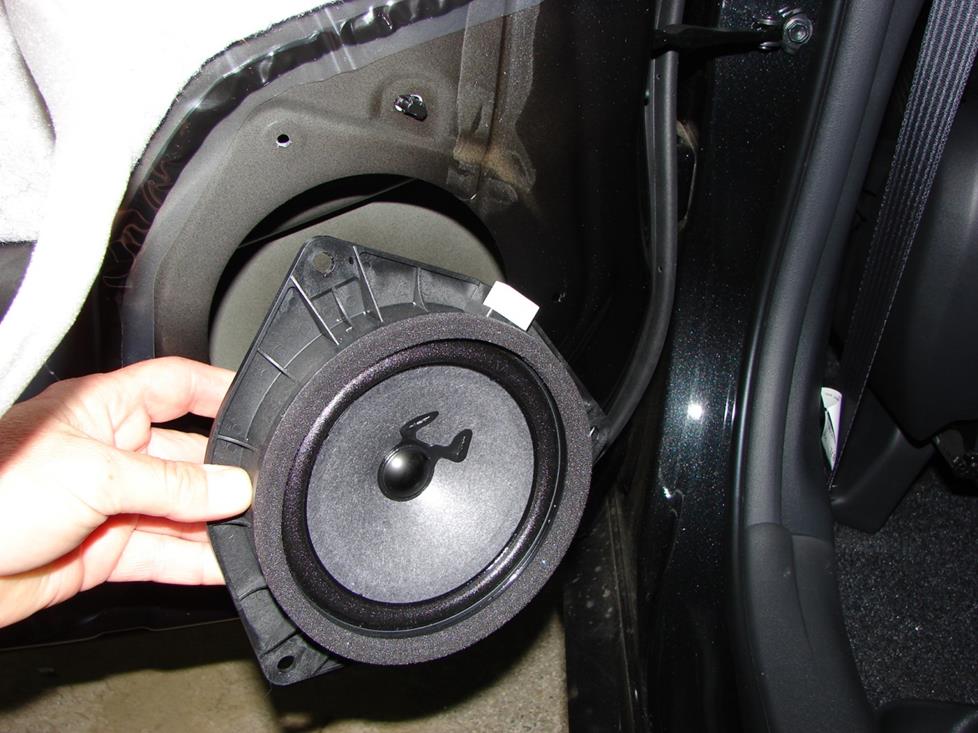 The xB's rear door speaker (Crutchfield Research Photo)
Rear door speakers
The rear door speakers are also 6-3/4", 4-ohm models, and you can replace them with 6-3/4", 5-1/4", or 6-1/2" aftermarket speakers.
You'll need to drill new mounting holes in this location as well, and you'll also need brackets(available at a special price with with your Crutchfield order) to install your new speakers.
The removal and replacement involves essentially the same processes you used up front. All the details can be found in your Crutchfield MasterSheet.
Tools needed: Panel tool, Phillips screwdriver, drill with 5/32" bit
Shop for speakers that fit your Scion xB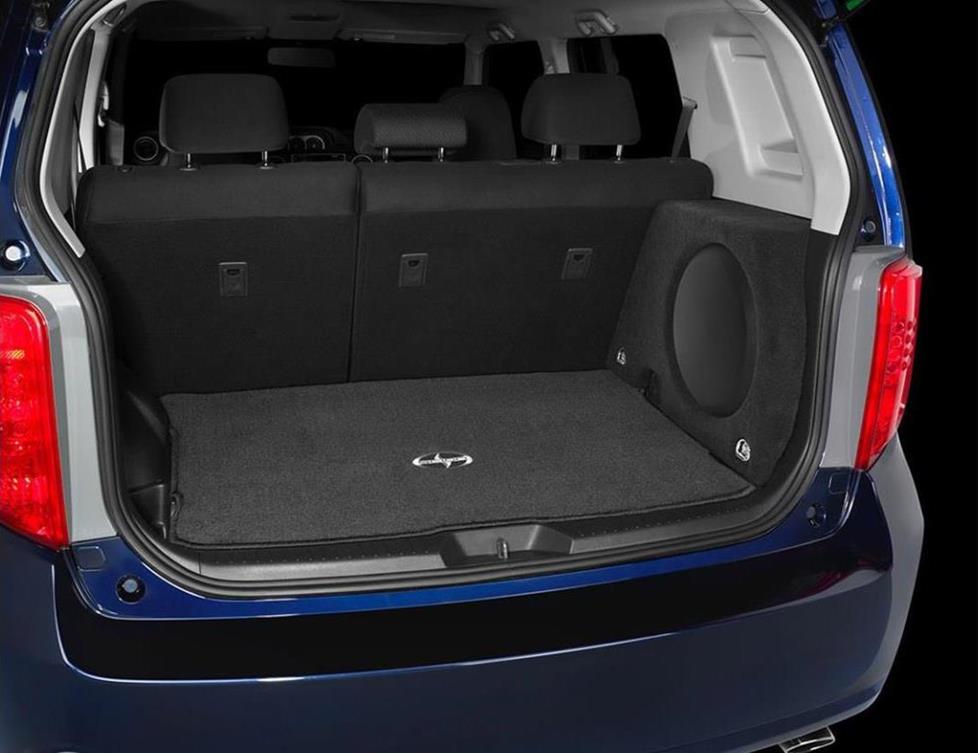 This JL Audio Stealthbox fits the xB perfectly
Bass in your Scion xB
As you might expect, the xB has plenty of rearward room if you're thinking about building a subwoofer enclosure. The available space is 38" W x 19" H x 20"/27" D, which will hold a pretty impressive box.
Need something more compact? JL Audio offers an 12" Stealthbox sub enclosure that's designed especially for the 2008-up Scion xB. The installation is of the enclosure is relatively simple, but the subwoofer will have to hardwired, just like installing any other powered sub. JL Audio has rated the difficulty of the installation as low, so you should be able to install this enclosure if you have any experience with car audio.
If you're concerned about cargo space, which, since you bought an xB in the first place, you might well be, you can choose from a wide variety of powered subs.
Shop for vehicle-specific subwoofers for your Scion xB
Other options for your xB
Here are some other upgrade ideas for your Scion:
iPod® and satellite radio adapters
If you don't want to replace the factory receiver, you can still add versatility and great sound to the system. We offer several adapters that will allow you to use an iPod, MP3 player, or satellite radio with the factory system.
Dynamat
The Dynamat 10435 Xtreme Door Kit is the perfect way to seal in sound. This heavy-duty insulating material is easy to install, and it really makes a difference. One kit will take care of the front doors in your xB.
Remote start and security systems
Adding remote start capability to your vehicle lets you warm it up in the winter or cool it down in the summer. The iDatastart system is incredibly convenient and makes it easier than ever to install a remote start system, so we highly recommend it. The module requires a vehicle-specific T-harness (sold separately) to connect with your vehicle's computer, security, and ignition systems, so we ask that you call to order so that we can make sure you get the right harness for your ride.
You can also talk to your Crutchfield Advisor about a security system. They're not as easy to install (we usually suggest letting a professional do the job), but we can help you choose a system that'll work in your vehicle.
Shop for speakers that fit your Scion xB
Find the audio gear that fits your car or truck
Visit our Outfit My Car page and enter your vehicle information to see stereos, speakers, subs, and other audio accessories that will work in your vehicle.