2009-2013 Toyota Corolla
Upgrading the stereo system in your Corolla
2009 • 2010 • 2011 • 2012 • 2013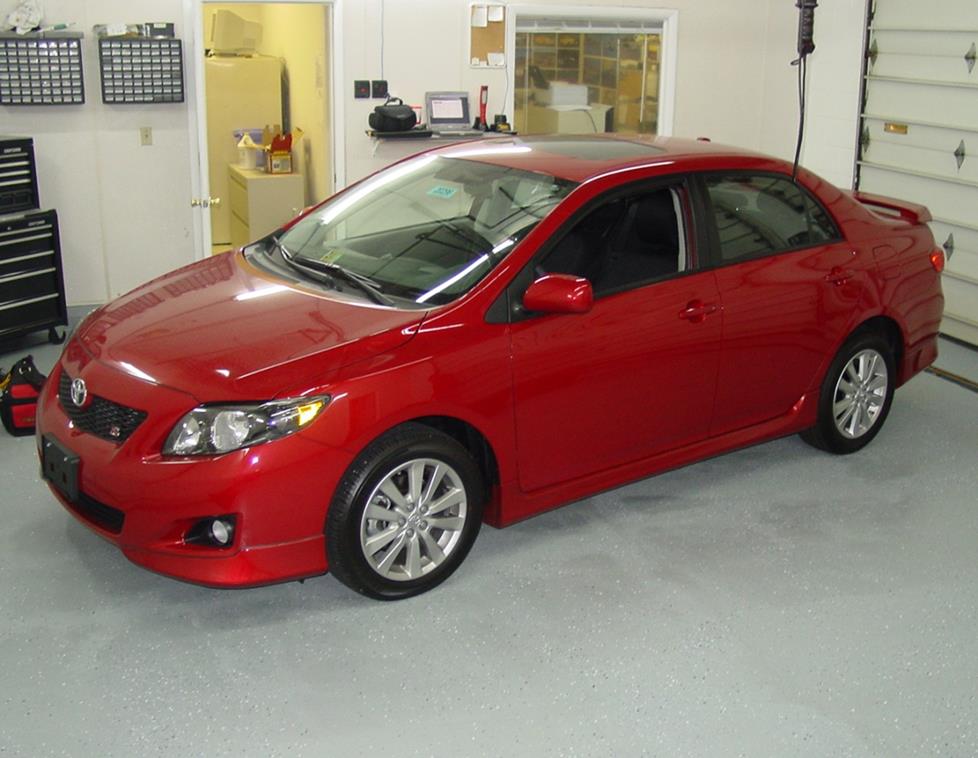 In brief: This Crutchfield Research Garage article gives you an overview of your Corolla's stock stereo system and your aftermarket upgrade options. Use our vehicle selector to find the gear that will fit your Toyota.
Overview of the Toyota Corolla
Toyota Corollas don't just blend into the background, they are the background. And that's not a bad thing. Corollas have long been known as smart, solid cars that start every morning, go where they're pointed, and don't add drama to your busy day. If 2009-up Corollas sometimes seem to be everywhere, that's mostly because they're good cars. If people liked bad cars, we'd all be as tired of looking at Yugos as we are of seeing lame old references to how bad Yugos were. Corollas work; which is why people – lots and lots of people – buy them.
The tenth-generation Corolla's enormous popularity means there are plenty of good used models out there waiting for good new owners. It's not the flashiest car around, but if you're looking for a reliable ride that's easy on gas, easy on the eyes, and easy to own, a 2009-13 Corolla is a solid choice. If you're looking to make your driving experience a little more interesting, upgrading the factory stereo is a great place to start.
Detailed stereo and speaker removal instructions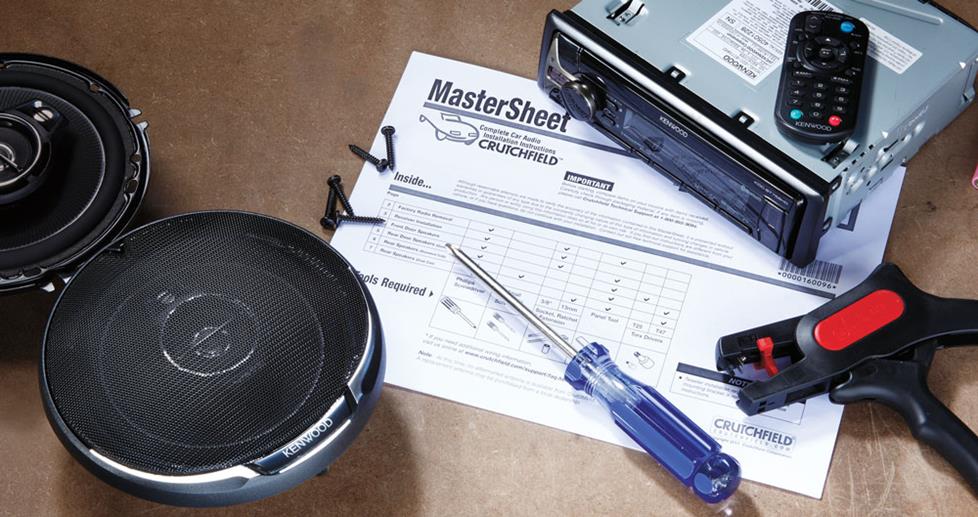 With step-by-step disassembly instructions and plenty of up-close, detailed photos, our exclusive
Crutchfield MasterSheet
™ takes the guesswork out of removing the factory stereo and speakers. It's free with your Crutchfield order, or you can purchase one separately for just $9.99.
Factory stereo system
The Corolla's base stereo was an AM/FM in-dash single CD player with CD MP3/WMA playback and an aux audio input, with four speakers. Speed sensitive volume control was also standard. A mid-line upgrade added two more speakers, and an optional 8-speaker JBL stereo was available from 2009-2011.
Later models (the next Corolla is slated for a 2014 debut) added more features, including optional touchscreen navigation and Toyota's Entune multimedia entertainment and information system, which appeared in 2012 Corollas.
Replacing the factory radio is relatively easy in the Corolla, regardless of the factory system. Single- or double-DIN receivers will fit nicely, so whether you're going CD-free with a digital media receiver or looking for a fully-loaded DVD/Nav receiver, you'll have plenty of possibilities to choose from.

The Corolla's factory radio (Crutchfield Research Photo)
Replacing your factory radio
You'll notice a seam in the center stack, just below the radio and above the heating/air controls. Starting at that seam, pry the lower trim panel straight out to release the retaining clips. Remove the strips on either side, then repeat the process on the upper side trim strips. If you work slowly and carefully, the trim should come off just fine. Trust us, patience is a virtue when you're dealing with plastic retaining clips.
Next, place a towel on top of the dash to protect the finish from possible scratches. Pull the upper vent assembly toward the rear of vehicle to release it, then place the assembly on top of the dash. The factory radio is secured by four 10mm screws. Remove them, and pull out the radio to release the retaining clips, disconnect the harness and set the old radio aside.
To install your new stereo, you'll need a mounting bracket and a wiring adapter. Both are available at a deep discount with your Crutchfield receiver purchase. Secure the receiver to the mounting bracket, then make the necessary wiring connections following the instructions supplied with the wiring adapter.
Once that's done, hold the receiver assembly near the dash, connect the wiring adapter to the Corolla's wiring harness and plug the antenna lead into the rear of receiver. Slide the entire assembly into the dash and secure it with the 10mm screws you removed earlier. Give the receiver a quick test. If it works, you're ready to reassemble the dash.
Replacing the factory radio will result in the loss of your factory aux input connection, the factory navigation system, and, if you have a subscription, your factory XM satellite radio. Those features are easy to replace (and improve, really) if you purchase the right aftermarket receiver.
Note: Make sure the wiring harnesses associated with the airbag are connected before turning on the ignition switch to test your new receiver. If it isn't connected, the airbag light will come on. Resetting it will require a trip to the dealership, so save yourself some money and time by double-checking this connection.
Steering wheel controls
It's relatively easy to retain your Corolla's steering wheel audio controls when you install a new stereo. When you enter your vehicle information, our database will choose the adapter you need to make your factory steering wheel controls work with your new receiver.
Shop for car stereos that fit your Toyota Corolla
Replacing your factory speakers

The Corolla's front door (Crutchfield Research Photo)
Front door woofers
The Corolla's front doors contain a pair of 6-3/4" speakers. The 4-ohm non-JBL swap is pretty straightforward, but for the 2-ohm JBL speakers, it's important to note that replacing them with higher-impedance speakers will result in lower volume levels. A variety of 5-1/4" or 6-1/2" speakers will fit using an adapter bracket, as will select 6-3/4" speakers that, quite frankly, are more like 6-1/2" speakers, anyway.
Getting to the speakers requires removing the door panel, which is relatively simple. It also involves a bit of drilling, which can be challenging. Your Crutchfield MasterSheet™ (free with your purchase) contains detailed, illustrated instructions.
Starting at the top, gently pry off the sail panel and release the clips that hold it in place. Next, pry out the screw cover behind the door release and remove one exposed Phillips screw. You'll also find a screw cover inside the door pull. Pry it up and remove the Phillips screw you find lurking below.
Starting at the rear edge, pry up the power options switch panel to release the retaining clips. Disconnect the wiring harness and remove the panel. Now, you're ready to remove the door panel. Pry out the sides and bottom of the door panel to release nine clips. Disconnect the door lock cable and the door release cable, and set the panel aside. Now that the speaker is exposed, you'll notice that it's held in place by three rivets.
It really doesn't look like it, but the speaker and bracket are a one-piece assembly, so you'll have to drill the rivets out of the sheet metal. Using a power drill (or a screwdriver drill, depending on your available tools and experience level) with an 11/64" bit, remove the rivets, pull out the speaker, and disconnect it.
Secure your new speaker to the adapter bracket that's available at a deep discount with your Crutchfield purchase. Next, place the speaker/bracket assembly in the speaker cavity and mark the location of the new mounting holes. Remove the assembly and drill the new mounting holes with a 1/8" bit.
Once the holes have been drilled, connect the speaker wiring adaptor of your new speaker to the Corolla's speaker harness. Secure the speaker/bracket assembly to the location with self-tapping screws. Your new speakers might not come with screws, so it's wise to check and, if necessary, make a trip to the hardware store before you start working.
After everything's hooked up, give your speakers a quick test and, if everything's working, re-install the door panel. Before you hit the road, check that the speaker wires don't interfere with window or door lock operation.
Note: This is an obvious point, but it's one worth making: Always, always be careful when drilling in a vehicle. Be very aware of things like wiring, windows, fuel lines, and safety devices. And, of course, check drilling depth and location to avoid damaging your vehicle. If you're not comfortable with the idea of drilling into your car, you might want to consult a car audio installation professional.
Tools needed: Panel tool, small flat blade screwdriver, Phillips screwdriver, drill, 11/64" and 1/8" bits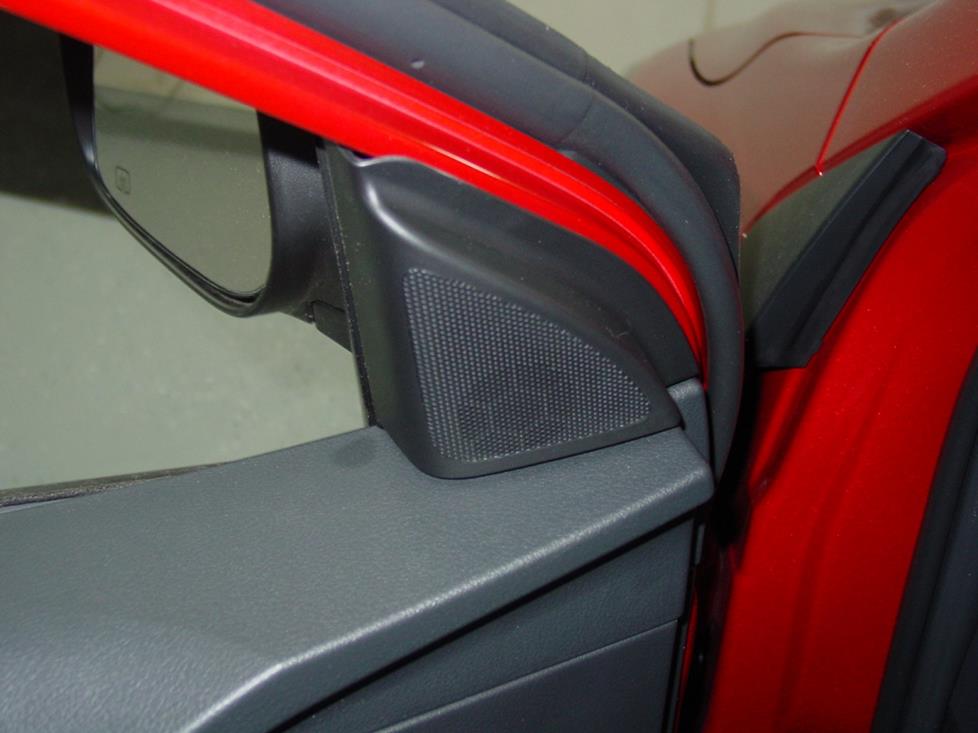 The Corolla's non-JBL front door tweeter (Crutchfield Research Photo)
Front door tweeters
Corollas equipped with either the 6-speaker Toyota package or the JBL package feature tweeters mounted in the front door sail panels. If you're thinking about installing a set of component speakers, the convenient location of the factory tweeters might help you make your decision. On the other hand, a wiring adapter is not available, so you'll have to splice into the factory wiring. You'll also have to fabricate a way to hold the tweeters in place, but our universal backstrap makes that much easier than it sounds.
Accessing the tweeters is actually step one of getting to the woofers (above), which is another argument in favor of component speakers. As long as you're there, you might as well give yourself the gift of great sound. A quality component system will let you hear things in your music that the factory speakers only hinted at. That, by the way, is really the best reason to install component speakers.
In the non-JBL cars, the front tweeters and the door woofers are wired together at each tweeter location, so if you remove or replace the tweeters, you'll have to splice the input and output wires together to keep the woofers working. When replacing the JBL speakers, remember that replacing the 2-ohm JBL speaker with a higher-impedance speaker will often result in lower volume levels.
Tools needed: Panel tool, small flat blade screwdriver, Phillips screwdriver, socket wrench and extension, 1/4" socket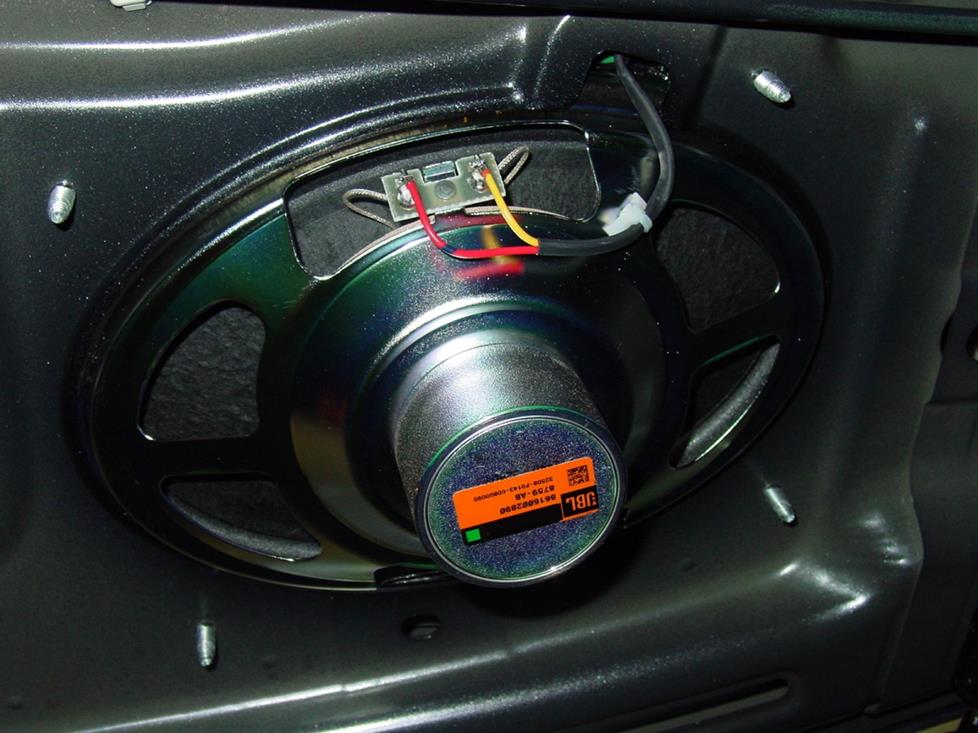 The Corolla's JBL rear deck speakers (Crutchfield Research Photo)
Rear speakers
All Corollas, JBL-equipped or not, have 6"x9" top-mounted speakers in the rear deck. Reaching, removing, and replacing them is somewhat labor-intensive, since you do have to remove the back seat and a fair amount of the surrounding trim before you can actually get to the speakers. Once you're there, you can replace them with a variety of 6"x9", 5-1/4", or 6-1/2" speakers. Getting there, while it might involve half an afternoon, is probably not half the fun.
As with the front speakers, if you have the 2-ohm JBL speakers, remember that replacing them with higher-impedance speakers will result in lower volume levels. Additionally, the factory amp sends bass and treble to these speakers through separate sets of wires, so getting full-range sound to your replacements means either splicing into the factory wiring to bypass the JBL amp (located under the right front seat) or replacing it altogether. You'll have to splice into the factory wiring anyway, because a wiring harness isn't available for this location.
None of this is hard, but it can be intimidating to beginners. Even for experienced installers, a project like this can take some time. And that's okay. Whether you're doing it yourself or hiring a pro, we heartily encourage patience and care during car audio installations. It's not about the speed, it's about the sound. Detailed instructions (and there are lots of details) for removing your Corolla's rear speakers can be found in your Crutchfield MasterSheet.
Shop for speakers that fit your Toyota Corolla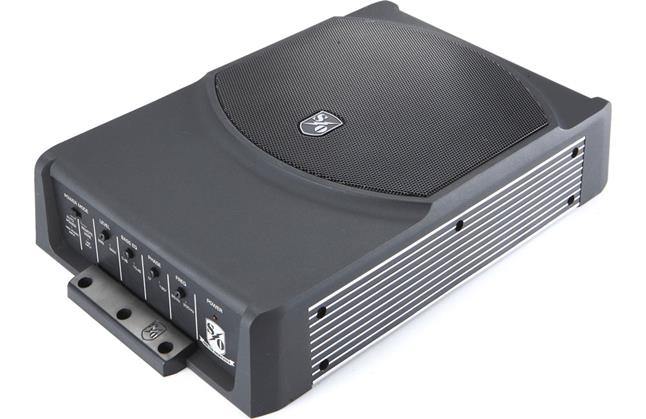 Sound Ordnance B-8PTD powered subwoofer
Bass in your Toyota Corolla
The Corolla's trunk offers a healthy amount of space for a compact car, but it isn't huge by any means. There's room for a 15" H x 42" W x 26"/28" D sub box in there, but you'll lose a lot of luggage space.
If you're looking for a compact sub that really brings the bass, a powered subwoofer is a great choice. A powered sub gives you outstanding performance without compromising your everyday cargo-carrying needs.
Shop for vehicle-specific subwoofers for your Toyota Corolla
Other options for your Corolla
Here are some other great upgrade ideas for your Corolla:
iPod® and satellite radio adapters
If you don't want to replace the factory receiver, you can still add versatility and great sound to the system. We offer several adapters that will allow you to use an iPod, MP3 player, or satellite radio with the factory system.
Dynamat
The Dynamat Xtreme Door Kit is the perfect way to seal in sound. This heavy-duty insulating material is easy to install, and it really makes a difference. One kit will take care of your Corolla's front doors. If you install a big sub or a Stealthbox, you might want to line the trunk lid as well.
Security
Installing a security system in your Corolla isn't easy (security systems rarely are), but it's definitely a good idea. Our Crutchfield Advisors can help figure out what you need to get the job done, but we usually recommend taking your car and new gear to a professional installer.
Shop for car security systems for your Toyota Corolla
Find the audio gear that fits your car or truck
Visit our Outfit My Car page and enter your vehicle information to see stereos, speakers, subs, and other audio accessories that will work in your vehicle.