In brief: This Crutchfield Research Garage article gives you an overview of your Outback's stock stereo system and your aftermarket upgrade options. We'll tell you all about:
Then, use our vehicle selector to find the gear that will fit your Subaru.
Overview of the Subaru Outback
In case you haven't noticed, the Subaru Outback has quietly become a very popular vehicle. Well, in certain parts of the country, anyway. We noticed because Crutchfield's headquarters are located in the foothills of the Blue Ridge Mountains, where hilly terrain is everywhere and recent winters have been rougher than usual. You'll find a lot of Outbacks in our parking lot, and it's nigh on impossible to drive anywhere in town without seeing at least one on the road.
But we're not the only ones buying (or really wanting to buy) this go-anywhere wagon. Now in its fourth generation, the Outback is much more than just a Legacy wagon with a lift kit. Sure-footed, luxurious, and big enough to handle your hauling duties, the Outback has carved out a niche as the utility vehicle of choice for people who wouldn't be caught dead in an SUV. Even if you don't live in the mountains, there's a lot to like in this comfortable, versatile car.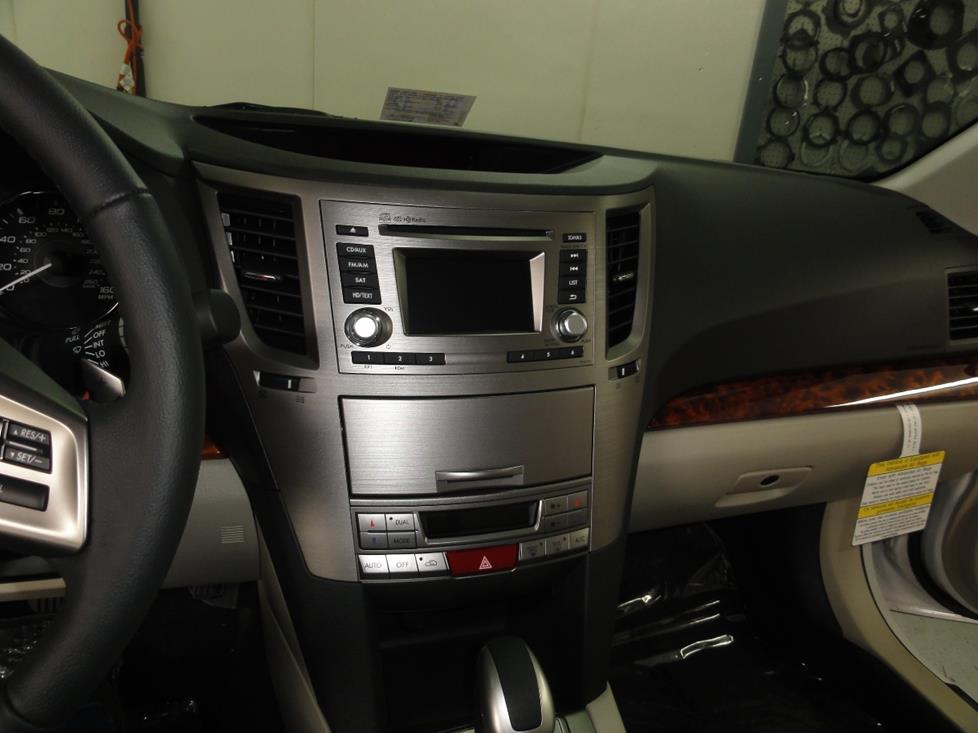 The Outback's factory radio (Crutchfield Research Photo)
The factory stereo system
In the not-too-distant past, it often seemed as though Subaru had an "Oh yeah, right, whatever…." approach to factory audio. They've been trying a lot harder in that area lately and those efforts showed on the Outback and its more genteel stablemate, the Legacy.
The standard AM/FM/CD system (with 4 speakers or 6) didn't blow anyone away, but the optional Harman Kardon system was a real step up and a navigation receiver was also available. All in all, the Outback's factory systems were reasonably okay, but if you're serious about sound and connectivity, you really need to install an aftermarket receiver and speakers.
Detailed stereo and speaker removal instructions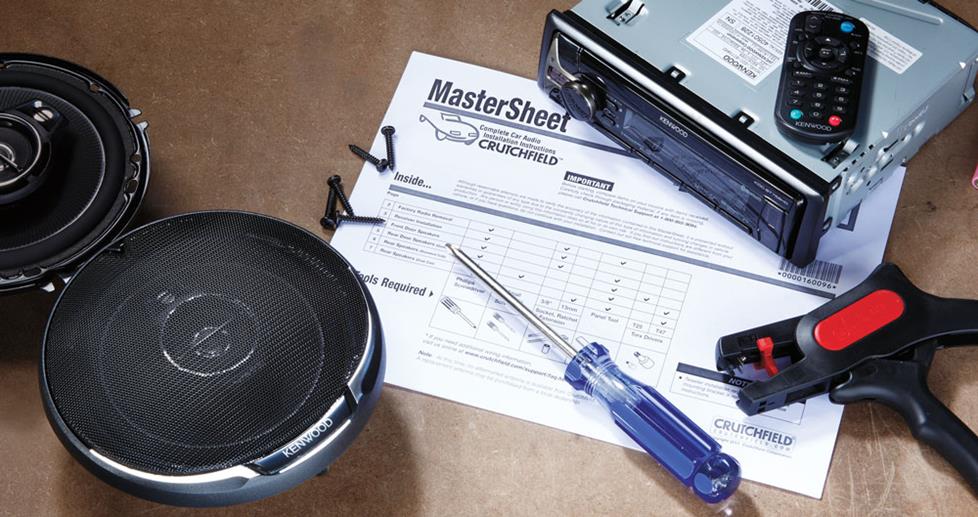 With step-by-step disassembly instructions and plenty of up-close, detailed photos, our exclusive
Crutchfield MasterSheet
™ takes the guesswork out of removing the factory stereo and speakers. It's free with your Crutchfield order, or you can purchase one separately for just $9.99.
When you replace the factory radio, you'll lose factory features (if present) like the AUX input connection and the hands-free cell phone interface. You can replace those features and add plenty of others with the right aftermarket stereo, so that shouldn't be a deal-breaker.
A variety of receivers will fit with the help of the dash kit that's included at a discount with your Crutchfield stereo purchase. Enter your vehicle information to see the receivers and kits that work with your Outback.
Replacing the factory nav receiver in a 2013-2014 Outback, on the other hand, is a challenging job that involves fabricating a new dash kit. That's not a job for the average DIY-er, so you'll probably want to consult a car audio installation professional.
Removing the factory radio
If you're starting with an Outback equipped with a factory AM/FM/CD receiver, you're in pretty good shape for an uncomplicated installation. To remove the old one, start at bottom edge and pry out the receiver trim panel to release the retaining clips. Remove the panel, then remove the four Phillips screws securing the receiver to the dash. Disconnect the harness, remove the receiver, and you're ready to install the new one.
When you buy your stereo at Crutchfield, you'll get a deep discount on both the dash kit you'll need to fit a new receiver into the dashboard, and the wiring harness adapter you'll need to connect the new stereo to the car's factory wiring. You'll also get our Crutchfield MasterSheet, which includes detailed, illustrated disassembly instructions.
Removing the big-screen factory nav receiver is a bit more complicated and it's covered extensively in your MasterSheet. As noted earlier, you'll probably want to leave the replacement part to your neighborhood installer. Unless, of course, your skill set includes some serious fabrication skills, in which case, have at it. When you're done, send pictures to our Customer Car Showroom, because we'd love to see your work.
Tools needed: Panel tool, Phillips screwdriver
Shop for car stereos that fit your Subaru Outback
Steering wheel audio controls
It's relatively easy to retain your Outback's steering wheel audio controls when you install a new stereo. When you enter your vehicle information, our database will choose the adapter you need to make your factory steering wheel controls work with your new receiver.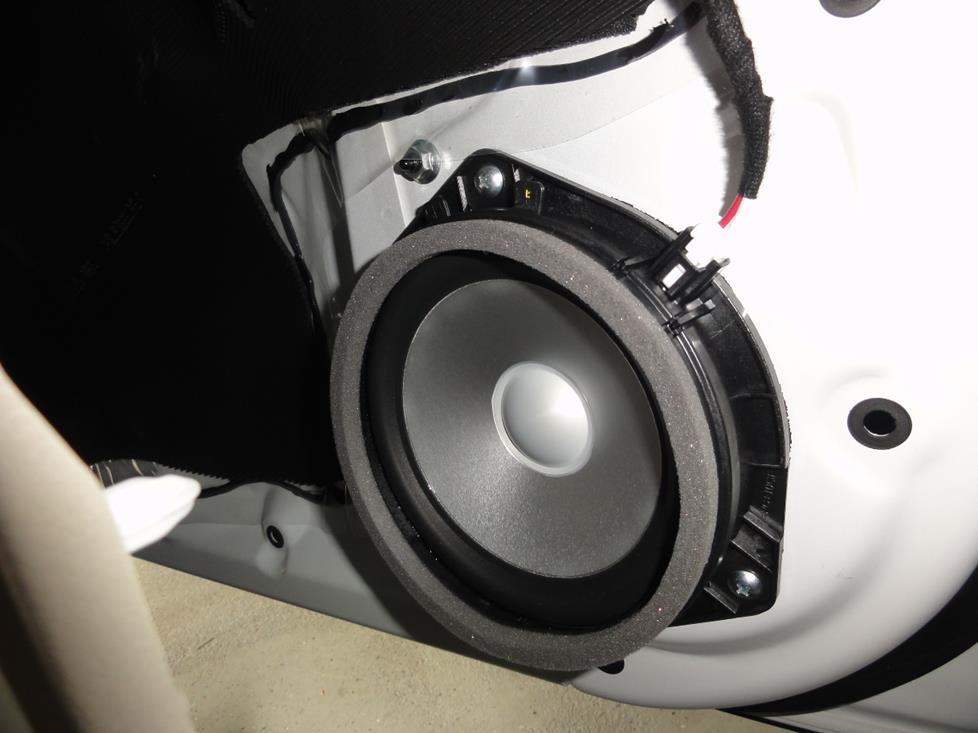 The Outback's front door speaker (Crutchfield Research Photo)
Removing the factory speakers
Your Outback has speakers in the front and rear doors, and, in all but the base 4-speaker system, the dash. The HK cars also have a subwoofer behind the right rear panel in the cargo area.

The upper-level systems include dash tweeters (Crutchfield Research Photo)
Dash tweeters
The dash tweeters are located underneath grilles in either dash corner. The tweeters measure 2.772", so exact same-size aftermarket replacements are not available. This is, however, a great place to put the tweeters if you're installing a set of component speakers.
Removing them is easy – just pry up the grilles, remove the Phillips screws holding them in place, and disconnect the speakers. You can cut and bend a set of our universal backstraps to hold the new ones in place.
Your new speakers (here and elsewhere in the car) might not come with mounting screws, so check before you start working. It's always best to hit the hardware store before you tear the car apart.
Tools needed: Panel tool, Phillips screwdriver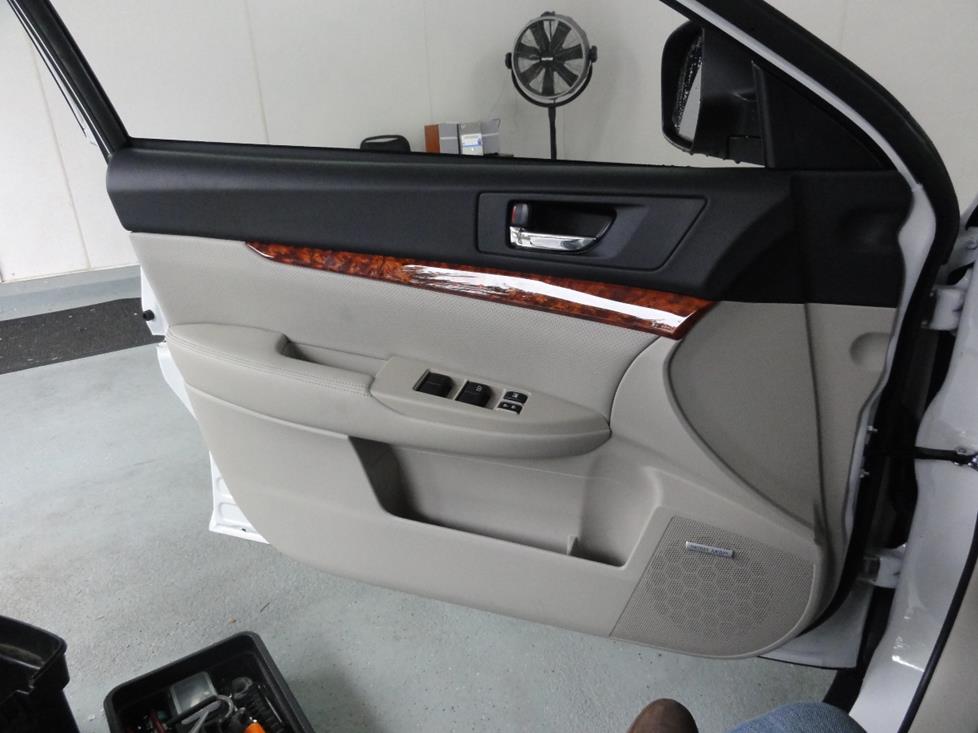 A variety of speakers will fit in the front doors (Crutchfield Research Photo)
Front door speakers
A variety of 6-3/4", 6-1/2", or 5-1/4" speakers will work in the Outback's front doors. You'll need to remove the door panel, which is easy enough, and removing the stock speakers is a simple procedure, too.
Installing aftermarket 6-1/2" or 5-1/4" speakers is pretty straightforward. Just secure the speaker to the mounting bracket included with your order, then hook up the harnesses and secure the bracket to the speaker location.
Installing 6-3/4" speakers is a bit more complicated, because you'll need to drill new mounting holes for the speakers. If you have any experience at all with a power drill, this isn't hard, but you're still drilling into your car, which can be a bit stressful. Relax, take your time, and make sure you're aware of everything that's around the area where you're drilling the new holes. And definitely be sure to wear eye protection.
The stock Harman Kardon speakers are 2-ohm models, while the base speakers are rated at 4 ohms. Replacing 2-ohm factory speakers with higher-impedance models will result in lower volume levels, so be sure to match your speakers properly.
Tools needed: Panel tool, Phillips screwdriver, drill with 1/8" bit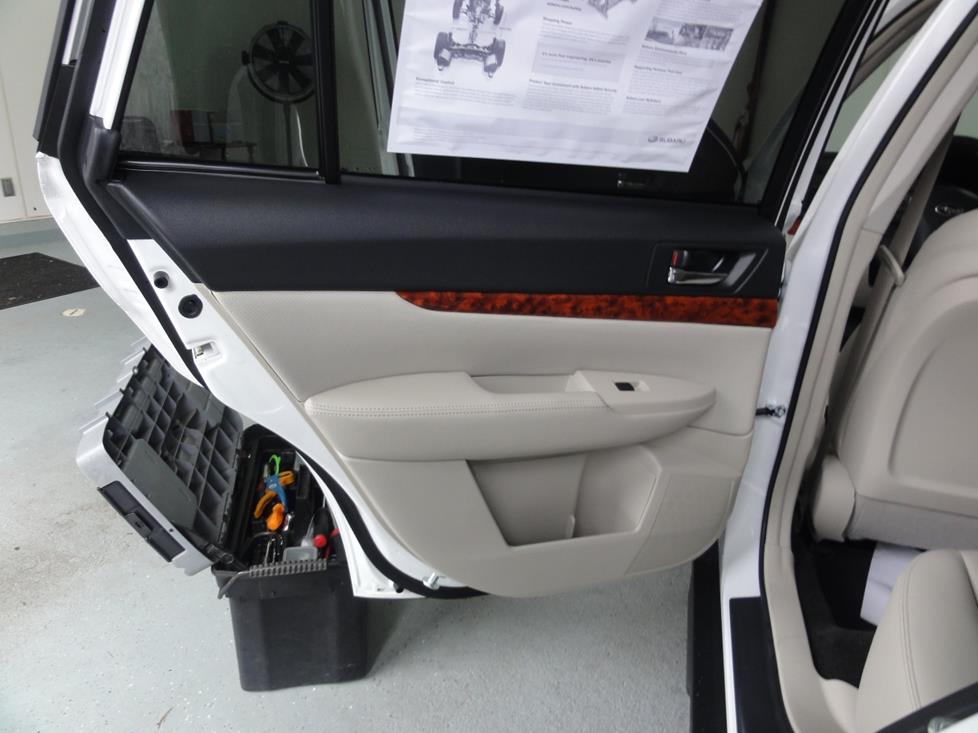 The rear doors are easy to work with, too. (Crutchfield Research Photo)
Rear door speakers
Replacing the rear door speakers involves a lot of the same techniques you used up front. The same 2-ohm/4-ohm differences apply, so make sure you order the right speakers for your application. And, whether you're installing 5-1/4" or 6-1/2" speakers, you'll need to drill new mounting holes for your new speakers, so be careful and wear eye protection.
The Outback isn't exactly monster truck-noisy, but we still recommend a set of foam speaker baffles for the rear doors. These inexpensive waterproof baffles will not only improve speaker performance, they'll also protect the speakers from dust and moisture. Outbacks are rarely used for hard-core off-roading, but they tend to get dirtier than the average wagon or SUV, so these baffles are a wise investment. You might want to get a set for the front speakers, too.
Before you button up these doors (or the front doors, of course), test to make sure the speakers are working, check to see that the wires do not interfere with window operation, and test the door lock and release operation.
Tools needed: Panel tool, Phillips screwdriver, drill with 1/8" bit
Shop for speakers that fit your Subaru Outback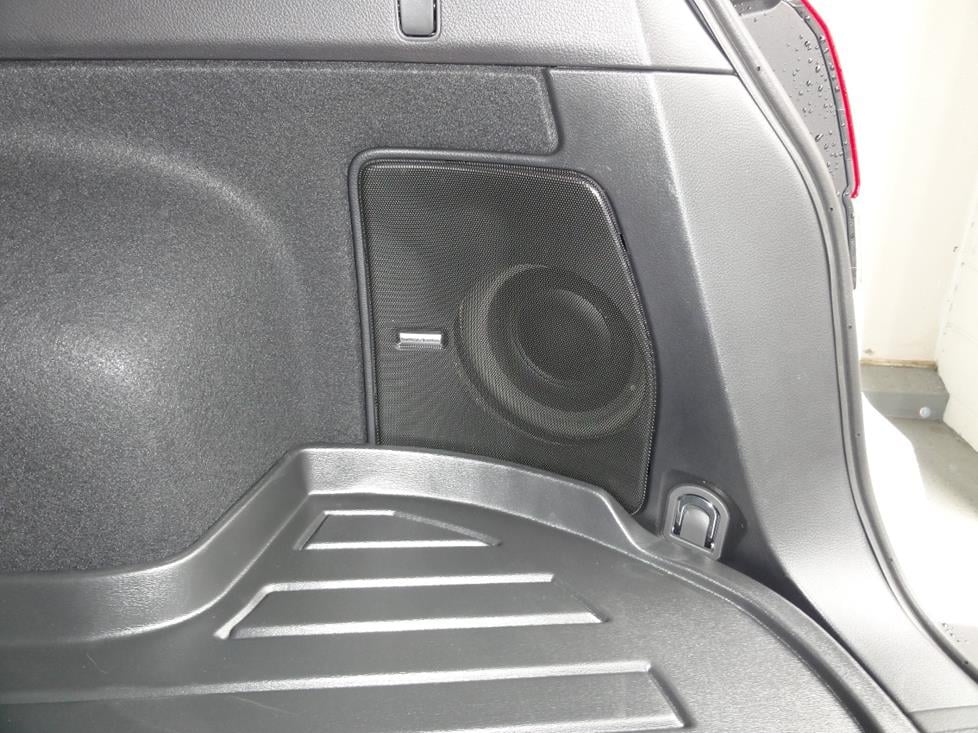 The factory sub looks easy to replace, but there's more to it than you think. (Crutchfield Research Photo)
Bass in your Subaru Outback
The factory subwoofer that's part of the Harman Kardon system is an 8" model located in the right rear corner of the Outback's cargo area. It looks easy to get to, but removing it and replacing it takes more work than you'd think. It's not hard work, but you'll need to remove some panels and drill new mounting screw holes for the aftermarket sub. Not tough, but not exactly "plug and play," either.
This dual 2-ohm voice coil sub only receives bass frequencies from the factory amp, and the same will hold true for the new one. If you install an aftermarket dual voice coil sub, you'll need two speaker wiring harnesses to connect it properly. All the disassembly instructions you need can be found in your Crutchfield MasterSheet, of course. And your new sub might not come with mounting screws, so check before you start working.
Tools needed: Panel tool, Phillips screwdriver, 1/4" socket, ratchet, and extension, small flat blade screwdriver

Plenty of room for bass if you need it (Crutchfield Research Photo)
The average Outback stays pretty busy ferrying people, dogs, and/or stuff over hill and dale in all sorts of weather. This usually doesn't leave time for the average Outback driver to ponder the need for rump-shaking bass. But why be average? If you're in the mood to rock out in your Outback, you can and you should. The spacious rear cargo area offers a 42" W x 15" H x 38"/28" D space for a sub enclosure stuffed with subwoofers, so go for it. If you need more cargo space, that's what the roof rack is for, right?
Should practical concerns remain a factor in your life, you can still add plenty of bass with a compact powered subwoofer. You'll get the rich, full sound you want, plus you'll still have room for groceries, camping gear, and just about anything else you need.

Available in four sizes, the Thule Force carrier features dual door openings that allow you to load or unload from either side.
Other options for your Outback
For a popular, versatile vehicle like the Outback, there are lots of ways to upgrade your in-car experience. Here are some of the ways Crutchfield can help.
Roof-mounted storage
Outback owners tend to have a certain affinity for outdoor adventures. Recreational pursuits such hunting, fishing, and camping require a lot of gear, so sometimes you need even more space than this wagon can offer. Lightweight cargo carriers, bike racks, and other travel storage gear from Thule will give you the extra space you need.
iPod® adapters and satellite radio
If you don't want to (or in the case of the nav model, can't) replace your Outback's factory receiver, you can still improve the performance of your car's stereo system. We offer several adapters that will allow you to use an iPod, MP3 player with the factory receiver. Another great option is a SiriusXM satellite radio subscription. We have all the gear you need to enjoy their vast array of music, sports, news, and entertainment programming.
Floor mats
The Outback combines luxury and utility in a uniquely Subaru kind of way, which means it's easier than you think to mess up the comfy interior while going about your daily business. Floor mats and cargo mats from WeatherTech will help protect your floors from dirt and damage.
Security
Installing a security system in your Outback isn't easy (security systems rarely are), but it's less complicated than it could be. Our Crutchfield Advisors can help figure out what you need to get the job done, but we usually recommend taking your car and new gear to a professional security system installer.
Let's get started!
Ready to shop? Use our vehicle selector to find the gear that will fit your car or truck. If you have questions, give us a shout via phone, chat, or email