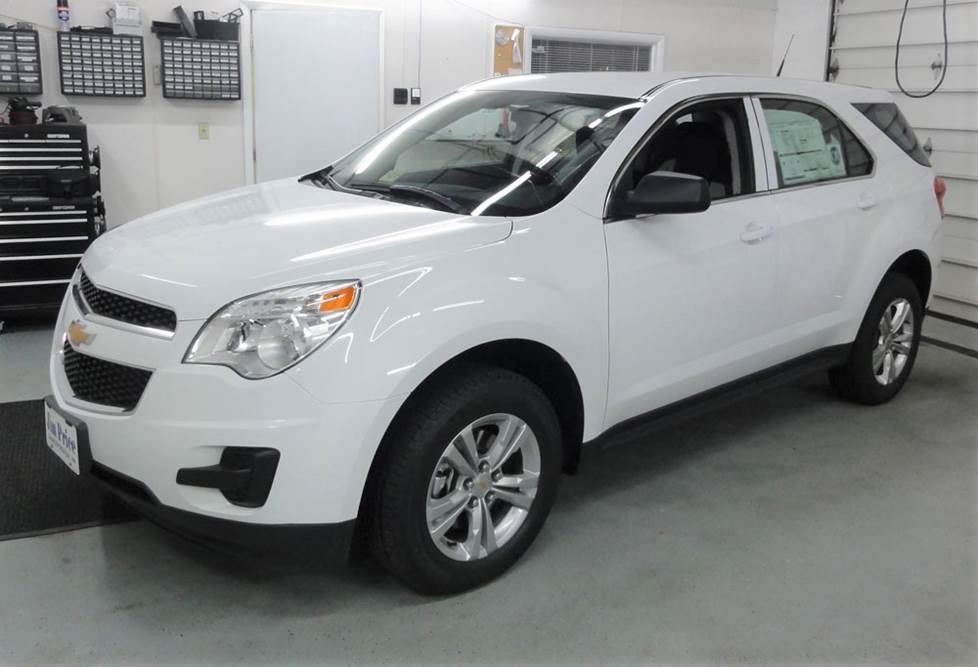 In brief: This Crutchfield Research Garage article gives you an overview of your SUV's stock stereo system and your aftermarket upgrade options. We'll tell you all about:
Then, use our vehicle selector to find the gear that will fit your Chevy or GMC.
Overview of the Chevy Equinox or GMC Terrain
The appeal of the "sport utility vehicle" is pretty obvious. It handles mostly like a car, hauls things pretty much like a truck, and looks like basically every other SUV in the parking lot. This is just fine with lots of buyers, which is why it is nearly impossible to find a parking lot without at least three SUVs of varying sizes at any time of the day.
Give the folks at General Motors some credit, then, for designing a pair of compact sport utility vehicles (emphasis on "utility") that look as different from one another as they do from the rest of the herd. The Chevy Equinox is sleek and modern, while the GMC has the functional, utilitarian look of a good pair of cargo shorts. They're the same inside, of course, but this is way beyond the usual level of badge-enginering and it deserves some kudos.
The stock stereos range from audible (the base system) to somewhat laudable (the optional Pioneer system), but both can be improved upon with quality aftermarket audio gear. Read on to find out what works and how.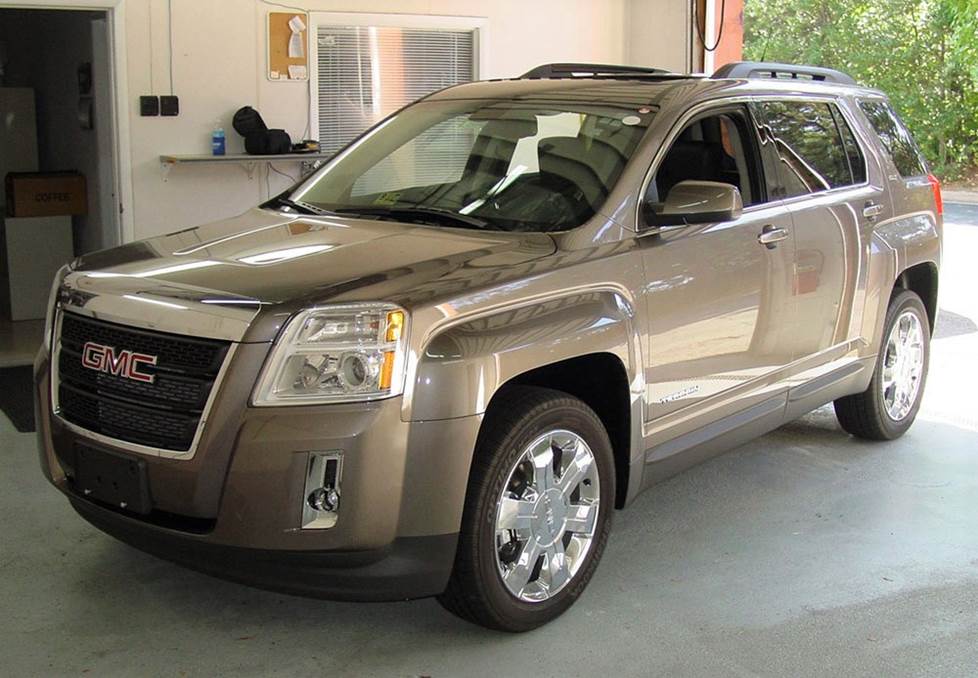 The factory stereo system
At first glance, you'd probably think that there's no way to replace the factory radio in your Equinox or Terrain. Thankfully, despite a smoothly integrated factory dash that looks more than a little bit like a cyborg bounty hunter from outer space, you'd be wrong.
There actually is a dash kit that will allow you to install a single-DIN (2" tall) or double-DIN (4" tall) receiver in your truck, plus a factory integration adapter.
Detailed stereo and speaker removal instructions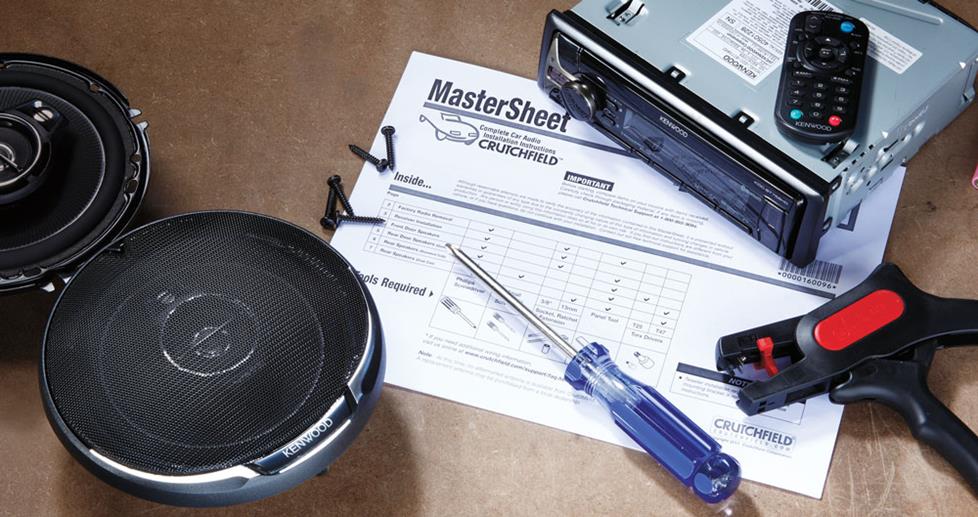 With step-by-step disassembly instructions and plenty of up-close, detailed photos, our exclusive
Crutchfield MasterSheet
™ takes the guesswork out of removing the factory stereo and speakers. It's free with your Crutchfield order, or you can purchase one separately for just $9.99.
For a lot of reasons, we strongly recommend using the adapter. One of them — the big one – is that you'll be able to retain the factory warning chimes. This is obviously important, because bad things can happen if they're not working. Crutchfield will not offer technical support for an installation that doesn't use this adapter and while we'll certainly be polite, we'll be firm on this. Besides, we'll even give you a nice discount on the adapter and the dash kit when you order your new stereo from us.
Depending on your vehicle, certain factory features will not be retained when you replace the radio. We'll make sure you know what's what before you make your purchase.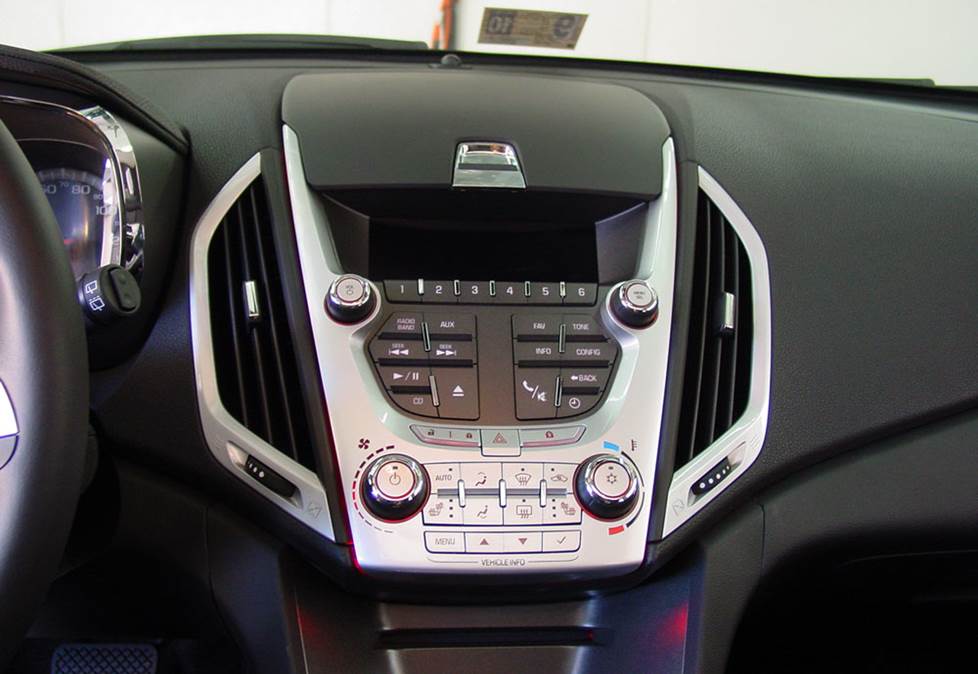 Yes, Virginia, you can replace the stock radio in your Equinox or Terrain (Crutchfield Research Photo)
Removing the factory radio
If you're installing aftermarket audio equipment in a 4-cylinder Equinox or Terrain, you'll need to disable the factory system's Active Noise Cancellation functionality by disconnecting the microphones. This is not an issue in 6-cylinder models. If you have questions (and you just might), this is a very good reason to talk to a Crutchfield Advisor.
As noted above, radio removal and replacement is do-able in this SUV, but there's an awful lot to do. None of the individual tasks are all that difficult, but there are a lot of "fiddly bits" (technical term…) involved and it'll probably take a while. At least it's the same for both the base and Pioneer systems.
Can you, the average car audio DIY-er, do this? Absolutely. But be sure to mark off some time, work carefully, and stay organized. Complete, illustrated instructions can be found in your Crutchfield MasterSheet, and your Crutchfield stereo or speaker purchase includes free tech support for the life of your gear. And that includes the installation process, so if you run into trouble, give us a call.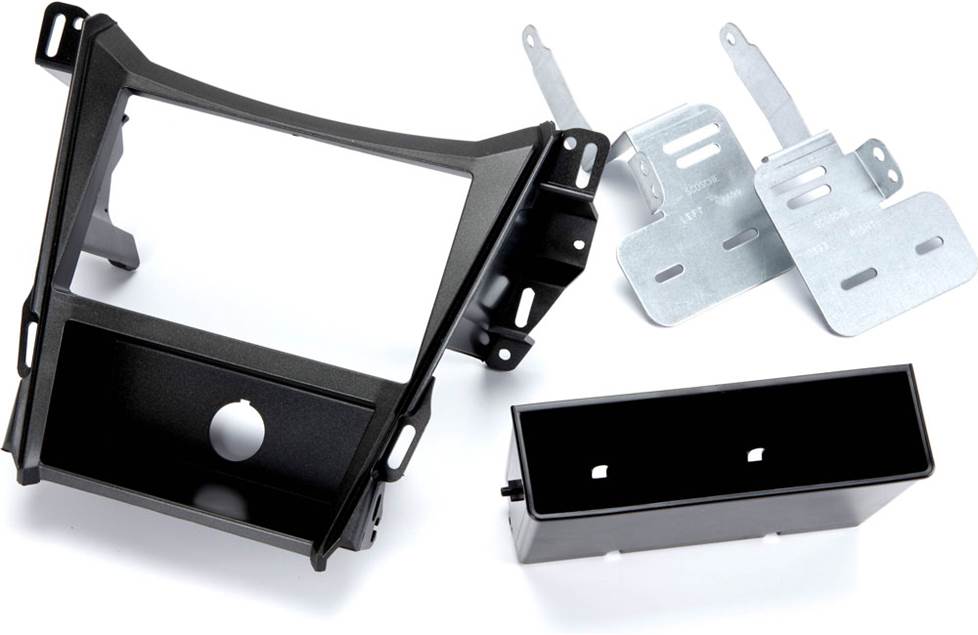 At Crutchfield, you'll save money on the dash kit you'll need to install a new single-DIN or double-DIN receiver in your Equinox or Terrain
One very important thing to remember when you're diving into the radio or speaker replacement process, is to set the parking brake and disconnect the negative battery cable to prevent any electrical short. Safety first, y'know.
Tools needed: Panel tool, paper (to protect dash), 7mm socket, ratchet and extension
Read our Car Stereo Buying Guide for shopping tips and advice.
Shop for car stereos that fit your Chevrolet Equinox
Steering wheel audio controls
In most cases, it's reasonably easy to retain your truck's steering wheel audio controls when you install a new stereo. When you enter your vehicle information, our database will choose the adapter you need to make your factory steering wheel controls work with a compatible aftermarket receiver.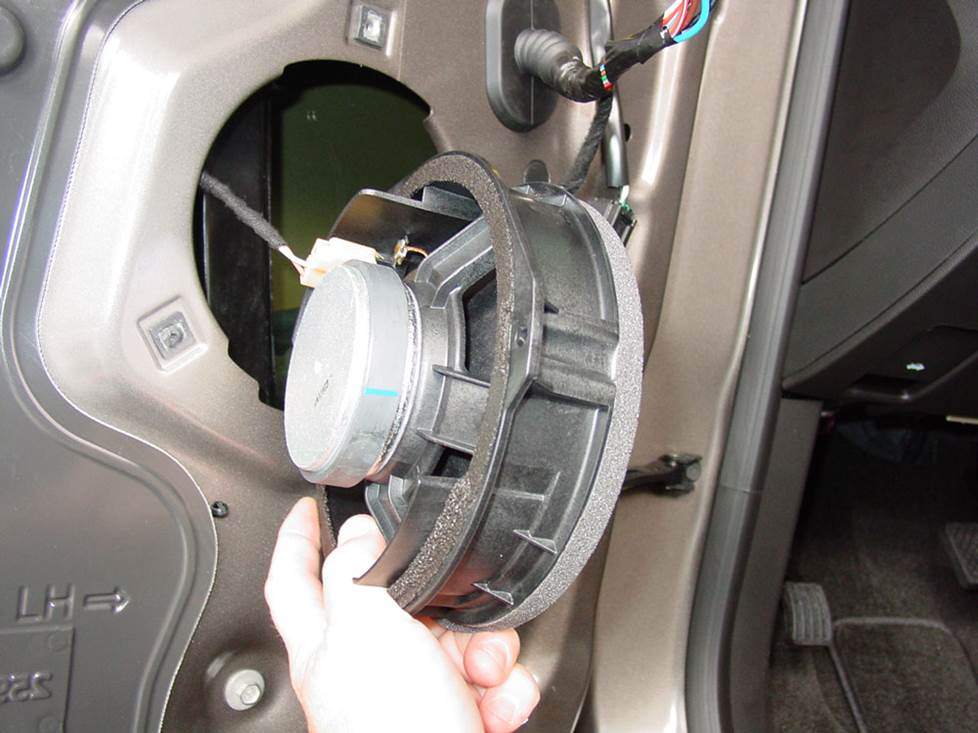 Speaker replacement is, for the most part, pretty simple in these SUVs (Crutchfield Research Photo)
Removing the factory speakers
The base system sports six speakers, while the Pioneer system adds a center dash speaker and a subwoofer for a total of eight. Replacing them with newer, better speakers will really improve the sound in your SUV.
We recommend replacing the low-impedance factory speakers with standard 4-ohm aftermarket speakers to keep your new stereo from overheating. You can also add an aftermarket amplifier to your Equinox or Terrain, which is frankly a better idea if you want to send a suitable amount of clean power to your new speakers.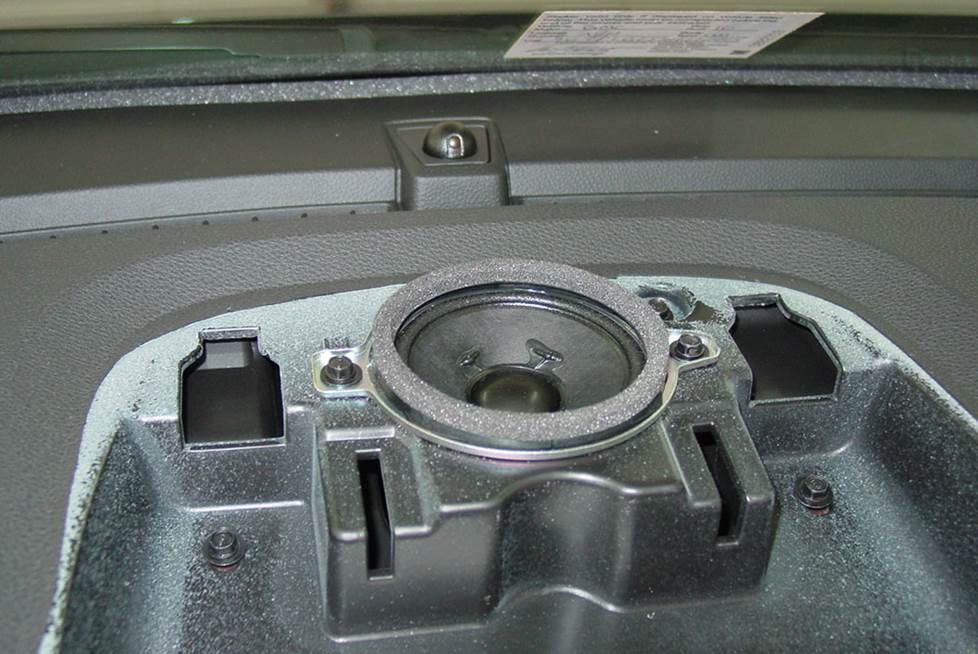 The Pioneer-only center dash speaker is easy to get to and not that hard to replace (Crutchfield Research Photo)
Removing the center dash speaker (Pioneer stereo system)
One difference between the base and Pioneer systems is the presence of a 3-1/2" center dash speaker. Removing and replacing it is pretty simple and there are some nifty aftermarket models available. There's no wiring harness adapter, though, so you'll need to splice, solder, or use Posi-Products speaker connectors to connect it to the factory wiring.
To remove the stock speaker, you'll start by opening the top dash storage lid, removing the rubber mat, and removing the two exposed 7mm screws. Lift the rear edge of the top dash storage compartment, then pull the assembly toward the rear of vehicle and remove it. Remove the two 7mm screws securing the speaker, then pull it out, disconnect it, and set is aside.
Once you've made your wiring connections, secure the speaker and test it to make sure it's working. If it is, put everything back together.
Tools needed: 7mm socket, ratchet and extension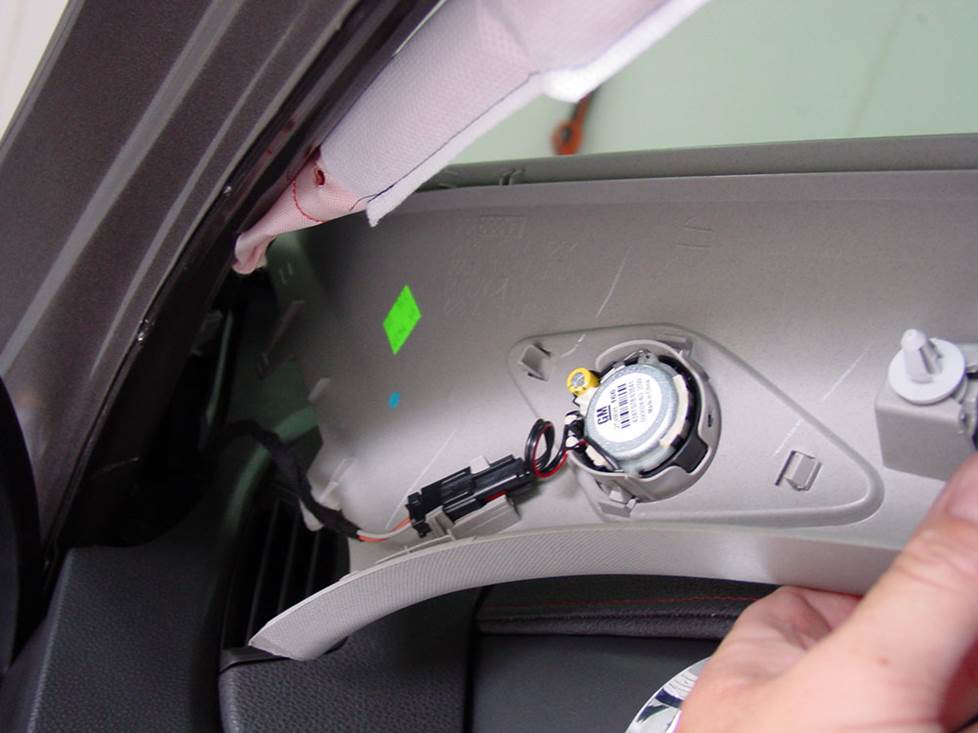 The tweeters are mounted to the front pillars (Crutchfield Research Photo)
Removing the front pillar speakers
The front pillar tweeters measure a smidge over 1-1/2" and can be replaced by a healthy number of component tweeters. They're pretty easy to reach and replace, so we highly recommend upgrading these speakers and the door woofers with an aftermarket component system.
You'll need a set of Posi-Products speaker connectors in this location, too, and you'll also need to either fabricate a mounting bracket or use a set of our universal backstraps to secure the tweeters in place.
To remove the stock tweeters, pull the front door gasket away from the body along the pillar, then use a panel tool to pry the top edge of the pillar trim panel out to release two retaining clips. A quarter-turn will release the retainer strap.
Pull the pillar trim panel upward, then disconnect the wiring harness and remove the panel. Pry out the three clips securing the tweeter to the pillar trim panel and remove the tweeter. From here, use your universal backstrap to secure the tweeter, then use your Posi-Products connectors (splicing or soldering will work, too) to make the necessary connection. Once everything's secure, test the speakers to make sure they're working, then button the pillars up and move on.
Tools needed: Panel tool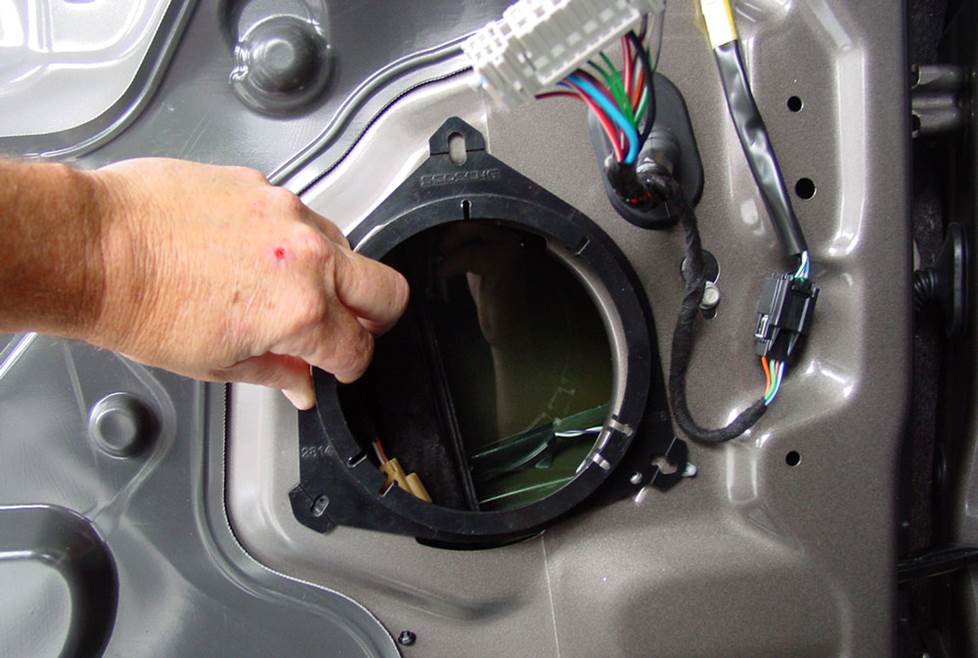 You'll need brackets to install new speakers in your Equinox or Terrain, and we'll include them with your speaker purchase (Crutchfield Research Photo)
Removing the front door speakers
Both the base and Pioneer systems feature 6-3/4" front door speakers, and you can replace them with 6-1/2" or 6-3/4" aftermarket models. Again, component speakers are a nice choice for your Equinox or Terrain, so enter your vehicle information to see what'll fit.
The speaker removal and replacement process is the same for both systems, and it's a totally do-able project for the DIY-er. You'll need to remove the door panels, and that's really not that hard to do.
To start, pry out the screw cover behind the door release, then remove one 7mm screw. Next, pry out the screw cover behind the door pull and remove two 8mm screws from that location.
Pry out the sides and bottom of the door panel to release nine retaining clips, then disconnect the door release cable and wiring harness. Remove the door panel and store it someplace safe, then remove the three 7mm screws securing the speaker.
Remove the old speaker, then secure the new one to the speaker mounting bracket that we include with your speaker purchase, then use the wiring adapter (also included) to connect the speaker to the factory wiring.
Once both speakers are connected and secured, test them out. If they work (Relax, they will…), make sure the windows, door locks and door releases are working properly before putting the doors back together.
Tools needed: Panel tool, 7mm and 8mm sockets, ratchet and extension, small flat blade screwdriver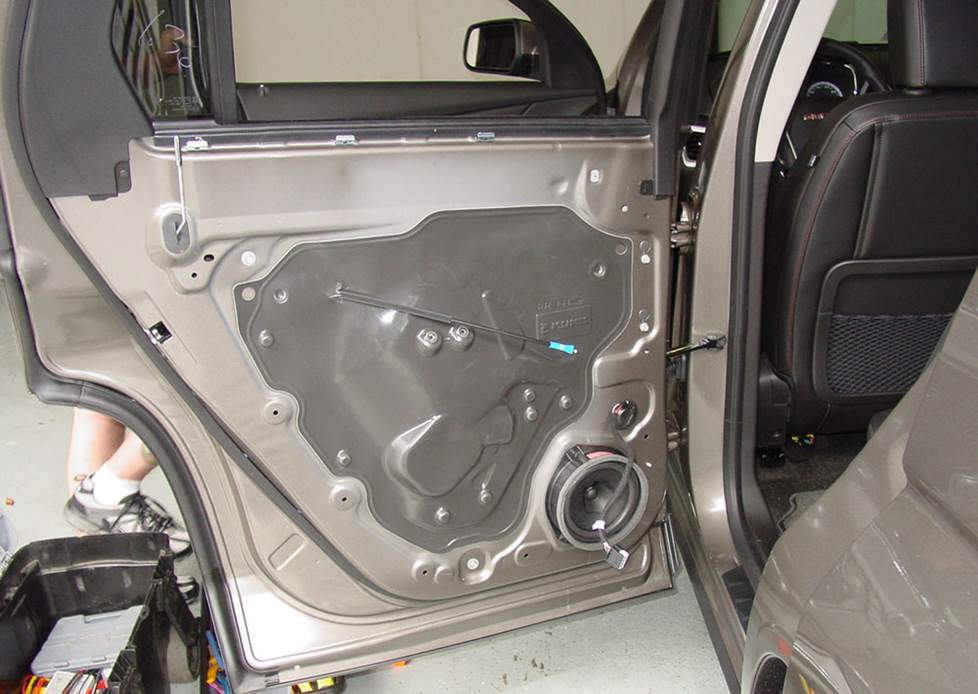 You'll need to remove the door panels to replace the front and rear door speakers in your truck. (Crutchfield Research Photo)
Removing the rear door speakers
Replacing the rear door speakers is remarkably similar to replacing the front door speakers. Well, maybe not remarkably, since we're talking about the same truck, but it's still interesting. There are a few minor differences, actually, but if you can handle the fronts, you can totally handle this.
You'll find a healthy selection of 6-1/2" and 6-3/4" full-range speakers to choose from, and all the step-by-step stock speaker removal details can be found in your Crutchfield MasterSheet.
Tools needed: Panel tool, 7mm and 10mm sockets, ratchet and extension, small flat blade screwdriver
Read our Car Speakers Buying Guide for more information.
Shop for speakers that fit your Chevrolet Equinox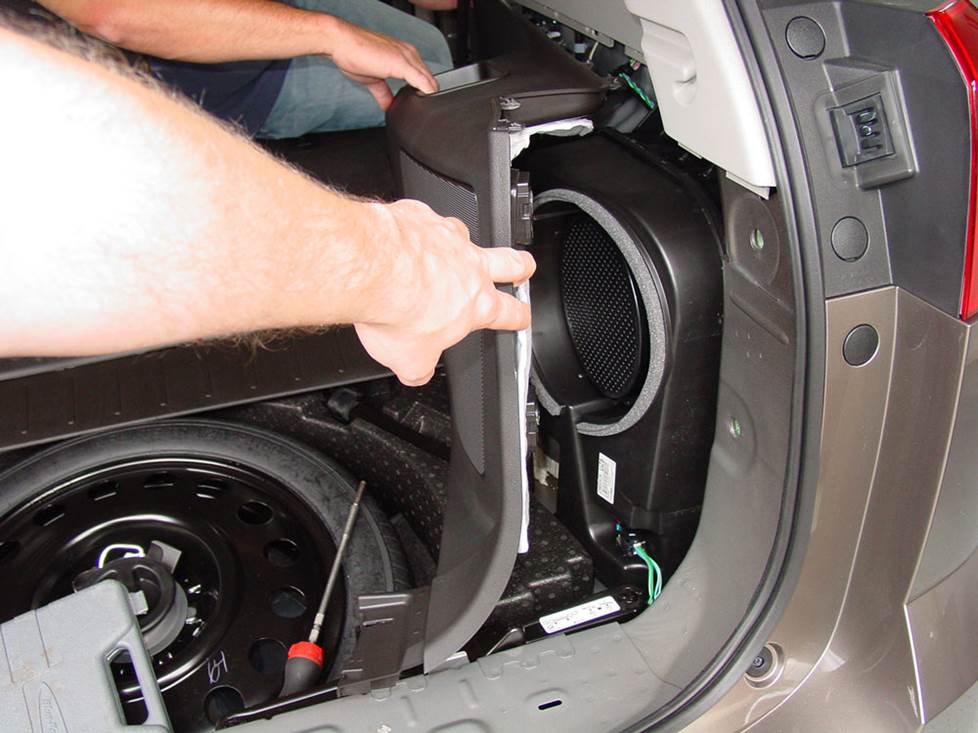 The 8" Pioneer subwoofer takes some getting to, but it can be replaced with a better-sounding aftermarket sub (Crutchfield Research Photo)
Bass in your Equinox or Terrain
In Pioneer-equipped models, you'll find an 8" subwoofer on the right side of the cargo area. You'll need to remove the cargo side panel to reach the stock sub, and you'll need to drill new screw holes to secure the new subwoofer to the factory enclosure. There's no wiring harness for this location, so Posi-Products connectors will be needed here, too.
Drilling new mounting holes isn't hard, but since you're drilling into a vehicle you own, you'll want to work carefully, pay attention to what's around the drilling area, and definitely wear eye protection.
Getting to the stock sub involves several steps, all of which are detailed in your MasterSheet. The job's not hard, but this is another job that will require patience and organization. Be careful, keep things straight, and you'll be fine. If you have questions, remember that our Tech Advisors are right here in Virginia and ready to help you, seven days a week.
Tools needed: Panel tool, Torx T-40 driver, 7mm and 10mm sockets, Phillips screwdriver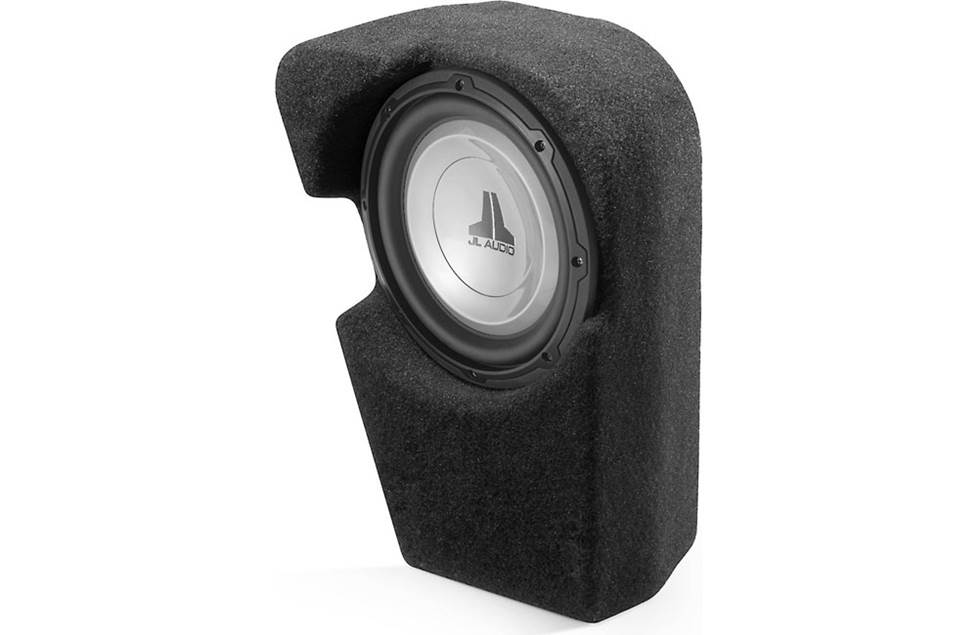 This JL Audio Stealthbox is designed specifically for your Equinox or Terrain. It houses a 10", 300-watt subwoofer.
Adding extra bass
If you want to go big on bass, there's plenty of room for a subwoofer box in the cargo area — a 34" W x 17" D x 32" (bottom)/27" (top), to be precise. That's a lot of room for boom, plus the amplifier you'll need to power the sub(s).
If you're looking for a more subtle solution that produces plenty of thump without taking up cargo space, there's a JL Audio Stealthbox® made specifically for your 2010-2015 Equinox or Terrain. This sealed enclosure fits behind the passenger side cargo panel, in the same location as the factory Pioneer sub. Inside, there's a 10", 300-watt JL Audio subwoofer that'll do the job nicely.
Learn more about building a bass system in our Car Subwoofer Buying Guide.
Shop for vehicle-specific subwoofers for your Chevrolet Equinox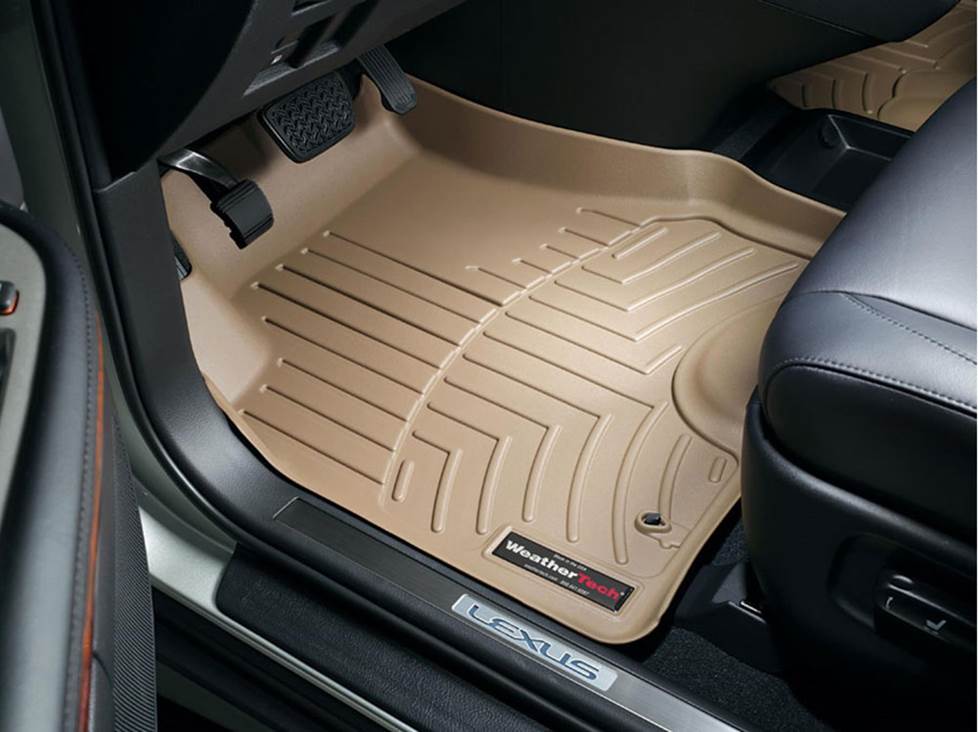 Your WeatherTech floor liners will look as good in your truck as this one does in a Lexus
Other options for your Equinox or Terrain
The aftermarket offers an amazing variety of other ways to improve your Equinox or Terrain. Here are some of the ways Crutchfield can help.
Protect your carpeting with custom floor liners
Driving any truck eventually leads to doing truck-type things, which can take a toll on the carpeting. WeatherTech floor mats and liners will help protect your floors from dirt and damage.
Quiet road roar with Dynamat
Like their larger cousins, the Equinox and Terrain can get a bit loud at speed. To combat wind noise and road roar, you can install Dynamat in the doors and (if you install a big sub) rear hatch area. This sound-deadening material will keep the noise out and allow you to really enjoy your music.
Boost the stock radio with a sound processor
If you choose to keep the stock radio, install a sound processor to send a clear, clean signal to your new amp. Sound processors remove any limitations on the signal imposed by the factory radio. The better the signal, the better the sound. Read our article explaining factory sound processors to learn more.
Remote start and security systems
Adding remote start capability to your vehicle lets you warm it up in the winter or cool it down in the summer. The iDatastart system is incredibly convenient and makes it easier than ever to install a remote start system, so we highly recommend it. The module requires a vehicle-specific T-harness (sold separately) to connect with your vehicle's computer, security, and ignition systems, so we ask that you call to order so that we can make sure you get the right harness for your ride.
You can also talk to your Crutchfield Advisor about a security system. They're not as easy to install (we usually suggest letting a professional do the job), but we can help you choose a system that'll work in your vehicle.
Let's get started!
Ready to shop? Use our vehicle selector to find the gear that will fit your car or truck. If you have questions of your own, give us a shout via phone, chat, or email