2011-2014 Mazda 2
Upgrading the stereo system in your Mazda 2
2011 • 2012 • 2013 • 2014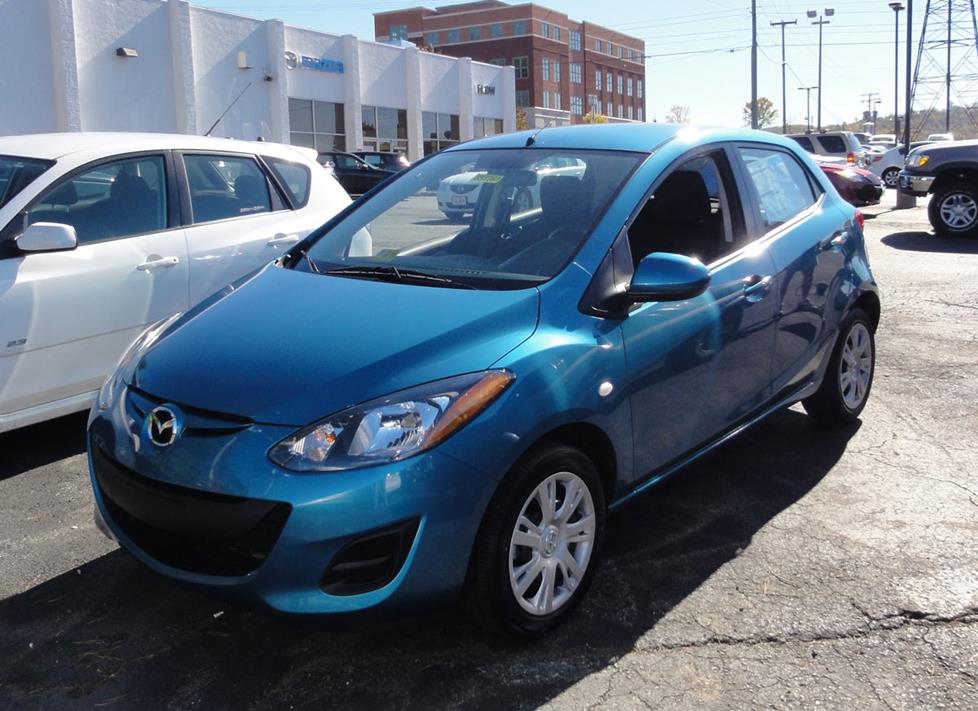 In brief: This Crutchfield Research Garage article gives you an overview of your car's stock stereo system and your aftermarket upgrade options. Use our vehicle selector to find the gear that will fit your Mazda 2.
Overview of the Mazda 2
There's an old saying in the car world: "It's more fun to drive a slow car fast than a fast car slow." The Mazda 2 is the kind of car that proves the point. This diminutive econobox won't win a drag race against anything much quicker than a moped, but the tidy chassis, tight steering, and slick shifter have earned rave reviews from the automotive media.
Compared to a modern muscle car, the 2 might as well have a sewing machine engine under the hood. But power isn't everything. Muscle car drivers have to visit a racetrack (or risk a ticket) to have maximum fun with their cars. Mazda 2 drivers can have a ball on the way to the grocery store. And anything that makes a trip to the grocery store sound like fun is a good thing, indeed.
Mazda didn't sell a ton of these, but if you have one or you're looking at one, there's a lot of potential in these little cars. Tuners are starting to catch on to the 2, and as long as you're beefing up the suspension, you might as well add some thump to the stereo.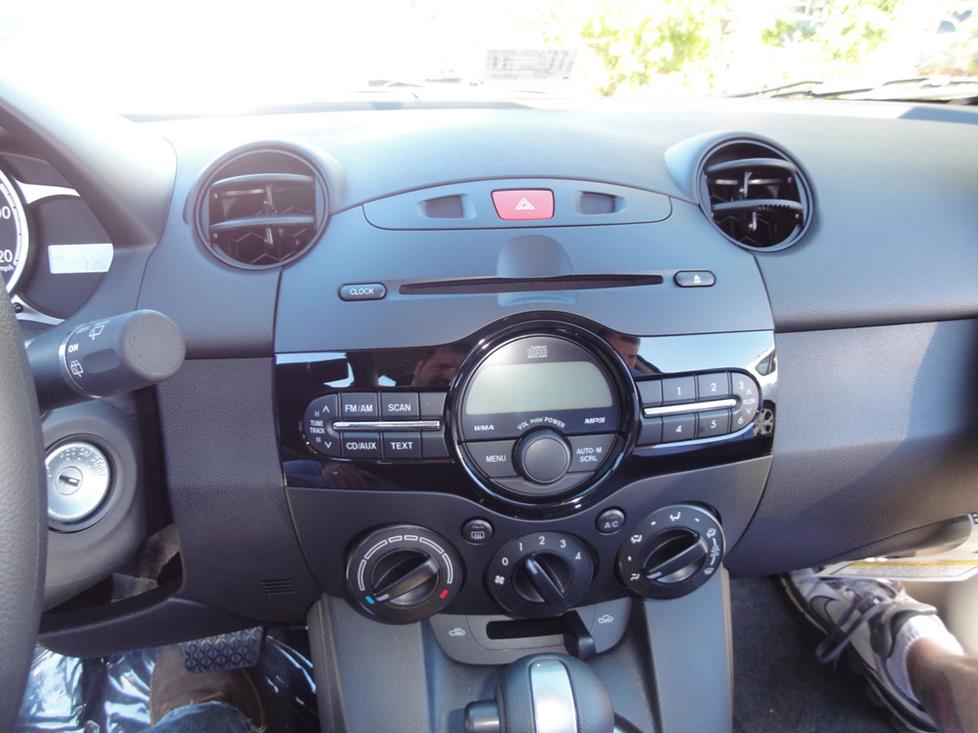 Don't be fooled. This radio is easier to replace than you might think. (Crutchfield Research Photo)
Factory stereo system
The 2's factory stereo options were pretty basic, even for an economy car. Early cars didn't even offer a USB input and Bluetooth® connectivity was a long time coming, too. An aftermarket receiver can give you the functionality you need, plus a notable upgrade in sound.
When writing these profiles, we always take pains to mention the factory functions you'll lose when you replace the stereo. With this car, the only thing that goes away is the AUX input, which is a thing that almost any aftermarket stereo offers these days. A healthy selection of single-DIN (2" tall) or double-DIN (4" tall) stereos will fit into the 2's dash with the help of a dash kit. This mounting kit and the necessary wiring adapter are included at a discount when you order from Crutchfield.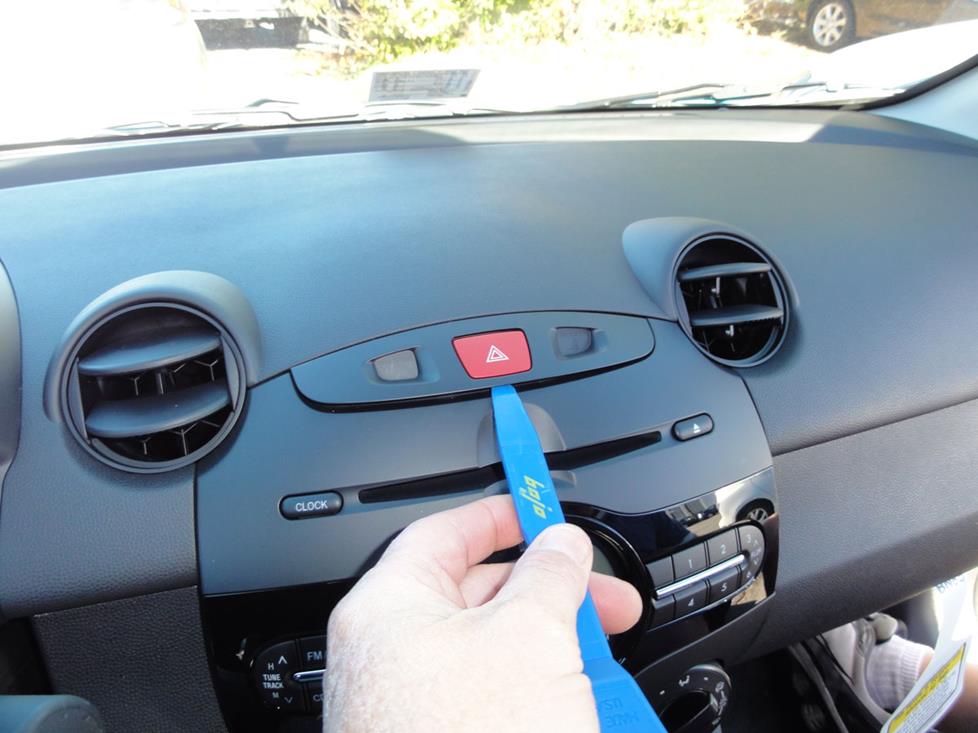 You'll need a panel tool to remove the radio trim panels. (Crutchfield Research Photo)
Replacing your factory radio
Replacing the factory radio isn't too complicated, so this is a great project for the first-time car audio DIY-er. There are some fiddly bits, but it's nothing you can't handle. And if you get stuck on something, we're here for you. Your Crutchfield stereo purchase also comes with free tech support for the life of the gear.
You'll have to unbolt or cut out the factory radio's rear support bracket to make room for your new car stereo. This isn't as hard as it sounds, but if you're worried about it, just give us a call and let our experts help you along.
Before you start, set the parking brake and disconnect the negative battery cable to prevent any electrical short. This is not a heavy car, but you still don't want to chase it down the driveway.
Detailed stereo and speaker removal instructions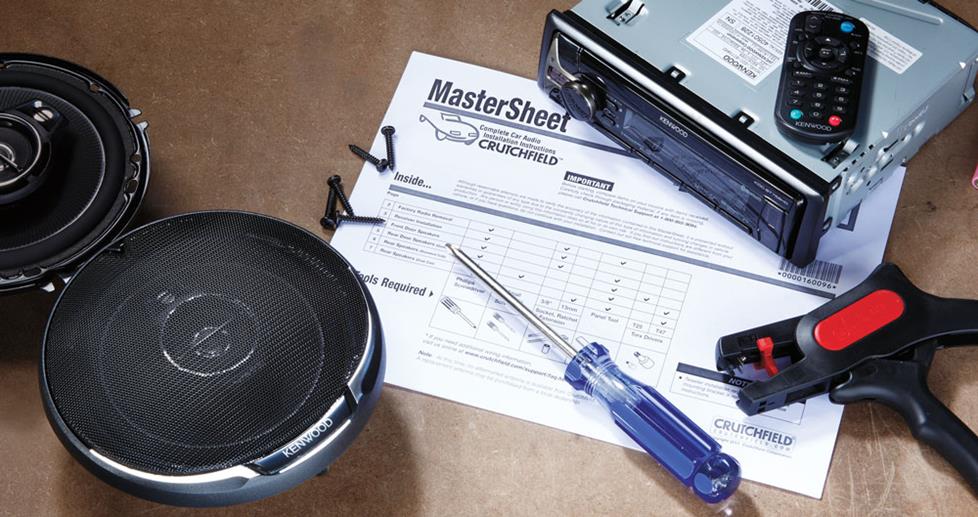 With step-by-step disassembly instructions and plenty of up-close, detailed photos, our exclusive
Crutchfield MasterSheet
™ takes the guesswork out of removing the factory stereo and speakers. It's free with your Crutchfield order, or you can purchase one separately for just $9.99.
Use a panel tool to pry up the gear shift trim panel and release seven retaining clips. Mazda is pretty good at putting cars together, so these clips (and others) could be tight. You'll want to work carefully, but once the clips are loose, you can remove the trim panel.
Pry out the center push pin on the shift console side panel, pry out the rear edge of the side panel to release those clips, then pull the panel toward the rear of the vehicle to remove it. That'll expose a Phillips screw, which you'll want to remove. You'll repeat these steps on the opposite side of the dash.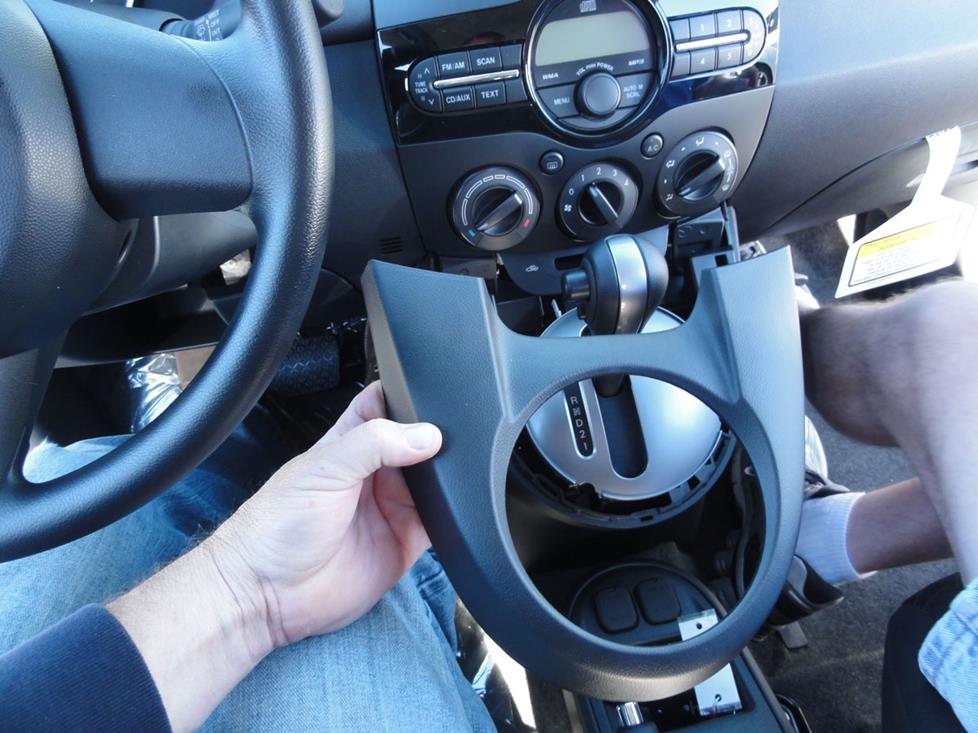 You'll need to remove the shift console panel as part of the process. (Crutchfield Research Photo)
Next, pull the shift console panel toward rear of car to release four clips. Lift the panel to remove it, then remove the two Phillips screws you'll see underneath.
Now we're getting someplace. Open the glove box and press in the sides to release the retainer stops and lower door completely. That'll show you the radio's side bracket, which is secured by a 10mm bolt that you'll need to remove.
Pry out the driver's side knee panel to release the clips along the receiver faceplate, then pry out the upper glove box trim panel to release some more clips along the faceplate. Finally, you'll pry out the factory radio assembly to release six clips. Disconnect the wiring harnesses and remove the whole assembly.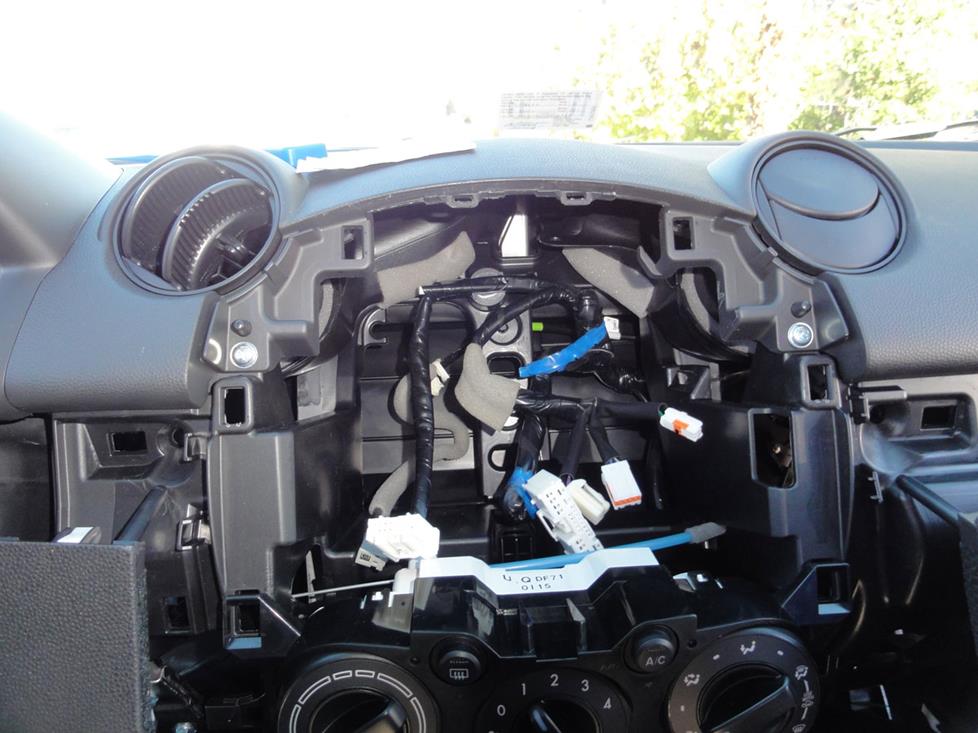 There's a lot of space once the factory stereo is removed. (Crutchfield Research Photo)
From here, it's just a matter of securing the new receiver to the mounting bracket following the instructions supplied with the dash kit and making the wiring connections following the instructions that come with the receiver wiring adapter. Slide everything back in the dash, check to make sure the new receiver is working, then start putting the dash back together using the screws you removed earlier.
Tools needed: Panel tool, Phillips screwdriver, small flat blade screwdriver, 10mm socket, ratchet & extension
Steering wheel audio controls
It's relatively easy to retain the steering wheel audio controls when you install a new stereo in your Mazda. When you enter your vehicle information, our database will choose the adapter you need to make your factory steering wheel controls work with your new receiver.
Shop for car stereos that fit your Mazda 2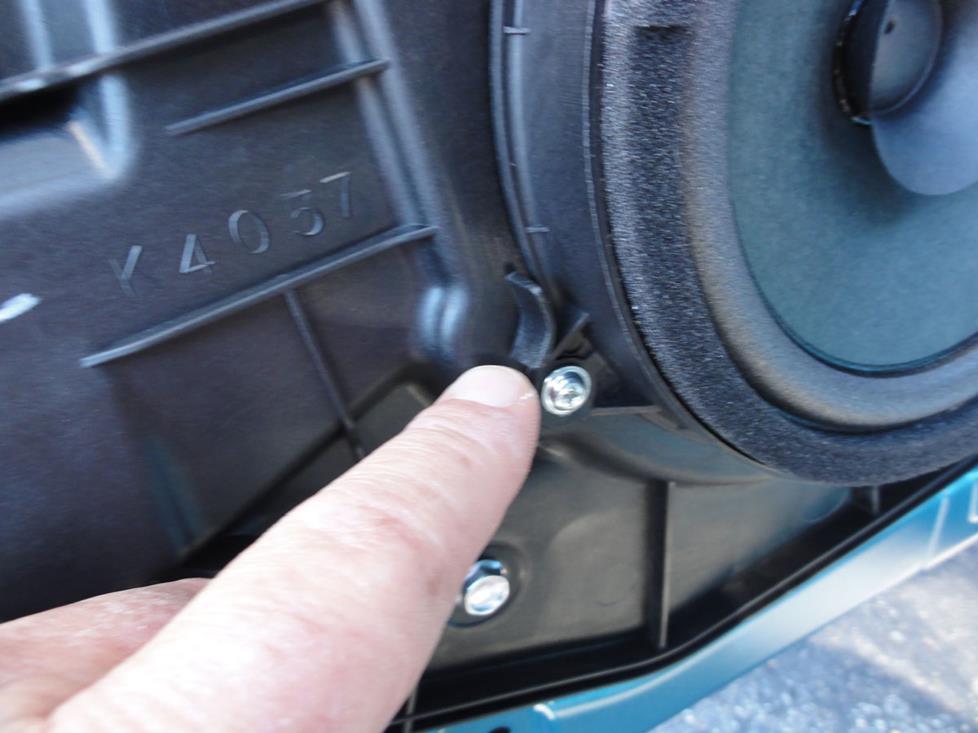 You'll need to trim these locator tabs to install new door speakers. It's not that hard to do. (Crutchfield Research Photo)
Replacing your factory speakers
The 2 was available with, fittingly enough, two speaker sets. If your car has the 4-speaker system, the front door speakers are 6-3/4" full-range models. If you have the 6-speaker version, the front doors sport 6-3/4" woofers that are wired in parallel with the tweeters.
We haven't had a chance to get an in-depth look at the tweeters yet, but we're confident that you can install a set of component speakers in the doors with no problem. You'll need to use backstraps, hot glue, or silicone to secure the tweeters because there aren't any mounting brackets available. If you know more, please share your experience in the comments section below.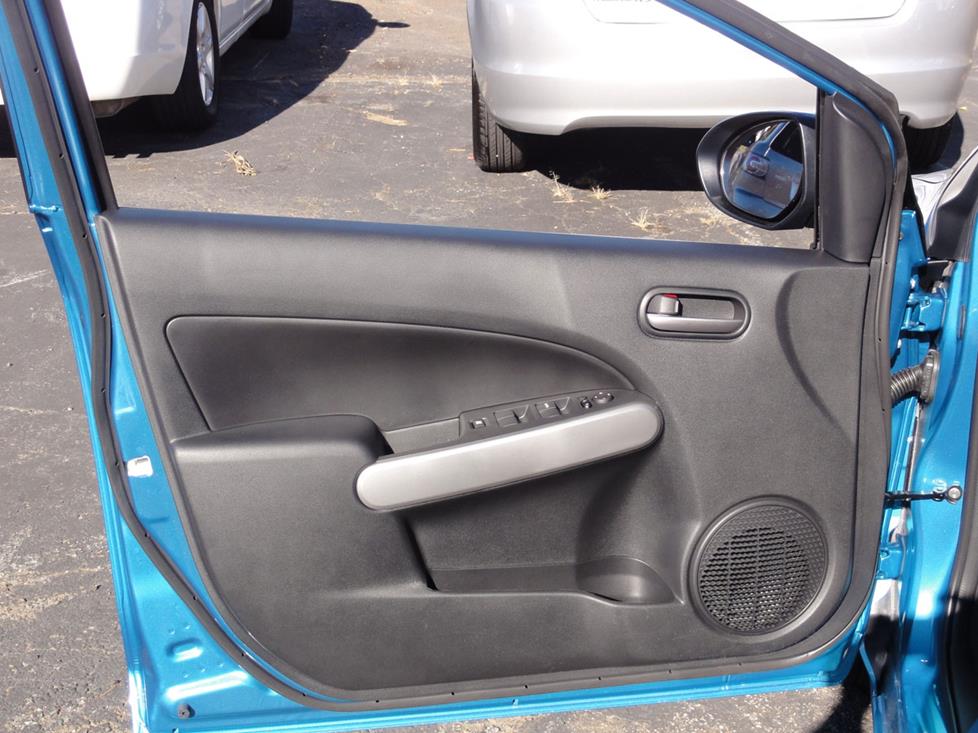 This a base model with full-range speakers. The 6-speaker system adds front door tweeters. (Crutchfield Research Photo)
Removing the front door speakers
A healthy assortment of 6-1/2" and 5-1/4" aftermarket speakers will fit in these doors, and as we said before, component systems will be fine.
You'll need to remove the door panels to replace the speakers. This isn't hard, but there are a few steps to it, so be patient, stay organized, and keep track of all the screws you're removing – you'll need them later.
You'll need mounting brackets and wiring adapters to install the new door speakers and they're included at a nice discount with your Crutchfield order. You will need to remove the locating tabs from the factory speaker brackets before installing your new speakers and mounting brackets. This mod won't affect the factory bracket's structural integrity, but it will help the new speakers to fit flush in the door.
Speakers don't always come with mounting screws these days, so check the box before you start and make your run to the hardware store if you need to.
Tools needed: Panel tool, Phillips screwdriver, small flat blade screwdriver, pliers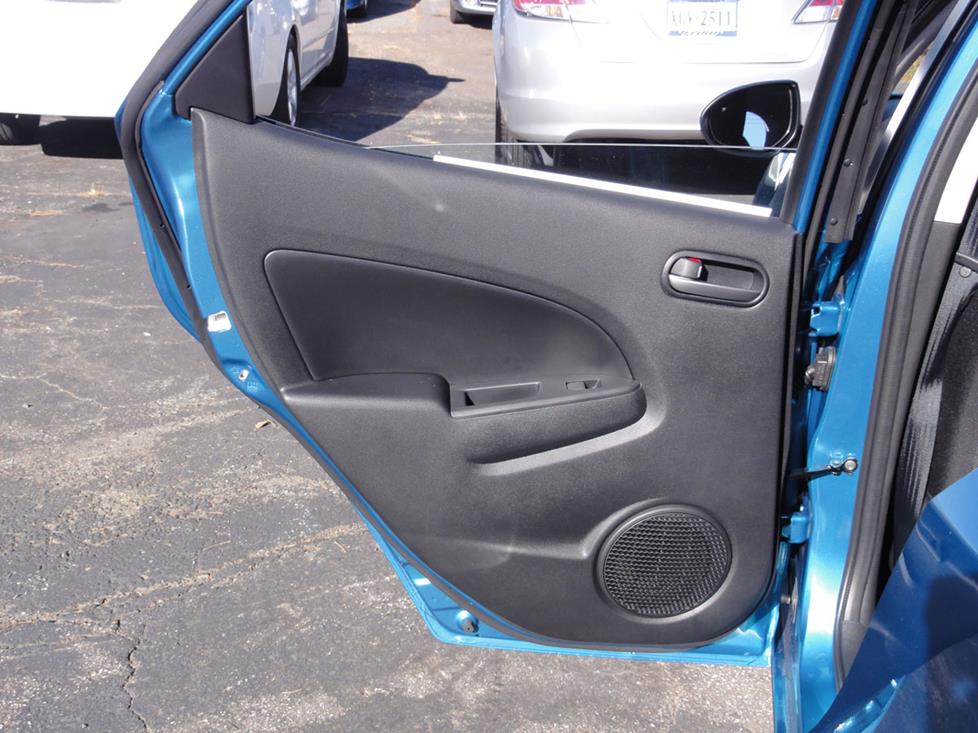 Replacing the rear door speakers involves the same basic stuff you did up front. (Crutchfield Research Photo)
Removing the rear door speakers
With the exception of the optional tweeters, pretty much everything we said about the front door speakers applies to the rear door speakers.
The stock models are 6-3/4" in diameter and you can replace them with 5-1/4" or 6-1/2" aftermarket models. You'll need brackets and wiring adapters back here, too, and they're included at a discount when you buy from us.
Tools needed: Panel tool, Phillips screwdriver, small flat blade screwdriver, pliers
Shop for speakers that fit your Mazda 2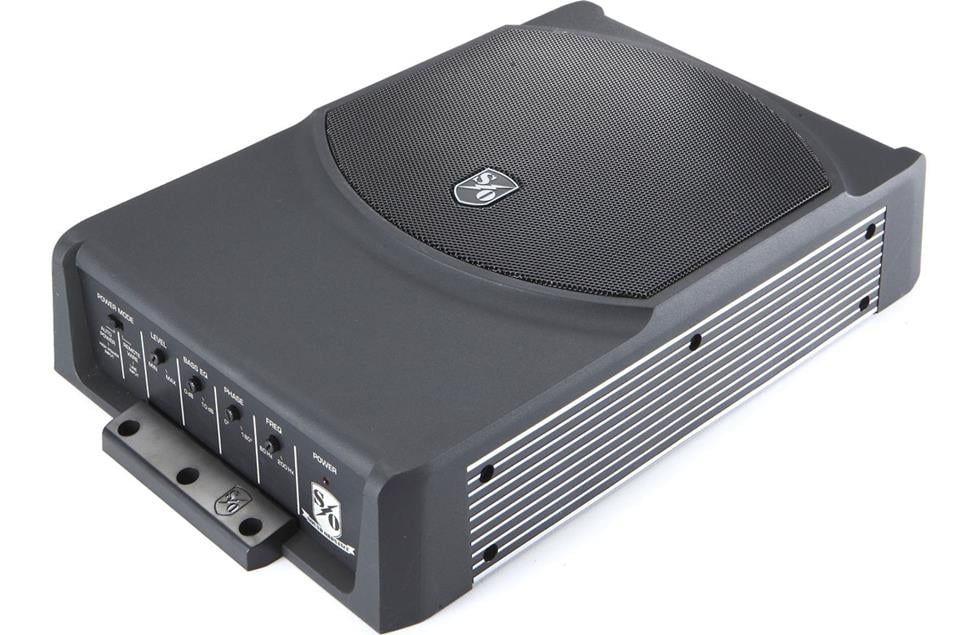 The Sound Ordnance B-8PTD is a compact powered sub that really performs.
Bass in your Mazda 2
The 2 isn't a big car, so there's not a ton of space for bass. If you really, really want to add a component subwoofer box, you have a 39" W x 17" H x 23"/14" area to work with, but you're going to lose a lot of cargo room this way. A smaller powered subwoofer might be a better idea for this car.
Then again, we did say that the 2 makes a trip to the grocery store a lot more fun, so if you go big on bass, you can make a lot more trips. This is not necessarily a bad thing…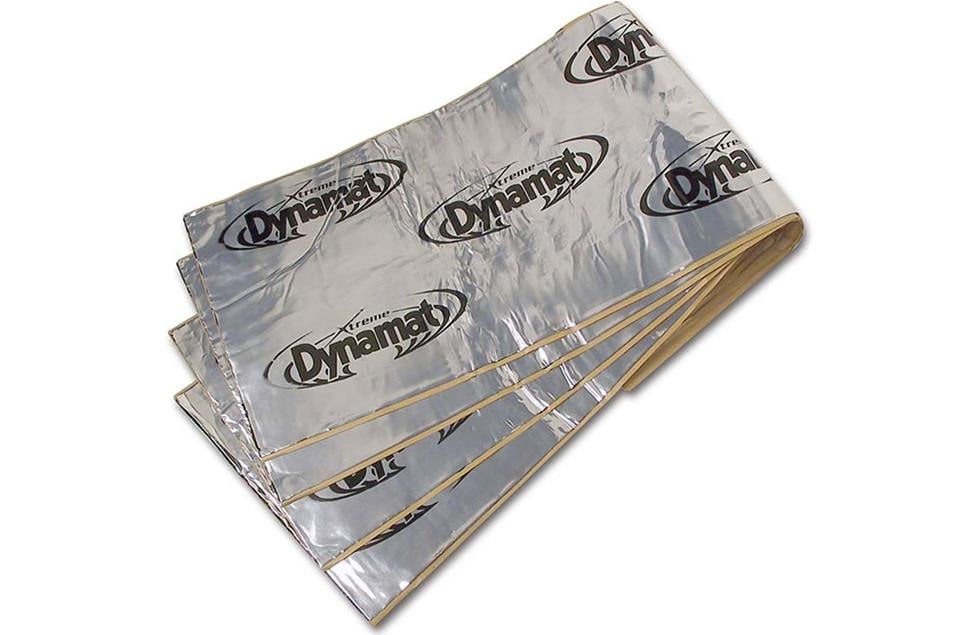 Dynamat can keep road noise from messing with your musical enjoyment.
Other options for your Mazda 2
Satellite radio
Not everyone is up for replacing the factory receiver. Not a problem. You can still add versatility and great sound to your car. Consider adding a dock-and-play satellite radio. They work with any car stereo and, once you activate a subscription, you'll have access to tons of music, news, and sports. You can upgrade the speakers later for even better sound.
Dynamat sound damping
The 2 has a well-earned reputation as a solidly built car, but it's still a subcompact and it can be a bit buzzy at highway speeds. The Dynamat Xtreme Door Kit is the perfect way to seal out the noise and seal in the sound. This vibration damping material is easy to install, and it really makes a difference. This is a great thing to do while you're installing new speakers, because, hey, why take the doors apart twice if you don't have to? One kit will take care of the front doors.
Car security systems
Installing a security system in your Mazda 2 isn't easy (security systems rarely are), but it's definitely a good idea. Our Crutchfield Advisors can help figure out what you need to get the job done, but we usually recommend taking your car and new gear to a professional installer.
Shop for car security systems for your Mazda 2
Find the audio gear that fits your car or truck
Visit our Outfit My Car page and enter your vehicle information to see stereos, speakers, subs, and other audio accessories that will work in your vehicle.