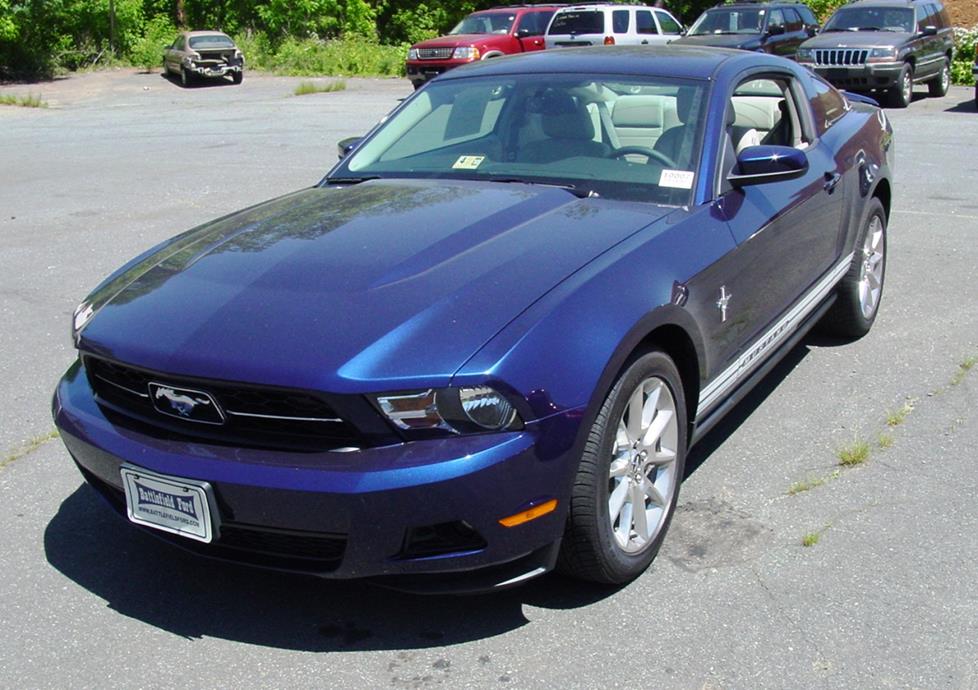 In brief: This Crutchfield Research Garage article gives you an overview of your Mustang's stock stereo system and your aftermarket upgrade options. We'll tell you all about:
Then, use our vehicle selector to find the gear that will fit your Mustang.
Overview of the Ford Mustang
In 2010, Ford gave its wildly popular fifth-generation Mustang coupe a thorough mid-cycle freshening. The revamped ponycar boasted subtle styling tweaks, increased horsepower, and improved fuel economy.
Several stereo systems were available for this Mustang, many equipped with the SYNC interface system that a lot of owners love. But if you're serious about sound, there's plenty of room for improvement. The aftermarket loves the Mustang as much as the car-buying public does, so there are options for everything from replacing a few speakers to adding a completely new system.
Removing the factory radio

Factory radio in Shaker 500 system (Crutchfield Research Photo)
4-speaker system
The factory deck is integrated into the dash, which makes replacement a little complicated. You'll need a special dash adapter that replaces a good portion of the dash and allows you to install a DIN (2" tall) or double-DIN (4" tall) radio. You'll also need a special wiring adapter that allows you to connect your new radio without having to cut the factory wiring, along with an antenna adapter that connects the Ford antenna to your new radio.
Detailed stereo and speaker removal instructions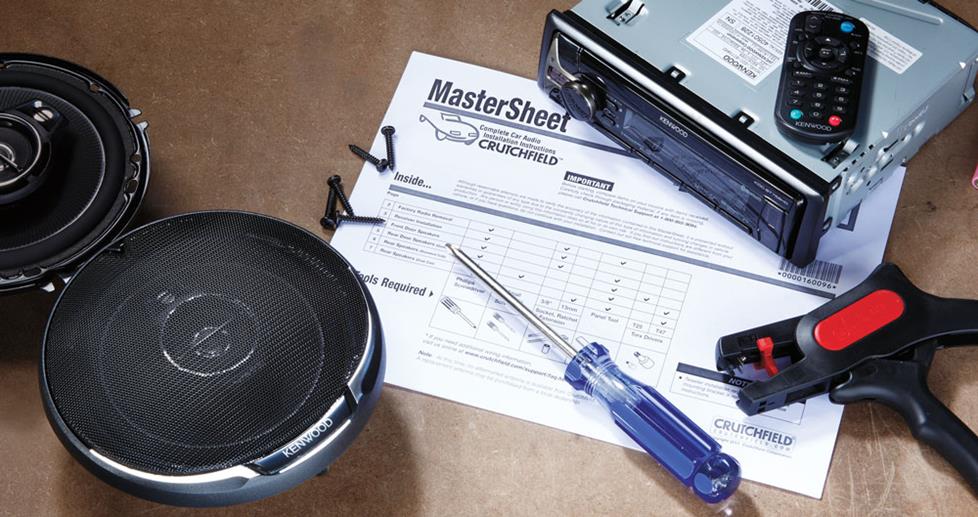 With step-by-step disassembly instructions and plenty of up-close, detailed photos, our exclusive
Crutchfield MasterSheet
™ takes the guesswork out of removing the factory stereo and speakers. It's free with your Crutchfield order, or you can purchase one separately for just $9.99.
It's not an easy job, but the good news is that there are products to make it better, including a dash adapter that matches the factory colors of your interior and adapters that retain your steering wheel control features. Crutchfield offers a very nice discount on the gear needed for this installation, and our step-by-step MasterSheet™ instructions for your Mustang are free.
Ford was kind enough to pack most factory systems with plenty of features and options, including stereos with integrated satellite radio tuners, as well as the ability to add more music sources like an iPod. If you decide to keep the factory head unit, you can still get great sound, as there are plenty of ways to improve the overall system by adding speakers, amps and more.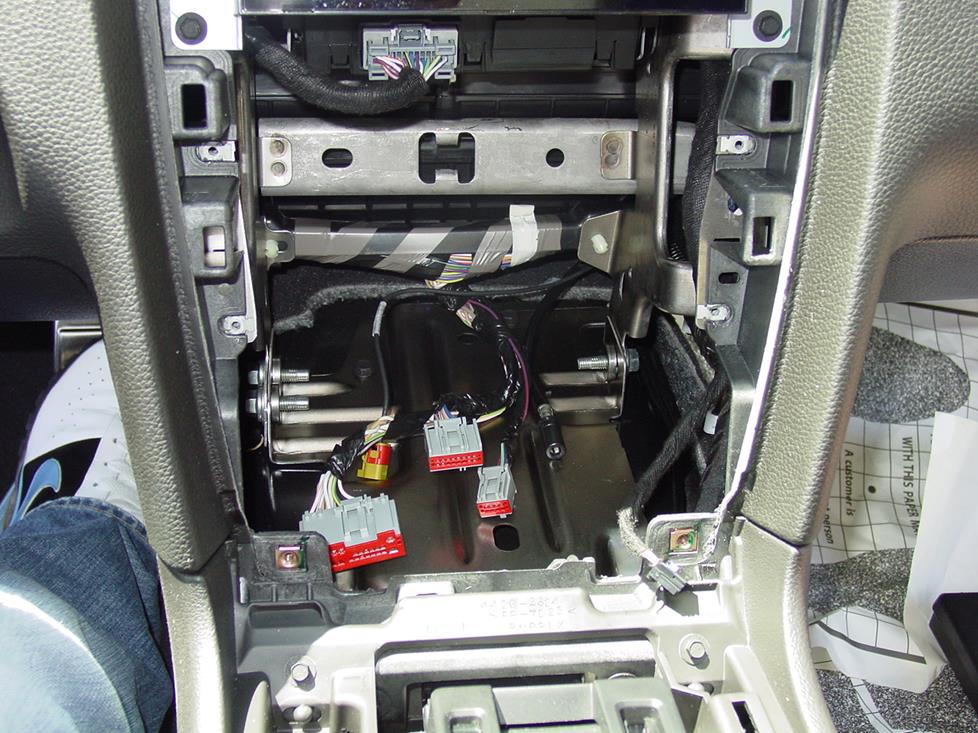 Mustang dash totally disassembled (Crutchfield Research Photo)
Shaker systems
Ford offers two versions of its long-running Shaker system in the Mustang:
the Shaker 500 system features powered 8" subwoofers and 2-way 6"x8" speakers in each front door, with 6"x8" speakers in the rear parcel shelf
the Shaker 1000 system adds another amplifier and two larger subs in the trunk.
You'll run into the same issues replacing the radio in your Shaker system, with the added complication of the SYNC system. SYNC gives you the ability to control several features of the Mustang, like audio settings, Bluetooth® functions, climate controls and more, through voice commands and steering wheel controls. To retain all that SYNC functionality, you'll need the right wiring harness adapter. When you enter your vehicle info on our Outfit My Car page, our KitFinder tool will help you find the right receiver, the right dash kit, and the right wiring kit.
Tools needed: 7mm socket, panel removal tool, small slotted screwdriver
Read our Car Stereo Buying Guide for shopping tips and advice.
Shop for car stereos that fit your Ford Mustang
Steering wheel audio controls
In most cases, it's reasonably easy to retain your Mustang's steering wheel audio controls when you install a new stereo. When you enter your vehicle information, our database will choose the adapter you need to make your factory steering wheel controls work with a compatible aftermarket receiver.
Removing the factory speakers

On Shaker-equipped cars, the mid-range speaker is above the 8" sub. (Crutchfield Research Photo)
Front doors
From 2010-12, the Mustang's front doors held 6"x8" full-range speakers, which can be replaced by same-size or (with brackets) 5-1/4" speakers In 2013, 5-1/4" speakers became the standard factory size, but in either case, door removal is largely the same. You'll need speaker harnesses to attach the new speakers to the factory wiring, and at Crutchfield, these harnesses (and mounting brackets, if needed) are deeply discounted with every speaker order.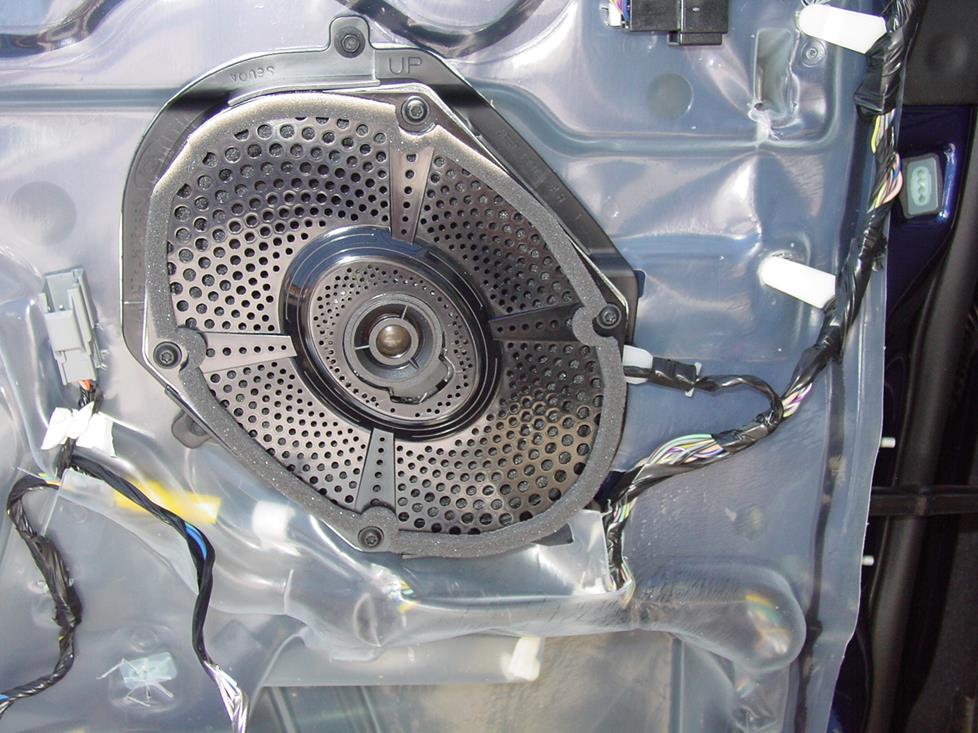 The Mustang's 6" x 8" door speaker (Crutchfield Research Photo)
Removal of the speakers is fairly straightforward — just pop off the door panels (requires removing eight 7mm bolts, and two T30 Torx screws) and replace the old speakers with your new ones. You can use speaker harness adapters to connect the new speakers to the Ford speaker plugs, or you can splice the new speakers' wires into the factory harnesses if you know what you're doing.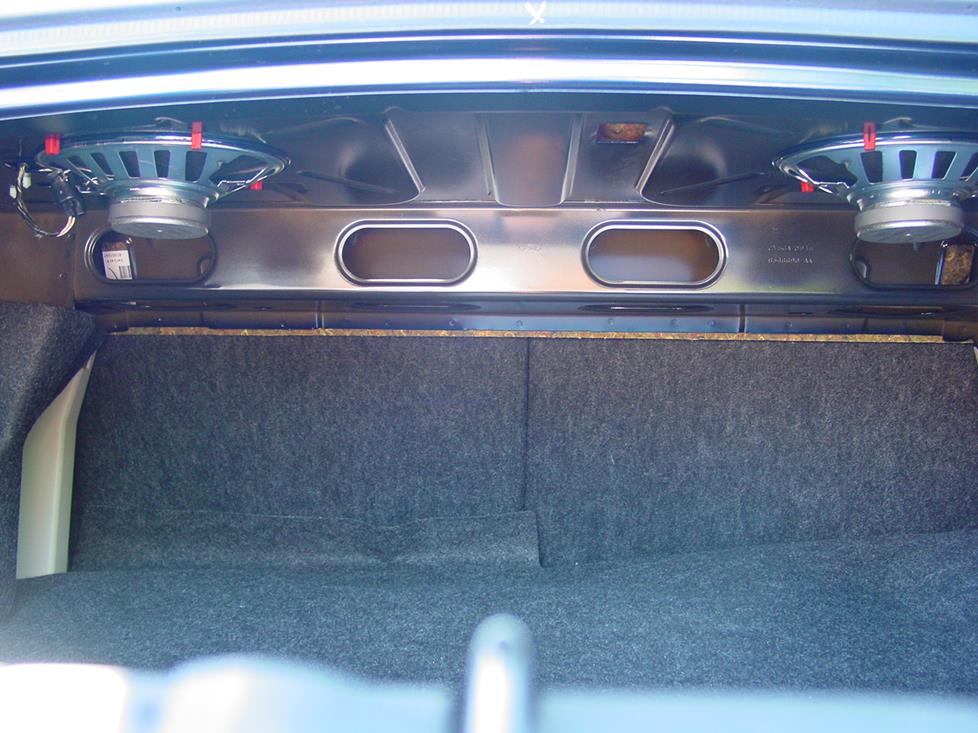 The Mustang's rear deck speakers (Crutchfield Research Photo)
Rear deck speakers
The Mustang's rear speakers are also 6"x8"s, and again you have the option of round 5-1/4" speakers in speaker brackets. In most cases, you'll be able to use the same speakers front and back. You must remove several interior body panels as well as the lower portion of the rear seat to access the speakers, and you'll again need wiring adapters if you don't want to splice into the factory wire harness.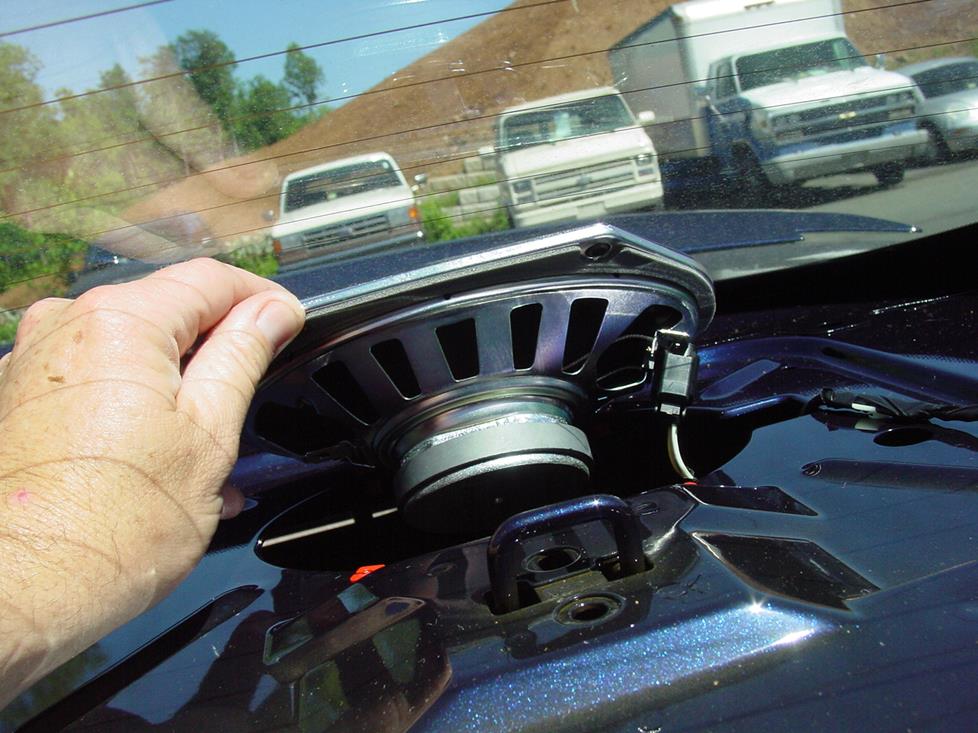 Removing the rear deck speaker (Crutchfield Research Photo)
Shaker systems
The Shaker systems offered on the Mustang came with pretty decent speakers, so you'll want to pick some good-quality speakers to replace them. Your Mustang will also have 8" subwoofers in the doors.
Tools needed: Socket wrench, 7mm socket, Torx T20 and T30 drivers, panel removal tool, small slotted screwdriver
Read our Car Speakers Buying Guide for more information
Shop for speakers that fit your Ford Mustang
Bass in your Mustang
How and where you pump up the thump in your Mustang depends on what you want and, to an extent, what you're starting with.
4-speaker system
If you want to preserve your trunk space, you'll find a number of specially-made subwoofer enclosures available for the Mustang from brands like JL Audio and MTX that fit neatly in the out-of-the-way corners of the trunk. If you want competition-level bass, you'll find plenty of room in the Mustang's trunk for a custom installation.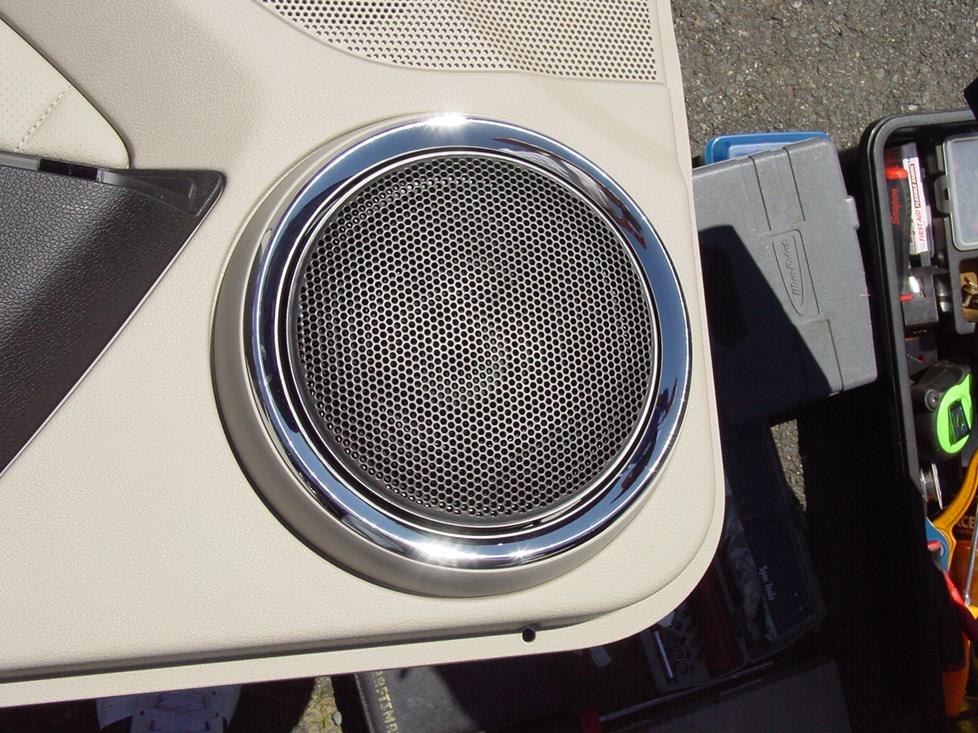 Shaker system 8" sub in the door (Crutchfield Research Photo)
Shaker 500 system
Due to the low impedance (1.8) and odd size of the 8" subs in your front doors, there are very few options for replacing them with aftermarket 8" woofers, and the 3-1/4" mounting depth in the door makes it especially tough. You can keep these subs along with their amps, or remove them entirely to use this space for component speakers, crossovers and more. You can get better sound from an amplified midrange speaker in a nice component set, so you won't be losing the low notes by going without these shallow subs.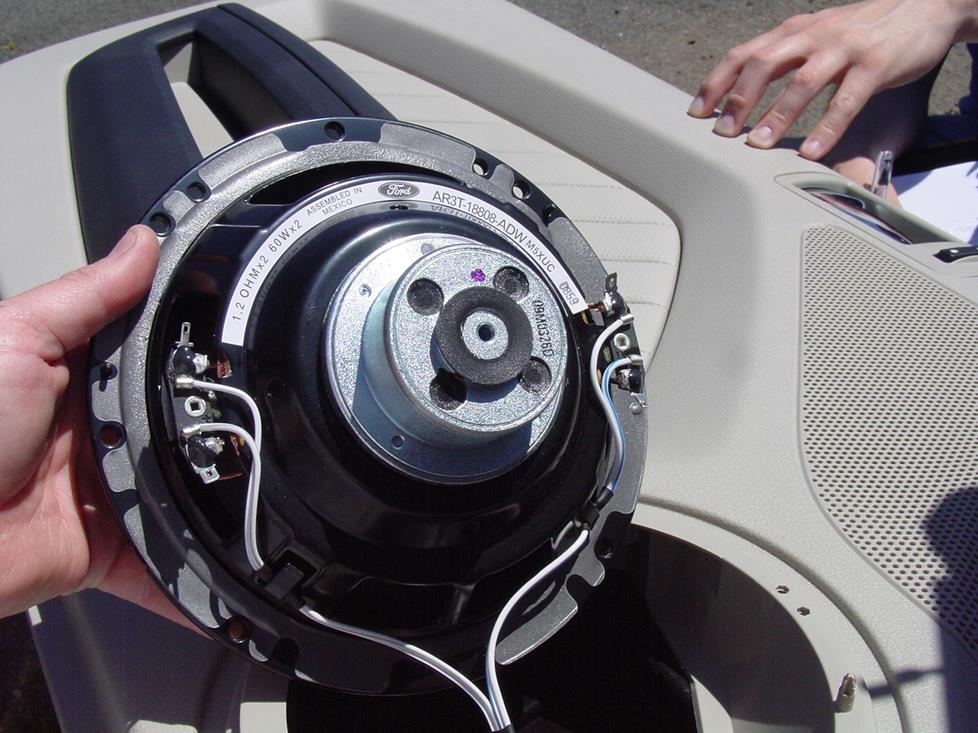 Subwoofer removed from the door (Crutchfield Research Photo)
Shaker 1000 system
The biggest difference between the Shaker 500 and the Shaker 1000 systems is the addition of powered subwoofers in the trunk. We recommend installing some of the Mustang-specific sub enclosures we carry, as they require less room than the Shaker 1000 subs while delivering more of a kick. You'll save space and get more bass.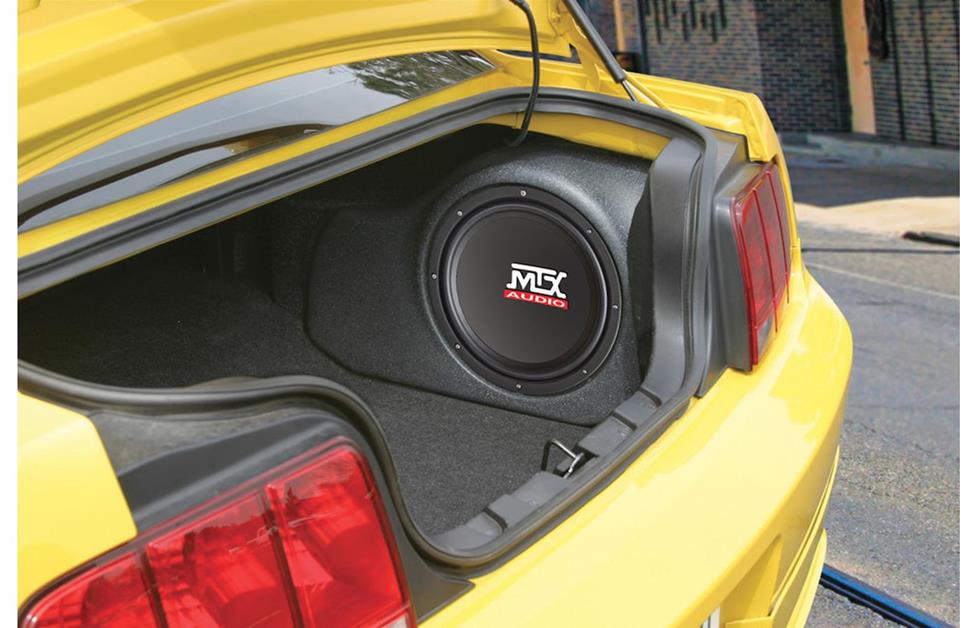 Loaded or unloaded, MTX Thunderform enclosures fit perfectly in your Mustang (MTX photo)
Learn more about building a bass system in our Car Subwoofer Buying Guide.
Shop for vehicle-specific subwoofers for your Ford Mustang
Other options for your Mustang
There are plenty of great ways to turn your Mustang's sound system into something truly amazing.
Amps
Adding an amplifier, even to the Shaker systems that include small factory amps, will increase the sound output and clarity of your music; it will get louder and it will sound better. Since some of the factory speakers have odd impedance levels, you'll want to upgrade those when you upgrade your amps.
Learn more about adding amps to your system in our Car Amplifier Buying Guide.
Satellite radio
Many Mustangs come from the factory with a satellite radio tuner. If you're replacing your factory radio, you can switch over to an external SiriusXM satellite radio tuner and simply transfer your subscription.
Remote start and security systems
Adding remote start capability to your vehicle lets you warm it up in the winter or cool it down in the summer. The iDatastart system is incredibly convenient and makes it easier than ever to install a remote start system, so we highly recommend it. The module requires a vehicle-specific T-harness (sold separately) to connect with your vehicle's computer, security, and ignition systems, so we ask that you call to order so that we can make sure you get the right harness for your ride.
You can also talk to your Crutchfield Advisor about a security system. They're not as easy to install (we usually suggest letting a professional do the job), but we can help you choose a system that'll work in your vehicle.
Let's get started!
Ready to shop? Use our vehicle selector to find the gear that will fit your car or truck. If you have questions, give us a shout via phone, chat, or email