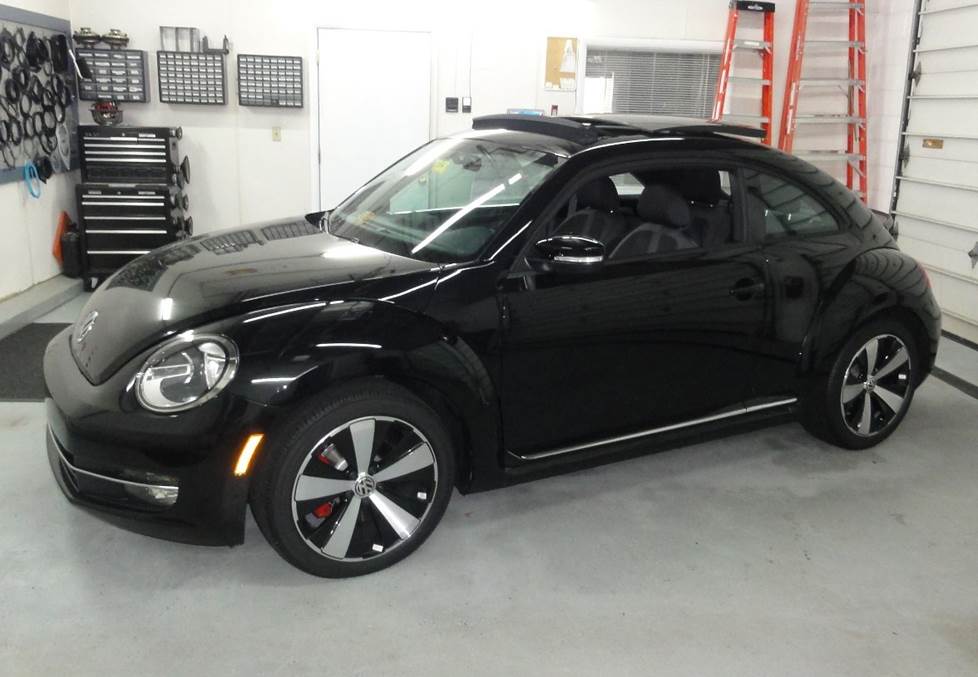 In brief: This Crutchfield Research Garage article gives you an overview of your Beetle's stock stereo system and your aftermarket upgrade options. We'll tell you all about:
Then, use our vehicle selector to find the gear that will fit your vehicle.
Overview of the Volkswagen Beetle
Meet the newest Beetle, which is not the same as the New Beetle and not at all like the original Beetle. In fact, those of you who remember the original Beetle's "Think Small" magazine ads will be amused to note that this Beetle is longer, lower and wider than its predecessor.
This is not a bad thing. Revamping a car with a shape so distinctive it can be recognized in silhouette by anyone from 8 to 80 isn't an easy thing, but VW's design team pulled it off. This Beetle is a little sportier and a little more aggressive, but without losing the fun, friendly personality that makes a Beetle a Beetle.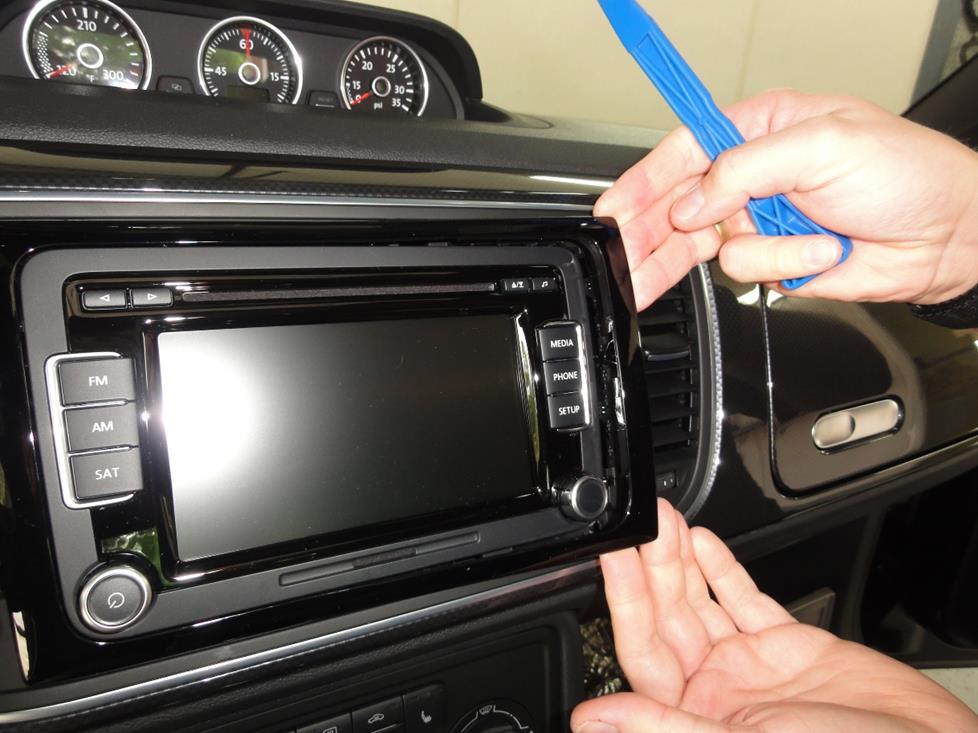 Removing the Beetle's stock radio starts with the trim panel (Crutchfield Research Photo)
The factory stereo system
The Beetle's base system is somewhat pedestrian, but it's not bad as such things go. The optional 9-speaker Fender-branded system, on the other hand, is a bit of a factory hot rod. The receiver is an AM/FM/6-CD unit with USB and AUX inputs, plus a built-in SiriusXM tuner and available navigation. This is good stuff, and VW deserves kudos for coming up with a factory system that's this impressive.
The Beetle's dash offers room for a single-DIN (2" tall) or double-DIN (4" tall) aftermarket stereo. Speaker replacement offers some challenges, but you do have some aftermarket options. Honestly, if you have the Fender system and the speakers are working well, you might be okay just replacing the receiver.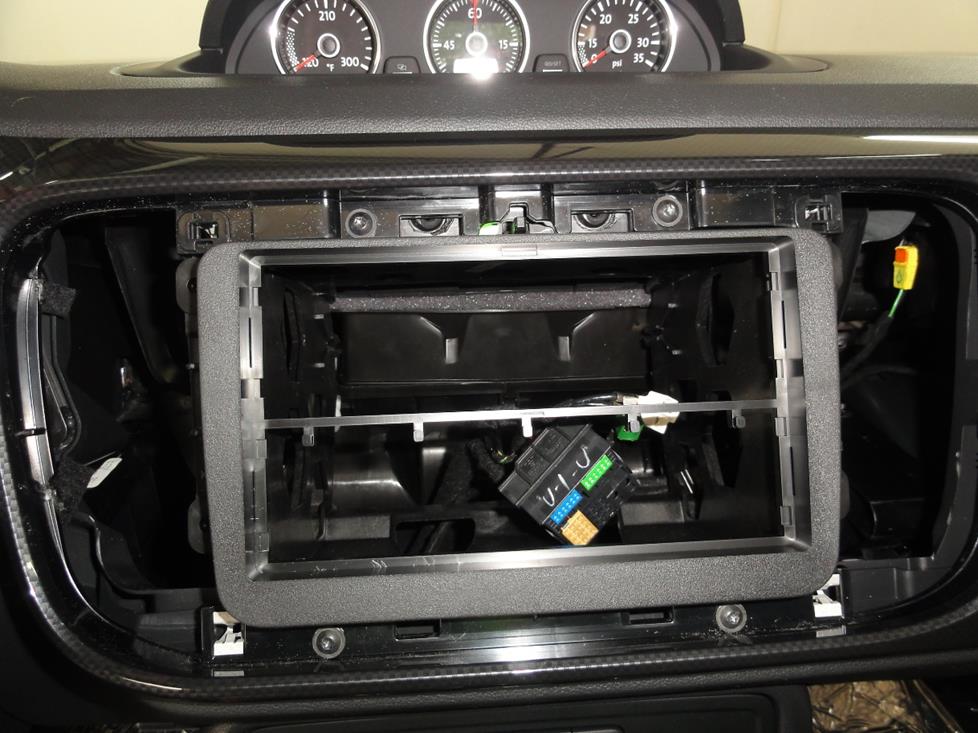 The dash cavity offers space for a single-DIN or double-DIN receiver (Crutchfield Research Photo)
Removing the factory radio
Removing and replacing the factory radio is reasonably simple in the Beetle. You'll start by using a panel tool to pry off the receiver trim ring. There are 10 retaining clips to release, so be patient and work carefully. Next, you'll pry out the vent trim panel (four clips) and remove it. With that out of the way, you'll be ready to remove the four Torx T-20 screws securing the receiver to dash. Disconnect the harness, remove the receiver, and you're done with this part of the process.
Detailed stereo and speaker removal instructions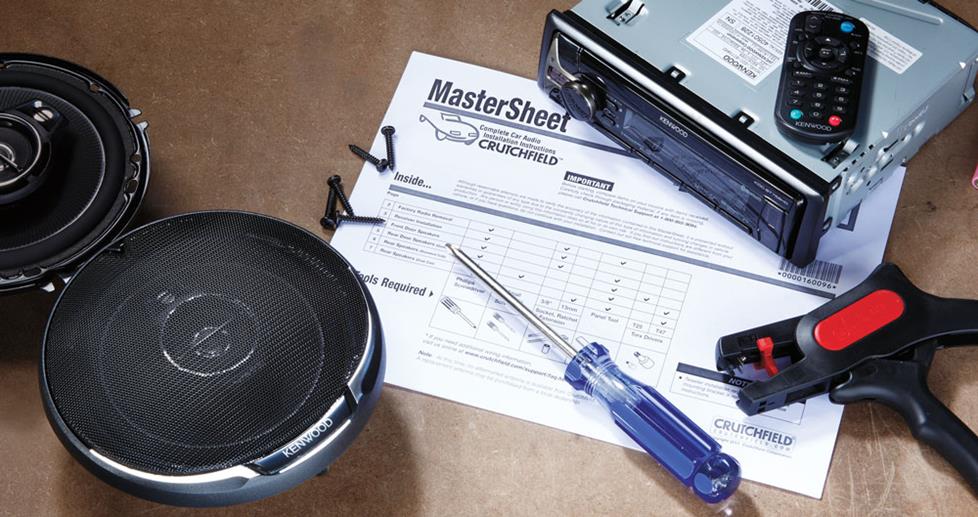 With step-by-step disassembly instructions and plenty of up-close, detailed photos, our exclusive
Crutchfield MasterSheet
™ takes the guesswork out of removing the factory stereo and speakers. It's free with your Crutchfield order, or you can purchase one separately for just $9.99.
When you replace the factory radio, you'll lose factory features like the AUX, USB, satellite radio, and navigation. Of course, you can get all of those functions back with the right aftermarket radio. Also, if you use the wiring harness adapter with the Fender system's factory amp, you'll lose front-rear fade control. That's also fixable – ask your Crutchfield Advisor.
You'll need a dash kit and wiring harness to install your new receiver, and both are included at a deep discount with your Crutchfield stereo purchase.
Tools needed: Panel tool, Torx T-20 driver
Read our Car Stereo Buying Guide for shopping tips and advice.
Shop for car stereos that fit your Volkswagen Beetle
Steering wheel audio controls
In most cases, it's reasonably easy to retain your Beetle's steering wheel audio controls when you install a new stereo. When you enter your vehicle information, our database will choose the adapter you need to make your factory steering wheel controls work with a compatible aftermarket receiver.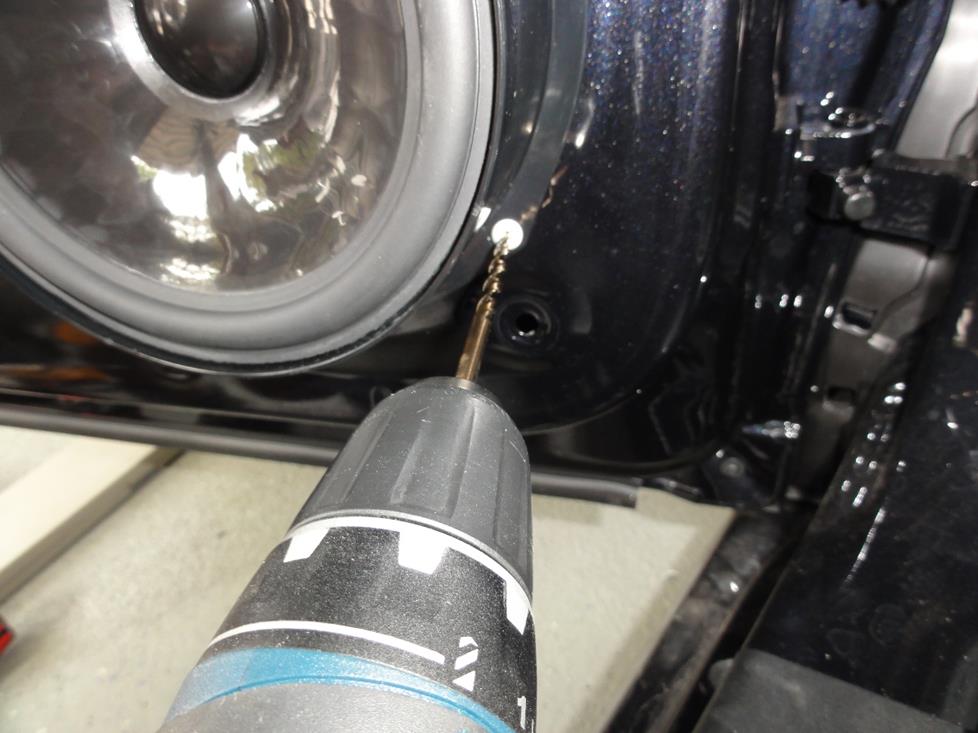 You'll need to drill out a few rivets to remove the stock speakers (Crutchfield Research Photo)
Removing the factory speakers
Regardless of system, your Beetle has speakers on the doors and rear side panels. Cars equipped with the Fender system also have a subwoofer.
Front door woofers
Whether your Beetle has the Fender system or the regular speaker array, the door woofers aren't hard to get to, but there is quite a bit of work involved after you remove the door panels. The stock speakers are riveted to the doors, so you'll need to drill out those rivets to remove the speakers. Once they're gone, they're gone, so you'll also need to fabricate mounting brackets for whatever goes in there.
Because of the amount of modification work involved, we don't recommend replacing these speakers. You can, of course, but it's going to take a lot of work and, if you have the work done by a stereo shop, a lot of money.
Tools needed: Panel tool, Torx T-30 driver, 10mm open-ended wrench, drill with bits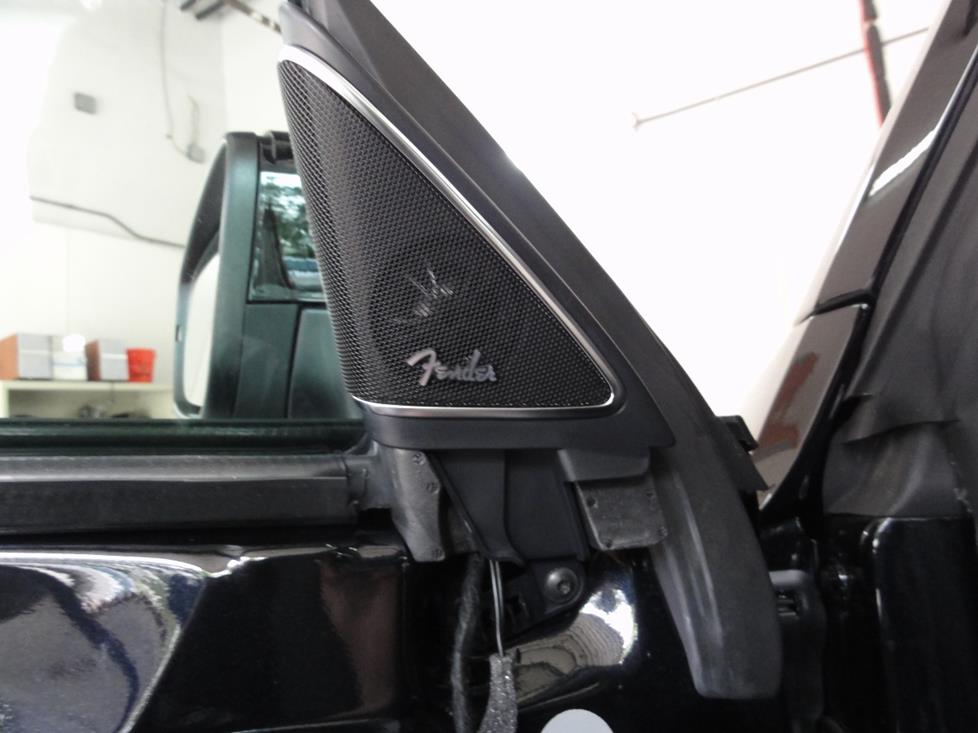 The Fender audio system includes tweeters in the sail panels (Crutchfield Research Photo)
Front door tweeters
Some similar issues are in play for the factory tweeters, which you'll be able to access when the door panel is removed. Yes, you can install component tweeters here, but there aren't any mounting brackets for this location, so you'll need to have some made or use a set of universal backstraps (or hot glue or silicone) to hold them in place. Wiring adapters don't exist, either, so you'll need Posi-Products speaker connectors to connect them to the car's wiring.
The tweeters are heat-fused to the sail panels at three points, so use caution when removing them. You don't want to damage the speaker grille or the panel itself.
On Fender-equipped cars, replacing the 1- or 2-ohm factory tweeter with a higher-impedance aftermarket speaker will result in lower volume levels, so keep that in mind when you're installing your new component system.
Tools needed: Panel tool, Torx T-20 & T-30 drivers, 10mm open-ended wrench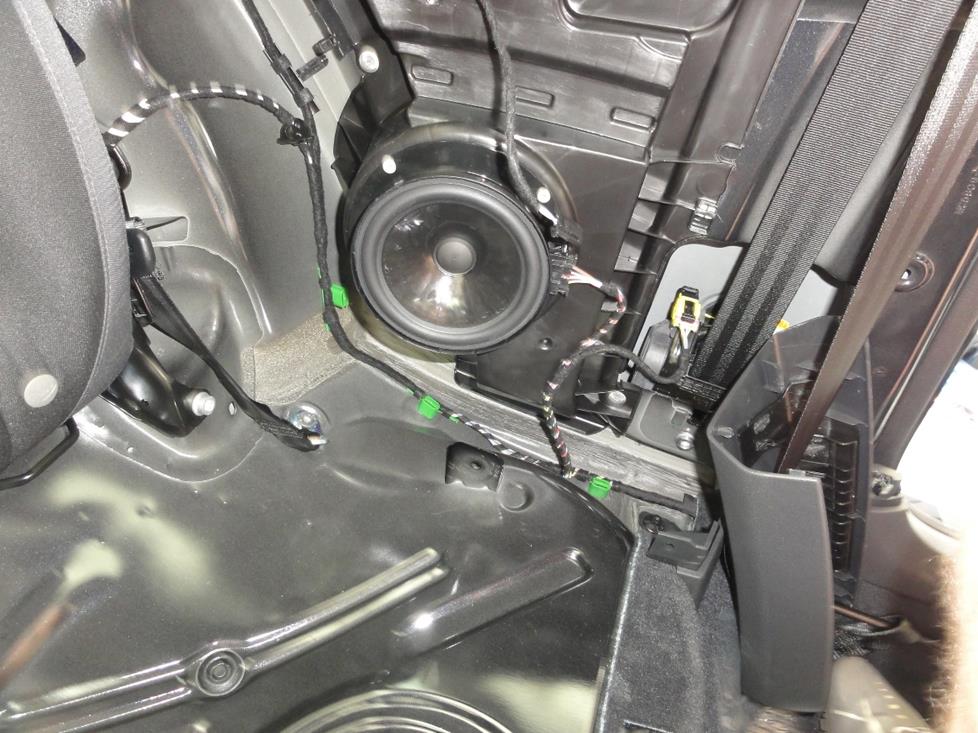 The rear side panel speakers will take a bit of work to replace, but it's worth it (Crutchfield Research Photo)
Rear side panel woofers
Both factory systems include speakers in the rear side panels, and finding and installing replacements is a bit easier than it is for the doors. Well, finding them, definitely. Installing involves a fair amount of work, but you won't have to fabricate anything.
You'll have to remove the side panels, of course, and while that involves quite a few steps, it's not hard to do. You'll have to drill out four speaker rivets back here, too, so work carefully, know what's behind and around where you're drilling, and wear eye protection. It's not that hard a job, but it does require your undivided attention.
With the Fender system, your replacement speakers can be either 5-1/4" or 6-1/2" models. With the base, you're limited to 6-1/2" models. A speaker adapter bracket is required, and it's included free with your speaker purchase. Here, too, replacing the 1- or 2-ohm factory Fender woofer (or tweeter, see below) with a higher-impedance aftermarket speaker will result in lower volume levels.
Tools needed: Panel tool, Torx T-20 driver, 7/64" Hex driver, drill with bits
Rear side panel tweeters
When you remove the side panels to get to the woofers, you'll also get to the tweeters. The same steps are involved, and a lot of the same issues apply. The factory tweeter has a 1.656" physical size and is heat-fused to the back of the rear side panel, so be very careful when you're removing tweeter to avoid damaging the side panel or tweeter grille. Your new aftermarket tweeters will fit right into the existing tweeter locations, but in most cases, you'll need to use backstraps, hot glue, or silicone to secure them.
You'll need Posi-Products speaker connectors here, too, and be mindful of the impedance situation discussed above when choosing your new gear.
Tools needed: Panel tool, Torx T-20 driver, 7/64" Hex driver
Read our Car Speakers Buying Guide for more information.
Shop for speakers that fit your Volkswagen Beetle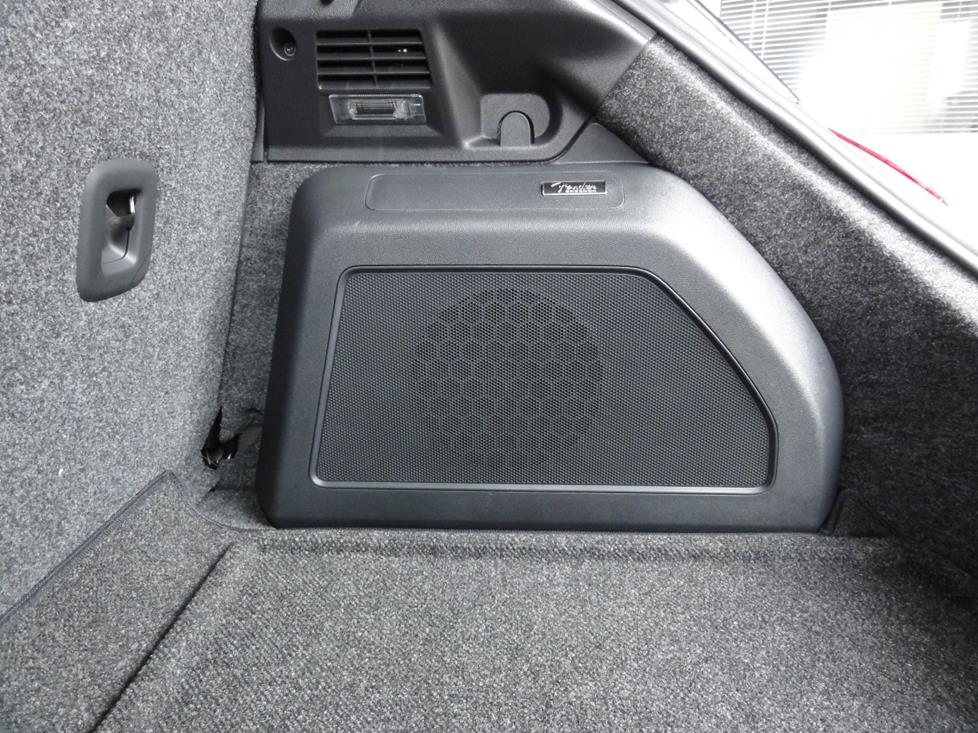 The factory Fender sub is probably best left alone (Crutchfield Research Photo)
More bass in your Beetle
The factory subwoofer found in Beetles equipped with the Fender system is similar in size to an 8" speaker, but because there's not a lot of depth behind the panel, none of the 8" subs we carry at this time will fit. For now, you might as well keep using it with your new receiver and speakers.
As we said earlier, this Fender system's pretty darned good. You can also install a single 8" full range or component speaker if you can find one that fits, since the factory system only sends bass to this location anyway. If you do install something new here, you'll need to fabricate a mounting bracket and, depending on what's in the box, you may need to acquire some mounting screws. Check before you start working.
You can also bypass the factory sub and add a larger subwoofer box in the trunk. The available mounting space is 35" W x 20" H x 29"/23" D.
Learn more about building a bass system in our Car Subwoofer Buying Guide.
Tools needed: Panel tool, Torx T-20 driver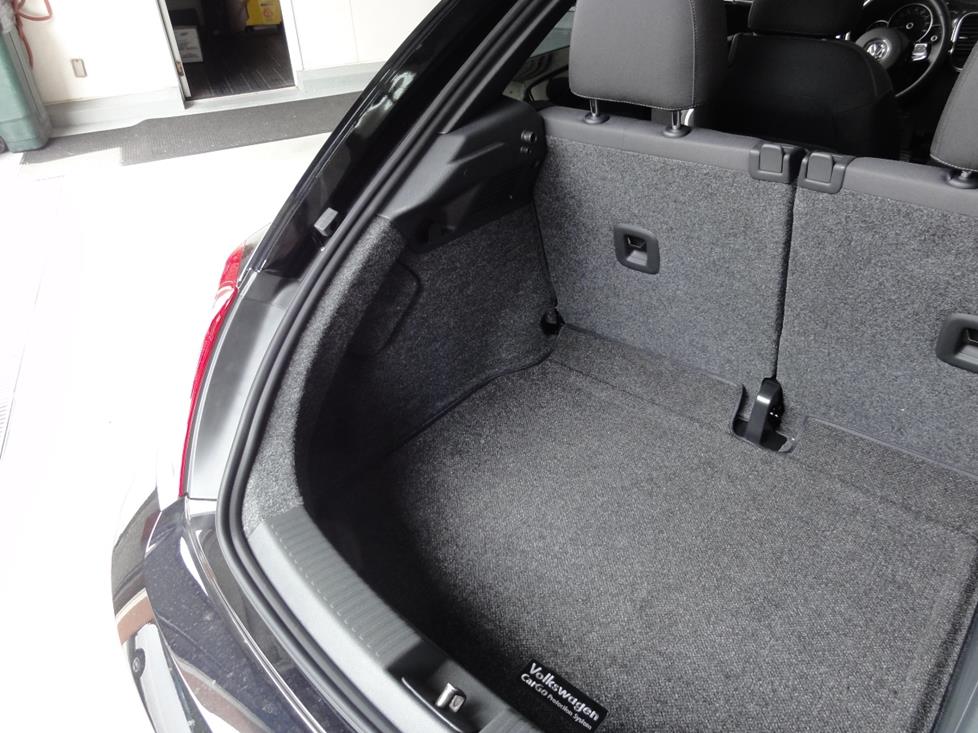 There's room in the boot for more bass if you need it (Crutchfield Research Photo)
Other options for your Beetle
Here are some other upgrade ideas for your car:
Add iPod® adapters and satellite radios
If you don't want to replace the factory receiver, you can still expand your musical horizons in the Beetle. We offer several adapters that will allow you to use your iPod or other device. You can also add a dock-and-play satellite radio to the factory system.
Improve your sound with an amplifier
Adding an aftermarket amplifier will really help you get the most out of new speakers, but it's also a smart addition if you keep the ones you have. The Beetle has more cargo space than you might think, but a compact Class D amp would be the best choice. Learn more about adding amps to your system in our Car Amplifier Buying Guide.
Improve your car's security
Installing a security system in the Beetle isn't easy (security systems rarely are), but the peace of mind is worth it. Our Crutchfield Advisors can help figure out what you need to get the job done, but we usually recommend taking your car and new gear to a professional installer.
Let's get started!
Ready to shop? Use our vehicle selector to find the gear that will fit your car or truck. If you have questions of your own, give us a shout via phone, chat, or email