2013-2017 Honda Accord sedan
Upgrading the stereo system in your Accord sedan
2013 • 2014 • 2015 • 2016 • 2017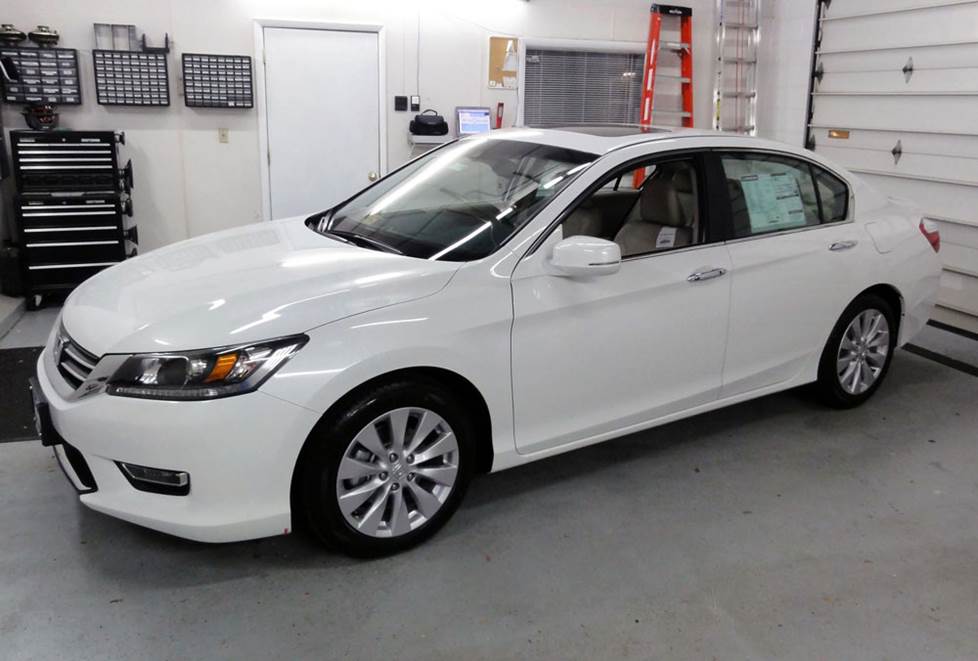 In brief: This Crutchfield Research Garage article gives you an overview of your Accord's stock stereo system and your aftermarket upgrade options. Use our vehicle selector to find the gear that will fit your Honda.
Overview of the Honda Accord sedan
Driving a sedan can be a lot like eating a day-old bran muffin. If you have to, you have to, but it's nothing to savor. Unless you're driving a Honda Accord sedan, which is more like a fresh, warm bran muffin with a nice slab of butter and maybe some hot sauce. Sensible doesn't have to be dry and boring.
Honda does "sensible" like nobody's business, of course. They also do a good job of remembering that there's still a person behind the wheel who needs to be involved and occasionally entertained by the whole driving thing. The ninth-gen Accord does that, plus it's good-looking, comfortable, and screwed together with Honda's usual precision. No wonder the things sell like hotcakes. Or bran muffins, for that matter. Bran hotcakes, maybe?
The factory stereos are as reliable as any other part of the Accord, but even the top-end models could use an upgrade. Installing an aftermarket stereo will make driving your Accord even more enjoyable.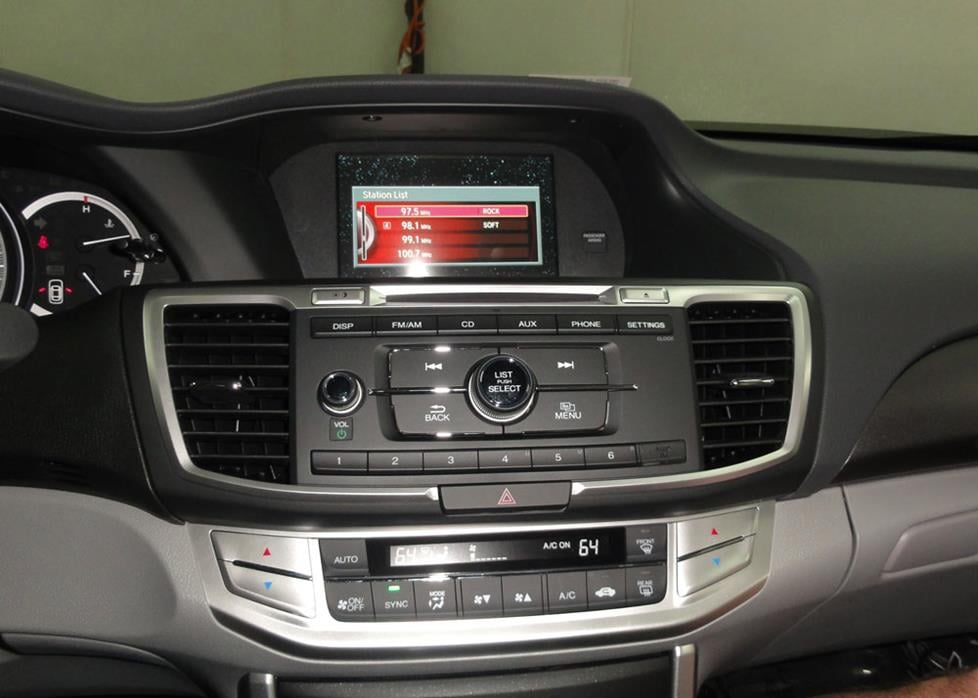 The base radio isn't awful, but you can do better (Crutchfield Research Photo)
Factory stereo system
The Accord's stock stereos are pretty decent as such things go, whether you have a base receiver or the optional navigation receiver. In 2016, the Accord became the first of undoubtedly many popular cars to offer Apple CarPlay as a factory option. Android Auto was also available that year, so like we said, the available receivers were decent. Probably better than decent, if we're honest about it.
Speaker-wise, the Accord sedan starts with a 4-speaker system and goes all the way up to a premium 7-speaker system, which includes a subwoofer. Like the receivers, these speakers are okay, but if you really care about sound, you'll want to swap out the entire system and add aftermarket gear.
The receivers can be found in the center of the dash stack, below the screen that handles vehicle functions and works with the rear-view camera. Thanks to an aftermarket dash kit, which is included at a deep discount with your Crutchfield purchase, you can swap out the base receiver and retain the use of that upper screen.
When you replace the factory base radio, you'll lose the factory AUX and USB inputs, plus the stock XM satellite radio and the nav system (if present). This sounds bad, but there are plenty of receivers that will give you all those functions and more, so don't worry about it.
Radio replacement is not recommended for 2016 or 2017 Accords equipped with the 7" LCD screen. But, like we said before, it's not that bad, so you can enjoy an impressive audio improvement when you replace the speakers.
Hybrid note
A hybrid's gas-electric hybrid powertrain makes replacing the stereo is a little more complicated. As you might expect, these hybrid vehicles contain some very sensitive electronics, so here are a couple of things to keep in mind:
Be sure to only use a multi-meter when testing wires, and NEVER use a test light to test wires in this vehicle. Doing so could cause some serious (by which we mean dangerous and expensive) damage.
A hybrid is not the car to choose if you want to build a massively powerful audio system. The thirsty current draw of a high-powered stereo and/or speakers is not a good thing for the hybrid system, so don't exceed a 30-amp current draw or 350-watt RMS power rating.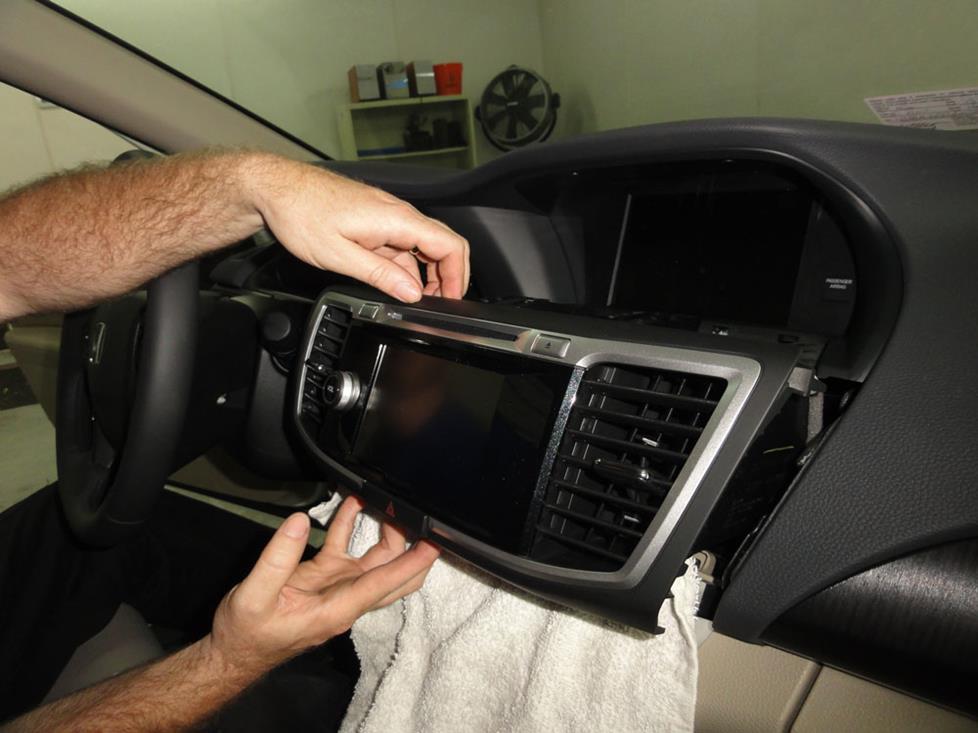 The base and nav radios aren't that hard to remove. Note the (clean) shop rag protecting the lower dash, which is a good idea. (Crutchfield Research Photo)
Replacing your factory radio
Removing and replacing the eligible factory receivers is a reasonably uncomplicated job that requires only basic tools. Once you set the parking brake and disconnect the negative battery cable to prevent any electrical short, you're ready to review your Crutchfield MasterSheet and get to work.
Use a panel tool to release four retaining clips and pry out the receiver side panel. Disconnect the wiring harness and hose to remove the panel. Keep that panel tool handy, because the next thing is to start at the rear edge and pry up the top receiver trim panel. Be careful here, because you'll need to release ten retaining clips. Be patient and work carefully. Once that's done, you can remove the panel and remove the two Phillips screws exposed when you took the panel off.
Detailed stereo and speaker removal instructions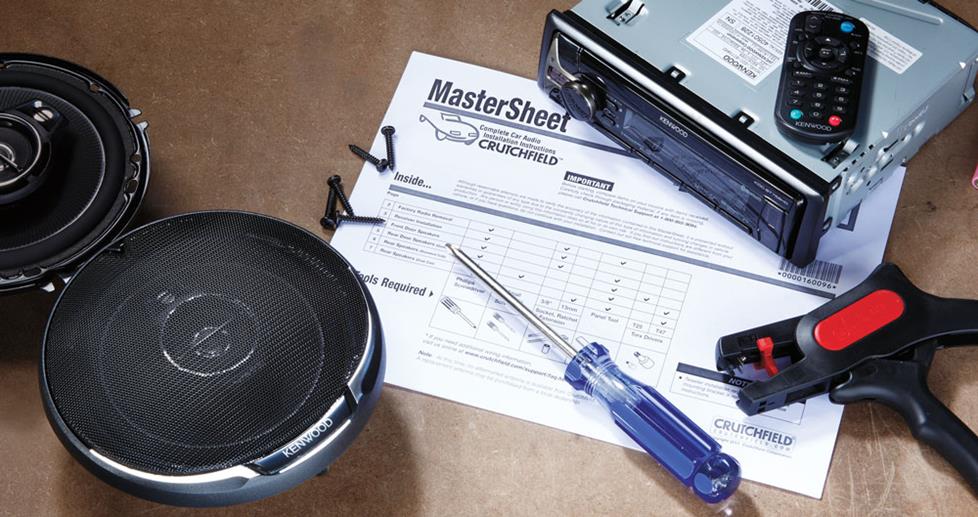 With step-by-step disassembly instructions and plenty of up-close, detailed photos, our exclusive
Crutchfield MasterSheet
™ takes the guesswork out of removing the factory stereo and speakers. It's free with your Crutchfield order, or you can purchase one separately for just $9.99.
Starting at the rear edges, pry out the console side trim panels by releasing five retaining clips on each panel. Remove the two Phillips screws securing the console pocket to the dash and remove the pocket, then remove the two 8mm bolts securing the lower receiver brackets to the dash. With all that done, you're ready to pry out the factory radio (releasing six more retaining clips). Pull it out, disconnect everything, and set it aside.
As noted above, by ordering from Crutchfield, you'll save quite a bit on the absolutely essential dash kit and wiring harness needed to replace the stock radio. To install the new piece, refer to the instructions included with the dash kit and the harness. Once everything's hooked up, be sure to test the receiver before you button everything up again. And if you run into trouble for any reason, remember that your Crutchfield purchase comes with free tech support for the life of your gear.
Tools needed: Panel tool, Phillips screwdriver, 8mm socket, ratchet and extension
Shop for car stereos that fit your Honda Accord
Steering wheel audio controls
It's relatively easy to retain the steering wheel audio controls when you install a new stereo in your Accord. When you enter your vehicle information, our database will choose the adapter you need to make your factory steering wheel controls work with your new receiver.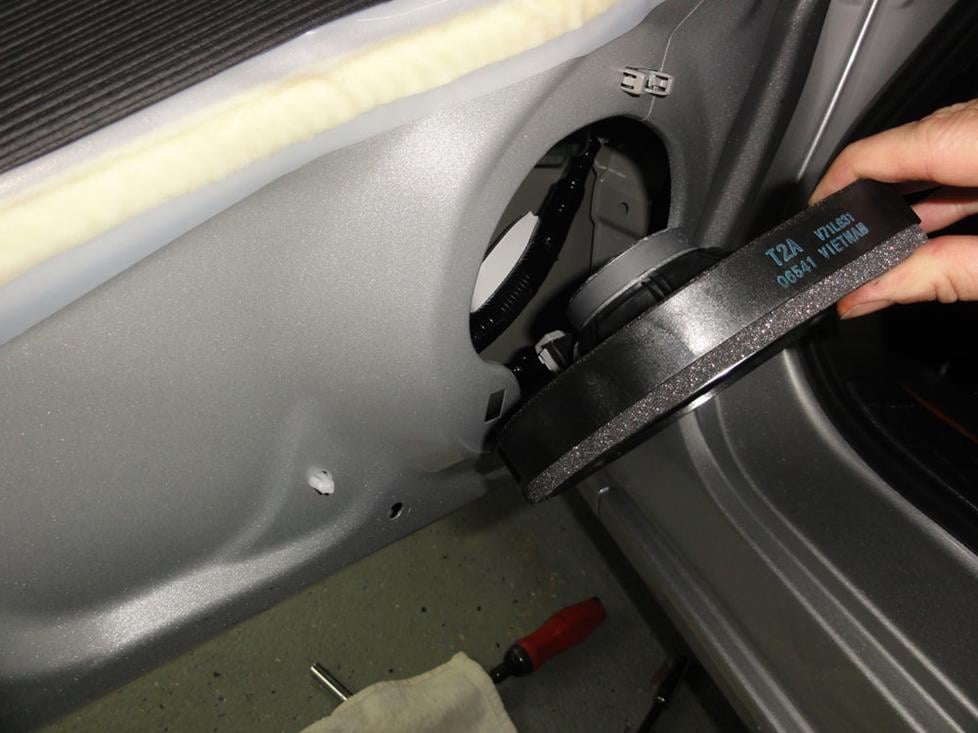 The front door woofer is held in place by one 8mm screw (Crutchfield Research Photo)
Replacing your factory speakers
Depending on how your car is optioned up, you'll find speakers in the front doors and rear deck. They're all reasonably easy to deal with, so even if you're new to DIY car audio, you can save money and have some fun with your car.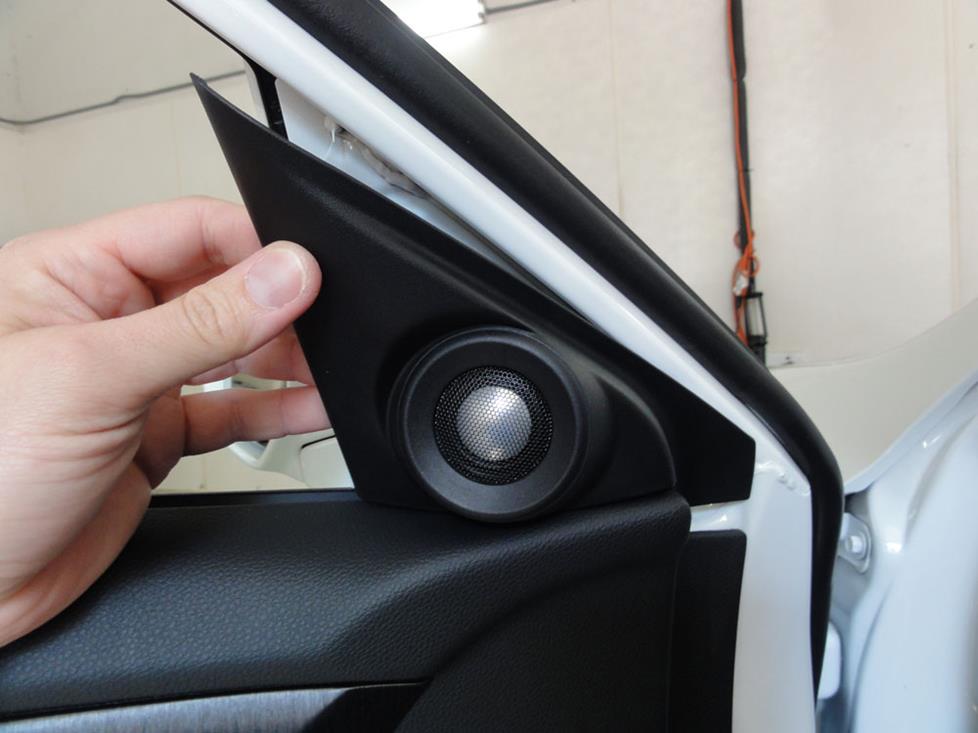 Replacing the door speakers starts with removing the sail panels (Crutchfield Research Photo)
Removing your Accord's front door speakers
The Accord sedan's 6-speaker and 7-speaker systems include sail panel tweeters, while the 4-speaker versions do not. Either way, removing the door panels starts with removing the sail panel. If there's a tweeter, you'll need to disconnect it. If not, well, remove the panel and continue on.
Once you've used a panel tool to pry off the sail panel and dealt with the tweeter (if present), move on down the door and take care of a few "fiddly bits" that need to be dealt with before you remove the door panel.
Using the pry point (you'll see it), pry out the screw cover behind the door release and remove the two exposed Phillips screws. Next, start at the front edge and pry out the power options switch panel. Disconnect the harnesses and set it aside. That'll expose another Phillips screw, which you'll need to remove.
Pry out the sides and bottom of the door panel to release nine retaining clips. Be careful while you're doing this, because Honda puts together a tight car. Disconnect wiring harnesses, pry out the door lock and release assembly, then twist the courtesy light assembly to remove it. With all that done, you're ready to remove the door panel and deal with those speakers.
All the speaker removal and replacement details can be found in your MasterSheet, but we do want to point out a few things you'll need to know beforehand.
First off, there are no mounting brackets for the tweeters, so you'll either need to fabricate your own or use our universal backstraps (or hot glue or silicone) to secure them in place. There's also no wiring harness adapter, so you'll need to use Posi-Products speaker connectors to connect the tweeters to the factory wiring.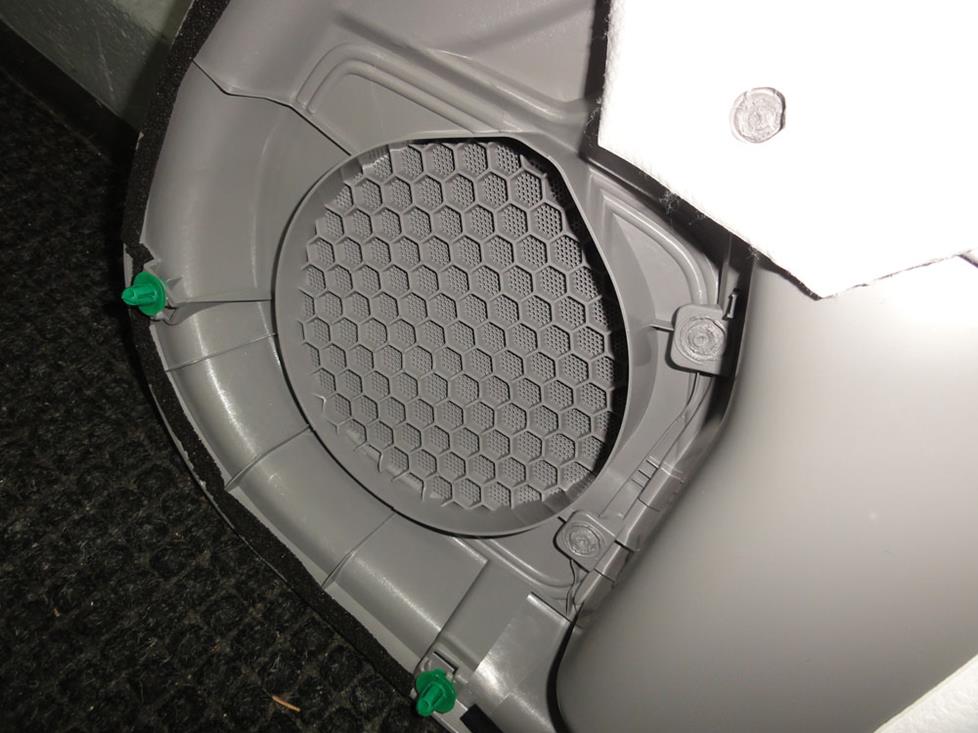 You'll need to trim this speaker lip away from the door panel (Crutchfield Research Photo)
Each woofer is secured by an 8mm screw, which is easy enough to remove. The other thing you'll need to remove is the plastic ring around grille on back of door panel. This ring has to go so that you can create room for your new speaker, so use a utility knife to (carefully) cut it away.
Once the speakers are installed, test them to make sure they're working correctly and that the locks and windows are okay, too. If all's well, start putting the door back together by reversing the removal steps.
Tools needed: Panel tool, Phillips screwdriver, small flat blade screwdriver, 8mm socket, ratchet and extension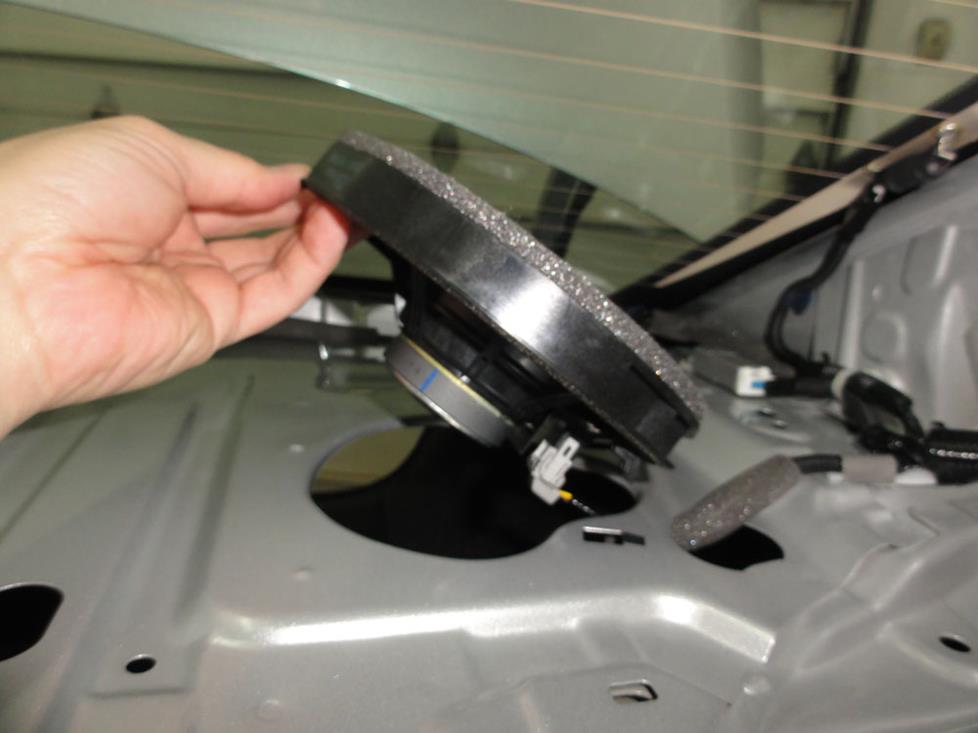 Replacing the deck speakers is pretty easy once you get to them (Crutchfield Research Photo)
Removing your Accord's rear deck speakers
The rear deck speakers are 6-3/4" models that are best replaced by same-size models. The job's not hard, but there are a few steps involved, so work carefully, stay organized, and be patient.
You'll start by pressing down on the cushions and removing the 10mm bolt between the rear seat back and the seat bottom. Set that aside, then push down on the front edge of the bottom cushion and squeeze the release tabs along the front edge to release cushion. Remove the cushion, then fold down the rear seat back.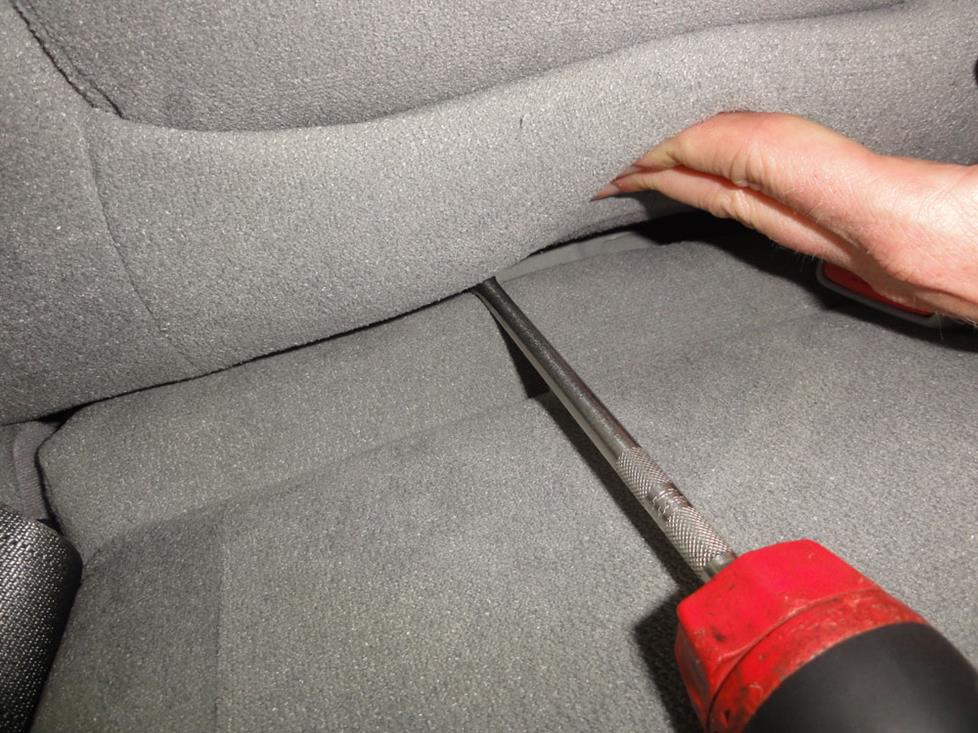 There's a 10mm bolt in there that you'll need to remove (Crutchfield Research Photo)
Remove the 10mm bolt at the bottom edge of the rear seat side bolster, then lift the bolster out and remove it. With that out of the way, pull the door gasket away from the body along the rear pillar. Starting at the top edge, pry out the rear pillar trim panel to release three retaining clips. Repeat that stuff on the other side of the car.
Remove the five retaining clips along the front edge of the rear deck panel, then gently pry up the panel to release eight retaining clips. Disconnect the third brake light harness, then work the seat belts through the slots on each side of the deck panel. Once that's done, you can remove the panel and 8mm bolts securing the speakers.
Now it's time to connect and secure the new speakers, then test them to make sure they're working. If they are, you're ready to put the deck back together. Make sure the seatbelts and third brake light are working properly before you finish up, of course.
Tools needed: Panel tool, Phillips screwdriver, 8mm socket, ratchet and extension
Shop for speakers that fit your Honda Accord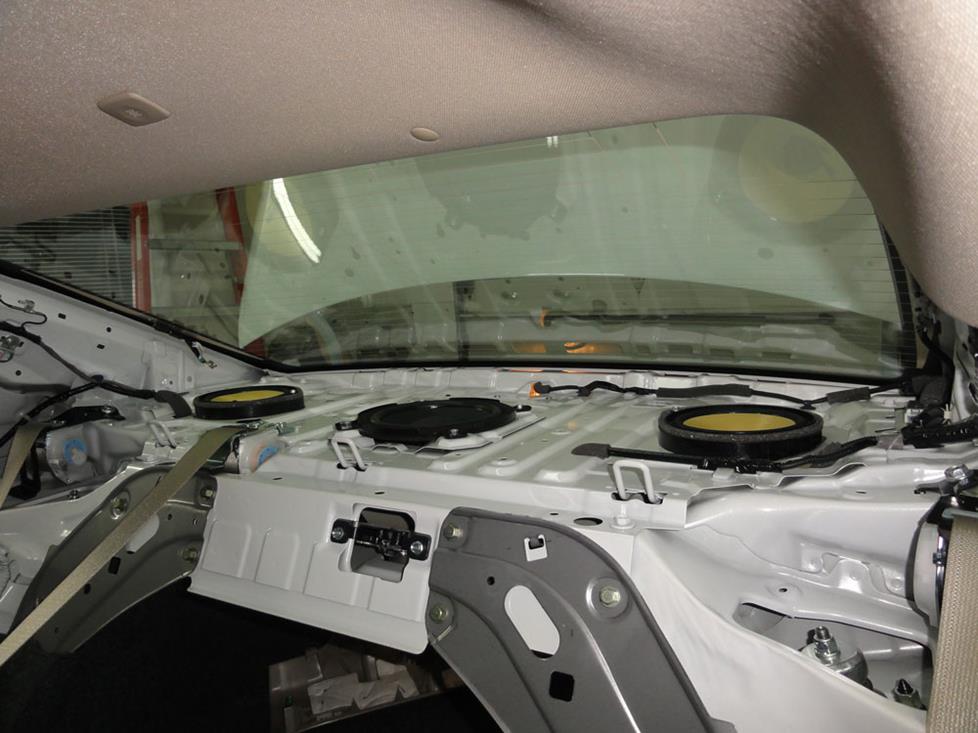 The rear deck sub (center) is not the easiest thing to replace (Crutchfield Research Photo)
Bass in your Honda Accord
If your Accord sedan is equipped with the stock 8" rear deck subwoofer, you'll get to it by doing all the things you did to get to the rear deck speakers. For that reason, we highly suggest that you replace all three speakers at once, just to save yourself some time down the road.
There's another reason we recommend that plan — once the deck's removed, this is not an easy thing to do. The not-so-fun part of this job is that you'll need to modify the cavity to fit a new sub. The stock sub is a reasonable 8.573" in diameter, but it tapers steeply toward the magnet, and the existing cutout diameter will be a problem.
This is solvable, but there's nothing easy about it. You can cut the rear deck steel to obtain a 7.153" cutout diameter, plus you can cut off the plastic ring on the back of the grille to obtain a helpful height increase. And once that's done, you'll also need to fabricate a bracket for the new sub.
All in all, this is not a job for the average DIY-er. If you're not totally comfortable with cutting metal and fabricating brackets and whatnot, you're probably better off turning this job over to a car audio professional.
Of course, you can always leave the stock sub in place and boost your bass by other means. The sedan's trunk offers a 46" W x 16" H x 34"/44" D space for a subwoofer enclosure, which is enough to install some serious boomage. If you still need space for serious luggage, you can go with a more compact powered subwoofer.
The Hybrid sedan is just a bit different, and offers a 44" W x 19" H x 22"/22" space.
Tools needed (stock sub): Panel tool, Phillips screwdriver, 10mm socket, ratchet and extension, saw, professional help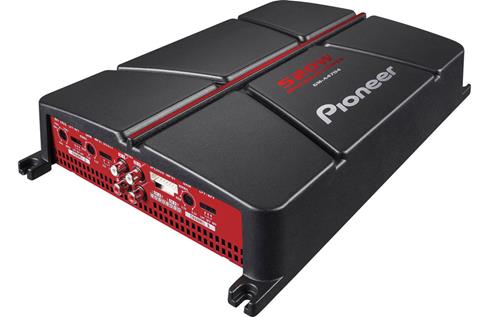 Pioneer GM-A4704 4-channel amplifier
Other options for your Accord sedan
There are plenty of other ways to improve your Accord sedan. Here are just a few of the ways Crutchfield can help.
Add an amp (or two)
A new 4-channel amplifier will help you get the most out of your new speakers. You'll get cleaner power (and a lot more of it), which will result in much, much better sound. A mono amp can provide the juice you need for your new rear deck subwoofer, too.
Protect your Accord's floors
Factory floor mats are designed to fill a space as cheaply as possible, so they look lousy and wear out quickly. Replacing the worn-out old mats with quality WeatherTech floor liners will help protect your Accord's carpeting from dirt, damage, and whatever else life throws at it. Plus, they look kinda sporty, which is a nice touch in a car like this.
Remote start and security systems
Adding remote start capability to your vehicle lets you warm it up in the winter or cool it down in the summer. The iDatastart system is incredibly convenient and makes it easier than ever to install a remote start system, so we highly recommend it. The module requires a vehicle-specific T-harness (sold separately) to connect with your vehicle's computer, security, and ignition systems, so we ask that you call to order so that we can make sure you get the right harness for your ride.
You can also talk to your Crutchfield Advisor about a security system. They're not as easy to install (we usually suggest letting a professional do the job), but we can help you choose a system that'll work in your vehicle.
Shop for car security systems for your Honda Accord
Find the audio gear that fits your car or truck
Visit our Outfit My Car page and enter your vehicle information to see stereos, speakers, subs, and other audio accessories that will work in your vehicle.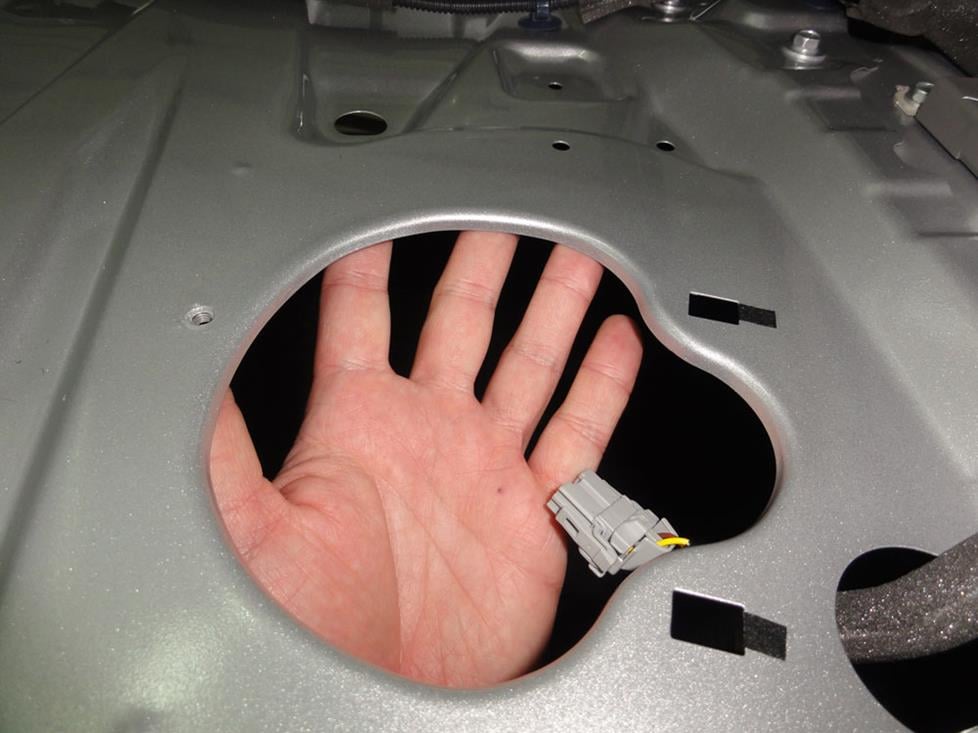 Don't worry. Once the research is complete, we let him out. (Crutchfield Research Photo)