How to game in 4K
Get the most out of your next-gen gaming console
In this article: we'll discuss the A/V gear you need to get the most immersive gaming experience from your PS5 or Xbox Series X/S gaming console.
So, you've managed to get a hold of a Sony PlayStation 5 or Microsoft Xbox Series X/S. Awesome! But to take advantage of all the cool benefits these next-gen systems offer, you're going to need more than just the console itself.
It's time to chat about how to set up a killer A/V system for next-gen gaming. Spoiler alert: it involves butter-smooth 4K visuals and immersive surround sound. There are a few pieces to this puzzle, so we'll be looking at everything from picking the right TV to building a sound system geared for gaming. Let's get started!
Next-gen gaming features to look for
Manufacturers have started to embrace gaming and design their products with next-gen consoles in mind. Below are a couple of key gaming features to consider when picking out a 4K Ultra HD TV or a home theater receiver.
VRR (Varriable Refresh Rate) dynamically adjusts your TV's refresh rate to match the framerate of your game. This keeps your visuals smooth by preventing distracting screen tearing and shuddering. More on refresh rates soon.
ALLM (Auto Low-latency Mode) signals your TV to automatically switch over to a gaming-focused "low-lag" preset when it detects a signal from a gaming source. This keeps your controls responsive and in sync with the action onscreen.
We recommend a TV that supports both. If you're connecting to a larger A/V system, you'll want a receiver that does as well.
A feast for the eyes
I grew up watching the graphics on my favorite games steadily improve over the years. I love a pixel-art indie game as much as the next nostalgic person, but I still want to be wowed when I turn on the latest AAA title. Watching and playing content in crisp 4K resolution is one of the big draws of next-gen consoles. But is it worth it? Absolutely — they're called video games for a reason!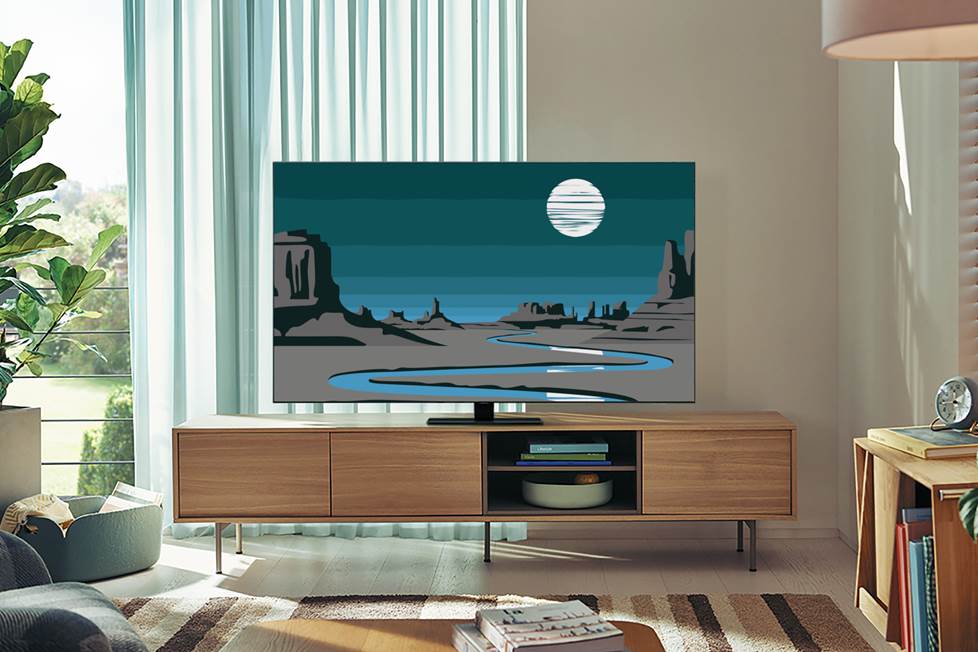 4K TVs are great for more than just movies — they offer a clean, detailed picture that brings your favorite games to life.
4K resolution offers a greater level of clarity, helping you see more detail in your favorite games. Visual cues are huge, especially with competitive games. Being able to catch the glint of a sniper's lens flare in the distance can tip you off in enough time to take cover or turn the tables and pick them off from a distance.
Your next-gen console can't do all the work by itself though. You can't enjoy 4K without a 4K Ultra HD TV. You can connect your console directly to a 4K TV, but there are some compelling reasons to connect a component A/V system instead. We'll discuss that later in the article.
Check out our TV buying guide for more tips.
Smooth gameplay with a 120Hz refresh rate
A TV's refresh rate lets you know how times a second the image on your screen completely refreshes. The higher your refresh rate, the cleaner and more natural motion with look onscreen. Next-gen consoles support 4K resolution with a 120Hz refresh rate. That means you're seeing a super-detailed 4K image refreshed 120 times a second. That's a recipe for some pretty impressive visuals.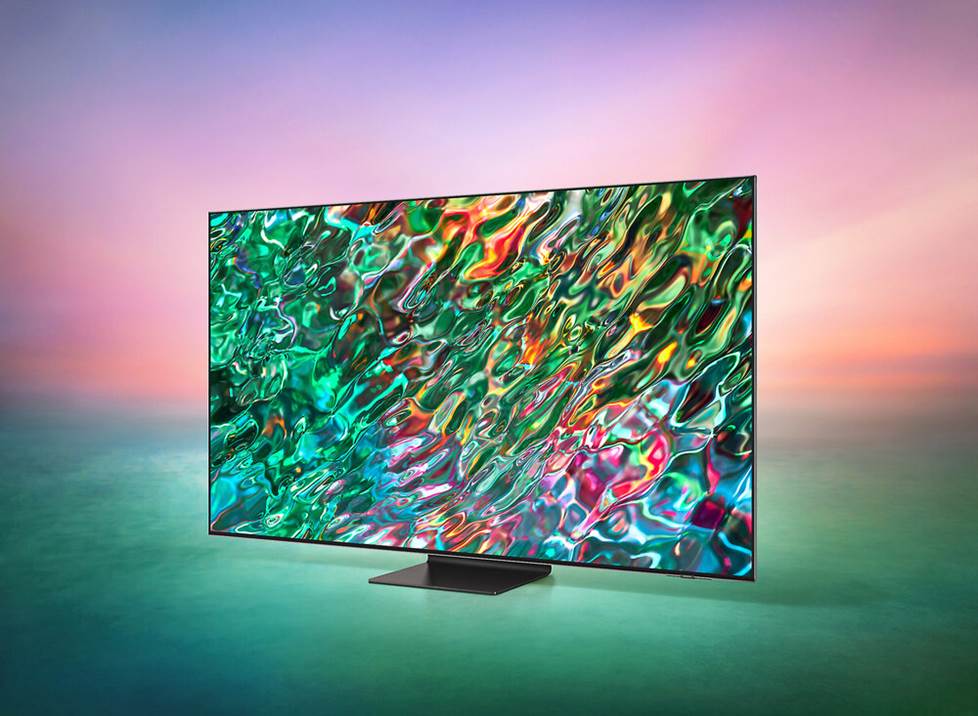 4K TVs like the ones in Samsung's QN90B Neo QLED series support a super-smooth 120Hz refresh rate for seamless gaming.
Playing in 4K at the standard 60Hz is cool, but the jump to 120Hz gives you the best experience console gaming can provide. For that, you'll need a 4K TV that supports a 120Hz refresh rate. A higher refresh rate also keeps motion blur to a minimum and reduces input lag, keeping the action smooth and clear. This makes playing feel more responsive and ensures that you're not missing details when things get frantic.
OLED or LED — which display is the best for gaming?
Great picture quality is about more than just resolution or refresh rates. Display and lighting technologies make a big impact. We often recommend 4K OLED TVs as one of the best ways to watch TV, and the same is true of gaming. OLED TVs are covered in self-illuminating pixels capable of turning off and on independently of each other. This provides incredible contrast and a level of detail that's hard to match. Currently, an OLED display is about as good as it gets.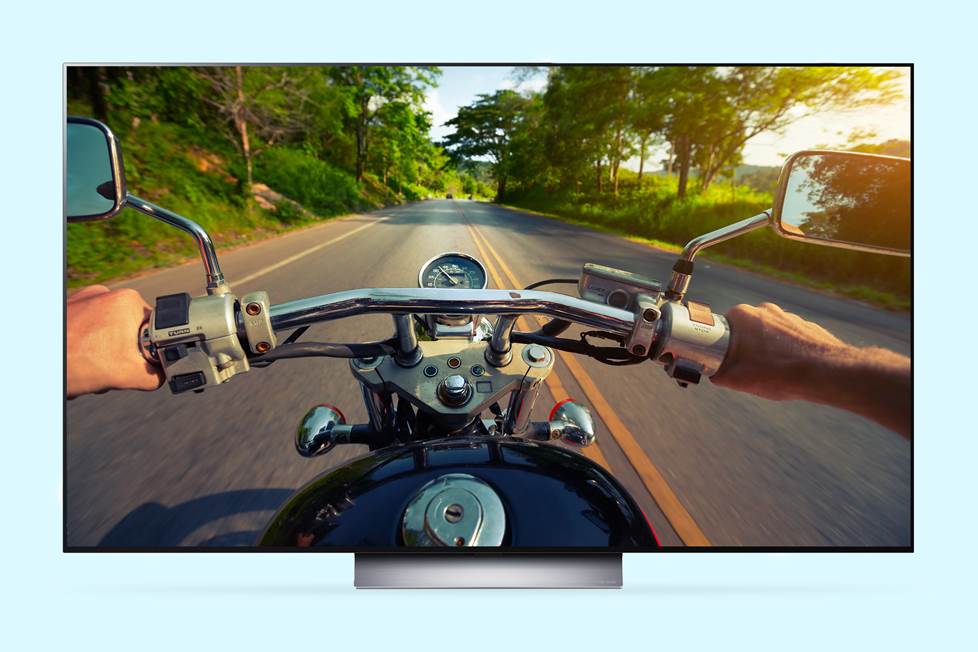 LG's C2 OLED series of 4K TVs offer incredible contrast and detail with millions of self-illuminating pixels.
In comparison, 4K LED TVs are the most affordable option for a 4K TV and come in a wider variety of sizes and models than OLEDs tend to. LED technology is also generally brighter than OLED, which means they'll work better in a room with more ambient light. This is because these TVs are illuminated by an array of LEDs built into the back of their panel.
The more lights that are packed into an LED TV, the brighter it is. And the more precise and controlled its lighting, the better your picture quality. Where these LEDs are positioned also plays a role. An edge-lit TV with frame dimming looks good, but will be outperformed by a full-array TV with local dimming. With technologies like Mini LED on the rise, which has thousands of tiny backlights, LED technology can approach and even rival OLED picture quality.
Head over to our OLED vs LED article for more details.
Surround sound brings your games to life
The sound quality ceiling for the PS5 and Xbox Series X/S is higher than any previous generation of video game consoles. This is thanks in great part to their support for HDMI 2.1. This latest HDMI version allows for higher video fidelity, but the higher bandwidth also allows next-gen consoles to support high-quality, uncompressed audio. This means surround sound with a powerful sense of space, direction, and depth for greater immersion.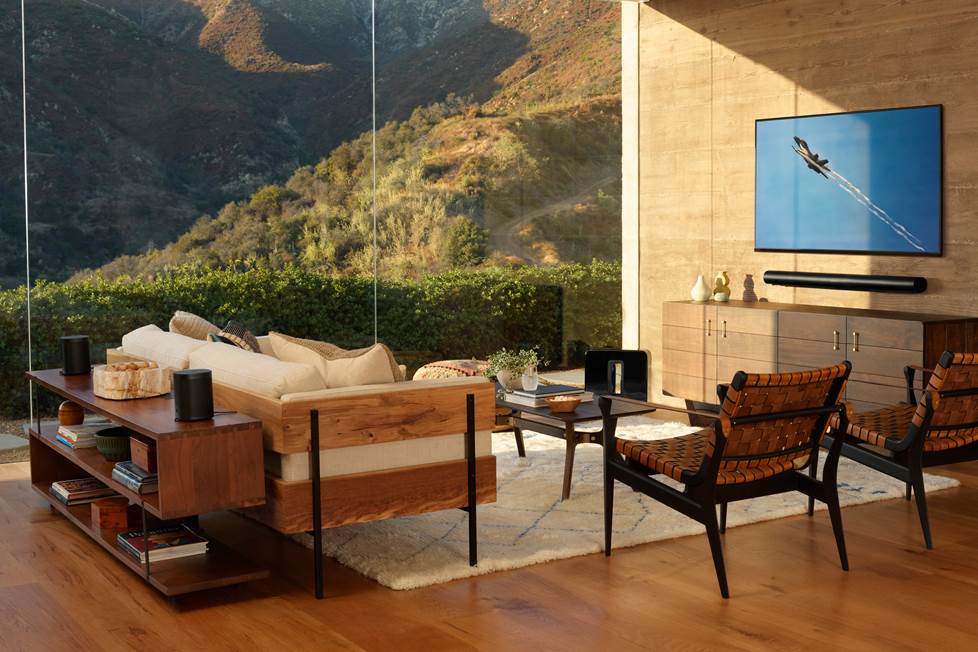 A room filled with high-quality, immersive sound pulls you deeper into your games by helping you feel like the action is all around you.
To take full advantage of the audio potential of your next-gen console, you'll need a TV and a sound bar or receiver that support eARC. HDMI eARC (enhanced Audio Return Channel) allows you to transmit uncompressed audio formats like Dolby Atmos or DTS:X with a single HDMI connection. You'll also want to take a quick look at your digital audio settings on your next-gen console to make sure your output is in the right audio format.
Audio: PlayStation 5 vs Xbox Series X/S
Sony uses a proprietary spatial audio engine with the PlayStation 5: Tempest 3D Audio. This powerful engine is designed to work with headphones and 5.1 or 7.1 surround sound speaker systems. But it can also use advanced sound processing to simulate three-dimensional sound with your TV's built-in speakers. It won't match up to a full surround sound system, but it'll be way better than your TV sounds on its own.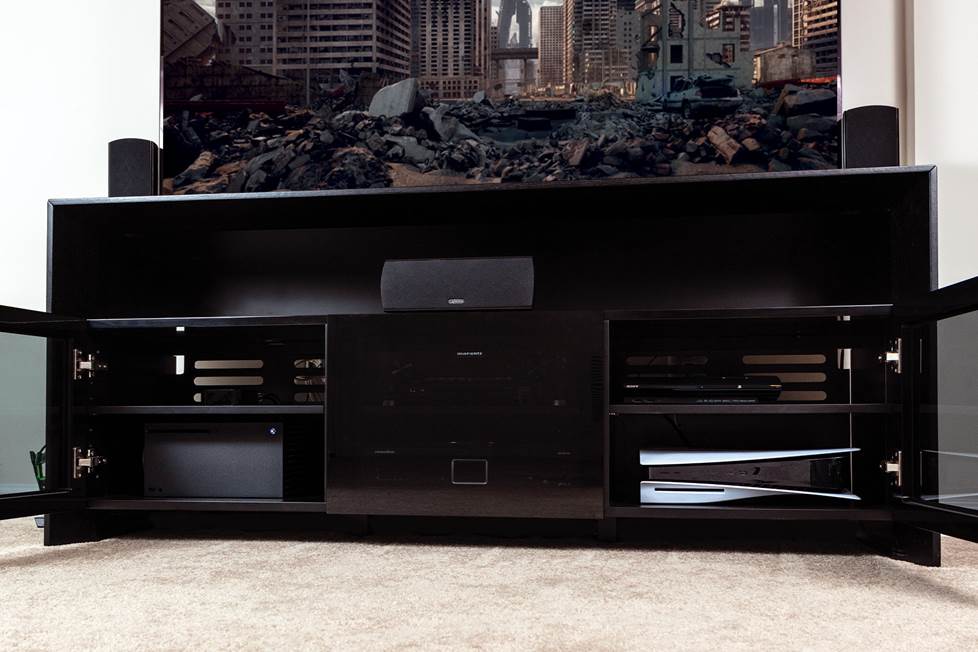 A powerful sound system goes a long way to giving you the best gaming experience available for a next-gen console like the PlayStation 5.
Microsoft supports popular Dolby Atmos format for the Xbox Series X/S, you just need to download the free Dolby Access app. This works with Atmos-enabled TVs, sound bars, and home theater systems. Activating Dolby Atmos for Headphones requires modest licensing fee. However, many of their accessories come packed with a six-month free trial so you can test it out. You'll benefit the most from games formatted for Dolby Atmos, like Call of Duty: Warzone, but the majority of Xbox Series X/S games support up to 5.1 or 7.1 surround sound.
Sound for playing solo or online with friends
Any sound system designed for gaming needs to account for two basic types of play: single-player and online multiplayer. In both cases, you'll benefit from surround sound, but how you get it will make a big difference. For the sake of simplicity, we can group local co-operative games with single-player. If you play online, but don't engage with the voice chat, we can also group that with single-player.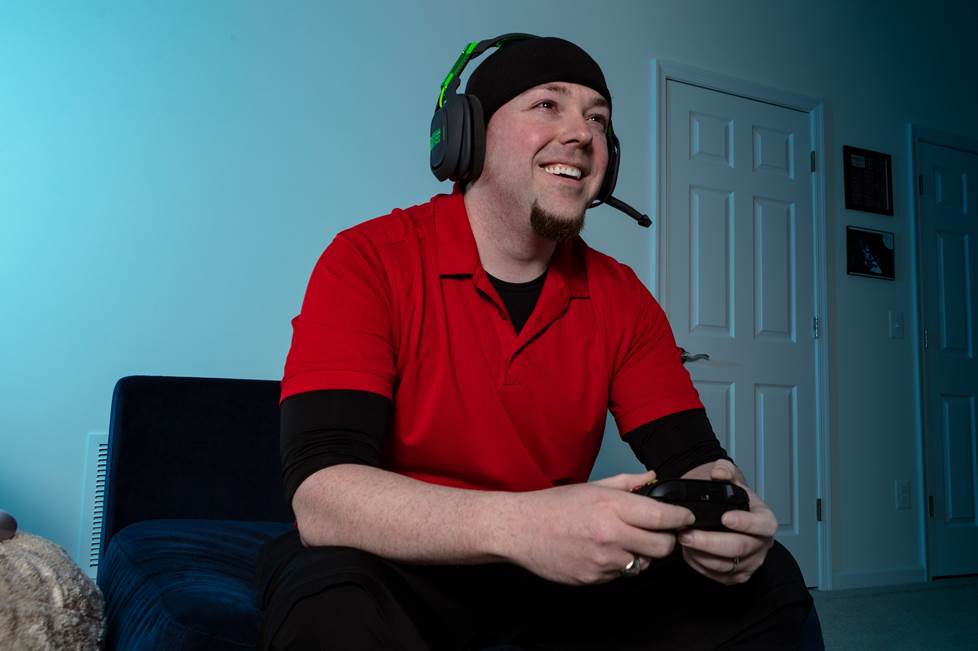 One of our resident gamers, Stephen, often uses a pair of dedicated gaming headphones when it's time to pick up an online multiplayer game.
For single-player, your options are open. Surround sound that plays "out loud" with a sound bar or traditional home theater system is a compelling option for high-quality sound. But you can still opt for a solid pair of gaming headphones. For multiplayer, you could use an "out loud" system, but gaming headphones are your best bet. They're great for gaming late at night or anytime you don't want to bother the rest of the household with the rumble of exploding dinosaurs.
Multi-speaker home theater
A 5.1 or bigger home theater system is going to net you the biggest and best sound experience you can have for single-player gaming. A home theater receiver will give you the power to drive a full system of multiple speakers positioned around your room. Few things can beat running towards an objective in Battlefield V with gunfire raking the ground nearby and thunderous explosions shaking the building.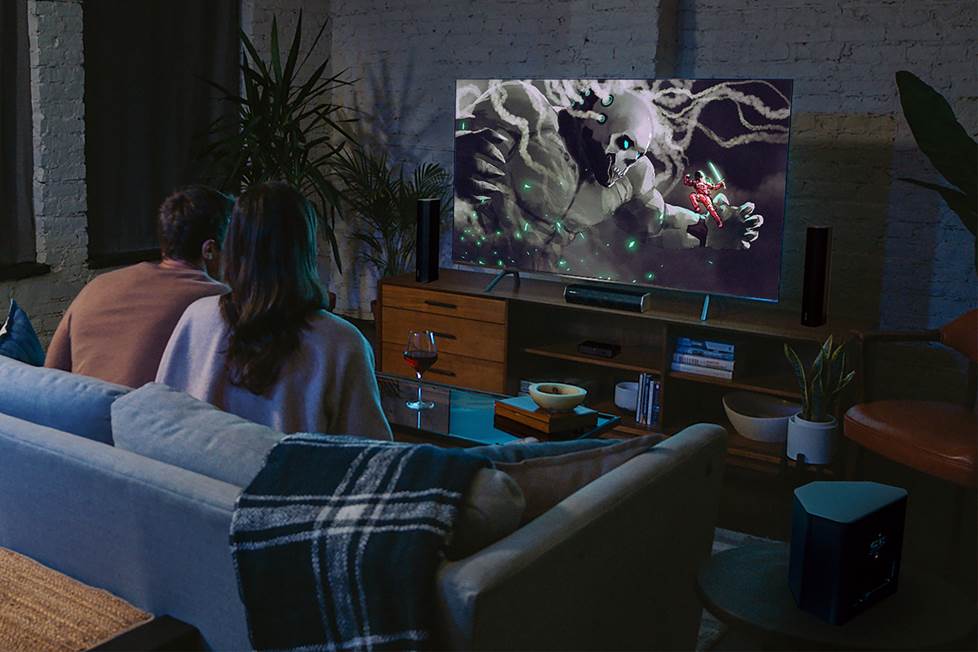 If you're playing couch co-op with friends or family, or just want an epic single-player experience, a multi-speaker home theater system delivers and then some.
For a traditional home theater system, you'll want a pair of front speakers, a center channel speaker, two or more surround or height speakers, and one or two powered subwoofers. Your front and surround speakers can be a combination of floor-standing speakers, bookshelf speakers, or even in-wall or in-ceiling speakers.
Component systems also have the advantage of being upgradeable over time. You can swap out speakers or even your receiver with newer, better versions as they're released or your budget allows. They're also versatile. If you can imagine it, there's probably a way to build it.
If you want true surround sound, but want a simpler option, a wireless surround sound system, like the Enclave Audio CineHome II, is a great option. These systems are pre-packaged so you have everything you need in one box. They also offer built-in amplification, so they don't need a receiver and don't need to run speaker wire.
Check out our beginner's guide to home receivers and our article on speaker placement for home theater for more info.
Sound bars
Sound bars are a serious upgrade over a TV's built-in speakers. Sound bars also tend to be budget-friendly and easy to set up. There are models that feature virtual surround sound or include wireless surround speakers, so you can benefit from surround effects without running speaker wire across the floor. We recommend picking up a sound bar with an included subwoofer. The deep bass provided by a sub adds impact to the action on screen for a greater sense of immersion.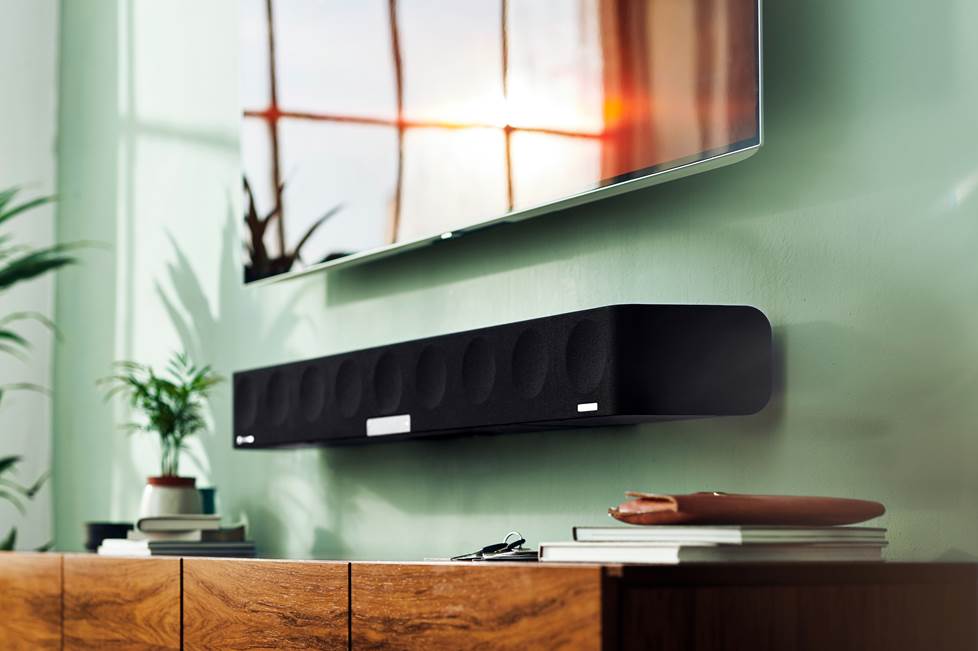 A powerful sound bar like the Sennheiser AMBEO is a simple, effective way to boost your TV audio.
If your console is connected directly to your sound bar for space reasons, you might also want a one that can pass 4K so you're not losing video fidelity between the bar and your TV.
Check out our article on how to choose a sound bar for more details.
Gaming headphones
Dedicated gaming headphones provide an excellent sound experience and offer features tailored for gamers, like noise-canceling microphones for a noise-free voice chat. Headphones are also budget-friendly, netting you premium sound at a much lower cost than a traditional sound system.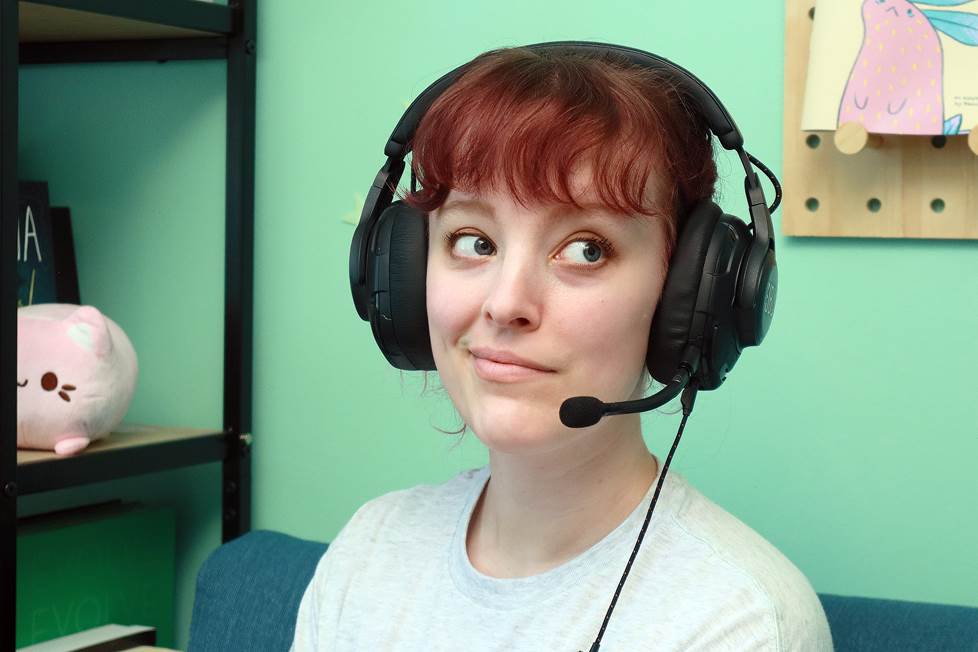 A pair of gaming headphones nets you excellent sound, long-term comfort, and a noise-canceling mic for chatting with your teammates.
If you spend most of your time gaming in online multiplayer modes with games like Overwatch or Fortnite, a dedicated pair of gaming headphones is always going to be the best option. Communicating with your team over voice chat is vital in these kinds of games if you want to be competitive. That means you'll need a microphone and will want to reduce the amount of ambient noise from both ends. If your sound system is blasting in the background, it's distracting for your teammates and makes it hard to hear their tactical call-outs.
Headphones are my personal go-to for gaming sound. Most of my gaming time takes place in the evening after my kids have retired to their beds, and I spend a ton of time with a crew of friends playing multiplayer games. Our current nightly obsession is Rainbow Six: Extraction, which requires patient listening and careful teamwork as we sneak (and fight) our way through an alien quarantine zone.
I usually play with a pair of Astro A40s. They offer excellent sound quality and directionality, and I prefer the reliability of a wired connection over the flexibility of a wireless one when I'm gaming. (When I listen to music, it's the reverse, go figure.)
Our list of the best gaming headphones has something for all types, from casual fans to pro gamers.
Dolby Atmos gaming
Dolby Atmos has become the benchmark for home theater audio formats, giving your surround sound increased realism and detail by mapping sound effects where they appear onscreen. A key ingredient of Atmos is the addition of height channels, which let you track sounds as they pass above and not just to the side or behind you.
A full Dolby Atmos system delivers a truly three-dimensional soundscape. This is an awesome way to watch a movie, but it's even cooler for gaming. Few things are as immersive and being able to follow sounds in every direction as you play, whether you're just looking to lose yourself in the game for a while or are looking for a competitive edge.
To take advantage of Dolby Atmos for your gaming, you'll need a sound system that supports it. For a component multi-speaker setup, that means a receiver with Dolby Atmos processing and at least two additional overhead speakers for a 5.1.2 or 7.1.2-channel system. Discrete down-firing ceiling speakers are the best option for this, but you can also use Atmos-enabled up-firing speakers for an easier installation.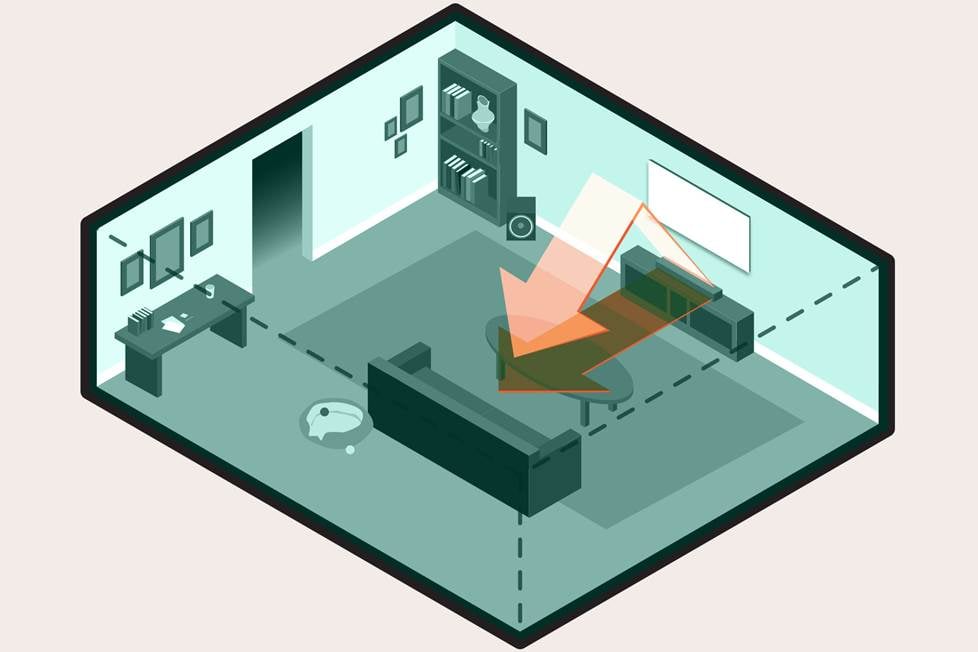 Dolby Atmos gives you detailed spatial audio, helping you follow sounds as they move around and above you — which is perfect for keeping track of key audio cues while gaming.
If you're opting for a sound bar, you can still benefit from Dolby Atmos. There are lots of sound bars that can simulate height effects with support for Atmos and virtual surround sound processing. The best of these for Atmos are sound bars with up and side-firing drivers, which can better direct sound for a wider and more accurate soundscape.
For more details on Dolby Atmos, check our our helpful video guide.
Pick up the right cables
To connect your next-gen console to your TV or sound system, you'll also need an HDMI 2.1 cable. This latest version of HDMI has a much higher bandwidth than its predecessors, which is what allows it to pass enough data to support 4K at 120Hz.
Take a look at our HDMI cables buying guide for more information on HDMI 2.1.
Get started today!
We're here to help. If you need a little guidance on finding the right gear for the job, don't hesitate to get in touch with one of our friendly Advisors.
Free lifetime tech support is included with your Crutchfield purchase. Our techs can help you get your gear set up and assist with problems down the road.
Last updated 5/19/2022