Best 4-channel car amplifiers for 2023
Our expert's top picks, plus some shopping tips
In this article, we present eight of our best-selling 4-channel car amplifiers with mostly 5-star customer reviews:
Let's find out what makes these particular amps so popular.
If you want your music to sound and feel clear and powerful, you need an amplifier. One of the physical attributes of sound is that it takes power to produce enough of it to hear and discern all the subtleties in music: from soft to loud, from harsh to mellow.
Whichever speaker system you have, it'll sound best with an amplifier designed to play music loudly, without distortion, and with enough power to fill your vehicle with your music sounding the way you want.
Versatility of the 4-channel amplifier
4-channel amps are the workhorses of powered music in cars. The diagram below illustrates some of the ways you can use a 4-channel amp to suit your needs:
A 4-channel amplifier can power front left and right speakers plus rear left and right speakers in a basic car stereo system.
In more complicated active setups, a 4-channel amp could be used to power front left and right tweeters and woofers.
You can also use a 4-channel amp to power left and right front speakers with two channels while powering a subwoofer with the amp's rear channels bridged together.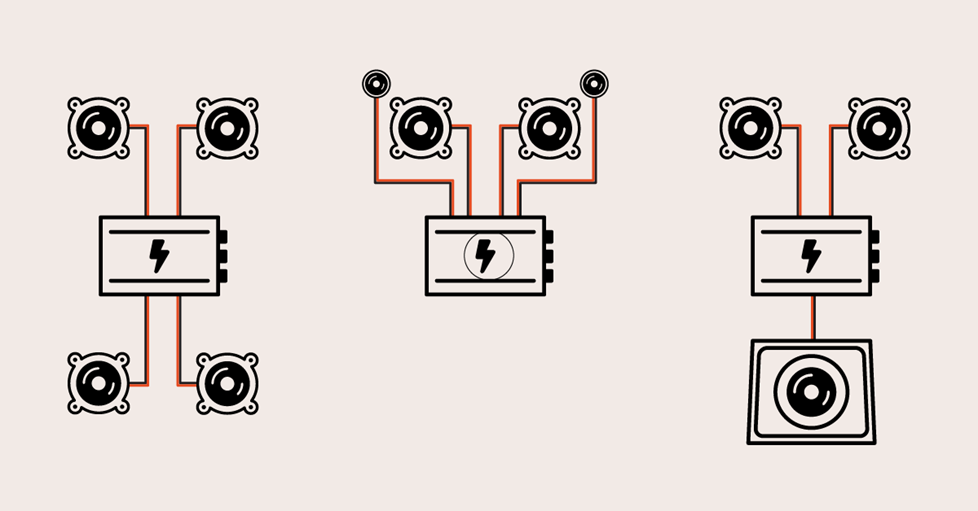 Amplifer features to consider
Size: Compact amplifiers will fit almost anywhere in almost any vehicle. Generally speaking, the more power and tuning features an amplifier has, the larger its chassis is, and finding a location for it in your vehicle becomes more of a challenge.
Power: There are basically three power levels of amplification for you to choose between:
If you just want your music to sound full and clear above your vehicle's wind and road noises, look for an amp with 25 to 60 watts RMS per channel.
If you want your music to pop and make you want to sing and dance, look for an amp with 65 to 80 watts RMS per channel.
If you like it loud and bone-shaking, you'll want an amp that can put out at least 100 watts RMS per channel.
Signal processing: The sound produced by most sources often needs to get processed — tone-adjusted to fit whatever speakers are in the system so they play without distorting. Every 4-channel amp has high-pass filters so low notes won't buzz and pop through small speakers. Some amps feature digital signal processing (DSP) for advanced, customized tone and coherence adjustments, like multiband equalization, time-alignment, and level-balancing.
Why did we choose these amps?
These are some of our best-selling amplifiers, which also earned an average Crutchfield customer review rating of four or more stars. So, not only do our customers buy these amplifiers, they're so pleased with their purchase they take the time to provide some feedback once they've spent some time with it.
You can use this collection of amplifiers as a starting point in your search for your amp. After looking them over, if you want to dive deeper into what to look for when shopping for a 4-channel amplifier, check out our Car amplifier buying guide.
[Check out all of our best-selling and top-rated 4-channel amplifiers]
---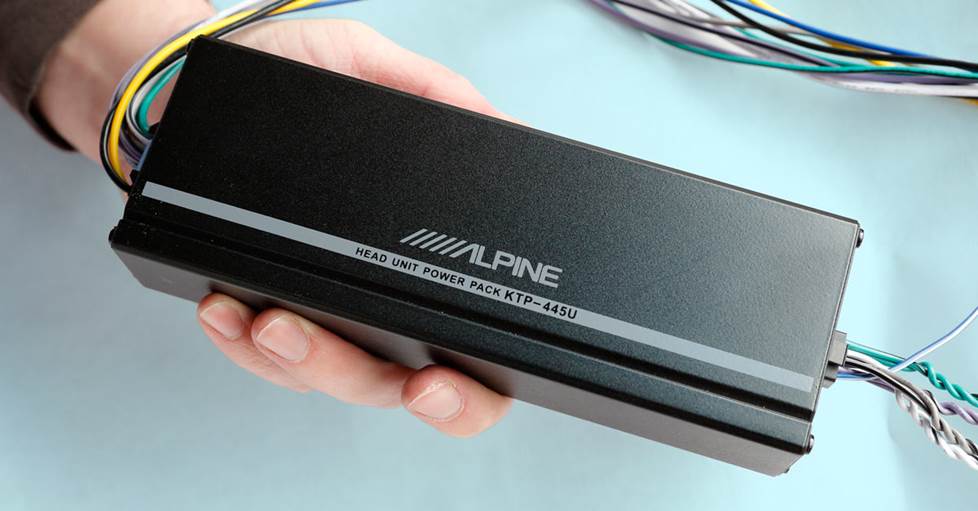 Alpine KTP-445U — Compact power pack
Basics: The popular Alpine KTP-445U power pack is a simple way to crank up the power of your receiver. This little amplifier increases your receiver's power output to 45 watts RMS by 4 channels. That's a big jump up from the 7-20 watts per channel typically put out by a car radio, and plenty of power to drive high-performance speakers or keep up with a big subwoofer amplifier.
Extras:
Best of all, this compact amplifier is so efficient you can often run it off the same circuit that powers your receiver. You can install this compact amp behind most dashboards.
A universal plug lets you feed a signal via RCA outputs or speaker-level wiring. That means you can use 4-channel patch cables to connect your car stereo to the amp's preamp inputs, or splice into the stereo's speaker wiring to get signal to the KTP-445U.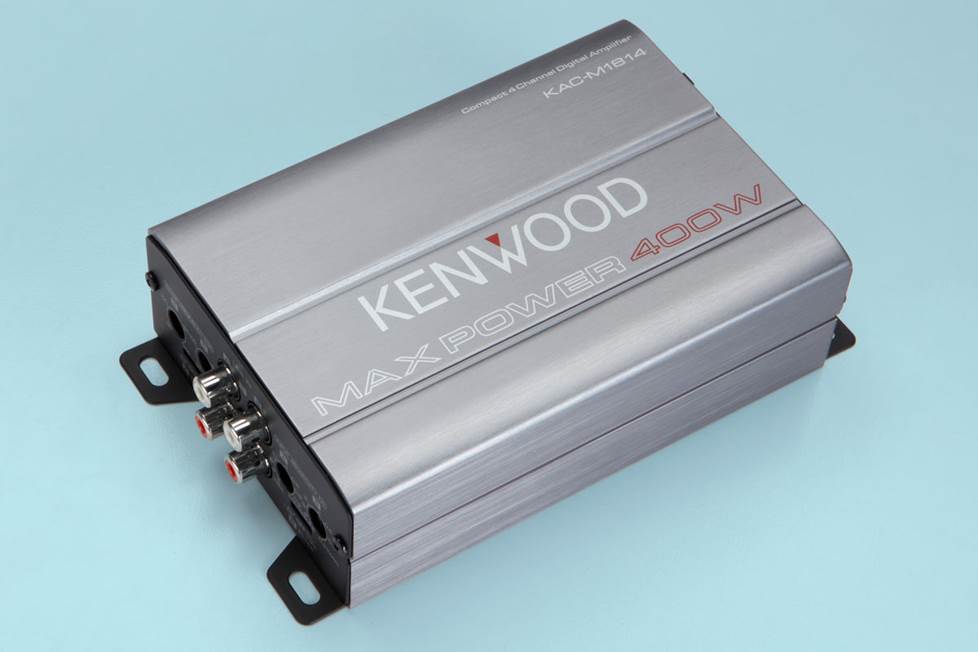 Kenwood KAC-M1814 — Power on land or sea
Basics: Kenwood's KAC-M1814 super-compact amplifier will add new clarity and impact to the basic sound system of almost any kind of vehicle on land or water, and it'll fit in a lot of places when space is tight.
This marine-rated 4-channel amp will pump up your audio system with 45 watts RMS per channel — that's more than twice the power of most car stereos or marine receivers. The amp uses plastic covers to protect its connections and features a conformal-coated circuit board that keeps out moisture and salt, so the party won't stop just because of a little wetness.
Extras:
The KAC-M1814 will accept a signal from just about any source, whether you're using RCA cables from an aftermarket receiver or speaker wires from a factory radio.
When you use the speaker-level inputs, the amplifier will sense the signal and turn itself on, so you won't need to run a separate remote turn-on lead to the receiver or fuse box.
Kenwood goes to great lengths to ensure good sound quality, putting the preamp and output power amp stages on separate circuit boards for better, cleaner performance.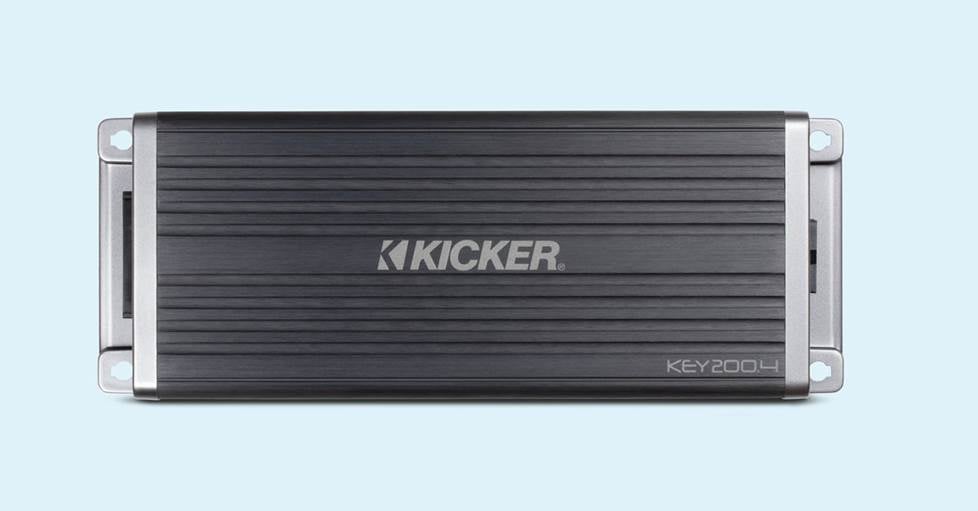 Kicker 47KEY200.4 — Automatic DSP amp in a compact chassis
Basics: Kicker's ultra-compact 47KEY200.4 car amplifier features automatic signal processing that tailors the sound for your specific vehicle's interior space. This 4-channel compact power pack will send 50 watts RMS to each of your front and rear speakers — more than twice the power of a typical aftermarket receiver.
After installation, you set up the included calibration mic, start the test noise, hit the activation button, and the KEY Auto Setup software automatically sets the crossovers, 40-band EQ, and time-aligns the sound for the front seat driver.
Extras:
You can manually enable Auto Compression, for a more consistent and safer power output. A limiter kicks in and lights up when it detects clipping, letting you know that something's too loud.
A Bi-Amp mode lets you actively run tweeters and woofers without a passive crossover, by applying customized active crossover settings during the KEY Auto Setup process.
The KEY200.4 can also handle a vehicle's stop/start feature by automatically engaging the limiter to prevent the amp from shutting down in these circumstances.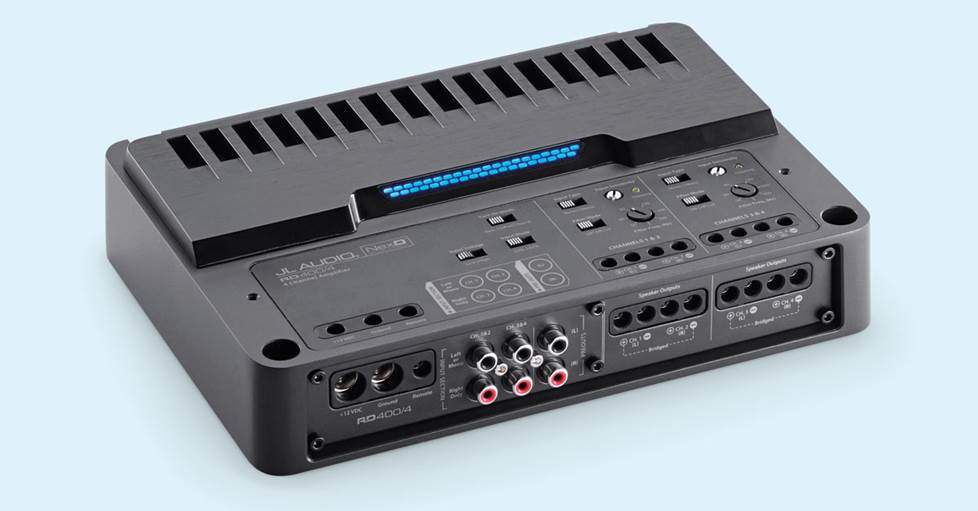 JL Audio RD400/4 — Bargain powerhouse
Basics: JL Audio's RD400/4 4-channel amplifier will power each your car's front and rear speakers with 75 watts RMS, so you'll hear and feel your music clearly over the whistle of the wind and rumble of the road. For driving bass, you can switch the RD400/4 to 2-channel mode and run a couple of subwoofers with up to 200 watts RMS each.
The RD400/4 plays your music with true fidelity and impressive impact, without straining your car's electrical system, thanks to JL Audio's proprietary NexD™ amplifier technology.
Extras:
"Differential-balanced" inputs keep the incoming signals clear of outside noise, and allow you to connect this amp to just about any radio.
The speaker-level inputs feature two auto turn-on modes so you can readily incorporate this amp into a factory system — no need for RCA connections or a remote turn-on lead for this setup.
Onboard LED clip indicators let you set the amp gain quickly and accurately with the use of a test tone.
A removable cover hides the amp's controls, resulting in a handsome appearance and a tamper-resistant installation.
Cool blue LED accent lighting adds some charm to this amp's rugged good looks.
Kicker 46CXA360.4T — Power for your music
Basics: Do you like it loud and clean? Kicker's 46CXA360.4T 4-channel amplifier can put out 65 watts per channel, so your music will get a big boost in volume and clarity. You could also power a couple of front speakers with 65 watts each while powering a subwoofer with 180 watts from the amp's bridged rear channels.
Separate high- and low-pass filters on the front and rear channels help you sculpt the sound to get the most out of all your speakers. Variable bass boosts, also on both the front and rear channels, allow you to add some low-end punch when you're running subs. An optional wired remote lets you control the bass level from the front seat.
Extras:
Kicker's Fail-Safe Integration Technology (FIT™) keeps this amp's input free from noise or interference, so you can tap into your vehicle's speaker wiring for an input signal without a worry.
A 3-second turn-on/turn-off delay eliminates system pops and other noises.
The CXA360.4T comes with hardware that lets you mount it vertically, so you can put it in a location that takes up very little floor space and looks cool too.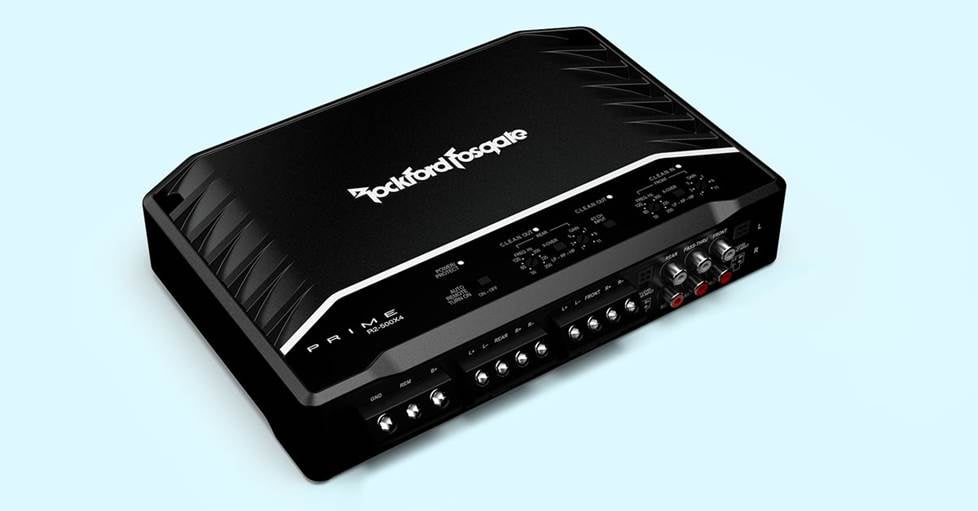 Rockford Fosgate R2-500X4 — When you like it loud
Basics: Nothing's louder than a Rockford Fosgate amp, right? Their Prime Series R2-500X4 amplifier can power four speakers with 75 watts RMS each, so you'll hear your music loud and clear over the noises of the wind and road. You could also use this amp in bridged, 2-channel mode to power a couple of subwoofers with 250 watts RMS each. High- and low-pass filters help you get maximum performance from the speakers in your vehicle.
Extras:
Rockford Fosgate's C.L.E.A.N. technology (Calibrated Level Eliminates Audible Noise) setup system ensures your music will sound as clean and powerful as possible. It's a simple system to use — turn it up until the light shows red, then turn it down until the red light goes out.
Speaker-level inputs let you hook this amp up to almost any system, even a factory stereo.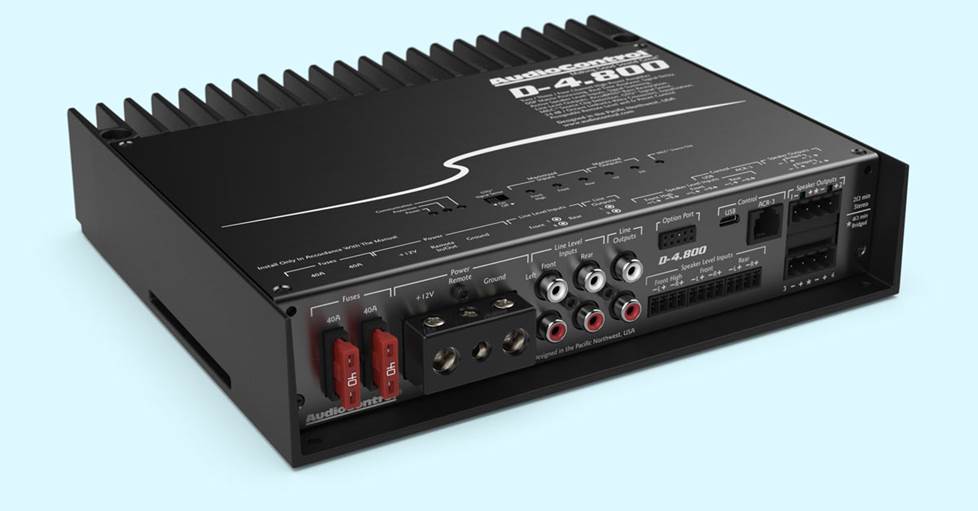 AudioControl D-4.800 — Amp plus computer-controlled processing
Basics: Two keys to unlocking great sound in a car stereo system are serious power and extensive control — and this amp has them both. AudioControl's D-4.800 4-channel amplifier generates 125 watts RMS per channel, so it'll drive even the most demanding aftermarket speakers with plenty of headroom to spare. You won't find any knobs on the D-4.800 — you make adjustments and save settings via your laptop (PC or Mac).
AudioControl's Smart-User DSP software package includes 12 or 24 dB/octave Linkwitz-Riley crossovers, 30-band equalizers, parametric filters, time delay/alignment, phase correction, AccuBass™ bass correction, and real-time analyzers (RTA) for the inputs and outputs so you can visually confirm the improvements in the sound.
Extras:
Six active speaker-level inputs allow you to connect this amp to almost any factory system, even ones that have separate pre-filtered, time-aligned, and amplified signals going to separate factory speakers and tweeters. The D-4.800 sums them into one smooth, unified signal for you to balance, align, and tune for your better-sounding aftermarket speakers.
Onboard LEDs indicate optimized signal flow for inputs and outputs, plus give you a warning when a source is too loud and causing distortion.
An optional Bluetooth® adapter lets you stream music and control the digital processing wirelessly from your compatible portable device.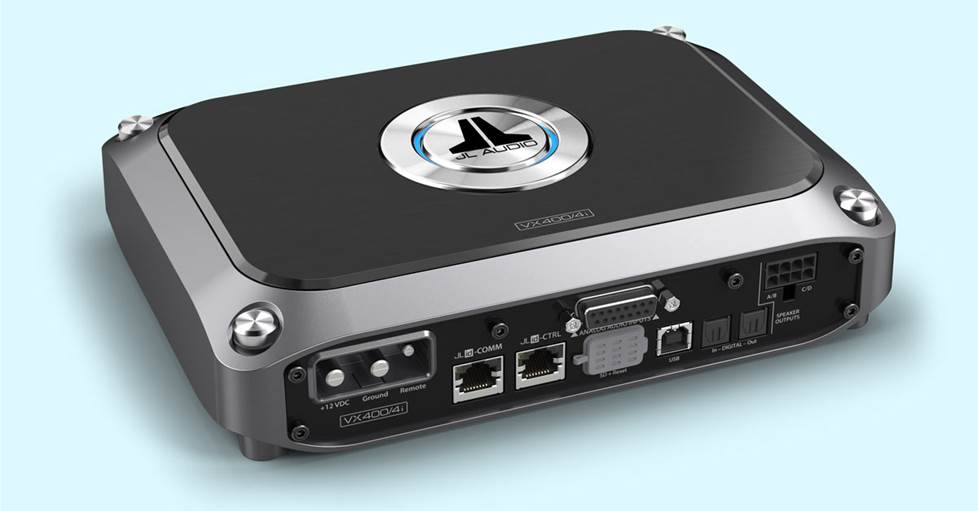 JL Audio VX400/4i — Amplifier plus DSP
Basics: The JL Audio VX400/4i VXi Series 4-channel amp combines JL Audio's latest amplifier technology with micro-device maker AKM™ software to create this customized processor-amp hybrid. They also improved the amp's Class D performance by shortening the signal path through the amp, placing the output capacitor banks nearer the outputs, and using up-to-date DirectFET® MOSFET output devices, resulting in higher efficiency, reliability, and audio quality.
The VX400/4i 4-channel amplifier puts out 75 watts RMS per channel and features six channels of digital signal processing, so it can power the front and rear speakers in your car, and provide a processed signal for a separate subwoofer amplifier.
Extras:
The 24-bit 96 kHz processing for each channel includes signal routing and mixing, 10-band parametric EQ, time-alignment, high- and low-pass filters, and output level control with 0.1 dB precision.
In addition to tuning the audio signal, the processor provides a master clock signal for the Class D amplification, increasing audio accuracy.
You make all your settings and adjustments from your compatible device running JL Audio's TüN™ software.
Need help deciding? Give us a call
A great way to improve the sound quality in your vehicle is to add an amp. Choosing the best 4-channel amplifier that'll fit in your vehicle and produce the amount of power and features you want is often challenging and confusing. For help, read our car amplifier buying guide, and then contact our advisors if you have any questions or to confirm what you need to install a new 4-channel amp in your car.
Popular questions customers ask
If the sound gets muddy when you turn it up, you need the added power of an amplifier. You probably know the difference in sound between your TV speakers and a home theater system. An amplifier in your vehicle can make that kind of difference. You'll hear a bigger, fuller sound, with more detail and greater impact, especially if you've installed better speakers in your vehicle.
The first consideration is how many speakers you'll be powering and how much power each speaker will handle. Once you know that, you'll know how many amplifier channels you'll need and how much power you'll want.
Yes, you can, as long as you have a basic knowledge of electronics and you're handy with tools. You'll have to run a power wire from your vehicle's battery back to your amp's location, and then a ground wire from the amp to your vehicle's chassis. It's important to do the job correctly so you don't damage your vehicle. Our Tech Support people can help you if any issues come up.
Check your speakers or sub to see how much power they can handle in terms of "watts RMS." For a subwoofer, you should select an amplifier that produces approximately that much RMS power. Speakers are more forgiving, so you don't always have to max them out, although more power always sounds better.
The easy answer is "one speaker per channel." You'll need two channels to power a pair of speakers, four channels to power your front and rear speakers, or one channel to power a subwoofer. There are plenty of exceptions to this rule, so contact an Advisor to get the best advice for your situation.
Last updated 7/8/2022