In this article... we'll give you some great ideas for improving the sound system in your Dodge or Ram truck. A few upgrades can breathe new life into your drive. We'll discuss each topic below:
Any article about pickups is required by law to include the following words: strength, durability, ruggedness, toughness, power, payload, towing, and toughness again, just in case anyone missed it the first time. With that out of the way, we'll add one more to this article about Dodge/Ram trucks: innovation.
After all, Dodge (Ram, since 2011) gave us the first civilian 4x4 pickup, the first mid-size pickup (Dakota), the first muscle pickup (the awesome Lil' Red Express Truck), the first Club Cab truck, the first Cummins-powered pickup, and more.
Dodge also came up with the name "Power Wagon," which was and is so utterly awesome that the "Macho Power Wagon" from the '70s seems kind of redundant.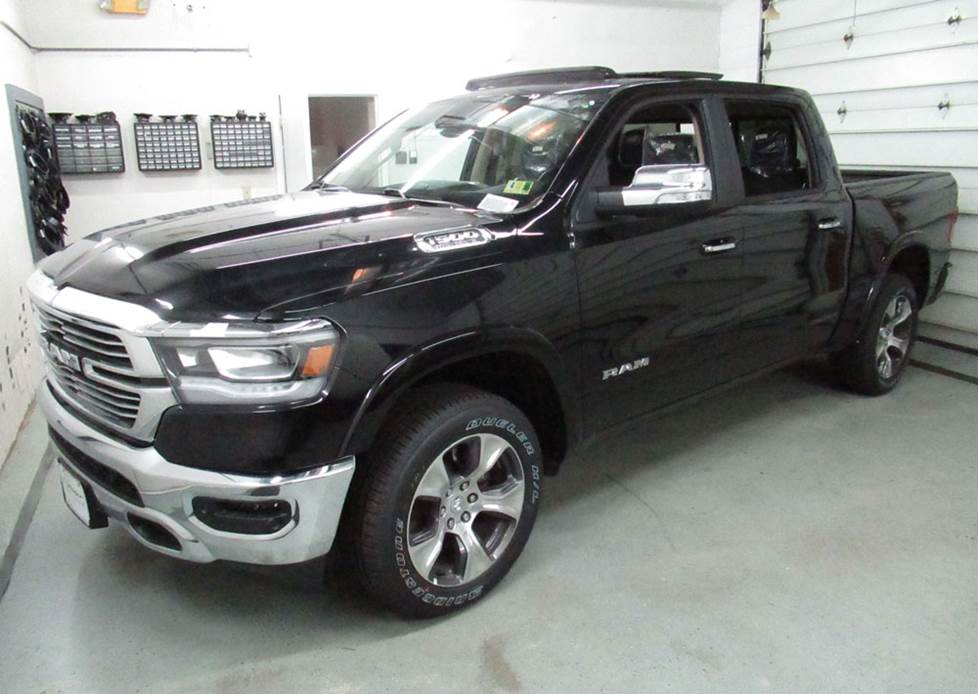 Ram trucks are getting more popular all the time, and there are lots of good reasons for that (Crutchfield Research Photo)
This article will focus largely on the 1500 pickups because of the model's longevity and popularity. But we have audio gear for pretty much any Dodge or Ram truck, from vintage Power Wagons to Dakotas to hard-working 2500s and 3500s to even the almost-forgotten Dodge Rampage. Just enter your vehicle info to find out more.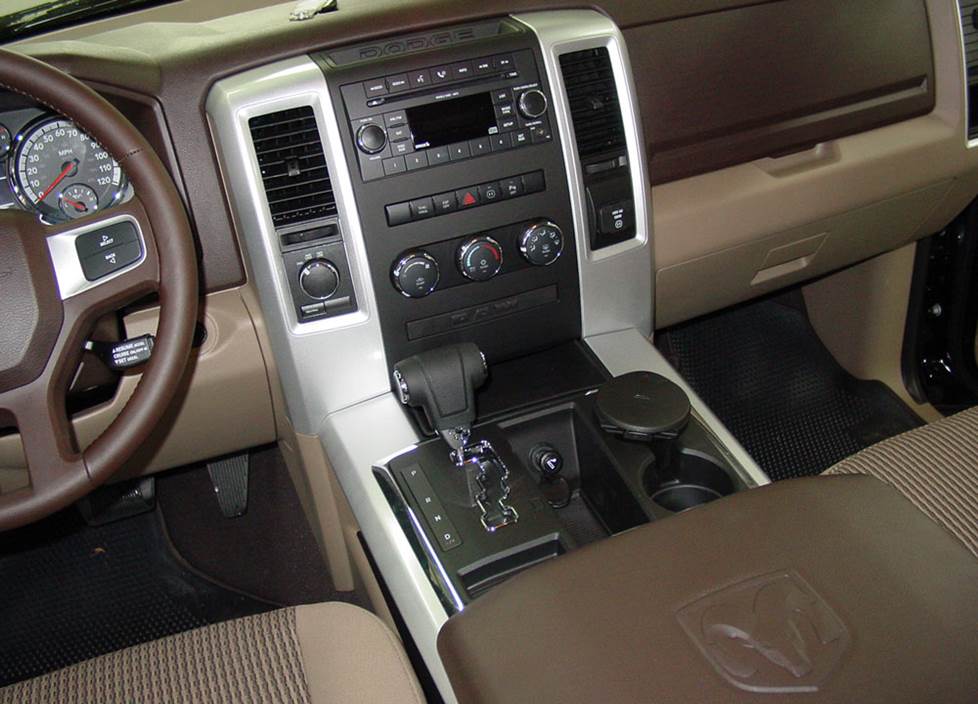 Replacing the radio is a bit easier in older trucks like this 2009 Dodge Ram. (Crutchfield Research Photo)
How to get the best stereo for your Dodge or Ram pickup
If you're considering a new stereo for your truck, you've come to the right place. Crutchfield carries a wide range of single-DIN (2" tall) and double-DIN (4" tall) receivers, and when you buy from us, you'll get a nice discount on the dash kit and wiring harness you'll need to install your new stereo.
Replacing the stock radio in a Dodge or Ram truck has, for the most part, been a pretty simple operation over the past few decades. But the newer the truck, the newer the tech, and thus, the harder the job.
Detailed stereo and speaker removal instructions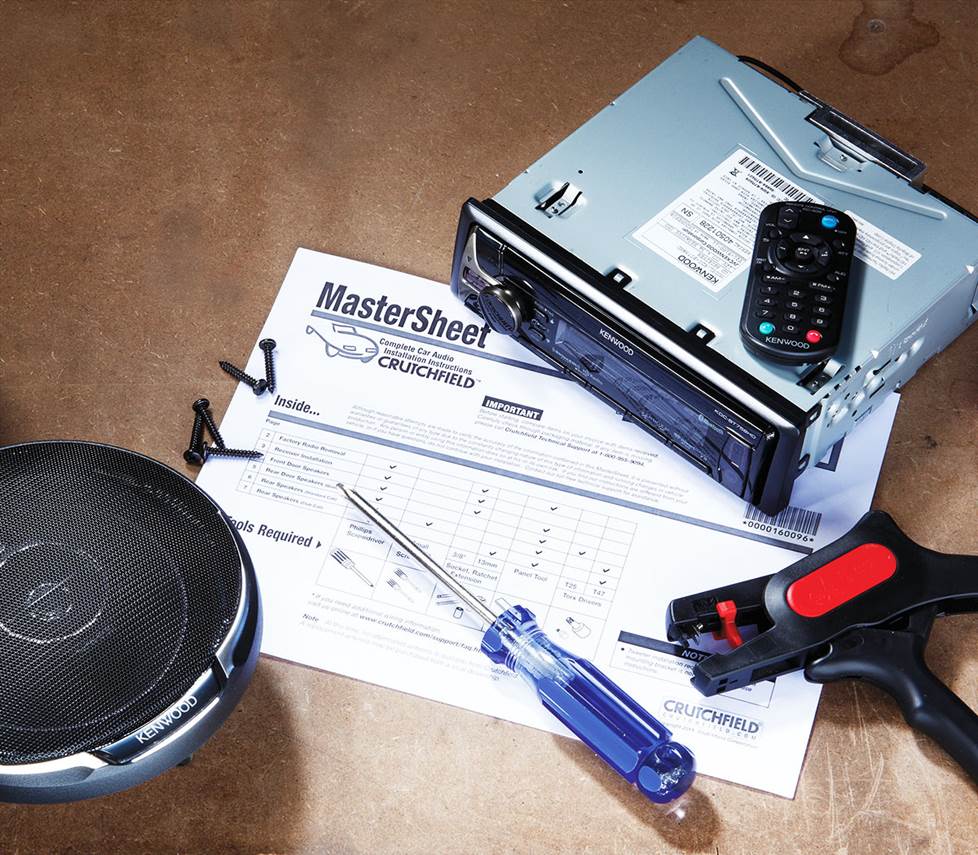 Crutchfield's exclusive
vehicle-specific instructions
(available for most models and free with stereo or speaker purchase) will guide you through the disassembly process. You'll also get installation instructions for the dash kit and wiring harness needed for hooking up your new stereo. You'll save money on the kit and harness when you buy from Crutchfield, plus you'll get free in-house tech support for the life of your new gear.
A brand-new 1500 with U Connect and a 19-speaker Harman Kardon system is obviously a more complex vehicle than a '94 model with a simple-as-dirt AM/FM/Cassette radio. The vastly larger and more integrated receivers found in the most recent Ram generations, for example, can be difficult or impossible to replace. If that's the case with your truck, there are still ways to upgrade your sound. Read the rest of this article, then give us a call.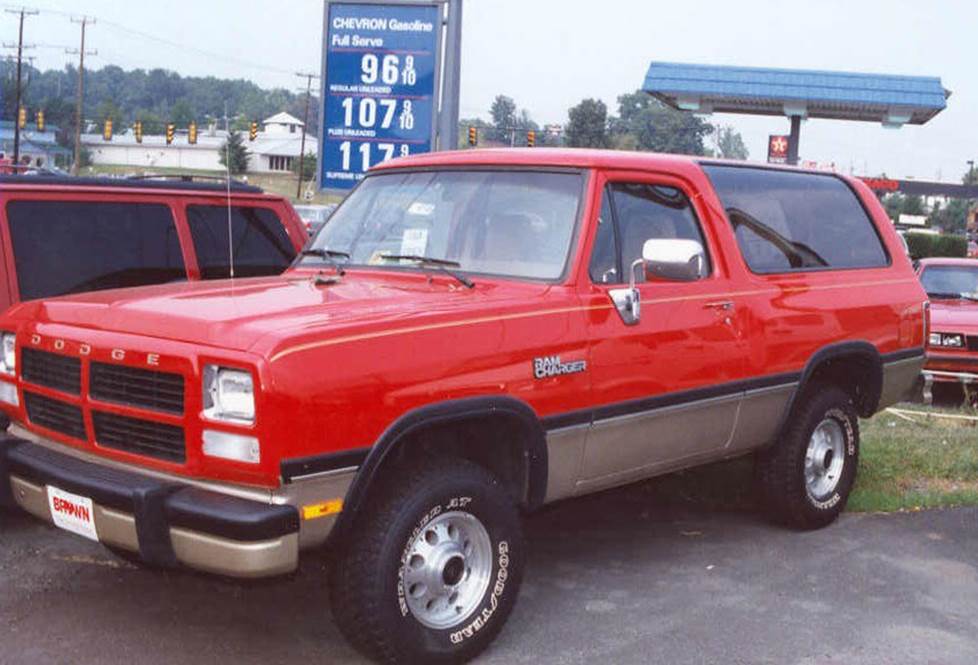 We have audio gear for older Dodge trucks, too. And check out those gas prices! (Crutchfield Research Photo)
If you want to enjoy modern sounds in your vintage Dodge pickup, but don't want to hack into that original dashboard to install a modern single-DIN receiver, we have you covered there, too. Retrosound offers clever digital media receivers designed for older vehicles, so you can replace the shaft-style radio in your older truck and keep the vintage look you love. A variety of models and styles are available, so enter your vehicle information to see what'll work in your pride and joy.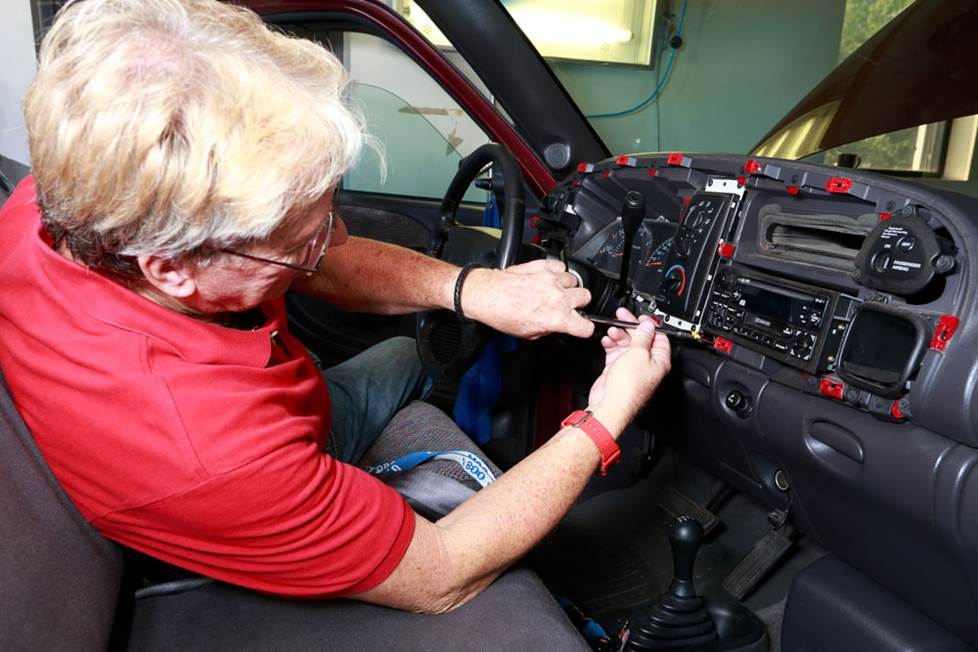 Doing your audio upgrade yourself can save you some money, and it's fun, too. (Crutchfield Research Photo)
Choosing the right speakers for your Dodge or Ram
Whether you have a Hemi or a Cummins diesel rumbling under the hood, Ram trucks can be noisy beasts, and if you've added a set of big, knobby tires, you're hearing a lot more roar than before. If your truck's stock speakers aren't keeping up (and they probably aren't), it's time to upgrade.
In most vehicles, the factory speakers really aren't that great to begin with, and they age fast. Upgrading those wheezy old speakers with something new will make a big difference in your truck's sound. Just enter your vehicle info to see what fits your truck.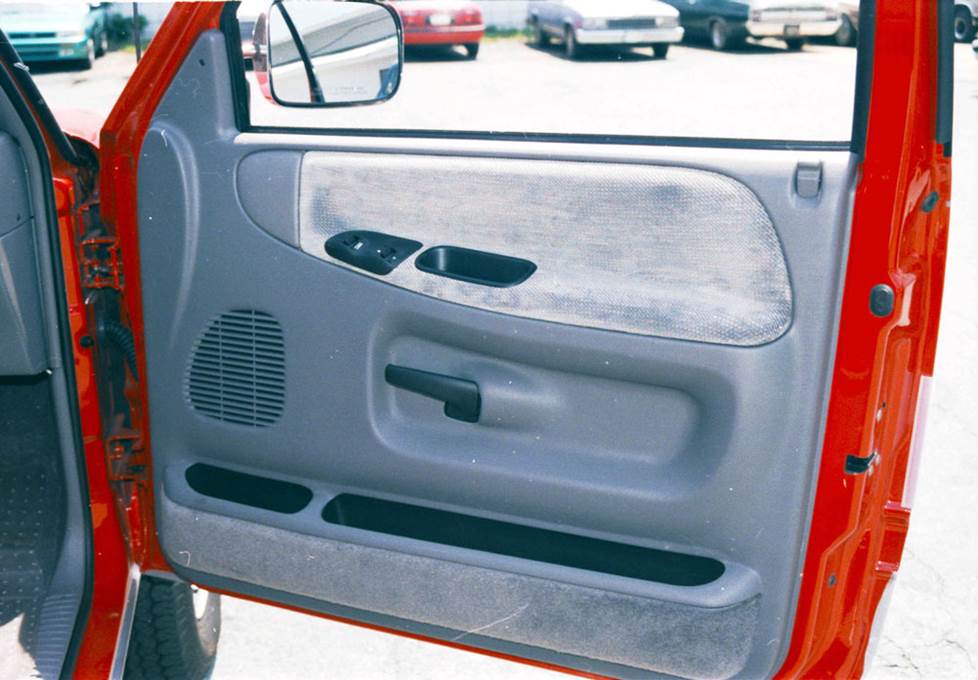 Whether you have an older truck like this 1995 Dodge or a new one, upgrading the speakers is a great way to improve your sound (Crutchfield Research Photo)
When you order your new speakers from Crutchfield, you'll get a nice discount on the wiring harness and mounting brackets you'll need to install them in your Ram. And if you need car stereo installation tools, we have those, too.
Add more speakers with kick panel pods
In some Dodge/Ram trucks, especially older models, one cool way to improve your sound is to install a set of Q-Forms Kick Panel Pods. These unloaded, custom-fit speaker enclosures fit into the space where your kick panels are now. They hold a set of 6-1/2" component speakers (sold separately) in an ideal position, angling them to maximize sound quality. The pods are available in a variety of colors to match your truck's interior and, while installation will take some work, it's not beyond the capabilities of the experienced DIY-er. Enter your truck's info to see if there are Q-Forms that fit.
Improve your truck's sound with an amplifier
Stereos and speakers are obvious upgrades, but if you're building a serious system in your Ram truck, you really do need to add an amplifier. Cranking up the Cummins is nice, but cranking up the tunes is another important part of having fun in your truck.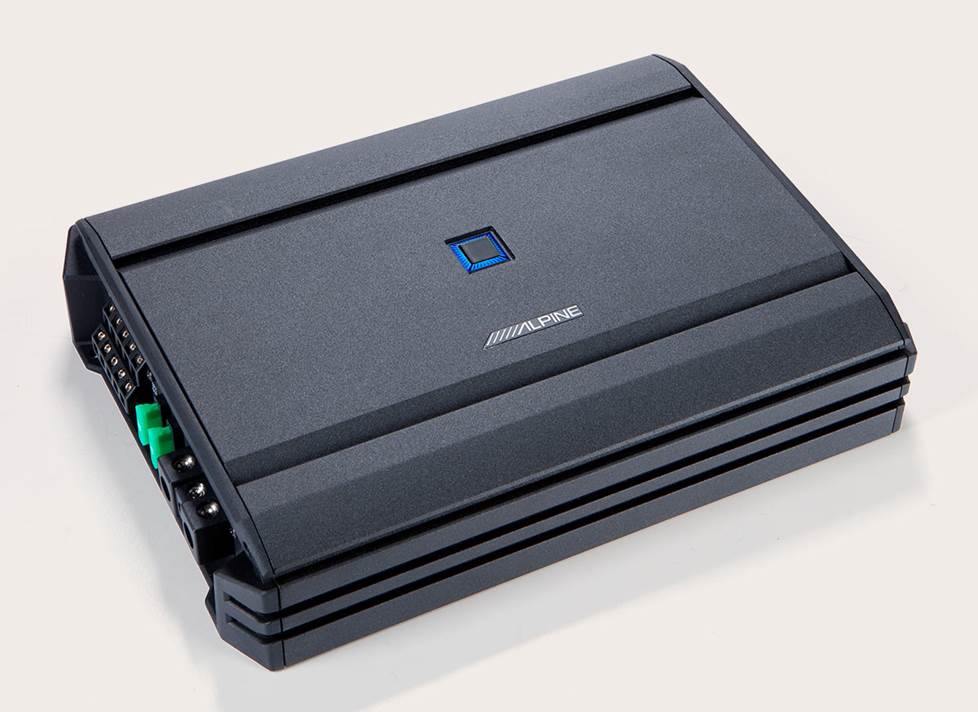 When you're upgrading your speakers, you might want to add an amplifier, too.
An aftermarket 4-channel amp, for example, will help you get the most out of your new speakers. You'll get cleaner power (and a lot more of it), which will result in much, much better sound. You can choose a 5-channel amp or even a mono amp if you also want to power a subwoofer. Go big or go home, right?
Ways to boost the bass in your Dodge or Ram
As anyone with even a basic understanding of spatial relations will tell you, the bigger the cab, the easier it is to add more bass thump to your Dodge or Ram.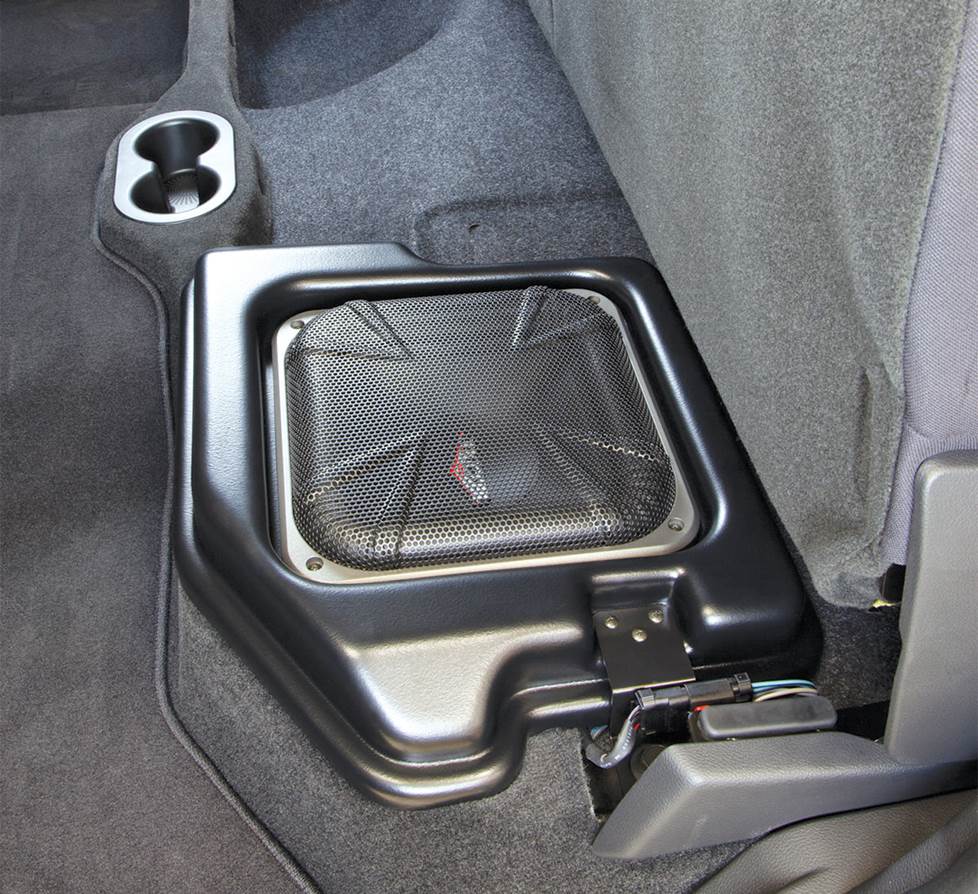 This Kicker VSS SubStage subwoofer is custom-designed for use in select Ram models
Standard Cab trucks (older or newer) don't have a lot of extra space, obviously, but if you get creative, you might be able to find some room for a compact powered subwoofer. It depends on the space behind the seat (if there is any) and/or under it. Measure carefully, then give us a call and talk to one of our expert advisors.
Mega/Extended/Quad/Club/Crew Cab (there were many names) trucks obviously give you more options. There's a lot more room to work with and, depending on the year of your truck, more custom-fit options that'll fill the cab with bass without compromising the available space. You can choose from unloaded, loaded, and amplified versions, and they'll fit neatly into your truck's interior. To see the subwoofer options for your Dodge/Ram truck, enter your vehicle information. And hey, a powered sub can work nicely in these trucks, too.
Cameras to help you see more and drive safer
The bigger the truck, the bigger the need for a backup camera. When you're way up there in that vast expanse of vehicle, it can be kind of challenging to maneuver in parking lots, garages, and even your own driveway. You can choose cameras that work with a new big-screen double-DIN receiver, of course, but if your truck doesn't have space for one of those, there are camera systems that replace your factory rear-view mirror.
A backup camera (like this Accele) is a great upgrade, especially for older trucks
The scenery in front of your truck can be pretty interesting, too. Dash cams really can come in handy around town, while action cams are very cool for capturing all the sights of your off-road excursions. And if you happen to have one of Dodge's famed muscle trucks, you'll definitely want to record your racing exploits at the local dragstrip, right?
Cool accessories for any Dodge or Ram truck
As you might expect with a truck that's been this popular for this long, there are lots of ways to upgrade the entertainment, durability, sound quality, and security in any Ram pickup. Here are a few ideas from our experts.
Floor mats
No matter how much you pamper your pickup, you're eventually going to get involved in some sort of truck-like activity that involves dirt, moisture, and muck. When that happens, it's a good idea to have a set of WeatherTech Floor Mats in your truck. These incredibly durable mats trap moisture, contain dirt, and keep your factory carpets looking sharp. Just enter your vehicle info to see what's available. There are bedliners and SUV cargo mats, too!
WeatherTech floor liners are the best way to protect your truck's carpeting
Antenna replacement
If your truck's antenna still working, you don't have to replace it when you install a new receiver, but that's as good a time as any. And if your truck doesn't have an antenna (actually possible), you'll need to install one. The prices are reasonable and the installation process is, too, so it's a good thing to do if you can.
Security systems and remote start
Installing a security system in your Dodge or Ram truck won't be easy (security systems rarely are), but it's definitely a good idea if you tow long distances and stop overnight – or if you just want to protect your truck and the cool stereo inside. Our Crutchfield Advisors can help figure out what you need to get the job done, but we usually recommend taking your truck to a professional installer.
Adding remote start capability to your truck lets you warm it up in the winter or cool it down in the summer. Installation is usually easier than it is with security systems, but we still ask that you call to order so that we can make sure you get the right harness for your ride.
Sound insulation
If you want to maximize your sound by minimizing road noise, Dynamat is a great option for any Dodge or Ram truck, especially when you're replacing the door speakers anyway. This soundproofing material will dampen the sounds you don't like and let you get more enjoyment out of the ones you do.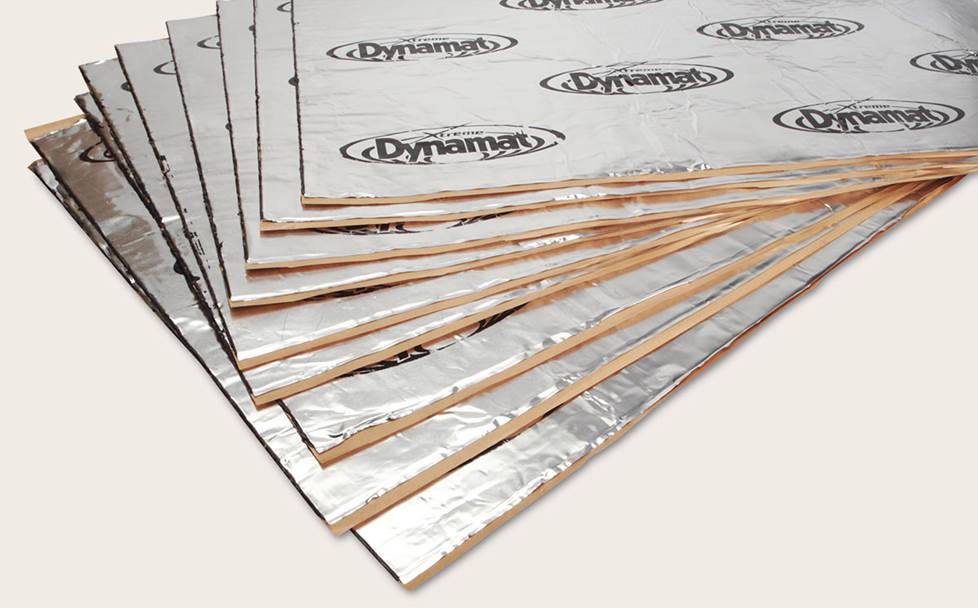 Putting some Dynamat in your doors will really cut down on road roar
Get a charge when you need one
We know you're smart enough to be careful about your battery, but dead batteries happen to us all. What you need is a compact, powerful, easy-to-use charger that can jump your truck in an emergency – wherever you are. We offer a wide variety of power packs that can do just that, plus charge your phone, tablet, or other device.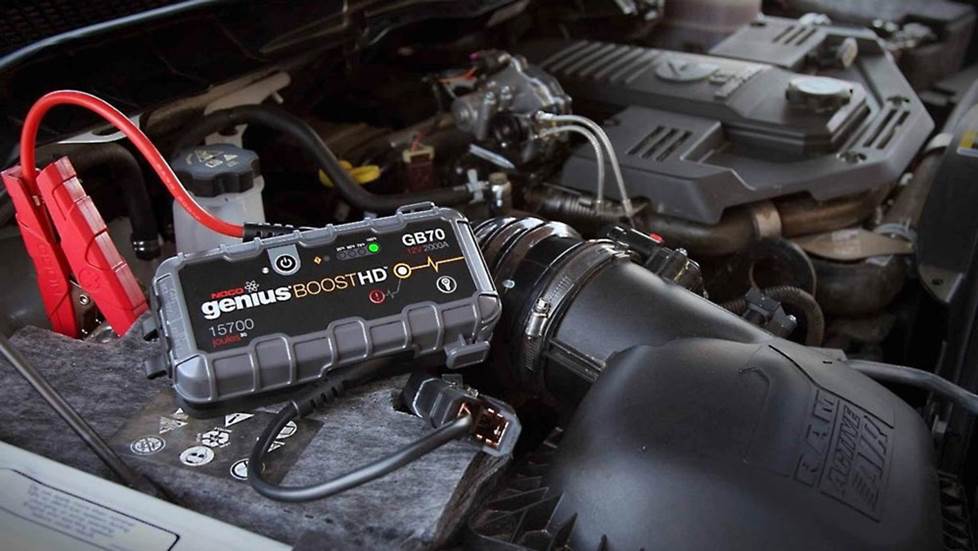 With a jump starter on board, you'll get back on the road in a hurry
Have questions? That's what we're here for!
There's no such thing as a truck project that's truly "done," mostly because adding and upgrading gear is part of the fun of owning a truck in the first place. If you have any questions, our Crutchfield Advisors will be happy to answer them. Give us a shout via phone or chat.
Popular questions customers ask
Adding GPS navigation requires that you get a touchscreen stereo, of course, and you have two options. First, Android Auto and Apple CarPlay let you use your favorite GPS app including Apple Maps, Google Maps, and Waze. If you want GPS navigation without tying up your phone, you'll have to get a new stereo with built-in navigation.
Yes, when connected via USB or Bluetooth, you can play music from your phone on the radio. And if you're using CarPlay or Android Auto, you can control most music apps from the stereo's touchscreen for a "true" car stereo feel.
Our vehicle database is unmatched. We've taken apart the dashes and door panels of more than thousands of vehicles and measured every space and bolt pattern. We'll also make sure you get the right installation gear when you order.
You'll need a special adapter to keep those handy buttons working with your new stereo. When you shop on our site, we'll show you all the options for installation hardware, including the right adapter for the steering wheel controls.
New stereos will often work with your existing backup camera. We'll let you know before you make your purchase. If your car doesn't already have a camera, you'll find compatible backup cameras under the stereo's "Accessories" tab on our site.