Best noise-canceling headphones for 2022
Our top picks for over-ear headphones and true wireless earbuds
In this article: I'll share my top noise-canceling headphone picks...
...plus, some advice for how to choose the right in-ear or over-ear noise-cancelers for you.
very time I fly, I'm reminded: air travel is loud. The noise begins with the airport's busy energy and really takes off when the plane engine starts rumbling. Luckily, noise-canceling headphones are better than ever.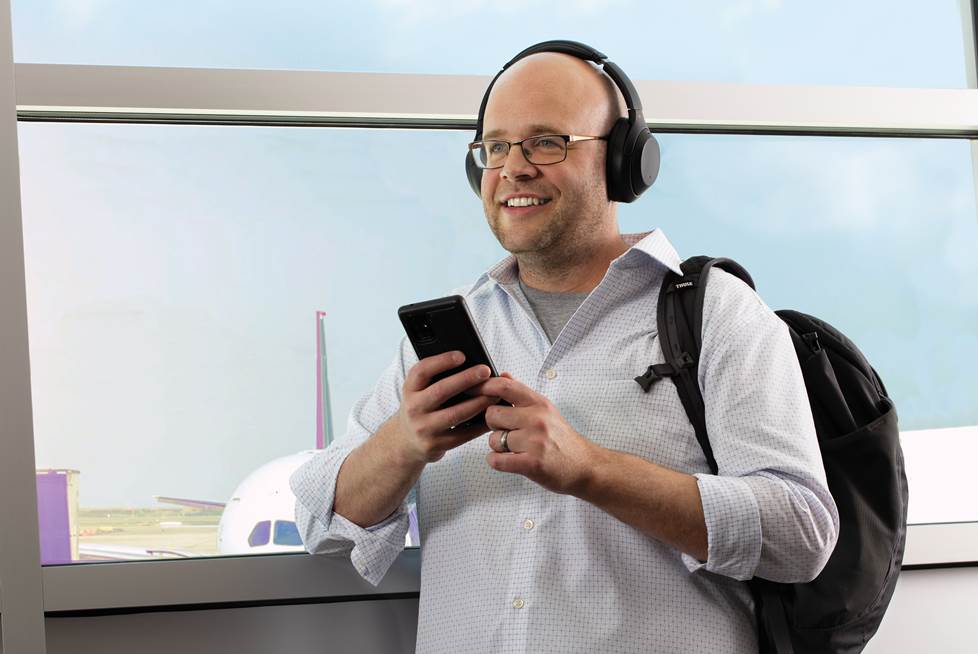 As great as the Sony WH-1000XM4s are for work, I find they really perform well for travel.
I've certainly put them to the test working from home — my makeshift office sits cornered between our loud, rumbling HVAC system and the kids' playroom. And as I ease into more of a hybrid work situation, I find that newer noise-canceling headphones are better able to silence office distractions.
That's because noise-canceling circuitry has gotten more sophisticated over the last couple of years and can knock out a wider range of sounds. On a plane, that means everything from engine noise to chatty seatmates.
Noise-canceling earbuds have taken the biggest leap in quality
While you'll still get the absolute best noise cancellation from over-ear headphones, newer true wireless earbuds hold their own against them. I used to say things like, "they cancel noise well, for earbuds." But the best noise-canceling earbuds of 2022 don't need a qualifier — they simply bring the silence.
In fact, earbuds from Sony, Bose, and Bowers & Wilkins all reduced my lawnmower's engine noise so much that I barely heard it. Before I even turned on any music! And when I hit play on a podcast, I could listen at a low, safe volume and still follow the conversations.
Of course, there's more to consider when choosing headphones, like sound quality, comfort, and how you'll use them. With that in mind, I'll provide some background info and buying tips, before diving into my top picks.
How do noise-canceling headphones work?
Noise-canceling headphones don't simply seal out noise with ear tips, ear pads, or heavy-duty earcups. There is special, sophisticated technology at work.
They have built-in circuitry that counteracts exterior sound by emitting an out-of-phase sound wave. This wave effectively cancels out the incoming sound.
Many customers associate noise-cancelling headphones with Bose, because they pioneered and popularized the category. I recently had the chance to talk to Bose legend Dan Gauger, one of two engineers who helped create and develop their noise-canceling heaphones.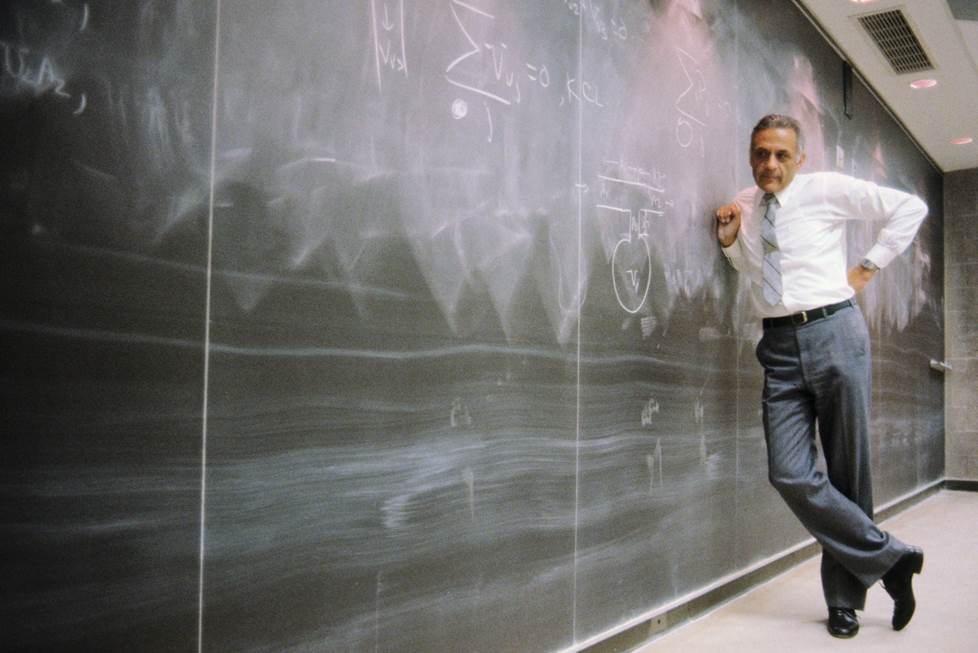 In 1978, Dr. Amar Bose got on a plane and put on headphones, but they didn't block out any noise! So he started scribbling equations for how to effectively cancel noise.
He gave me a deep dive on their history, and explained how a napkin drawing led to the development of some ultra-sophisticated circuitry.
But now there are some very formidable rivals out there — all with different strengths and features. That's where I can help.
How to choose the right noise-canceling headphones for you
There's a lot to consider when you're choosing noise-canceling headphones. And perhaps above all — just like with any headphones — it really comes down to how you plan on using them. But here are a few specific features to keep in mind:
Fit
Over-ear headphones offer a plush fit and a tight seal to help keep out noise. Many of us here at Crutchfield choose them for work — whatever our current "office" setup looks like.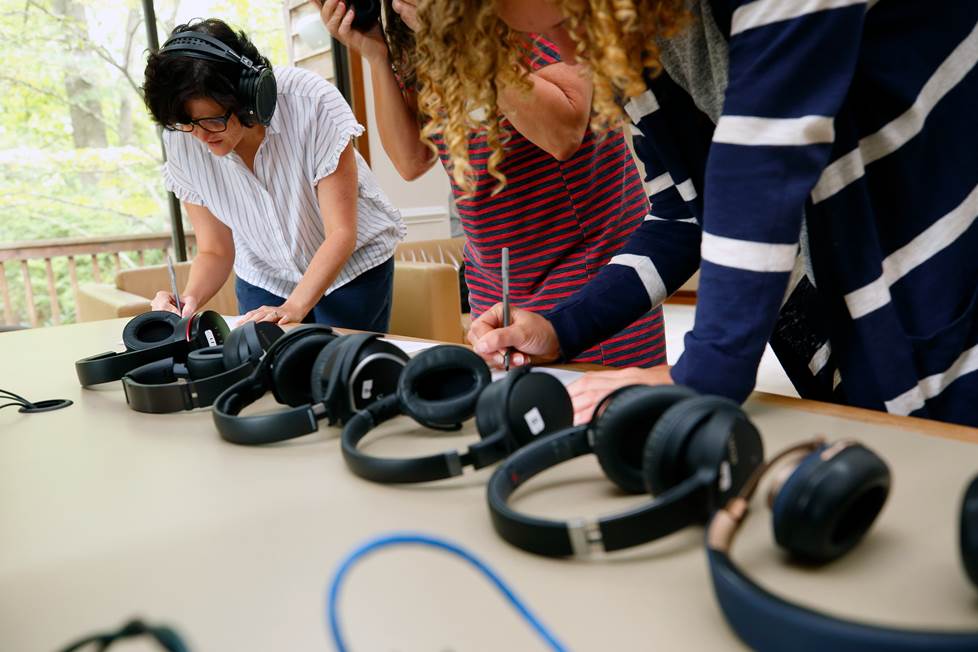 We know a thing or two about fit, thanks to our headphone comfort tests.
But for a daily commute, something smaller might be more convenient. Earbuds with noise cancellation have less bulk, but can still put distractions on mute. A nice in-ear seal is important for noise isolation, but can also help dial in the sound, particularly the bass.
Battery life
Almost all of the noise-canceling headphones these days are also wireless. But even when they're not, you have to recharge noise-canceling headphones. So stay aware of the listed battery life. These days, most over-ear models offer at least 25-30 hours of noise cancellation on a full charge. For true wireless earbuds you might get 5-10 hours.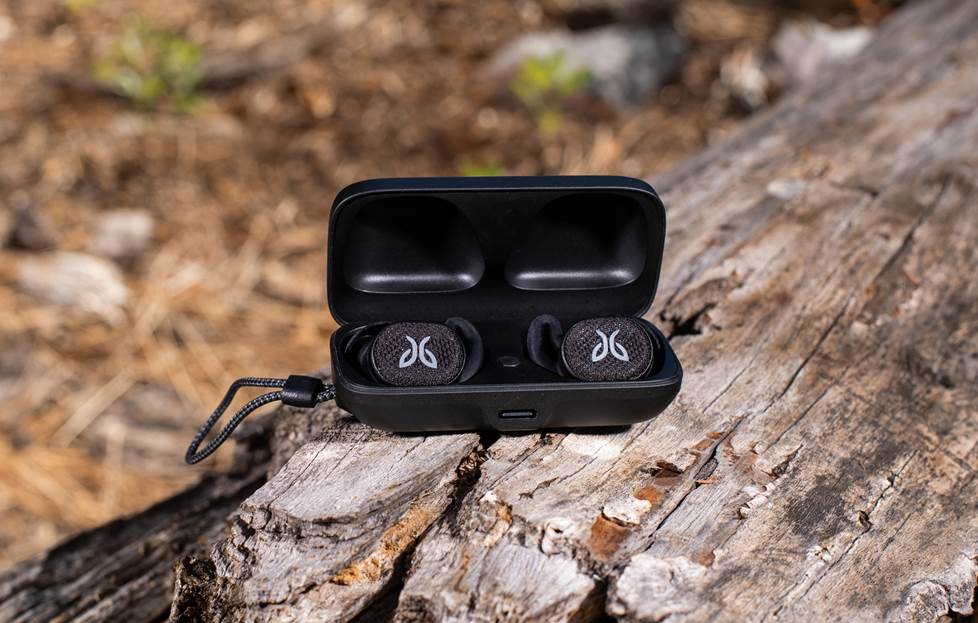 True wireless earbuds, like the rugged Jaybird Vista 2s, come packed in a case that can bank hours of power to recharge the headphones.
Listening with the noise-canceling circuitry turned off saves some battery life. And many over-ear models will let you listen with a connected cable. This wired "passive mode" comes in handy when the battery runs dry before you have a chance to recharge.
Adjustable/adaptive noise cancellation
Many of the newer noise canceling headphones can tailor their performance to your surroundings. They use built-in microphones to "read the room" and adjust their noise cancellation to your environment — in real time.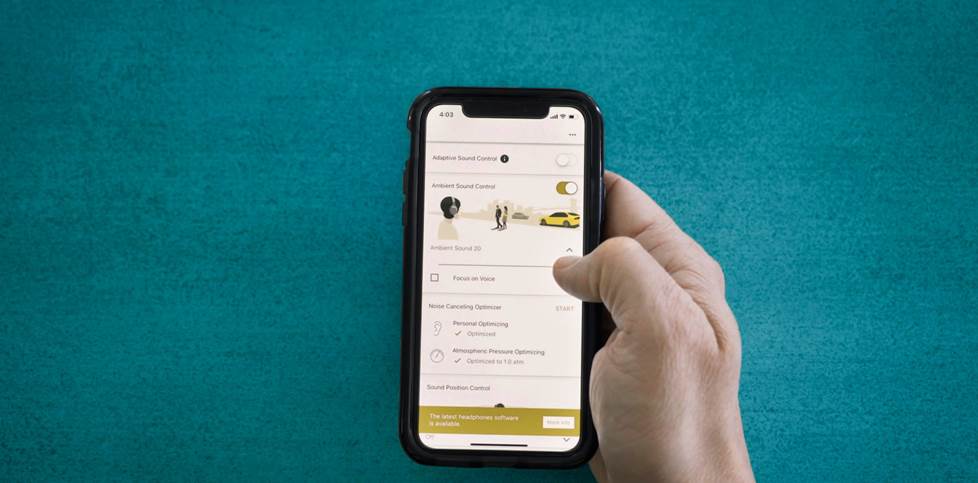 Some noise-canceling headphones offer phone apps that allow you to choose how much ambient sound to let in.
Awareness or transparent mode
Some noise-canceling headphones can also use those built-in mics to allow external sounds in. Different brands have different names for this feature, but it lets you hear ambient sounds or conversations, without removing your headphones.
Speaking of, all noise-canceling headphones offer some type of control over music and calls. But some take it even further, with control over the ambient features, sound EQ, and/or your phone's voice assistant.
Now that you know what to look for, here's my list of top picks for 2022: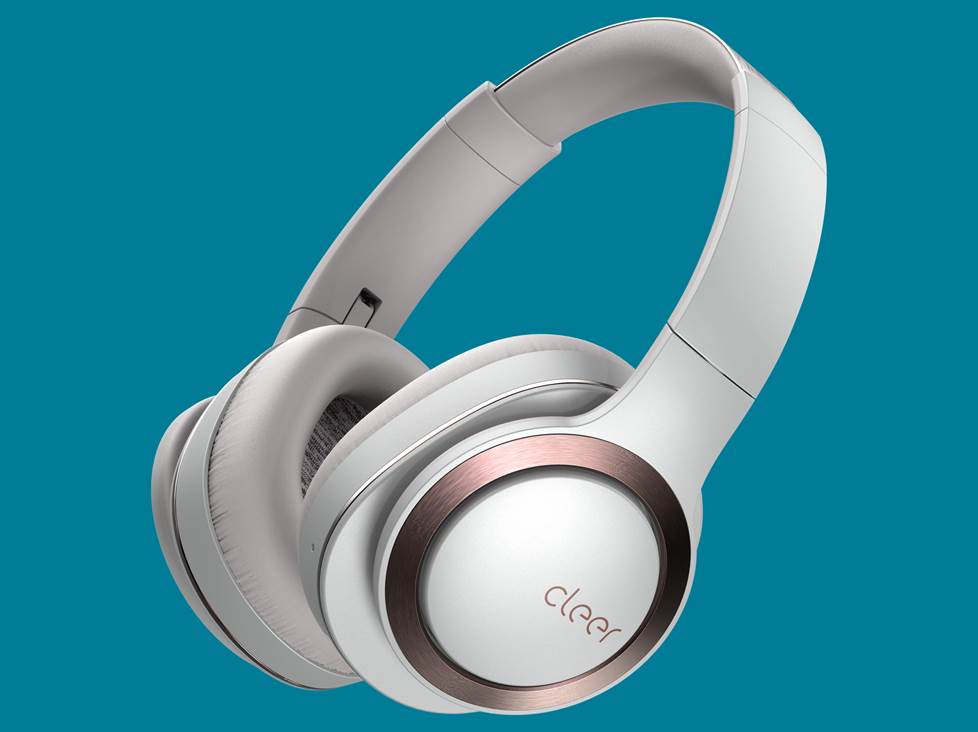 Best budget pick — Cleer Enduro ANC
There are few solid over-ear headphones under $200 that offer Bluetooth and noise cancellation. Even fewer perform as well as the Cleer Enduro ANC headphones. And I haven't seen any of them that boast this much battery life — a whopping 60 hours.
I personally used them off and on for over a month before I ever had to recharge them. They hit my sweet spot for fit — relaxed, but they stay firmly in place. The noise cancellation isn't quite on the Sony or Bose level, but it performs well against lower frequency sounds (like a plane engine). And they deliver a spacious, outside-the-head sound that's clear and detailed.
Details
closed-back, over-the-ear headphones with Bluetooth 5.0
aptX® Adaptive and AAC decoding for high-quality music from compatible devices
active noise-canceling circuitry to minimize external noise
up to 60 hours of battery life (wireless use with noise cancellation)
10 minute quick charge provides enough power for 2 hours of listening
40mm dynamic drivers with patented "ironless" magnet array
spacious sound with clear vocals and strong bass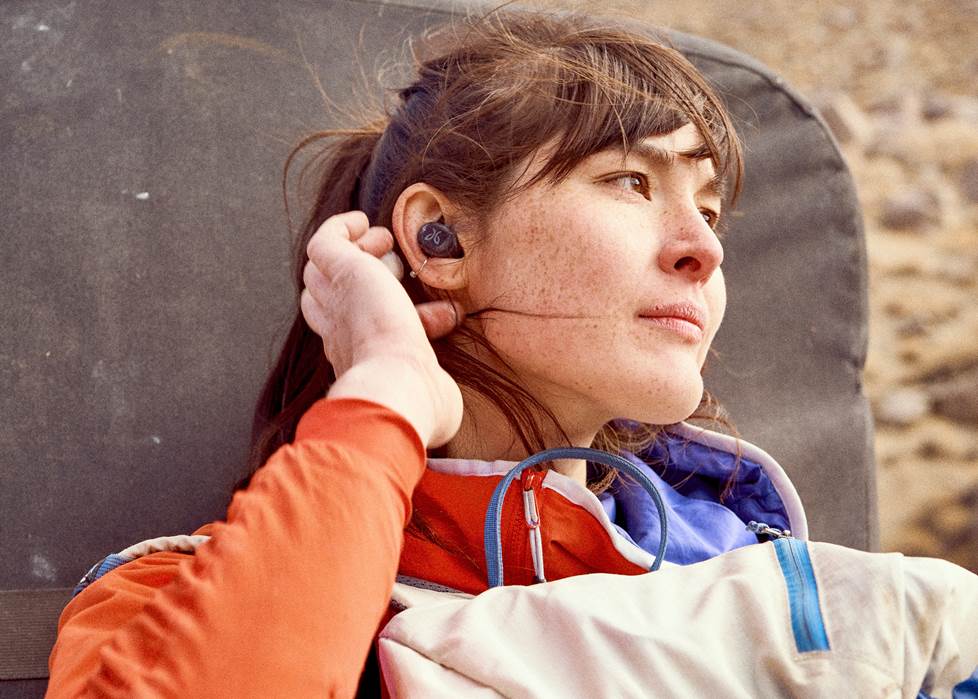 Best for workouts — Jaybird Vista 2
So far, I've focused a lot on the journey, but what about when you get to your destination? Or you're at the gym more than the airport? If you need headphones for running or working out, the Jaybird Vista 2 true wireless earbuds are an ideal pick. They meet military standards for durability and waterproofing, and can even withstand a rainstorm at 40 mph.
Jaybird is a favorite pick among runners on the Crutchfield staff because of their signature secure fit. They simply stay in place while you move. And they lock in a proper seal for hard-hitting bass.
The Vista 2 earbuds also offer noise cancellation for situations where you might need it — like maybe blocking out the annoying yelps of an overzealous weight-lifter. But Jaybird includes quick access to their "SurroundSense" mode when you need to be more aware. Simply tap the earbud to amplify ambient sounds while you're out running.
6mm dynamic drivers
proprietary Bluetooth 5.0 chip for a stronger, more stable connection
active noise cancellation and "SurroundSense" mode for better awareness during workouts
3 sizes of silicone soft-gel ear tips with built-in "fins" for secure, stable fit
6 hours of listening per charge
carrying case banks up to 16 hours of power
IP68-rated waterproof and dustproof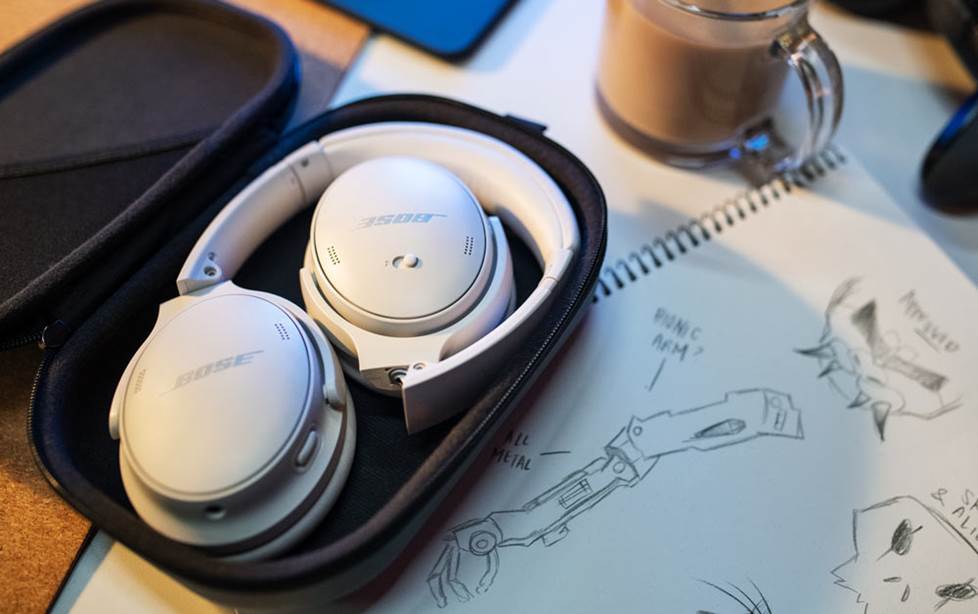 Best at canceling noise — Bose QuietComfort 45
Released in late 2021, the Bose QC 45s are the latest in the company's iconic line of over-ear noise-canceling headphones. These headphones sport a familiar design, but offer some key upgrades over their predecessors. That includes stronger Bluetooth, longer battery life, an "awareness" button, and, yes, Bose's best noise cancellation yet.
And in terms of absolute "quiet," the QC 45s are arguably the best ever — regardless of brand. Inevitably these headphones will be compared to the Sony WH-1000XM5, and when it comes to noise cancellation, I feel it is a toss-up.
The main distinction would be that the Sonys are so reactive to external sounds, that you can almost sense them working as the outside noises change. That's why I might give them a slight edge for adapting to higher pitched sounds that occur less frequently. But if you're looking for a fresh blanket of silence, the QC 45s are still hard to beat.
Details
closed-back, over-the-ear headphones with Bluetooth 5.1
lightweight design with a relaxed, yet secure fit
Bose's "full-spectrum" noise reduction cancels noise across a wide-frequency range
rechargeable battery provides up to 24 hours of wireless use
well-balanced, layered, and laid-back sound presentation
dedicated button on left earcup toggles between noise cancellation and "Aware" mode
multi-point connection for pairing to two devices at once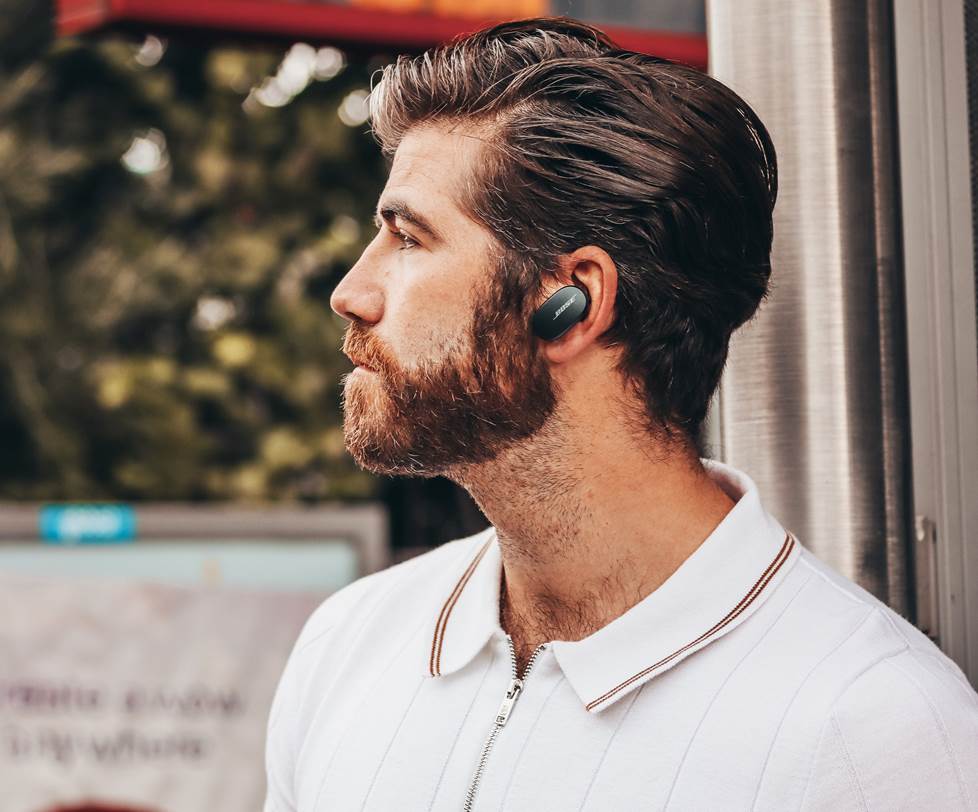 Best noise cancellation in earbuds — Bose QuietComfort Earbuds
The Bose QuietComfort Earbuds cancel noise better than any other in-ears I've ever tried. When I first tested them, it was by a longshot. Since then, Sony and B&W have both closed the gap significantly, but I still give the nod to these earbuds.
And you have precise control over how much external noise these earbuds block out. Just tap the left earbud twice to select between a high or low level of noise cancellation. Or choose a third option, transparency mode, which uses the built-in mics to pick up external sounds and voices.
You can also download the free Bose Music app to your Apple or Android device and pick from 11 discrete levels of noise cancellation.
Details
100% wire-free headphones
built-in Bluetooth 5.1 for music and calls
11 discrete noise cancellation levels and "transparency mode" available
IPX4 sweat- and weather-resistant
three sizes of soft silicone StayHear™ Max tips
6 hours of battery life with noise cancellation
carrying case banks up to 12 hours of power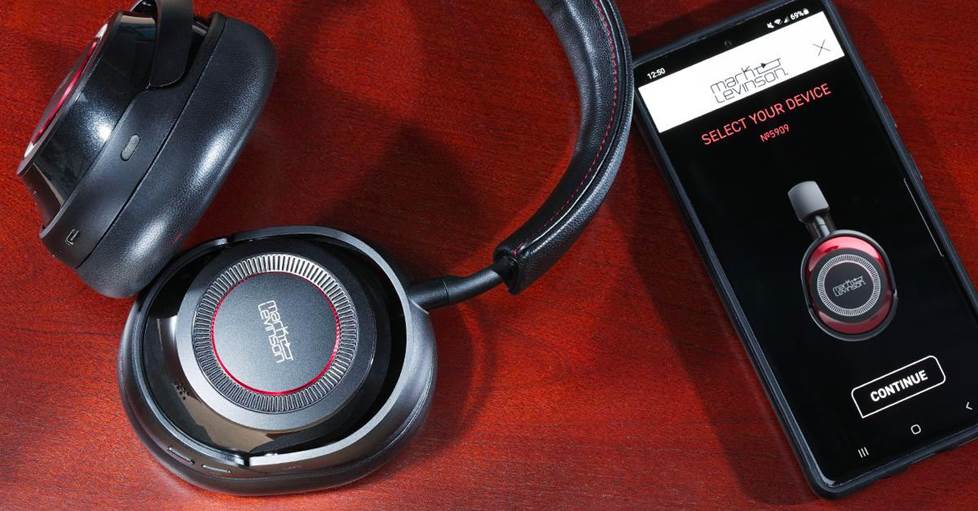 Best-sounding noise-canceling headphones — Mark Levinson No. 5909
The Mark Levinson No. 5909 headphones were created with audio quality top of mind. These super-premium wireless headphones are built to the exacting standards of the "Harman Curve" sound profile.
Harman's team of audio experts — led by Dr. Sean Olive — has honed this special tuning through years of exhaustive research. They made sure that the No. 5909 headphones met their strict audio specifications, even with the real-time active noise cancellation. In fact, Dr. Olive told me that the noise-canceling circuitry plays a pivotal role in delivering premium sound — it creates an extremely low noise floor for the quick-moving beryllium drivers.
These headphones demand a price that won't be in everyone's budget. But you could say that you're getting two headphones in one — it's at once a top-shelf wireless option and bona fide set of audiophile wired headphones for focused at-home listening. Their drivers perform well in "passive" mode, without any built-in amplification.
Details
Bluetooth® 5.1 for wireless music and phone calls
high-quality aptX, aptX Adaptive, and LDAC audio streaming
adaptive noise-canceling circuitry automatically adjusts to the level of external sound
40mm premium dynamic drivers coated in beryllium
rechargeable battery provides up to 30 hours of wireless use
lightweight anodized aluminum frame and flexible headband
snug, secure fit with soft, sculpted ear pads (removable)
Best build quality — Bowers & Wilkins PX7 S2
If you only see yourself listening with Bluetooth, the well-put-together B&W PX7 S2 headphones are an intriguing alternative for "best sound." (B&W offers a wired listening option, but there's no "passive" listening mode — the headphones need to be powered on.) Their shrewdly angled drivers produce detailed highs along with omnipresent yet well-restrained bass. And I absolutely adore the charming midrange presence — and how vocals leap forward in the mix.
But the first thing you notice when holding these headphones is the build quality. B&W used sturdy, high-quality parts and they look sculpted and elegant. They feel heavier in the hand than the other over-ears on this list, but the weight is distributed nicely when worn.
I thought the earlier-generation PX7 headphones fit a little too snug, but others loved how well they stayed in place. This time around, B&W provides a more consistent cushioning and seal for all sizes, even if you wear glasses.
And I think they've struck just the right balance — both with the fit and the sound.
Details
materials include ballistic nylon fabric, lightweight polymer, aluminum, and fine leather
built-in Bluetooth 5.0 for music and calls
aptX Adaptive automatically adjusts to prioritize audio quality or low latency,
multi-point connection for pairing to two devices at once
digital hybrid noise-canceling circuitry designed to preserve listening experience
precisely angled drivers offer spacious, detailed sound
engineered by the team responsible for the company's flagship 800 D3 loudspeaker
rechargeable battery provides up to 30 hours of wireless use
snug, secure fit with soft earpads and headband padding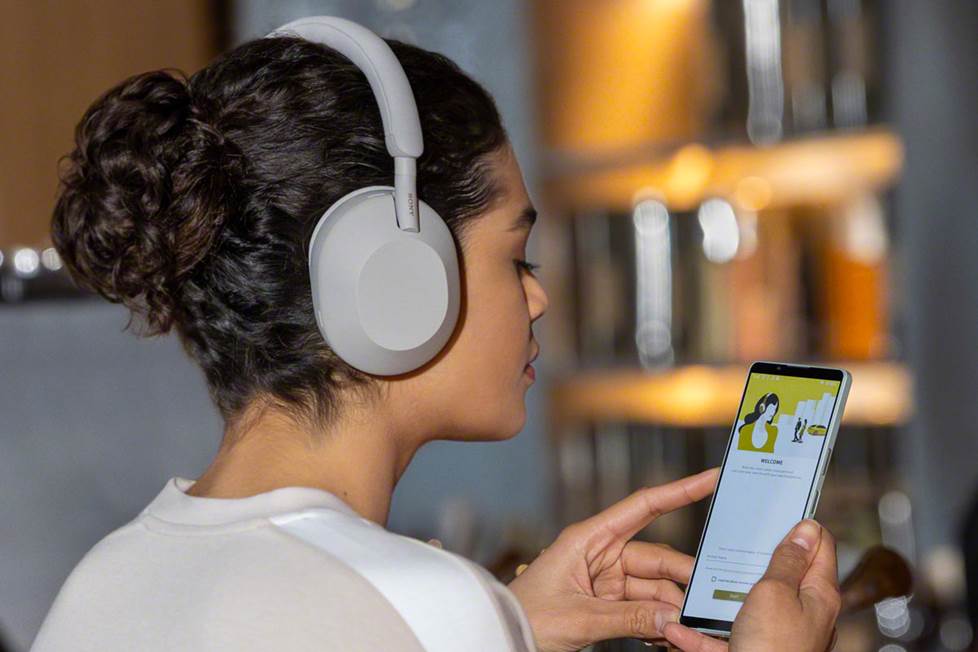 Best all-around — Sony WH-1000XM5 over-ear wireless headphones
No surprise here — the Sony WH-1000XM5 over-ears simply excel at everything they do. In fact, this top spot has been occupied by the previous two generations of Sony "XM" headphones, one of our best-selling headphone series of all time.
I did find that they weren't quite the slam-dunk pick that their predecessors were. Not because Sony did anything wrong— these are excellent. But the competition is stiffer, both from the other headphones on this list and the WH-1000XM4s themselves.
But while those headphones are still an incredibly formidable option, Sony made some major advancements with the 'XM5s. The most obvious is the completely new redesign, but the changes don't stop with the sleek, industrial look. The overall fit is more relaxed and the padding on the earcups and headband are thicker and softer.
Sony's next-level noise cancellation is now better tuned to knock out higher frequencies and voices. They've included two of their ground-breaking processing chips along with a sophisticated new series of microphones and algorithms. And I found the out-of-the-box sound better balanced, with better overall clarity and less emphasis on the bass.
Details
closed-back, over-the-ear headphones with Bluetooth 5.2
LDAC and AAC decoding for high-quality music from compatible devices
sophisticated, adaptive noise-canceling circuitry adjusts to the level of external sound
dual-chip system includes Sony's QN1 HD Noise Cancelling Processor and V1 Integrated Processor
30 hours of battery life with noise cancellation
10 minute quick charge provides enough power for 5 hours of listening
"Quick Attention" feature turns off noise-canceling and engages ambient mode by covering the right earcup with hand
30mm dynamic drivers tuned for clear, detailed mids and highs with deep bass punch
In-ear alternative — Sony WF-1000XM4 true wireless earbuds
Few true wireless earbuds have received such universal acclaim as Sony's WF- 1000XM4s. The wire-free design is super convenient for travel — just pop them in to listen during your flight, then snap them back in the pocket-sized charging case when the plane lands.
To be clear, their over-ear 'XM counterparts do cancel noise better. But as noted, you don't sacrifice much in terms of noise-canceling prowess thanks to Sony's cutting-edge processing. Soft foam ear tips contour to your ear canal for a more secure fit and a consistent sound. I dig how the rich presentation expands well beyond the head and is punctuated by quick, powerful bass.
How to choose between the best noise-canceling earbuds
One thing that distinguishes the Bose QC earbuds and Sony WF-1000XM4s is the fit. In fact, your choice may hinge on your ear tip preference. Sony includes three sizes of the malleable foam tips I mentioned.
Meanwhile, Bose's soft silicone StayHear® Max ear tips don't go in as deeply. Instead, they rest just inside your ear, and lock into place with a flexible wing. And there are plenty of other noise-canceling earbud options that use more traditional silicone ear tips that fit further in the ear canal.
Need more help? Contact us!
Have questions about how these noise-canceling headphones compare? Contact us today.
Our expert Advisors know headphones inside and out. Your Advisor can send specific Crutchfield pages to your screen, saving you a lot of browsing time. You'll get a shopping cart loaded up with everything you need.
Free lifetime tech support is included with your Crutchfield purchase.
Popular questions customers ask
There are microphones on the earcup that pick up external noise. The noise cancelation circuitry takes that noise and produces an inverse signal, effectively canceling out external sounds.
Yes, noise-canceling headphones do block voices. But some models we offer have unique "pass-through" modes that turn off active noise cancelation momentarily so you can have a conversation without taking the headphones off. "Pass-through" modes are typically activated by holding your hand or finger over one of the earcups or earbuds.
Some Bluetooth noise-canceling headphones support voice assistants like Alexa or Google. You can usually access your voice assistant on those headphones by pressing a button or using onboard touch controls.
A lot of noise-canceling headphones have some means of controlling how much noise cancelation they provide. Most models these days either have an onboard button you can use to select noise cancelation levels, an app with several noise cancelation options, or a combination of the two.
Last updated 8/2/2022