Top 5 most comfortable over-ear headphones
Plus: Crutchfield's comfort ratings and "Fit Factors" explained
In this article: Crutchfield's list of the top 5 most comfortable headphones...
...based on our extensive in-house comfort testing and grading of various "Fit Factors."
This seems obvious, but it's often overlooked — if you're wearing something on your head for long periods of time, it needs to feel good. I've auditioned hundreds of headphones over the years, and how they fit and feel always plays a big part in how much I enjoy them.
But everyone has a different opinion on what feels comfortable. And when you're shopping online, it is hard to determine how a set of headphones will fit. So back before the pandemic, we gathered a group of headphone enthusiasts here at Crutchfield to help us determine which over-ear models fit best for different uses and situations.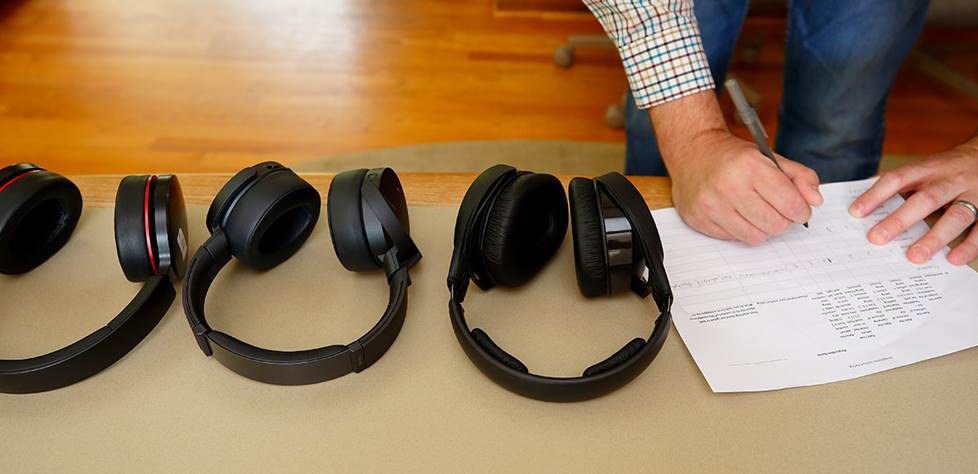 We rated each set of headphones on comfort alone by scoring a series of key "Fit Factors."
How did we test comfort?
We invited a group of 20 Crutchfield employees to try on more than 50 over-ear headphones, over the course of several sessions.
"The idea is to match people with the right pair of headphones for them," said our strategic research manager Olivia — who ran point on this project. "So we wanted participants with different head sizes and shapes, and different levels of familiarity with headphones."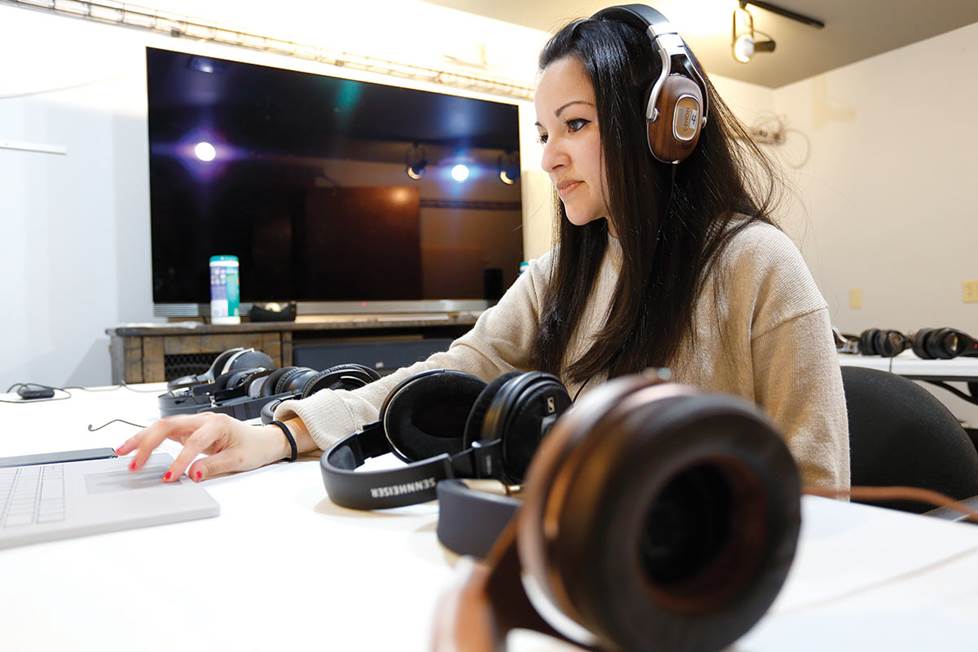 We invited Crutchfield employees like Jenny from IT one at a time to test and grade over-ears.
Olivia assembled a crew of Crutchfield engineers, researchers, data analysts, web designers (and one headphone writer) to develop and run the tests. In fact, the testing process was informed by the engineering team behind our exclusive SpeakerCompare™ technology.
Early on, we went as far as taking measurements of people's heads. But we were surprised to find that head size didn't affect the results as much as expected.
It was more important to cut down on outside distractions, noises, and discomfort that did seem to influence results. Oh yeah, and to make sure we had enough chairs for everyone!
It took a few trials to refine the process. But soon we had a system in place and completed all the tests. We've also established a protocol for future testing opportunities.
For now, we graded enough headphones — by enough people — to give us meaningful data.
How did we grade comfort? Meet the "Fit Factors"
Our participants rated each set of headphones by assigning a separate score for five different fit and comfort elements, or "Fit Factors":
Perceived weight
Ear pad softness
Headband softness
Clamping pressure
How secure and stable they stayed during head movement
Our testers were given their own space and a limited number of headphones to test at a time (and yes — their own chairs). Participants included our product advisors, IT specialists, writers, designers, customer support specialists and more. Practically every department at Crutchfield was represented.
We decided not to play any music. There was actually a bit of a debate on this, because obviously most people play music when they're wearing headphones.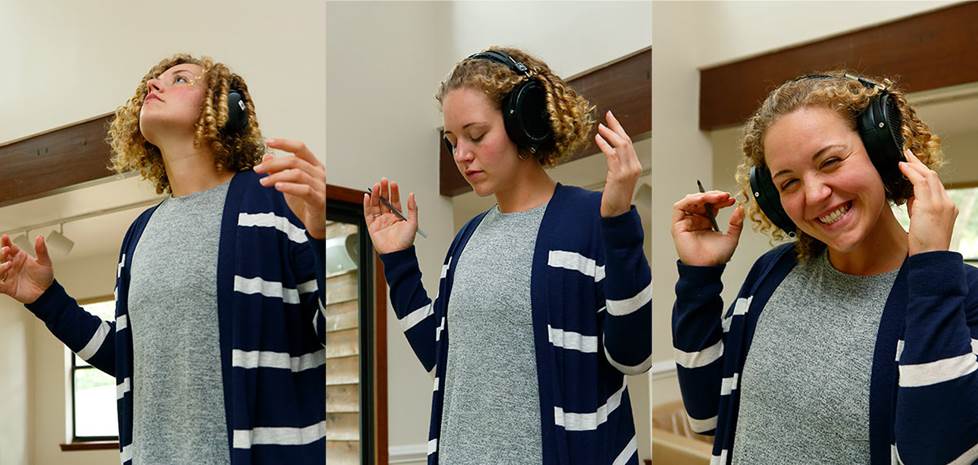 Britney from Marketing tests "security and stability" by moving her head around and noting how well the headphones stay in place.
"We really wanted to focus in on fit and feel as much as possible," said George Wade, our business process specialist who administered all the testing. "We didn't want sonic preferences influencing that."
Also of note: we tested wireless headphones without the cable. But we kept the cable on headphones that needed to be connected by wire. Even if the cable was detachable.
How the headphones measure up:
After we completed all of our tests, George crunched some numbers. By tallying the scores, we came up with an overall measurement of comfort for each set of headphones.
"I also looked for correlation between the overall comfort score and the fit factor scores," said George. "We were able to determine that security and stability mattered most to our testers when it came to comfort."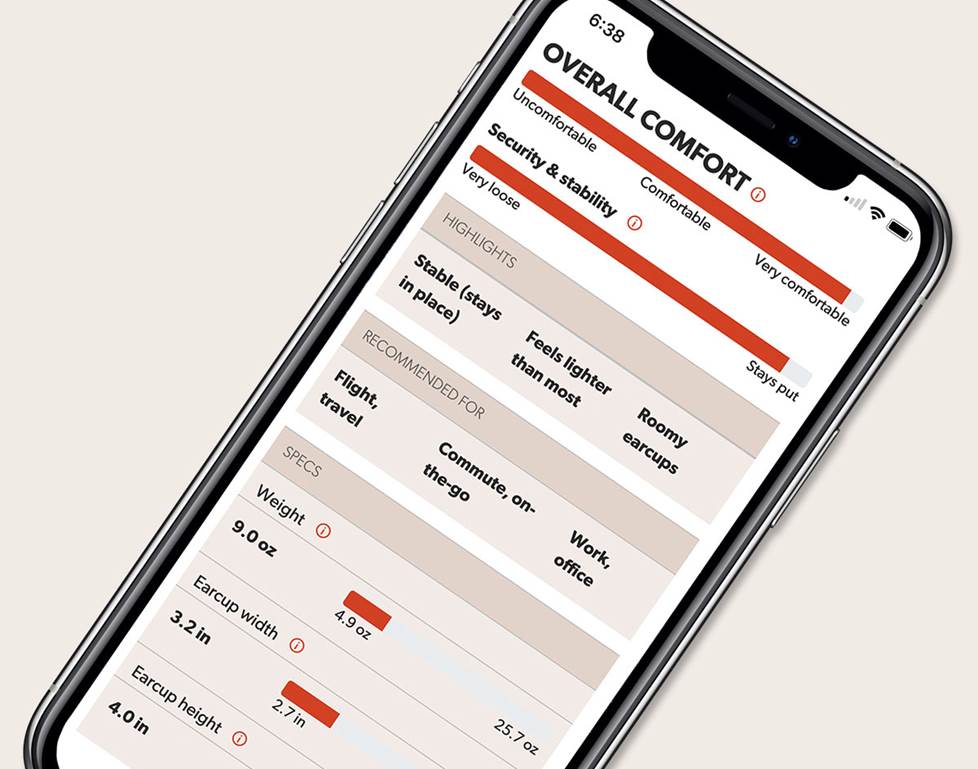 You can see on the chart where the set of headphones you're viewing lands in comparison to the other headphones we tested.
Where to find the Fit Factors and results
This PDF shows the overall comfort score and key measurements for all the headphones we tested: HeadphoneTesting.pdf
We've also included our security and stability rating, since we found that to be the most significant Fit Factor for determining overall comfort.
I've personally gone through both the numbers and user comments to highlight the three most significant Fit Factors for each model. I learned from reading those comments just how subjective comfort can get.
For example? While most people preferred a relaxed fit, there are some who liked something more form-fitting or snug. And for every few testers who complimented a set of soft ear pads, there was someone who wanted something a little more firm.
No different than the fit of a pair of shoes, or the feel of a mattress I suppose.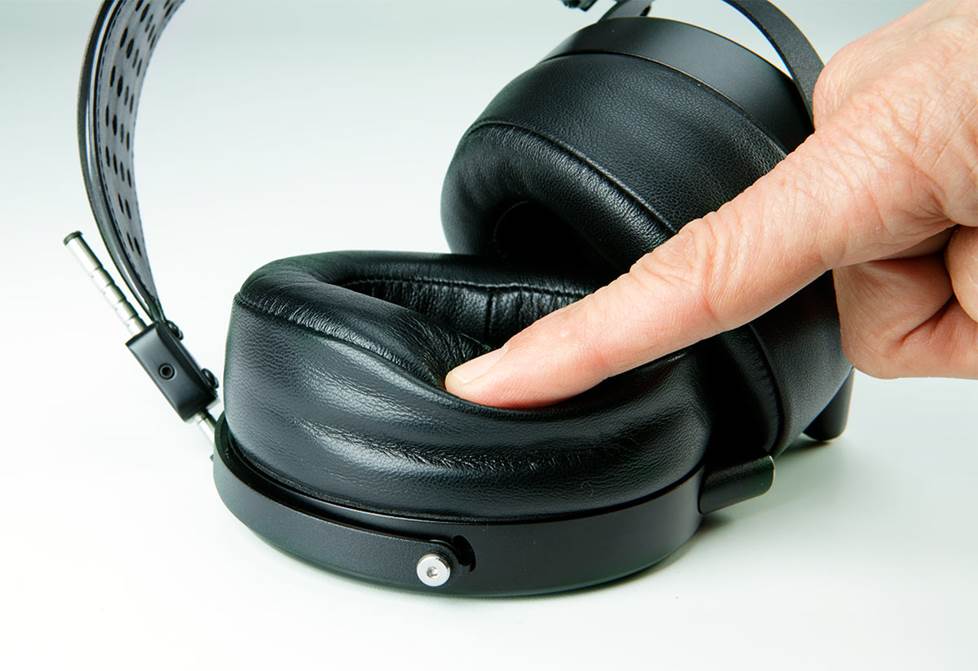 Audeze's extra-large planar magnetic headphones deliver world-class sound, but feel heavy and clamp tightly to stay in place. So they use soft, super-sized memory foam ear pads to provide much-needed cushioning.
It's also worth pointing out that the comfort scores are based on first impressions. And like new shoes, I've learned that certain headphones can "grow on you" the more you wear them and break them in.
So for the most part, I've tried to just present the three most prominent Fit Factors. I felt no need to editorialize on whether those attributes are a positive or negative.
Our picks for most comfortable headphones
Here are the top-rated picks among the headphones we tested. I've also included the most comfortable for different use cases and categories.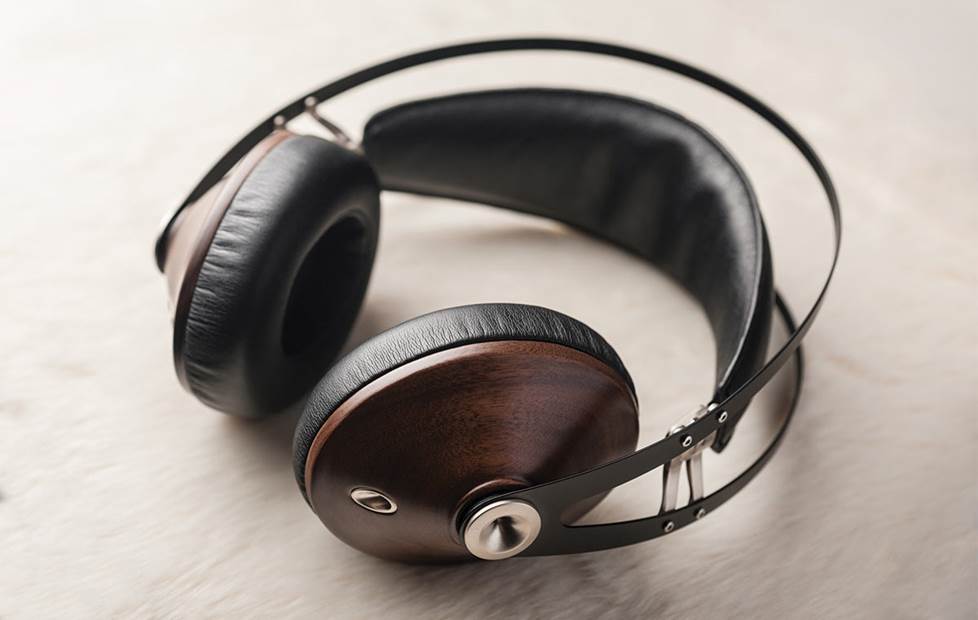 Recommended use: Focused listening
Fit Factors: Lightweight, relaxed fit, soft padding (earcups)
Tester comments: "I sometimes have trouble wearing over-ear headphones, but these don't give me an immediate headache. Very soft pads, low compression, and soft on my skull." — Amy, Crutchfield creative manager
"They feel really light. The headband design relieves pressure on the top of my head. Ear cups fit well and don't pinch my glasses against my head." — Eric, Crutchfield copywriter
Meze Audio is not a household name, but those of us familiar with the 99 Classics saw them on top of this list — and quickly agreed. I've actually met company founder and lead designer Antonio Meze. He comes from an engineering background, and is hyper-focused on functional design.
He wanted these real-walnut headphones to feel and perform as gorgeously as they look. A relaxed flexible headband design just seems to sink into place with very little adjusting. It's one-and-done. The butter-soft earpads nestle your ears and these headphones stay in place nicely as you move.
You'll likely be testing them out with a head nod or two. Few headphones in this price range sound as lively and refined.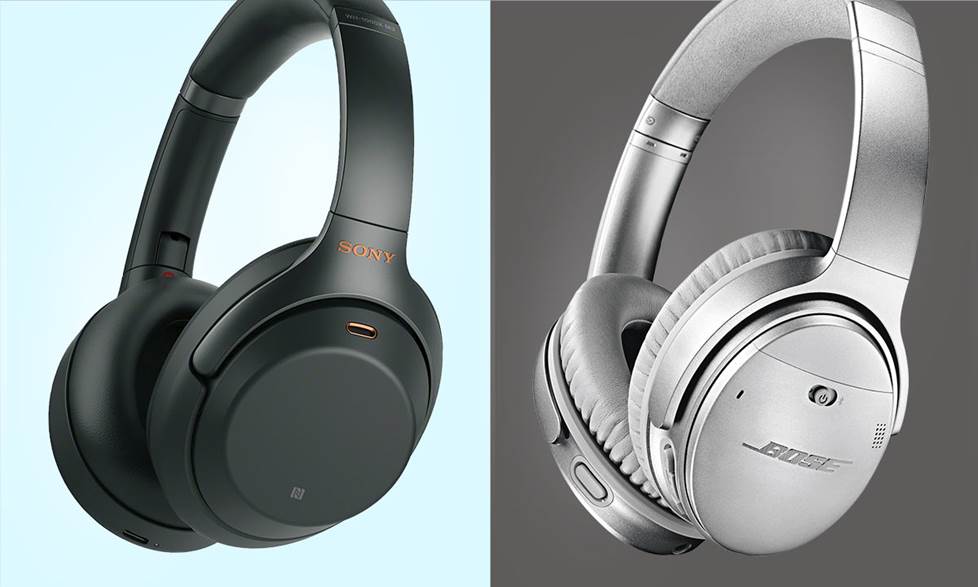 Most comfortable for office — Sony WH-1000XM3
Fit Factors: Stays in place, feels lighter than most, roomy earcups
Tester comment: "I own these! Nice-sized earcups, weight evenly distributed." — Eric, Crutchfield employee development specialist
(2021 update: The next-generation Sony WH-1000XM4 headphones are now available, and I found the fit slightly more relaxed with even softer and roomier earcups.)
Most comfortable for flight/travel — Bose QuietComfort 35 II
Fit Factors: Ultra-light, relaxed fit, soft earcups
Tester comment: "Super lightweight. Nice fit around ears and still loose enough to avoid pressure. I could wear these for a while." — Alex, Crutchfield senior UX designer
(2021 update: Likewise, the Bose QuietComfort 45 have been released. These newer headphones look almost identical to the QC 35s, but feel even lighter on the head.)
I'm listing these two together because they duked it out for the two recommended use cases of "office" and "flight/travel." And they were a close first and second to each other in both categories.
That's no surprise. These are two of our top-selling and best-reviewed headphones. And whenever we put them up against each other, they are neck and neck in every category from noise-cancellation to sound quality to feature set. Of course they are practically in a dead heat when it comes to comfort.
The testers gave the QC 35s high marks for the relaxed fit and lightweight design. For the 1000XM3s, the secure, stable fit and roomy earcups were most notable.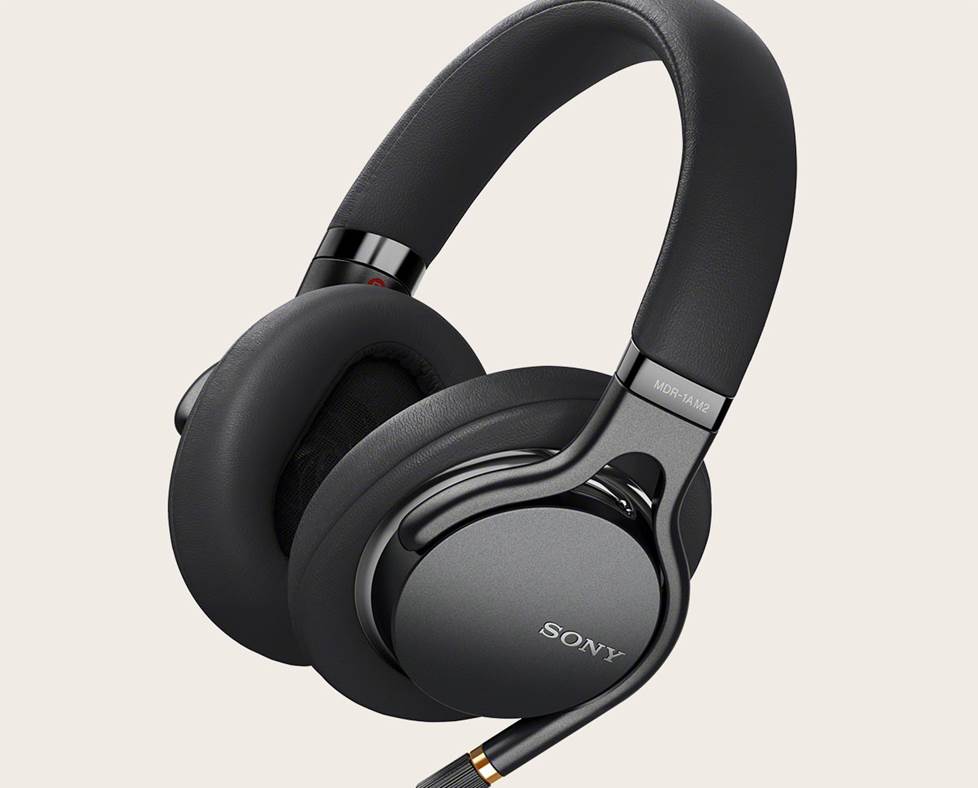 Fit Factors: Ultra-light, stays in place, soft padding (earcups)
Tester comment: "So light. It almost feels like they forgot to put anything inside them!" — Jim, Crutchfield home A/V editor
Saying lightweight headphones "feel barely there" has become a bit cliché when describing headphones. But at 7.3 ounces, these might be the lightest over-ear headphones I've ever used. (And full disclosure: before we started running our tests, this was my pick for most comfortable headphones.)
We tested for "perceived weight" because headphones can often feel lighter or heavier on your head. It all depends on how well the weight is distributed on your head. Few companies do it better than Sony, and the MDR-1AM2 is a shining example.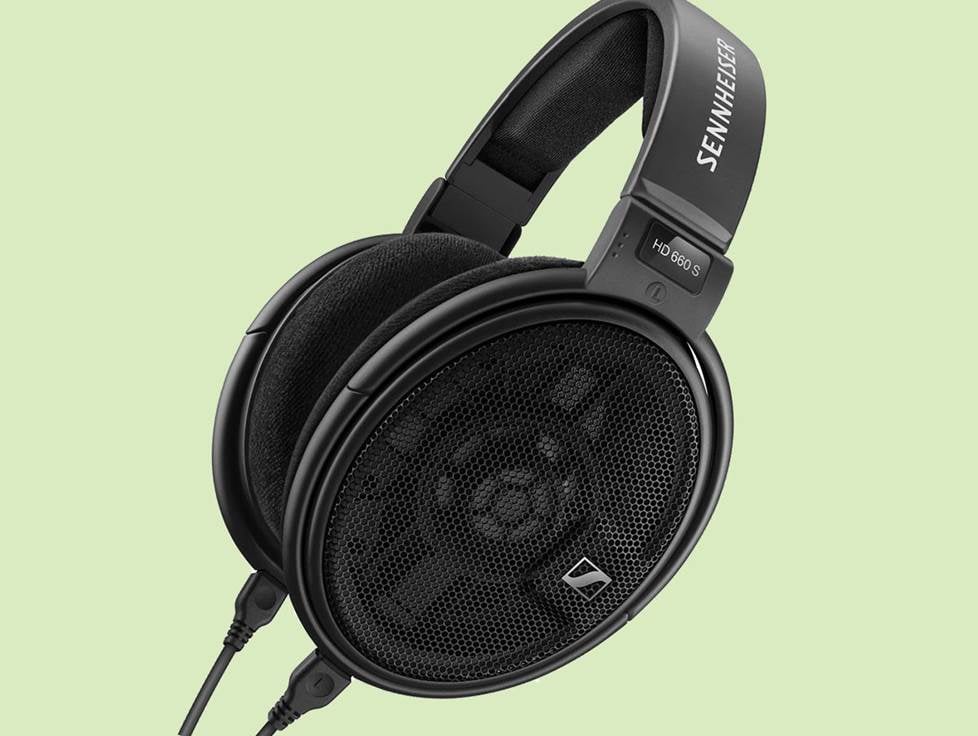 Most comfortable audiophile headphones — Sennheiser HD 660 S
Fit Factors: Feels lighter than most, soft padding (earcups), roomy earcups
Tester comment: "Very comfortable. The weight is just right, the ear cup padding is soft, and they hold firmly to the head without squeezing too tightly." — Matt, Crutchfield catalog editor
For the high-end headphone crowd, sound quality is paramount. Audiophile headphones can be larger and bulkier — all to accommodate larger, more sophisticated drivers.
As a card-carrying headphone fanatic, I'll admit we are generally more forgiving and willing to put up with less-comfortable headphones. But we're still human! And often listen more than most.
The Sennheiser HD 660 S features larger, open-back earcups than most "general purpose" headphones. But the weight is distributed nicely, and our testers said that they felt lighter than other large audiophile headphones. The velvety cloth ear pads press gently on the side of your head, and give your ears plenty of room to breathe.
It's interesting that these scored so well, considering you can trace their lineage back to the early 80s with Sennheiser HD 580. While the drivers have been upgraded, and the materials are different, the design has largely gone unchanged for nearly 4 decades.
Need more help? Contact us!
Want personal advice so you can choose the most comfortable headphones for your use and preferences? Contact us today.
Our expert Advisors know headphones inside and out. Your Advisor can send specific Crutchfield pages to your screen, saving you a lot of browsing time. You'll get a shopping cart loaded up with everything you need.
Free lifetime tech support is included with your Crutchfield purchase.