Sony WH-1000XM4 review
Has Sony made their best wireless noise-canceling headphones even better?
Heads up!
Welcome to this article from the Crutchfield archives. Have fun reading it, but be aware that the information may be outdated and links may be broken.
If you have a good thing going, why mess with success? That seems to be the design philosophy behind Sony's flagship WH-1000XM4 wireless noise-canceling headphones.
Their previous-generation WH-1000XM3 over-ears were some of the best-selling and best-reviewed headphones we've ever offered. So Sony didn't do anything drastic. Instead, they've made a number of subtle changes to improve on that already-impressive foundation.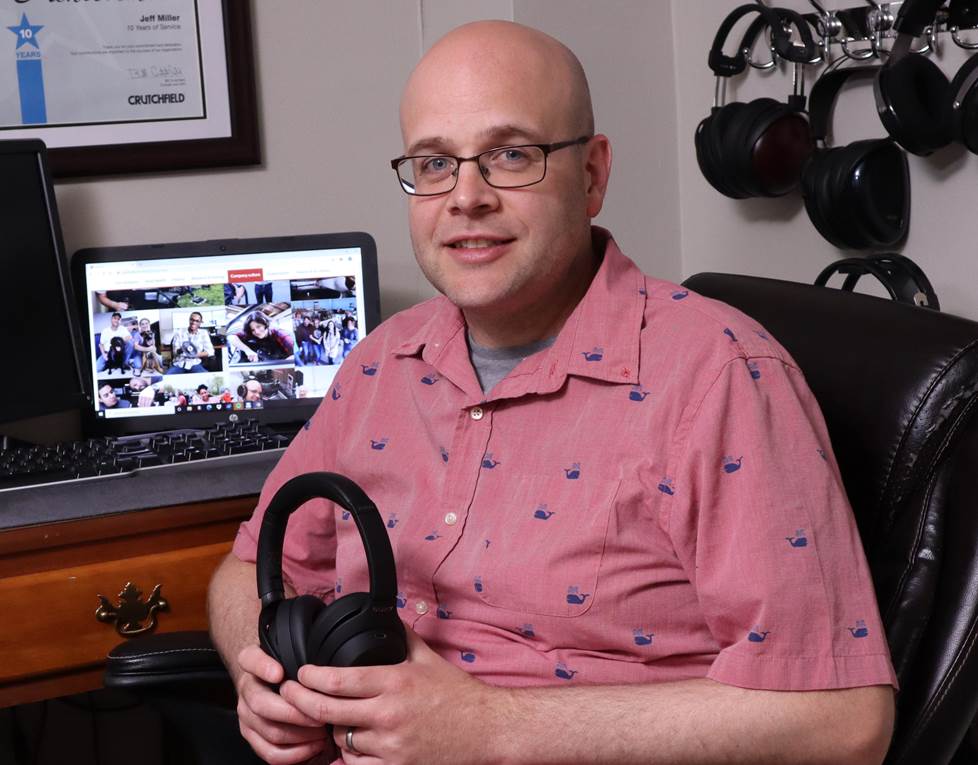 The Sony WH-1000XM4's incredible adaptive noise cancellation helped keep me focused in my home office.
A lot to live up to
Based on the success of the 'XM3s, this sequel is one of the most highly anticipated headphone releases ever. Not hyperbole — I was amazed at the number of Google searches for the term "Sony WH 1000XM4" in the months before their debut. People searched more for these headphones that hadn't even been officially announced than for many popular products that were already established — and available!
So did they live up to the hype? Well, The Sony WH-1000XM4 is my new pick for the best all-around noise-canceling Bluetooth headphones you can buy today.
I was able to spend some time with them both pre-pandemic and during my current home office stint. They work incredibly well in both "realities," so to speak. For travel, work, chores, and even focused listening at home — they check all the right boxes.
So let's get into the details.
WH-1000XM4 vs WH-1000XM3
I'll start with the question on everyone's mind. How do these headphones stack up against their predecessor? Well, in most of the important categories they are at least incrementally better than the Sony WH-1000XM3 headphones.
Of course the last thing I'll do here is disparage the 'XM3s, or label them obsolete. After all, these are the same headphones that made our lists of "Most comfortable headphones," "best wireless TV headphones," and "best Bluetooth headphones overall."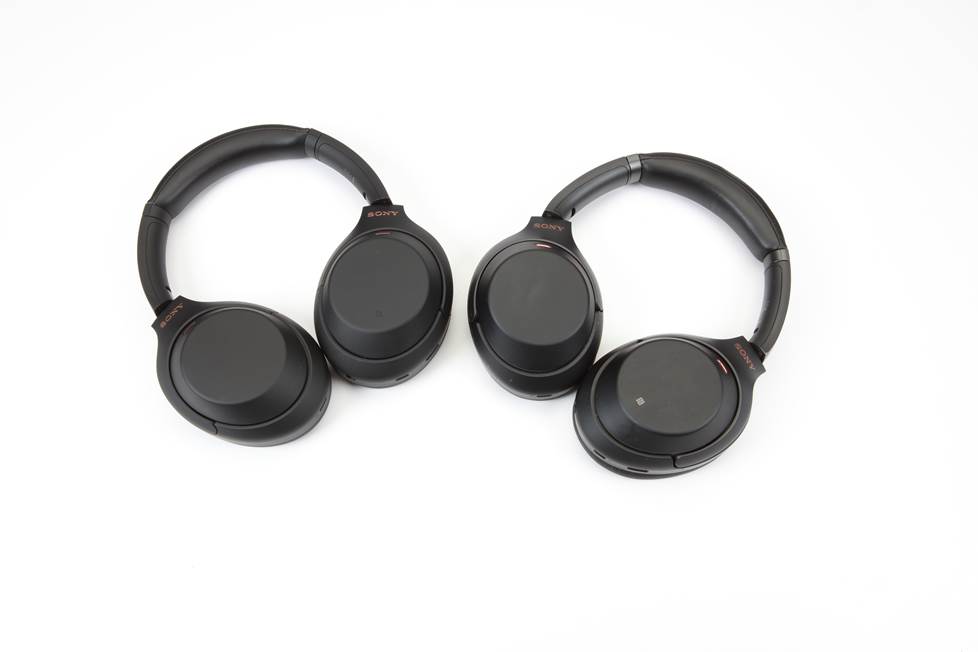 "Can you spot the differences?" The WH-1000XM4 headphones (left) look very similar to previous-generation WH-1000XM3s (right).
So if you own the WH-1000XM3s, you're still holding one of the top 5, maybe top 3 all-purpose headphones available in 2020. But the 'XM4s are indeed superior. While there are no earth-shattering changes, the key upgrades are like those pinches of spice that make the soup taste even better.
Let's go over how they've improved:
Comfort: Late last year, the 'XM3s topped our "most comfortable" list based on scores from 20 employees testing over 50 headphones. The WH-1000XM4s manage to feel just as light and secure on my head, but offer a slightly more relaxed fit. I also found the earpads even softer and roomier, making the headphones easy to wear through entire work-from-home shifts.
Bluetooth 5.0: Speaking of roaming around the house, the important addition of Bluetooth 5.0 cannot be overstated. It offers a whole new level of wireless reliability. With the 'XM4s, I could keep my phone charging on my desk and walk clear across the basement, or even upstairs to refill my coffee. There was no audio dropout in the kitchen — something unheard of with Bluetooth headphones less than two years ago!
Noise cancellation: The noise-canceling circuitry inside the 1000XM3s was already world-class. Their groundbreaking QN1 processor knocked out distractions from all frequencies. But I found the 'XM4s — somehow — even better at canceling noise. I stood right next to my dishwasher and the noise cancellation easily knocked out the constant, low-frequency hum. But I also couldn't hear the high-pitched whistles and less-consistent draining water sounds.
Pairs to two devices simultaneously: This was game-changer for working from home. The '1000XM3s could only pair to one device at a time, but I could pair the 'XM4s to both my work laptop and my phone at the same time. This made it super easy to toggle back and forth between music, podcasts, and videos, grabbing an incoming phone call, or hopping on a Zoom/Microsoft Teams meeting. I didn't have to re-pair the headphones each time I started a new task on a different screen.
Another nice new touch: The music pauses when you remove the headphones — very convenient.
One key area where I'll call it a draw: the sound. You still get Sony's spacious, well-defined sound, but they've leaned more toward the bass for the 'XM4s out-of-the-box tuning. That could sound disconcerting to those who felt the 'XM3s were a little bass-heavy themselves. But using Sony's helpful Headphones Connect mobile app, you can easily tweak the sound to your liking.
More on the app and the sound in a bit.
Relaxed, secure fit with roomy earcups
When we did our deep dive on comfort last year, we learned that security and stability mattered most to our testers. In other words, how well the headphones stayed in place. The '1000XM4s have a form-fitting design and they didn't move around. But they also didn't clamp or squeeze my head too hard. And these headphones feel so much lighter than they have any right to, with all the technology and sensors packed inside.
I wear glasses, and didn't feel discomfort in the places where headphones notoriously add pressure. Like where the earpads meet the temple, where the arms notch behind my ears, or how the frames or nosepads rest on my face. All felt pretty natural.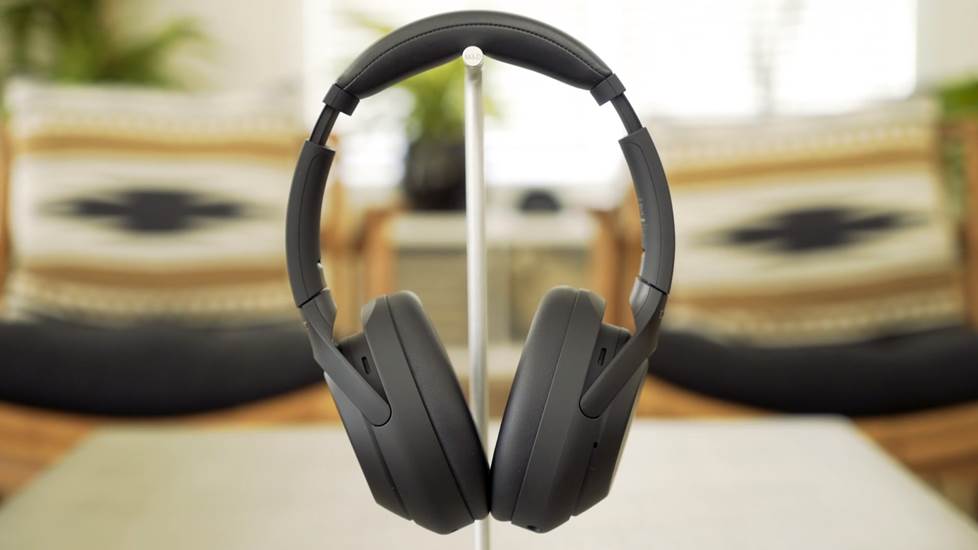 The headband had just the right mix of sturdiness and give, while the earcups felt roomy and soft.
Wearing these headphones with a baseball cap caused no trouble either. Some headphones just don't work with a hat — the headband won't fit as well, or the pressure ends up in the jaw area. With the '1000XM4s, I felt a little extra pressure below my ears, but the earpads were so well-cushioned, and the weight was distributed so well, that it caused little irritation.
Finally, I wore them with a face mask, even though I didn't go anywhere with them that required one. I have a fabric mask that wraps around my ears, and tends to make them stick out a bit. Well, maybe it was spacious earcups, but the headphones fit just fine — and still stayed secure.
Long-lasting battery life
The WH-1000XM4s offer 30 hours of wireless use (with noise-canceling) on a full charge, the same that Sony offered for the WH-1000XM3s. There are other wireless noise-cancelers on the market that offer more, but this is plenty — even for those of us who always forget to recharge. I got over a week and a half of heavy use before I had to plug in the USB-C adapter for the first time.
Plus they do have a quick charge feature if you need extra power in a pinch. Recharging for 10 minutes gives you up to five hours of use.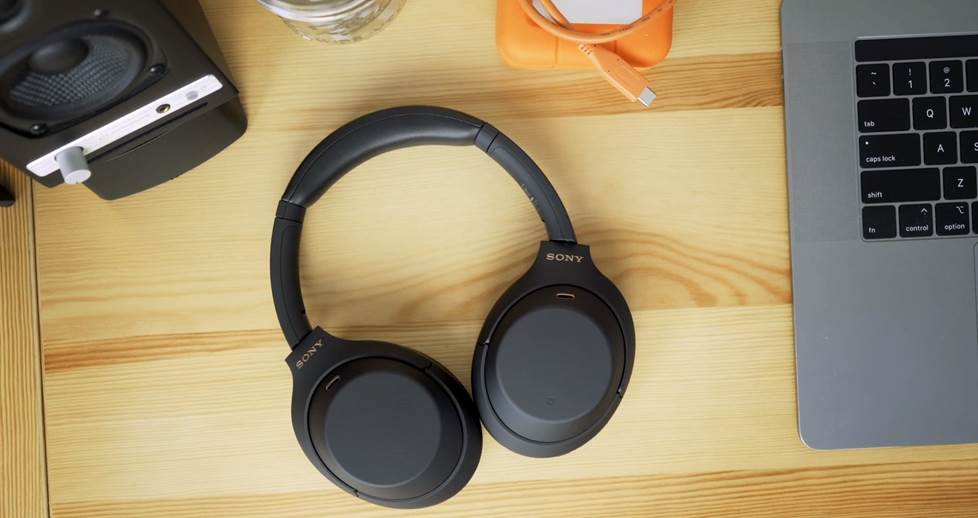 30 hours of battery life proved plenty for over a week's worth of use during work.
Personalized, optimized noise cancellation
Sony has used adaptive noise cancellation for a while now, and I've always found the circuitry very effective. It takes your surroundings into account, then adjusts the level of noise cancellation.
Special on-ear sensors can detect whether you are moving or standing still — and even if you're wearing glasses or not. Another sensor monitors barometric pressure for flight.
You get a certain level of "one-size-fits-all" noise-cancellation at first. But when you press and hold the "Custom" button, it takes you through the noise-canceling "optimization" processing. You first hear a series of test tones that samples the external sound. After that, a voice says "system optimized," and the personalized noise cancellation is revealed.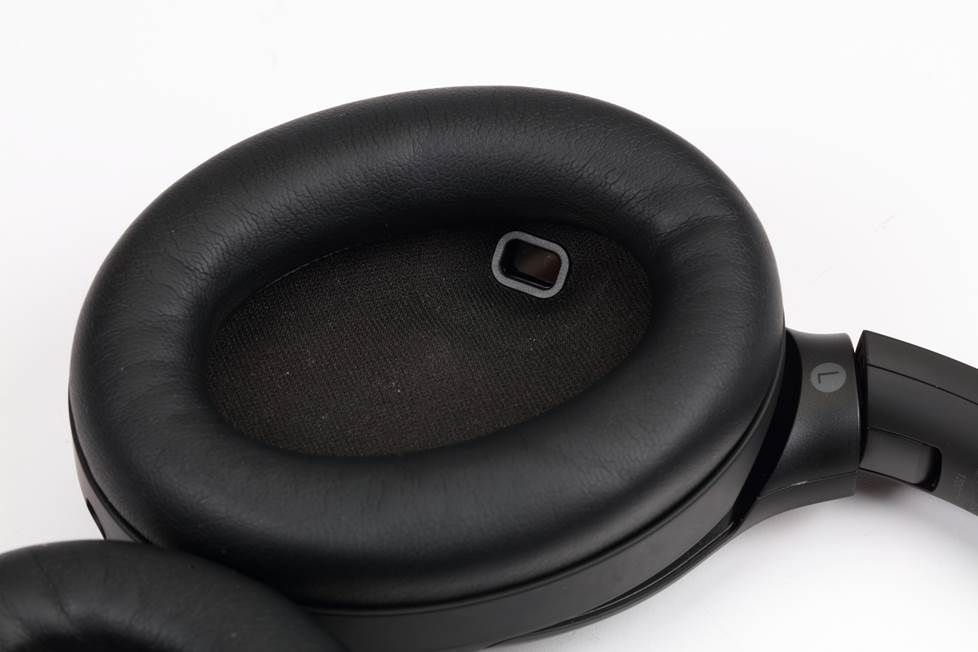 Sensors inside the left earcup help detect if and how you're wearing the headphones, and adjust the settings accordingly.
The results can be pretty shocking. Standing next to my dishwasher, I had to lift an ear cup just to make sure it was still on. Back at my desk, the distracting sound of my HVAC system was completely neutralized before I even pushed play on my music.
I was so impressed that I immediately fired off an email to Sony. How could they refine their noise-canceling even further? I asked if they were still using the same QN1 processor from the WH-1000XM3s (and their WF-1000XM3 true wireless earbuds).
"Yes, we are still using the QN1 processor," said Shunsuke "Gator" Nakahashi, Sony's product manager for headphones. "But we have brand new algorithms and a state-of-the-art Bluetooth chipset that helps improve the noise-canceling quality."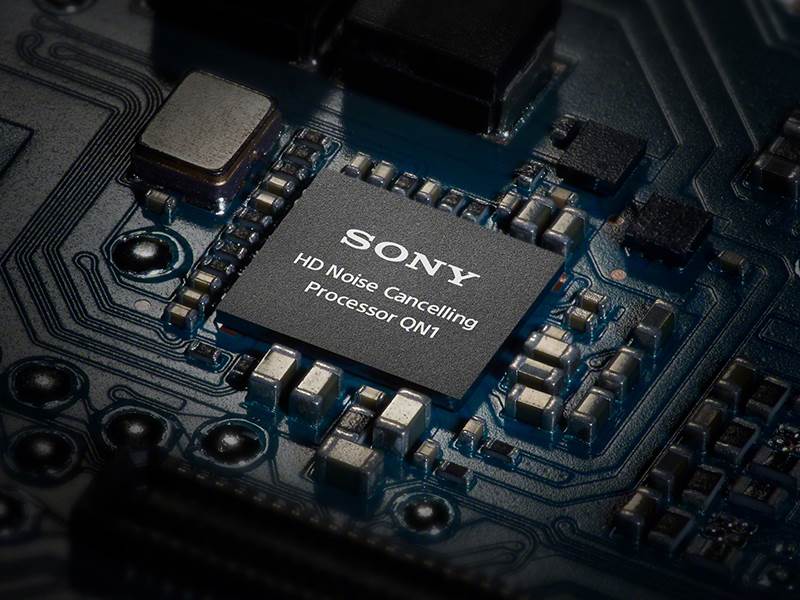 Sony's groundbreaking QN1 processor works in concert with newer circuitry and algorithms to deliver their best noise cancellation yet.
Touch controls and an app that's actually useful
Two other features that have carried over from previous generations are the touch controls and Headphones Connect, available as a free download for Apple and Android. The right earcup has a touch-sensitive panel for controlling music, volume, and calls. I found the swiping and tapping to be snappy and intuitive.
And everyone's favorite feature is back — called "Quick Attention." It lets you instantly hear important ambient noise or voices. Simply place your hand over the right earcup to temporarily turn off the noise-canceling technology. Tiny built-in mics will pick up external sounds.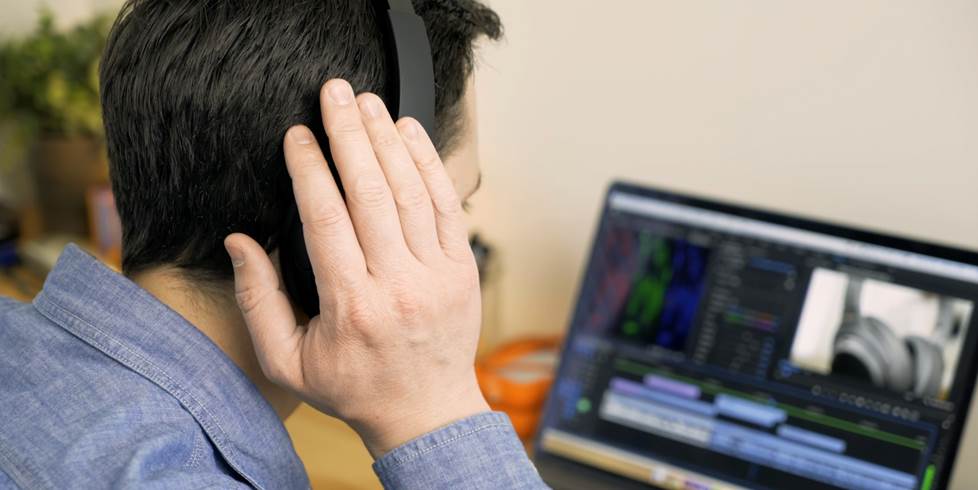 In a "meta" moment, Crutchfield Producer Phillip uses the WH-1000XM4's "Quick Attention" feature while editing our video on these headphones.
You can also choose how much ambient sound to let in using the Headphones Connect app. Most Bluetooth headphones these days have a companion app, and I don't always recommend downloading them. But I've found that Sony's app is extremely useful for these headphones.
Using the app, you can customize the sound characteristics and level of noise cancellation or ambient sound based on your task, movement, or even location. It uses the headphones sensors and your phone's movement sensors to adapt automatically, or you can set it manually.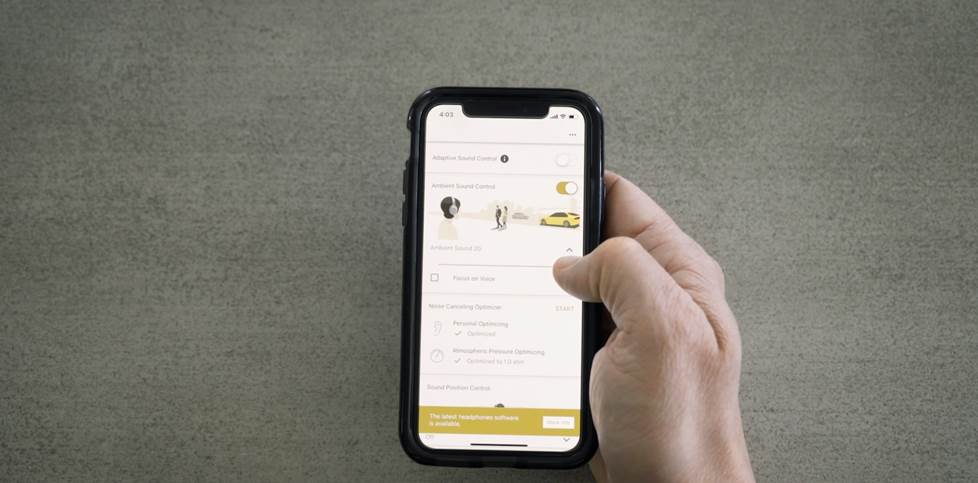 You can manually choose how much ambient sound to let in, or the app will adapt to your movement or location.
I tested it by leaving my desk, pocketing my phone, and walking down the street with my dog. Noticing I was on the move, the app quickly kicked into ambient awareness mode and the outside world seeped in. It's obviously always good to hear your surroundings outside. In my quiet cul de sac, it's never busy during the day — which can be even more dangerous because you don't expect that car to come down the road.
Detailed sound with clear vocals and hard-hitting bass
Last year, I spoke to Sony Walkman engineer Tomo Sato in New York City, and he laid out Sony's sound philosophy for me. "Our sound policy has always been the same," he said. "We deliver a very wide soundfield, with clear, defined sound position."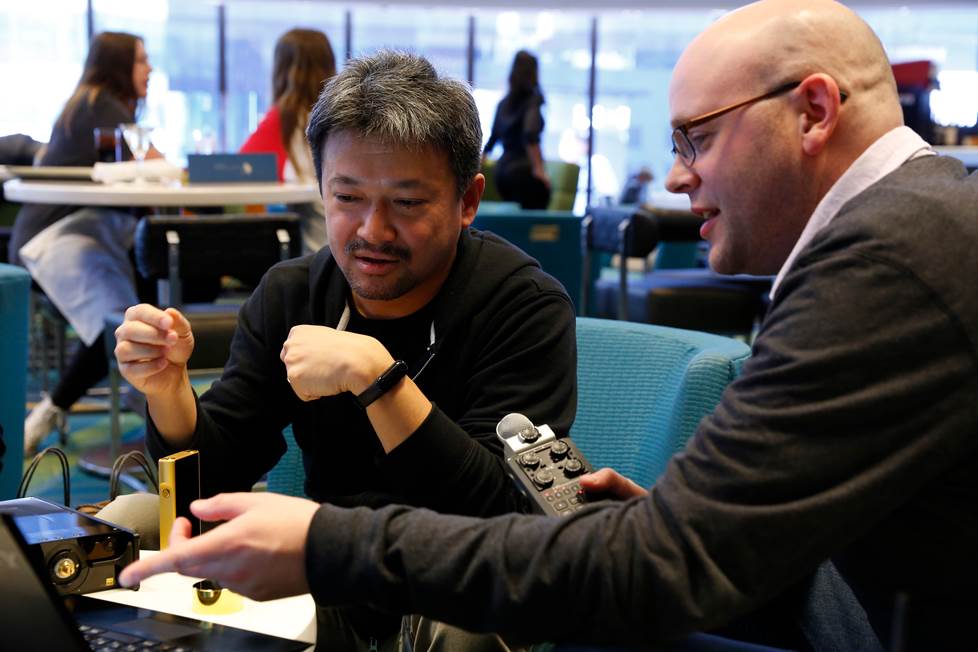 Back in 2019, I spoke to Tomoaki "Tomo" Sato of Sony Tokyo about the company's tell-tale sound characteristics.
So I kind of knew what to expect going in. Sure enough, when connected to my phone via Bluetooth, the WH-1000XM4s delivered sound with a clear sense of space and depth. Instruments were easy to pick out and pinpoint, and vocals jumped out dead center.
But I'll admit that I was surprised to hear the extra low-end punch. Don't get me wrong, I know Sony can bring the bass — they have a whole line of EXTRA BASS™ headphones. And I actually liked the extra oomph that the WH-1000XM3s delivered out of the box, even when other reviewers knocked them for it.
So it's not that I don't like bass in general, it's that I found it a little too boomy for some tracks. Particularly hip-hop, where it might seem counter-intuitive to complain about too much bass. But on the Run the Jewels RTJ4 album, I thought the bass overpowered the midrange a bit, and actually diminished the emotional impact and energy of some of the songs.
But not to worry! Sony always brings next-level sound processing. And that state-of-the-art Bluetooth chip has Sony's in-house wireless audio coded LDAC on-board, so they pair up nicely with a Sony Walkman portable high-res music player. (Note: these headphones do not feature the popular aptX or aptX HD codecs.)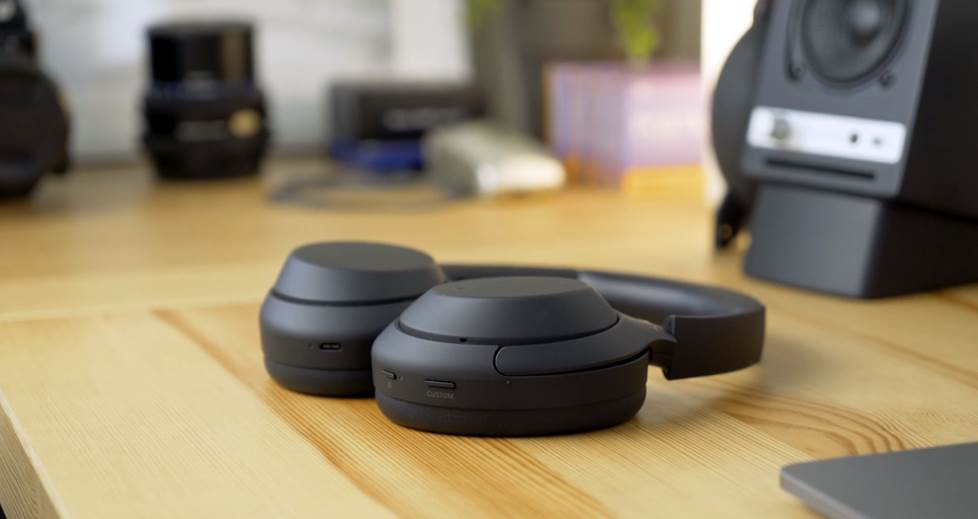 Sony's stellar sound processing helped refine the bass, so that it was dialed in precisely how I like it.
My phone also has LDAC, so I turned that feature on in my Bluetooth settings. Now the bass seemed better contained, though just as potent. It sounded more like a sub reacting to the walls in a room, with more realistic reverb and less muddiness. There was extra space around Killer Mike and El-P's vocals and the entire track felt more alive.
And LDAC or not, here's where Sony's Headphone Connect app really holds its weight. You can choose from several sound presets or manually adjust the EQ.
You don't have to be a sound engineer. You can adjust the bass just by sliding the "Clear bass" control up or down. With the sound honed in, I played a track I often use as a reference for audiophile headphones, "Even Now" by Walter Wolfman Washington featuring Irma Thomas.
The wonderful juxtaposition of the two New Orleans legends' voices can be challenging enough for some headphones to handle — his deep and smoky and hers smooth and thick. The duet sounded just right through the 'XM4s once I had the low-end reined in.
Meanwhile, the percussion and bass notes felt full and substantial, but never at the expense of the vocals or beautifully haunting piano keys.
I'll note that the headphones sounded a little different with the noise cancellation "off." I preferred to keep it on.
As far as using a wired connection, I would still suggest turning the headphones on and using Sony's built-in audio circuitry and processing. That's where the strength of these headphones lies. I listened passively through the iFi Audio ZEN DAC, a compact yet very capable DAC and headphone amp. It sounded perfectly fine — but nowhere near the level of when I turned the WH-1000XM4's power on.
Sinking into the Sony WH-1000XM4 headphones is nothing short of a treat — they do everything, and do it all well.
My final take
I'd like to let you in on my mindset as I write these reviews. I'm very aware that you, the reader, know that I work for Crutchfield — and we've proudly been business partners with Sony since 1982.
But we do offer over 300 other headphones of all shapes and sizes.
All of them have their own set of strengths, or work especially well for one task or another. My job is to cut through hype and deliver clear information to help you find the right gear or solution. And when it comes to versatility, doing the most —and more importantly — exceling in every important category?
The Sony WH-1000XM4 wireless Bluetooth noise-cancelers are the best all-around headphones available right now.
Questions? Contact us.
If you have any questions about these or other headphones, we're here to help. Contact us, and we'll make sure you end up with the right set of 'phones.