ony has outdone themselves, literally. The WF-1000XM5 noise-canceling earbuds replace the previous-gen 'XM4 as my pick for "best all around" true wireless headphones of 2023.
They made these earbuds smaller and 20% lighter than their popular predecessor and then loaded them with meaningful updates. That includes new noise-canceling circuitry and algorithms, a state-of-the-art wireless chipset, and (somehow) larger drivers.
Taken together, the upgrades improve the comfort, controls, sonic detail, and phone call clarity. They also serve up noise cancellation that's so adaptive that it can essentially adjust to external sounds in real time.
WF-1000XM5 vs. WF-1000XM4
The 'XM4s have been our best-selling AirPod alternative since 2021. During that time, many considered them the gold standard of true wireless earbuds. They simply excel at everything they do — and they do a lot.
The previous-generation 'XM4 earbuds (left) were compact, but the WF-1000XM5s (right) are even smaller and are 20% lighter.
But wireless noise-canceling earbuds have improved across the board in the last two years. The competition is much stronger now. So, Sony's engineers developed new cutting-edge tech — but they also went back to the company's roots and bet big on well-balanced sound.
Leaning on their connections with Sony Music Studios, they've tuned these earbuds for accuracy and detail across all frequencies. They call their new driver system "Dynamic Driver X," and it uses the larger 8.4mm diaphragms to deliver an outside-the-head sound presentation.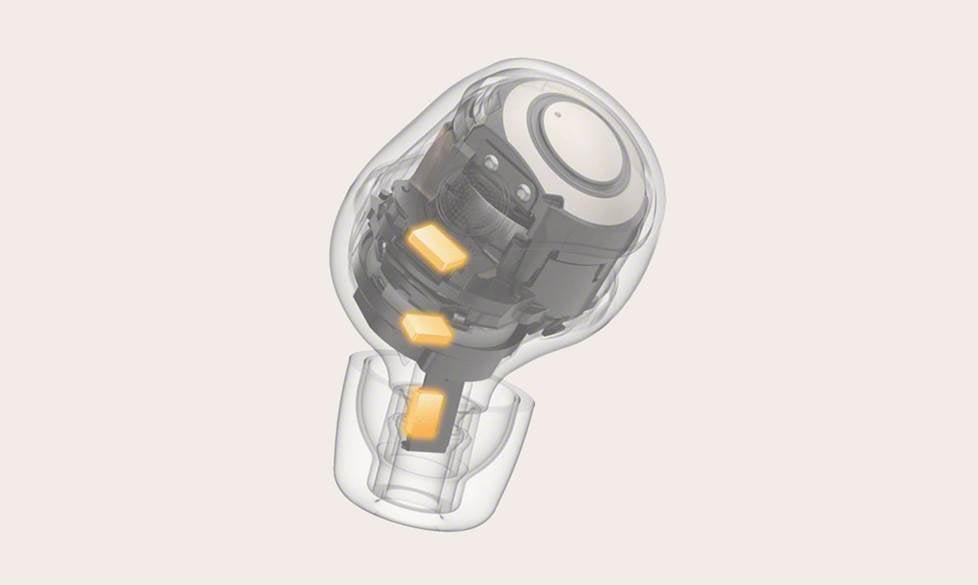 These earbuds feature large drivers and advanced processing chips for better noise cancellation, sound, and phone calls.
The Driver X system also works with two new wireless processing chips — the QN2e and V2 chips — to help cancel out external noise and distractions. That's twice the number of chips found in the previous generation earbuds. All of this sounds great on paper, but I wanted to find out firsthand how the 'XM5s compared to the 'XM4s and other top wireless earbuds.
Unboxing with earth-conscious packaging and earbud material
One area where Sony has been a pioneer among electronic companies is with their sustainable packaging. Going back a few product generations, they've packed their headphones in a low-key, yet substantial carton made of a recyclable blended material.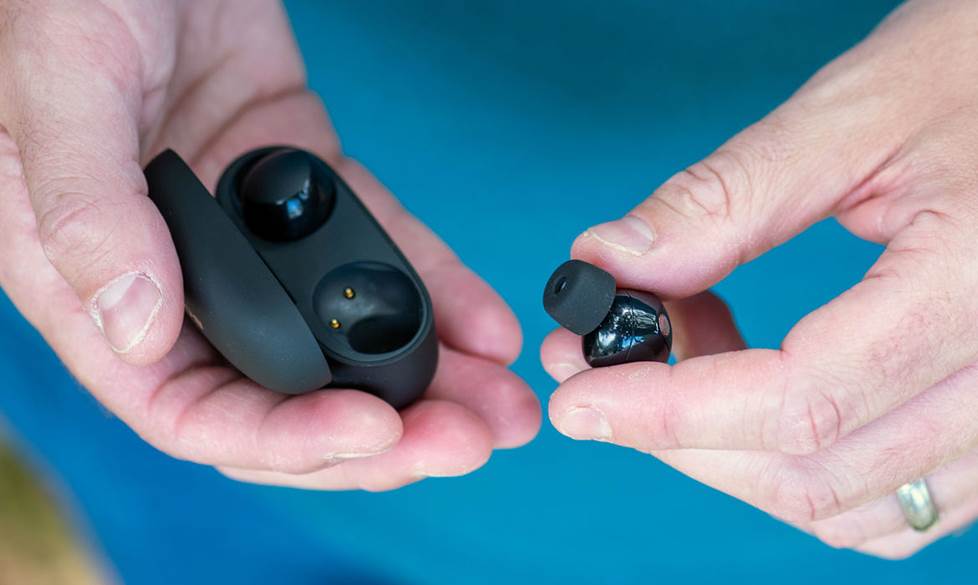 The pocket-friendly charging case banks enough power to recharge the earbuds twice.
We've seen other major companies jump on this refreshing trend. With the 'XM5s, Sony has taken it a step further — parts of the earbud itself are made from factory-recovered plastic. Still, the design looks sleek and elegant, with a shiny and polished finish surrounding the familiar matte texture of the outer 'bud.
Lighter, more ergonomic design:
It's not just that Sony made the 'XM5 earbuds smaller (and shinier) — they've also tweaked the shape so that it more closely follows the outline of your ear. This makes them look and feel less bulky, while better avoiding pressure points.
The polish does give them a slicker feel that can be hard to grip. Occasionally, that made them a little harder to pull from the case. But when worn, it also made them feel a bit more pleasant to me than the 'XM4s.
Redesigned foam tips for a noise-isolating seal
Sony included four sizes of foam ear tips, specially designed to expand and create a noise-isolating seal. I've always been a big fan of foam tips because of how well they avoid pressure points. These are thinner and even more malleable than the foam tips included with the 'XM4s. Plus, they now include size XS earbuds for smaller ears.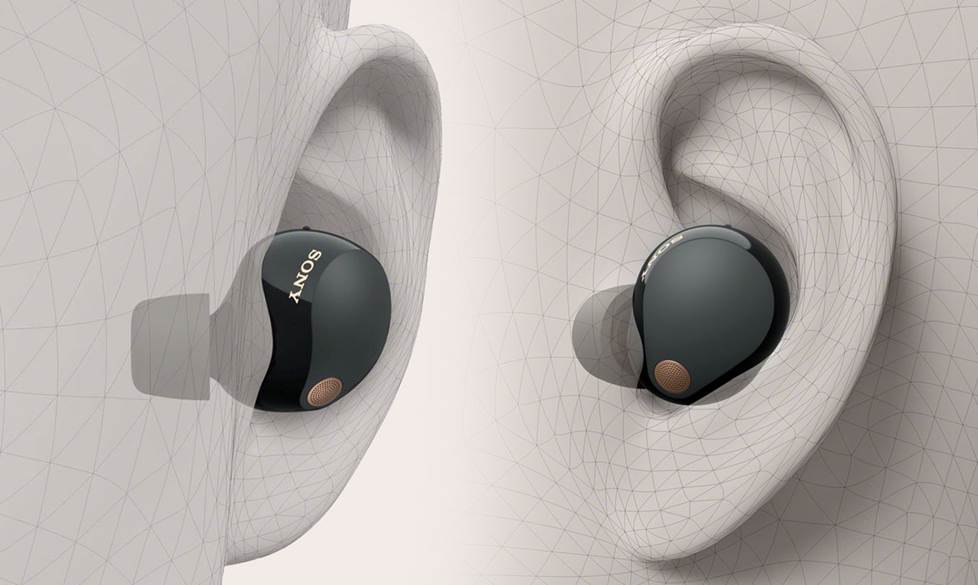 Malleable foam tips offer a secure fit with a proper seal for better noise cancellation and stronger bass.
Aside from their comfort, these ear tips help passively block out noise and dial in the sound. That tight seal reinforces the bass impact and positions the drivers so that they're correctly aligned with your ears. I did find they could slip around a bit when I was mowing, so it might be worth trying the next size up for exercise or other physical activity.
Better noise cancellation across all frequencies
Sony improved their noise-canceling circuitry, which is no small feat. The 'XM4s are among the few earbuds that cancel noise as well as the best over-ear models. I can count the rest on one hand.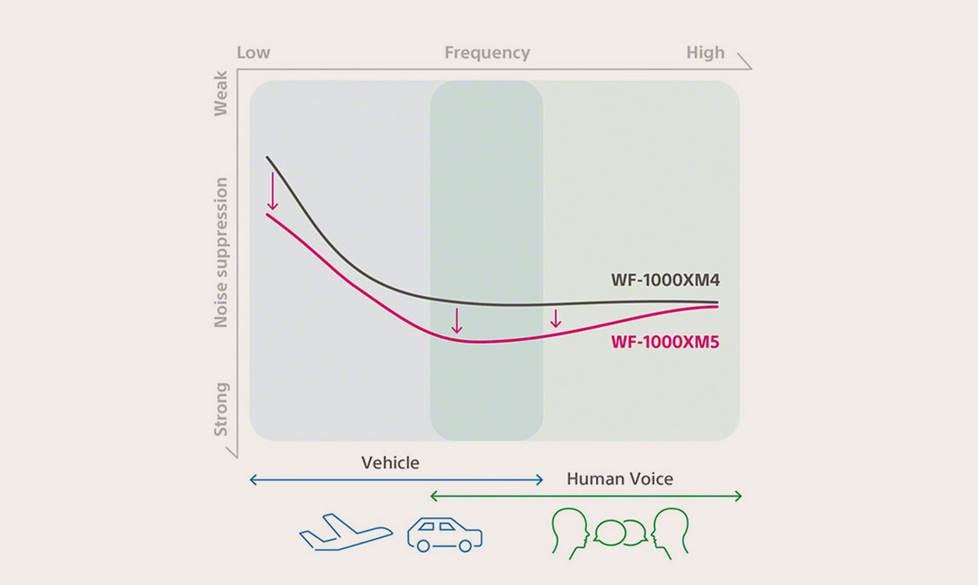 Internal Sony user testing showed great improvement in noise cancellation — a game changer for those who like to travel light.
In fact, this is an area where other companies have shown vast improvement. I thought the 'XM5s did a slightly better job of canceling noise than the Apple AirPods Pro 2. Overall, I still give the Bose QC Earbuds II the nod for creating a blanket of "quiet" in most situations. But Sony's super-reactive processing does a phenomenal job of adapting to outside noise.
I could sometimes hear the noise-canceling circuitry reacting and adjusting itself to external sounds. It was never distracting, though, and it silenced constant, patterned noises well. Sony focused on quieting the range of noises that matter most for work and travel — lower frequency sounds of motors and machines and the mid-to-high area where voices live.
Other improvements over the WF-1000XM4 earbuds
Here are a few other places where the 'XM5s improve on the previous generation:
Bluetooth 5.3 for music, podcasts, and calls: This is the latest iteration of the popular wireless technology and offers a strong, reliable connection. There's support for the new lossless LE Audio codec (along with Sony's LDAC codec) so you can stream high-resolution audio files with compatible devices. It also works with Sony's proprietary chips and mics to improve phone call quality, using AI-based processing to eliminate background noise and home in on your voice.
Pair two devices simultaneously: You get multipoint connection out of the box. That means you can pair the 'XM5s to your phone and a second device, like your laptop. It makes it super-easy to toggle back and forth between, say, a podcast and a call, or to jump on a meeting for work.
Strong battery life with faster quick charge: You still get the same eight hours of listening with a full charge, and the case banks 16 hours of power to recharge the earbuds. But now just three minutes inside the case gives you up to an hour of use.
Built-in head-tracking for spatial audio and AR games: This is among the interesting features you can choose to activate with the optional Headphones Connect app for Apple® and Android™. Head-tracking adds further immersion for 3D audio formats, like Sony's own 360 Reality Audio. Sony says game developers are implementing the head-tracking feature into future augmented reality games.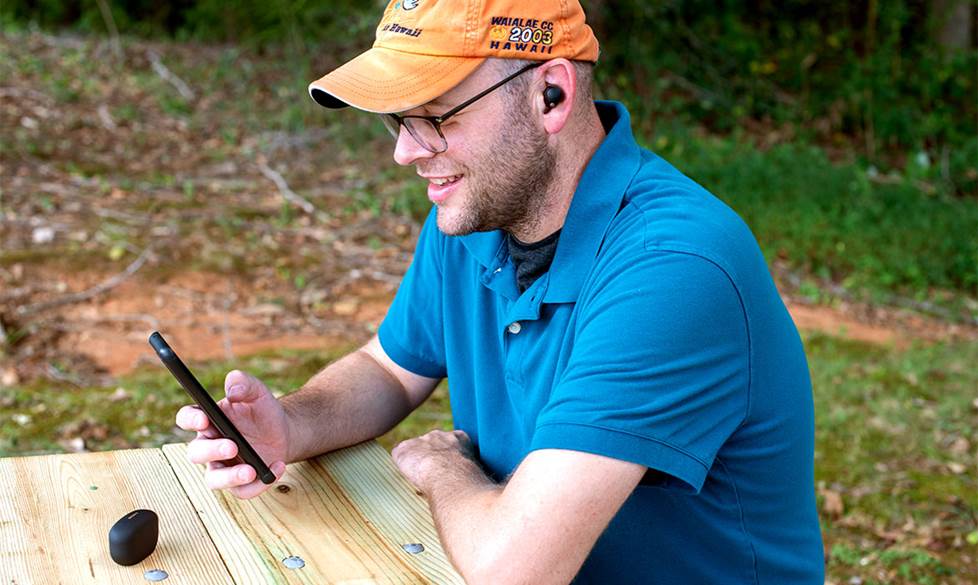 While I enjoyed the out-of-the-box tuning, I could further adjust the EQ through the app — some tracks benefitted from more or less bass.
My listening impressions: Spacious, powerful sound
Sony paid close attention to vocal clarity and powerful, realistic bass punch. Out of the box, the bass hit hard, but I found that the low end was a little tighter and more refined than the 'XM4s.
For the Driver X system, the domes and outer edges are kept separate and made of high-grade materials. It's all to keep them moving in a quick, uniform fashion. It's how Sony creates that huge sound presentation without sacrificing detail or dynamics.
Clear mids and vocals and tight bass punch
Even with the sound stage extended, I never felt like the sonic impact, or overall sense of place was weakened. The Freddie White Live on Tour 1978 album includes an acoustic cover of Guy Clarks' "Desperadoes waiting for a train." Through these earbuds, I was drawn into the intimate vibe of the guitar and vocals, but could also sense the larger scope of the room and feel its reverb and decay.
White's deep vocals seemed to emanate from right in front of my face, with the guitar slightly off-center to the left. It was such a pristine, realistic presentation that I actually caught my head nodding forward — as if I was leaning in — at one point.
That brings me to another pitfall avoided by Sony. Headphones with this kind of muscle in the bass can sometimes sound recessed or muffled in the mids, yet shouty or sibilant in the highs. These effects can really show up in acoustic tracks, where certain chords or vocal patterns trail off while others sound overemphasized, or just present themselves in unnatural way.
Here, the upper mids and highs held their own, felt fully formed, and never grated. In fact, if vocals and mids sound like they're further away than they should be, it could indicate that you need to slightly adjust the fit of the foam tips.
In hip-hop and EDM tracks with extra sub-bass, it's nice that these earbuds can go deep, but also have a level of nuance and control. When the bass knocked on the Nas track "Earvin Magic Johnson," I got that authoritative, physical sensation in the gut. But it didn't distort or bleed into the high-pitched sped-up sample in the chorus. And it complemented the legendary emcee's raspy vocals, a thumping foundation to his sing-songy flow.
Product highlights
Featured in our articles: Best workout headphones for 2023 and Best true wireless earbuds for 2023
100% wire-free headphones with active noise cancellation
Bluetooth 5.3 for wireless music listening and phone calls (with LDAC and LE Audio decoding)
multipoint connection for pairing up to two devices at once
8.4mm dynamic drivers tuned for spacious, articulate sound with a wide frequency response
IPX4 water-resistant design
built-in rechargeable batteries offers 8 hours of listening with noise cancellation (13 hours without)
compact charging case banks up to 16 hours of power to wirelessly recharge headphones
free Sony Headphones Connect app for Apple® and Android™ lets you customize sound and noise cancellation
immersive Sony 360 reality audio playback with optional dynamic head-tracking
touch controls on each earbud let you answer calls, control music playback, and toggle noise cancellation
earbuds can be used one at a time or as a pair
beam-forming microphone system for clear phone calls
warranty: 1 year
Need more help? Contact us!
Have questions about how the Sony WF-1000XM5 true-wireless earbuds compare to others? Contact us today.
Our expert Advisors know headphones inside and out. Your Advisor can send specific Crutchfield pages to your screen, saving you a lot of browsing time. You'll get a shopping cart loaded up with everything you need.
Free lifetime tech support is included with your Crutchfield purchase.