In this article: Our top five headphone picks for running and working out...
... plus, some advice on the features to look for in sports headphones.
From a boxer's hustle up the steps of the Philadelphia Museum of Art to a hopeful Jamaican bobsledding team learning the ropes of the sport, it seems that there's always a song playing to motivate movie protagonists as they progress and improve. One thing's for certain — in the real world, music helps increase performance and endurance. In fact, the National Center for Biotechnology Information did an in-depth study showing just that.
If you're looking to really push yourself and train harder, you'll need good tunes and an equally good pair of wireless headphones to help you along. There are a few things to consider.
Style and comfort
Wireless headphones come in two flavors: truly wireless and mostly wireless.
Mostly wireless headphones are earbuds that have a cable connecting them that goes behind your neck. True wireless headphones are just as their name implies. There's no cable connecting the headphones to your phone or to each other. They provide you with a wire-and-tangle-free listening experience. Both styles use Bluetooth to connect to your smartphone.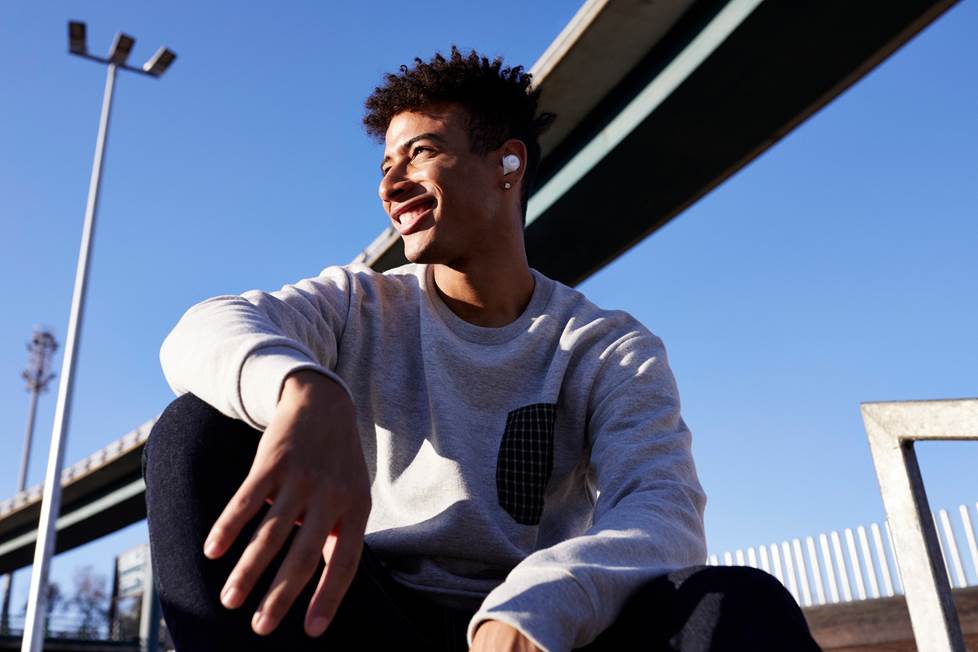 True wireless sport headphones don't use a connecting cable, providing a hassle-and-wire-free workout.
Either style will work for most workout routines. If you don't want the feeling of a wire behind your neck interrupting your reps, go with a truly wireless model. If you're worried you might lose an earbud while doing burpees or running, then I'd recommend going with a mostly wireless model.
There's no point in listening to music while you're pumping iron if the headphones are uncomfortable or constantly falling out. It's crucial to get a pair that stays firmly in place no matter the intensity of your workout. Thankfully, most earbuds come with different sizes of tips and fins to ensure you get the right fit for your ears.
Sound quality
Being able to get into the groove of your music during a workout is paramount. It's hard to do that if your headphones are bass-shy, tinny, or otherwise lackluster. Having your ears blasted by weak sound can really mess with your rhythm and grind, so you'll want to grab a pair that can easily carry all the energy your playlist contains.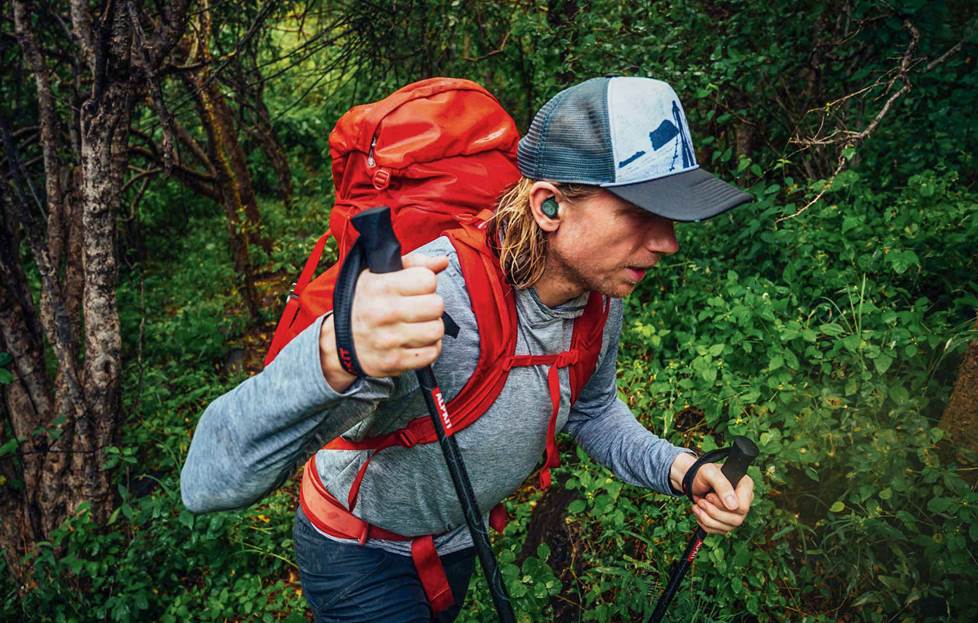 Whether you're hiking or jogging, sport headphones can keep up even in the most demanding environments.
Weather/sweat resistance and ruggedness
Some years ago, I broke my first pair of true wireless earbuds (cheap-ish ones, thank goodness) while I was hitting the heavy bag in my dad's garage. I wasn't aware that the earbuds didn't have much in the way of sweat/water protection, and after only two sessions, they bit the dust. My disappointment was immeasurable, and my day was ruined. Don't put yourself in that same situation.
Make sure your workout headphones have, at minimum, an IPX4 rating. If you're wondering what an IPX rating is and what each rating means, we did an article all about them.
Battery life
Say you have a long gym routine or you're planning on going somewhere after you're done; you'll want your headphones to keep up and stay charged while you're doing your thing. Most models have five or six hours of battery life.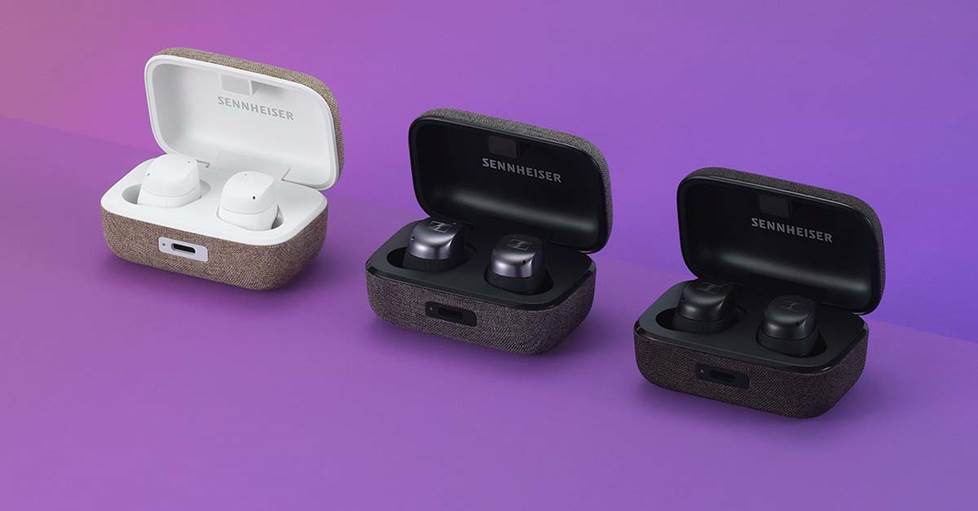 True wireless headphones, like Sennheiser's Momentum 3 earbuds, come with a charging case that stores extra power and extends your listening time.
True wireless earbuds have about the same amount of battery, but there's a nifty twist — their carrying cases double as a charger and offer an additional ten to twenty hours of music playback to your headphones. Some models even feature quick charging, where just a few minutes of having the earbuds in the case nets you an hour or two of listening time.
Controls
Pausing your workout to pick up a call or switch tracks from your smartphone can be a real pain since it breaks up your pace. Wireless headphones typically have onboard controls to alleviate that issue. Most wireless models that have a neckband will have a strip with buttons for answering and hanging up a call, turning the volume or down, and for changing tracks.
True wireless headphones, on the other hand, have a single multifunction button on an earbud that lets you do things with a tap or two. In any case, make sure the pair you've set your sights on gives you convenient controls to reduce interruptions.
Android or Apple control
Smartphones typically won't have an issue connecting with most wireless headphones. However, you wouldn't want to pick up a pair of Apple AirPods Pro for your Android smartphone. Double-checking for compatibility never hurts and it'll prevent bumps in the road later down the line.
Noise cancellation
Earbuds do a good job at blocking out the gym by themselves, but for true isolation, you'll want a pair with noise cancellation built in. They use special circuitry to block out external noise and keep you distraction-free.
Stay safe
Cranking music to power your workout is good and all, but if an emergency happens or if you're running near traffic, you need a way to be able to hear what's going on. I'd recommend checking to see if the pair you're checking out has a pass-through mode that lets in ambient sound.
With all those considerations in mind, here are my top five picks.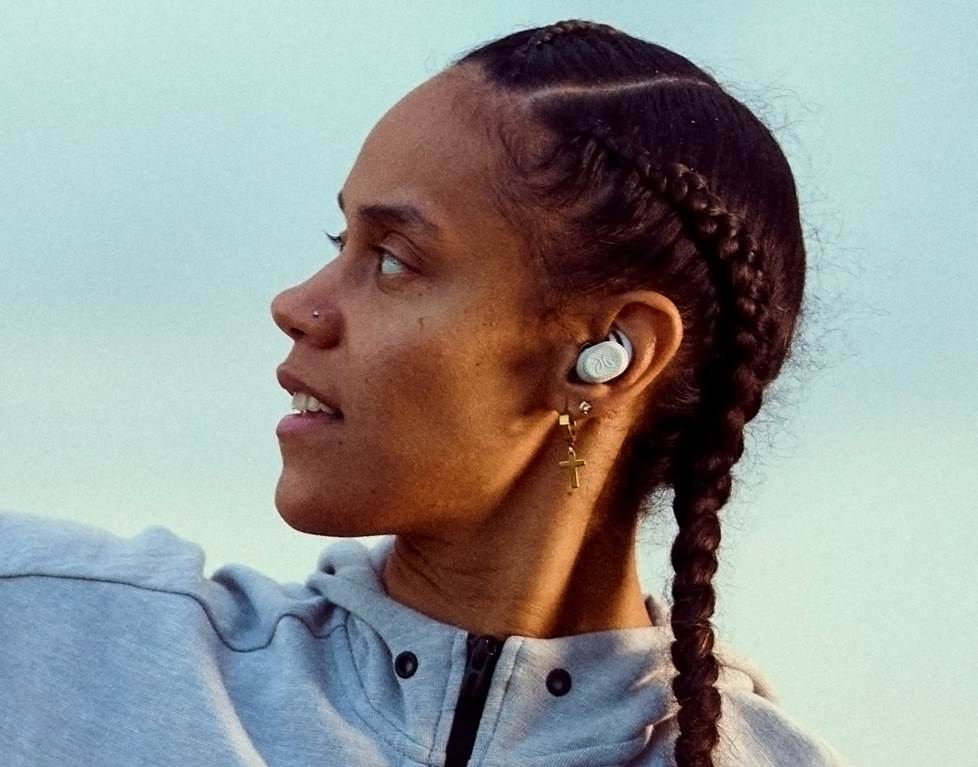 Best headphones for running — Jaybird Vista 2
The Jaybird Vista 2 true wireless earbuds were built from the ground up to be a runner's go-to companion. They're remarkably comfortable, lightweight, and the ear tips and fins they use are some of the snuggest I've ever tried. Their compact carrying case is easy to tote around and has a sixteen-hour charge, so they'll keep going no matter your schedule.
The Vista 2s have deep, punchy bass, tight mids and highs, and an immersive soundstage. If you've got a playlist you enjoy running to, rest assured that these will have no trouble elevating your workout.
Details:
6mm dynamic drivers
proprietary Bluetooth 5.0 chip for a stronger, more stable connection
6 hours of listening per charge
carrying case banks up to 16 hours of power
IP68-rated waterproof and dustproof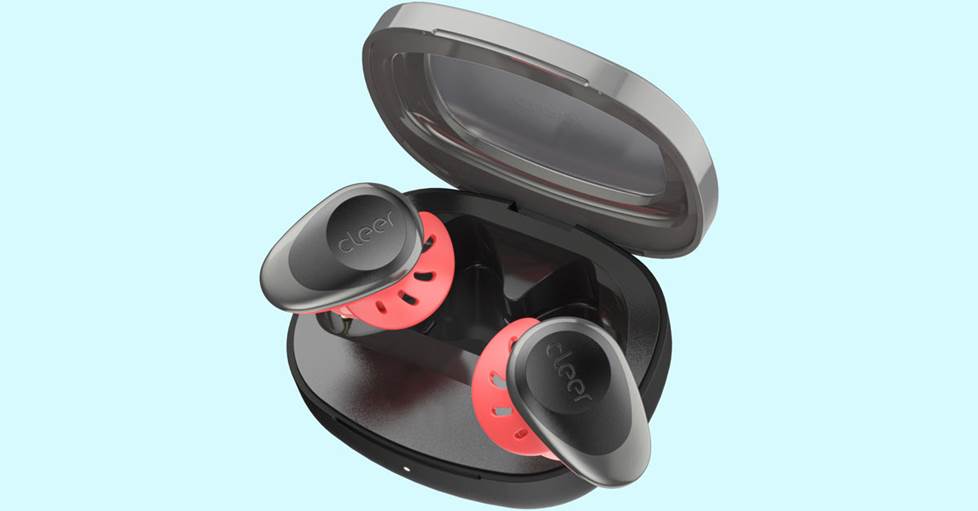 Versatile and rugged true wireless headphones — Cleer Goal
Cleer has been in the audio game for a decade now. They've made a name for themselves by crafting great sounding headphones and earbuds with long battery lives. The Cleer Goal offers active individuals stellar sound and an exceptional snug fit. With their rugged housing, comfortable "Freebit" eartips, and IPX4 water-resistant design, there's not much these true wireless earbuds can't withstand.
The Goals themselves have about 6 hours of battery life before they need to be recharged. The included charging case banks an additional 14 hours of power, giving you roughly 20 hours of listening time total. Even cooler, five minutes in the case nets the earbuds an hour's worth of listening time.
Sound-wise, these earbuds are well-balanced, not relying too much on treble or bass to "lead" the sound, but blending each equally in the mix. That means they'll sound wonderful on almost any genre you can throw at them. Plus, where they're not too bass-heavy, they do offer a degree of passive situational awareness.
Details:
Custom-tuned 13.4mm dynamic drivers
Onboard controls for taking calls and controlling volume
6 hours of listening per charge
included carrying case banks up to 14 hours of power
IPX4-rated sweat-and-water-resistant design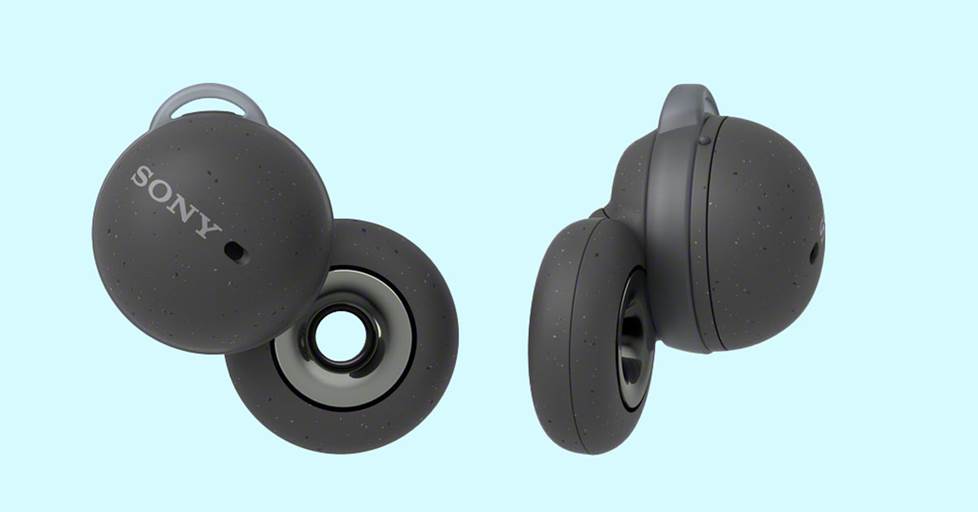 Best in-ear headphones for situational awareness — Sony LinkBuds
Sony's new LinkBuds are perhaps one of the most unique designs I've ever seen. Whereas other true wireless earbuds have some sort of "talk-thru" or pass-through mode, these boundary-pushing buds eliminate electronic sound processing and have a true open-air design.
That's right — the hole in the middle of the driver lets external sounds in and gives you natural hearing. That means you'll be able to hear your gym partner clearly without ever turning your music off. Or, if you're on your morning jog, you can hear traffic and be aware of what's happening around you.
Of course, under normal circumstances, this would impact sound quality. But Sony developed a custom DSP for the ring-shaped 12mm drivers in these earbuds so they still deliver balanced, full-range sound. You can also download the Sony Headphones Connect app and tailor their sound to your liking.
The LinkBuds are IPX4-rated, meaning they're sweat-and-water-resistant. Their compact form factor makes them barely noticeable when they're in your ears while their "fitting supporters" keep them snug and secure. These earbuds also support single-bud operation if you'd rather just use one.
Details
Unique 12mm ring-shaped driver with open-air design
Bluetooth 5.2 for listening to music and phone calls
5-1/2 hours of listening time; carrying case banks an additional 12 hours of power
onboard controls for music playback and calls
IPX4-rated for sweat-and-water resistance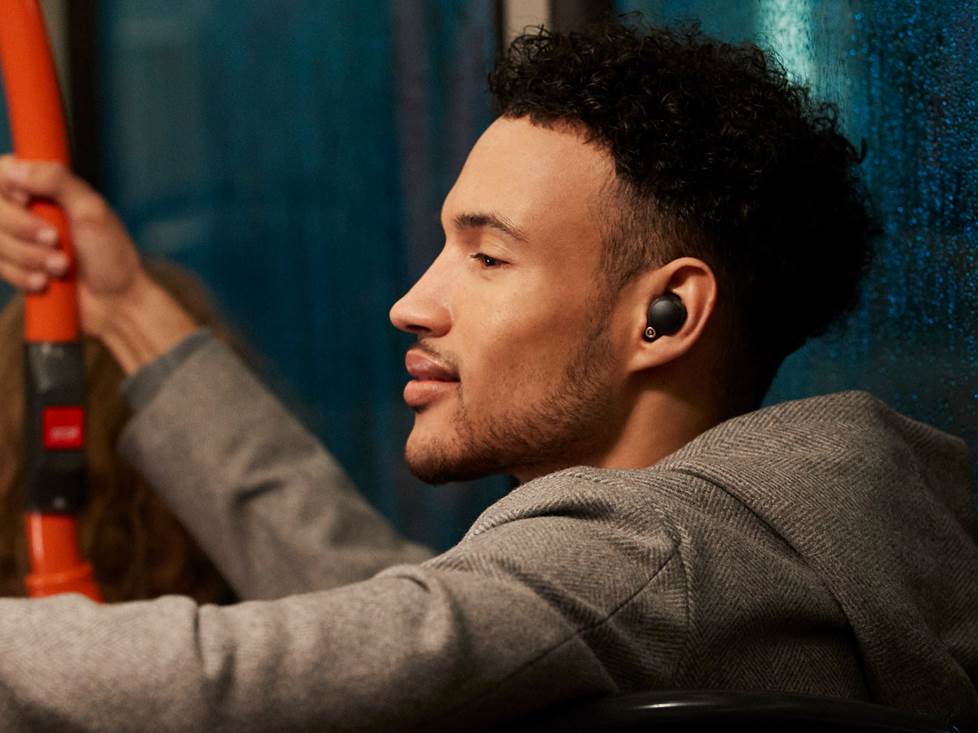 Best noise cancellation — Sony WF-1000XM4
Boasting best-in-class active noise cancellation, a hefty eight-hour battery life, and an IPX4 rating, the true wireless WF-1000XM4s from Sony offer a premium, quiet workout experience. The earbuds have touch controls that let you answer calls, control music playback, and turn the noise cancellation on and off. The included charging case banks up to an additional sixteen hours of power.
The earbuds' tuned 6mm drivers deliver smooth, detailed sound and stout bass. The WF-1000XM4s are also compatible with Sony's Headphones Connect app, which allows you to manually adjust the level of noise cancellation and customize the sound of the headphones.
Details:
active noise cancellation blocks out external noise
Headphones Connect app lets you fine-tune your experience
Sweat-resistant IPX4-rated design
8-hour battery life with noise cancellation turned on; extra 16 hours of charge in case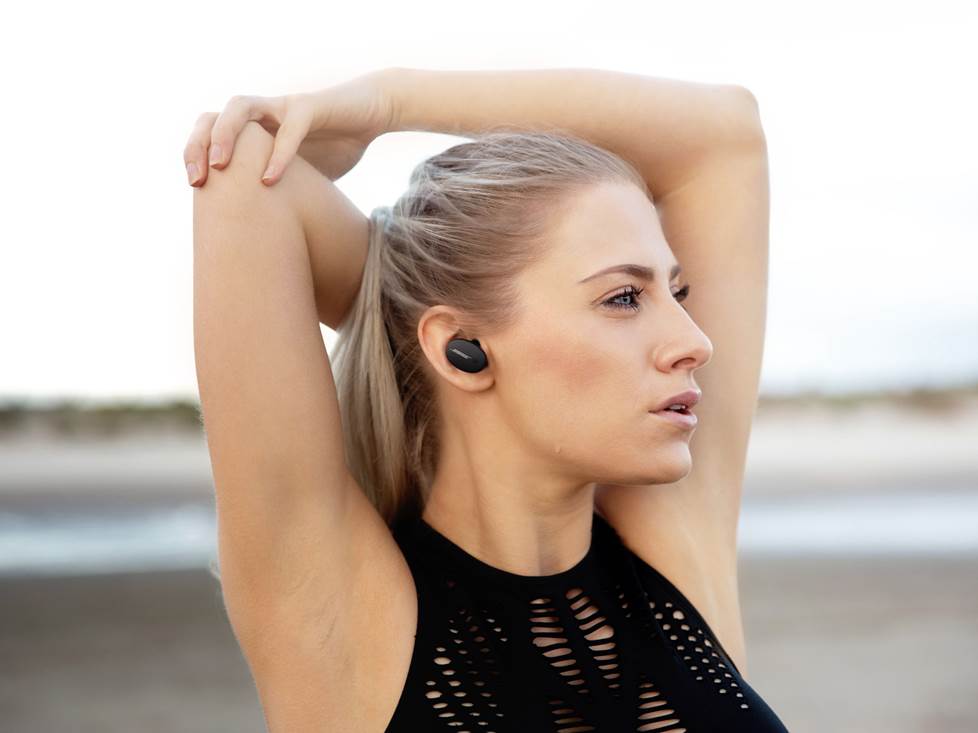 Best bang-for-your-buck true wireless earbuds — Bose Sport Earbuds
These are the current version of one of my favorite Bose true wireless earbuds. The Sport Earbuds have an excitingly energetic sound and are a great bang-for-your-buck option to fuel your cycling or squats. They also come with Bose StayHear® eartips, which ensure a consistent, comfy fit.
The Bluetooth connectivity is something worth noting, as the earbuds stay connected to your phone even if you're jumping around or moving quickly. I've used other pairs in the past that have cut out while I was doing endurance training or while I was out on a jog and it annoyed me to no end. The Sport Earbuds hardly ever seem to lose connection, so kudos to Bose for ensuring they stay connected no matter the activity.
Details:
5 hours of listening per charge with an additional 10 hours in the carrying case
15 minutes inside the case nets enough power for 2 hours of listening
IPX-4 rated water and sweat resistance
three sizes of proprietary StayHear ear tips to ensure consistent fit
touch control on left earbud gives you control over calls, music playback, and voice assistants
Need help?
With the growing number of wireless headphones out there, picking out the right pair can be difficult. Thankfully, our advisors have done countless demo sessions with the headphones we carry and can help guide you along. For free one-on-one shopping advice, contact us and we'll be happy to help.
Popular questions customers ask
If you're pumping away at the gym or going for a run, you'll need headphones that are rated to resist water to prevent damage. A lot of earbuds we carry are at least IPX4-rated. That means they're resistant to sweat and water splashes from all directions. Some models offer even more resistance and protection.
A lot of the sport earbuds we carry feature some sort of "pass-through" mode that lets external sounds (like conversation and traffic) in to help you keep an ear on your surroundings.
It all depends on what kind of exercises you'll be doing. Most true wireless earbuds fit snugly in your ear canal and stay in place. But if you're doing high-intensity exercises and are worried about one of the 'buds popping out, a model with a neckband may be best.
Almost every pair of earbuds we carry has some way of controlling your music straight from the earbuds themselves. Touch controls on either or both earbuds let you play and pause your music, skip tracks, and even answer and disconnect calls.