In this article: My list of the best true wireless earbuds and AirPod alternatives...
... plus, some advice on finding the right 100% wire-free headphones for you.
It's funny how quickly something can go from a novel concept to second nature. Take true wireless earbuds — our hottest headphone category.
These earbuds play music wirelessly via Bluetooth®, and there is no connecting cord around your head or neck. And I can see why they are so popular. It's now become routine for me to pop them in and listen to music or podcasts while I'm making coffee in the morning, commuting, working, or on the move.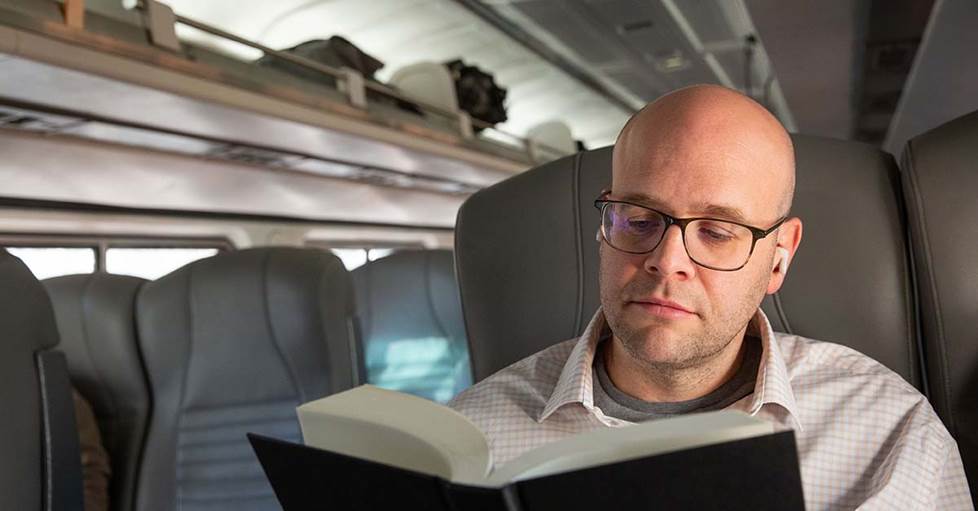 The travel-sized Bose QC Earbuds II pop in easily and effectively cancel the noise of the train for me.
But just a few years ago, I received some early samples and thought, "cool idea, but they're just not reliable enough." These days, true wireless earbuds are the height of convenience. For the most part — and certainly for the earbuds on this list — you can expect quick Bluetooth pairing, a solid wireless connection, and a healthy battery life.
Best earbuds for iPhone — Apple AirPods Pro
Other companies released wire-free headphones before Apple, but they were the first to really nail it with the trailblazing AirPods. They're now on the third generation of the original AirPods and the second generation of the upgraded AirPods Pro (also on our list of "best noise-canceling headphones").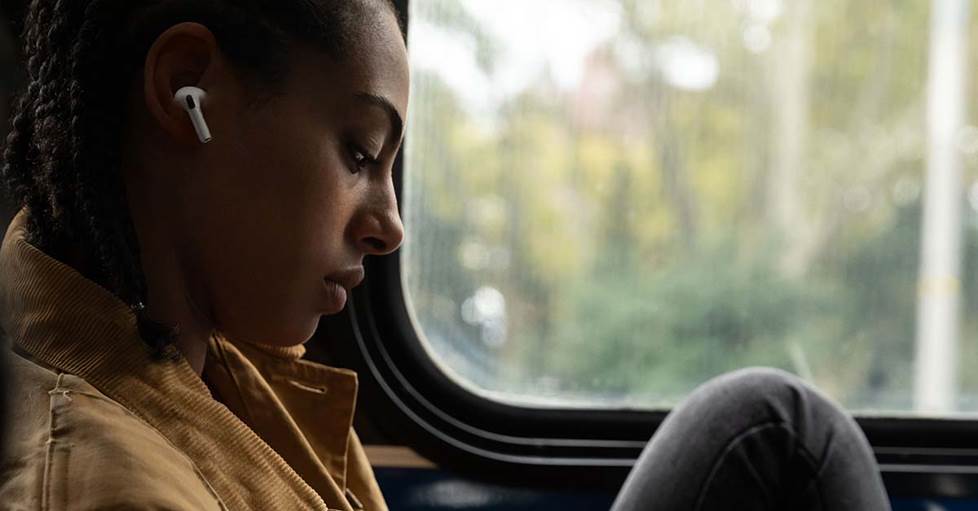 After testing the Apple Airpods, along with many other true wireless earbuds, we can see why these unobtrusive, ultra-light headphones are so popular.
All versions of the AirPods work especially well with an iPhone, thanks to Apple's cutting-edge processing chips. Their special wireless technology ensures they pair up quickly and stay connected. And they make some of the clearest-sounding phone calls I've ever heard with wireless headphones.
Details (Apple AirPods Pro 2nd generation)
built-in Bluetooth 5.3 for music and calls
Apple's H2 chip provides faster, more powerful processing and seamless wireless connection with Apple devices
active noise cancellation circuitry adjusts to the level of external sound
dual beam-forming microphones with voice recognition for calls and Siri control
spatial audio feature emulates the sound of a home theater system in a room
includes 4 sizes of silicone ear tips for a secure, comfortable fit
AirPods can be used one at a time or as a pair
6 hours of battery life (MagSafe wireless charging case banks up to 24 hours of power)
AirPod weight: 0.15 ounces (each)
Best AirPod alternatives
While the AirPods do a lot right, they aren't the only game in town. There might be a better option for you, depending on your listening habits, your tasks, or your smartphone.
Here are my favorite AirPod alternatives. I based these selections on my hands-on experience and feedback from Crutchfield customers: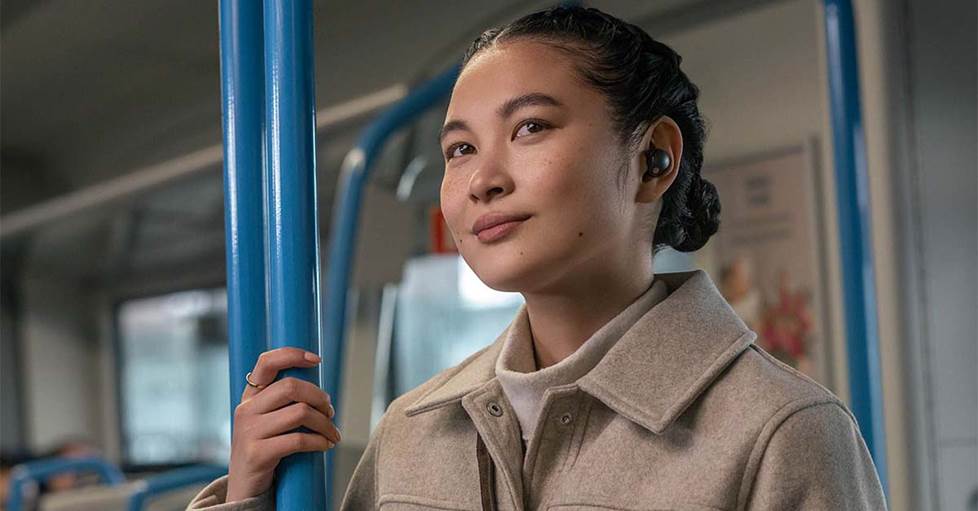 Best all around — Sony WF-1000XM5
The Sony WF-1000XM5 noise-canceling earbuds occupy the same spot as their predecessor, the 'XM4s. Just like the previous models in Sony's popular "XM" line, these earbuds excel at everything they do —and they do a lot. What's changed in the last few years is that the competition has gotten much stronger.
The other heavy-hitters on this list have forced Sony to step up their game, or else. I've only auditioned them briefly, but can confirm that Sony was up for the challenge. The 'XM5s are smaller and lighter than the 'XM4s and add improvements in several key ways — including larger drivers with a wider soundstage, clear vocals, and deep bass punch.
For comfort, the foam ear tips are thinner and more malleable. They make a proper seal but are pleasant to wear for long periods of time, with no stuffy "earplug" feeling. Sound-wise, there's an emphasis on the low end for sure, but it's realistic and mellowed by the strong detail in the mids and highs.
And Sony now uses two processing chips to make their top-notch noise cancellation even more adaptive to external noise and situations.
Details
built-in Bluetooth 5.3 for music and calls
LDAC and LE Audio decoding for high-quality music streaming from a compatible device
streamlined, lightweight design for extended wear
state-of-the-art noise-canceling adjusts to your activity and the level of external sound
dual Sony processing chips help strengthen noise cancellation, audio quality, and more
IPX4 water-resistant design
"Quick Attention" feature lets in external sounds without removing your earbuds
four sizes of ergonomically designed foam tips to create a noise-isolating seal
8 hours of battery life with noise cancellation (13 without)
carrying case banks up to 16 hours of power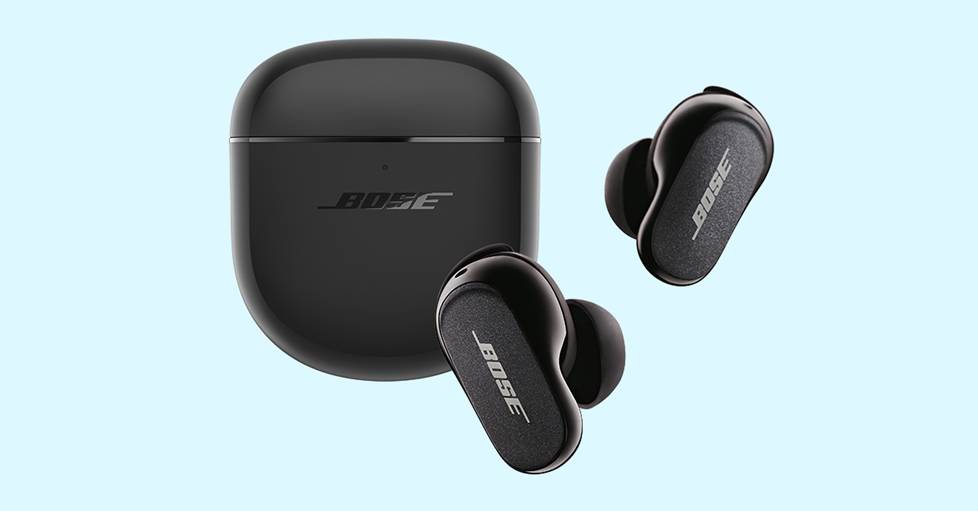 Best noise-canceling earbuds — Bose QuietComfort Earbuds II
I shouldn't be surprised — this is Bose after all — but with all my experience testing headphones, I was not prepared for earbuds to cancel noise this well. The QC earbuds II cancel noise better than the very formidable 'XM5 earbuds — and even better than some of the best over-ear noise-canceling headphones.
To test noise-canceling earbuds, I'll often listen to podcasts while mowing the grass. So I started the mower, and popped the Bose QC earbuds II in my ears. The loud engine drone was reduced to a few faint high-frequency grinding sounds, before I even hit play on the podcast!
When I did, I found I could make out conversations, even at very low levels — less than 10% on my phone's volume slider. These earbuds also deliver the best sound I've heard yet from Bose headphones. It's a fun, yet sophisticated tuning that's intimate and layered with punch and detail.
Details
built-in Bluetooth 5.3 for music and calls
CustomTune technology calibrates sound and noise cancellation to your fit and surroundings
IPX4 sweat- and weather-resistant
three sizes of flexible wings keep earbuds secure during movement
three sizes of soft silicone ear tips provide a stable, comfortable fit
6 hours of battery life with noise cancellation
carrying case banks up to 18 hours of power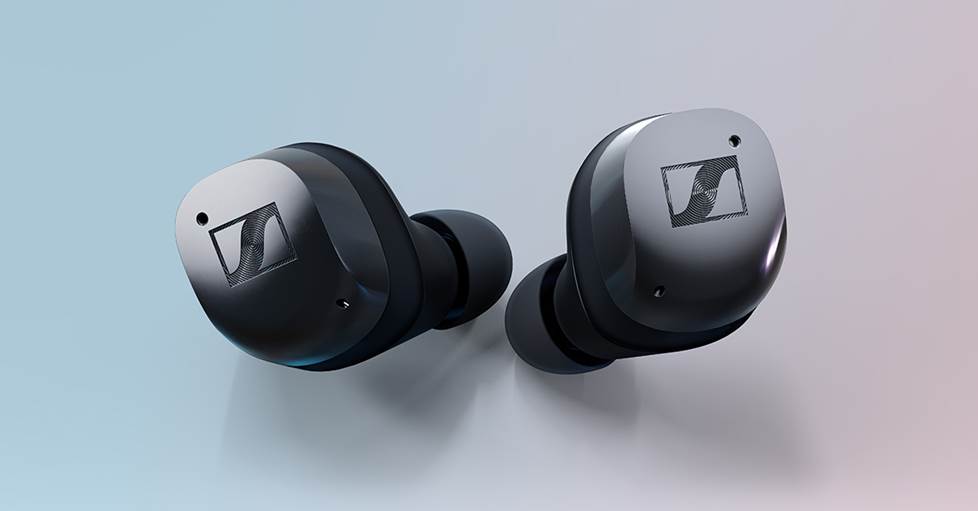 Best-sounding wireless earbuds — Sennheiser Momentum True Wireless 3
To my ears, the Momentum TW 3 earbuds are the best-sounding truly wireless headphones available. This is the third generation of the Momentum earbuds, and the third I've given this spot.
It makes sense. Their driver design and sonic signature are both informed by Sennheiser's high-end series of wired in-ear monitor headphones, like the IE 200 earbuds and my personal favorite — the IE 600.
While you shouldn't expect quite that level of sound quality, the Momentum True Wireless earbuds do deliver smooth highs, articulate mids, and satisfying bass. And strictly as an AirPod alternative, I actually prefer spatial audio/Dolby Atmos tracks on Apple Music through these earbuds. They have a large, "outside-the-head" soundstage with precise imaging.
Details
built-in Bluetooth 5.2 with aptX adaptive and aptX HD
adaptive hybrid noise-canceling circuitry uses a four-mic system
"TrueResponse" dynamic driver in each earbud
spacious soundstage with precise imaging
IPX4 sweat- and weather-resistant
four sizes of silicone ear tips and three sizes of ear fins
7 hours of battery life with noise cancellation
fabric-covered carrying case banks up to 21 hours of power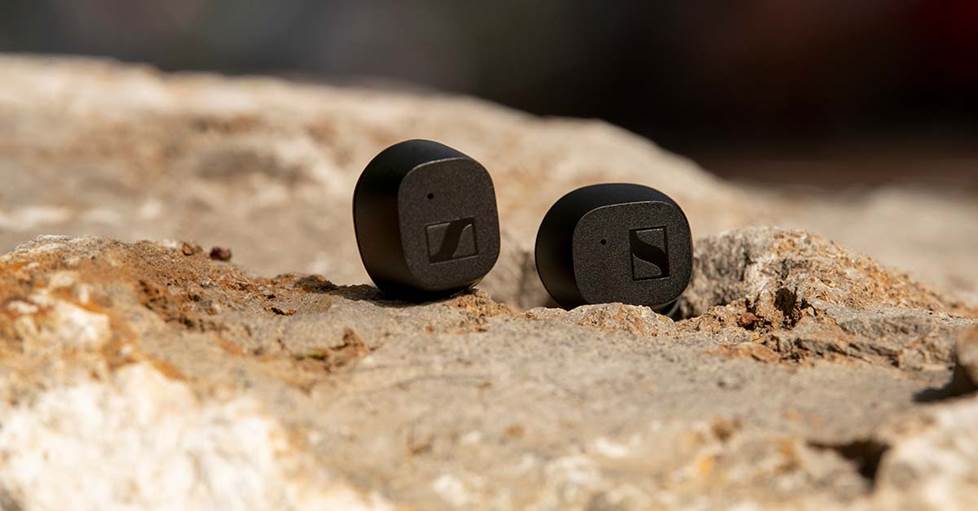 Best budget wireless earbuds — Sennheiser CX True Wireless
With the CX True Wireless, Sennheiser adds value by taking some features away. What do I mean by that? These earbuds are tuned to the same sound signature as the top-shelf Momentums — and even use a similar driver design. If you can live without noise cancellation and some of the extra design touches, these earbuds are a great way to get excellent sound quality and true wireless convenience for less.
They have a stripped-down design, for sure, but they're still sweat-proof. And they still have lot of great features. You get touch controls and a free mobile app to tweak the sound to your tastes.
Details
built-in Bluetooth 5.2 with aptX adaptive and aptX HD
"TrueResponse" dynamic driver in each earbud
focused, cohesive sound with precise imaging
IPX4 sweat- and weather-resistant
four sizes of silicone ear tips and two sizes of ear fins
9 hours of battery life
carrying case banks up to 18 hours of power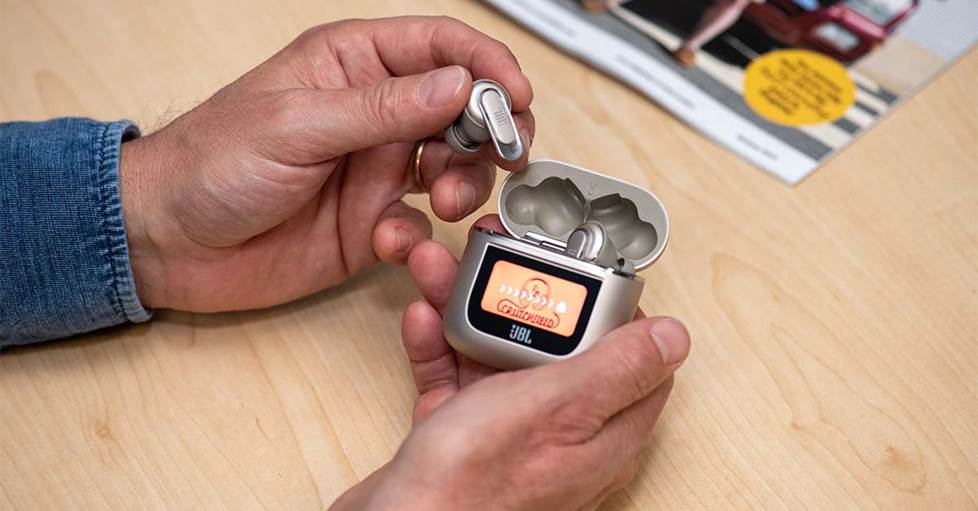 Coolest, most functional case — JBL Tour Pro 2
In my hands-on review, I concluded that the JBL Tour Pro 2 earbuds were excellent headphones that happened to have a one-of-a-kind touchscreen case. But you could certainly look at the other way around. The charging case grabbed headlines when they were released — and catches eyes in public — for its bright LED screen that gives you control over all the major headphone functions.
I found it more useful and convenient than I expected. I could swipe through a plethora of features and settings with my phone out of reach, plus keep tabs on the battery life at a glance. The phone case came through in the clutch a few times, most memorably on vacation when I left my phone charging inside and could control music, volume, and noise cancellation out on the deck. (While watching the sun rise, no less.)
But these have become my day-to-day earbuds when I'm not testing other headphones. They check all the right wireless earbud boxes — long battery life, above-average noise cancellation, and well-tuned, linear sound with quick, powerful bass punch. The easy controls are gravy.
Details
Bluetooth® 5.3 (will support LE Audio streaming with future update)
full-color LED screen on case offers control over settings and headphone functions
"True Adaptive" noise-canceling circuitry and "Smart Ambient" mode
high-performance 10mm dynamic drivers for clear, accurate sound with strong detail and bass
IPX5 sweat- and weather-resistant
three sizes of soft silicone ear tips
8 hours of battery life with noise cancellation
carrying case banks up to 30 hours of power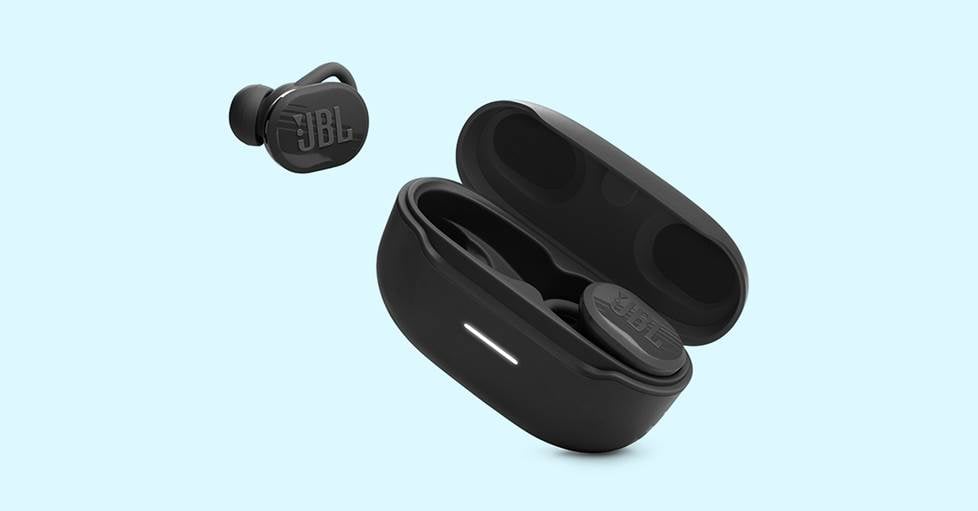 Best wireless earbuds for running or workouts — JBL Endurance RACE TWS
In-ear headphones are all only as good as their fit, and that's even more important with sports earbuds. There's the obvious — you don't want them slipping around or falling out while you move. But sonically, a tight seal also leads to stronger vocals and bass.
The JBL Endurance RACE earbuds twist right into place thanks to the company's patented TwistLock® system. Three different sizes of these special ear tips are included, all shaped and designed to avoid pressure points.
And if you're running or exercising out in the real world, you can switch on "Ambient Aware" mode to stay aware of your surroundings. It lets you hear external sounds mixed in with your music.
Finally, the Endurance RACE earbuds are also really durable. Like, "meeting IP67 dust- and waterproof standards" durable. That certification means they don't just handle sweat — these waterproof earbuds can survive being submerged in water for up to 30 minutes.
built-in Bluetooth 5.2 for music and calls
IP67-rated dust- and waterproof design
includes 3 pairs of silicone ear tips for a customized, comfortable fit
patented TwistLock® system keeps earpieces from moving or falling out during workouts
"Ambient Aware" and "TalkThru" modes let you hear external sounds
10 hours of battery life
carrying case banks up to 20 hours of power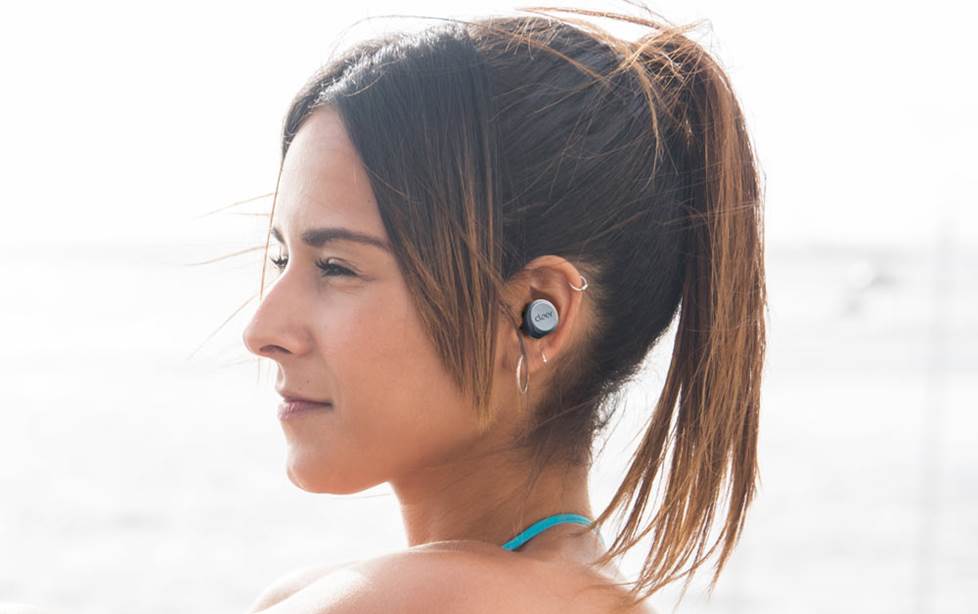 Best earbuds for small ears — Cleer Ally Plus II
The Cleer Ally Plus II earbuds have 10mm drivers that are physically larger than you find in most earbuds. They also boast active noise cancellation and the longest battery life I've seen in a set of true wireless earbuds. You'd think that makes them too big, right?
Well, all those "working parts" are housed in the area that sits outside the ear. And the weight is well-distributed. So it's not too bulky for people with smaller ears.
That's a report straight from my wife Meghan, who often finds earbuds too large and obtrusive to wear. She told me the Ally Plus II sit flush with the ear, so they don't feel or look unwieldly.
Cleer includes eight pairs of soft gel ear tips — three sizes of angled tips and five sizes of rounded tips. The latter includes an "extra-small" option, and the "small" size that Meghan preferred. She said that she never had to adjust them or put them back in place through long-distance walks and runs. And the larger earbud housings didn't cause any extra strain.
Details
Bluetooth 5.2 with aptX® Adaptive automatically adjusts to prioritize audio quality or low latency
adaptable noise cancellation and ambient mode
includes 8 pairs of silicone ear tips (5 sizes of rounded tips, 3 sizes of oval tips)
large 10mm dynamic drivers tuned for clear vocals and deep, punchy bass
built-in rechargeable batteries offers 11 hours of listening with noise canceling off (case banks 22 hours of power)
sweat-proof design with touch controls over music and calls
weight: 0.48 ounces (both earbuds)
True wireless earbuds shopping tips
There are a few things to consider when shopping for true wireless earbuds. Here's some advice to help you find a pair you'll be happy with.
Audio dropouts still happen — but not as frequently
I mentioned in my intro that true wireless earbuds are more reliable than ever. Still, the #1 reason our customers return this type of headphones? The audio signal can drop out during use.
One ear or the other may lose sound. Sometimes it is only for a second or two. Sometimes you may have to re-pair the earbuds. I've always looked at it as a small tax to pay for going 100% wire-free. And luckily it's happening a lot less.
I think the biggest breakthrough here is the new wireless chips with Bluetooth 5.0 and above. For the most part, if you see Bluetooth 5.0 through 5.3 listed in the product bullets, you can expect a stronger wireless connection to the phone, which ultimately means fewer audio dropouts.
Ear tips — crucial for fit, comfort, and sound
Pay attention to the number of ear tips included. Some earbuds come with a generous offering of ear tips to ensure a solid fit. As noted, that can do wonders for the comfort and performance of the earbuds.
Just remember, not all ear tips are the same. They are made with all types of materials, that can be more or less malleable, or better avoid pressure points. Plus, just because you get different sizes of ear tips, doesn't mean you get the right size.
If you have smaller ears, look for earbuds that offer "small" or "extra-small" sizes — like the Cleer Ally Plus II above or the AirPods Pro 2s.
Check the charging case specs
Most truly wireless earbuds include a special case that charges via a USB or AC adapter. These charging cases can bank hours of power so you can refuel your earbuds. Just snap your earbuds into the case to recharge them.
The compact case takes up little room in your gym bag or carry-on luggage. Plus, there's no cable to get all tangled up. You pull your earbuds out, ready to pop in and go.
We list the battery life in our "Product Highlights" bullets on each product page. Most of the headphones shown here have a quick charge feature: just a few minutes inside the charging case will give you enough power to listen for an hour or more.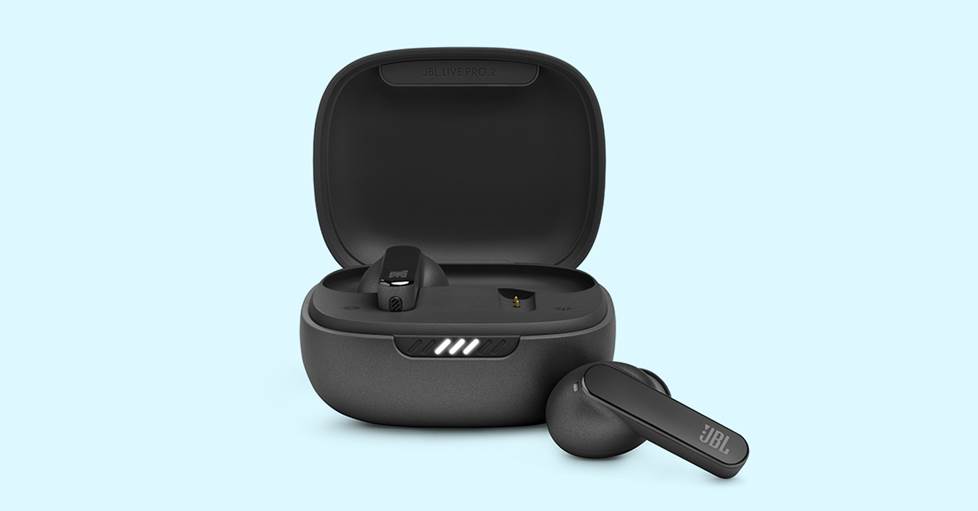 The charging case for the JBL Live Pro 2 earbuds can bank up to 30 hours of power. And 15 minutes inside the case gives you up to four hours of wireless music.
Compare the apps
Many headphones these days have an accompanying app for your phone or mobile device. But I don't consider all of them necessary. For true wireless earbuds, I definitely recommend downloading the app, if one is offered.
Some apps can help with the wireless pairing process, which can be tricky since you need to connect two separate earbuds. Some let you adjust the EQ settings and customize the sound to your preference or use. For example, I like to bump up the bass a bit when I'm running — I need all the extra motivation I can get.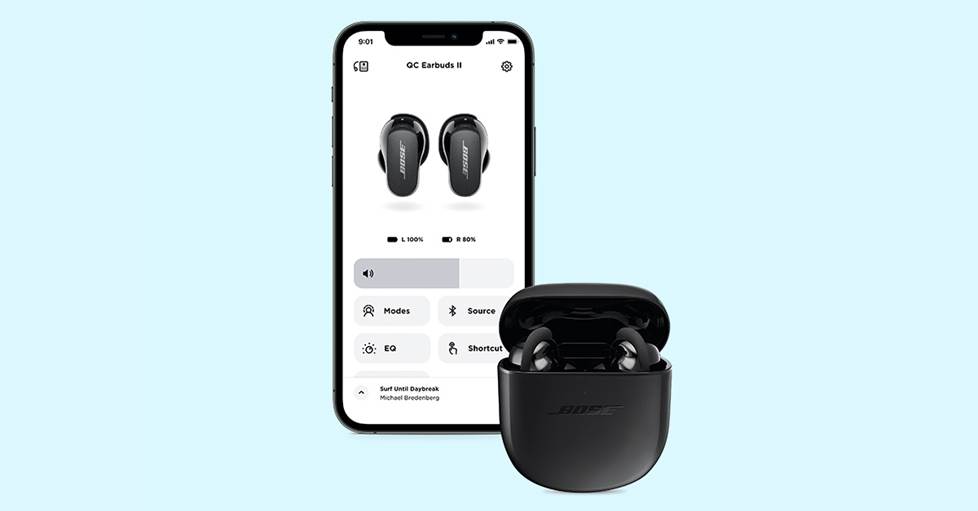 The Bose Music app lets you adjust sound settings and store up to four noise cancellation "modes" for the QC Earbuds II.
Built-in GPS tracking for finding lost earbuds
Some earbud apps even have a feature to help you find a lost earbud. Using your phone's GPS, the app will will track your misplaced earbud to the last location it was connected.
AirPods and Google Pixel Pro both have this feature. The newer AirPods Pro 2 even make it easy to find a lost case. The Magsafe charging case has a tiny built-in speaker that can play an audible tone if you're within hearing distance.
Need more help? Contact us!
Have questions about how these truly wireless headphones compare? Contact us today.
Our expert Advisors know headphones inside and out. Your Advisor can send specific Crutchfield pages to your screen, saving you a lot of browsing time. You'll get a shopping cart loaded up with everything you need.
Free lifetime tech support is included with your Crutchfield purchase.
Popular questions customers ask
Over half of the true wireless earbuds we carry support single-earbud operation. Most of those models offer music and call controls with just one earbud in.
Many of the true wireless headphones we carry offer some form of protection against water. Some models are IPX4 rated and can survive light splashes of water and sweat. Other models are IPX5 or even IP67 for extra protection.
The earbuds themselves normally have anywhere from 6 to 10 hours of playback time before they need to be recharged. The charging case that comes with the earbuds banks anywhere from 14 to 30 hours of power.
Earbuds offer good passive noise cancelation on their own, but some models have built-in active noise cancelation circuitry to make your world even quieter. The level of noise cancelation can be adjusted either on the earbuds themselves, through an app, or a combination of both.
Some true wireless headphones have voice assistant support built in. You can access Google Assistant or Alexa by using the controls built into one of the earbuds.