There are a lot of new headphones out there that are packed with cutting-edge technology and convenient features. So you might be surprised to hear this:
The traditional, tried-and-true wired Sennheiser IE 600 in-ear monitors (IEMs) are among my favorite headphones released this year. Sennheiser designed these earbuds to split the difference between the punchy fun of their IE 300s and sharp technical prowess of the IE 900s. And to my ears, they nailed the sonic sweet spot.
Like those other two models, the IE 600s feature a single dynamic driver inside each earbud. They also share a similar ergonomic earbud design — made of amorphous metal this time around, 3D-printed into shape and hand-finished. The result is a durable, comfortable set of IEMs, tuned for an engaging, musical sound profile with a delightfully prominent midrange.
Sennheiser's high-precision drivers and advanced airflow system
A single-driver design can lead to more cohesiveness than systems that use crossovers and multiple drivers. And Sennheiser's 7mm "TrueResponse" drivers can handle a wider frequency range than most. Still, it's a lot of ground for a single driver to cover — and sometimes competing sounds can be hard for our ears to distinguish.

Sennheiser uses a single driver with an intricately designed series of filters and air chambers in each earbud.
So Sennheiser uses a dual "chamber within a chamber" absorber system to control airflow and help parse out musical nuances. This system uses damping material to cut down on resonance and keep similar-yet-different sounds from bleeding into each other. The result is full-bodied sound with effortless detail.
Efficient design gives you many ways to play
Sennheiser designed the IE 600s to work with a portable music player — and even a phone or laptop. But I would suggest using a separate headphone amp to hear them at their best. Two detachable cables are included, one with a standard 3.5mm stereo miniplug and one with a 4.4mm balanced plug.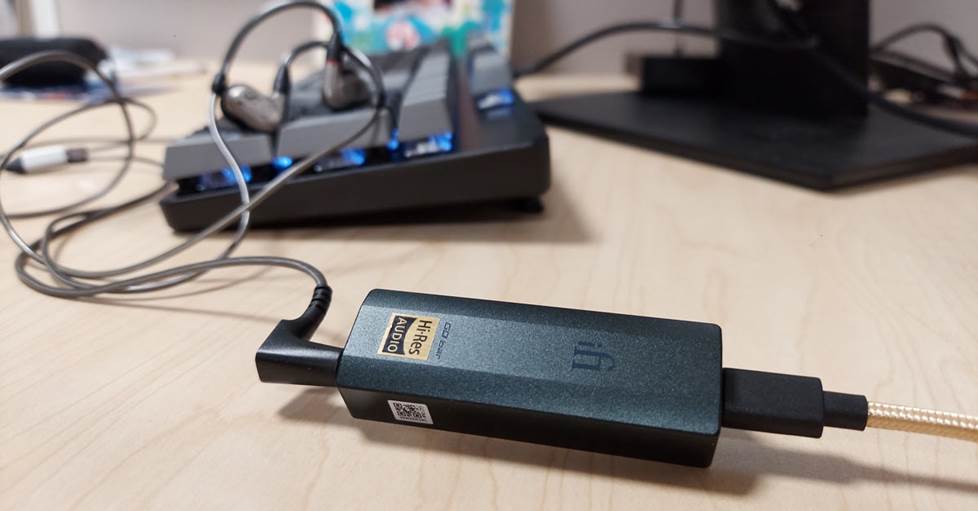 The iFi GO Bar portable USB DAC is roughly the size of a thumb drive, but provided more than enough power to drive the IE 600s.
I primarily used the latter connection on the super-portable iFi Audio GO Bar headphone amp/DAC combo, which paired up nicely with these headphones. This compact DAC was small enough to fit inside the zippered hard case included with the IE 600. So I could easily slip the entire premium listening rig inside my carry-on bag for my recent flight to Chicago for AXPONA — then stream Qobuz on my computer in the hotel.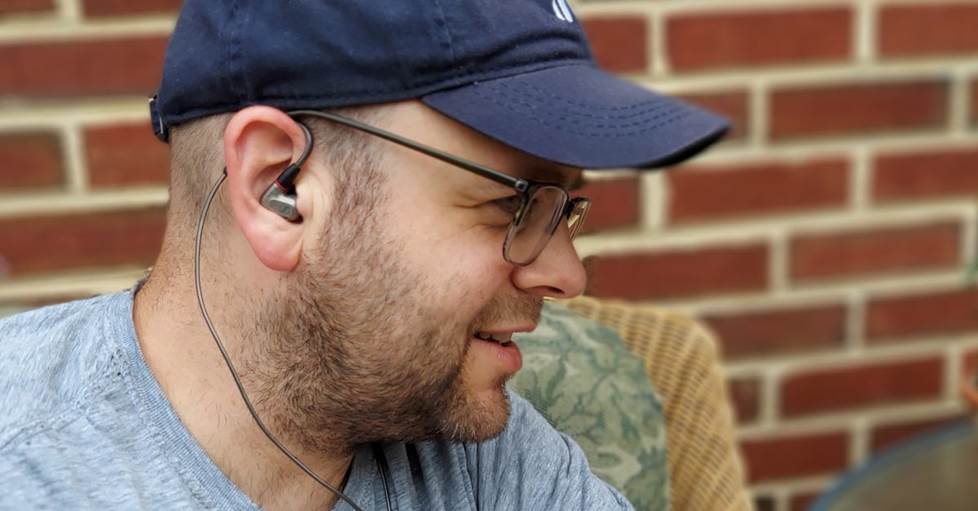 The wraparound earbuds felt lightweight and unobtrusive as I listened on the go.
Secure and comfortable with a noise-isolating seal
The most important touchpoint between sound and comfort is how well your earbuds fit. Of course, a proper, secure in-ear seal just feels right. But it can also make or break audio performance, including bass extension and imaging.
Sennheiser includes six pairs of ear tips — three sizes of silicone tips, and three sizes of foam tips. For my ears, the largest foam tips squeezed right into place and didn't move. They expanded to create a noise isolating seal that avoided in-ear pressure points — and aligned the drivers correctly with my ears.
Listening impressions
After auditioning the IE 300 and IE 900, I'm very familiar with the fit and feel of Sennheiser IEMs. Their streamlined design conforms nicely to my ears and routes the cable neatly behind my head. I found that the texture of the IE 600's amorphous alloy earbud casings was pleasing to the touch. NASA uses this strong, scratch-proof material to make some of their tools, and Sennheiser says it's more resilient than steel.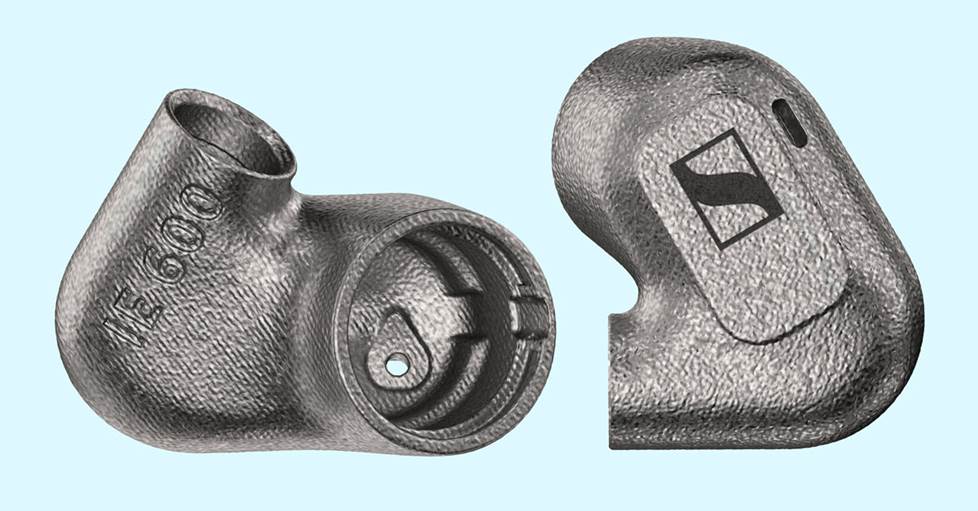 The amorphous alloy metal earbud housings are 3D printed into shape and finished by hand.
The earbuds' high-grade metal and intricate build made a strong first impression and helped set the stage for the sound that was to follow.
Striking mids with distinct vocal clarity
Track after track, guitars, vocals, and percussion pounced out at me with an arresting presence and bite. The soundstage wasn't particularly large, extending just beyond my ears. But the accurate imaging ensured everything was well placed and well spaced.
Maren Morris' lullaby-esque "Hummingbird" started with a haunting acoustic twang that stung in from the right, before giving way to her reserved, melodic vocals, sitting dead center. It's a soft, sleepy performance on the surface, but has a sweet angst bubbling underneath. The IE 600s brought that a little closer to the forefront, creating a more urgent, thrilling vibe.
Well-balanced, powerful, and nuanced
The bass happens to be right in my wheelhouse, too — a slight emphasis with deep impact, but tight control. Method Man's "Black Ops" thumped with just the right amount of heft through the IE 600s. The groove on this track relies on low-end punch, so it loses its kinetic energy with more "polite" headphones — but if the bass is too overbearing or bloated, it steps on the potency of Mef's emceeing. I found the sound naturally balanced and appropriately spirited through these earbuds.
The highs are smooth yet articulate, with a little snap. They have some fun, refined sizzle to them, without sounding grating or sibilant. If you want to pick out very specific subtleties in the highs for operatic or string music, the IE 900s deliver more fine detail in that region.
But these IEMs are technically proficient, and I found them more than capable of handling the dramatic peaks and valleys of classical music. In fact, the IE 600s handled most genres with a breezy, effortless pizzazz.
Product highlights
high-performance wired in-ear headphones (inspired by professional in-ear monitors)
specially designed "TrueResponse" 7mm dynamic driver in each earbud
tuned for cohesive, well-balanced sound with vivid midrange presence
lightweight, streamlined 3D-printed amorphous alloy metal earbud housings
two 49" detachable cables with gold-plated MMCX earpiece connectors:
one unbalanced cable with 3.5mm stereo miniplug and one balanced cable with 4.4mm Pentaconn headphone plug
we recommend a separate headphone amplifier or portable high-res music player for optimum sound quality
frequency response: 4-46,500Hz
sensitivity: 123 dB
impedance: 18 ohms
warranty: 2 years
Need more help? Contact us!
Have questions about how the Sennheiser IE 600 in-ear headphones compare to other earbuds? Contact us today.
Our expert Advisors know headphones inside and out. Your Advisor can send specific Crutchfield pages to your screen, saving you a lot of browsing time. You'll get a shopping cart loaded up with everything you need.
Free lifetime tech support is included with your Crutchfield purchase.