It's hard to describe the disorienting feeling of entering the sprawling Renaissance Schaumberg Convention Center for the first time. A potent mix of nerves, fervor, and anticipation took over. This was Thursday morning, the day before AXPONA — "Audio Expo North America" — and my plane had landed in Chicago at 8 a.m. Central. My two-hour flight took off from Virginia at 7 a.m. Eastern, so I was still wrapping my head around the time zone change.
Then as I swung open the door, the reality splashed over me — I was walking into the largest U.S. event centered around audio gear in nearly three years.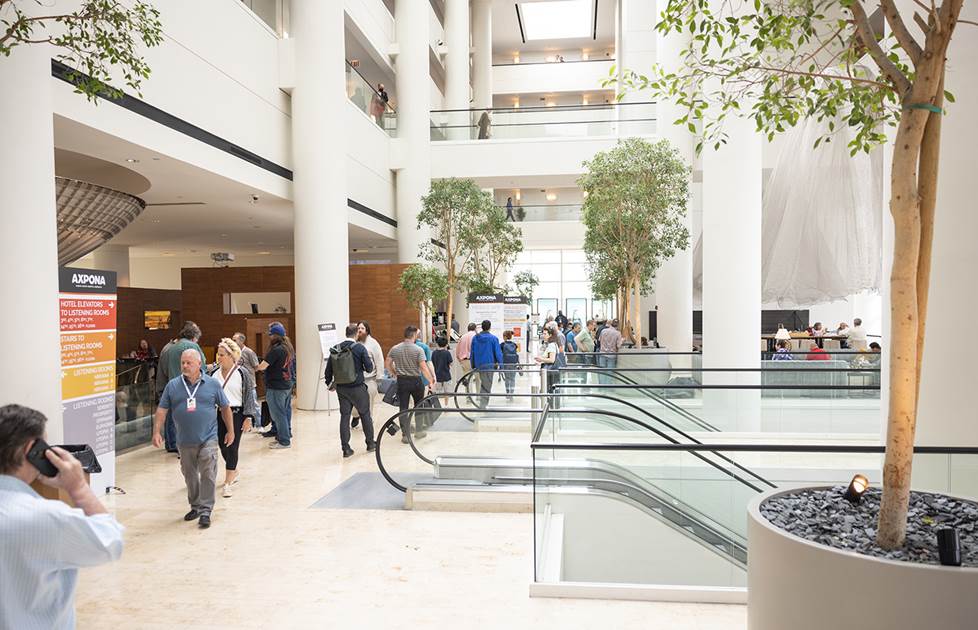 The AXPONA show filled the entire Renaissance Schaumberg Convention Center and connected 16-floor hotel with audio gear and music fans.
What is AXPONA?
AXPONA 2022 was a three-day show in late April where audio and electronics brands displayed and demoed their latest and greatest wares. It also attracted record vendors with crate after crate of new and used vinyl, innovators with their latest sonic creations, and experts who debated current and future trends. Plus, superfans of music and electronics were invited to join in and mix it up.
In short, this was a place to live, talk, and experience all things audio. And due to the pandemic, this was the first AXPONA since spring 2019. In those three years, we've seen a resurgence of tried-and-true audio principles and gear — think turntables, two-channel audio, or wired headphones — collide with the maturation of breakthrough technologies like high-res streaming and Dolby Atmos music/spatial audio.
I had spoken to AXPONA event director Liz Smith in the weeks leading up to the event, and she'd offered up some guidance. I had asked her for the best course or path through the show, naively thinking that it was organized like a movie that builds to a climactic scene. But Liz instead described more of a modern open-world video game.
Sure, you have your main missions, but the most thrilling and fulfilling surprises could be hidden around any corner. In this case, those surprises could be the best set of speakers you ever heard, a hidden gem album, a restored piece of vintage gear, or even a true titan of the industry grabbing a cup of coffee.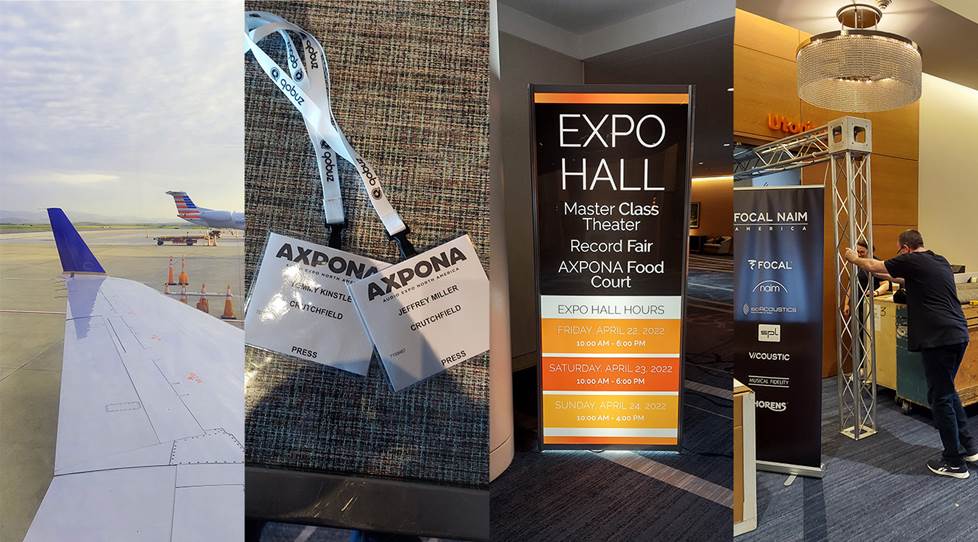 Scenes from my early-morning travels from Charlottesville, VA to the show in Chicago.
Thursday — the pregame
My first goal the day before the show was to pick up my access pass. Walking into the convention center, I was struck by the sheer size of the building and grand scale of the show. There were five or six massive ballrooms and several more that were midsized, but still large enough to hold, say, an intimate reception.
The larger ballrooms housed the themed areas, like the "Ear Gear" section full of headphone vendors or the "Expo" area — which had a little bit of everything, including a record market. One ballroom had a full theater-seating setup for seminars and late-night concerts. The midsized ballrooms were listening areas for brands with larger speakers and components like Focal, Klipsch, McIntosh, and Von Schweikert.
But I'm getting ahead of myself. I give all this background info to say that the door I opened was the wrong entrance, and the signage wasn't completely put up. I immediately got turned around and overwhelmed. Especially as logistics workers raced past me with oversized freight boxes full of high-end goodies.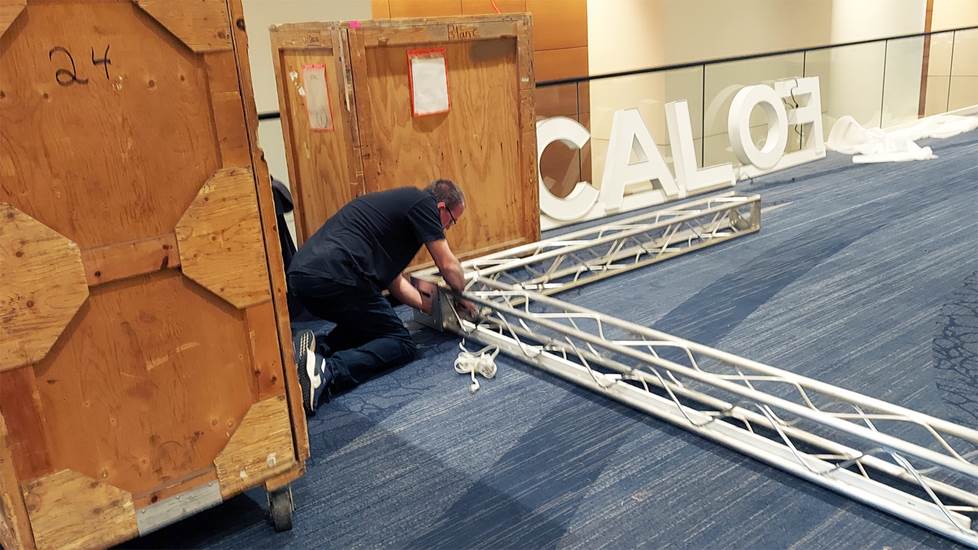 Focal's main listening setup resembled a concert stage — and took just as much work to assemble.
As I got my bearings and explored the area, I realized that the show wasn't contained to the convention area — the connected 16-floor hotel had also been taken over by audio gear! On most of those floors, they had removed the beds and furniture from all the different rooms and suites. And different audio companies were filling them with their gear and customizing the décor.
Even during setup, it was clear that each room and brand would bring their own charm and character. Our buddies at Mobile Fidelity Electronics had four connecting rooms to show off gear from MoFi, Wharfedale, HiFi Rose, and more. They went for a very lived-in, intimate feel with plants, interesting lighting, and cozy furniture.
Others went full "wow" factor — like when I found my old friends from Focal and Naim. They were constructing a large metal apparatus that looked like something from a major touring act. They were also dialing in their gorgeous, beryllium-infused Maestro Utopia EVO speakers, which sell for about $38,000 each and were driven by over $389,000 worth of Naim separates.
But everybody was hard at work to get things just right. That was especially true of Liz and the AXPONA team. Some had worked the show in the past, and others were locals hired for the weekend who had never experienced an audio show. But all were working to make things smooth and welcoming for both the vendors and the guests.
I was able to grab Liz, the event director, for about 12 minutes to appear on Crutchfield LIVE to promote AXPONA. But she was literally moving tables five minutes before our interview, and checking emails right up to the moment we went live from the Gold Lounge.
"We are so thrilled to be back," she told the Crutchfield LIVE audience. "Some of these exhibitors haven't even seen each other [in three years]...there have been big smiles, it's just great to have this community back together."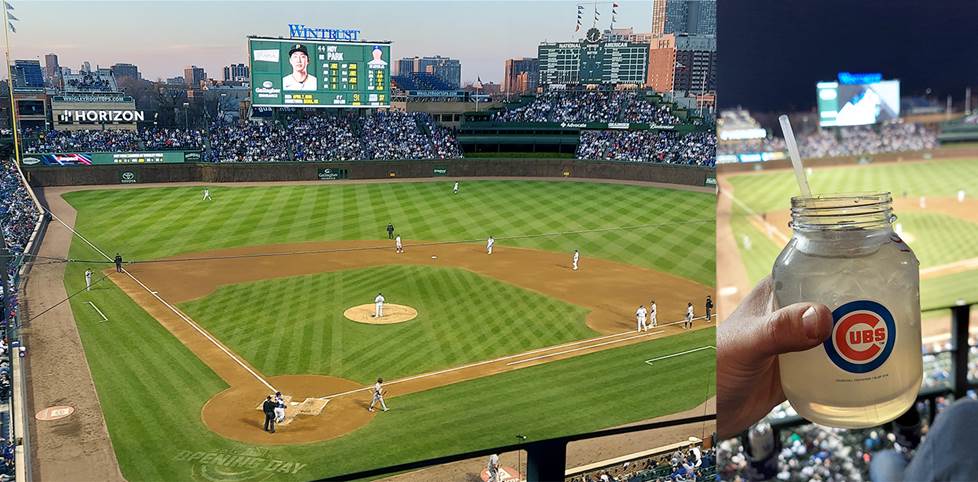 A perfect, not-too-breezy April evening in Wrigley — the ivy hadn't turned green just yet.
Right after we finished the interview, Liz ran to her next task, and I went out to the parking lot. There, I met my brother-in-law, who's Military and lives in the Chicago area, and we Ubered straight to my very first game at Wrigley Field. As I got out of the car and looked up, it felt like the iconic stadium had risen from the middle of the street.
It took a second to comprehend that the Wrigley sign and view — embedded in my brain from images and video since I was a child — had just kind of appeared in front of me.
Friday and Saturday — the Show
Even with my detailed notes, it's kind of hard to stick to timeline from here. But I do remember walking in with Crutchfield Buyer Tommy K, and the first person we ran into was David Solomon of Qobuz. David has been in the industry a long time and can fill the role of "mayor" in these shows — a connective tissue between many different brands.
Qobuz itself was the official streaming partner of the show and most of the listening rooms that offered streaming used the music service. It was a testament to how far we've come with networking that the entire convention center and hotel could stream high-res and CD-quality — largely without a hitch. David promptly took us over to the Expo area, where Qobuz had an official booth.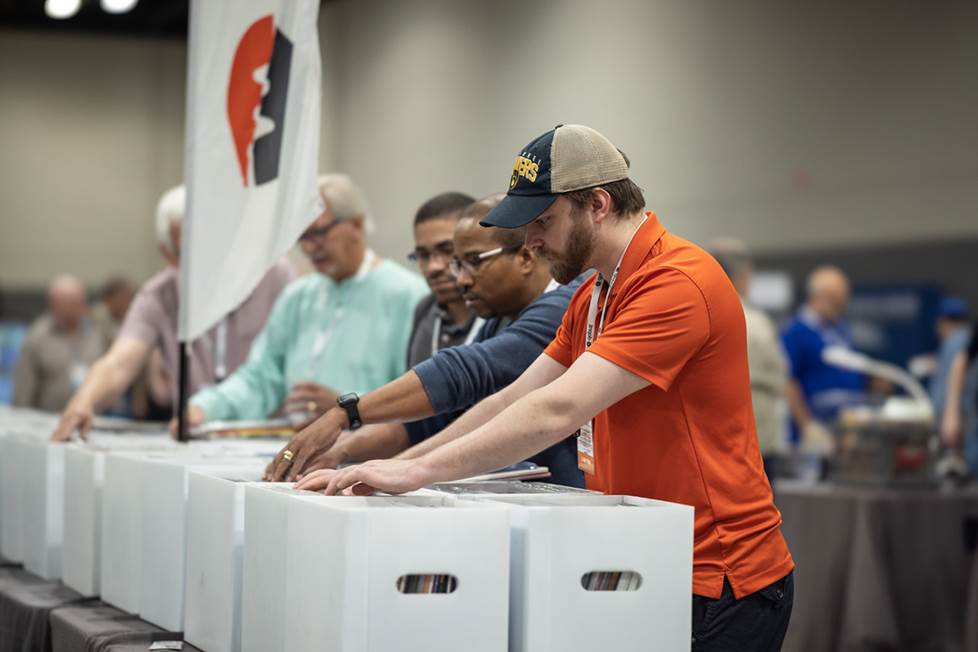 Bin after bin of vinyl filled the middle of the Expo floor. You could spend all day digging in the crates!
Talk about a heady mix of old and new — Qobuz was stationed next to three different record stores and online retailers, with row after row of vinyl crates, accessories, music memorabilia, and even reel-to-reel tapes. And there were plenty of booths showing creative ways to clean and restore records.
Nearby, Pro-Ject had their forthcoming heavy-duty X8 turntable spinning, with its carbon-fiber tone arm and solid machined-aluminum platter. They showed me how they use opposing magnets to create a cushion between the plinth and the platter, providing some relief for the bearings.
"Ear Gear Experience"
Down the long, winding hall from the Expo area, I found my people! As Crutchfield's headphone guy, I've made it no secret that I often prefer the intimate sound of top-notch audiophile headphones. And I was glad to see so many of my favorite headphone companies representing in the large "Ear Gear" ballroom.
It's always great to spend time with Meze Audio headphones — especially when I can get a moment with their flagship Elite open-backs. I recently interviewed their founder and lead designer Antonio Meze and learned just how much time and effort goes into creating their headphones.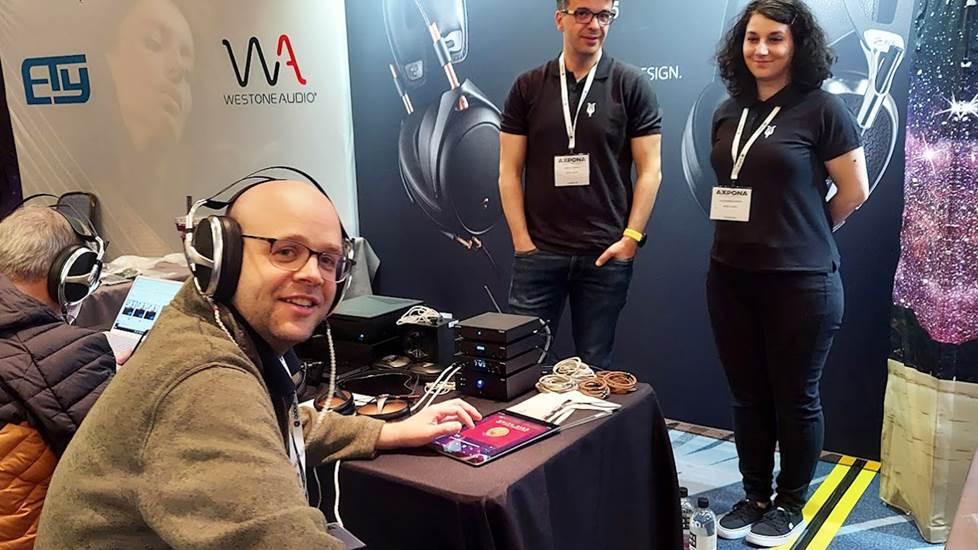 I'll never turn down a chance to listen to the Meze Audio Elites.
I also got to try Meze's gorgeous new ADVAR IEMs, released just days before the show. They created a nice, comfortable seal to help block out the noise on the showroom floor.
Naturally I auditioned the ADVARs with another just-released gem, Pusha T's new album. On "Dreamin of the Past," the bass knocked with authority and control — a strong foundation for the sped-up Donny Hathaway vocal and piano samples. Pusha's emceeing came through clear and distinct, a natural part of the mix in a way that doesn't always happen with hip-hop.
This was my first chance to try the Audeze CRBN, the company's first electrostatic headphones. They deliver a breezy, three-dimensional presentation that made me long for a longer listening session, even as a line formed behind me. Their reputation had them in high demand, but the biting percussion on jazz musician Ben Marc's "Way we are" made me almost take an extra minute or two.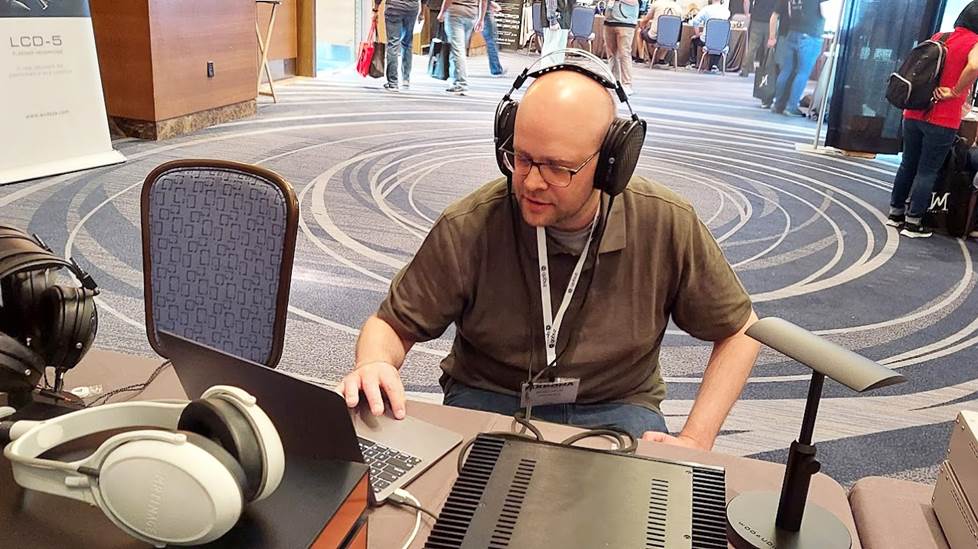 I finally got a moment with the Audeze CRBN electrostatic headphones in the "Ear Gear" headphone and personal audio section.
But luckily at a show like this, there are enough interesting headphones to go around. "And you'll never be bored when you try something new." I use that Dr. Seuss line because his drawings popped into my head when I first saw these customizable headphones from Swan Song Audio.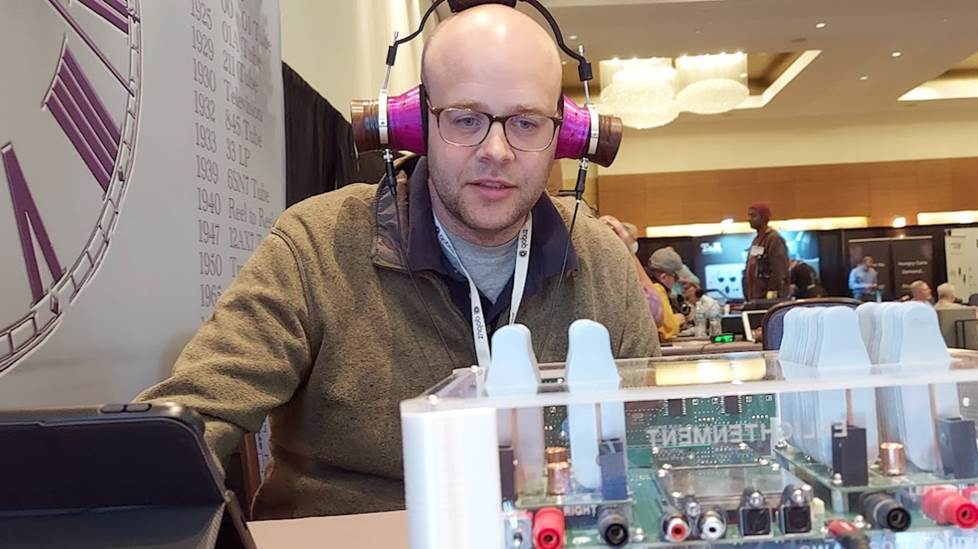 Switching between different woods like cherry and rosewood give these quirky headphones a different sonic character.
Just outside this section dedicated to compact, personal audio, I ran into a smaller ballroom and found the complete opposite side of the spectrum. Klipsch's MONSTROUS Heritage Jubilee floor-standing horn-loaded speakers, released for the company's 75th anniversary and the first true successor to Paul Klipsch's Klipschorn.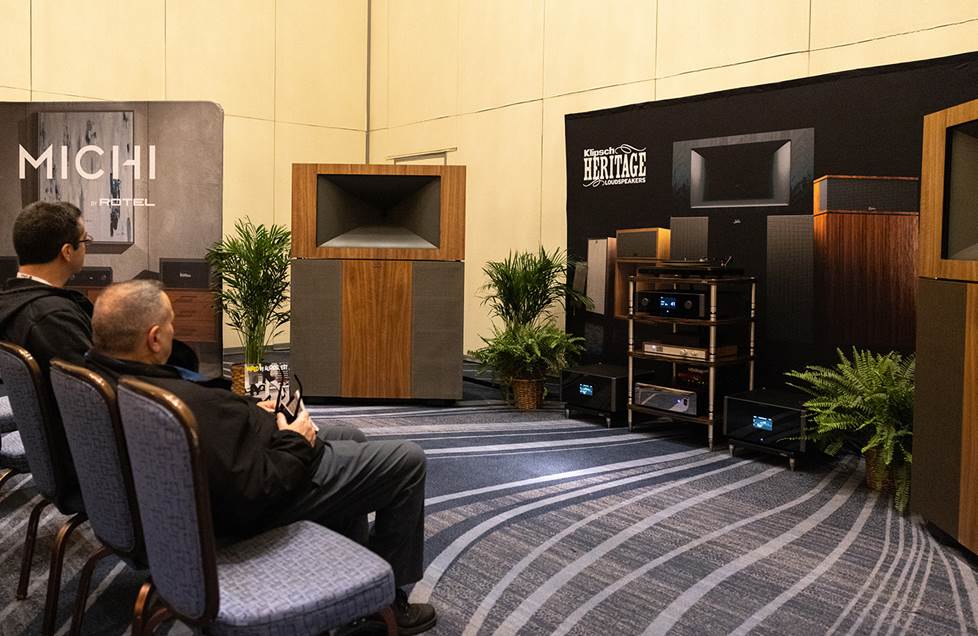 Klipsch's new horn-loaded Jubilee Heritage speakers effortlessly commanded the room, both physically and sonically.
Chief Acoustic Engineer Roy Delgado worked directly with Paul and has carried on his legacy with Klipsch's "Heritage" series — a line still hand-built in Hope, Arkansas to this day. Roy told us that the Jubilee was Paul's "dream project."
It took advancements in technology and breakthroughs from Roy and his team to get it done. He said to his bosses, "I know what Paul wanted, so you're going to have to trust me on this."
After hearing the Jubilees engulf the large listening room, without seeming to break a sweat, I'm glad they did trust him. I'm hoping we get a chance to speak more in-depth with Roy soon, but at that moment I had to leave this legend of high-end audio to get to a group of others.
Legends of high-end audio seminar
Robert Harley of Absolute Sound — a legend himself, who wrote the definitive reference book on high-end audio — led an esteemed panel of iconic engineers and innovators in a live Q+A and discussion. A captivated crowd watched on as these heavy-hitters swapped stories and exchanged ideas and theory on speaker design and sound: Gayle Saunders, co-founder of MartinLogan and now with Elkon Audio, Sigfried Amift of Theory + Application in Germany, Bill Dudleston of Legacy Audio, and Paul Barton, founder of PSB Speakers.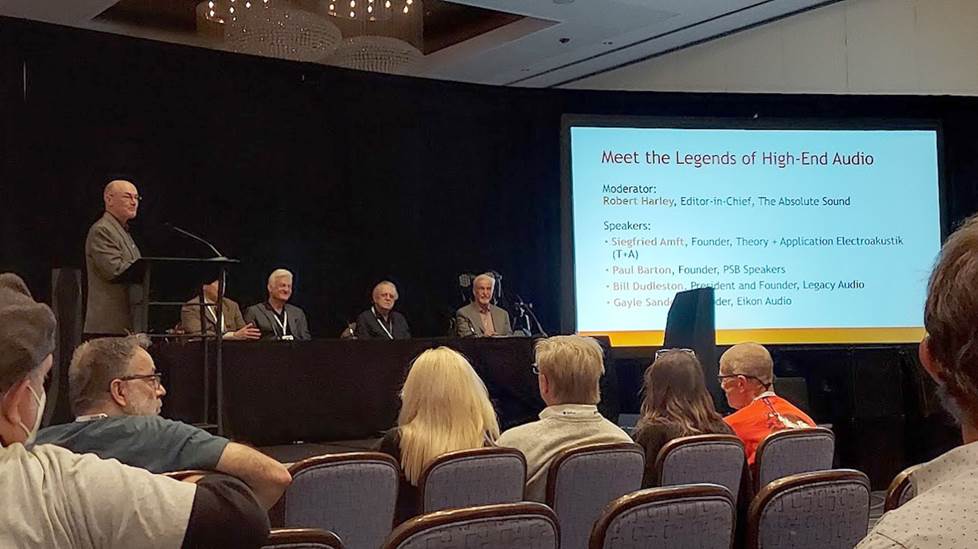 A stage full of audio royalty shared stories and answered questions.
We were also able to pick their brains and pepper them with wide-ranging questions on topics like delay time, off-axis response, and how digital audio dictates the present and future of speaker design. They also recounted their origin stories and what led to the discovery and design of some of the most well-known gear in history. But as enamored as we were with the stories behind their greatest hits, it was their misses that had us hanging on every word.
A hush hugged the expansive, cathedral-like setting of Ballroom E as all eyes and ears were fixed to Gayle Saunders' spirited, yet relaxed demeanor. He drew us in with a decades-old yarn on an early prototype of MartinLogan's famous electrostatic drivers that performed well in initial testing. "Then," he quipped with a curl of his lip, "I said those four fatal words in audio: 'Let's turn it up!'"
The eruption of laughter from the Axpona crowd likely rivaled the explosive sound of the lab disaster he described next. He recalled a scene of chaos as he and his team scrambled to extinguish the flames on blown speaker and amplifier.
We were still chuckling to recover from the tale when Robert Harley told us the hour was up. I know I wasn't the only one in attendance who would've gladly stayed there all day.
Listening rooms and scenes
But there was much more to get to, and sweet music to hear. Heading around the corner, our path was lit by the familiar, gorgeous blue glow of McIntosh meters. A huge McStack sat in the hallway between two listening areas showing off McIntosh Lab's staggering lineup of gear.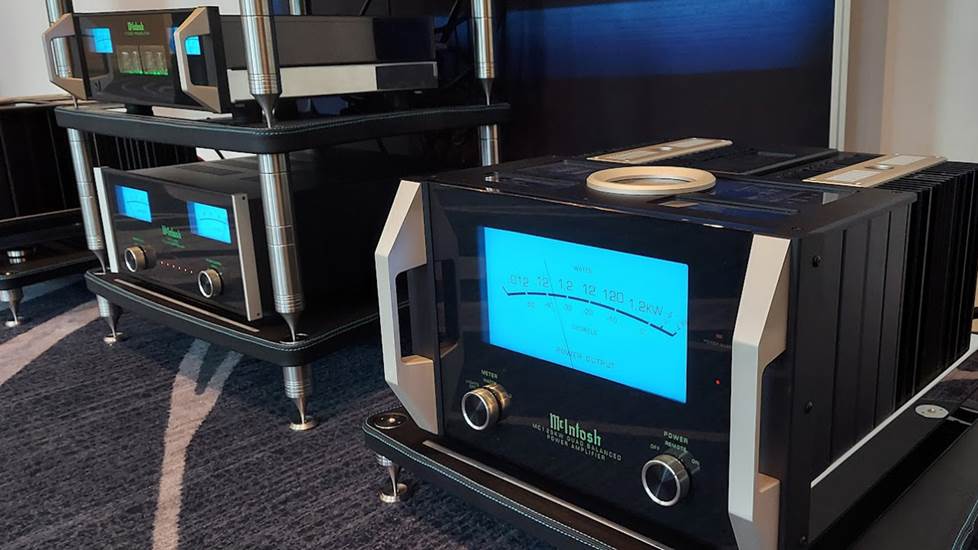 A gorgeous stack of McIntosh modules lured us in with their blue meters.
In one room, a C1100 tube preamp and controller fed two Mcintosh MC611 power amps that drove a pair of Bowers & Wilkins 802 D4 — the latest in the British company's legendary line of speakers. As if that weren't enough, a pair of JL Audio subwoofers thumped out the bass. Before you even get to cables, this system costs well over $60,000.
Seeing and hearing the B&W 802s in person, I was reminded of a recent speaker shootout at Crutchfield HQ that featured their 705 S2 bookshelf speakers. B&W's shrewd de-coupled tweeter design results in heaps of top-end detail. And it also elevates the entire soundstage, so their speakers sound and feel much larger than they actually are.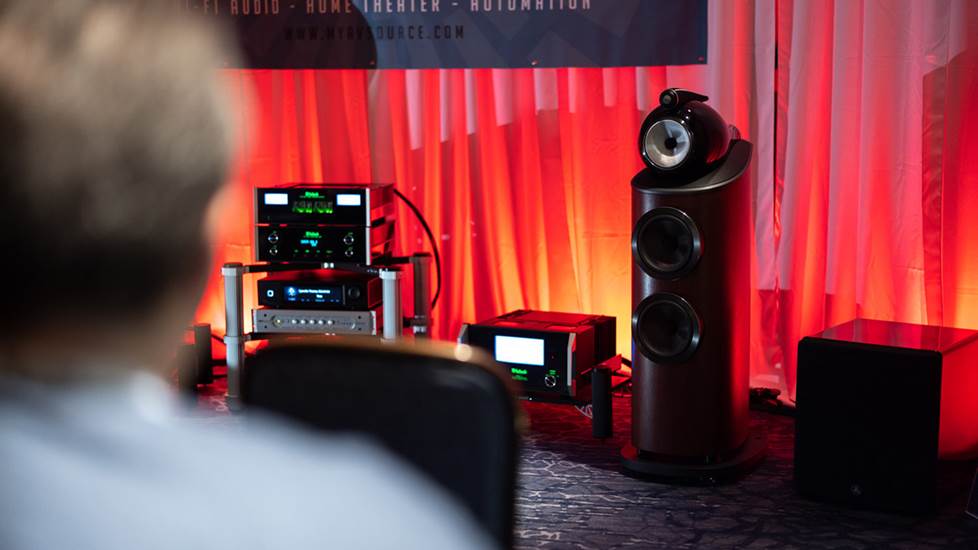 The Bowers & Wilkins 802 D4s driven by McIntosh monoblock amps.
As we moved on through the hotel lobby, we were greeted by another soothing soundscape — this time from a live instrument. Canadian harpist Isabeau Corriveau's playing was at once tranquil and intricate. And it simultaneously relaxed my shoulders and put an extra bounce in my step as I hoofed it up the stairs to the next floor of listening rooms.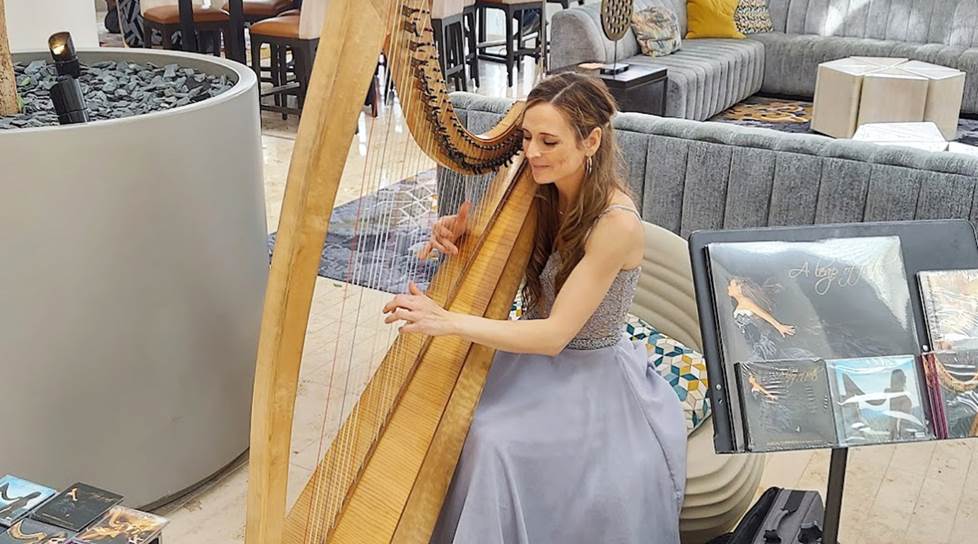 Harpist Isabeau Corriveau provided a tranquil soundtrack for the lobby.
This is where I found United Home Audio (UHA), a company just north of us in Fredericksburg, VA known for their hand-built reel-to-reels. They had their new $89,998 playing the audio show standard, "Take Five" by the Dave Brubek Quartet. "This song is like a warm blanket," said Tommy, "you know just what to listen for."
I sent a picture of the spinning silver wheels to my uncle Wayne, a long-time fan of audio who still swears by reel-to-reels, and says they deliver the best sound. Although the price tag shocked him — he told me back in the day, you could score great deals on Japanese reel-to-reels at military bases. But UHA has to bet the current gold standard — or close to it — based what I heard in that room.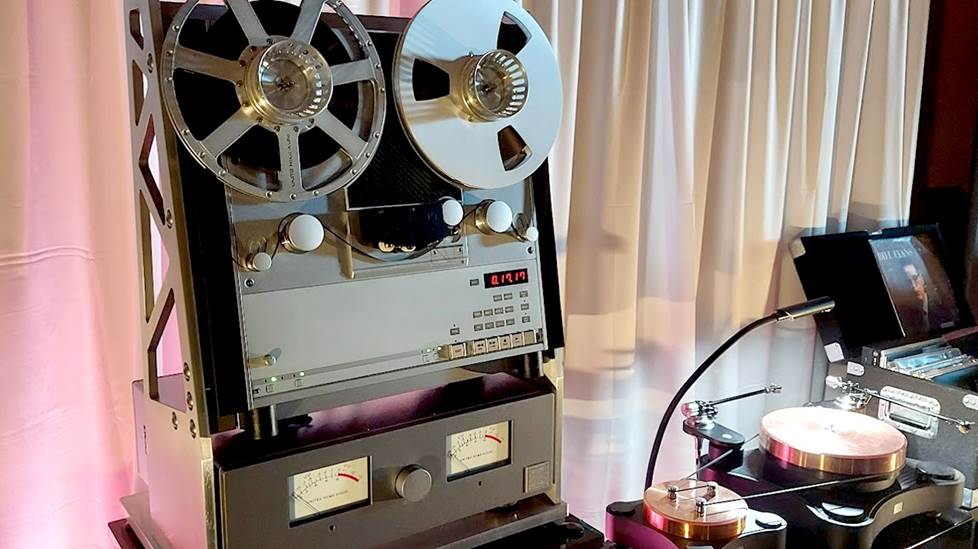 United Home Audio's hand-built reel-to-reel machine fed this top-shelf system.
Even with all the eye-popping price tags and oversized gear at the show, I might have witnessed the most actual "wow"s over a single bar. The slim Devialet Dione 5.1.2-channel sound bar fit under a TV and used its 17 built-in speakers to deliver a gripping Dolby Atmos experience.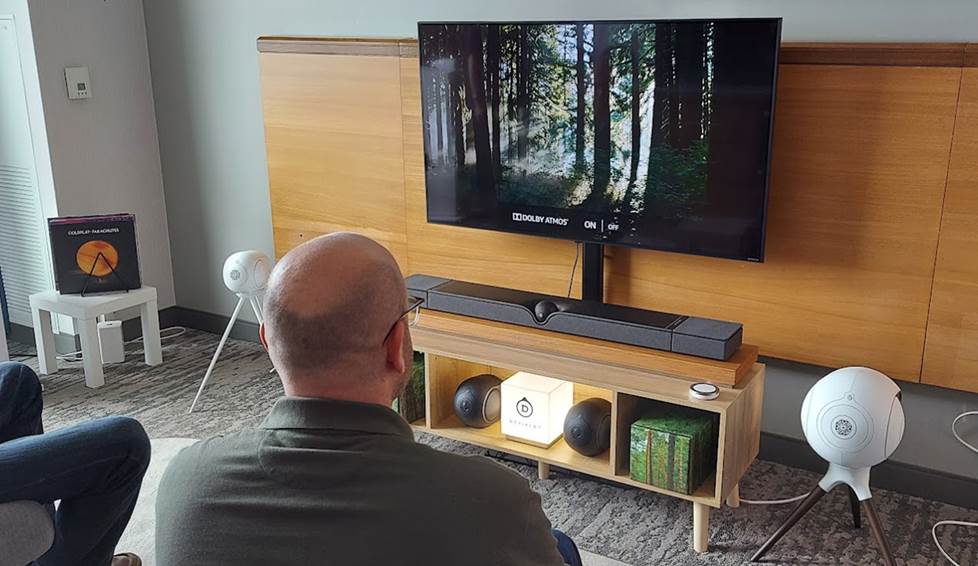 This single Devialet Dione bar delivered the height and three-dimensional spaciousness of Dolby Atmos.
The height channels and three-dimensionality were impressive enough — but the rumble of the bass! I heard more than one show attendee ask where the separate subwoofer was in the room. There wasn't one.
Speaking of Dolby Atmos, I finally visited Focal's room with their proper setup. And boy was it something. They essentially had four epic demo areas in one, including a constructed living room set where they had a full 7.2.4 Atmos setup with four Chora 826-D floor-standing speakers — complete with upfiring drivers — surrounding the listening area.
They had a pair up front and a pair in the back, plus a dedicated Chora center channel speaker. There were two powered subwoofers and the $20,000 Focal Astral 16 amp/processor muscled the whole system.
Only since this was an audio show, they skipped the home theater demo and jumped straight to Dolby Atmos Music tracks. Lately, I've noticed that Atmos mixes have gotten really sophisticated as more sound engineers and producers have gotten familiar with the tools. Focal played two standouts — the Atmos mix of Rush's "Tom Sawyer" and Elton John's "Rocketman."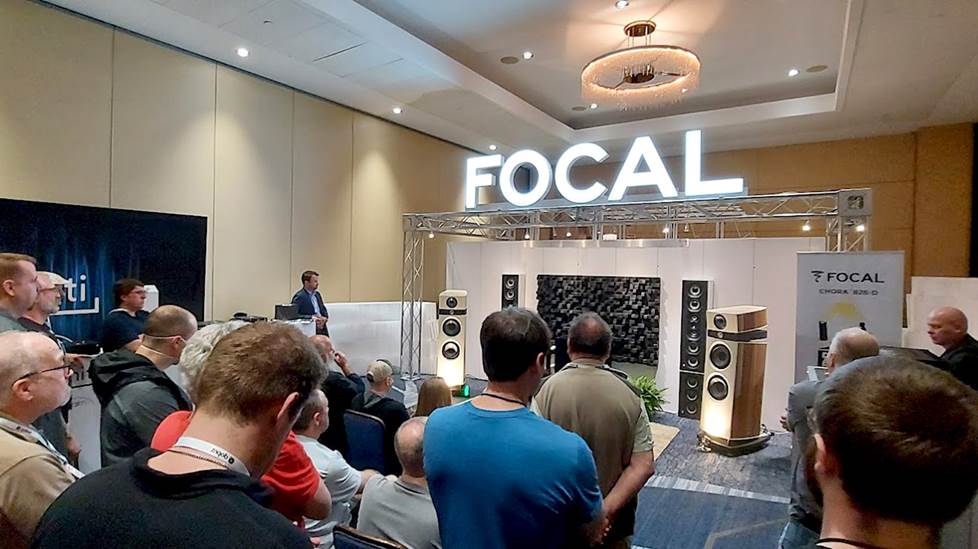 Crowds also flocked to Focal's main two-channel setup, where their super-premium Maestro Utopia towers made the lights flicker as they thumped out the Ghost Rider EDM track "Make us Stronger."
The former dropped us right in the middle of Neil Peart's drum kit during his iconic solo. And through the Focal speakers, the latter held our focus dead center with vocals while instruments — pardon the pun — soared above us. It was one of those times you just kind of look around the room to give people that look that says, "are you hearing what I'm hearing?"
Breaking news at Axpona — Andrew Jones joined MoFi
At one point Friday, Tommy and I grabbed lunch and he was checking his phone. A news alert popped up to say Andrew Jones — legendary speaker designer at TAD, Pioneer, and most recently ELAC — was now with MoFi Electronics. We finished our sandwiches and headed over to the MoFi rooms.
Sure enough, we saw Mr. Jones himself in the hall — literally walking from the ELAC room to the Mo-Fi area. I had two thoughts: is this for real? And only at Axpona.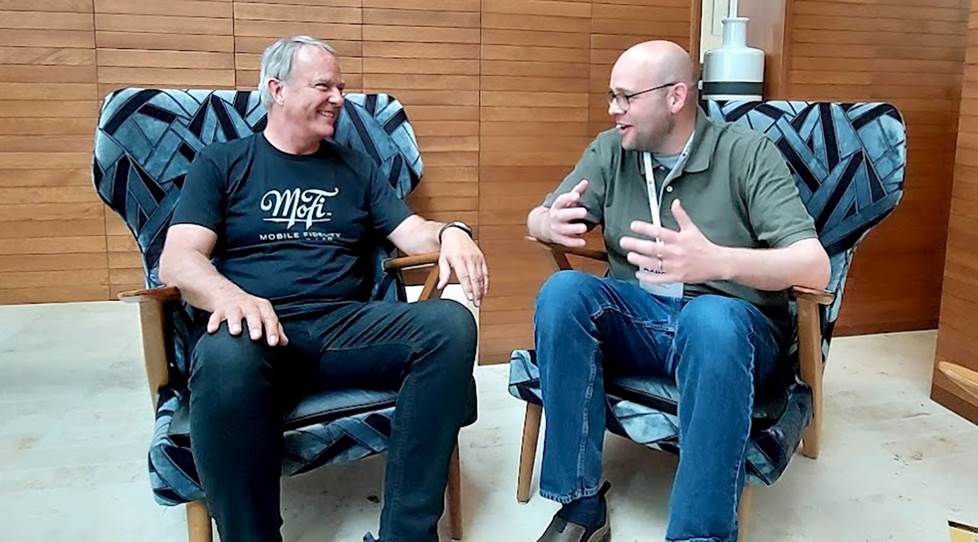 Andrew Jones explained to me why he made the move to MoFi.
I let him celebrate, but the next day grabbed him for what I thought would be a 10-minute interview. We talked for 40 minutes about everything from how to "creatively" file a patent to how close his new Beverly Hills office is to Nobu Matsuhisa's original restaurant. "I keep telling everyone it's my company cafeteria," he joked. "Fantastic location."
Andrew told me that there were no hard feelings between him and his former colleagues at ELAC. And they are in good hands with their new chief engineer, Oleg Bogdanov, formerly at Paradigm. But he was drawn to MoFi because they have such well-established roots in every part of the audio chain — except speakers.
"So we have this idea of completing the audio chain," he said. "And we're not locked into anything about what the product is right now. The mission is for me to come up with ideas…for me to decide what the sound is and the technology. So there's this vision of letting me play and having the time to develop a product."
But rest assured, he's not showing up day one with a blank document. He has plenty of ideas already in development and percolating in his mind. "My wife tells me I'm talking speakers in my sleep," he laughed.
More rooms and scenes
At one point we decided to take the express elevator to the 16th floor and make our way down, one floor at a time. Here's some of what we uncovered on that journey: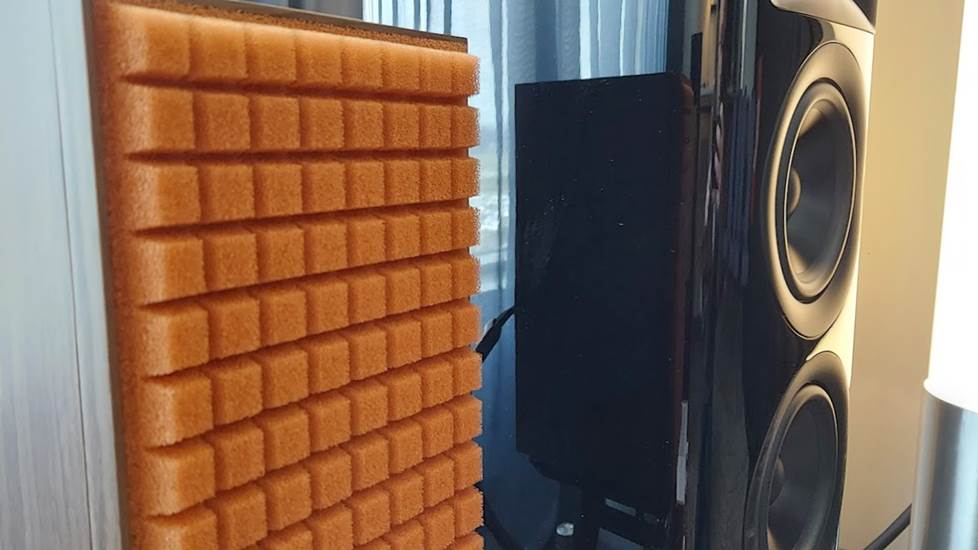 The JBL L52 Classic speakers sport the company's old-school waffle grilles.
JBL had their vintage inspired L52 Classic bookshelf speakers on display, the compact version of their updated L100 Classic. The original 1970s L100s were one of the best-selling and most-recognizable speakers ever. My uncle Wayne — who got me into audio gear at a young age — owned them back then, and holds them in the highest regard.
So I had to snap a photo of those tell-tale orange waffle grilles and text it to him. No caption or description needed.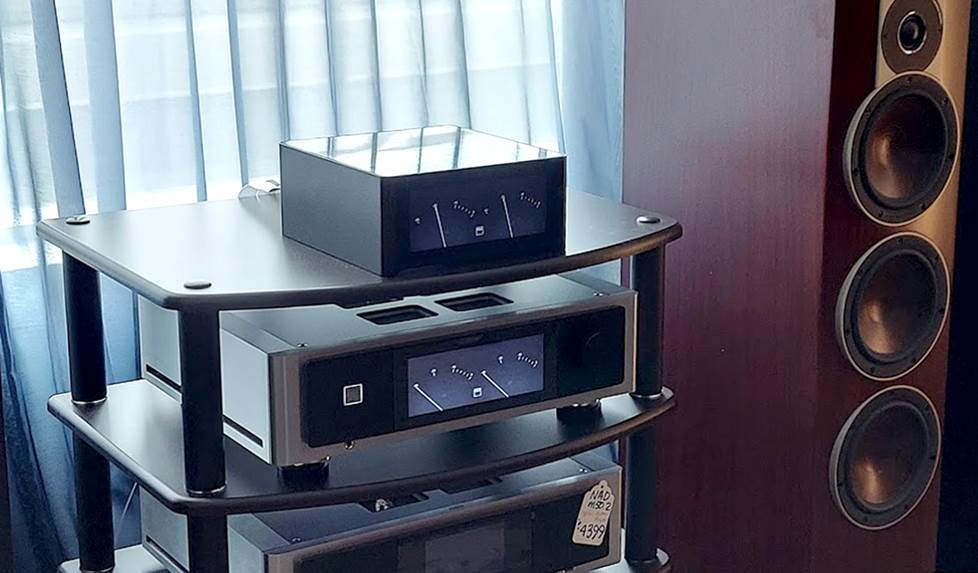 The sweet-sounding Dali Opticon 6 floor-standing speakers with the NAD Master SeriesM10 V2 and M33 BluOS integrated amps.
Sound United was also well represented, with hotel rooms dedicated to classic and new audio gear from Marantz, Definitive Technology, and more. One of the most impressive rooms I heard in the whole show was actually one of the more "modest" as well. Modest is a relative term here — they had the very formidable Denon PMA-1600NE integrated amp driving the well-engineered Polk Audio Reserve R200 bookshelf speakers.
This gear held its own against speakers and amps that were priced higher and physically more imposing. This was testament to how choosing the right gear and proper speaker placement in a room can do wonders. Just workman-like components, competently placed to make the most of the intimate setting.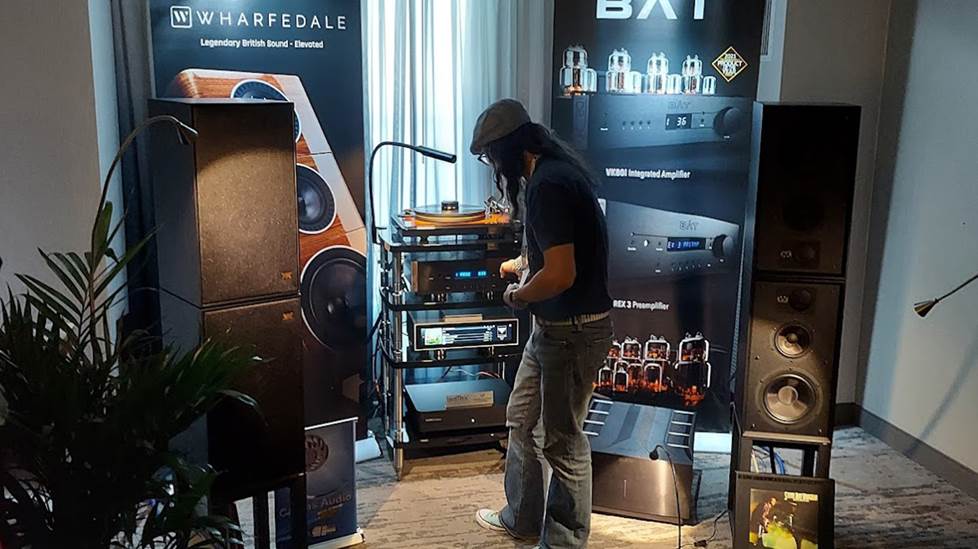 What's better than a pair of Wharfedale Linton speakers? Two pairs, of course!
As we weaved our way all the way back down to the lower floors, we noticed things were getting a little looser. It was nearing the end of the day, and the Mo-Fi crew had started to experiment a bit. They stacked a pair of Wharefdale Lintons on top of another and ran them in stereo. Stevie Ray Vaughn blared out into the hallway — with no complaints, the show's "good neighbor" policy relaxed in the name of important "research."
Final thoughts
The show was a real whirlwind, and the pace was break-neck. Except for those moments that demanded a pause…That song that played perfectly to a speaker's strengths or the room's vibe…Or those times I waited for an elevator, then someone would recognize Crutchfield on my badge. We'd get so caught up in conversation, we'd let the elevator come and go.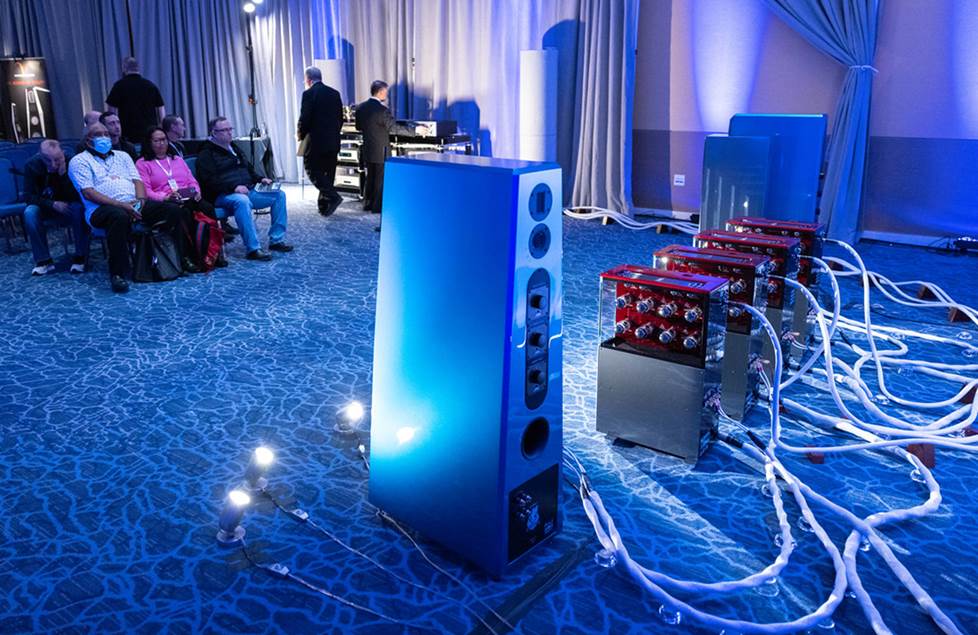 The eye-brow-raising Von Schweikert Audio room with roughly one million dollars worth of gear.
As great as it is to speak to our customers online or on the phone, it's so much better in person. We met one longtime customer named Vijay at the hotel restaurant. He has very specific audio tastes and was familiar with a lot of the higher-end Focal pieces at the show.
We talked headphones for a bit since he's looking to replace some IEMs. He told me, "I'm not an audiophile…I just know what I like." I thought that was well-said.
And I feel like it kind of described everyone at the show. I sensed very little of the pretense and posturing you might associate with "audiophiles." Maybe it was because we haven't been able to get together and soak in some tunes for a while. But I don't think that was the only reason. In general, it was just a very courteous, accessible show.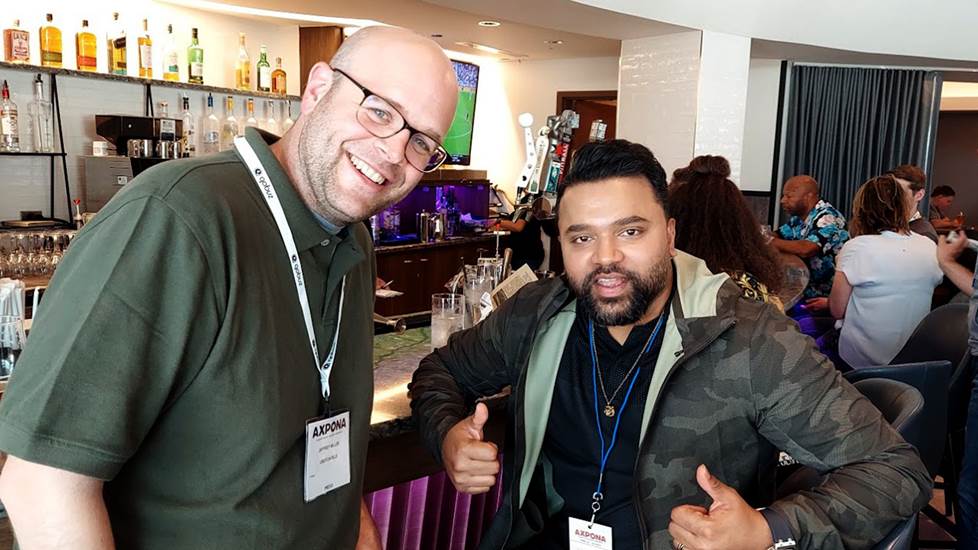 It was great to meet longtime Crutchfield customer and audio gear aficionado Vijay.
Not that we didn't have our disagreements! On the last night, a small group of us — some from audio brands or other retailers — decided we couldn't leave Chicago without having some deep-dish pizza. When it came to the table, we all sort of marveled at the size and make-up of the pie.
But each of us had strong opinions about the taste, consistency, and whether it was really pizza. Some liked it a lot, others didn't. And it soon gave way to what we saw at the show, and some friendly back-and-forths about what we thought sounded great, what didn't, and what was "too out there."
As the conversation evolved to laughing and sharing old stories, it hit me. I was no longer feeling disoriented. And I really hadn't for most of the show.
Once you realize that most people around you are there to teach or learn, not judge, it puts you at ease. And then you see that even more than that, we all just want to hit play on that next song. And that's when you feel right at home.
Need help? Contact us.
Have questions about anything audio? Contact us today.
Our expert Advisors know this stuff inside and out. And free lifetime tech support is included with your Crutchfield purchase.