In this installation story, we'll discuss two issues you might face when replacing factory speakers in newer vehicles:
The stereo limits bass output at higher volumes
A radio shutdown circuit turns off the sound
Here's how a Crutchfield trainer dealt with these problems while upgrading the sound system in his new car.
J.R., who helps train all of our new advisors here at Crutchfield, had a problem: he'd bought a brand-new car that he loved, but wasn't happy with the sound of the factory stereo. To fix this...you know what, why don't I let him tell the story?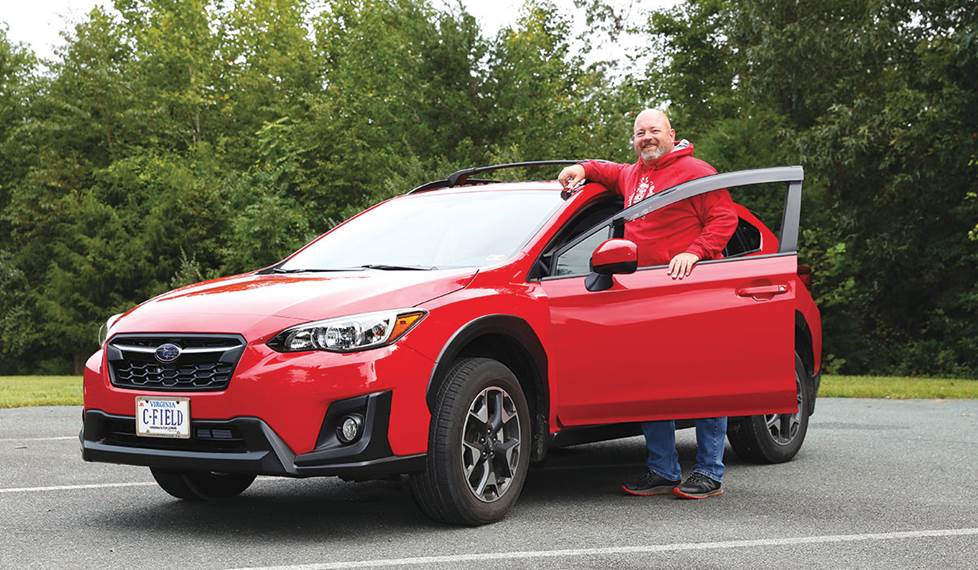 J.R. with his Crosstrek, Grenadine
A car that's nearly perfect...
My bright red 2020 Subaru Crosstrek (I named her Grenadine!) is the first car I've bought brand new since 1993, and I LOVE it. It drives like a dream — it has the perfect mix of on- and off-road driving features, the handling is responsive, and in sport mode, with its CVT transmission and the paddle shifters, it's zippy!
I also love the dash layout and my factory stereo features, but after driving it for a day or two, one thing became clear: I was very disappointed by the sound of the factory system. It was thinner than I wanted it to be, and when I turned the volume up, the bass would drop out completely. Luckily, I knew exactly how to fix all that.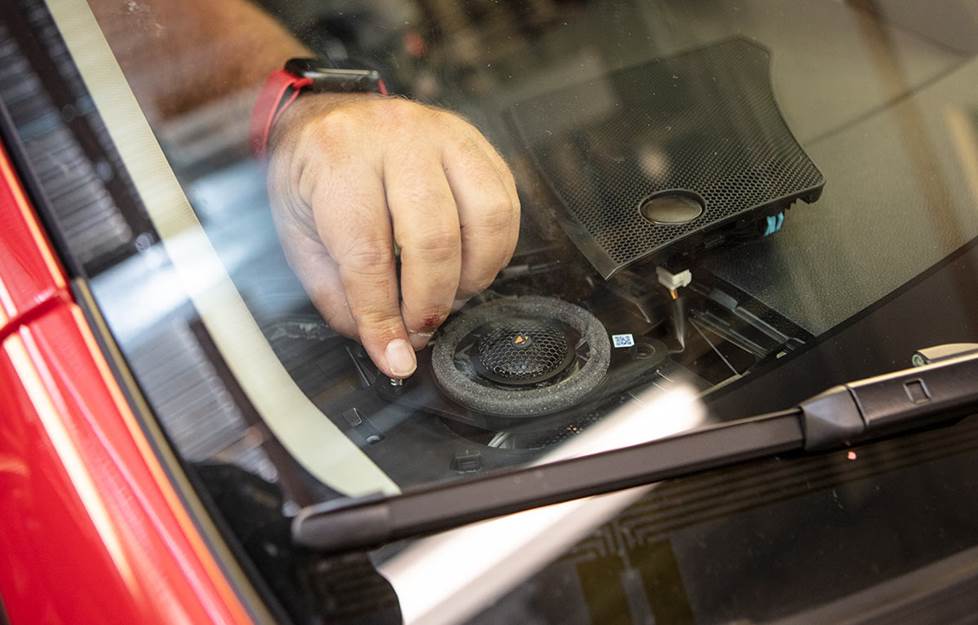 The goal: all new audio components
Early in the planning stages, I decided to go with an all-Kicker system. I'm a big fan of their powerful, punchy sound, and the versatility of their gear. I put a set of KS Series components in the front door and dash (that's where the tweeters mount in my car), and matching KS Series 2-ways in back.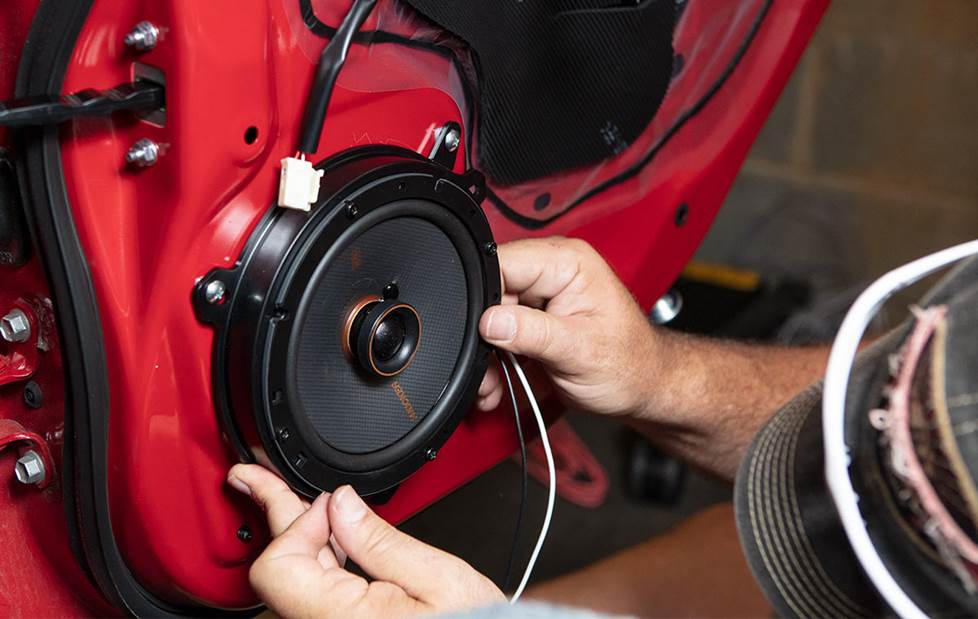 In back, I put in Kicker's cool 47TRTP122 downward-firing subwoofer, because I need that bass! What's cool about it is that it's designed to allow you to stack stuff on top of it. So I get all the bass I want, and still have room for all my Disc Golf gear.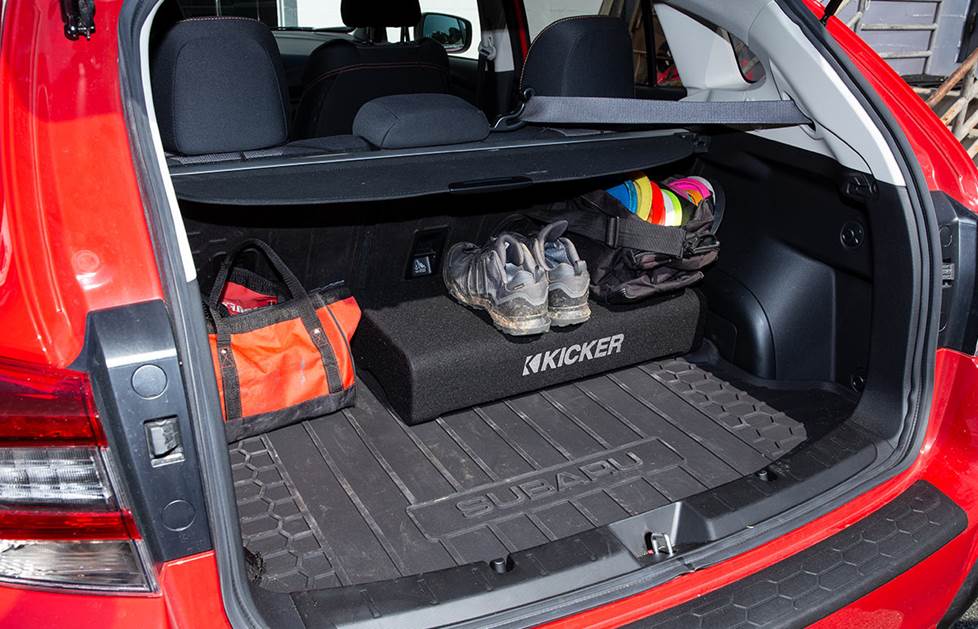 To power the whole setup, I installed a 5-channel KX Series amplifier under the passenger seat. It puts out a ton of power, which makes me happy, and couldn't fit the space more perfectly. (Unfortunately, that amp is no longer available, but we have plenty of other Kicker amplifiers to power your system.)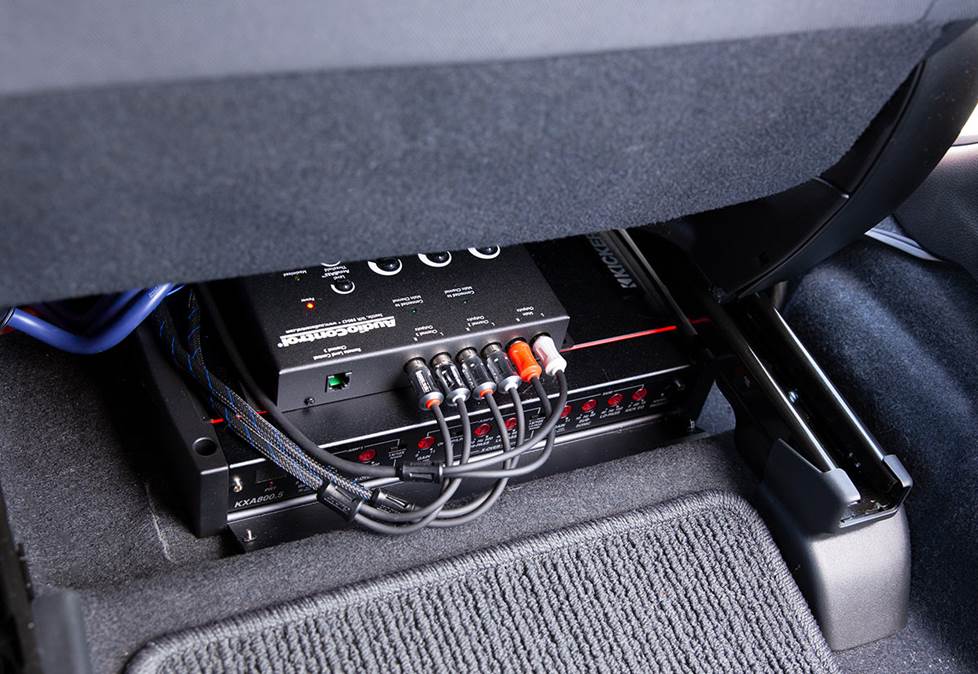 A line output converter helps elevate the sound
Of course, none of these upgrades would have been possible without a couple of pieces of essential gear. The first, an LC7i line output converter (LOC) from AudioControl.
LOCs take an amplified, speaker-level signal and step it down to preamp-level, which most amplifiers prefer to work with. But the LC7i from AudioControl also did a couple of things for me to ensure that I was sending the cleanest sound possible to my new amp.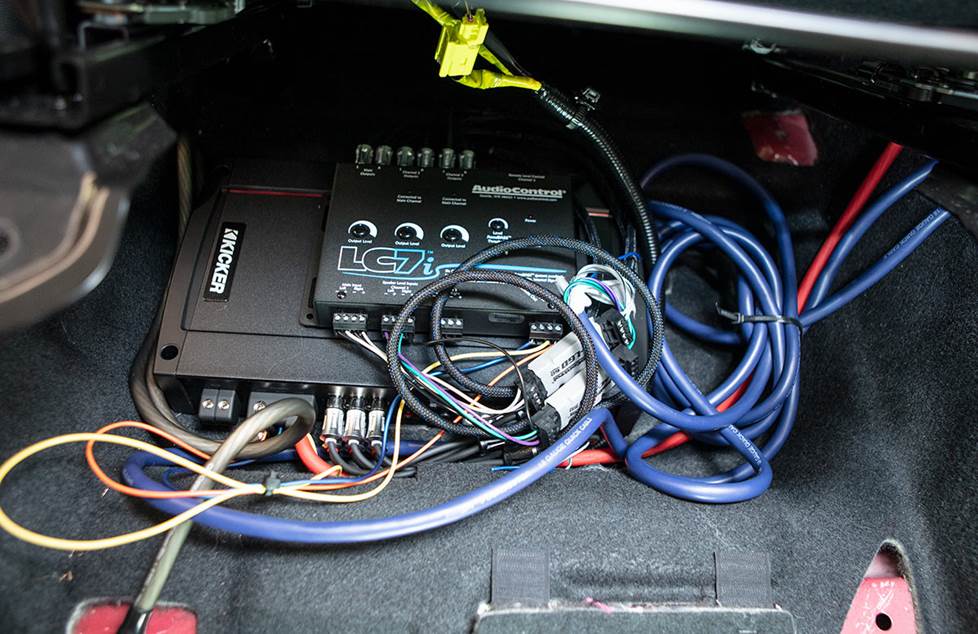 The most important function for me, is its bass restoration feature, which AudioControl calls AccuBASS. My factory stereo is like those in a surpringly large number of new vehicles that turns down the bass output when you turn the volume up on the stereo. It does this to protect the cheap factory speakers from getting overpowered. But this makes for a terrible audio experience – especially when you're trying to upgrade to better speakers with more power-handling ability.
AccuBASS restores this missing bass as the factory stereo rolls it off, so there's no loss in performance. In other words, I get all the thump from my subwoofer that I demand. And that's a great thing.
The LC7i also does signal summing, which combines the different signals from the separate speakers (say, the highs from the tweeters and lows from the door woofers) into a single, full-range signal to feed into the new amp. I didn't need this feature because all of the outputs from my stereo are full range.
A load generator to prevent radio shutdown
The most important piece of the puzzle, however, was the smallest: a load-generating device from AudioControl. It's a brilliant little component that'll help lots of customers with their projects.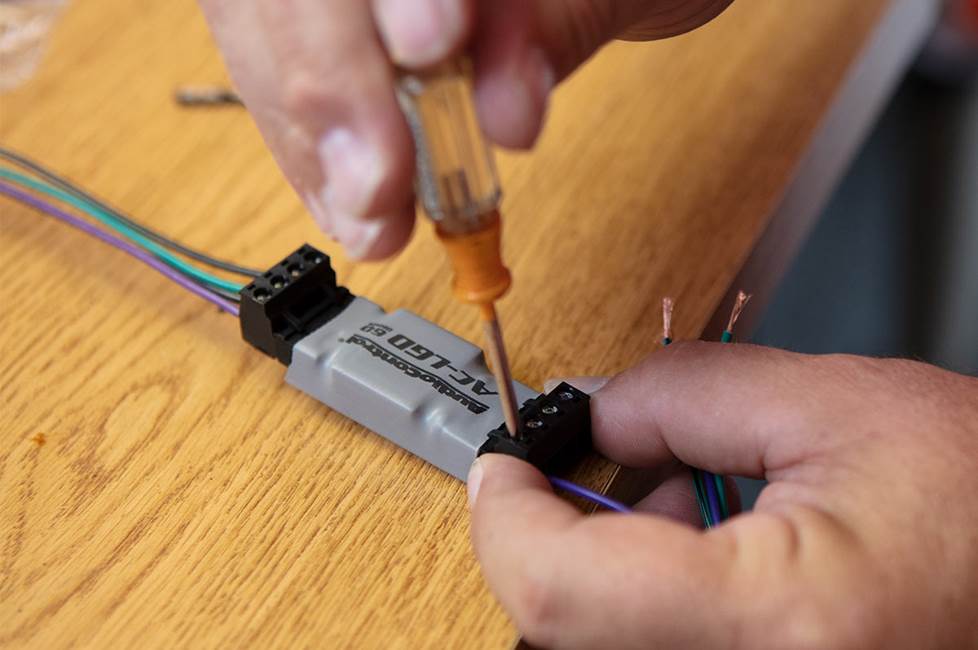 It's the unfortunate case that many newer factory stereos will only send out audio signal if they sense an exact impedance load from the speakers that are connected to them. So if you change the speakers or try to add an amplifier by tapping into the factory speaker wires for input signal, the stereo thinks that no speaker is connected and shuts off its audio output stage. And that's just no good for anybody.
My Subaru is a little different. The radio would likely still output signal to the front speakers. The problem comes when the vehicle does a self check for the health report. The internal computer would notice something was wrong with the front output, which is a big deal since the car has the telematics system that lets me call 911 in case of an accident and such. And it would not be good for the vehicle to think a safety feature isn't working.
The load generator connects to the factory speaker wires on one end, and to the AudioControl LOC's speaker-level inputs on the other. It fools the stereo into thinking it's seeing exactly the impedance load it wants to see, and continues to send out audio signal. From there, the other components take over, and I'm a very happy guy when I'm driving.
How does it sound?
In a word: spectacular. The new speaker array sounds so good. The staging is way up on the dash, the dynamics are great, and I can hear every detail. It's awesome. And I get plenty of bass response to feel my music in addition to hearing it. Now my car is perfect, and I get a little bit giddy every time I jump in it.
Let J.R. tell you all about it
J.R. is the co-host of the Crutchfield podcast and gave us the inside scoop on his installation.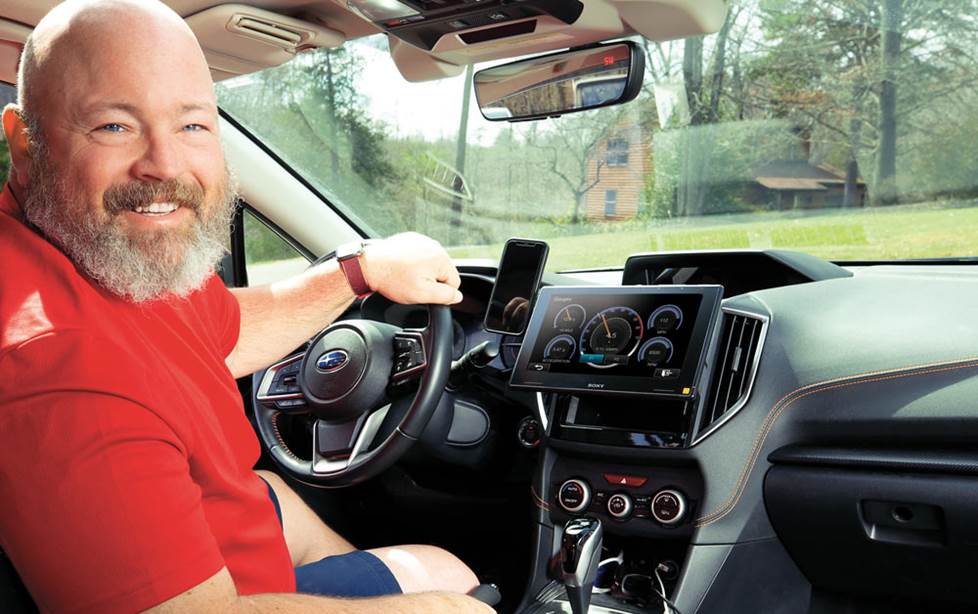 Update: adding a new stereo using the iDatalink Maestro RR2 interface
J.R. decided to update and go big — really big. He installed a new "floating" Sony Mobile ES XAV-9500ES multimedia receiver to work with his Kicker amp, speakers, and subwoofer.
He was originally concerned about losing the Subaru-specific features he loved. But when he discovered his Subaru was compatible with iDatalink's versatile Maestro RR2 interface, which would let him keep factory features and add new ones, he decided to install the huge touchscreen stereo.
Using the Maestro interface allowed him to replace the line output converter solution and smiplifiy the audio-side of the installation. J.R. added "I love the bigger screen, the bigger buttons, and the fact that it's much closer to me." You can find out more about J.R.'s stereo installation in our spotlight of the iDatalink Maestro interface.
Need a hand with your factory system?
If you're ready to leave your thin factory sound behind, give us a call. We'll help you make sure you have all the components you need to make it all happen.