While surfing through the Internet one day, I found a blog post on the Gadgeteer website entitled "My Crutchfield Experience." In the article, author Dave Rees details his experience installing his own car stereo, complete with lots of photos. Reading it put a smile on my face — not just because it casts a nice light on Crutchfield, but because Mr. Rees details an experience very close to my own.
Photo by Dave Rees, via the-gadgeteer.com
The thought of installing a car stereo can be daunting. What if I break something? How can I keep track of all those wires? Is this really worth it? A thousand people can tell you, "Don't worry, it's easier than it looks," but until you dig in for the first time, it's not easy to believe them. And I understand completely, because "As you are now so once was I."
When I rolled into Crutchfield for my first day of work, I was "rocking" a factory tape deck and stock speakers. "Muddy" is a word I'd use to describe the sound I was getting, and the portable CD player plus cassette adapter kludge only prolonged my audio agony. Clearly, change was called for, but like so many of you out there, I had a mental block that kept me from even shopping for a car stereo in the first place. I just assumed I couldn't do it! Thankfully, Crutchfield engenders a "can-do" spirit, and I quickly caught the fever. The only solution was more stereo.
I drive an older car that is easy to work on, but many cars (especially newer ones) contain A/V systems that are much more complicated than mine. Our Advisors can help you find something that works, even if swapping your factory stereo isn't an option. Or, you can use our handy Outfit my Car tool — just enter your vehicle information to see your car stereo options.
But back to the piece in the Gadgeteer. Like me, Dave Rees was itching for a change.
"The original stereo that came in my Chevy truck still worked and was fine enough but was getting older and worn. Plus the fact of being a writer on the-gadgeteer.com and a die-hard tech-guy, not being able to play my iPod in my vehicle was getting to me."
I felt that, way, too. How would it look if I spent 5 minutes explaining to someone that I wrote about car stereo gear for a living, and then had nothing cool to show them? Like Dave, that served as just enough inspiration to dive into the car stereo project. But I still felt it would be a monumental undertaking. And as Dave points out, that feeling can linger. Even after our tech support reassured him that he was more than capable of pulling it off, the fear returned right when he was about to start:
"Once you get all the pieces and wiring harnesses unpackaged, the intimidation factor does go up a bit."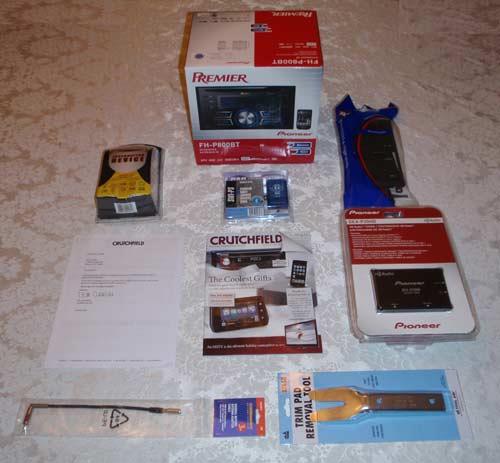 Photo by Dave Rees, via the-gadgeteer.com
Indeed, it does. As you can see in Dave's photo above, there are a lot of pieces that go into this task. But I really identified with his next observation:
"The scariest part of the installation was removing the front of the dash (aka, the plastic bezel holding the front of my dash in place). It came off just as the folks at Crutchfield described. To remove it, you carefully pry it off with your fingers, angle it past the steering wheel, and put it aside."
Unsnapping the plastic parts of my dash (and later, the door panels for speaker installation) was the scariest part for me, too. I was so sure I'd break some small piece that would make my dash fall apart. But in the end, everything popped off cleanly with little or no prying, just as Crutchfield's illustrated, step-by-step MasterSheet™ promised it would.
Rees also points out an important aspect of any DIY undertaking — it saves you money. In most cases, the installation cost can at least double the total cost of your new stereo. How's that for motivation? The truth is, if you shop wisely and install it yourself, a car stereo doesn't need to be super-expensive. A new car stereo can really improve your daily drive, so if you spend a lot of time in your car, it's time and money well-spent.
Good luck! And remember, you can do it. If you get stuck while installing a stereo you bought from Crutchfield, feel free to give us a call and we'll walk you through it.
Car stereo installation links you may find helpful:
Outfit my Car — find out what gear works with your vehicle.
Check out our three-part video series on upgrading a factory stereo. Part One details speaker replacement; Part Two shows you how to up your sound quality and power, while Part Three shows you what some add-on features can do.
Check out our car stereo installation video to see what a basic installation looks like.