In this edition of Crutchfield DIY stories, we take a peek inside the installation of a new audio system in a 2007 Ford Focus. Lauren, a high-school senior, takes on the job with a little help from the crew at Crutchfield. Her new system includes all new speakers, a touchscreen stereo with Apple CarPlay®, and a powered subwoofer.
Lauren is her school's valedictorian, an avid volleyball player, and a huge rap music fan. But the factory audio system in her 2007 Ford Focus just wasn't delivering as she played music from her iPhone® 8. She and her father bought new gear for her Ford — and Lauren decided to tackle the installation.
Why install a new stereo system?
Lauren had one word for the factory audio: "Horrible!" There was no clarity or detail in her music, and she heard a lot of static because she was using a wireless FM transmitter to broadcast her iPhone's audio. The radio stations were crowded in her area, so reception bleed-over often interrupted her music. She also wanted a safer way to control her phone calls, navigation, and music apps.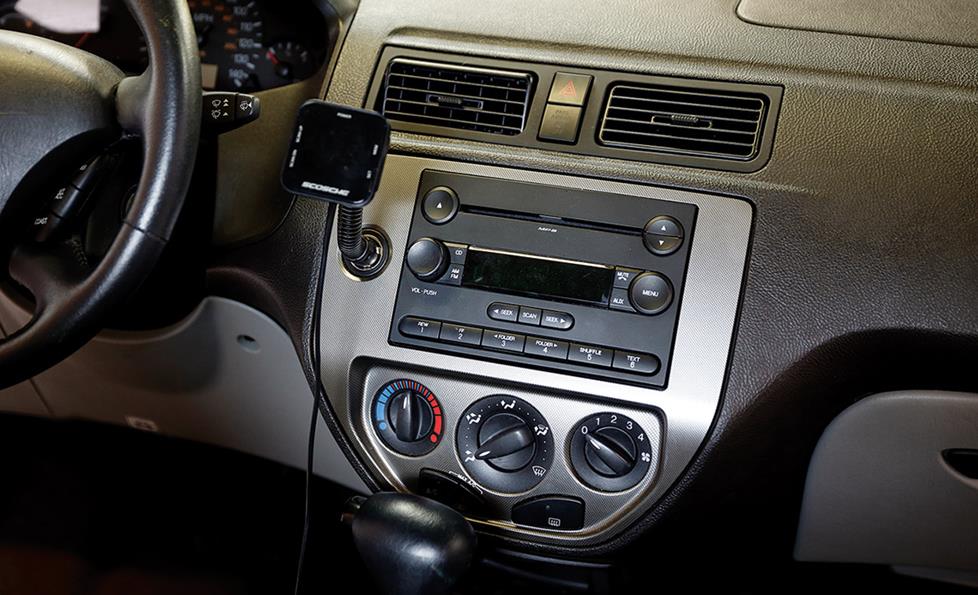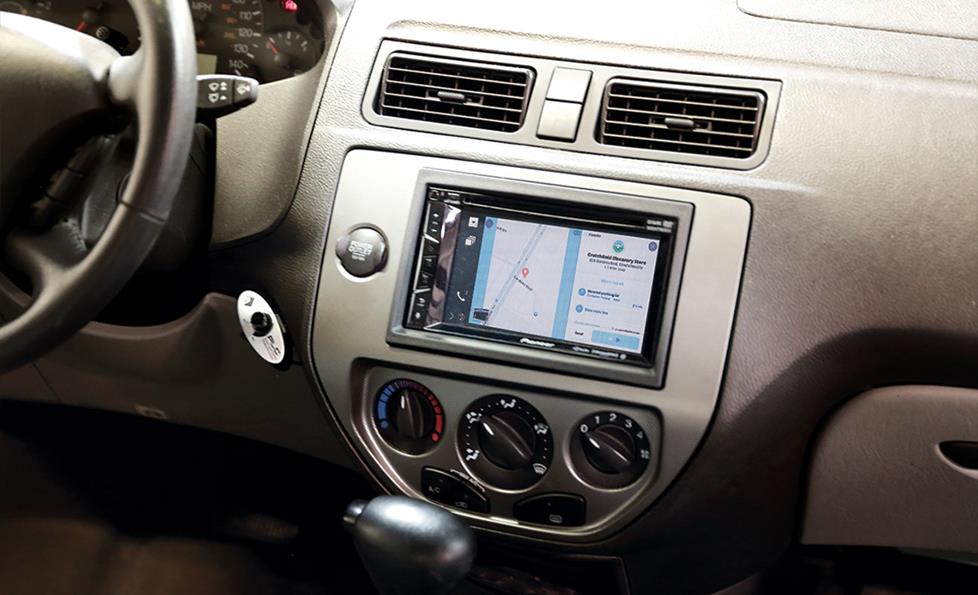 A new car stereo takes center stage
The factory radio was a good starting point for Lauren, who had no installation experience. She received our Crutchfield MasterSheet™ instructions with her purchase, looked them over, and seemed comfortable with the radio removal.
Once she got the hang of a few tools, she pried off the dash trim and removed a few bolts to take out the factory radio. She prepped her new stereo by connecting the wiring harness and assembling the dash kit, both of which we supplied at a deep discount with the purchase of the stereo.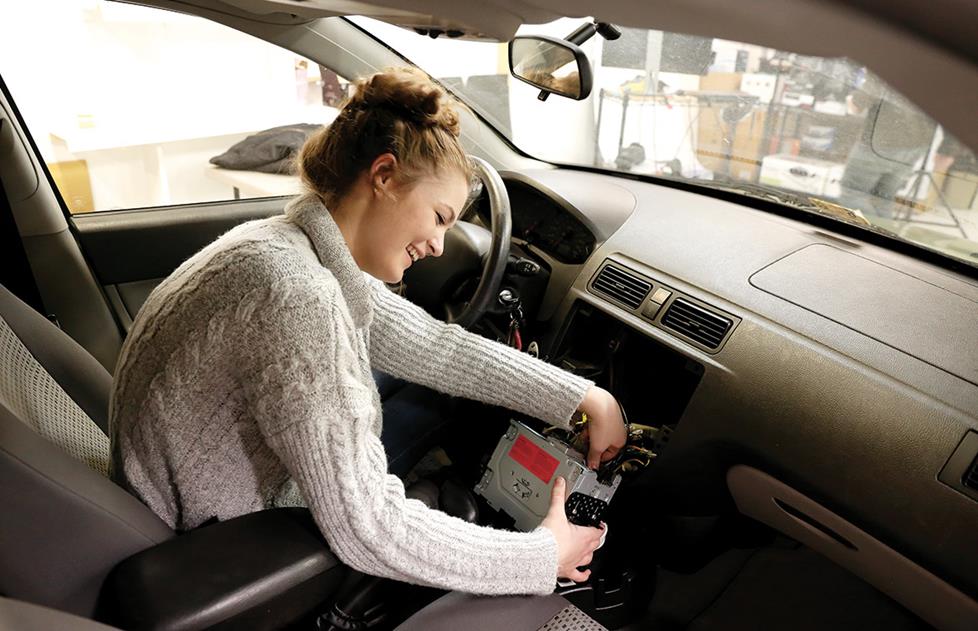 Lauren reversed the disassembly steps to mount the Pioneer AVH-1330NEX receiver in the dash. Now she has Apple CarPlay™, which perfectly integrates with her iPhone 8 for hands-free calling and easier control over her music.
Our selection of receivers with Apple CarPlay continues to grow.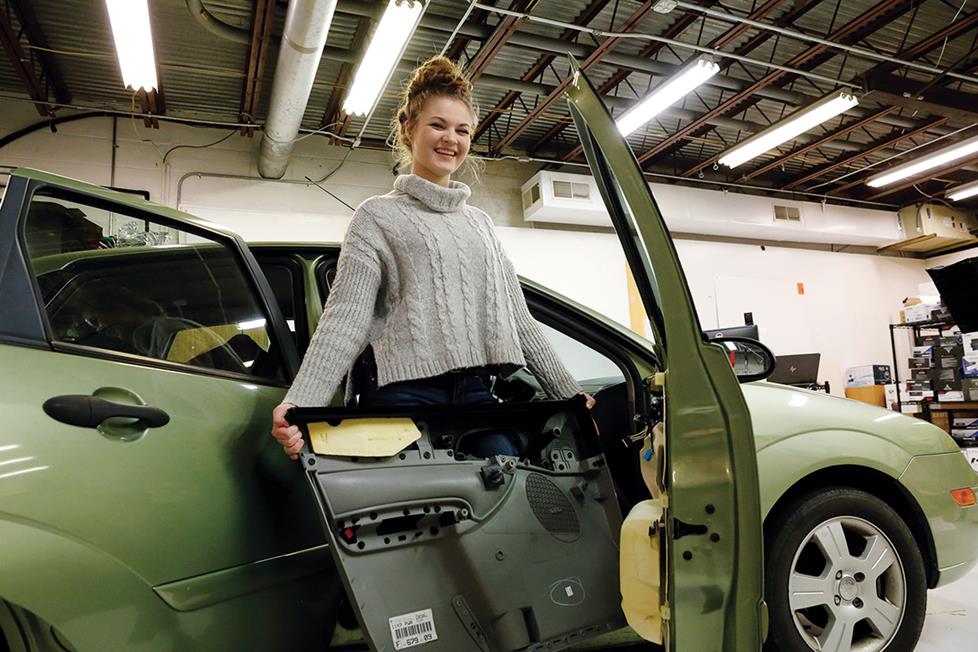 Installing new speakers in each of the doors
Replacing speakers can appear to be a daunting task. After showing Lauren what needed to be done to remove the factory speakers, we could see her concern. But once she got comfortable with popping the panels off and unscrewing the speakers, Lauren looked like a pro in no time, moving much faster through each successive door panel. Bojo trim panel tools really help in removing tricky panels.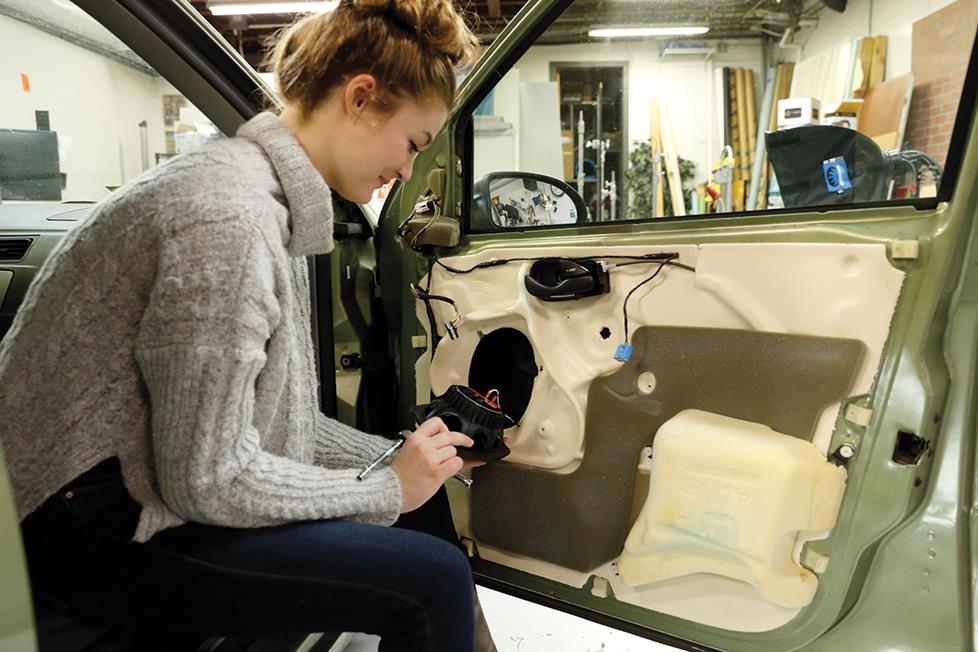 Lauren chose two pairs of JBL GTO speakers, which gave her that clean sound she wanted from her music.
Bring on the bass!
With rap, you gotta have bass! Lauren and her dad picked one of our most popular Rockford Fosgate powered subwoofers. It combines the amp, enclosure, and sub in one package. The 300-watt powered sub added that thump that Lauren had been desperate for.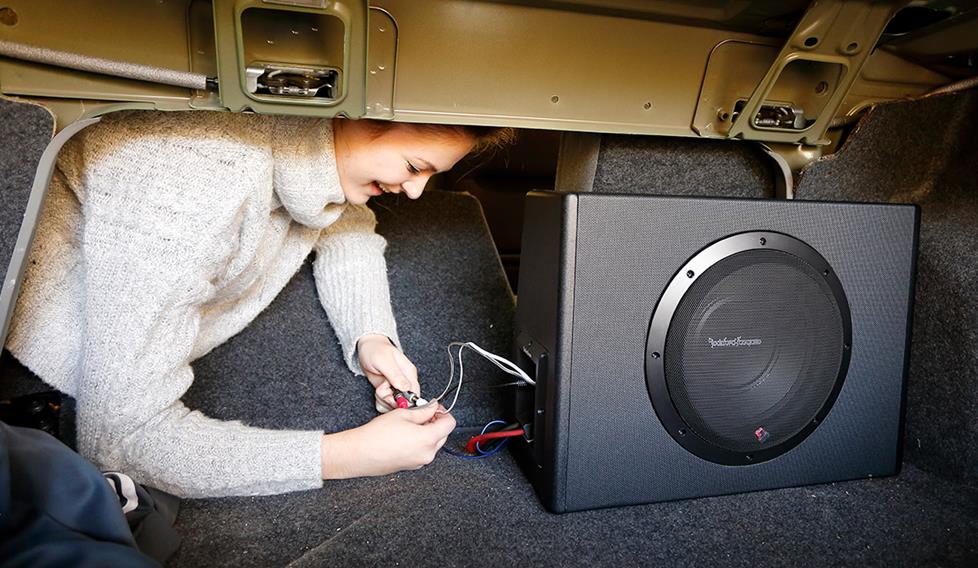 Adding a powered subwoofer seemed really involved to Lauren, and that's understandable. She had to run several different wires throughout her Ford, including a power cable that had to be routed to the engine compartment. For some of those connections, we were happy to help her out a little.
Check out our selection of powered subwoofers for your vehicle.
Controlling the bass bump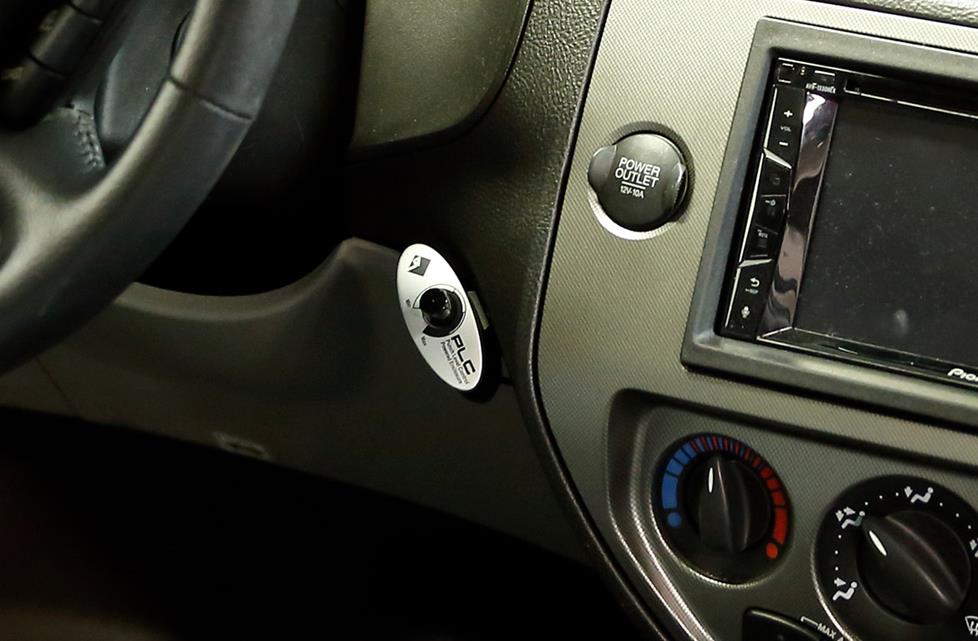 Rockford Fosgate included a remote bass level knob for their powered subwoofer. We talked with Lauren about where it work best for her. She didn't seem too keen on having it float around unsecured, although she was stoked to know she could turn her bass up quickly. So we offered to mount it on the side of her dash wall, and she was cool with that.
She can't sit still
This is my favorite part of the story. As we watched Lauren switch on her system for the sound check and she heard the first sounds hit her speakers, her face lit up. Suddenly, we were in a mini nightclub, and Lauren led the dance from her seat. Below is one of the most in-focus photos we could get of Lauren once she got her music going. Hmmm, we think she likes it. Just a hunch.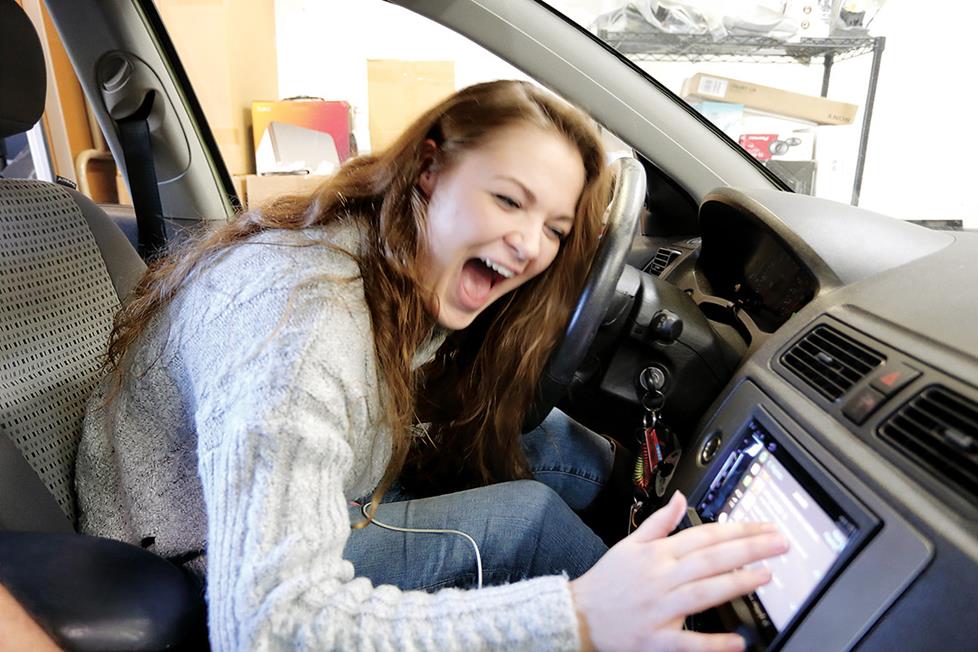 Whether you're a first-timer or a seasoned installer, our Advisors are here to recommend a great system for your ride. You can chat, email, or call, and we'll be glad to help out.