Focal Clear Mg review
Hands-on with Focal's new wired closed-back headphones
Focal never ceases to amaze me. The French audio experts have released so many world-class wired headphones, you would almost expect (and forgive) a misstep at some point. But from the moment I unzipped the designer case containing the Clear Mg — their latest open-back offering — I could tell the high-end headphone "magic" is as strong as ever.
This update to their customer-favorite Clear wired headphones has a revamped driver system. It uses a similar engineering principal to the original — but with pure magnesium diaphragm domes. I found the sound was pure and pristine, with even better texture and more pronounced dynamics. (Just remember, to hear them at their best, you'll need a separate headphone amp or a portable music player.)
Deluxe, premium look and feel
Unboxing Focal headphones can be quite the memorable experience. The company takes a more artisanal approach than most to building headphones, and I could see and feel the difference as I pulled the Clear Mg from their case. The design is a beautiful blend of high-grade materials, interesting patterns, and thoughtful functionality.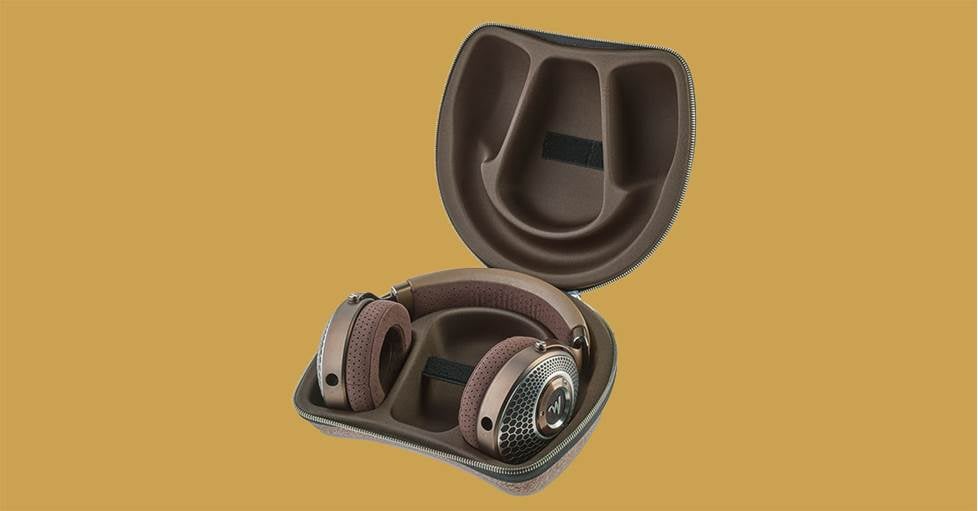 The Clear Mg wired open-back headphones offer a striking first impression and rewarding repeat-listening sessions.
These headphones share many of the attributes that have made Focal's Utopia Stellia, and Celestee 'phones so popular among personal audio aficionados. They all sport an identical frame, built from lightweight aluminum. Here, they overlay it with an Instagram-ready chestnut and mixed-metal finish — that somehow looks even better in person than in photos.
Powerful, nuanced sound with deep bass
In each earcup, you'll find Focal's fast-attack drivers, complete with their acclaimed "M"-shaped diaphragm domes. This special design gives the drivers a more fluid movement, which greatly reduces distortion and phase problems. It's why Focal headphones always sound so dynamic and yet controlled, across a wide frequency range.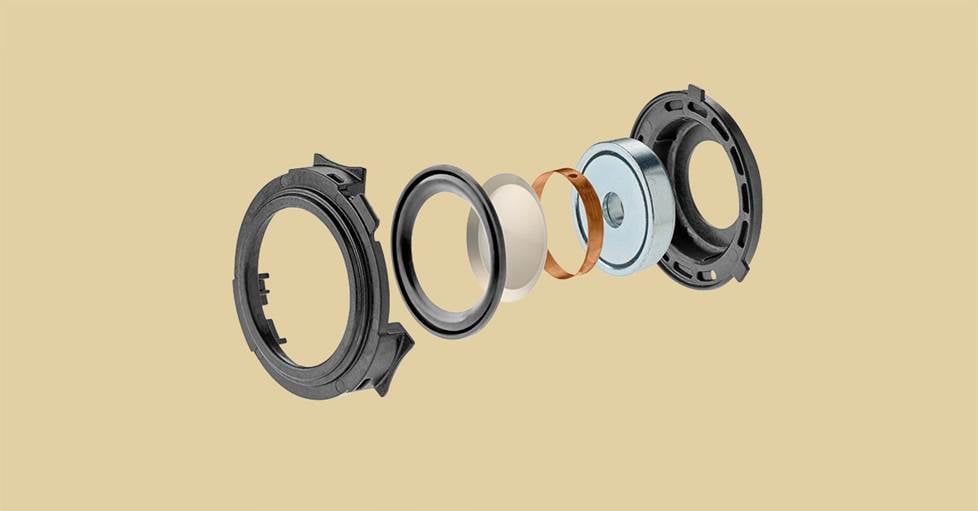 A specially designed driver with lightweight magnesium domes delivers focused sound with a great deal of depth.
Here, those M-shaped domes are made completely from magnesium — a first for Focal headphones. This gets them closer in performance to their highest-grade beryllium drivers (found in the Utopia and the Stellia). Magnesium is rigid and lightweight with strong damping characteristics, so there's less harmonics and sound coloration, particularly in the mids.
Open-air headphones with focus and precision
Focal, harking back to their loudspeaker roots, often describes their headphones as "extremely near-field monitors." The drivers are suspended within the large, open-air chambers to create a focused, lifelike soundstage for your music. I find the sound a little more forward than open-back headphones from other high-performance brands, which tend to be more spacious. But there is a great deal of depth and separation within the music.
The large earcups are completely open-back, and a honeycomb grille design allows air to flow freely. With no music playing, I could hear everything that was going on around me. While these headphones are realistically too large to use on the go, their soft, oversized mesh ear pads make them very breathable and comfortable.
My listening impressions
For about two weeks, the Clear Mg open-backs were my go-to headphones. I'll admit that I had other headphones to audition — work piling up — but it was so hard to put these away. Tonally, they're right in my wheelhouse with a nicely balanced sound that has subtle bass extension.
I'll talk more in a bit about how they compare to the top-of-the-line Utopias, but I could see someone who likes deeper bass being completely satisfied with these headphones.
Connected gear
Focal includes two detachable cables. One is average length and terminated with a 3.5mm mini plug (and arrives with a 1/4" adapter attached.) The other is extra-long, and terminated to a balanced XLR plug.
I used the balanced cable to connect to a Naim Audio headphone amp. Naim is a partner company of Focal, so they know what their drivers need in terms of power and damping factor. I found the sound was overall more analytical through this rig, which is great if that's what you're looking for — but I often prefer a warmer, more musical sound.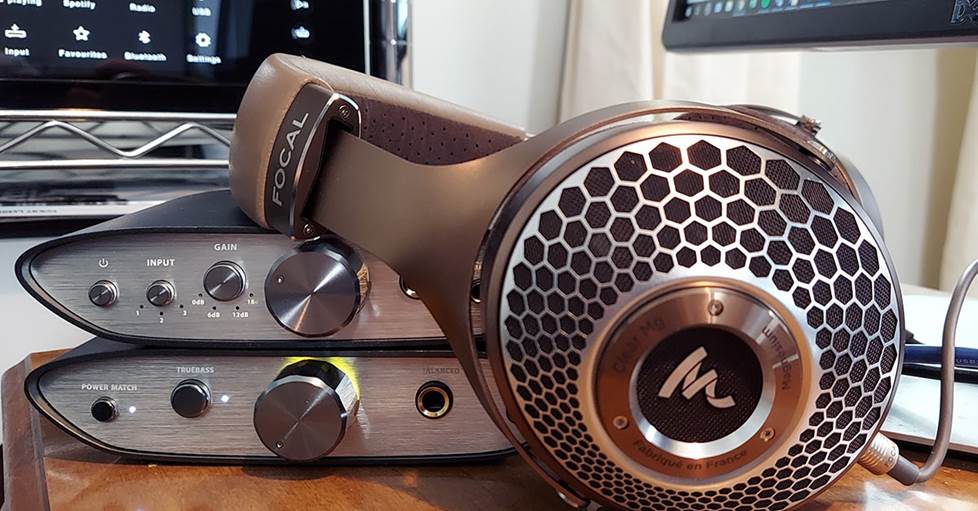 I drove the Focal Clear Mg with a stack of iFi ZEN gear — my go-to DAC/amp combo.
That's exactly what I got when I connected these headphones to my everyday home office listening rig: a stack of the iFi ZEN DAC connected to the ZEN CAN dedicated headphone amp. I switched out the cables to the unbalanced 1/4" option. I found the bass hit a little harder, vocals and percussion had more presence, and there was a smoother sound overall.
Clear Mg vs Utopia
The extra smoothness here is probably the biggest distinction between these headphones and Focal's flagship Utopia headphones. For sure, those beryllium-based drivers deliver a more precise sound. If you're looking for the absolute best resolution that Focal offers, the Utopia headphones still hold the crown.
But these magnesium-based drivers are closing the gap!
They are capable of retrieving details in the highs — and all frequencies — without sounding harsh. The track "Within You" from Memphis soul singer Valerie June (streaming in high-res 24-bit/44kHz on Qobuz) helps put this on display. Her smoky, twangy vocals seem to bounce between octaves over a consistent 2-chord strum of an acoustic guitar. It can sadly fall flat — or worse, sound a little grating — through lesser 'phones. But I found it soothing and beautiful through the Clear Mg.
Smooth and multi-layered
Headphones this good can do wonders for your mood. I was having a particularly rough day at the home office, when I decided to sink into the Clear Mg for a bit. I played the folky, bluegrass-y album Fable & Fire from Andrew Marlin (24-bit/96kHz on Qobuz) and my spirits were lifted immediately.
This album features a wide mix of instruments, including mandolin, fiddle, standup bass, and guitar. And the track "Farewell to Holly Bluff/The Watch House" seems tailor made for these headphones. On the surface, you get an overall genteel, breezy — almost beachy — vibe. But pay closer attention, and you'll notice just how fast-paced, technically sound, and complex it is.
Product highlights
over-the-ear, closed-back design for focused sound with deep, well-controlled bass
specially designed 40mm dynamic drivers with magnesium domes
heavy-duty frame made of premium materials like steel, aluminum, and leather
well-padded headband and earcups lined with micro-fiber fabric
includes form-fitting case and two detachable oxygen-free cables:

3.9-foot cable with 3.5mm stereo plug (with 1/4" adapter)
9.8-foot cable with balanced XLR4 connector

designed, developed, and assembled in Saint-Etienne, France
frequency response: 5-28,000 Hz
impedance: 104 ohms
warranty: 1 year
Need more help? Contact us!
Have questions about how the Focal Celestee headphones compare to others? Contact us today.
Our expert Advisors know headphones inside and out. Your Advisor can send specific Crutchfield pages to your screen, saving you a lot of browsing time. You'll get a shopping cart loaded up with everything you need.
Free lifetime tech support is included with your Crutchfield purchase.