In this article... Crutchfield employee, Mark, wasn't satisfied with the sound quality in his 2016 Honda Civic but didn't want to lose his factory stereo in an upgrade. No problem. With the addition of new speakers, an amp, and a powered sub, we were able to transform his listening experience.
More and more, auto manufacturers have equipped new cars with receivers so well appointed that there's less and less argument for swapping them out. But that doesn't mean the factory sound can't be improved. Enter your information in our vehicle selector tool and discover what works for your ride.
Everything goes but the stereo
Mark, Crutchfield education and corporate sales specialist, loves his cherry red 2016 Honda Civic. Leather interior, sporty angles, and pep from the Touring package make it a super-fun drive. Its receiver rocks a plentiful display thoughtfully integrated into a sleek dash. Apple CarPlay® and Garmin navigation have kept Mark happy since the day he drove it off the lot. The "premium" sound system, however, has not.
Mark told me, "It's not that the factory sound is bad, but it just isn't good enough to be labeled 'premium'. What bothers me most is a lack of definition and a muddled soundstage. And the subwoofer vibrates the rear deck which drives me nuts."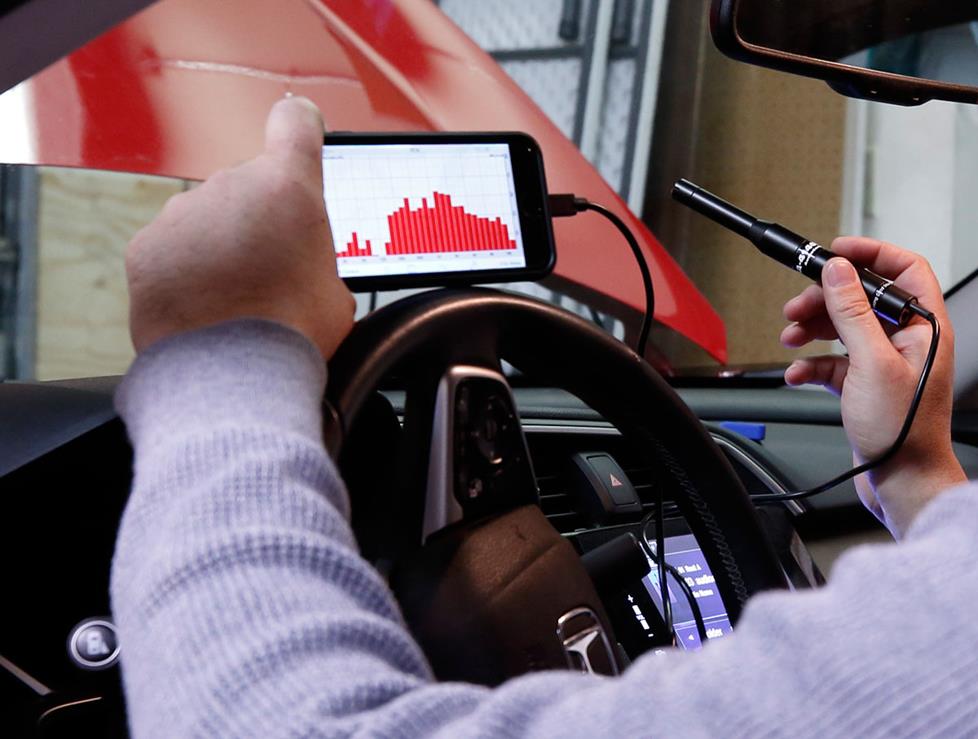 Using AudioControl's SA-4140i SPL real-time analyzer and pink noise, we were able to see the deficits Mark was hearing. When the music moved him to turn it up, it wasn't hard to hit the ceiling.
Upgrading with new Focal speakers
Since we knew the factory stereo was staying put, the best first step toward improving factory sound was to replace the factory speakers. For a serious step up in quality, we added Focal Universal Integration component speakers to the front doors and 2-way speakers to the rear deck.
In a side-by-side comparison with these new aftermarket speakers, the Civic's factory speakers had all the heft and substance of paper cups. Mark was glad to see them go.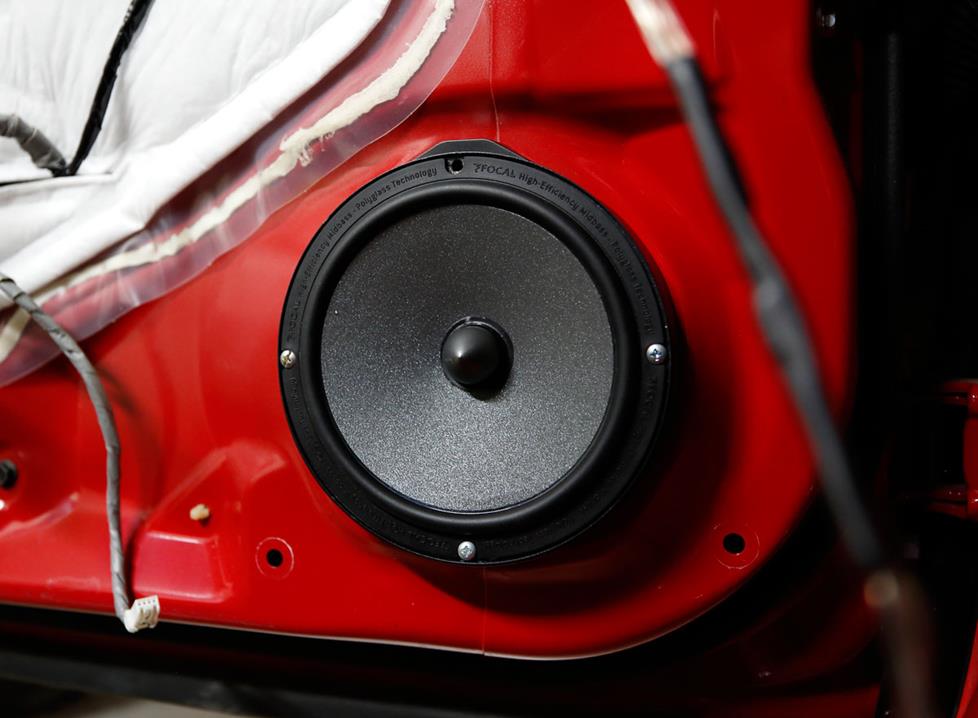 While Honda makes it easy to remove the front door panels, accessing the rear deck was a bit more challenging.
With the doors and deck exposed, we jumped at the opportunity to add Dynamat sound deadening material. It was the sure-fire way to rid the rear deck of its rattle and reduce road noise. Applying Dynamat to every reachable nook and cranny can feel like tedious work, but it makes a big difference in sound quality.
After the speaker upgrade, Mark listened for a day and noticed this difference: "The instruments are more pronounced, and I can hear much more detail and clarity."
Adding an amplifier for power
The Focals gave Mark's sound a nice boost but running speakers with respectable power-handling off of factory power is a little like eating pasta without any sauce. So, our next step was to add a 4-channel AudioControl amplifier to power the speakers.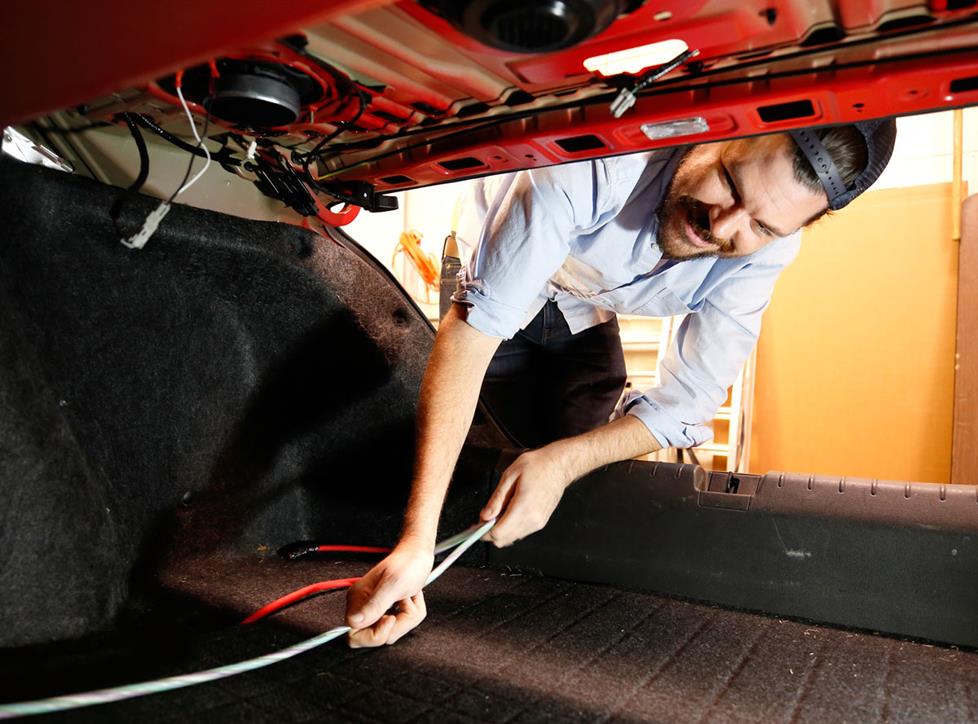 Now, in an ideal world, we would cut out factory power entirely. But as is the case with so many new vehicles, there are more audio elements to consider than just music. In Mark's Civic, navigation prompts run through a center dash speaker, which can't be accommodated by an aftermarket amp.
For a growing number of vehicles, companies like iDatalink offer solutions that allow customers to integrate those factory features into an aftermarket system, but that's not currently the case for Mark's Civic.
Rather than interfere with some potentially touchy factory settings, we let the center channel remain driven by factory power, knowing that we could make adjustments on the new amplifier to smooth out the overall sound.
With the new amp tidily mounted in the trunk, Mark took a few days to soak in his new system, prepping for the addition of a powered sub.
Reinforcing the low end with a subwoofer
When it comes to adding bass, there are several options, but Mark opted to stick with Focal and use their well-reviewed Universal Integration powered sub. His factory sub in the rear deck had provided a decent amount of low-end reinforcement, and the newly added Dynamat had really improved its impact. But while he wasn't looking to rattle any windows, Mark was still ready for a step up in the bass department.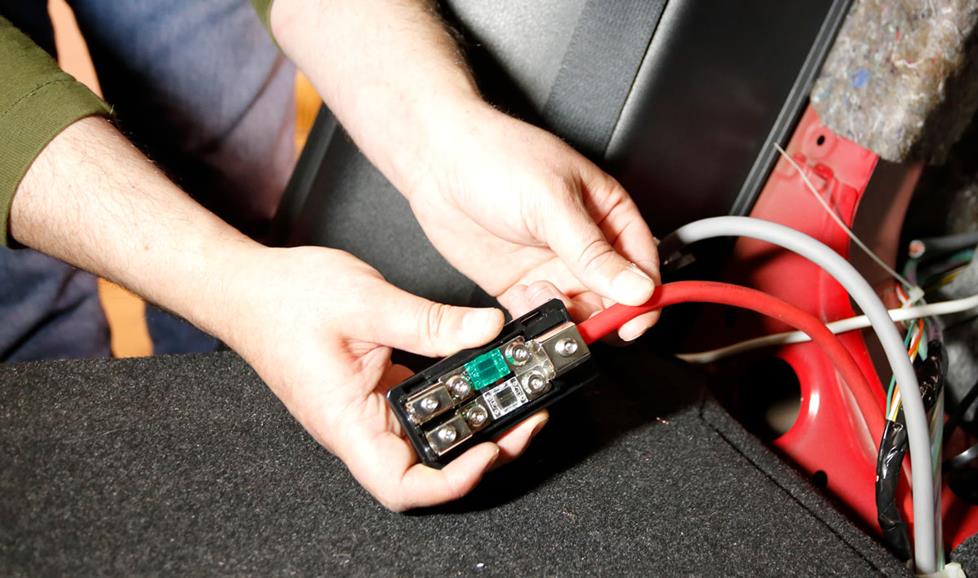 Because of its 75-watt RMS power draw, we felt good about using a power distribution block to tap into the power wire we'd already run for the AudioControl amp — that kept installation straight-forward and clean.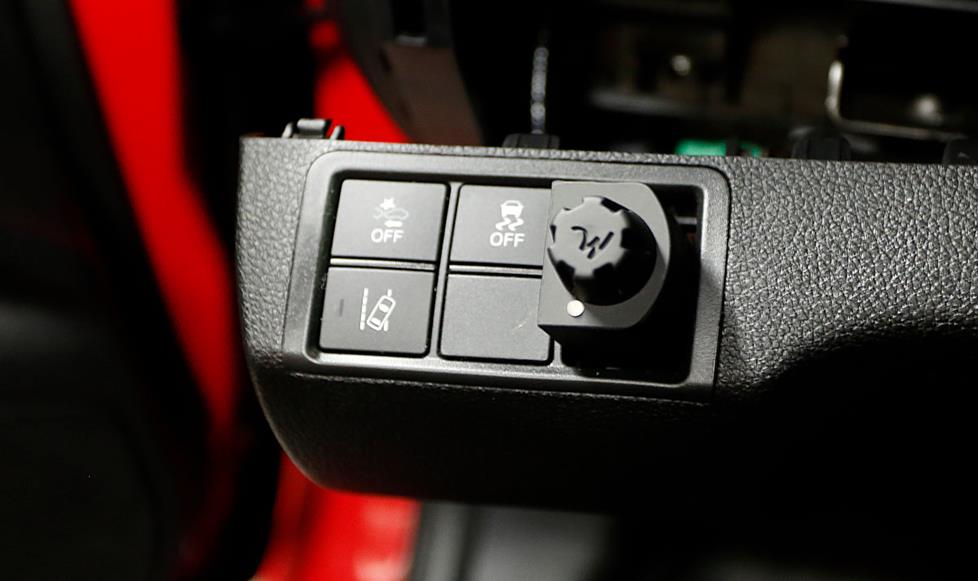 Focal includes a bass knob with the powered sub, and we installed that to the left of Mark's steering wheel for easy adjustment from song to song. And just to go the extra mile, we lined Mark's trunk with Dynamat to maximize every thump of his new sub.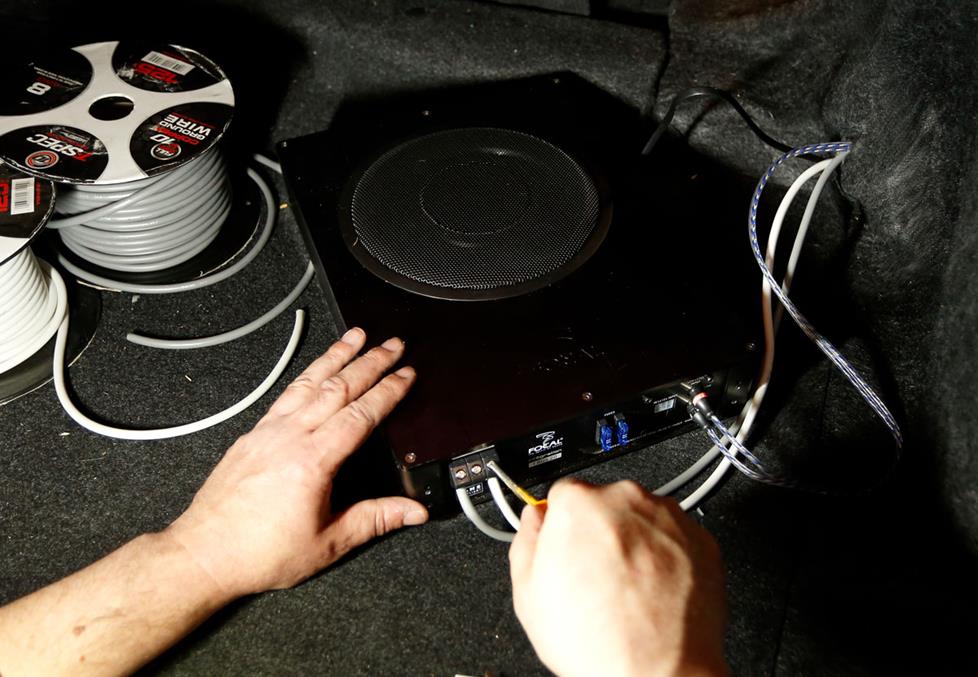 Once we were done, we sat with Mark to enjoy the full impact of that new sub using Crutchfield's Spotify® Bass Test playlist. There were some great moments, but listening to the atmospheric, all-consuming "Title Theme from Jaws" really sent it home — this compact sub has transformative powers when it comes to bass.
Impressed with the results of his new system, Mark said, "This doesn't sound like music streaming off of a phone, this sounds like I'm there and the music's all around me. There's a presence that wasn't there before. And the great part is, my dash looks exactly the same!"
Find out what we can do for your vehicle
If you've been contemplating an upgrade but are unsure of where to start, contact one of our advisors or enter your vehicle information in our vehicle selector.