Dr. Jack Oclee-Brown tells the story behind KEF's colorful LSX speakers
Heads up!
Welcome to this article from the Crutchfield archives. Have fun reading it, but be aware that the information may be outdated and links may be broken.
The KEF LS50 Wireless speaker system has been a hit with audiophiles and casual listeners alike. After listening to customer feedback, the innovative speaker company created the KEF LSX powered speaker system to bring some of the LS50's benefits to customers who need a more compact footprint.
Since this article was written, KEF's LS50 Wireless has been replaced by the LS50 Wireless II.
Through the wonders of Skype, I was able to have a transatlantic chat with KEF's Head of Acoustics, Dr. Jack Oclee-Brown. Speaking from his home in Maidstone, England, Dr. Jack explained the thought process behind this delightfully compact, colorful, and above all excellent-sounding speaker system.
KEF LSX speakers come in a dazzling array of colors.
Crutchfield: What's the benefit of using a powered or active speaker vs. the traditional amp and passive speakers?
Dr. Jack Oclee-Brown: There are quite a few levels to that question. Just from purely convenience, which I'm sure will be foremost in mind for some of your customers, it's just more compact. So you can put it in a room where you won't be able to put a full hi-fi.
I took home a pair of LSX just a couple of weeks ago, and put them on my island in my kitchen. It's not like I could put a proper hi-fi in that situation. That's one aspect.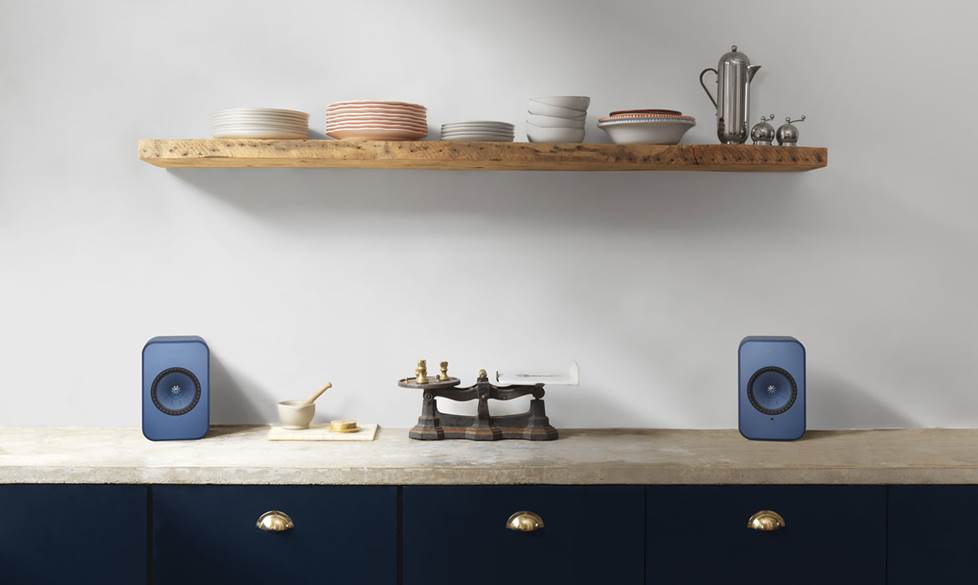 LSX speakers are at home in any room in the house — including the kitchen.
Crutchfield: We've done well with the LS50 Wireless, which is a larger system. What was your thought process in creating the smaller LSX?
Dr. Jack: I think a few of us in the office did the same thing. We took home the LS50Ws and played them and enjoyed them. Then we went "you know what, we're not playing them anywhere like as loud as we were when we were designing them and using them in the listening room at KEF." Because we don't live in huge places in and around Maidstone. We've got neighbors. We've got kids, and you don't want to wake them up.
It got us thinking, if that's the use case, we could create a product that takes away that top 6dB of output, but you don't compromise much else. And the benefit is that you can make them much smaller. It fits in a lot more homes and spaces. And you can make it cheaper and open up the market to another price point.
I think it's probably true with a lot of hi-fi products that you have to build a passive speaker for that one time when somebody has a party. Or to be fair, someone who has a movie night once a week and they really want that level of output.
But if you're talking about the customer who's got a bit more of a balanced focus — they're looking at convenience as well as performance — then the recipe's a bit different. You can make something where you sacrifice a bit of the performance in one area but you get all these benefits.
Comparing the two, it's a slightly different customer.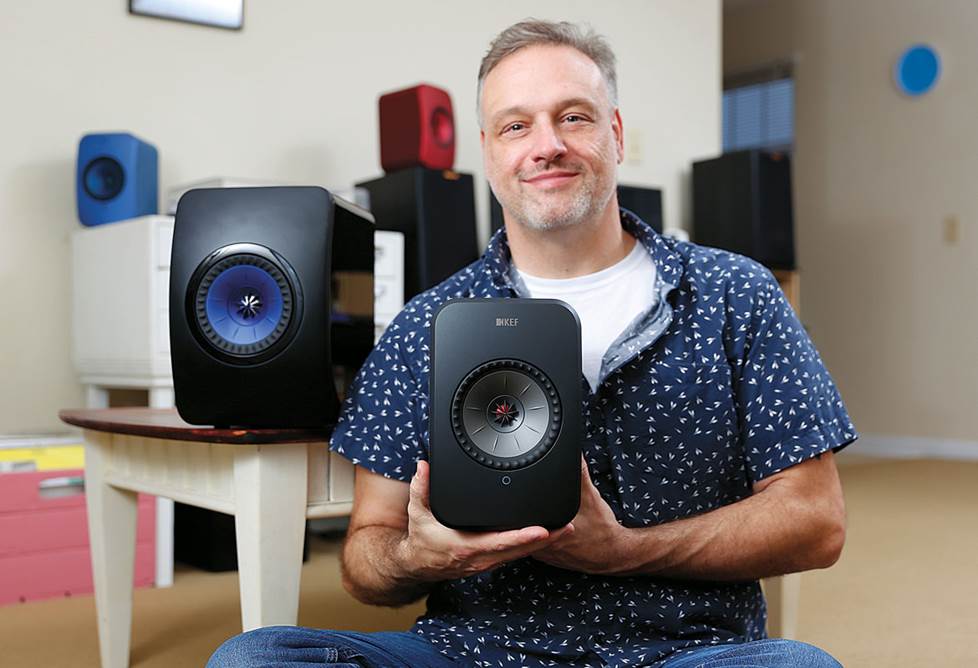 The size difference between KEF LS50 Wireless and LSX speakers is just one thing to consider when making a choice.
LSX vs. LS50 Wireless
Should you choose KEF's flagship LS50 Wireless? Or is the LSX plenty for you?
The smaller LSX system ($1099.99 per pair) is a great fit for smaller rooms. Its bass extension is impressive, but less likely to disturb neighbors. Also, if you don't want a cable running between the two speakers, the LSX speakers connect to each other wirelessly.
If you have space and want even more more bass extension, go with the LS50 Wireless ($2199.99 per pair). They're also the smart pick if you want to connect a computer but don't have a separate DAC (digital-to-analog converter).
Crutchfield: Several companies have been creating powered speakers recently. How did you set out to make yours different and unique to the way KEF does things?
Dr. Jack: In the first question you asked me, I kind of focused on the convenience. But there's a big aspect of performance in there. If you look at a lot of products around the $800-$1,400 price range, there are quite a lot of products that aren't for the hi-fi audience, but I think they sacrifice too much performance. Needlessly.
We didn't want to make something that looks completely different from a pair of our other high-quality stereo speakers. They're in that configuration because that's what works really well.
It's a question of trying to offer as much as possible of the typical KEF performance, but for somebody who either doesn't have a system at all, or they want a second system. They want to buy just one system, take it home, and have it running immediately with all the convenience of a full system with the optical inputs and all that.
It's trying to not dilute it too much, really. You've still got Uni-Q in there. It's big enough that we can get good bass output. It's stereo — a lot of these products they sacrifice that by putting it in one box, which is important if you want to trim it down, but stereo is really crucial to accurate music. You're putting in all the electronics that deliver the sound quality as well.
And that comes back to active too, because you have an advantage when you have a dedicated amp on the high frequency, dedicated on the woofer, DSP, and we're in full control. That really gives us a little bit of a technical edge.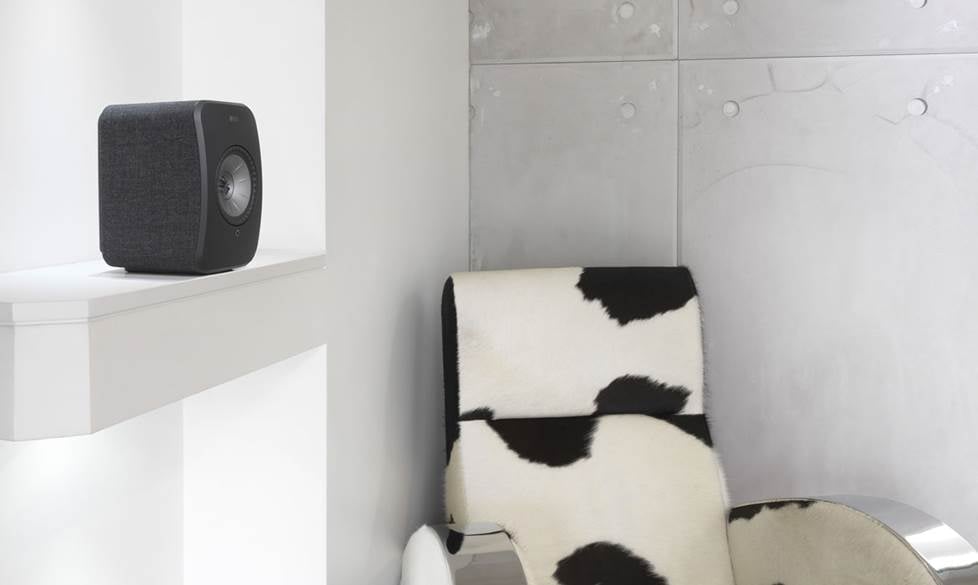 Left and right speakers connect wirelessly, so you have more freedom when choosing where to place them.
Crutchfield: Even just looking at the LSX versus other speakers in the category, the Uni-Q driver really stands out. Does that help to make the cabinet smaller and more efficient?
Dr. Jack: That's one aspect. The way that KEF always operates is that we've got requirements for what the market will accept, and then we've got acoustics — trying to make something that performs really well. And there's the design side as well, which is probably even more important on something like this than on a hi-fi speaker.
In the hi-fi world people will say "OK, it doesn't look that great, but it sounds so good I don't care." But this kind of product has to look great. And I think having the Uni-Q gives the designer a lot more freedom. Even though the driver is exposed, it looks interesting.
We were quite insistent on having the driver centralized, having a curve on the baffle. If you were trying to do something like that with separate drivers, you'd leave the industrial designer with nowhere to go. And it does help make it look distinctive.
Crutchfield: You don't even cover it up with a grille.
Dr. Jack: In our product museum in Maidstone, we've got early product, where you can see that they've always had grilles. In the early days, I think you can understand why, because you look under the grille, and in some cases there are little controls and wires that you wouldn't want to see. But we've made a lot of effort in the last ten years to make our drivers look really good.
And also not to be quite so delicate, particularly the tweeter. It's quite nice getting to that point where we can offer the designer a chance to not put a grille on. Because the grille always compromises the acoustics a bit.
The other thing we've started to do quite a lot more is the colored drivers, which gives the designers something else to play with. The different colored drivers with the different colored cabinets looks very crisp.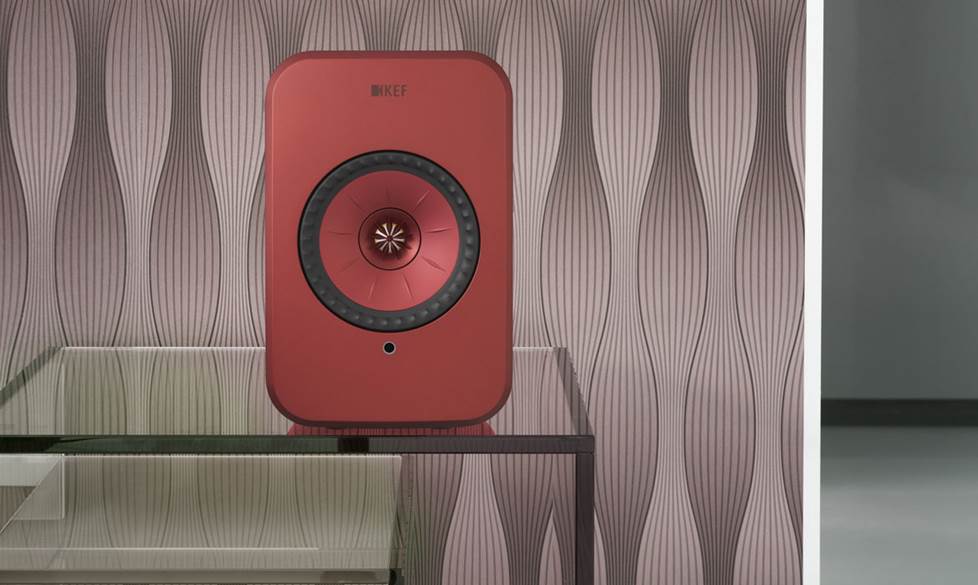 LSX speakers are designed to look as good as they sound.
Crutchfield: Not only do they look good, but you've given people more options for placement, because they can connect to each other wirelessly.
Dr. Jack: That's kind of key. LS50W is more focused on the performance customer — focused on people who, if they don't own a hi-fi now, they probably did a few years ago. So they're looking for hi-fi performance. You can ask them to make some sacrifices on convenience. And the sacrifice we asked them to make was the link wire.
When you get down to around $1,200, it can be a snap purchase for somebody who's not that into hi-fi. In that case, having a wire is a big restriction in where they can place it. They may not be thinking about a listening room necessarily, it's going somewhere in their house. So it had to be either one box, or wireless. And we were really clear we wanted to keep stereo, because music is stereo. We had to have that feature.
That's one of the things that makes it stand out, as well. It's quite cool. You plug it in and it just works. It's still kind of magical.
Crutchfield: Speaking of magical, one of the things I called out when I listened to these speakers at home is that they had more bass than I expected out of that smaller cabinet. Is there anything you can tell me about that without giving away any secrets?
Dr. Jack: It's not really a total secret, but it comes back to what we said earlier about there being room for a speaker that didn't have the maximum output of a larger speaker like the LS50W. The thing we're all used to with passive speakers is that if you want more bass, you have to have a bigger speaker.
The thing with a speaker when you have DSP in is that we can adjust how it sounds, depending on what your requirements are at the time you're listening. If you're not listening near its maximum output, the DSP can give you more bass, so it sounds like a bigger speaker.
For most people, that's a really great trade-off, because the majority of listening is at 50, maybe 60% of maximum output, so we can make it sound like a bigger speaker. If you had a party and really turned it up, you might notice that bass extension drop out, but even then it's not normally a big compromise for people. Because in that situation you're not really doing critical listening.
That's where active really breaks the rules that we're all so used to with passive speakers.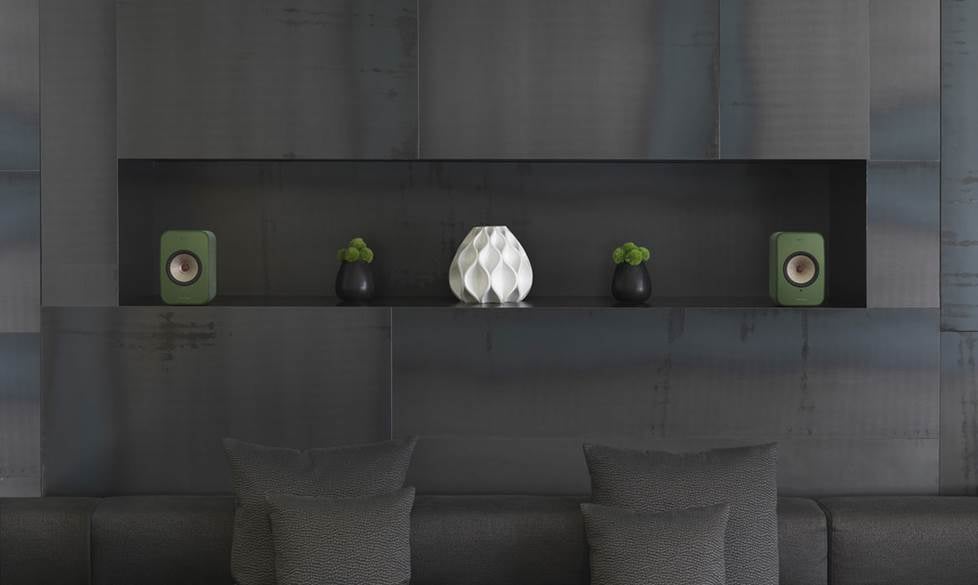 Built-in digital signal processing software helps LSX speakers sound good no matter where you place them.
Crutchfield: I know the app was important for you guys in capturing that customer who isn't as familiar with tweaking their own sound. How do we convince people not to be afraid of that?
Dr. Jack: That's kind of a difficult question. I think we got the balance about right. We might still refine it as we get feedback. One of the biggest problems we hear from customers is that we give them advice on positioning speakers, and it's basically impossible for you to follow. Because most people don't have dedicated listening rooms. It's going to be too close to a wall, or it's going to be in a corner or sitting on a desk.
DSP gives you a fighting chance of correcting for that. But if it's too complicated for someone to understand, they're never going to use it. That's what we've tried to do: make it very simple so it's kind of a walk-through. And if you don't like the result, you can just press the default and go back.
The other thing is that there's no wrong answer. If you try it out, and you don't like how it sounds, you just undo it.
It's kind of addressing that worry we see in our customers when they do demos. They'll go to a store that's probably got a dedicated room. They'll arrange a demo, and if they like the product, that last nagging concern is "will it sound this good when I get it in my room because I don't have that much space," and so on. There's a bit of a provision there for you. You can get good sound in most situations.
But we're always learning. I'm actually quite keen to hear if you run into a situation where you can't quite dial it in. User feedback is always quite useful to have.
Crutchfield: That versatility in how you can use it plus the ability to have it look good seems to be the sweet spot you've found with this speaker.
Dr. Jack: Yeah. It's basically the same thing we strive for in all of our products. A natural, engaging sound is what we do. So can we do that for people who aren't going to be able to dedicate a whole room, or want something more compact? That's where this product comes in.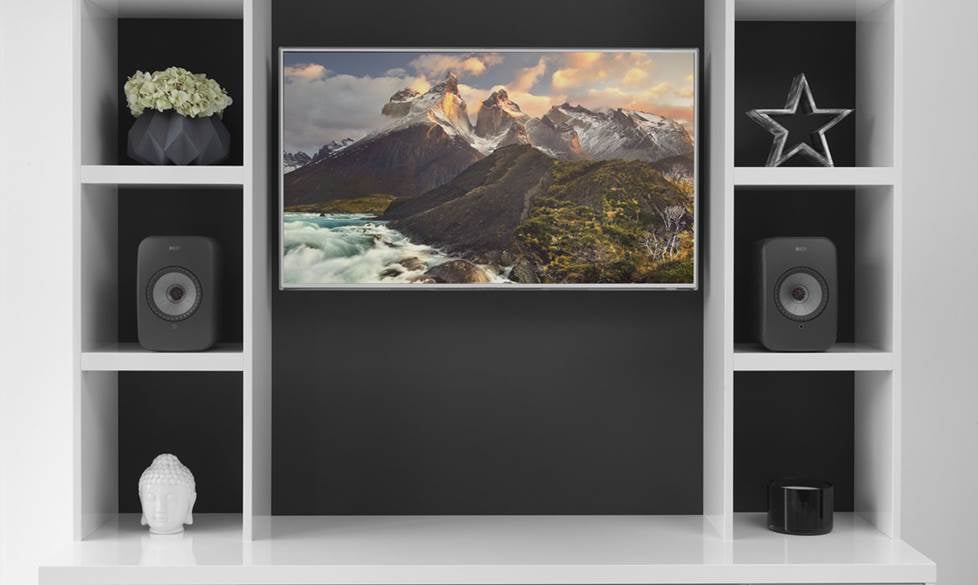 LSX speakers offer robust, engaging sound from a speaker with a compact cabinet.
Crutchfield: Speakers are kind of famous for being black boxes, but not these. They're maroon, olive, blue…
Dr. Jack: We think of a bookshelf speaker as a small thing, but for most people, apart from their screen, it's probably the biggest bit of electronic equipment they own. When you go a bit smaller, you can be more bold with the colors. It's exciting.
Need help choosing?
KEF makes a number of excellent products, and it can be hard to make a decision. Our expert advisors can help you choose the right speaker system to suit your unique space.
And don't worry if you need a little help with setup or using the app. Free lifetime tech support is included with your Crutchfield purchase.