ur friends at Sony were excited about their new XAV-AX5500 digital media receiver, so they asked us to try it out. Well, as it happened, I was also looking for a new stereo for my car, so the timing was perfect. I picked up the receiver from work one day and headed home to install it.
Editor's note: The 'AX5500 has been discontinued. The newer version is the Sony XAV-AX5600. This model will do everything the older one did, but adds an HDMI input. Everything stated in this review should also apply to this newer model.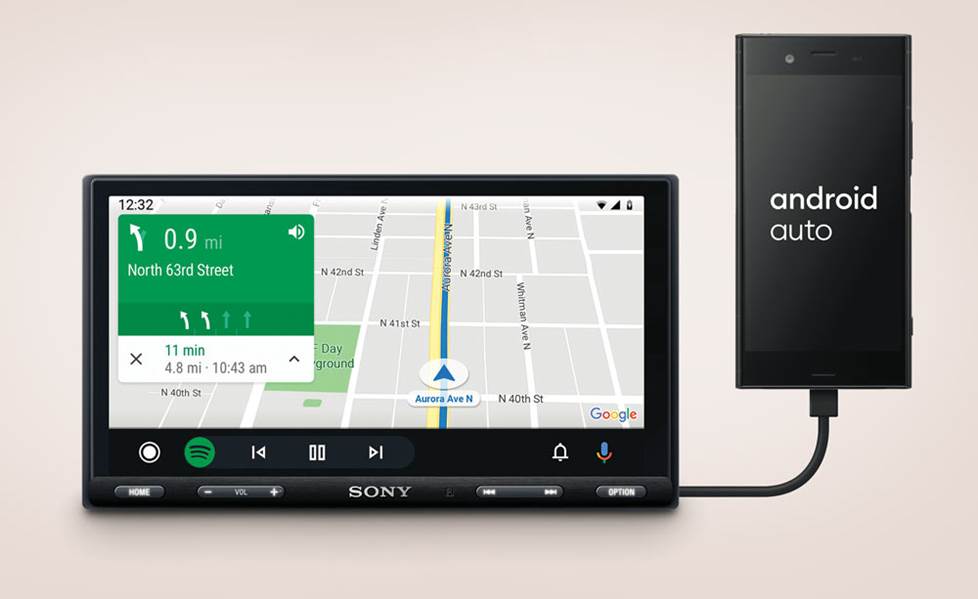 Installing the Sony XAV-AX5500
The first step to enjoying a new stereo is installing it. No problem there. I love doing installations and my car happens to be pretty easy to work with. The first thing I did was connect the Sony's wiring harness to the vehicle-specific adapter for my car (see the Crux sidebar below).
I did that while listening to music in my basement home-office, taking my time to make sure I got it right (and maybe so that I could hear just one more song by the Drive-By Truckers). Posi-Products wiring connectors made the task easy. Then I went out to the car, disassembled the dash, removed the old stereo, and installed the XAV-AX5500.
Crux wiring adapter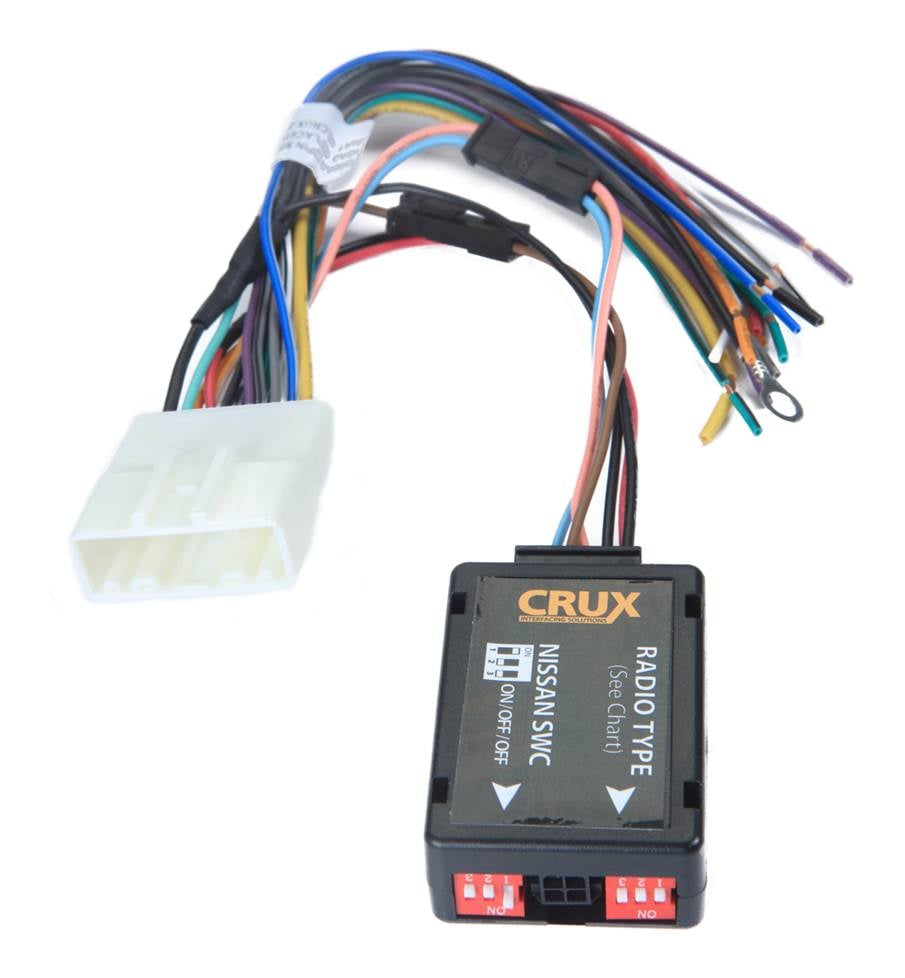 The
Crux SWRNS-63U wiring interface
let me integrate the Sony stereo with my car's electronics. My previous steering wheel control adapter had to be programmed for each different brand of stereo, and well, those steering wheel controls haven't worked since about two stereos ago. With the Crux, I only had to set two dip switches and now those controls are back in business!
Connecting the parking brake wire, which is required in order to use Android Auto™, Apple CarPlay®, and other functions that make modern stereos awesome, was, to be honest, kind of a pain. My last couple of stereos were single-DIN units, so I didn't need that connection.
Running the wire from the stereo was easy, but the spot where I had to tap into the car's brake wire was very cramped and hard to work in. I only lost one of my Posi-Tap connectors during the job, so I consider that a win.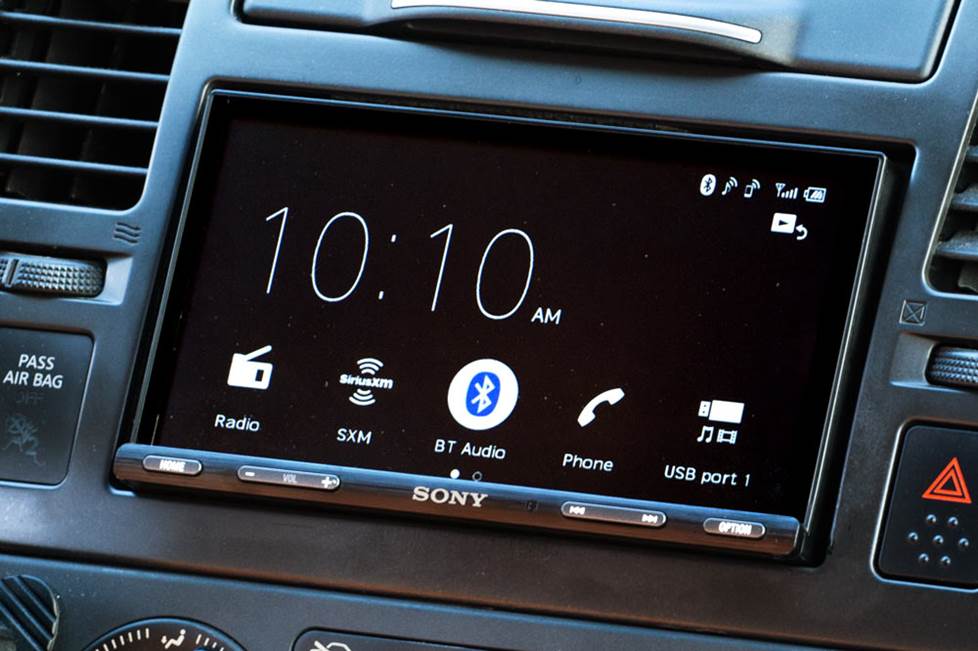 First impressions of the XAV-AX5500
Time to kick the tires. I fired up the XAV-AX5500 and I was immediately impressed. It only took a couple of minutes to figure out the menus and how to find everything. I love the simplicity and intuitiveness of this receiver.
The display layout is clean and stylish. There are options for different background accent colors, but I chose a simple dark background for a sleek look. You can also upload your own photo to use as the background image.
My first critique is always the lack of a volume knob, a feature that usually comes at the cost of a smaller screen. The screen on this stereo is crisp, bright, and nearly 7" (6.95", technically) in size. And the menu icons look great. Plus, now that my steering wheel controls are up and running again, I will rarely ever use the stereo's volume buttons. This could end up being a good experience for me.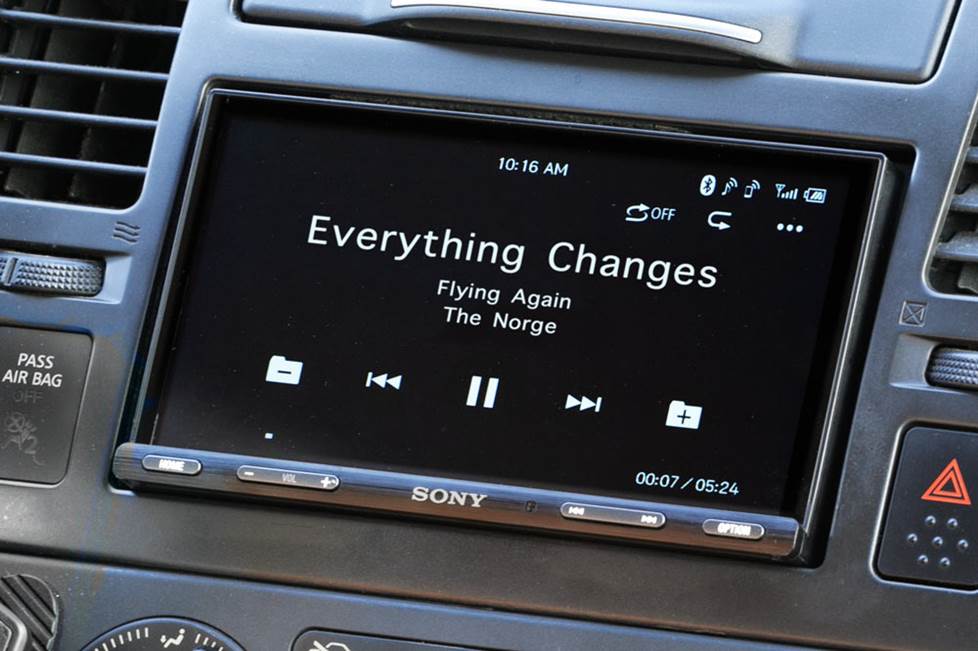 Phone integration
These days, accessing music on your phone is probably the most important thing a stereo is asked to do. This one does the job flawlessly.
Bluetooth streaming
First, I tried getting to my music via the Bluetooth™ connection. I pulled up the Spotify app on my phone and then selected Bluetooth audio as the music source on the Sony stereo. Almost immediately, Neil Young was playing through the stereo and over my Polk Audio DB speakers. It sounded great. And the touchscreen gave me large, responsive controls to pause the music or skip to the next song.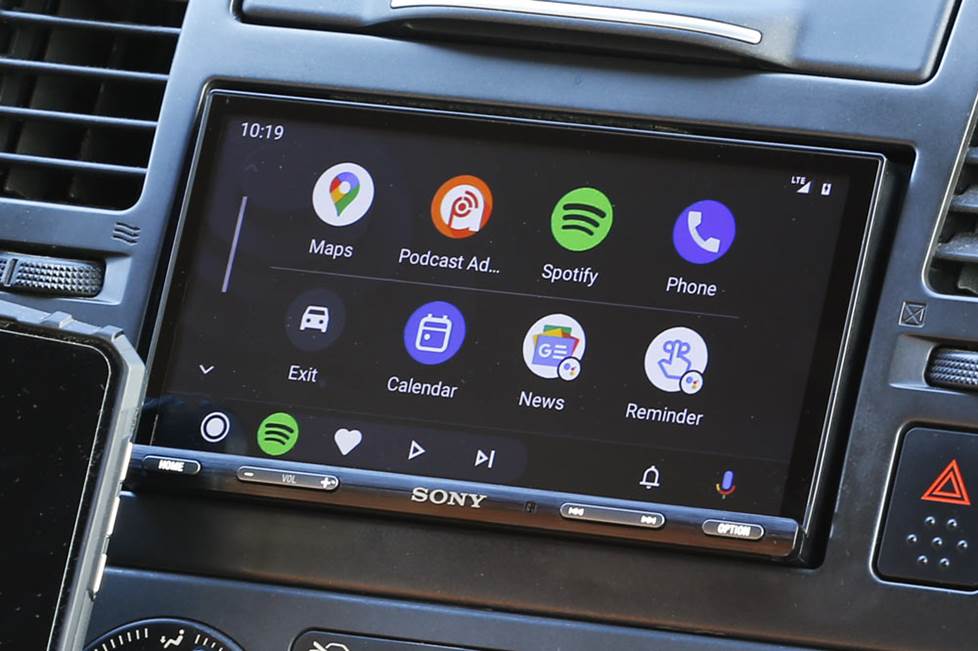 Android Auto
Next, I plugged in the primary USB connection (this stereo has TWO rear-mounted USB inputs). Right away, Android Auto launched on my phone. The stereo patiently waited for me to get through the initial Android Auto screens (agreeing to terms of service, device permissions, etc. – this is the first time I've used this phone for Android Auto).
Once it launched, I had access to all the cool stuff that Android Auto grants, right from the Sony stereo's large touchscreen. Spotify, Google Maps, and phone all appeared on the screen. There was even an icon for my podcast app (I use Podcast Addict) – it appeared automatically!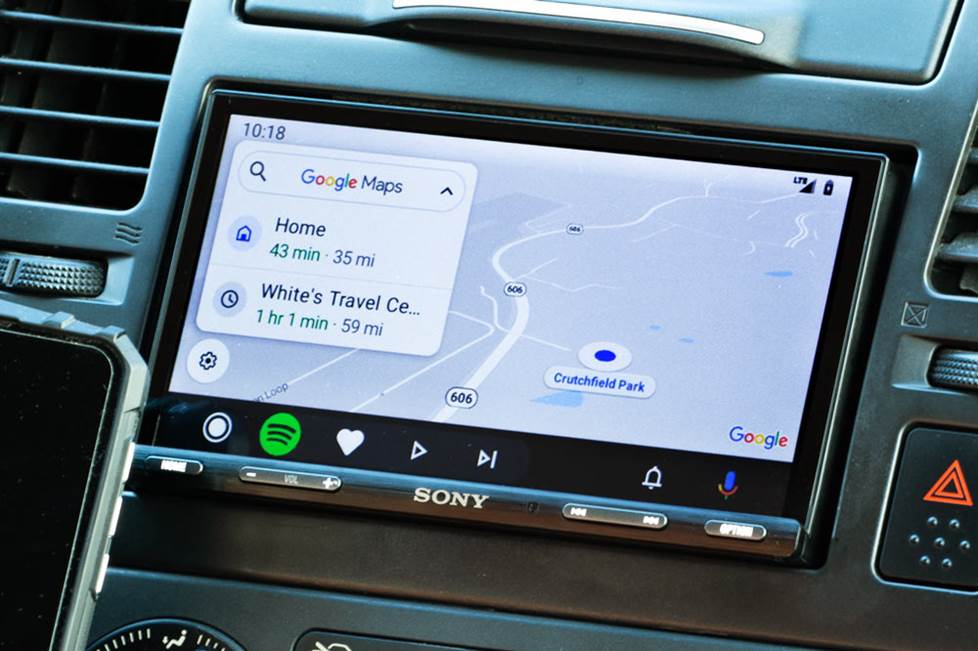 After several days of playing with it, I found Android Auto and Google Assistant to be amazing. From the stereo's Android Auto "Settings" option, I was able to access the app settings on my phone, which is how I turned on the hands-free voice controls. Once I did that, I didn't need to touch the stereo to use voice commands.
Even when listening to FM radio, all I had to do was say, "Hey Google!" and the stereo would mute the music, activate Android Auto, and pop up the voice control box. Once it was listening, I gave my command: "Text Duncan (that's my son)," "Find a grocery store," or "Tell Spotify to play Devo." I was seriously impressed with how well all of these things worked.
[Read more about voice controls in the car]
Apple CarPlay
The stereo also features Apple CarPlay, but I didn't get to test it since I don't have an iPhone. I'm sure that CarPlay will work just as well as Android Auto, which means it'll be great.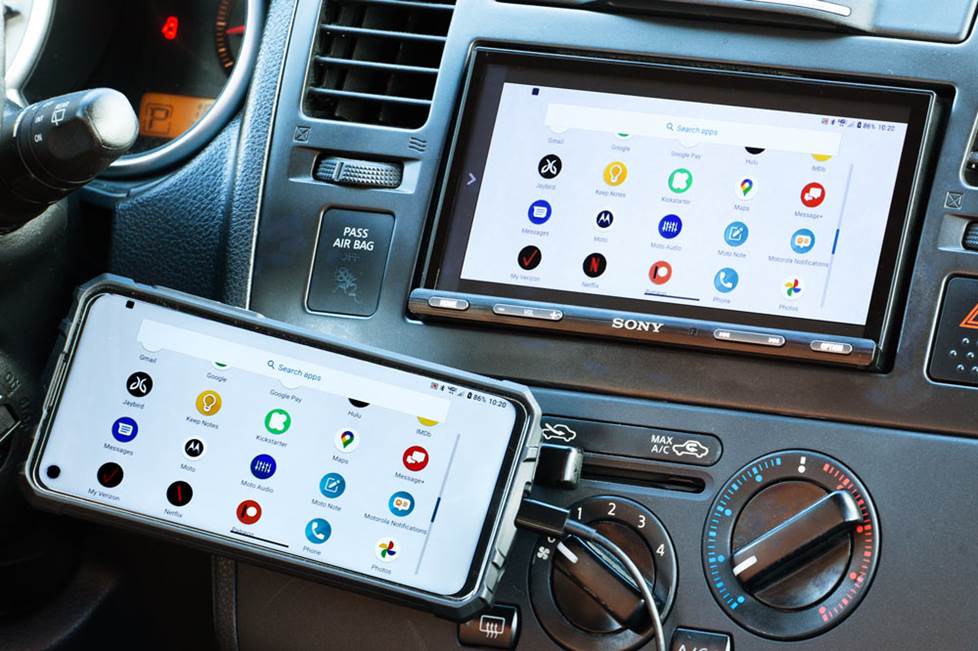 WebLink app and phone mirroring
Eventually, I tried out the WebLink app, which enables screen mirroring and allows me to sit in the driveway and watch YouTube (and other stuff) on the stereo. It works beautifully and WebLink is a fun way to access everything on my phone. It's a cool function, but if I need to use the web, I'll just use my phone.
Of course, the next thing I did was use the stereo's Bluetooth calling to call my wife and tell her to come outside and watch a new cat video on YouTube with me. She (less than politely) declined. Her words were something like, "That's what you call working?" I couldn't help but grin and say, "Yes, yes it is." Frustrated that I interupted her own work, she signed off and hung up. I didn't know you could hear a hard 'phone click' over Bluetooth...
How does the XAV-AX5500 sound?
The sound quality from this stereo is as strong and clear as any other stereo I've ever heard, maybe better. Sony uses a fancy amp chip called the "Dynamic Reality Amp 2." It promises a lot less "internal resistance" than normal amp chips. Well, I don't know about the jargon, but I will say this stereo sounds great and does indeed deliver the clarity and detail at any volume level. I love it.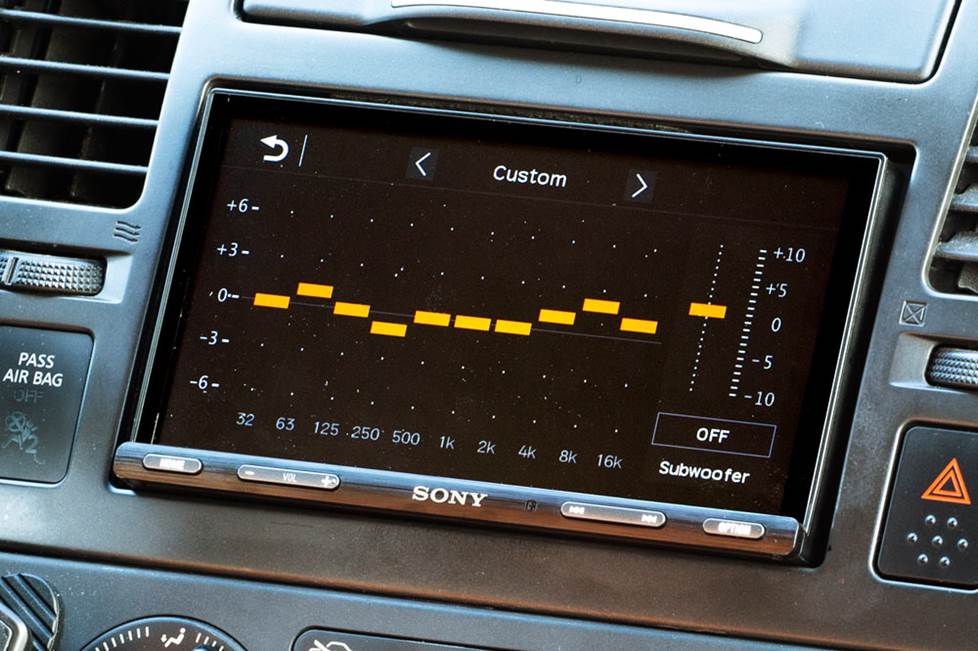 Tuning the sound with a 10-band equalizer
There are a handful of preset EQ curves which offer some great "on the fly" tuning options. I rarely use EQ presets because I'm more of a 'cutter' than a 'booster.' When making adjustments, I start by cutting the places where the sound is bad, to smooth out the rough spots, and then boosting the frequencies that still need some reinforcement. Preset EQ curves are always mostly boosted frequencies and tend to distort more easily once I crank that volume knob button. (Sigh. I'm still getting used to this.)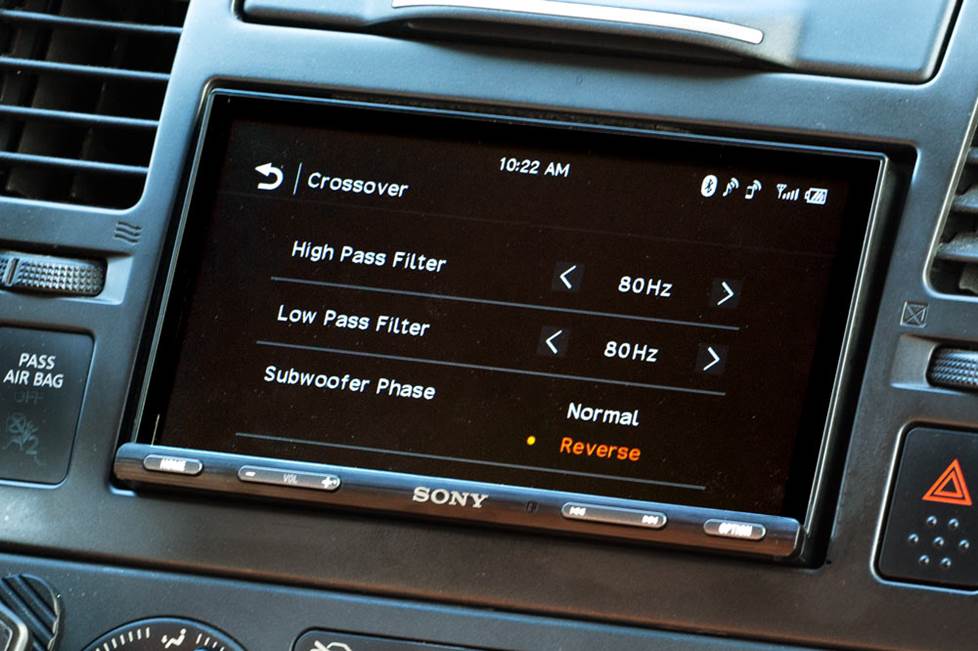 Other sound control features
I was also happy to see Sony's "Dynamic Stage Organizer" (or DSO). That's a tool that Sony's had for years and it helps shift the soundstage up higher in the vehicle. DSO makes your music sound more present and immersive. Sony also offers the "ExtraBass" feature to reinforce the bottom end. It did a good job of bringing out the bass when I wanted to jam, then I could easily switch it off for podcast listening.
My Sound Ordnance compact powered subwoofer loves the strong signal from the stereo's 5-volt preamp outputs. The stereo's built-in crossover network lets me feed my speakers only those frequencies they can handle. I set the low-pass filter at 80Hz for the sub to remove the high-level frequencies that the sub doesn't need. Right now, I have the high-pass filter for my speakers set at 60Hz to ensure plenty of overlap. I might raise it to 80Hz once I've had more time to listen.
All in all, the XAV-AX5500 has a great sound control toolbox.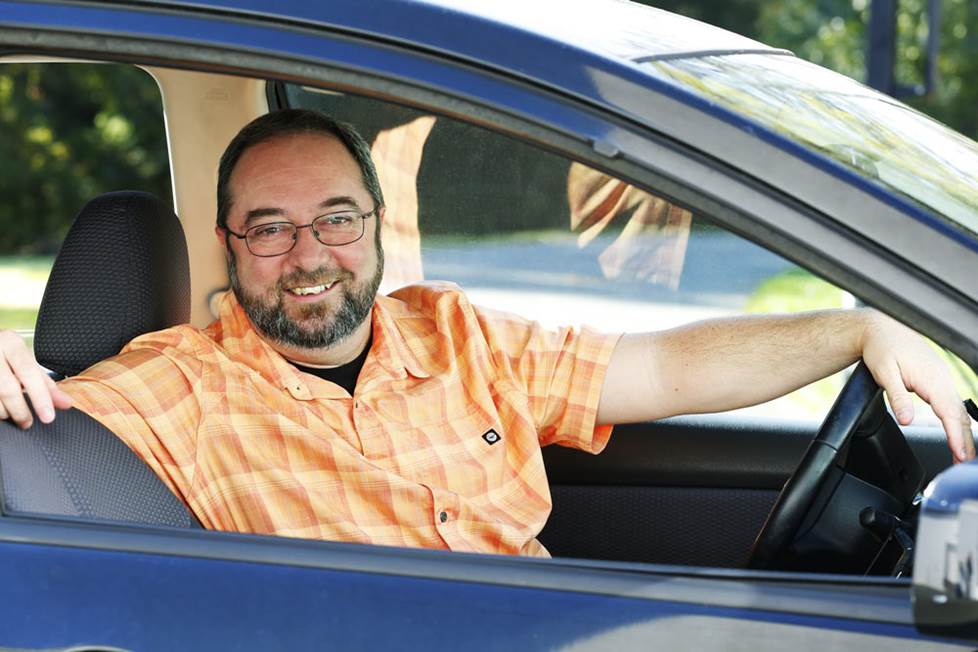 Overall thoughts on the Sony XAV-AX5500
First, it occurred to me while writing this, that I've never owned a Sony car stereo. I've owned several other brands, including Kenwood, Pioneer, and Clarion (remember them?). I've certainly played with Sony stereos in our Crutchfield Labs space, but I have never crossed paths with a Sony in my own car. So I was really looking forward to trying out this one, and I was not disappointed.
The XAV-AX5500 is a great stereo. It sounds great. It's easy to use. The screens and menus are not cluttered. It has a large clock. Excellent phone integration with flawless Bluetooth connectivity, Android Auto and Apple CarPlay. Great sound and sound shaping tools.
My only negative mark was the lack of a volume knob. The tradeoff is a larger screen, which I greatly prefer for seeing maps and accessing the touchscreen controls. And I primarily use the more-convenient steering wheel volume controls anyway.
As mentioned at the top of the article, the XAV-AX5600 is the newer version of this stereo, and is essentially the same stereo with the addition of an HDMI input.
Try it out in your car
If you're in the market for a new car stereo, give the newer Sony XAV-AX5600 a look. If you want to learn more about it or see if it'll work in your car, contact our advisors.