Brian M. from Hastings, FL, weighs in with the upgrade he did on his 2012 Honda Accord. It's a mixture of old and new gear, and it took place over several stages before arriving to where it is now. He wanted to "start building sound without replacing the factory radio" and to keep things relatively stealthy, but in the end, his desire for the best sound (and some elbow grease to fit everything into the dash) led him to a new media receiver to complement his sub, amps, speakers, and old-school equalizer.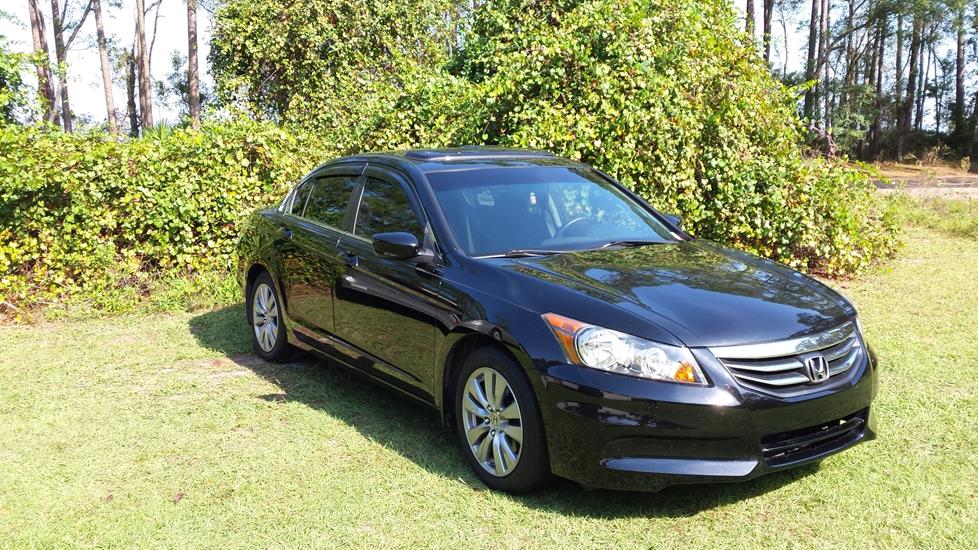 Items installed:
Pioneer MVH-X560BT digital media receiver
Pioneer DEQ-9200 digital signal procesor with EQ
Polk Audio db6501 6-1/2" component speaker system
Polk Audio db651 6-1/2" 2-way speakers for rear deck
Kenwood KAC-8401 4-channel amplifier for the speakers, mounted in the trunk
Kenwood KAC-7201 2-channel amplifier running mono to subwoofer, also mounted in the trunk
Lanzar 10" 4-ohm subwoofer mounted in a Q-Logic sealed enclosure
Monster audio cable
4-gauge and 8-gauge power wire
First up: the amplifiers and subwoofer
Brian tells us about stage one of this project: "The amps, sub, and wires I had from a previous car, so I was being cheap initially. I didn't want to give up a lot of trunk space, even though the Accord's trunk is huge. Sticking with the 10" in a relatively small box was ok for me, and it fills the big cabin with bass fairly well. Otherwise, my younger self would have definitely put in two 12" subs, or at least one."
A pocket for the digital signal processor with EQ
Brian continues: "I added an old-time Pioneer EQ — I love this thing." Adding the equalizer required some modification to the lower pocket of the Accord's dash, which Brian tells us was the most difficult part of this installation. "I needed the pocket intact and the thick material and angle made it tough. This took considerable patience and work."
Brian grapples with the pocket of his Accord's lower dash to fit his Pioneer digital signal processor with EQ, which was no easy task.
Time to add new speakers
After the Pioneer digital singal processor with EQ was in, Brian's system still needed a sonic boost: "It didn't take long to get tired of the factory speakers failing miserably at reproducing any quality sound where I wanted to hear it — loudly! Or at any volume for that matter." So he chose the Polk Audio db Series speakers.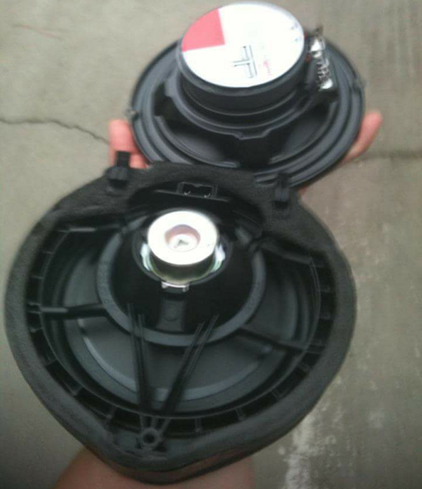 The Polk Audio db Series speakers (rear) look much more up to the task than Brian's Honda factory speakers. Brian exclaims: "Besides the huge difference in construction materials, look at the size of those magnets!"
Brian faced some stiff challenges when running the wires for these speakers, so he chose to run the tweeter wires and using the factory wire for the woofers. He placed the crossovers for the components in the sides behind the lower pockets in the center dash rather than mounting them in the doors. He "tolerated" this system (sub, amps, speakers, factory radio, EQ) for a few years, but then it was time to take the next step.
Digital media receiver
Brian wanted "a shallow-mount receiver that might fit up top where the factory radio display sat," which led him to the Pioneer MVH-X560BT digital media receiver. Its shallow mounting depth gave Brian just enough room to work with, as there's no disc player in the Pioneer. The factory radio is still in place — now unused — and the dash area around it is unscathed, so it looks pretty much factory. He is especially happy now that he's using RCA outputs instead of a line adapter, which allows him to drive with good sound. "It's my stress relief and my traveling buddy," he says.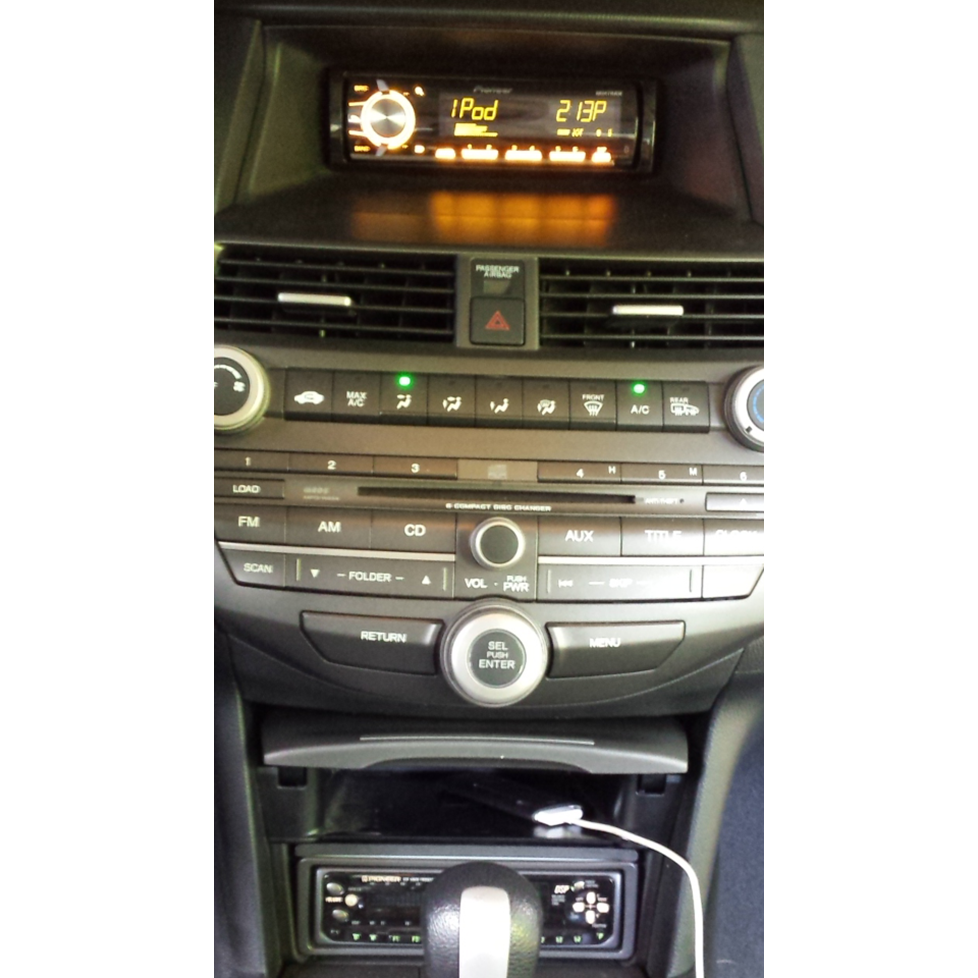 Brian's dash now: Pioneer digital media receiver at the top, factory stereo in the middle, Pioneer EQ at the bottom.
Mission accompolished
Brian wanted "tremendous sound without advertising it," which meant installing a stereo that would blend in enough with his factory dash that most people wouldn't look twice at it. "All is good now," he tells us, and we're happy that he's happy.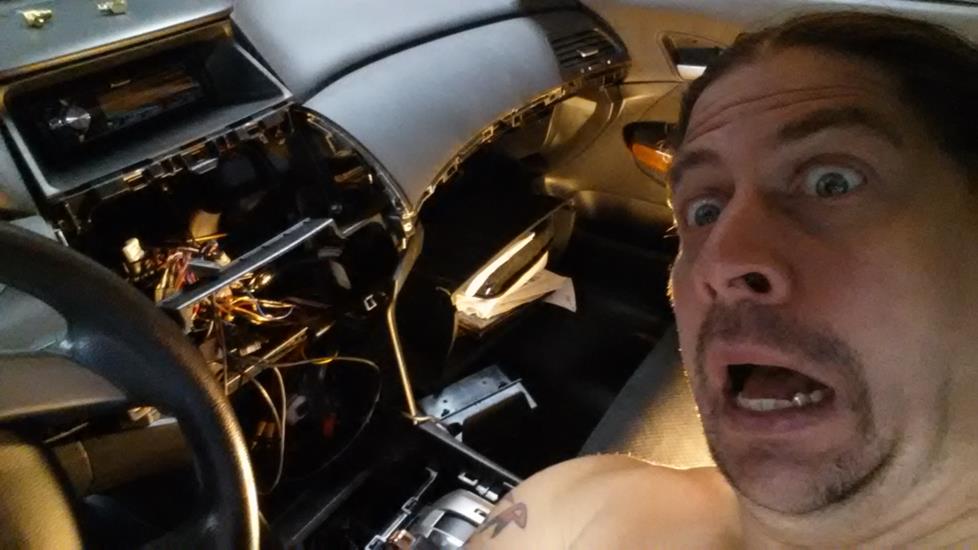 Halfway through his installation, Brian realizes he has a hole in his dash.
---
Vehicles in the Custom Car Showroom are submitted by customers and fans, and edited by Crutchfield writing staff. You can find more of these articles on the Showroom main page.