Installing a new stereo and speakers in a Toyota Camry
A family who loves music gets a hand upgrading their car audio
In this article... Our Advisor, Dwight, heads down the road to help a longtime Crutchfield fan install a Kenwood CD receiver and two pairs of Rockford Fosgate speakers in his daughter's 2000 Toyota Camry.
hile brainstorming do-it-yourself articles for our Holiday catalog, we came across a very complimentary customer email about Dwight, one of our expert Crutchfield Advisors. The customer, Tyler, positively raved about the way Dwight helped him plan an audio upgrade for his daughter's "new-to-her" 2000 Toyota Camry. The more we read about his experience, the more we wanted to give them some early Christmas presents.
"What's life without music?"
Tyler's daughter, Elizabeth, loves to sing and plans to study music, so of course she wants to hear (and sing) her favorites while she's driving to school and play rehearsals. But, while Elizabeth scored a sweet deal on this 2000 Camry, part of the deal was a set of defective speakers and no good way to play music from her smartphone. Life without music is no fun at all, so we were happy to help get some tunes into this Toyota.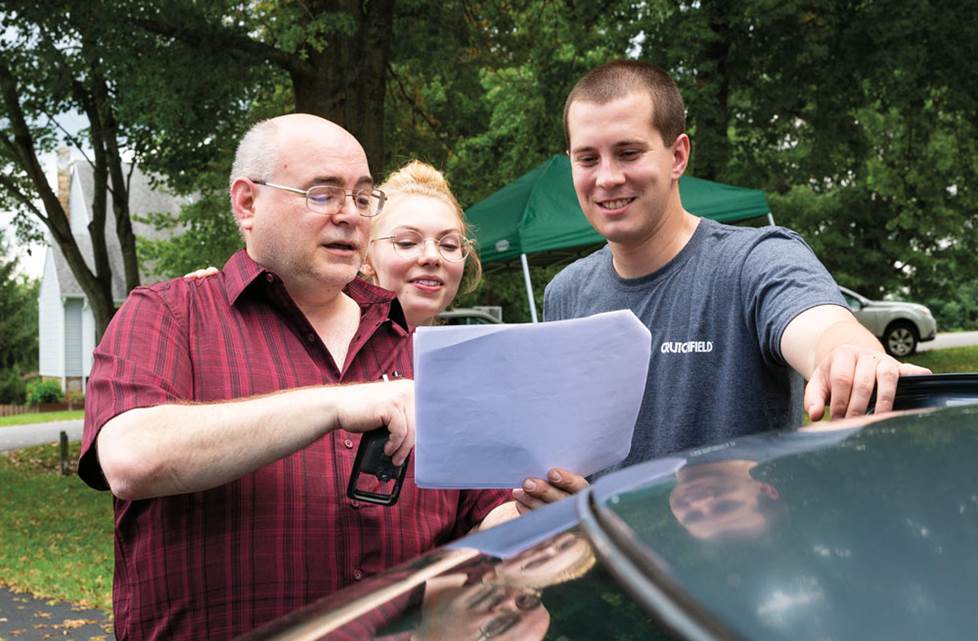 Dwight (right) talks over the MasterSheet instructions with Tyler and Elizabeth.
Tyler has been a Crutchfield fan for 40 years, and when he called, Dwight was there to help with recommendations for the Camry's much-needed audio upgrade. Tyler also explained that due to some health issues and other constraints, the installation would have to wait.
So we came up with a crazy idea. Let's help them do the installation! Dwight agreed to lead the way in person, and Tyler and Elizabeth were completely fired up about the opportunity. With Dwight's recommendations in hand, we headed down to Christiansburg, Virginia to help get some tunes going in Elizabeth's new ride.
A new multimedia center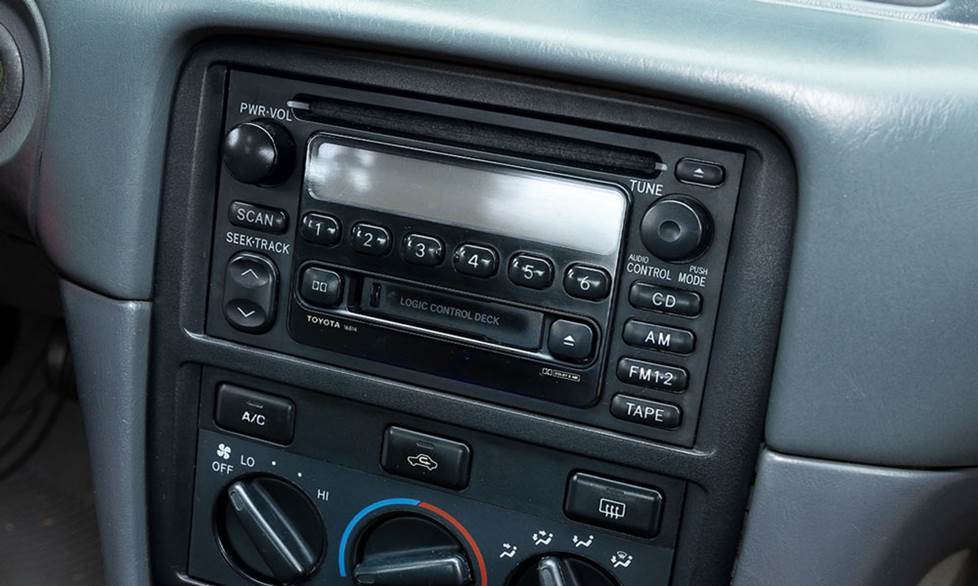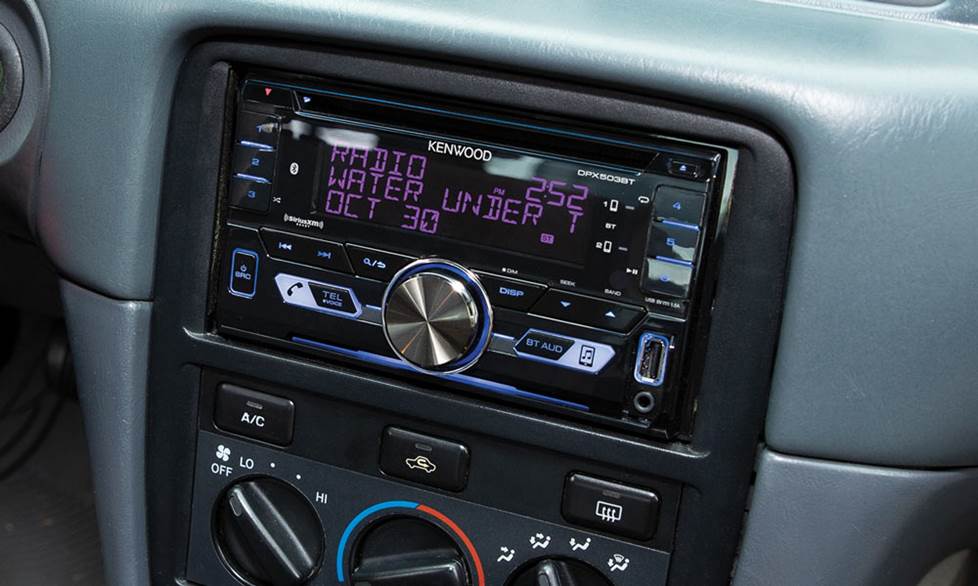 The Camry's 18 year-old radio simply didn't have the functionality Elizabeth wanted, especially when it came to smartphone integration. Dwight suggested the Kenwood DPX503BT car stereo (you'll find our current selection of CD receivers here), which lets her play CDs (yup, she still uses them), listen to music stored on her smartphone, and stream Spotify® in the car. Using our exclusive Crutchfield MasterSheet™ instructions, Dwight guided her through the installation process.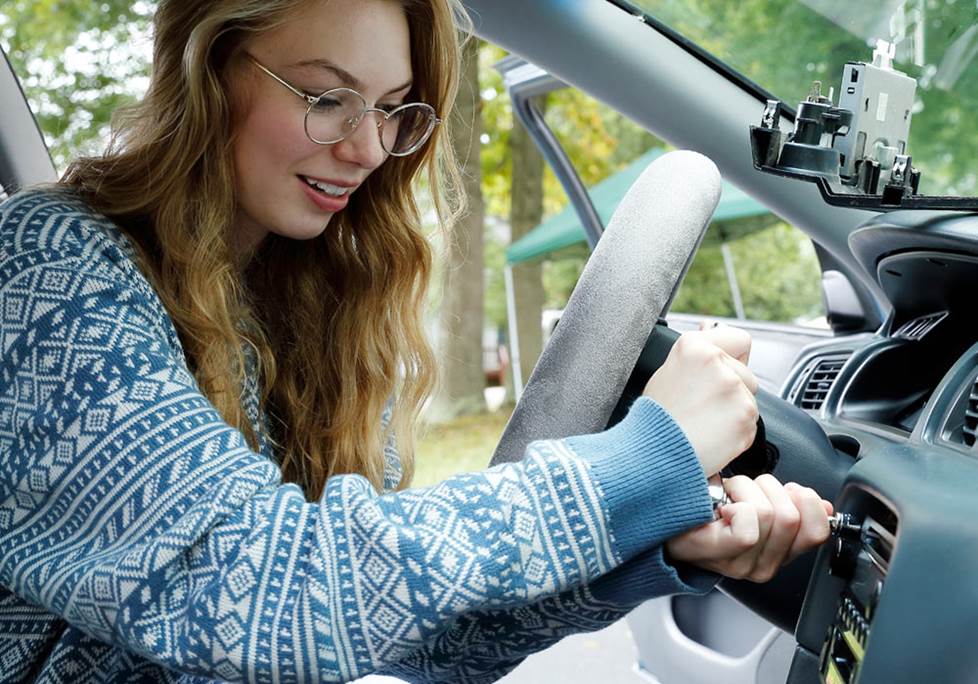 After removing some of the dash trim, Elizabeth unbolts the Camry's factory radio bracket. She'll reuse these bolts and the factory bracket to install the new Kenwood receiver.
Replacing the stereo in this Camry is fairly straightforward. Elizabeth removed the trim panel around the radio, unscrewed four bolts, and unplugged the factory wiring harness to release the radio from the dash.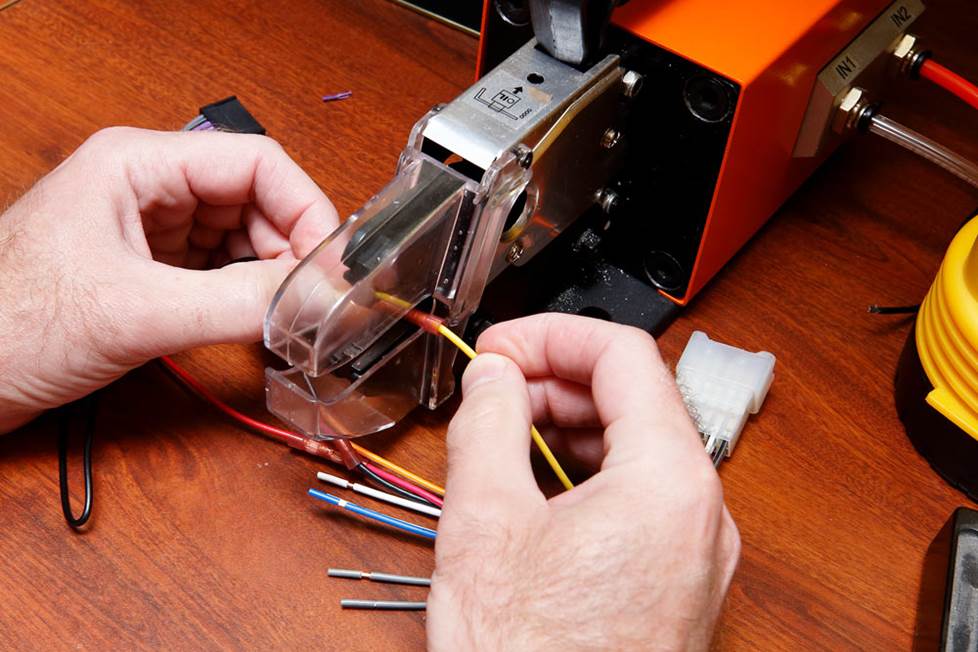 Our techs use pneumatic crimpers to prepare each ReadyHarness
Using Crutchfield's ReadyHarness™ to connect the stereo really shortened the installation time for the Kenwood stereo. When customers opt for our ReadyHarness service, our on-site technicians connect the new stereo's wiring harness to the vehicle-specific harness we offer for this Camry and lots of other vehicles.
On installation day, all Elizabeth had to do was plug in both ends of the ReadyHarness, and the wiring was done. Elizabeth reused the factory radio's brackets to mount the new Kenwood receiver. She left the bolts loose and the trim panel off until she did a sound check to make sure everything was working properly.
New speakers to complete the upgrade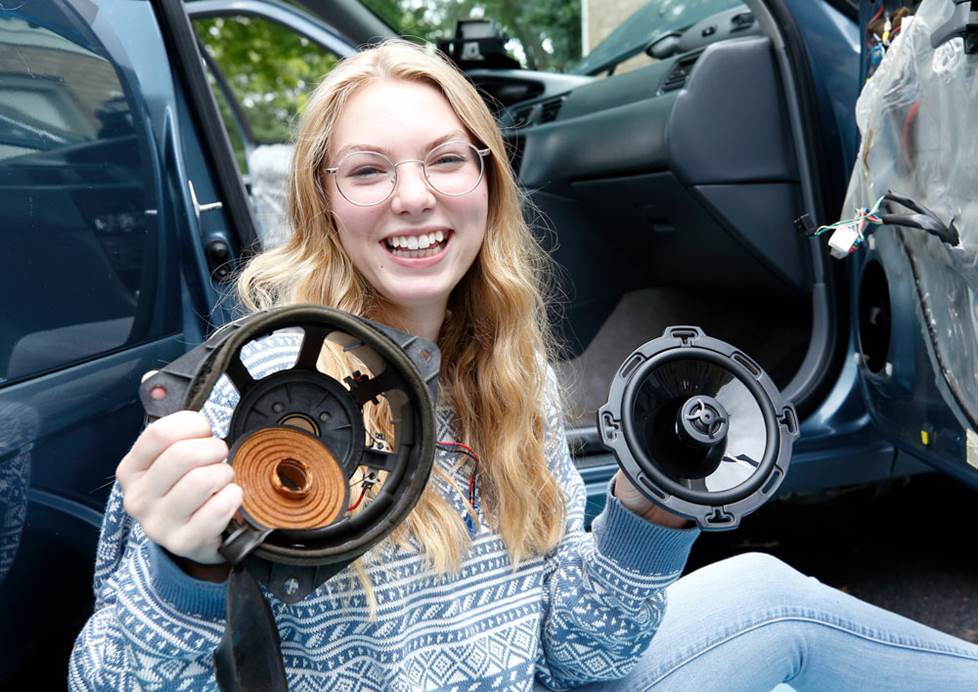 It's pretty easy to see why this factory door speaker (left) wasn't working! The robust new Rockford Fosgates will deliver the sound Elizabeth has been waiting for.
With the new receiver ready to go, the next step was to address the speakers. Or lack thereof, as it turned out. When Elizabeth popped off the driver's side door panel, the remainder of the factory speaker pretty much fell out of the door. No wonder there wasn't any sound!
There is now. Dwight recommended the Rockford Fosgate Punch P16 6-1/2" 2-way speakers for great sound up front. To complement those speakers, he chose the Rockford Fosgate Prime R169X3 6" x 9" 3-way speakers for the rear deck locations.
Installing the Camry's new speakers
The speaker installation required a little more elbow grease. The front door panels and the rear deck and seat material had to be removed to access the various speaker locations. And to secure the new speakers, Elizabeth had to drill some new screw holes. Crutchfield's exclusive MasterSheet instructions covered each step, and Dwight was there to guide Elizabeth through the process. Since time was a factor, we gave her a little help with these tasks, too.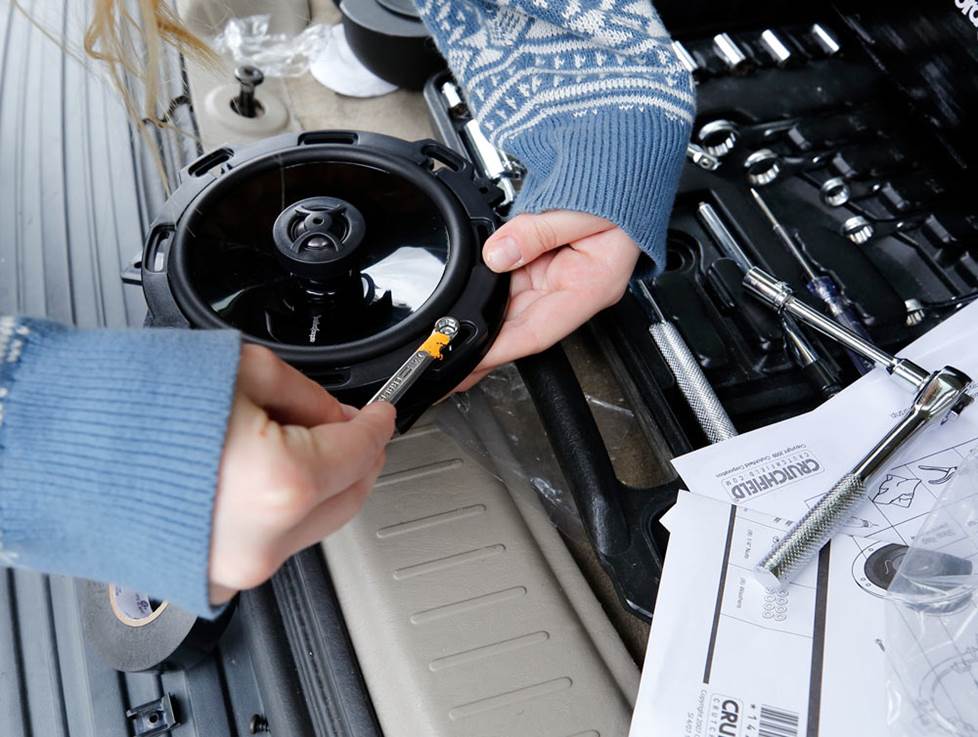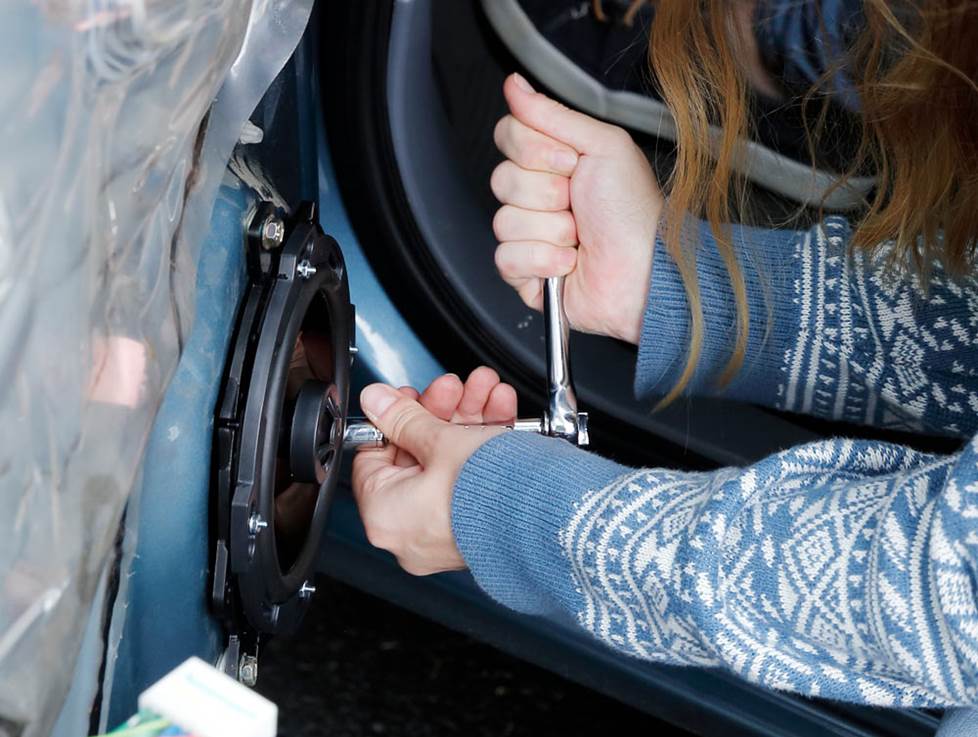 Elizabeth first attached the Rockford Fosgate speakers to the Scosche brackets we included for the front door locations. After drilling new holes in the sheet metal, she then bolted the speaker/bracket assembly into place.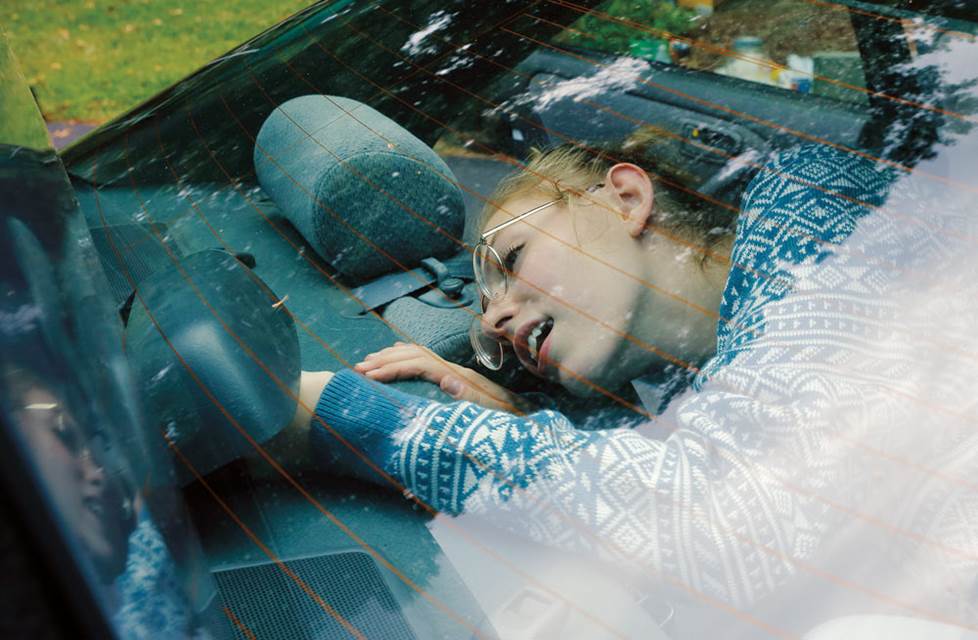 Removing the brake light is part of the rear deck speaker replacement process
A fun installation with fantastic results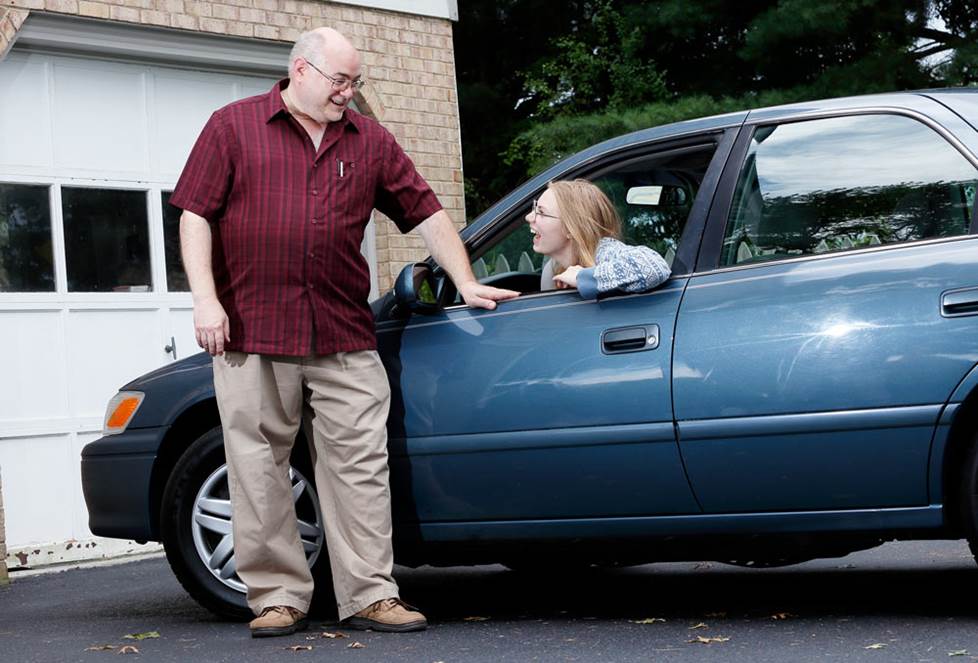 Father and daughter celebrate the end of a successful car audio upgrade
This is a very musical family, which made this installation a lot of fun. As we went through the installation, Tyler serenaded us with an occasional song. Elizabeth cued up the Les Miserables soundtrack for her sound checks, so we knew this system was going to get a lot of use with a variety of music.
A week after the installation, Tyler told us that Elizabeth was still learning the ins and outs of the stereo but loves the upgraded sound from her new system. Tyler and Elizabeth love what they hear, and they had a great time installing the new gear. We had a great time too!
Need help choosing gear for your ride? Contact one of our knowledgeable Advisors by email, phone, or chat, and they'll be happy to set up a winning system for your vehicle. And while we probably won't be able to come to your house, like we did for Tyler and Elizabeth, our expert tech support is just a phone call away for the lifetime of any product you purchase from Crutchfield.