To celebrate our 45th anniversary, we cruised down memory lane with a handful of folks who helped shape Crutchfield in the early days when the consumer electronics industry still had a bit of a Wild West vibe.
Dave Schaefer is one of those Crutchfield vets, and I knew his face from exploring our catalog archives to populate our Crutchfield Vintage site. Throughout the 1980s and early '90s, Dave was our head of tech support, but now he's best remembered as "The Installation Doctor."
If a customer received a car audio order from Crutchfield, in say 1984, they'd find a booklet included that would walk them through the steps of installing their new gear. At a time when those kinds of details had typically been kept under wraps by professional installers, this was a first. At last, there was a way for first-time car audio customers to upgrade their audio by themselves, with confidence.
And dapper Dave was their guide — donning a lab coat, a smile, and a Craftsman drill, looking like he might just solve primetime mysteries when he wasn't helping you secure a Blaupunkt cassette deck in your dash.
Crutchfield: How did you get started at Crutchfield?
Dave Schaefer: I'd been working at another electronics store in Charlottesville. I learned how to install radios there, but what happened was they hired a new guy and they were paying him the same amount as me. I said, this is crap, I'm assistant manager. So I applied down at Crutchfield. They gave me a job in the Technical Department. After about two months, they promoted me to manager.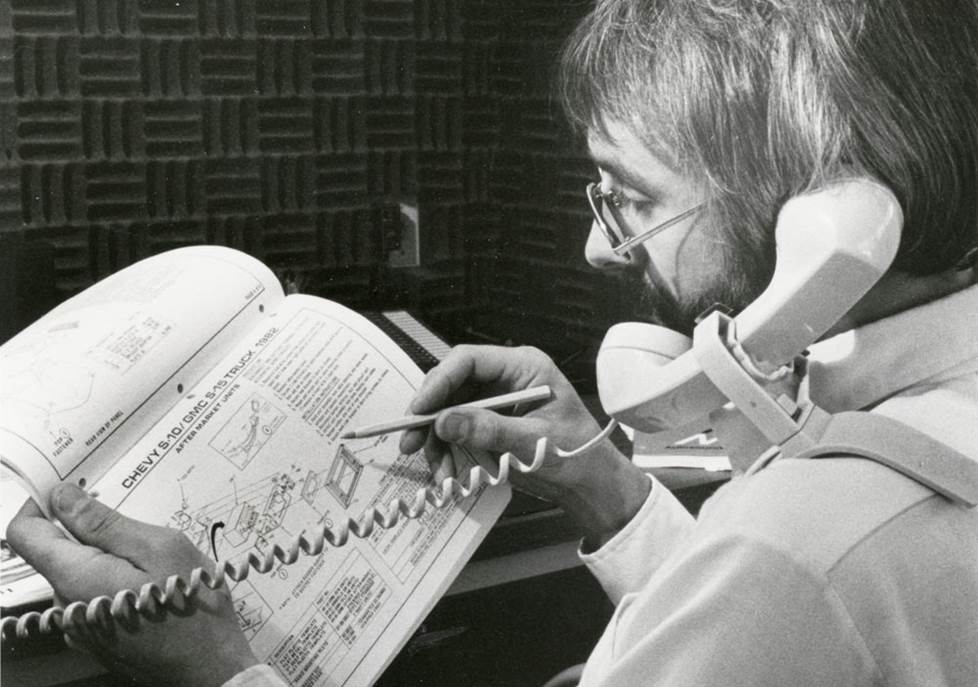 Crutchfield: What was it like, day to day?
Dave: We were doing tech support on the phones. And Bill [Crutchfield] didn't have an install bay yet, but people would come in and they would buy a radio off the street from us and then they'd need someone to install it for them. And there were two or three of us. I think I probably did more than most, but on the weekends and after work, when the weather was good…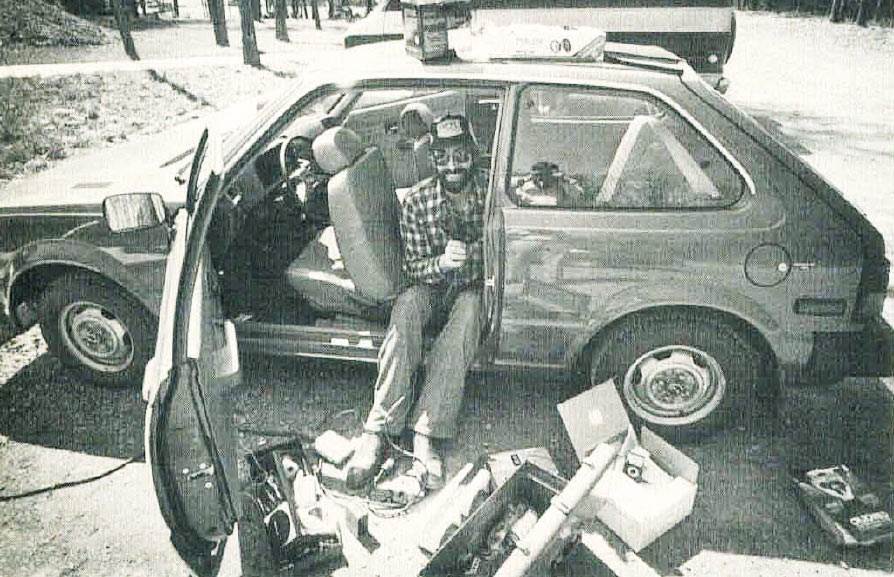 I'd sometimes start on Saturday morning and I'd work all day Saturday and Sunday, other than church. And I'd put in maybe six or seven radios and speakers in a weekend. And I'd just do it back at my house. Just because they needed somebody to do it. They had a few installers in Charlottesville but they didn't have enough to keep up with the demand.
Crutchfield: Was there a certain amount of trial and error at the beginning?
Dave: Fortunately, I'd gotten through my trial and error at my previous job. So when I went to Crutchfield, I pretty much knew what I was doing and had all the tools to do it. We had a few other people that made some mistakes though. I had to redo a few installations.
Crutchfield: This was the dawn of vehicle integration, wasn't it?
Dave: Jim Richardson had been in purchasing, and I was in tech. And I was asking him for all kinds of things. We need this and that. We need harnesses, etc. and so finally he said, "Dave, why don't you take over buying the kits and harnesses?" So, that's how I got into purchasing because he wanted me to start doing that stuff. [Editor's note: Jim Richardson still works here and is now the home A/V managing editor]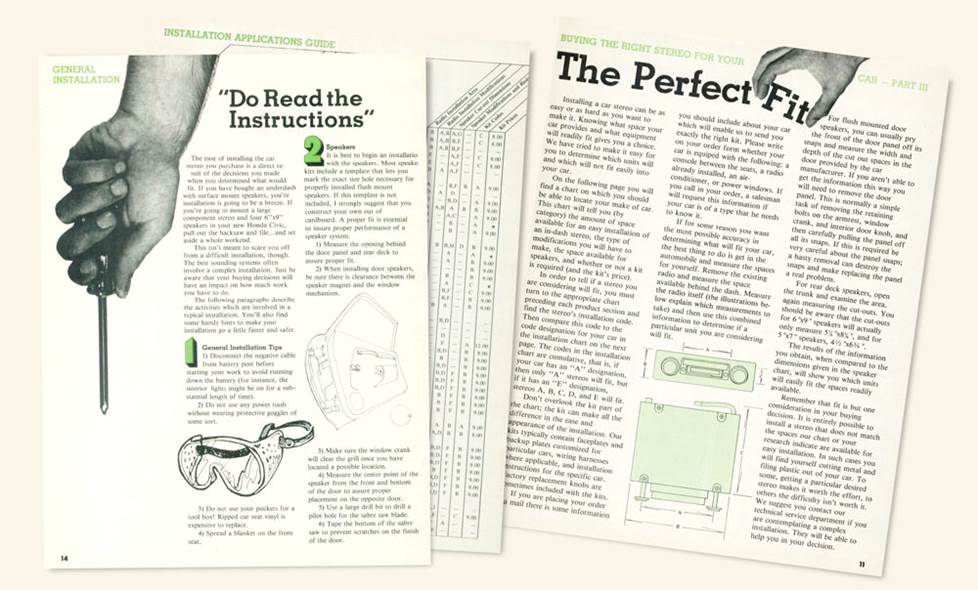 Crutchfield: Initially there was a certain amount of installation information in the catalog, but how did it come about that you made booklets that shipped with every purchase?
Dave: Bill had pretty much said that we had to come up with something. And every year, I was doing the charts for the catalog. As soon as I took over tech support, I pretty much did them all the way up until I left. I was there from September '79 until August '93. It really had to do with giving people reliable information.
Here's an example. People were asking us on the phone which radios had the best reception. So, I got a group together, and we all went up to the Blue Ridge Parkway in my '79 custom Chevy van. We all had notebooks and we had one of those displays in the back that had six or seven radios in it. You could click from one to another to another. That's how we figured out which one would pick up better. We spent a whole day doing that.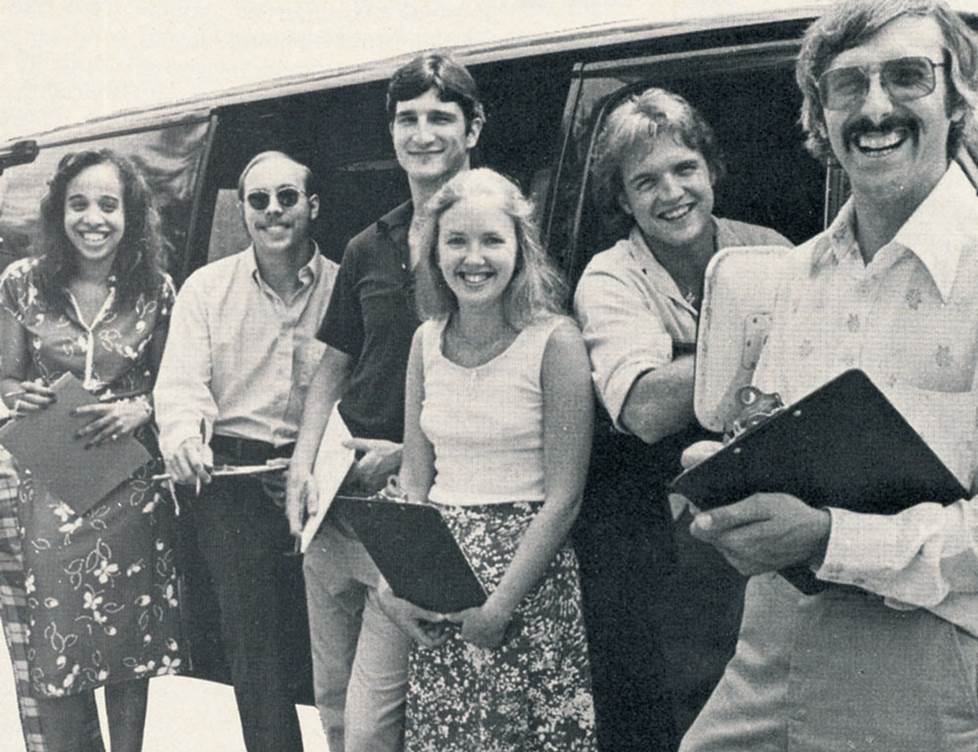 Crutchfield: That's some pioneering stuff. Was anyone else doing that on the level you all were then?
Dave: No, nobody else was doing anything like that. Bill had said he wanted people to be able to do the installations, hands-on. And in order to do it hands-on, we had to go out and do all the tests and everything else.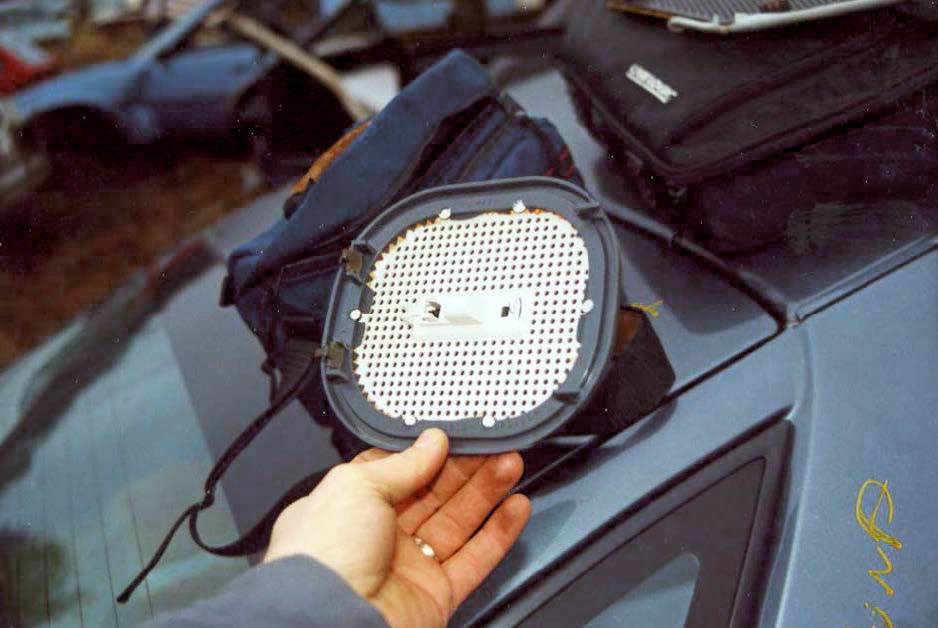 We had to really know what was going on. There was a junkyard north of Barboursville. We would go out there at night or on the weekends and we went through car after car, checking and double-checking everything. One time, when we were writing charts up, we had a Grand Prix, and we wrote down that it took a 6"x9".
Well, somebody called up and said, no it's a 4"x10". Once we really started checking it we discovered that, okay, the 2-doors are 4"x10"s and the sedans are 6"x9"s. I said I needed speaker harnesses for the doors too, and that's where we came up with your 71 Series speaker harness, which is now the Metra 72 Series harness.
Oh, and here's something: Every radio manufacturer had a different color code for the [wiring harness on the] back of the radios. Now, everything is color-coded. Red is switched power. Yellow is constant. All that stuff did not exist. Pioneer, Sony, everybody had different colors for everything.
Back then, Steve Valentine, who was technical director at JVC, and myself and a few other people… we wanted to standardize color codes for every radio in the industry. In fact, I talked to the owner of Metra at the time, and he said, "Dave, if you ever do that, I'll eat my hat."
The week that I left Crutchfield, I got a call from Sherwood and Blaupunkt and they said, "Dave, we're switching over to your color codes." [Stereo wiring] was a real nightmare for so long. And that change was all driven by Crutchfield because that kind of standardization was not something that was going to happen easily.
Crutchfield: Do you think OEM manufacturers will ever collaborate on a standard?
Dave: That's never going to come because they don't need to. And they always tried to make it harder for the aftermarket people to come up with something.
Crutchfield: Are there smaller things like installation tools that you've seen evolve over time that are easy to take for granted? In the first Installation Doctor you mention using garbage bag twist ties to secure wiring.
Dave: That's what we used! I remember the radio removal tools to pop radios out, with the U-clips and stuff like that… I got Magnadyne to make the first ones for me. Without them, installations took forever. Crutchfield came up with that, then Metra started buying them from Crutchfield. And then Metra started making them.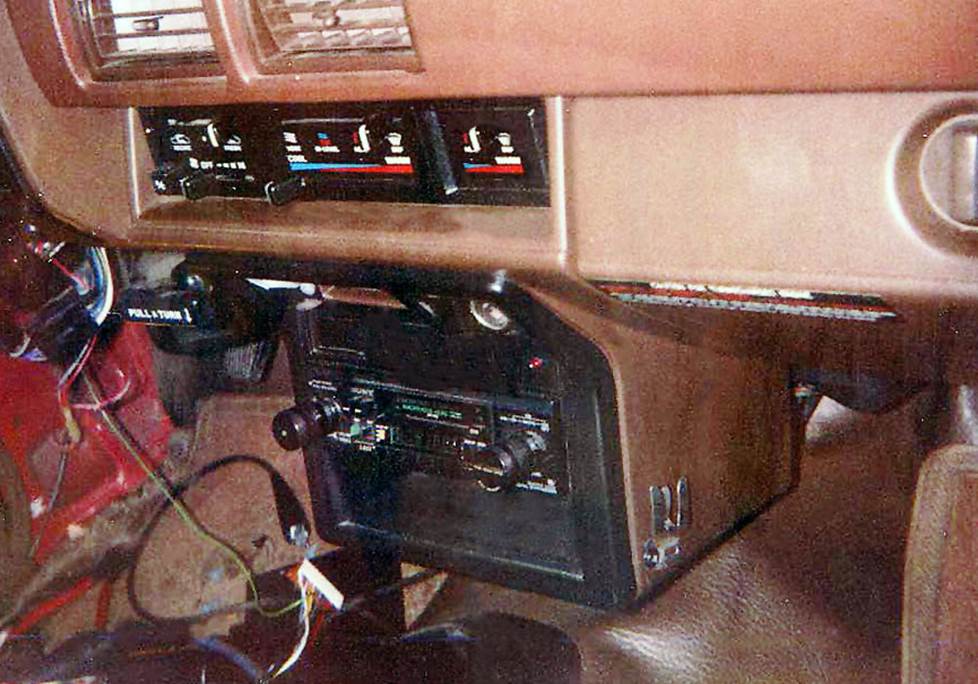 Same with how Toyotas had the radio and then a pocket below? Crutchfield needed it, and Metra didn't tool it, so I used to buy them from the local Toyota dealer. Eventually, Metra started buying them from the Toyota dealer until they finally tooled them.
Crutchfield: So, a lot of what you were doing… people were falling in line after the fact?
Dave: Let me tell you the biggest thing… amp kits! Chris Dowling, I think his name was, was doing installations. He was a young guy – maybe 18 or 19 years old. He said, "You know, Dave… Instead of cutting the wire off and doing this and that every time we put an amplifier in, why don't we just come up with a pre-cut kit?"
So, he and I sat down and came up with everything that should be in it. This much power wire and this and that. And the first original amplifier kits, we had made from Sears in Charlottesville. We had wire, zip ties, fuses, some speaker wire, whatever we needed in a plastic bag. We'd have like 400 made at a time and we'd sell them as an add-on in the catalog.
Eventually, I had some guy in Texas making them for us, and eventually Scosche wanted to buy them. If Chris could get a half-cent from every amp kit that he and I designed, that guy would be a multi-billionaire. Every amp we sold, we'd go ahead and add an amp kit. We had just one style at first, I think. We eventually had a second style, depending if it was going under the seat or in the trunk.
Crutchfield: How did the "Doctor" come about?
Dave: That was pretty much a day-of thing at the photo shoot. If I'm going to do something, I'm going to go ahead and do it overboard, I guess you'd say. I have to make sure everything is 100%. That day, I put on this outfit and someone said I looked like a doctor. I think it was more of a joke, but people started calling me "The Installation Doctor" after that.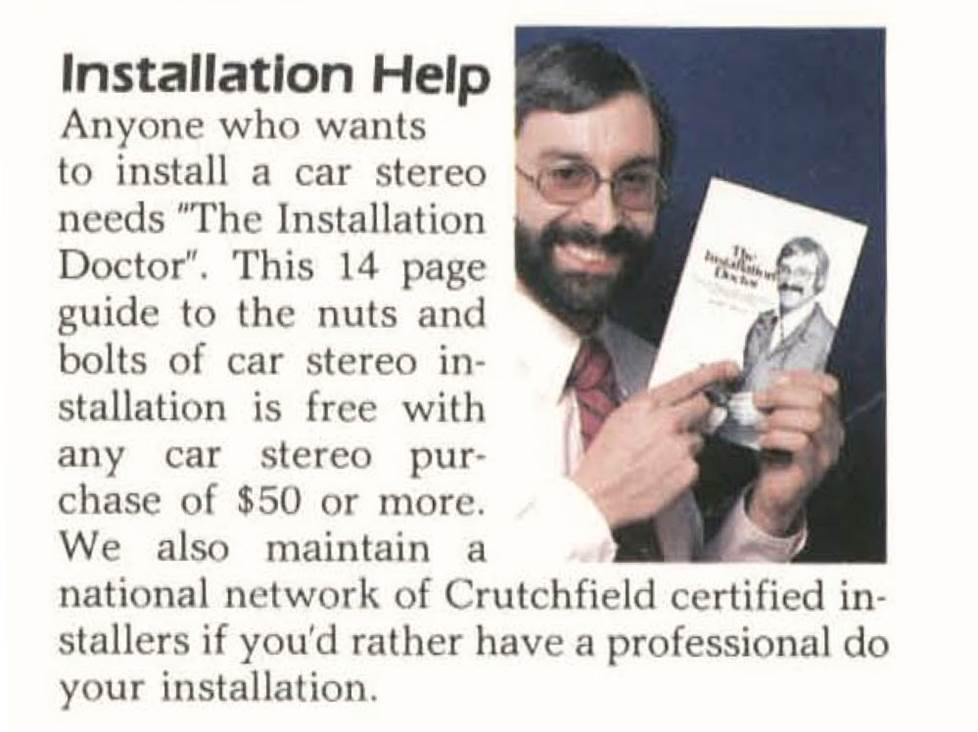 Crutchfield: In the first Installation Doctor, you mention an installation mistake that you'd be sure to never make again – installing a door speaker right in the way of the window crank. What was the story there?
Dave: Things like that, I have to try and forget!
Crutchfield: Well, I think the moral to your story was that it pays to take your time, account for everything, and measure twice.
Dave: Good advice!
Crutchfield: Just one more question… Is there any philosophy from your Crutchfield days that still sticks with you today?
Dave: Well, for the customer installing gear… we always just wanted to make it as easy as possible. The idea was to empower anybody to do an installation project, whether you were in seventh grade or long past retirement. In the early days at Crutchfield we were even making dash kits, for Toyotas and things, because no one else made them. That just meant more people could enjoy having a new radio in their car.
A long legacy of support
We thank Dave for taking the time to give us one more visit with the Installation Doctor. Because of his forward-thinking and practical approach to helping customers, more people have enjoyed the thrill of great car audio and the satisfaction of installing it themselves. While a lot has changed since Dave's days at Crutchfield, our philosophy hasn't. Our mission is to make it as easy as possible for our customers to be able to get the job done.
We continue to innovate ways to help, from our home-grown database of vehicle fit information, to our behind-the-scenes fit tools that let you find the products that will work with your car, to our ReadyHarness service where we'll do the wiring for you (as much as we can without actually having your car on hand).