In brief: This Crutchfield Research Garage article gives you an overview of your S2000's stock stereo system and your aftermarket upgrade options. We'll tell you all about:
Then, use our vehicle selector to find the gear that will fit your Honda.
Overview of the Honda S2000
What's more fun than a drop-top two-seater sports car? A bouncy house filled with loose piles of cash, maybe? Yeah, but a sports car looks a lot cooler than a bouncy house in the front yard, so we're going with the car.
And the Honda S2000 was definitely made for fun. With a thoroughly stuck chassis, a high-revving engine, powerful brakes, and slick styling, this car is ready for the weekend whenever you are. Plus, it's a Honda, so it has all sorts of un-sports car characteristics, like atomic clock-level reliability and an interior in which actual, normal-sized humans can sit for hours without cramping into the fetal position.
With so many virtues and so few vices, it's no wonder that the S2000 is popular with tuners, customizers, weekend racers, and smart people who just want to go for a drive in the country without ending up in a remake of "Deliverance" because the car broke down. All of those people can appreciate a better stereo, and in an open car like this, it's a smart, fun upgrade.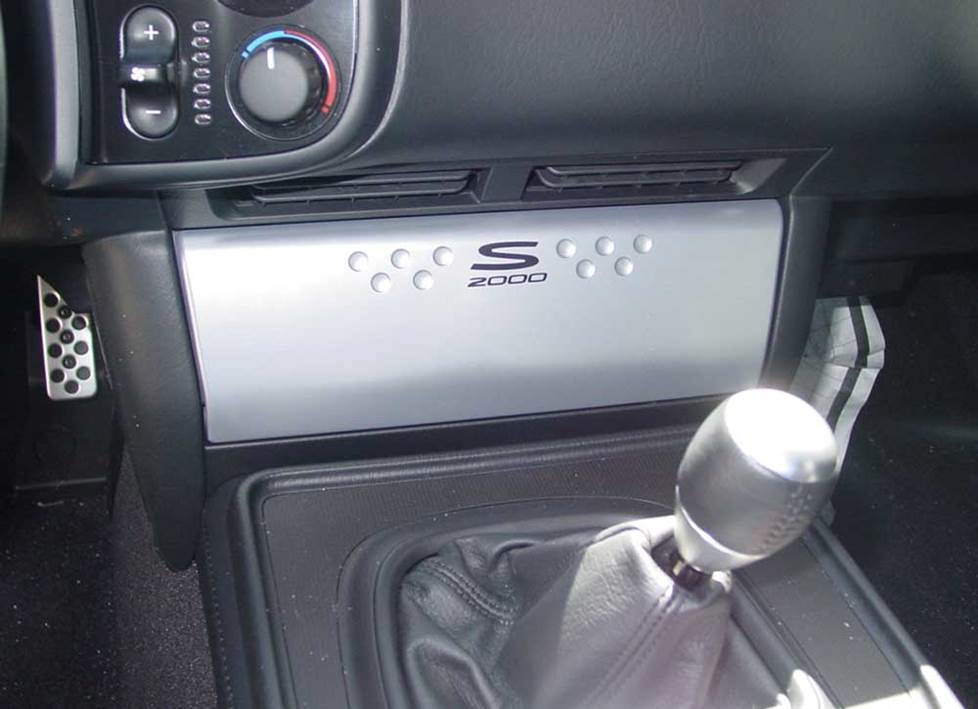 The snazzy-looking cover protects the receiver from damage (Crutchfield Research Photo)
The factory stereo system
The S2000's stock stereos were a base AM/FM/CD with 4 speakers or a later AM/FM/CD with 8 speakers. They're not awful under normal, everyday driving conditions, but you don't drive a car like the S2000 the same way you drive a Fit – you drop the top, find a two-lane, and enjoy yourself. When you do that, you'll want more power and better fidelity.
A wide variety of single-DIN (2" tall) aftermarket receivers will fit behind the S2000's slick radio cover, but you'll want to pay attention when you're shopping.
Detailed stereo and speaker removal instructions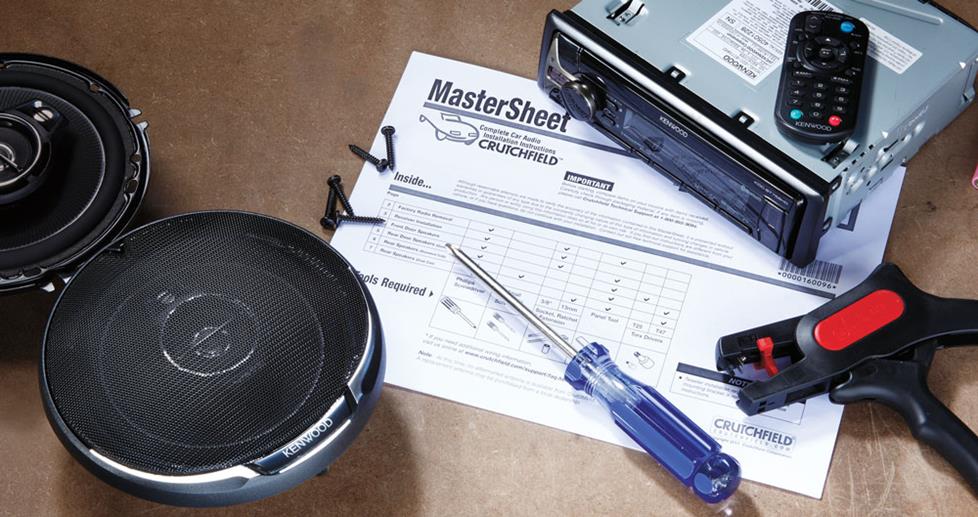 With step-by-step disassembly instructions and plenty of up-close, detailed photos, our exclusive
Crutchfield MasterSheet
™ takes the guesswork out of removing the factory stereo and speakers. It's free with your Crutchfield order, or you can purchase one separately for just $9.99.
For one thing, you may not be able to close the radio cover if you install a stereo with a fold-down or protruding faceplate. For another, single-DIN receivers with retractable video screens won't work in this car because of the receiver's proximity to the shifter. You really wouldn't be able to get a clear, safe look at it down there, anyway, so it's probably for the best.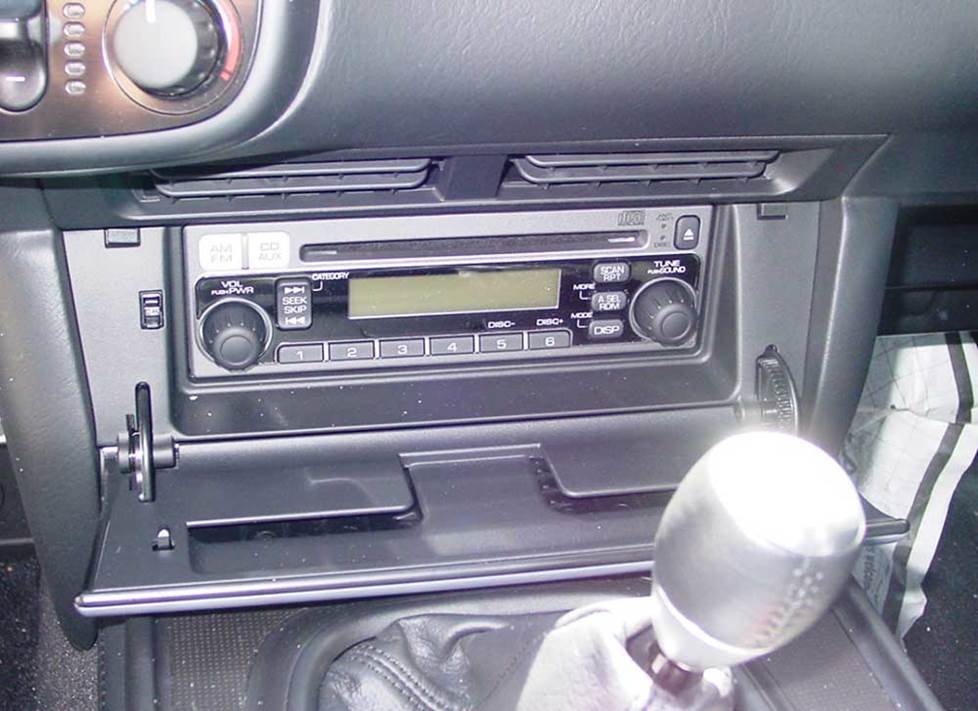 Make sure the aftermarket receiver you choose doesn't have a flip-down face of its own (Crutchfield Research Photo)
Removing the factory radio
During the S2000's lengthy run, there were some interior changes that affect the way you'll remove and replace the factory radio. It's not really hard either way, but with the newer cars, there are a few more steps involved.
Removing the factory stereo in the 2000-2003 S2000
The 2000-2003 cars couldn't be much easier if the stock receiver was attached to the dash with Velcro. Once you've set the parking brake and disconnected the negative battery cable, grab a panel tool and pry around the edges of the receiver/air vent trim panel until it's loose enough to remove. Honda panels are usually pretty tight, so pry gently, to avoid damaging the panel.
Once the panel's out of the way, remove the four Phillips screws securing the radio, then pull it out, disconnect, and remove it. From here, you're ready to install the new one. Simple as that!
Removing the factory stereo in the 2004-2009 S2000
The later cars are a little more complicated, due to the closer relationship between the receiver and the console.
Once the car's ready to work on (see above), you'll start this job by unscrewing the gear shift knob. Next, you'll (carefully!) pry up on the top of the console panel to release the retaining clips, then disconnect the harnesses and remove the whole assembly.
Once the console's out of the way, everything on these cars is the same as on the earlier models. Remove the trim, remove the screws, remove the radio, and install the new one.
When you install a new receiver, you'll use the trim ring that came with it, along with the factory radio side brackets. You may notice a slight gap around the face of a new receiver. This is normal, and you'll barely notice it once you're on the road.
Read our Car Stereo Buying Guide for shopping tips and advice.
Shop for car stereos that fit your Honda S2000
Steering wheel audio controls
In most cases, it's reasonably easy to retain your S2000's steering wheel audio controls when you install a new stereo. When you enter your vehicle information, our database will choose the adapter you need to make your factory steering wheel controls work with a compatible aftermarket receiver.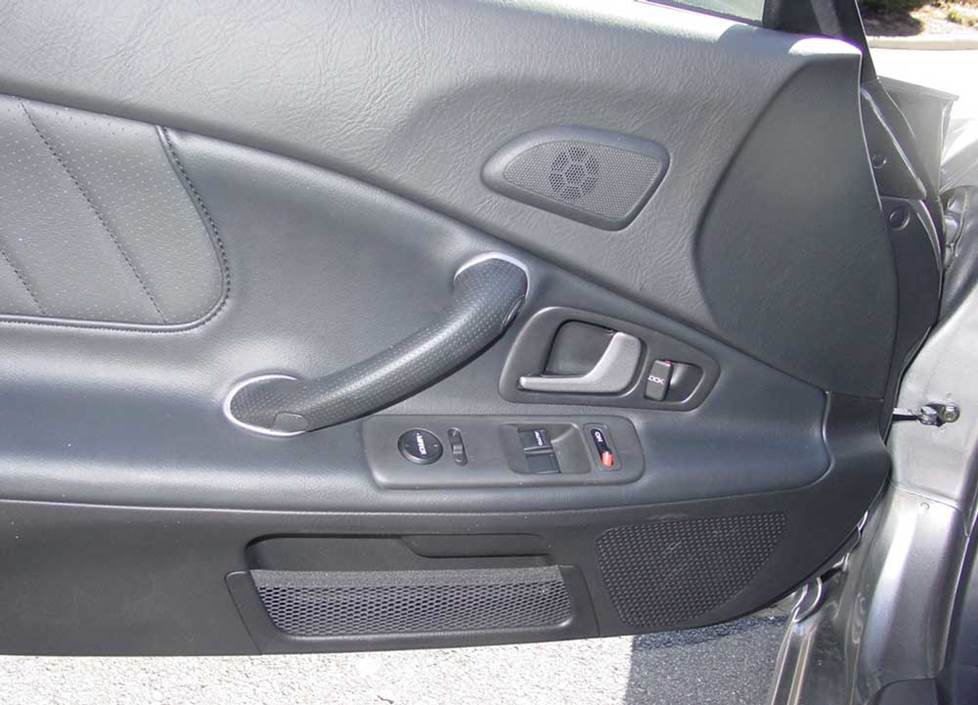 The doors are equipped with component speakers (Crutchfield Research Photo)
Removing the factory speakers
The 3" door tweeters are wired in parallel with the 6-1/2" woofers, so a set of component speakers is an excellent choice for the S2000.
You'll need to remove the door panels to get to the speakers, a process that begins with prying out two screw covers in the door pull handle and removing the exposed Phillips screws. Next, pry out the retaining clip in the upper front edge of the door panel.
Remove the Phillips screw behind the door release trim, then pull the trim toward the rear of the vehicle and remove it. Pry out the sides and bottom of the door panel to release the retaining clips, then lift the panel and pull it out just enough to disconnect the wiring harnesses.
Remove the door panel and find a safe, soft spot in your garage to store it while you're working on the speakers.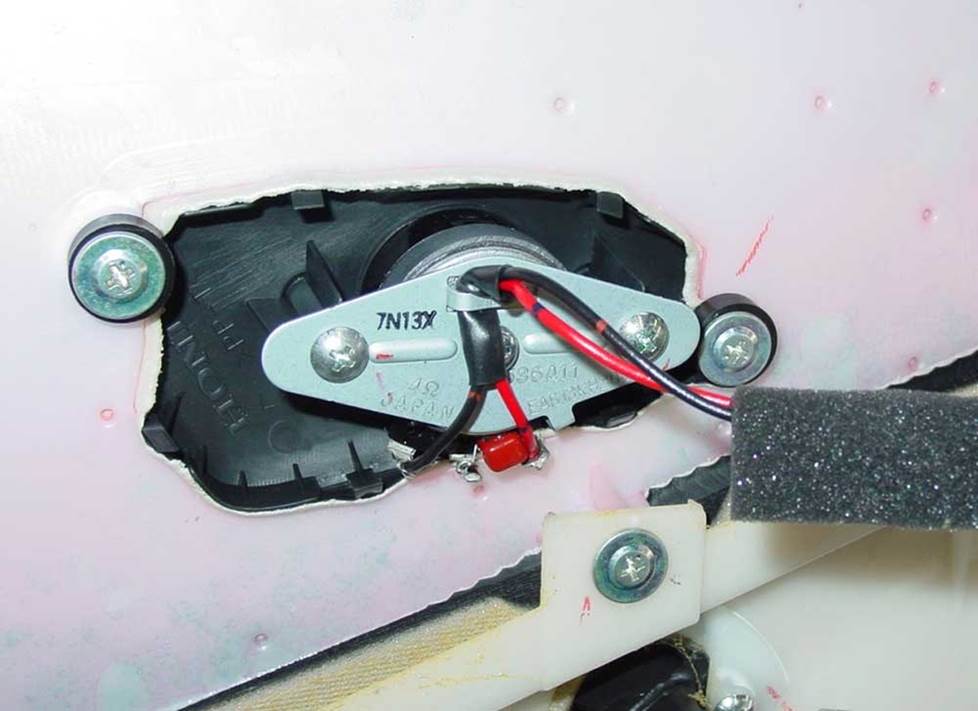 The tweeters are mounted on the inside of the S2000's door panels (Crutchfield Research Photo)
Tweeters
The 3" tweeters, which are mounted on the door panels, are easy to remove, but a little tricky to replace. There's nothing hard about it, but it's also not a "plug and play" job, either. Once the door panel has been removed, getting the old ones out is merely a matter of removing some Phillips screws and disconnecting the wiring harnesses.
The fun part comes when you're installing new tweeters. A wide variety of aftermarket component tweeters will fit into the space, but you'll need to use backstraps, hot glue, or silicone to secure them. There's no wiring harness available for this location, so you'll need to use Posi-Products speaker connectors when connecting to the car's stock wiring.
The 6-1/2" woofers are reasonably easy to reach and replace (Crutchfield Research Photo)
Woofers
The woofers are even easier to work with. Just remove the three Phillips screws securing each one to the door, disconnect the harnesses, and pull them out.
In some cases, you'll need to cut out the back of the factory mounting bracket to accommodate your new speakers. A simple test-fitting will tell you if this is necessary or not. So will our Outfit My Car tool, which will let you know if this is going to be an issue or not before you even place your order!
Once your new woofers and tweeters are installed, test them out to make sure everything's working correctly. If they are, you're ready to replace the door panels and hit the road.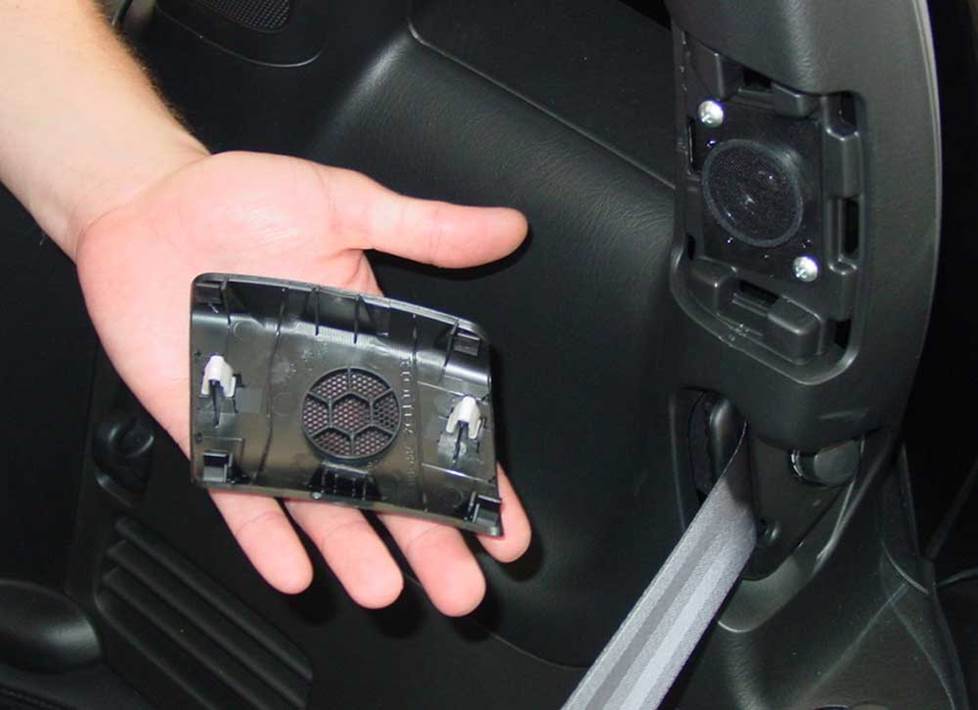 Replacing the rear speakers can be a bit of a challenge (Crutchfield Research Photo)
Rear tweeters
The rear speakers, available in 2006-up S2000s, are located on the back wall of the passenger compartment, in the headrests. One set (there are two in each headrest) connects to the stereo's left rear channel and the other one connects to the right rear channel.
These tweeters are easy to get to (just remove the grilles and there they are), but getting to the harnesses will involve extensive disassembly, plus some cutting and splicing of wires. You'll also need to fabricate a bracket (or use backstraps, hot glue, or silicone) to secure them.
All in all, this is not a job we recommend for the beginning car audio DIY-er. It's not rocket science, of course, but it's definitely some stuff. If any of this gives you pause, you might want to have this work done by a professional. Or just leave them alone.
Read our Car Speakers Buying Guide for more information.
Shop for speakers that fit your Honda S2000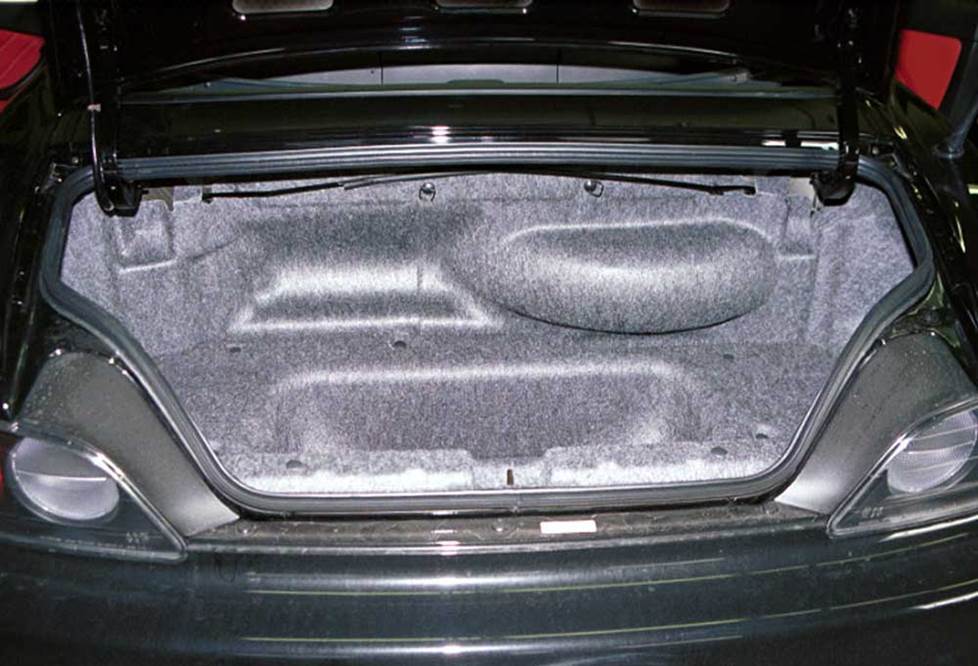 There's not a lot of room for a sub box in the S2000's trunk, but a powered sub will definitely work (Crutchfield Research Photo)
More bass in your S2000
The S2000's trunk offers about enough room for two people to toss in a weekend's worth of duffle bags. If you run out of space, one of you has probably overpacked.
There's also room for a subwoofer box, if you want one. You have a 43" W x 10" H x 12" D space to work with, which isn't much, but if you (or your audio shop) is creative enough, you can make something happen back here. We've seen it done.
A powered subwoofer is also a nice idea for a car like the S2000. You can choose a compact model and get remarkably better bass without giving up much of the very little cargo room this car offers.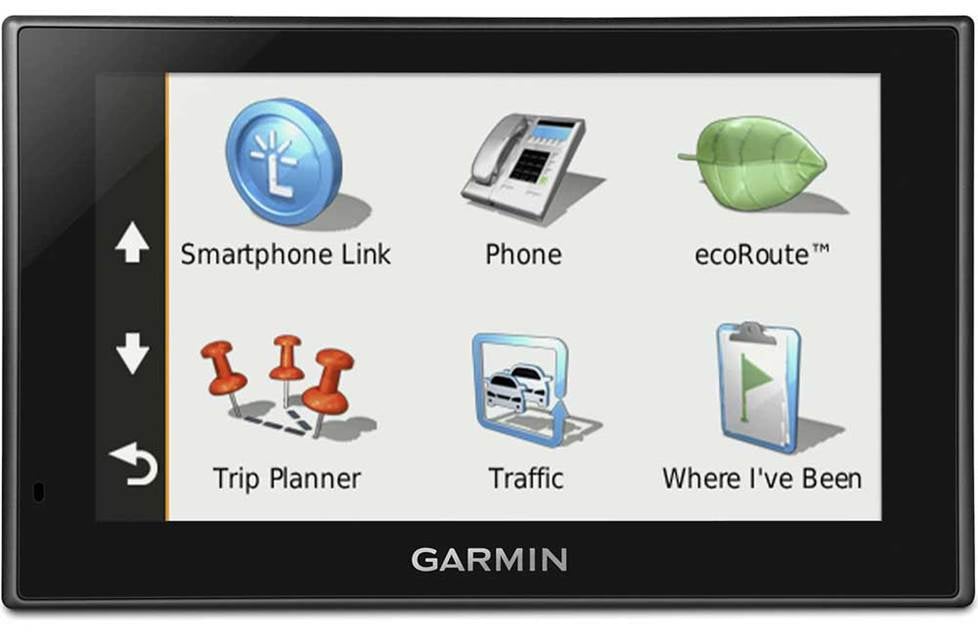 A portable navigator from Garmin will be a helpful addition to your weekend travel kit
Other options for your Honda S2000
Here are some other cool ideas for your S2000.
Add navigation
You can still get aftermarket nav functionality without a touchscreen navigation receiver. Mount a portable GPS on the dash or windshield and get turn-by-turn directions, traffic updates, and everything you need to make your road trip go smoothly. Plus, when you get where you're going, you can put your GPS in your pocket and use it to find points of interest around town.
Add an amplifier
Replacing the factory radio will make a big difference in the performance of your new aftermarket speakers, but to further improve the sound quality, consider installing a 4-channel amplifier. Learn more about adding amps to your system in our Car Amplifier Buying Guide.
Add a sound processor
If you choose to keep the stock radio, install a sound processor to send a clear, clean signal to your new amp. Sound processors remove any limitations on the signal imposed by the factory radio. The better the signal, the better the sound. Read our article explaining factory sound processors to learn more.
Add a security system
Installing a security system in your S2000 isn't easy (security systems rarely are), but it's definitely a good idea. Our Crutchfield Advisors can help figure out what you need to get the job done, but we usually recommend taking your car and new gear to a professional installer.
Let's get started!
Ready to shop? Use our vehicle selector to find the gear that will fit your car or truck. If you have questions, give us a shout via phone, chat, or email