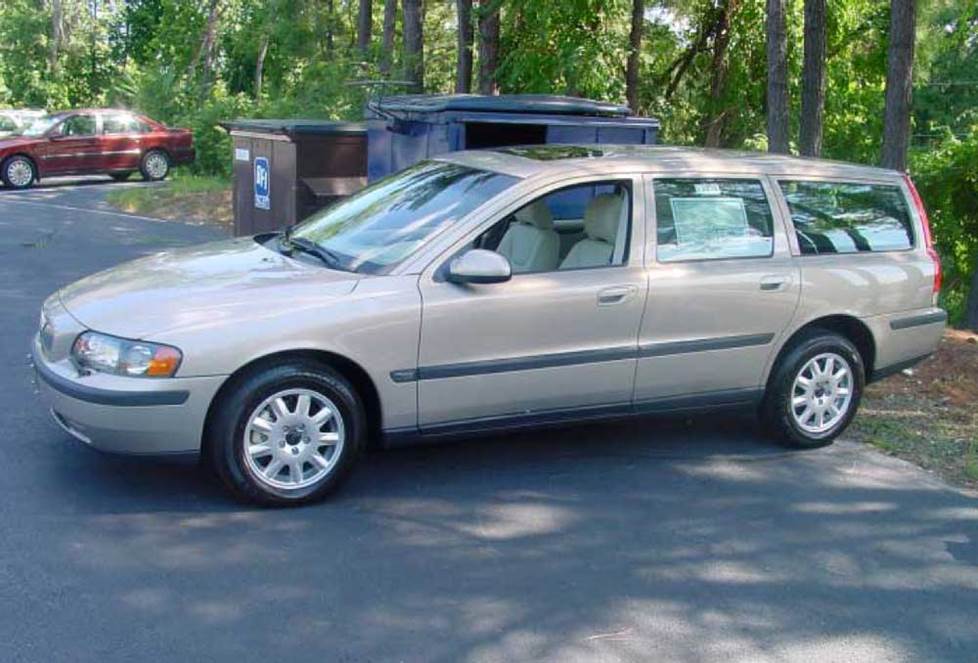 In brief: This Crutchfield Research Garage article gives you an overview of your Volvo's stock stereo system and your aftermarket upgrade options. We'll tell you all about:
Then, use our vehicle selector to find the gear that will fit your vehicle.
Overview of the Volvo V70
Contrary to popular belief, the all-American station wagon is alive and well. It doesn't have fake wood paneling on the side, it's not the size of a squash court, and it doesn't burn fuel like a booster rocket. Oh, and it's also Swedish. Be that as it may, the Volvo V70 is about as close to being the unofficial "Wagon of America" as anything else we can think of.
Though they're far from new anymore, Volvo's practical, comfortable, right-sized wagons can still be seen all across the country, ferrying kids, dogs, groceries, garden mulch, and whatever else the average suburban household might require. Sure, minivans and SUVs can do all that stuff, too, but the V70 does it with a lot more style and, in the case of the turbocharged models, a surprising amount of thrust.
As any loyal owner will tell you, a properly maintained Volvo will run more or less forever. If you're planning on keeping your V70 for the long haul, investing in a new stereo will help make those thousands (possibly hundreds of thousands) of miles even more enjoyable.
Detailed stereo and speaker removal instructions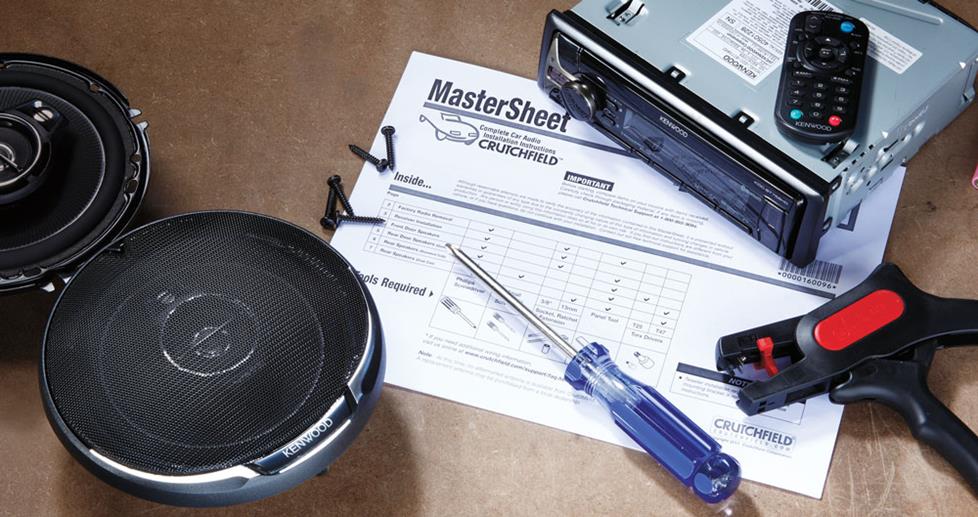 With step-by-step disassembly instructions and plenty of up-close, detailed photos, our exclusive
Crutchfield MasterSheet
™ takes the guesswork out of removing the factory stereo and speakers. It's free with your Crutchfield order, or you can purchase one separately for just $9.99.
The factory stereo system
The V70 had a long production run – not quite 240-esque, but pretty impressive nonetheless. A mid-cycle interior revamp in 2005 changed things up a bit in terms of receiver replacement, but the speaker locations remained the same. We'll briefly address both dash designs below, but the in-depth details for 2001-2004 models will be found in your Crutchfield MasterSheet.
The receiver was an AM/FM/single-CD unit. The optional premium package changed somewhat over the years, but the essentials included an in-dash CD changer, additional speakers, and one or more amps. There was also an optional DVD-based navigation system with a screen that retracted into the dash. You'll lose that feature, along with factory satellite radio, and the Volvo On-Call service, when you replace the factory receiver. You can choose from a wide variety of single-DIN (2" tall) or double-DIN (4" tall) receivers.
The V70's radio included a cassette deck until 2005 (Crutchfield Research Photo)
Removing the factory radio
Removing the 2001-2004 V70's radio is a reasonably simple matter. Pry out a trim panel, remove some Torx T25 screws, remove the climate control assembly, then remove some more Torx T25's and the radio. Illustrated, step-by-step instructions can be found in the Crutchfield MasterSheet included free with your order.
Secure the new receiver to the mounting bracket (included at a deep discount with your Crutchfield radio purchase), connect the wiring harness adapter (ditto), plug in the antenna lead and slide the new piece into the dash. Fire it up, test it out, and if it works, put the dash and console back together.
The 2005-2007 V70 receiver is a bit more complicated, but it's not too hard to deal with. Because of the change, there's no MasterSheet for these particular cars, but if you run into trouble, our Tech Support team is just a phone call away.
The important thing to keep in mind here is that you'll be prying and pulling on some pieces of plastic that you're going to see every time you get into your Volvo from now on. You don't want to see them broken, so be careful, work patiently, and take good care of these trim pieces.
If your V70 is equipped with a factory amplifier (located under the passenger's seat) you'll need to bypass it by extending the Crutchfield wiring harness from the radio to the amp.
Tools needed: Panel tool, Torx T25 bit, small flat head screwdriver
Read our Car Stereo Buying Guide for shopping tips and advice.
Shop for car stereos that fit your Volvo V70
Steering wheel audio controls
In most cases, it's reasonably easy to retain your Volvo's steering wheel audio controls when you install a new stereo. When you enter your vehicle information, our database will choose the adapter you need to make your factory steering wheel controls work with a compatible aftermarket receiver.
Removing the factory speakers
The V70 has speakers in the doors, the dash, and the rear pillars.
Removing the center dash speaker
If your V70 is equipped with a center dash speaker (it's under the grille), you'll lose this speaker when you replace the factory radio. If your car has the optional DVD-based nav system, the pop-up display screen lives in this location. You'll lose that, as well.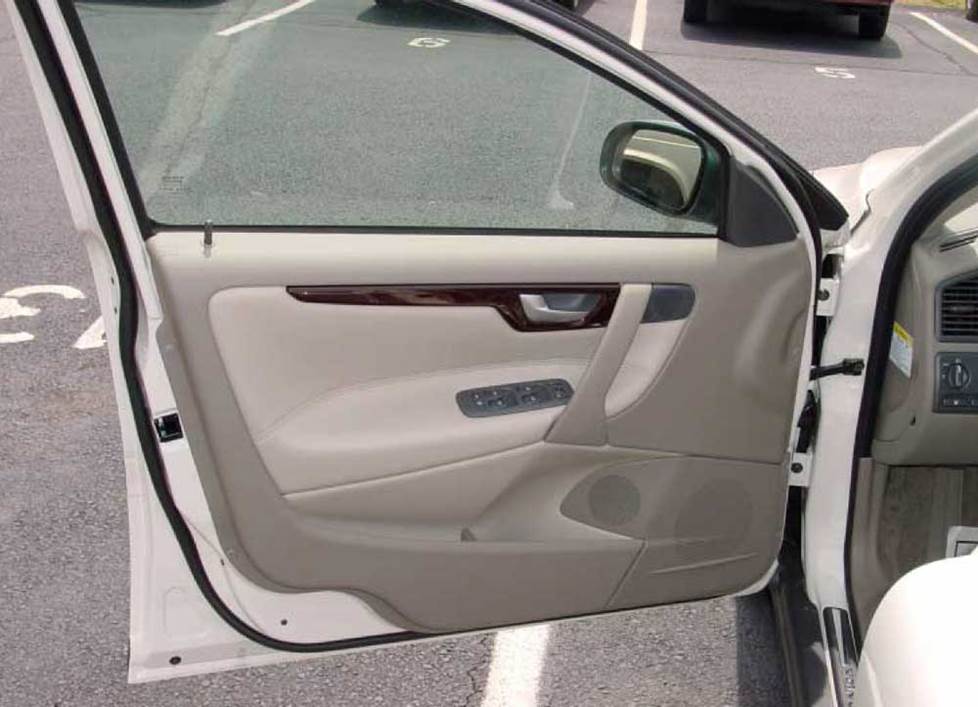 The V70's front door speakers are challenging, but still doable for the right DIY-er (Crutchfield Research Photo)
Removing the front door speakers
Depending on your factory system, the V70's front doors house either a 6-3/4" full-range speaker or a 6-3/4" woofer and a separate tweeter. To replace them, you'll briefly consider removing the door panels, then think better of it , go inside, and watch TV for the rest of the afternoon.
It's not that you can't replace the speakers. You very well might be able to do it, but not without a lot of effort and skill. The lower speaker can be replaced by a variety of same-size or smaller speakers, but there are no mounting brackets or wiring harnesses available. This complicates things quite a bit, as you can imagine.
The reality is that this is a custom job. You could always make your own brackets out of a 12" x 12" waffle board panel, but unless you're the kind of person who builds furniture for fun, you probably won't want to go to the trouble.
If you do build the brackets, you'll have to drill new mounting holes into the door panel. And you'll have to splice the wiring, too. Neither of those tasks are difficult. Really, it's just the need to create the mounting bracket that makes speaker replacement in this car such a chore. So yes, you might want to turn this work over to a car audio professional. It won't be cheap, but for most people, it will still be worth it.
Some top-end V70 models are equipped with a mid-range speaker in the front door. We have yet to research this speaker, but we'd love to hear from you if you've replaced one yourself.
Tools needed: Panel tool, Phillips screwdriver, Torx T25 bit, regular flat head screwdriver, drill, extension, and 13/64" bit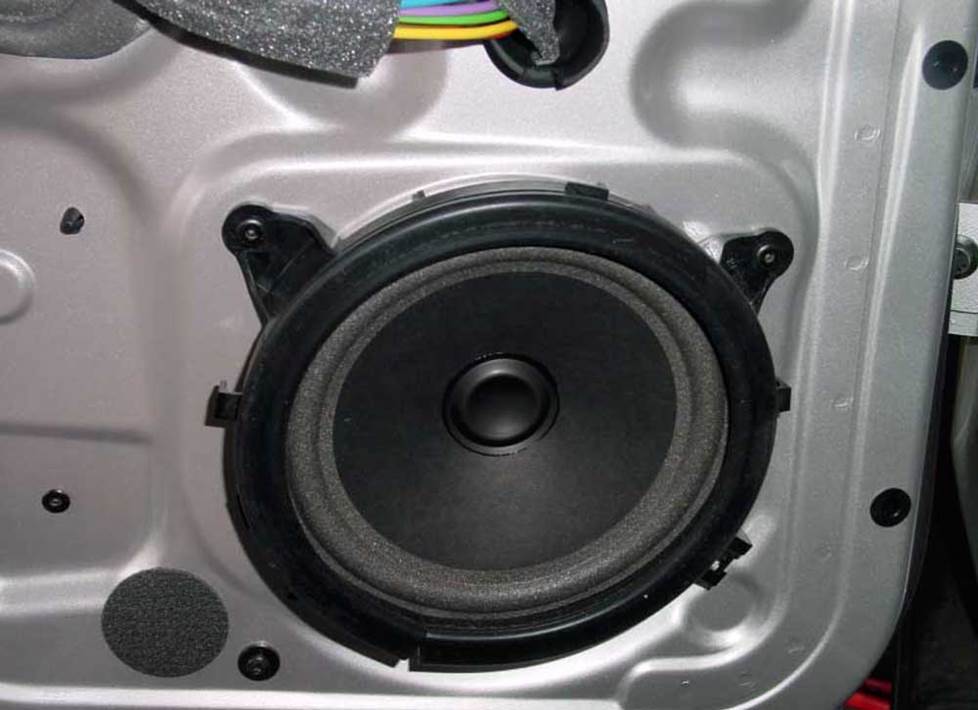 Replacing the rear door speakers is basically the same as replacing the ones up front (Crutchfield Research Photo)
Removing the rear door speakers
Save for the tweeters, everything you just read about replacing the speakers in the V70's front doors applies to the rear doors as well. Sorry about that.
Tools needed: Panel tool, Phillips screwdriver, Torx T25 bit, regular flat head screwdriver, drill, extension, and 13/64" bit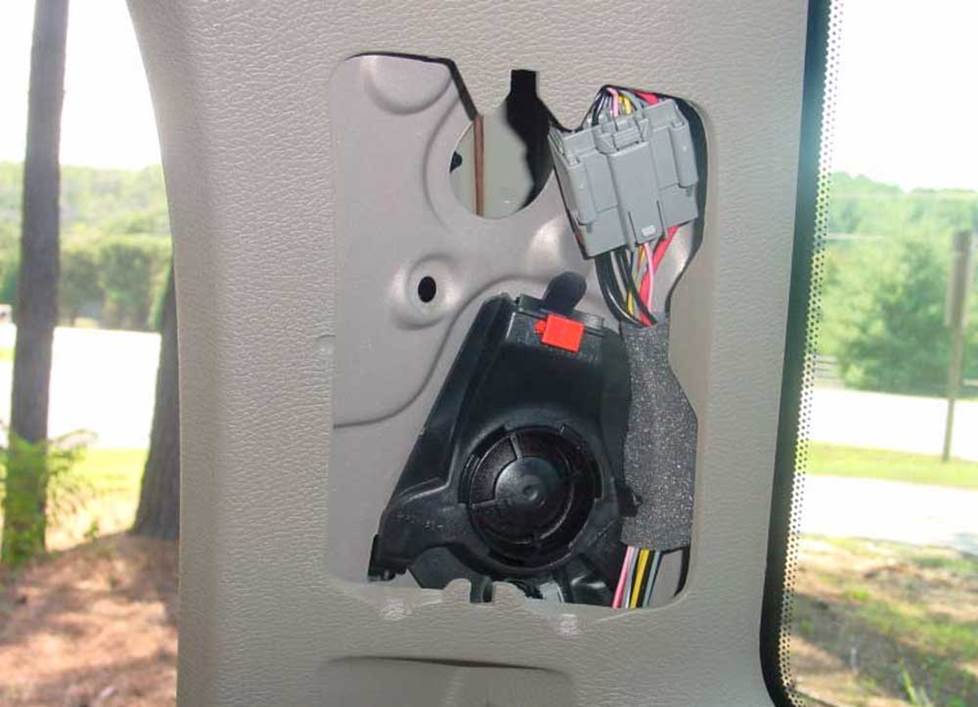 The V70 has tweeters mounted in the rear pillars (Crutchfield Research Photo)
Removing the rear pillar tweeters
The V70's rear tweeters, located in the far-most pillars, are easy to reach, but challenging to replace. All you need to do is pry off the grille with a panel tool or flat-blade screwdriver; then gently pry out the red clip at the top edge of the speaker. Disconnect the harness, then cut the speaker wires to remove the speaker from its mounting bracket.
The factory speaker measures in at roughly 1-3/4". Exact replacements can't be found, but a number of aftermarket tweeters can fit in the space with some work on your part. You'll need to use Posi-Products connectors, and you'll also need to use a universal backstrap (or hot glue or silicone) to secure the new speaker.
Tools needed: Flat-blade screwdriver or panel tool
Read our Car Speakers Buying Guide for more information.
Shop for speakers that fit your Volvo V70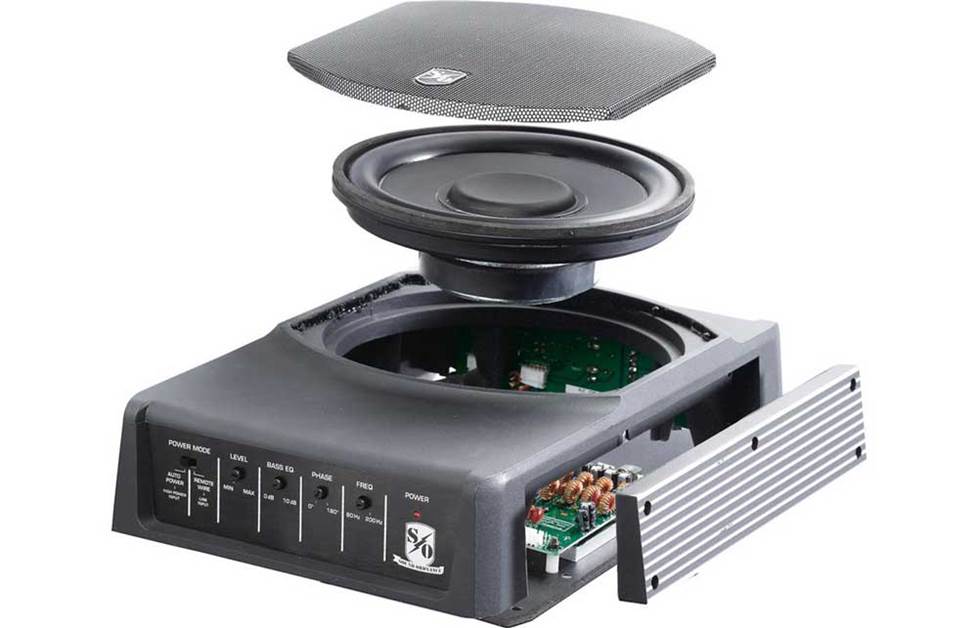 The rugged Sound Ordnance B-8PTD powered sub (Crutchfield Research Photo)
Bass in your V70
Upper-end V70s were available with an optional powered subwoofer. The assembly is hidden away beneath the cargo floor, neatly ensconced within the spare tire/wheel assembly. We have not yet researched a V70 with a sub, but from what we've been told, it's not bad for a factory piece.
We imagine that wrestling this heavy thing out of the way makes changing a tire in the rain a bit more annoying, but at least you'll have the hatch to keep you dry. That said, this is a very nifty piece of design, so it's also kind of difficult to replace with an aftermarket unit. If you have the factory sub, lining the area with Dynamat (see below) will improve your bass performance.
If you're into bass-heavy music, though, the factory sub's not gonna cut it. Thankfully, there's plenty of room in the 44" W x 13" H x 40"/33" D cargo hold, so you can stow a pretty impressive box of bass back there.
For those who only want a bit more bass and still need room for luggage, groceries, dogs, and real-world things like that, there are more-practical options available. You can choose from a number of powered subwoofers, or pair a Class D amplifier with a small component woofer in an enclosure.
Learn more about building a bass system in our Car Subwoofer Buying Guide.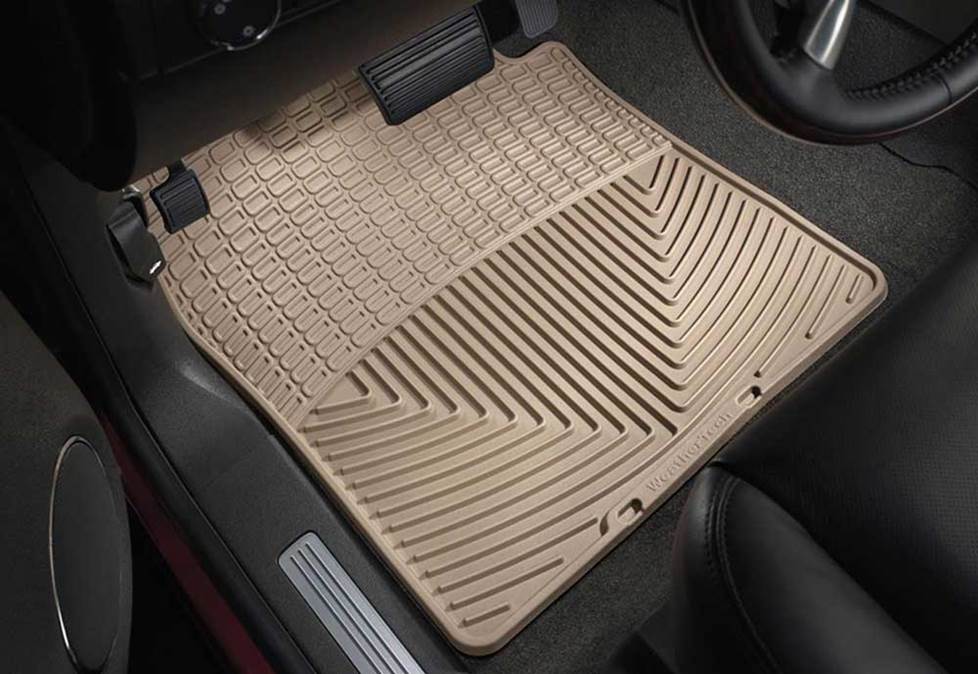 WeatherTech's All-Weather floor mats will be a wise investment for your Volvo
Other upgrade options for your V70
There are plenty of other ways to improve the overall practicality and comfort of your Volvo V70. Here are a few suggestions.
Floor mats
Your Volvo's carpeting will probably wear out long before the rest of the car does. Floor mats and cargo mats from WeatherTech will help protect your floors from dirt and damage. As for the seats, door panels, roof and everywhere else a cup of coffee can possibly land, we recommend WeatherTech's TechCare car care products.
Sound deadening
A Dynamat Xtreme Door Kit is the perfect way to seal out road noise and get the most out of your new stereo. This heavy-duty insulating material is easy to install, and it really makes a difference. This is a great thing to do while you're installing new speakers. Why take the doors apart twice if you don't have to? One kit will take care of the front doors on your V70. If you're adding a subwoofer, purchase some extra Dynamat for the hatch.
Security
Installing a security system in your Volvo wagon isn't easy (security systems rarely are), but it's less complicated than it could be. Our Crutchfield Advisors can help figure out what you need to get the job done, but we usually recommend taking your car and new gear to a professional installer.
Let's get started!
Ready to shop? Use our vehicle selector to find the gear that will fit your car or truck. If you have questions of your own, give us a shout via phone, chat, or email