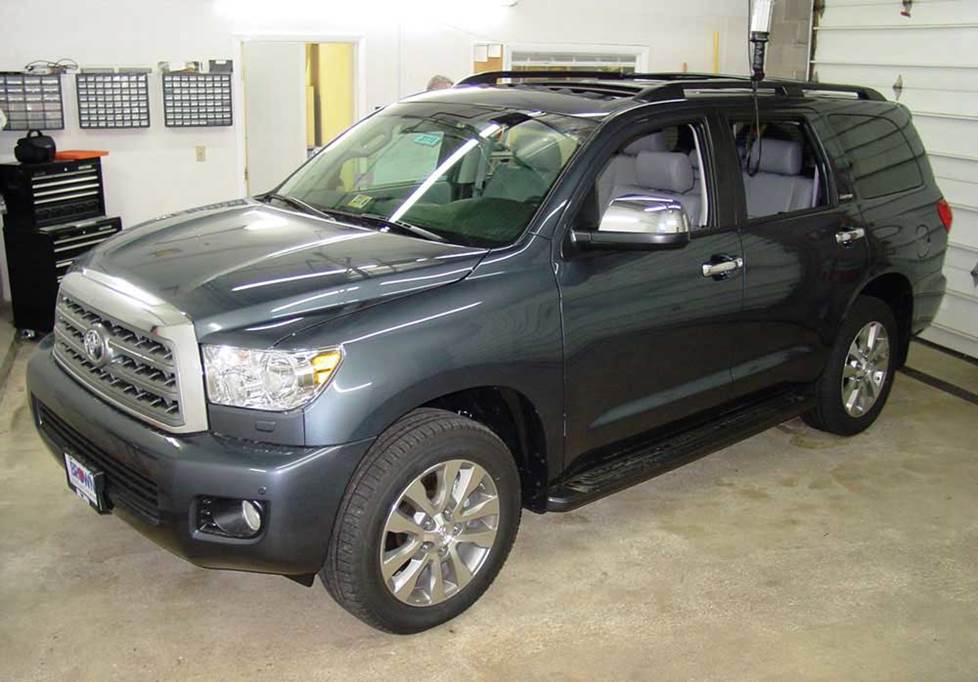 In brief: This Crutchfield Research Garage article gives you an overview of your Sequoia's stock stereo system and your aftermarket upgrade options. We'll tell you all about:
Then, use our vehicle selector to find the gear that will fit your Toyota.
Overview of the Toyota Sequoia
When it came time to name their first full-size SUV, Toyota didn't mess around. Instead of coming up with some sort of alphanumeric nonsense or just making up a word (happens all the time), they went all-in and named it after the largest tree in the world. Makes perfect sense when you think about it, since this Sequoia is also extremely large and, when properly cared for, likely to last for many, many years.
Full-size SUV owners demand more than size, space, and reliability, though. They also want luxury, utility, high-tech features, and a certain amount of style. And while the second-generation Sequoia is not quite as lovely as a tree (Shout out to Joyce Kilmer!), it is a handsome vehicle that'll blend comfortably into the suburban landscape.
The factory stereos and convenience features are not awe-inspiring, but they're not bad as these things go. That said, if you're looking to upgrade your Sequoia's sound system, Crutchfield has the equipment and advice you need.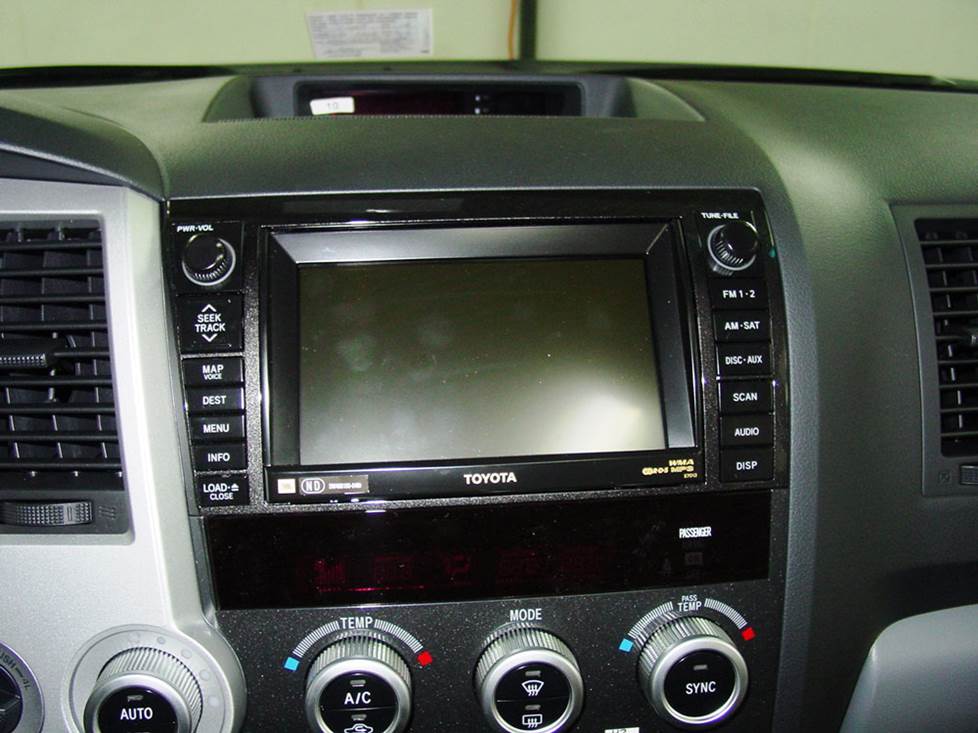 The Sequoia was available with several different factory radios (Crutchfield Research Photo)
The Sequoia's factory stereo system
The Sequoia was available with either bench or bucket seats. If you have the bucket seats, you'll need to disassemble the center console when you're replacing the factory radio.
Regardless of the interior setup, Toyota offered two different radio options: an in-dash AM/FM/CD unit or the same radio with an in-dash 6-disc changer. A DVD-based navigation system was also available.
You could also choose between the standard 6-speaker system or an upgraded JBL system that features 14 speakers (including an 8" subwoofer) powered by a 440-watt amplifier.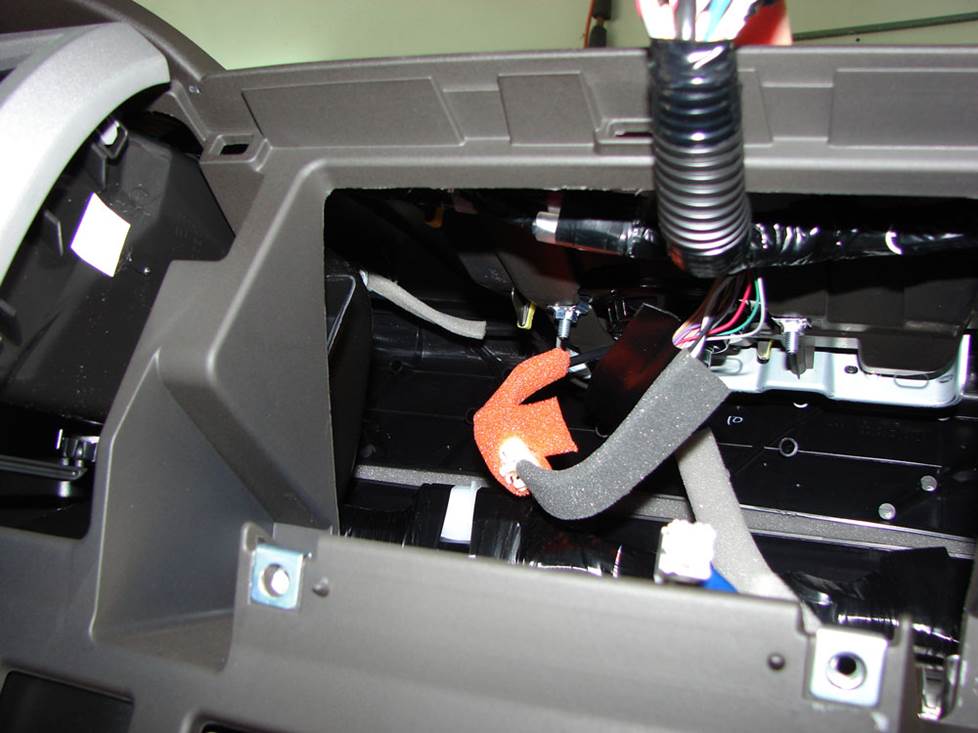 Removing the stock radio is totally do-able, but it'll take some time. (Crutchfield Research Photo)
Replacing your Sequoia's factory radio
It'll take some time to remove the stock radio. The process begins with the removal of the interior knee panel and the cup-holder assembly, and also includes removing the ashtray, displacing and disconnecting the heater control panel, displacing the entire instrument panel, and removing the numerous trim panels that protect hidden screws.
All this work simply gives you access to the receiver. You're not done yet, and once you are, you still have to put it all back together. This is not an impossible task for the DIY-er, but it is quite challenging, so work carefully, stay organized, and don't plan to do much of anything else for the rest of the day.
You can install a single-DIN or double-DIN radio in the Sequoia. The radio cavity is 9" deep, so there's certainly no shortage of space. You'll need a mounting kit to trim out the new radio and a wiring harness that allows you to connect your new radio to the factory wiring.
Detailed stereo and speaker removal instructions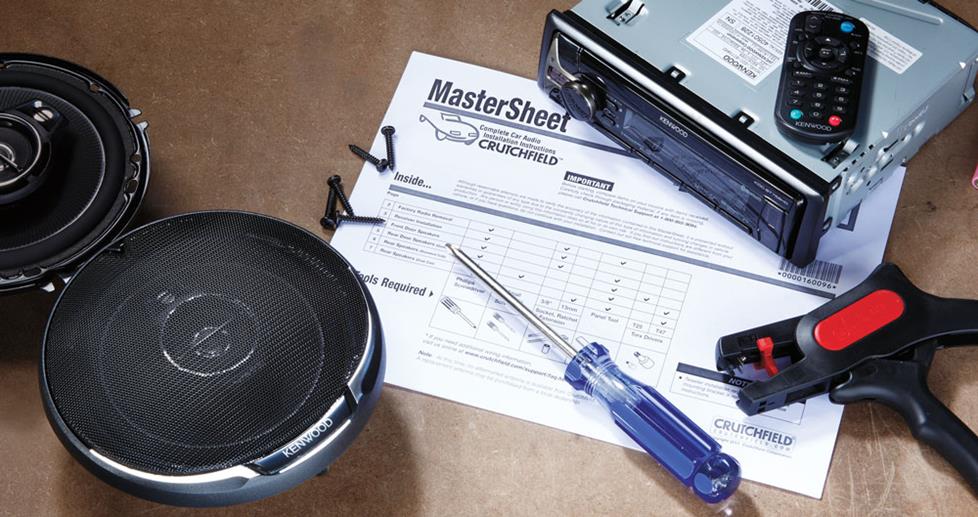 With step-by-step disassembly instructions and plenty of up-close, detailed photos, our exclusive
Crutchfield MasterSheet
™ takes the guesswork out of removing the factory stereo and speakers. It's free with your Crutchfield order, or you can purchase one separately for just $9.99.
If you have the JBL option, you will have to buy and install a special integration adapter that ties your new car stereo into the JBL's amplified speaker system. You'll need a stereo with two sets of full-range preamp outputs to interface with this adapter; otherwise, you'll need to purchase a 4-channel line output converter.
Crutchfield offers a deep discount on the kits and adapters needed for both the standard and the JBL systems.
When you replace the stock stereo, you'll lose factory functions like the AUX input connection, satellite radio, navigation, and the hands-free cell phone interface. Fortunately, you can replace and probably improve upon all of those things when you choose the right aftermarket receiver. If you have questions, give us a call.
Tools needed: Phillips screwdriver, small flat blade screwdriver, panel tool, 10mm socket, ratchet & extension, pliers
Read our Car Stereo Buying Guide for shopping tips and advice.
Shop for car stereos that fit your Toyota Sequoia
Steering wheel audio controls
In most cases, it's reasonably easy to retain your Toyota's steering wheel audio controls when you install a new stereo. When you enter your vehicle information, our database will choose the adapter you need to make your factory steering wheel controls work with a compatible aftermarket receiver.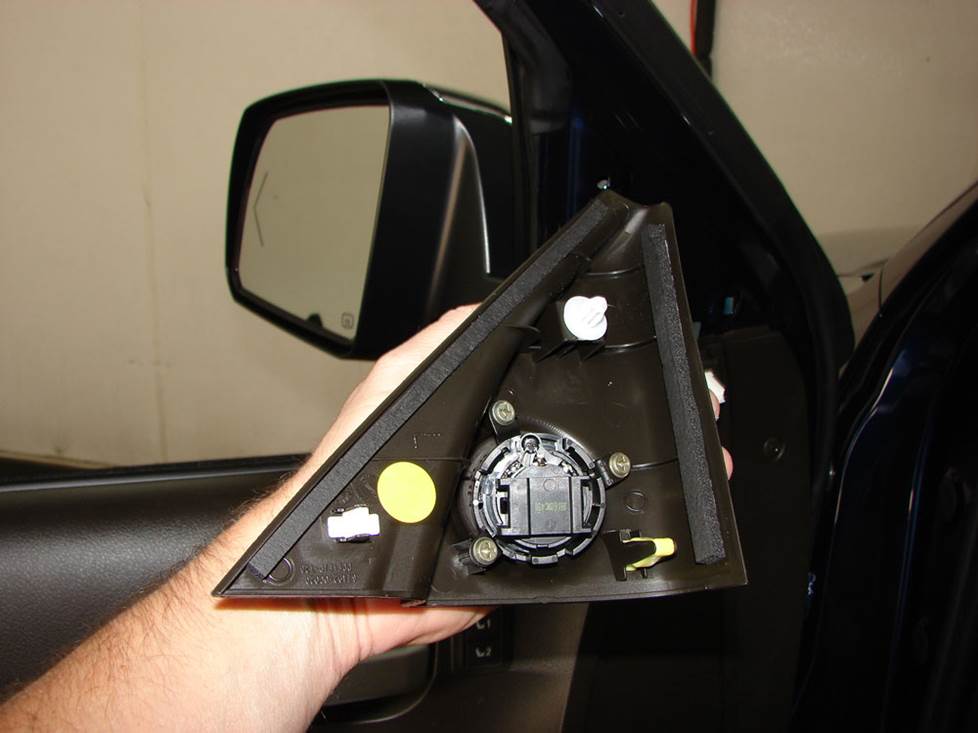 The JBL system includes sail panel tweeters (Crutchfield Research Photo)
Replacing your Sequoia's factory speakers
Depending on whether your Sequoia has the somewhat vanilla factory package or the very tasty JBL entertainment system, the central differences between the two setups is the number and placement of each system's speakers.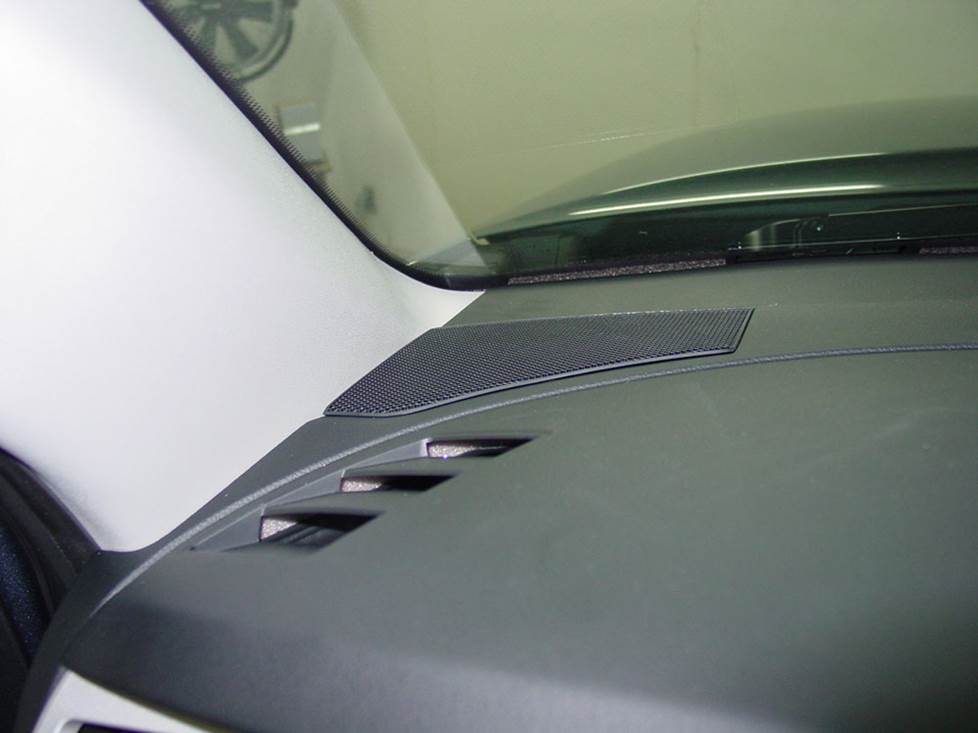 All Sequoia versions have tweeters in the dash corners (Crutchfield Research Photo)
Standard speaker system
Dash speakers: In the case of the base system, the factory setup includes 2" tweeters at each corner of the dash just below the windshield. Replacing the dash speakers is considerably easier than working with the receiver installation, and primarily requires prying up each dash grille and removing two screws.
The only bit of complexity comes when you try to find replacement tweeters that'll fit in these locations. You'll need to use universal backstraps (or hot glue or silicone) for any tweeters you select, and you'll either have to splice into the factory wiring or use a set of Posi-Products speaker connectors. The second option is easier and better, in our opinion.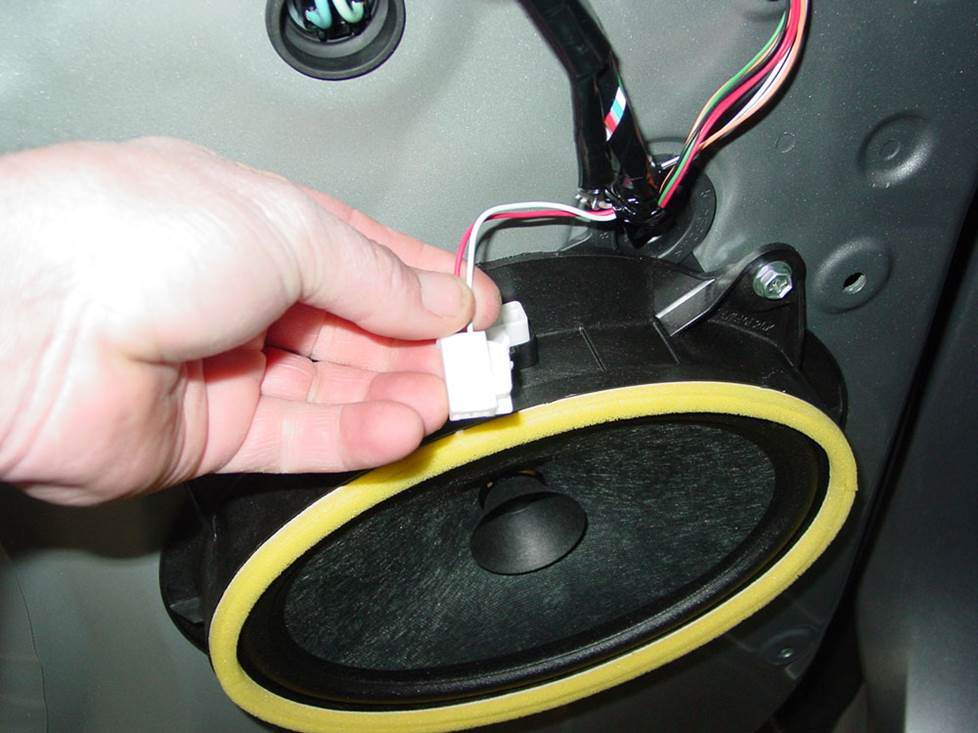 The door speakers are reasonably easy to reach and remove (Crutchfield Research Photo)
Front door speakers: Along with this tweeter set, the Sequoia has oddly shaped 6"x9" speakers built into integrated brackets in each front door. Thanks to the brackets, aftermarket 6"x9"s won't fit, so your best bet is a set of 6-1/2" or 5-1/4" speakers that'll drop right in with the help of aftermarket mounting brackets that we'll include with your speaker purchase.
Speaker harnesses are available (and also included) for both locations. They'll allow you to attach the new speakers to the plugs that connect to the Toyota factory speakers, and they'll also make it easier to reinstall the factory speakers if you ever need to.
The process of installing door speakers simply requires removal of the door's sail panel, followed by several hidden screws placed under trim covers, disconnection of the electric door controls and, finally, removal of the entire arm-rest assembly. Once those components are free and clear of the door panel, unscrew the door panels, take the panel off the assembly, set it aside, and unscrew the four speaker fastenings.
The Sequoia's standard rear door speakers are also pretty easy to deal with (Crutchfield Research Photo)
Rear door speakers: The Sequoia's stock rear door speakers are 6-3/4" models built into brackets. And, again, your best bet is a set of 6-1/2" or 5-1/4" speakers that will drop in with the help of aftermarket brackets. Speaker harnesses are also available for the rear door locations. Replacing the rear speakers is very similar to the front doors except that the process begins with the rear window trim panel.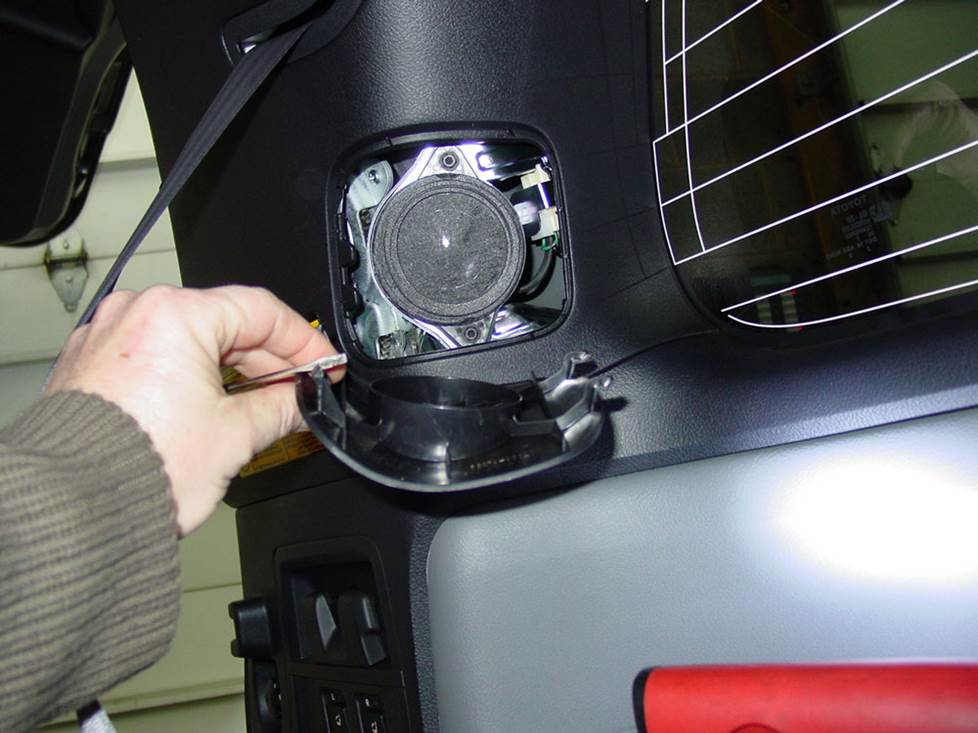 The Sequoia's JBL system includes a pair of tweeters in the rear pillars (Crutchfield Research Photo)
JBL speaker system
JBL's 14-speaker system includes a center dash speaker, two dash tweeters, 6"x9" speakers with separate tweeters in the front doors, 6-3/4" woofers and tweeters in the rear doors, tweeters in the rear pillars, and an 8" subwoofer in the left rear quarter panel.
The Toyota brochure cites a 440-watt power rating for the JBL amp that powers this system, but these ratings are usually combined peak wattage ratings. That said, you'll still get good results using an adapter to tie your new car stereo into the JBL system.
If you decide to replace all your speakers while keeping the JBL amp, keep in mind that they're all 2-ohm speakers. You'll want to pick lower-impedance speakers (like JBL or Infinity) to replace them, because if you don't, you'll notice a significant loss of volume. Harnesses are available for all locations except for the tweeters – you'll have to splice into the factory wiring (or use Posi-Products speaker connectors) to replace the factory tweeters.
There are some other details that you'll need to be aware of when you replace the JBL system. You'll see them all on our website when you enter your vehicle information, or you can talk to a Crutchfield advisor.
Tools needed: Phillips screwdriver, small flat blade screwdriver, panel tool
Read our Car Speakers Buying Guide for more information.
Shop for speakers that fit your Toyota Sequoia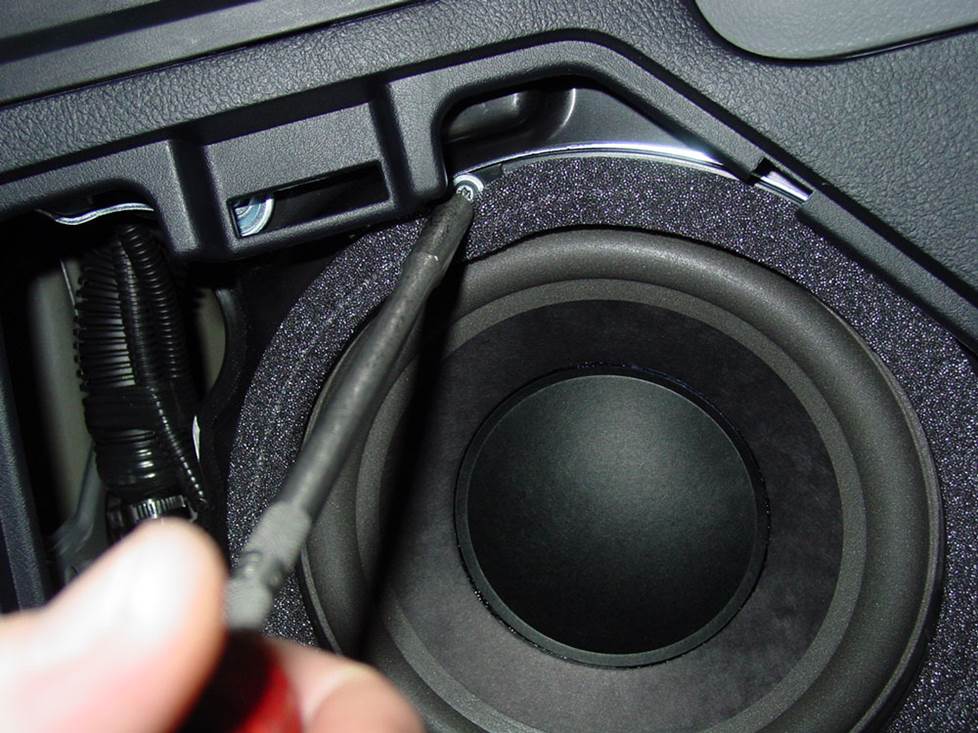 You may have to drill new mounting holes when you replace the JBL sub, but that's really the hardest part (Crutchfield Research Photo)
Bass in your Sequoia
The JBL subwoofer is located behind the left rear quarter panel. It's a low-impedance, dual-voice-coil design, so you'll want to look for a similarly low-impedance replacement sub. It's pretty easy to get to, but in most cases, you'll need to drill new mounting holes to install the new one.
This isn't hard – all you need to do is place new subwoofer into the cavity, mark the new mounting holes, and drill them with a 1/8" bit – but you're still drilling a hole in your vehicle, so pay attention to what you're doing. Check the area around where you're drilling, work carefully, and always wear eye protection.
If you want to go big on bass and install a subwoofer box, you have a 51" W x 20" H x 15"/12" D space to work with in the cargo area. If you'd rather go with something more subtle that takes up less space, you can always go with a more compact powered subwoofer.
Learn more about building a bass system in our Car Subwoofer Buying Guide.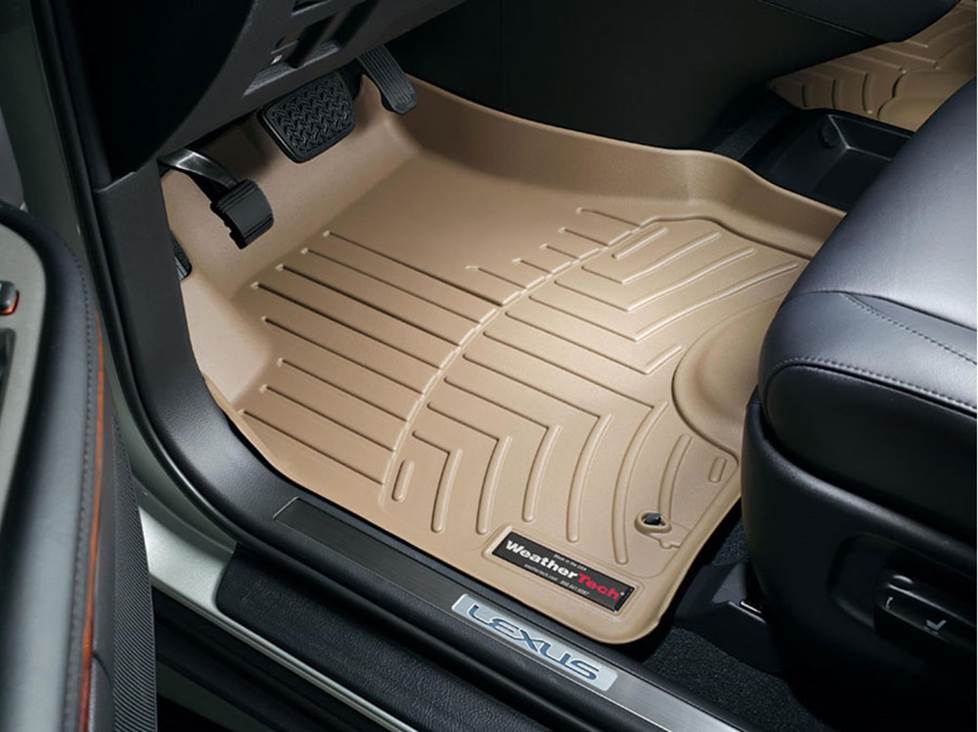 Your Sequoia's WeatherTech floor liners will look just as good as the one in this stock photo.
Other options for your Sequoia
Here are some other ways to improve your Sequoia.
Sound processor
If you choose to keep the stock radio, install a sound processor to send a clear, clean signal to your new amp. Sound processors remove any limitations on the signal imposed by the factory radio. The better the signal, the better the sound. Read our article explaining factory sound processors to learn more.
Protect your floors with quality floor mats
Even when you're driving a luxury SUV like a Sequoia, there's a chance you'll eventually wind up doing truck-type things. That can be hard on the factory floor mats and carpeting, so you might want to protect them with a set of WeatherTech floor mats and liners.
Add a security system or remote start
Installing a security system in your Sequoia won't be easy (security systems rarely are), but it's definitely a good idea if you tow long distances and stop overnight. Our Crutchfield Advisors can help figure out what you need to get the job done, but we usually recommend visiting a professional installer.
Adding remote start capability to your Sequoia lets you warm it up in the winter or cool it down in the summer. Installation is usually easier with these systems, but we still ask that you call to order so that we can make sure you get the right harness for your ride.
Let's get started!
Ready to shop? Use our vehicle selector to find the gear that will fit your car or truck. If you have questions, give us a shout via phone, chat, or email