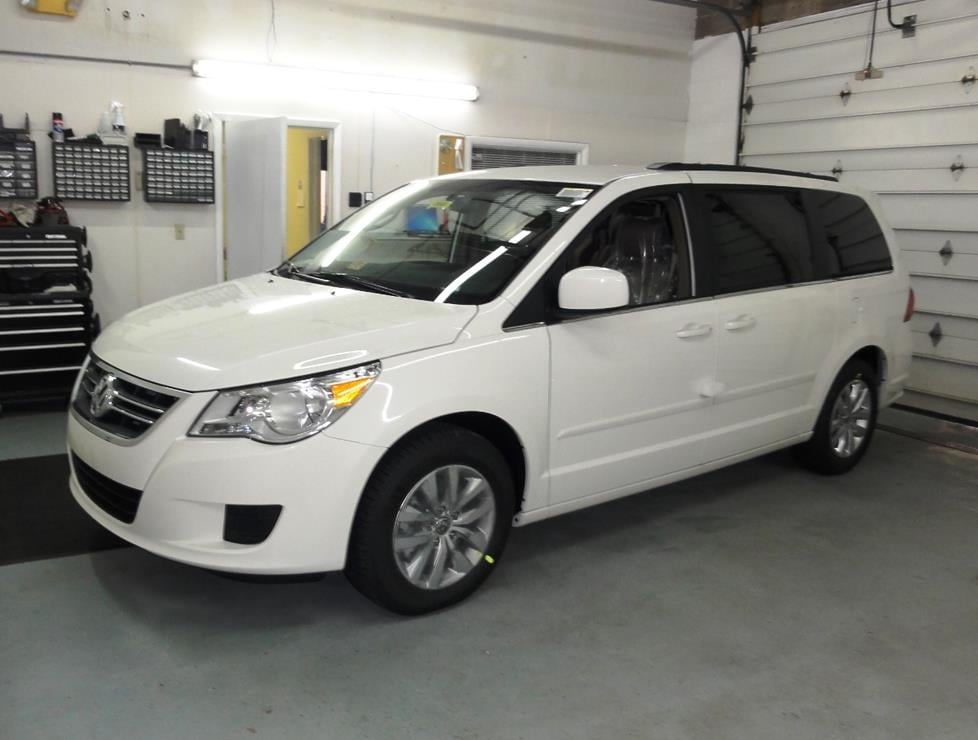 In brief: This Crutchfield Research Garage article gives you an overview of your Routan's stock stereo system and your aftermarket upgrade options. We'll tell you all about:
Then, use our vehicle selector to find the gear that will fit your vehicle.
Overview of the Volkswagen Routan
The Volkswagen Routan offers an interesting blend of American ingenuity and Teutonic engineering. Based on Chrysler's successful fifth-generation minivans, the Routan was conceived as a quick way for VW to fill a hole in their North American product lineup. A slight family resemblance is obvious, but there's more to the Routan than a simple case of badge-engineering.
VW worked hard to give the Routan a unique identity inside and out, with distinctive front and rear styling, subtle interior upgrades, tuned suspension bits, and, of course, Volkswagen engines. The result is a minivan that's much more than the sum of its parts.
While the Routan's lineage is easy to spot, the total package is just different enough to make it an intriguing choice for anyone looking for a sharp-handling van with plenty of space for people, cargo and a great new stereo system.

The VW Routan's touchscreen stereo (Crutchfield Research Photo)
The factory stereo system
One of the most obvious differences between the Routan and its Chrysler cousins is the redesigned cabin. VW has a well-deserved reputation for comfortable, ergonomically sound interiors and they had no intention of squandering that with a sub-par effort in their first true minivan. Sure, some of the Chrysler switchgear transferred over, but a revised center stack design gave the Routan a distinctive "face" in the inside that matched the restyled nose and tail on the outside.
The Routan offered the audio and video entertainment options you'd expect in an upscale minivan. The base 6-speaker stereo featured an AM/FM receiver with a single-disc in-dash CD/MP3 player and aux input. The next step up featured an upgraded in-dash 6-disc CD changer, Bluetooth® connectivity, Sirius satellite radio, and a USB port. Options included a rear seat entertainment package and a hard disc-based nav system that also included music storage and a backup camera. The top drawer SEL Premium trim level came with a 9-speaker package, plus an extra video display screen.
In 2011, VW added an optional Chrysler-sourced touchscreen receiver that was available with an integrated Garmin nav system. The touchscreen receiver was made standard on the base "S" model starting in 2012.

Use care when removing the Routan's factory receiver (Crutchfield Research Photo)
Removing the factory radio
To remove the factory radio, pry out the receiver trim panel, release four retaining clips and remove the panel. Once that's done, remove four Phillips screws, disconnect the harnesses and pull out the stereo. Be careful with the trim panel. A patient approach to factory system removal is the key to a great-looking aftermarket installation.
Installing a standard 2" receiver in the Routan is simply a matter of securing the receiver to the mounting bracket and plugging in to the wiring adapter. Both are available at a very nice discount with most stereos purchased from Crutchfield.
Detailed stereo and speaker removal instructions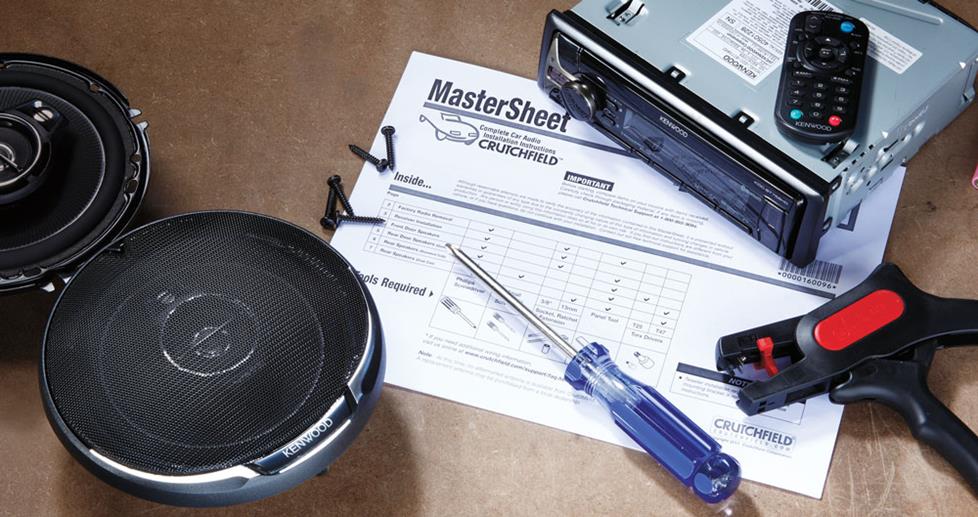 With step-by-step disassembly instructions and plenty of up-close, detailed photos, our exclusive
Crutchfield MasterSheet
™ takes the guesswork out of removing the factory stereo and speakers. It's free with your Crutchfield order, or you can purchase one separately for just $9.99.
Installing an aftermarket double-DIN receiver, on the other hand, is complicated by the presence of a metal support in the dash. To make room for the receiver, you'll need to cut away this bracket with a hacksaw. If you're not comfortable doing this type of work yourself, consult a professional.
Depending on how your Routan is equipped, you'll need to use an integration adapter when you replace the factory radio. The adapter lets you retain factory features like steering wheel audio controls, the vehicle entertainment system, the factory amplifier, and uConnect functionality (if present to begin with). Crutchfield strongly recommends that you use this adapter. We'll even give you a special discounted price on the adapter with your new stereo purchase.
Tools needed: Panel tool, Phillips screwdriver, possibly a hacksaw (for double-DIN installations)
Shop for car stereos that fit your Volkswagen Routan
Steering wheel audio controls
It's relatively easy to retain the steering wheel audio controls if you install a new stereo in your Routan. When you enter your vehicle information, our database will choose the adapter you need to make your factory steering wheel controls work with your new receiver.
Removing the factory speakers
The Routan's speakers are located in the front and rear doors, the dash, and the rear pillars.

The Routan's front doors house 6"x9" speakers (Crutchfield Research Photo)
Front speakers
The Routan's stock front speakers are 6"x9" units, sourced from the Chrysler parts bin. The base models are 4 Ohm, while the premium models are 2 Ohm. If you're keeping the factory amp, you'll need to use low-impedence replacements (from Infinity or JBL, for example), or you'll notice a dramatic drop-off in sound.
A variety of 6"x9" speakers will fit into the factory openings, but some will require a bit of modification due to cavity space issues. We generally recommend smaller speakers for this location, and a wide variety of 5-1/4" or 6-1/2" speakers will fit using mounting brackets, which are included with your purchase.
Installation is relatively simple. You'll need to remove the front door panel, of course, but that's a relatively straightforward process requiring only basic tools and a bit of caution when removing the panels. Work slowly and carefully, to avoid damaging the surface.
Tools needed: Panel tool, small flat blade screwdriver, Torx T-20 driver
Dash speakers
Upper-end Routans are equipped with dash speakers – two corner speakers and one center speaker (premium system only). They're nice to have and hard to replace. The corner dash openings are too shallow for most aftermarket 3-1/2" speakers. The center speaker has a 3-1/2" bolt pattern, but again, there's isn't enough space for an aftermarket speaker.
Instead of 3-1/2" speakers, the corner openings are a great place to mount tweeters. You'll need to fabricate a mounting bracket for them, and we carry a universal bracket that can be a big help.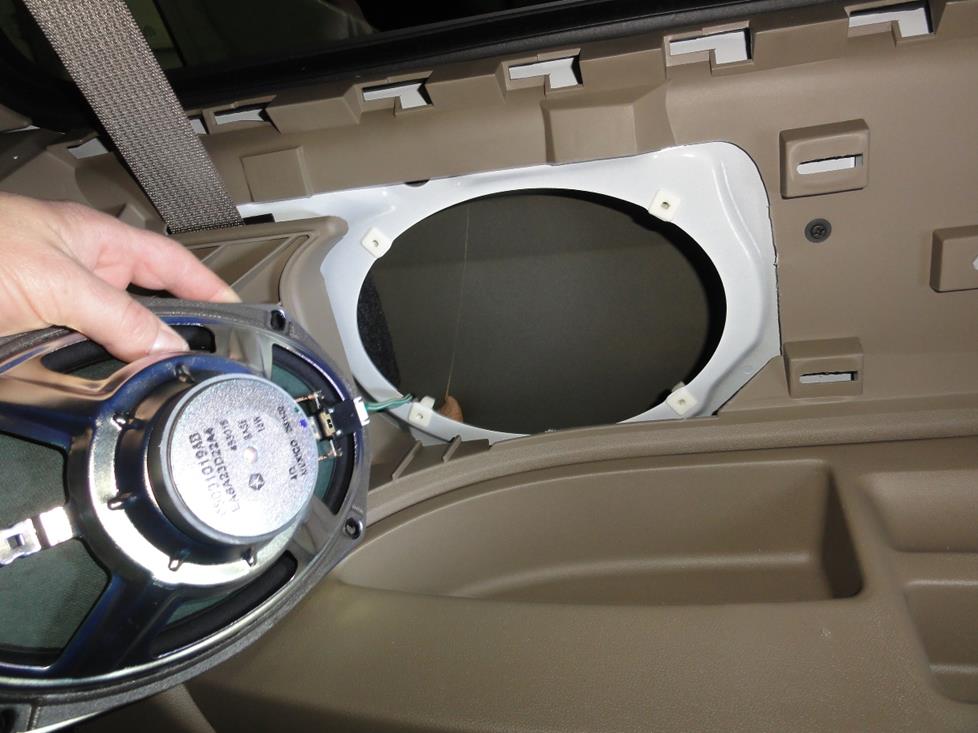 Another set of 6"x9" speakers resides in the rear side panels (Crutchfield Research Photo)
Rear speakers
In the Routan's rear side panels, you'll find another set of 6"x9" speakers. They're also very easy to access and replace.
Stock-size models fit right into the factory opening, using the wiring harness that's available at a special price with your speaker purchase from Crutchfield. You can also choose from a wide selection of 5-1/4" or 6-1/2" speakers. The smaller speakers require mounting brackets.
Tools needed: Panel tool, small flat blade screwdriver
Rear tweeters
The rear pillar tweeters (premium stereo package only) are hard to reach and harder to replace. A fair amount of trim must be removed to access the tweeter location, where you'll find 2-1/2" tweeters clipped into a factory bracket. If you want to replace them with aftermarket units, you'll have to fabricate a new bracket. All things considered, we'd recommend that you leave them where they are.
Shop for speakers that fit your Volkswagen Routan
Bass in your Volkswagen Routan
If you're the kind of person who needs a minivan, but wants great sound and big bass, the Routan offers some interesting opportunities. If you frequently use your Routan to haul lots of cargo, a powered subwoofer is a great way to add bass without sacrificing a lot of storage space. These compact subs deliver a low-end punch without taking up tons of room in the back of the van. Available in a variety of shapes and sizes, powered subs sound great and fit in out-of-the-way places.
If maximum storage capacity isn't a concern but maximum bass is, then you're looking for a dual subwoofer enclosure. A box with two 10" or 12" subwoofers will be right at home in your Routan.
If you want to add more bass, but don't want to disturb the looks and functionality of the interior, there's also a more subtle option. The Routan's premium sound system came with a factory-installed subwoofer and amp. An aftermarket 8" sub will fit nicely in the opening, which can be reached by removing the rear side panel. This isn't a quick job, but it's not terribly difficult. You'll have to re-drill the mounting screw holes to install your new sub, but it will fit under the factory grilles.
If you do replace the 8" factory sub with an aftermarket model, we recommend that you also add an aftermarket amp. The factory amp, located behind the left rear quarter panel below the left rear speaker, served its purpose well, but if you're investing in a better sub, you should give it all the power it needs. To replace it, you'll need to remove two 10mm screws securing the sub enclosure to the side wall, disconnect the harness and remove the enclosure. Loosen the three 10mm screws securing the amp to the side wall, lift the amp, disconnect the harnesses and remove.
Tools needed: Panel tool, Phillips screwdriver, drill and 1/8" bit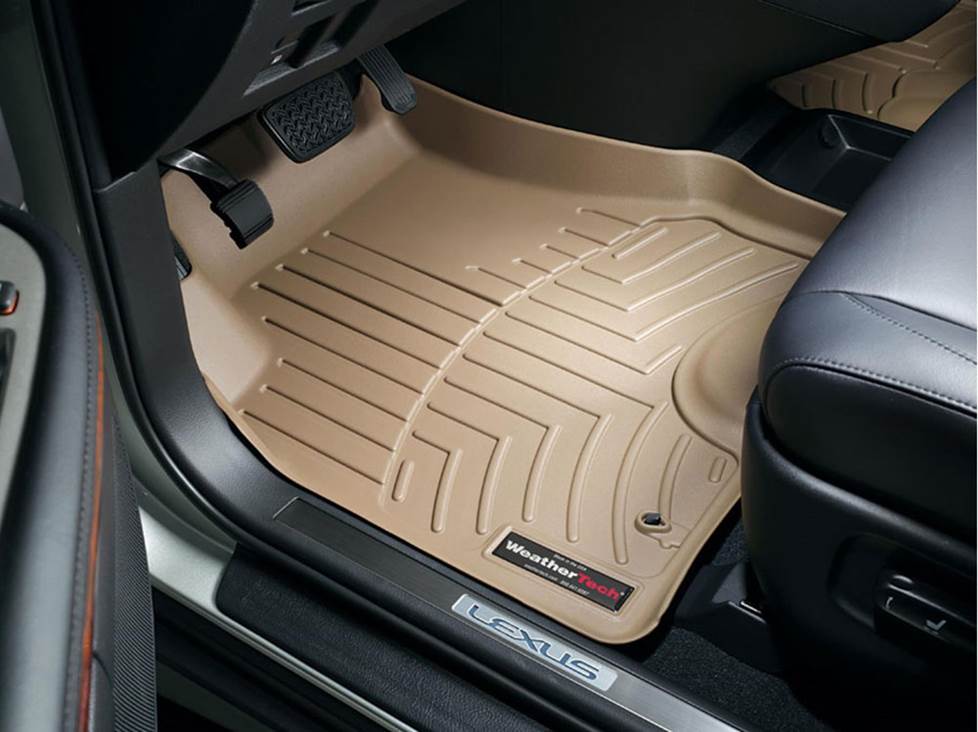 Protect your Routan's carpeting with a set of WeatherTech floor liners
Other options for your Routan
Here are a few other ideas for updating your Routan:
Floor mats
If you've ever owned a minivan, you know what can happen when you hit the road carrying any combination of humans, pets, and food. A set of custom-fit floor mats and cargo mats from WeatherTech will help protect your Routan from dirt, damage and discarded juice boxes.
Remote start and security systems
Adding remote start capability to your vehicle lets you warm it up in the winter or cool it down in the summer. The iDatastart system is incredibly convenient and makes it easier than ever to install a remote start system, so we highly recommend it. The module requires a vehicle-specific T-harness (sold separately) to connect with your vehicle's computer, security, and ignition systems, so we ask that you call to order so that we can make sure you get the right harness for your ride.
You can also talk to your Crutchfield Advisor about a security system. They're not as easy to install (we usually suggest letting a professional do the job), but we can help you choose a system that'll work in your Routan.
Let's get started!
Ready to shop? Use our vehicle selector to find the gear that will fit your car or truck. If you have questions of your own, give us a shout via phone, chat, or email