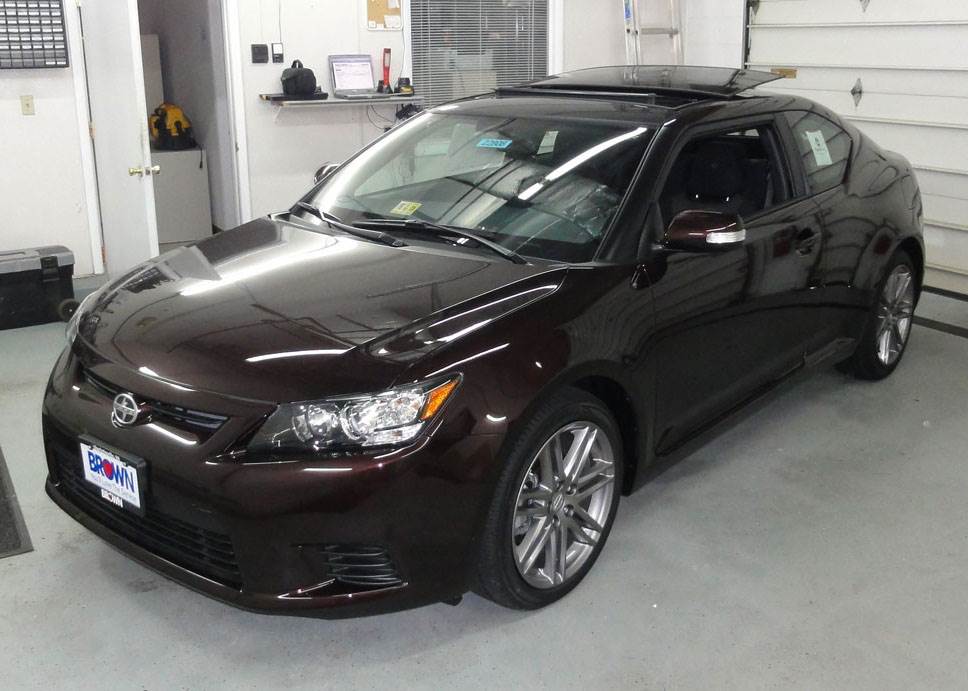 In brief: This Crutchfield Research Garage article gives you an overview of your tC's stock stereo system and your aftermarket upgrade options. We'll tell you all about:
Then, use our vehicle selector to find the gear that will fit your Scion tC.
Overview of the Scion tC
The last Scion (Sounds like a sci-fi movie, doesn't it?) was a neat little car that kind of got lost in the shuffle before the entire brand went away. That's a shame, because it's a sporty car that, while not a full-on sports car, does provide plenty of driving enjoyment.
It's also surprisingly practical, with a fold-down rear seat that gives it plenty of storage space for trips to the big box store. And, underneath it all, it's a Toyota, so it'll probably run until another species replaces us or until you decide you need something bigger, whichever comes first.
Detailed stereo and speaker removal instructions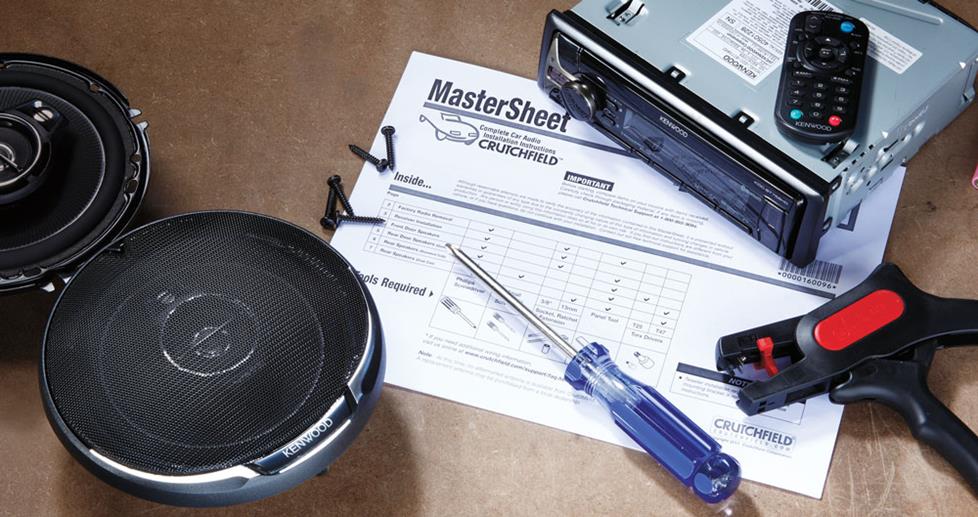 With step-by-step disassembly instructions and plenty of up-close, detailed photos, our exclusive
Crutchfield MasterSheet
™ takes the guesswork out of removing the factory stereo and speakers. It's free with your Crutchfield order, or you can purchase one separately for just $9.99.
So, all in all, if you're looking for a cool commuter car that won't bore you to death on a twisty road, the tC is a pretty good choice. There's also great aftermarket support, so if you want to make your tC even more of a pocket rocket, there are plenty of go-fast parts and look-cool pieces available.
If you want to hop up the audio system, well, that's where we come in. The stock stereos aren't bad, really, but if you're into good sound, an audio upgrade will be a smart investment in your daily driving enjoyment.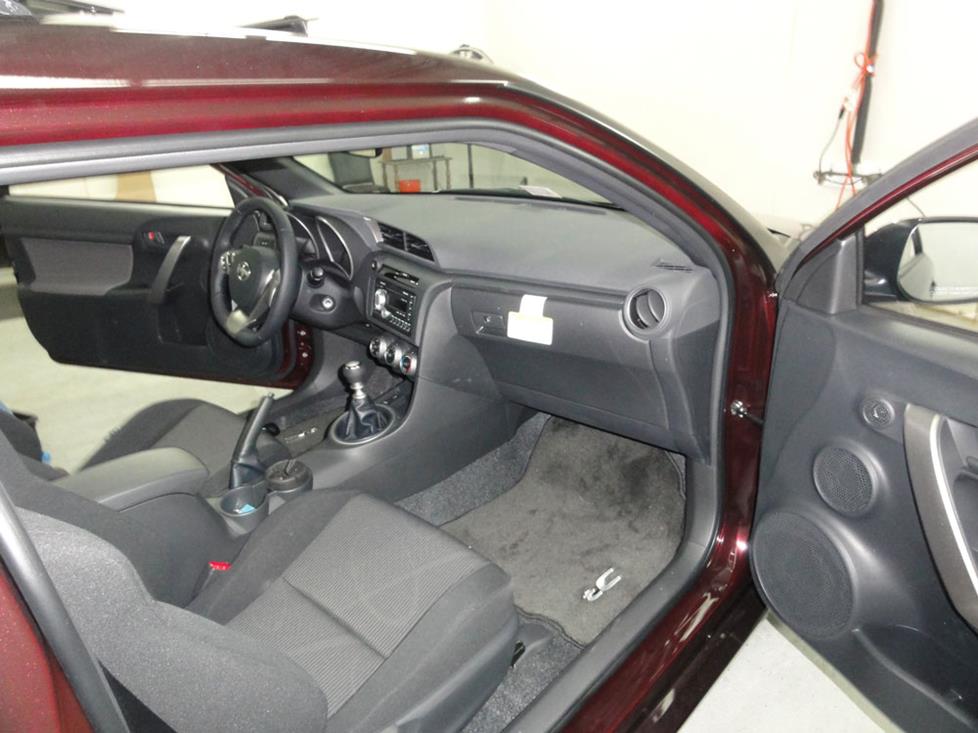 The 8-speaker stereo systems aren't bad, so start with a new receiver (Crutchfield Research Photo)
The factory stereo system
If you're trying to sell cars to young people, you'd better give them what they want. Good sound and reliable connectivity are two huge "must haves" and the tC's 8-speaker audio system does indeed have them. The high-end Pioneer stereos were especially decent as factory systems go, but if you're serious about sound, you'll still want to upgrade.
The receivers varied a bit in appearance, but the removal and replacement process remains the same. A healthy assortment of single-DIN (2" tall) or double-DIN (4" tall) receivers will fit, so you'll have no trouble finding something you'll like. The factory AUX and USB inputs will go away with the old receiver, so make sure they're on your features "wish list" for the new one.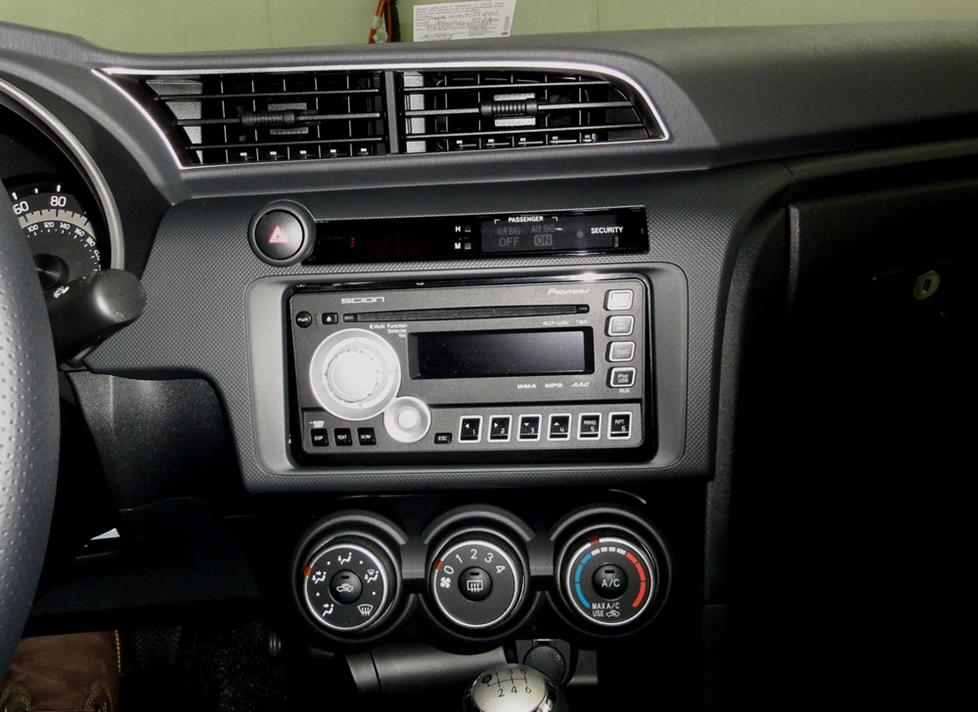 Your radio might not look like this one, but they all come out the same (Crutchfield Research Photo)
Removing the factory radio
Installing a new receiver is a pretty simple project that even a first-time DIY-er can handle. And if you run into trouble, buying at Crutchfield means free tech support for the life of the gear, so you can give one of our experts a call.
Before you start, set the parking brake and disconnect the negative battery cable to prevent any electrical short. Oh, and you probably know this, but make sure you don't have a treasured CD in the factory deck, too.
To remove the old, empty unit, use a panel tool to pry out the receiver trim panel and release five retaining clips. Disconnect the wiring harness and remove the trim panel. Remove the four 10mm screws securing the factory radio, then pull it out and disconnect it.
If you're installing a double-DIN stereo, you'll need the brackets from the sides of the factory stereo. Remove them by taking out the six 10mm screws (three on each side) that secure them to the old radio.
Your Crutchfield receiver purchase includes a deeply discounted dash kit and wiring harness. To install the new receiver, follow the instructions that come with these items, then basically go through the removal process in reverse order to install your new receiver. Be sure to test the receiver to make sure it's working before you button up the dash.
Note: The tC's power window system and power moonroof memorize their initial position. When the battery is disconnected,they lose that memory and need to be reset. It's easy to do, and the instructions can be found in the owner's manual. If you've lost the manual, our tech support team has the info you need.
Tools needed: Panel tool, 10mm socket, ratchet and extension
Read our Car Stereo Buying Guide for shopping tips and advice.
Shop for car stereos that fit your Scion tC
Steering wheel audio controls
In most cases, it's reasonably easy to retain your car's steering wheel audio controls when you install a new stereo. When you enter your vehicle information, our database will choose the adapter you need to make your factory steering wheel controls work with a compatible aftermarket receiver.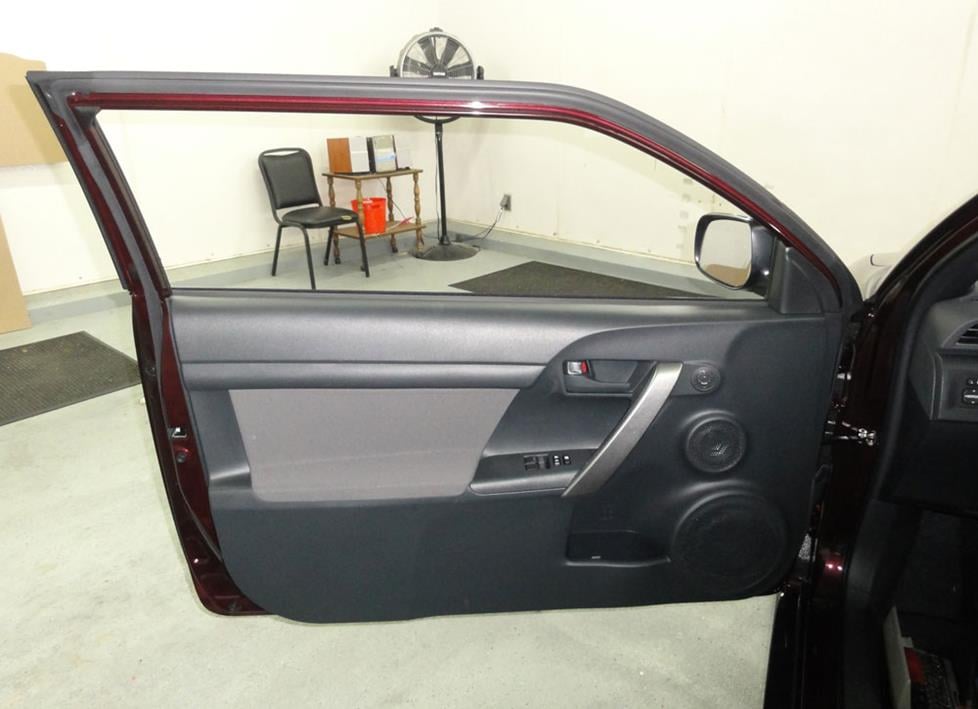 The front doors sport three speakers each (Crutchfield Research Photo)
Removing the factory speakers
The first step towards a speaker upgrade is removing the door panels. You'll start by using a panel tool to pry off the sail panel. Next, pry out the screw cover behind the door release handle and remove the Phillips screw behind it. Then pry off the outer door pull cover. That will expose two more Phillips screws, which you'll need to remove.
Starting at the rear, pry up the power options switch panel to release six clips holding it in place. Disconnect the wiring harnesses and remove the switch panel. Then, you'll pry out the sides and bottom of the door panel to release those retaining clips. Disconnect the wiring harness, pry out the door lock and release assembly, then remove door panel.
We'll get into the actual replacement part in a second, but there are a couple of things to note about this job.
First, you'll have to drill out the rivets that secure the factory woofers, then drill mounting holes for the new speakers. None of this is hard, but pay attention to what you're doing while you're doing it. Wear eye protection and be aware of what's around the area where you're drilling. Just work carefully, and you'll be fine.
Second, the replacement speakers for this location might not come with their own mounting screws, so check the box before you start working and hit the hardware store if you need to.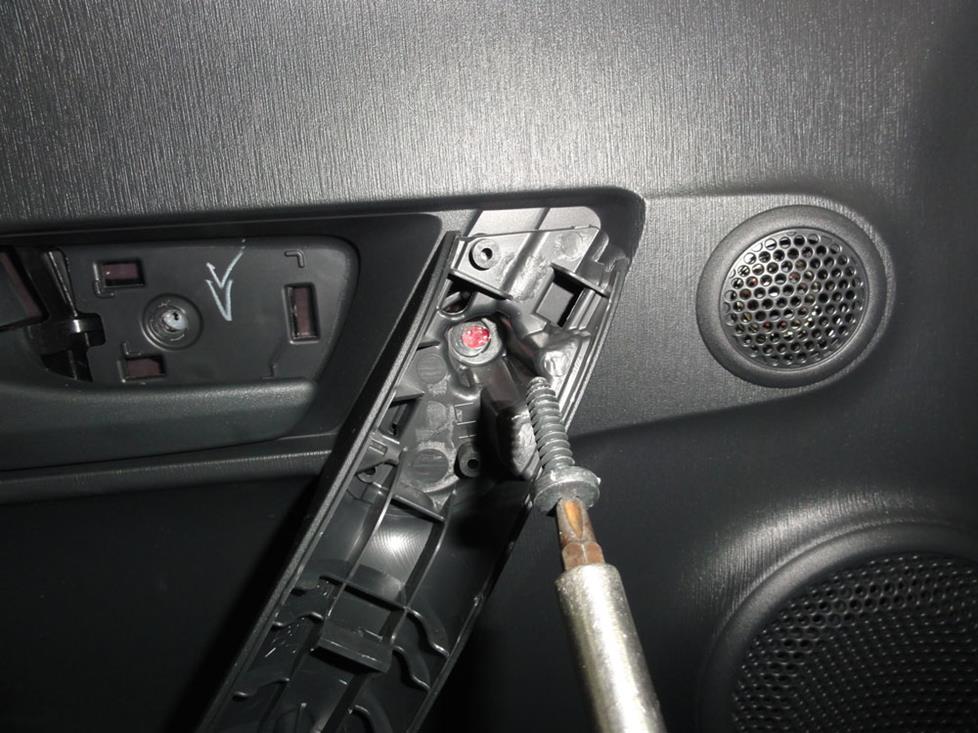 The tweeters are attached to the door panels (Crutchfield Research Photo)
Tweeters
The factory tweeters are (roughly) 1-1/2" models that are attached to the door panel. Removing them is as simple as using your panel tool to pry them out of the mounts. Replacing them isn't a lot harder, but you will need to fabricate a way to mount the new ones. We suggest our universal backstraps, but hot glue or silicone will work, too.
A wiring harness is not available for these tweeters, so you'll want use a set of Posi-Products speaker connectors to connect them to your vehicle's speaker wires. It's a lot easier than splicing, and in a high-usage location like this, you'll appreciate the more secure connection.
Tools needed: Panel tool, small flat blade screwdriver, Phillips screwdriver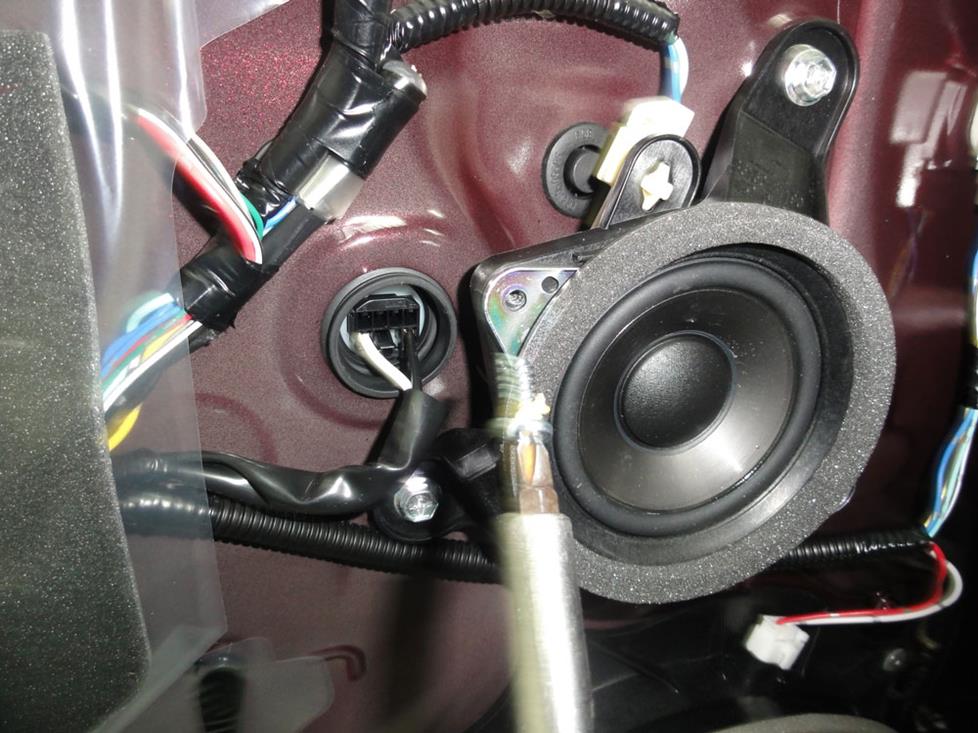 Replacing the mids can be a bit challenging (Crutchfield Research Photo)
Midrange speakers
The stock midrange speakers are roughly 4" speakers that only have two mounting tabs. They're wired in parallel with the tweeters and have built-in crossovers to block some of the bass.
Nothing currently out there fits directly into this location, but there are some 4" speakers that will work if you're willing to fabricate an adapter. But due to the tight space, your options here are truly limited.
To get the old speakers out of there, remove the two Phillips screws securing them to the factory bracket. The speaker wires are glued to the bracket, so you'll need to unstick them before you can remove the speakers. Once you've figured out how to mount your new speakers, connect the speaker wiring adapters included with your Crutchfield stereo purchase to the car's speaker harness.
Tools needed: Panel tool, Phillips screwdriver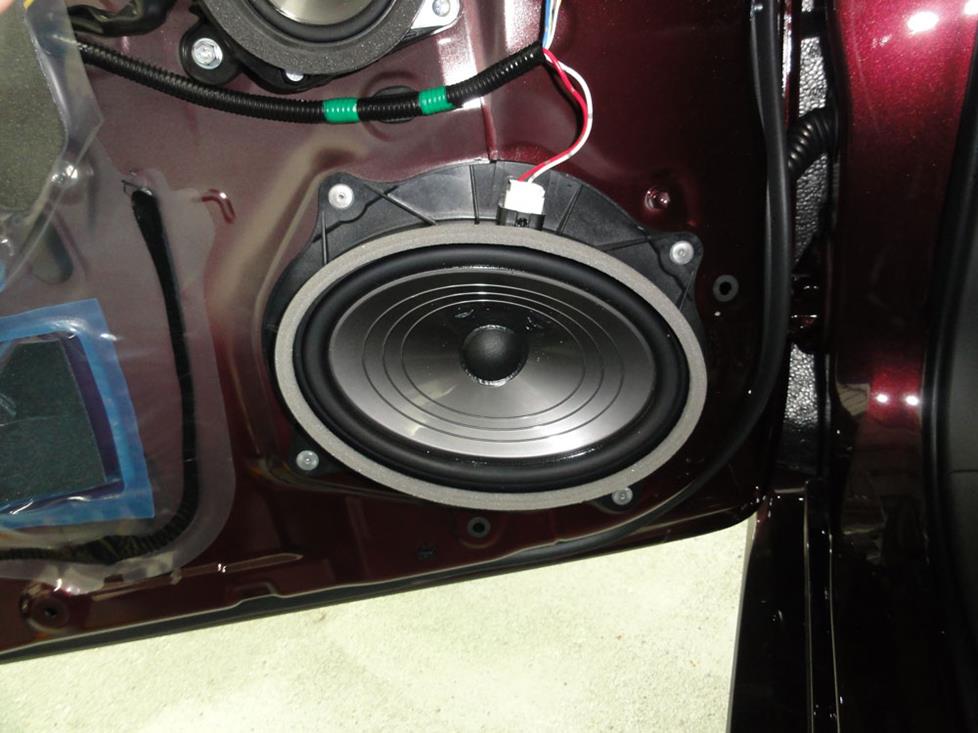 You'll need to drill out the rivets that secure the door woofers (Crutchfield Research Photo)
Woofers
The stock 6"x9" speakers can be replaced by a variety of same-size, 6-1/2", or 6-3/4" speakers, and that array includes both full-range speakers and component sets.
As noted above, you'll need to drill out four rivets securing woofer to the door using a 3/16" bit. Once that's done, you can pull out the speaker, disconnect it, and set it aside. Next, secure the new speaker to the adapter bracket and use this assembly to mark your new mounting holes. Remove it and use a 1/8" bit to drill the new holes.
From there, just connect everything, secure the speakers, and test them out to make sure they work. If they do, start putting the doors back together.
Tools needed: Panel tool, Phillips screwdriver, flat blade screwdriver, cordless drill with 1/8" and 3/16" bits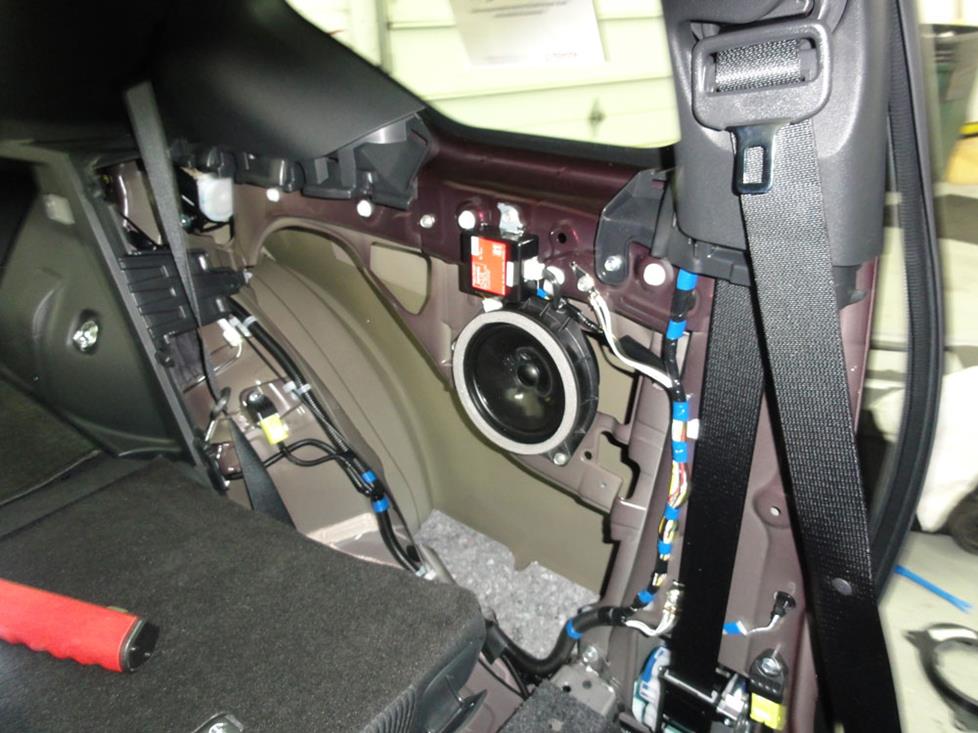 To replace the rear speakers, you'll need to remove the seat cushion and the side panels (Crutchfield Research Photo)
Rear side panel speakers
The 6-3/4" speakers in the rear side panels can be replaced by a variety of 5-1/4" or 6-1/2" aftermarket models. You'll need speaker adapter brackets for any of them, and they're included at a steep discount with your speaker purchase. Your new rear speakers might not come with mounting screws, either, so check the box before you start.
The job isn't difficult, really, but there's some work to it. You'll need to remove the scuff plate, the lower back seat cushion, and the side panels, but once you're there, the actual speaker part is pretty simple. All the details are covered in your Crutchfield MasterSheet.
Tools needed: Panel tool, flat blade screwdriver, 10mm socket, ratchet and extension
Read our Car Speakers Buying Guide for more information.
Shop for speakers that fit your Scion tC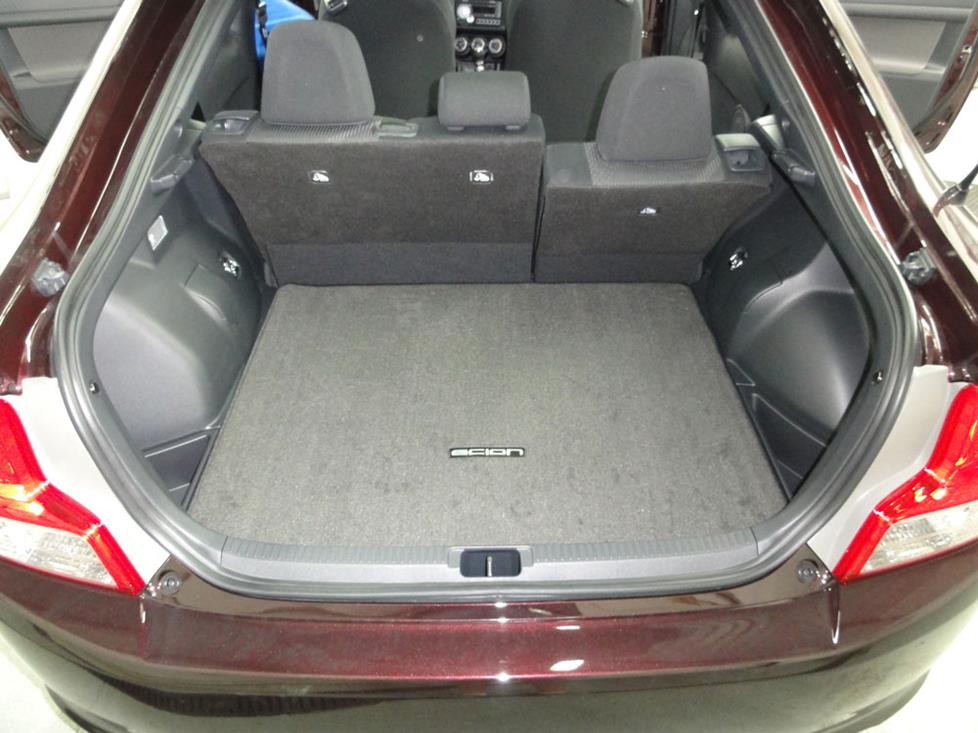 There's room for a big sub enclosure here, but you have some more compact options, too. (Crutchfield Research Photo)
Bass in your Scion tC
If you want to install a big subwoofer in your tC, there's some space to work with. The hatch area offers a 15" H x 38" W x 27"/20" D space, so you can stuff an enclosure in there if you want to. The groceries can go in the back seat, right?
If practicality still matters, check out JL Audio's tC-specific Stealthbox enclosure. This custom creation contains a 10", 500-watt JL Audio sub in a sealed enclosure. It fits into the passenger's side wheel well and gives you great performance without taking up tons of space.
If you want bass, but don't want to fill up the cargo area or empty out your wallet, a powered subwoofer can be a great choice for this car.
Learn more about building a bass system in our Car Subwoofer Buying Guide.
Shop for vehicle-specific subwoofers for your Scion tC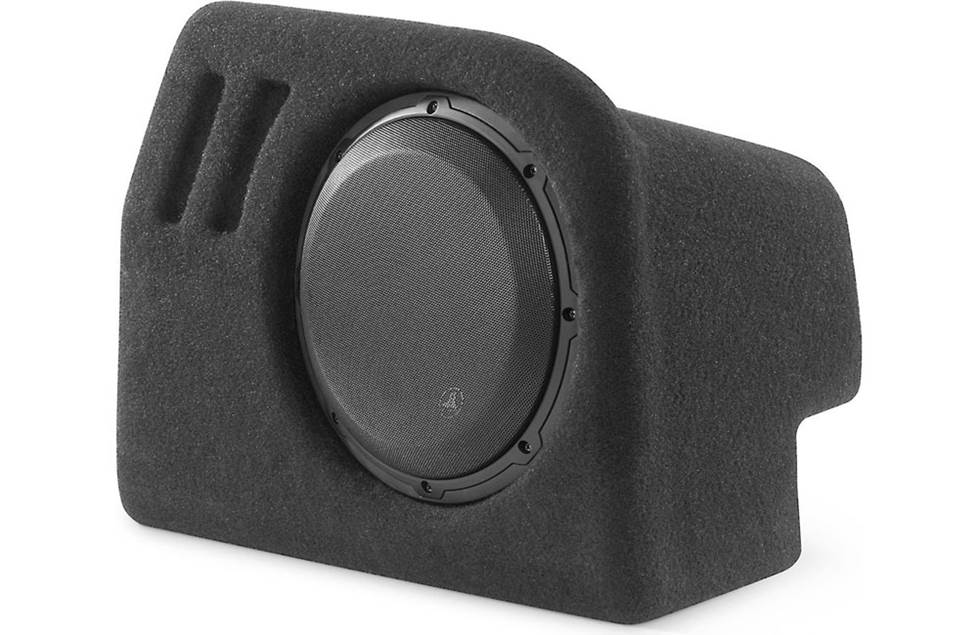 This JL Audio Stealthbox is designed for your Scion tC
Other options for your Scion tC
Here are some other cool upgrade options for your Scion.
Dynamat
These cars have a reputation for producing a lot of road noise, so if you want to hear more of your music and less of the great outdoors, install some Dynamat in the doors – and, if you're a real audiophile, some other places, too. It's a great way to seal out wind and seal in sound.
Add an amp (or two)
A new 4-channel amplifier will help you get the most out of your new speakers. You'll get cleaner power (and a lot more of it), which will result in much better sound. A mono amp can provide the juice you need for your new subwoofer. Learn more about adding amps to your system in our Car Amplifier Buying Guide.
Sound processors
If you choose to keep the stock radio, install a sound processor to send a clear, clean signal to your new amp. Sound processors remove any limitations on the signal imposed by the factory radio. The better the signal; the better the sound. Read our article explaining factory sound processors to learn more.
Remote start and security systems
Adding remote start capability to your vehicle lets you warm it up in the winter or cool it down in the summer. The iDatastart system is incredibly convenient and makes it easier than ever to install a remote start system, so we highly recommend it. The module requires a vehicle-specific T-harness (sold separately) to connect with your vehicle's computer, security, and ignition systems, so we ask that you call to order so that we can make sure you get the right harness for your ride.
You can also talk to your Crutchfield Advisor about a security system. They're not as easy to install (we usually suggest letting a professional do the job), but we can help you choose a system that'll work in your vehicle.
Let's get started!
Ready to shop? Use our vehicle selector to find the gear that will fit your car or truck. If you have questions, give us a shout via phone, chat, or email