A stereo custom-designed for your Jeep can provide better sound and performance while keeping the look and feel very close to factory. In this article, we'll discuss some custom stereo options from Alpine and Stinger. We'll also briefly cover other nontraditional aftermarket car radio options.
Whether you drive your Jeep only on city streets and highways, or you're a die-hard trail rider, we can all agree that Jeep factory stereos offer a lot of room for improvement. Thankfully, Jeep owners have a few options for custom-fit radios from Alpine and Stinger which offer improved sound and performance without sacrificing the factory look and feel of their Jeep's interior.
To see what fits your Jeep, enter your vehicle information in our vehicle selector and let our database show you what works. If you don't see anything for your specific model (rare, but it happens), just give us a call. Our experts can help you find a new stereo that'll fit nicely, sound great, and stand up to whatever you get into.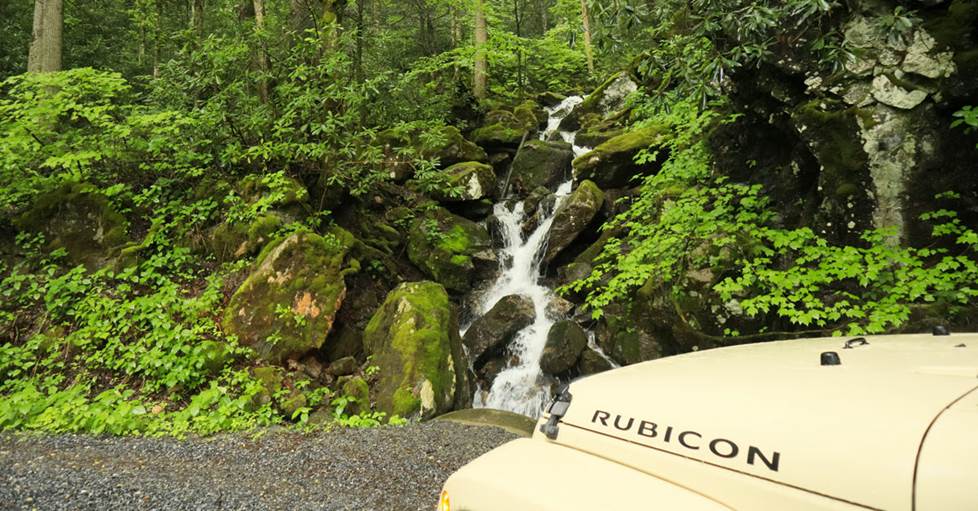 Custom-fit stereos with factory-look dash kits
Alpine Restyle brings modern convenience to your Jeep
Both the Alpine Restyle i407-WRA-JK and the i407-WRA-JL digital multimedia receivers offer finger-friendly 6.95" capacitive touchscreens and bezels with factory fit and feel, and they let you incorporate your phone and boost the sonic goodness of your Jeep.
These stereos are also designed to fit Alpine's compact Power Pack amps with PowerStack brackets behind your Jeep's dash, so you can get additional power to your speakers (or a sub) without running wires all over your Jeep. The i407-WRA-JK fits select 2007-17 Jeep Wrangler JK and Wrangler JK Unlimited models, while the i407-WRA-JL works in select 2018-up Jeep Wrangler and 2020-up Jeep Gladiator models.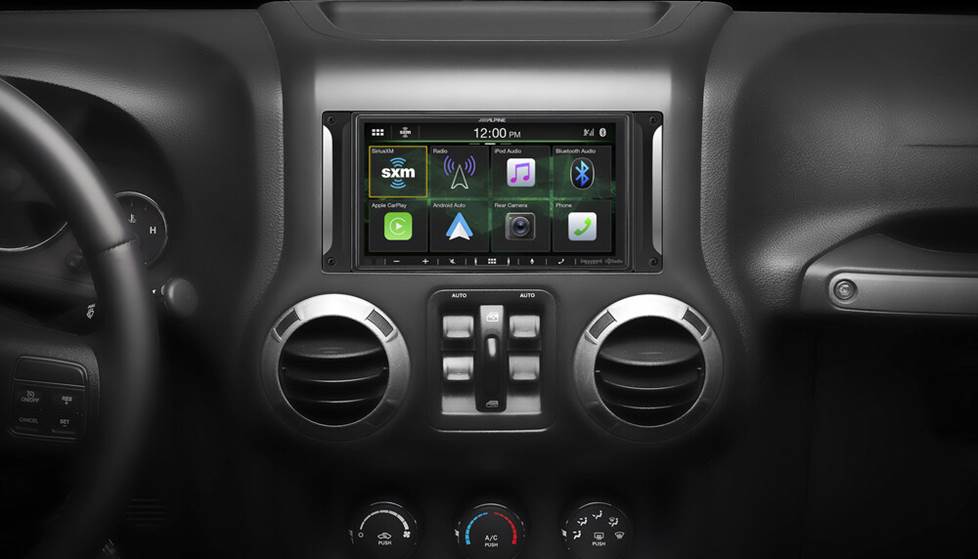 The Alpine i407-WRA-JK digital multimedia receiver works in most 2007-2017 Wrangler JK models.
These receivers work with both Android Auto™ and Apple CarPlay®. An included iDatalink module lets you keep your steering wheel controls and Jeep Uconnect® features. Alpine includes an HD Radio™ tuner, HDMI input, and satellite radio compatibility.
You can use the 5-band graphic EQ with time correction to help improve the sound in your Jeep's cabin, too. Neither model offers built-in navigation, but chances are you know how to read a paper map and come prepared for the worst whenever you go off-roading.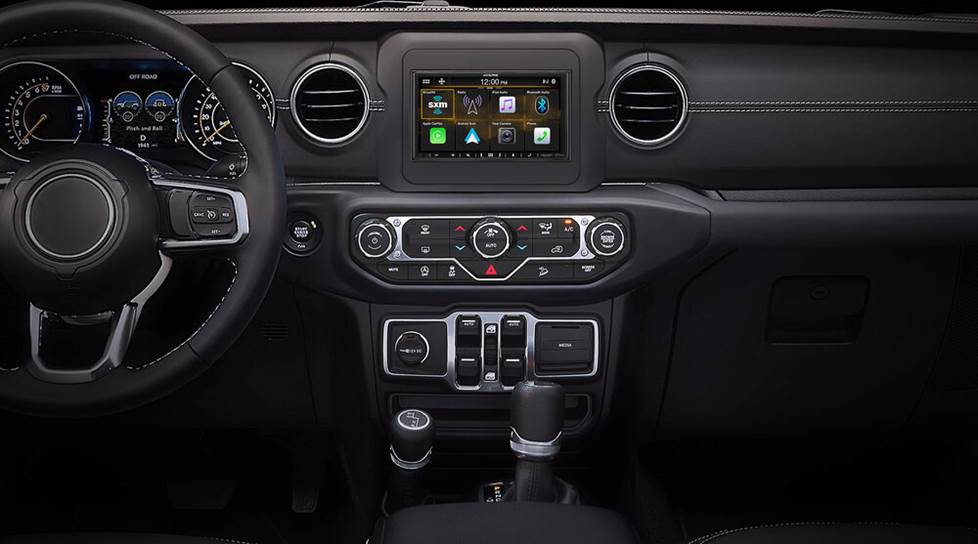 Have a 2018-up Wrangler or Gladiator? Beautify the dash with Alpine's i409-WRA-JL digital multimedia receiver.
Stinger custom-fit receivers with 10" touchscreens
Stinger also has Wrangler and Gladiator owners covered with their own line of custom-fit digital multimedia radios. Stinger Jeep packages feature the HEIGH10 digital multimedia receiver with a 10" floating capacitive touchscreen, plus factory-look bezels so you can enjoy a major screen update without giving your Jeep's cockpit an alien feel. Stinger's RB10JK11B package works for 2011-18 Wrangler JK models, while the RB10JW18B package fits newer Wranglers and Gladiators.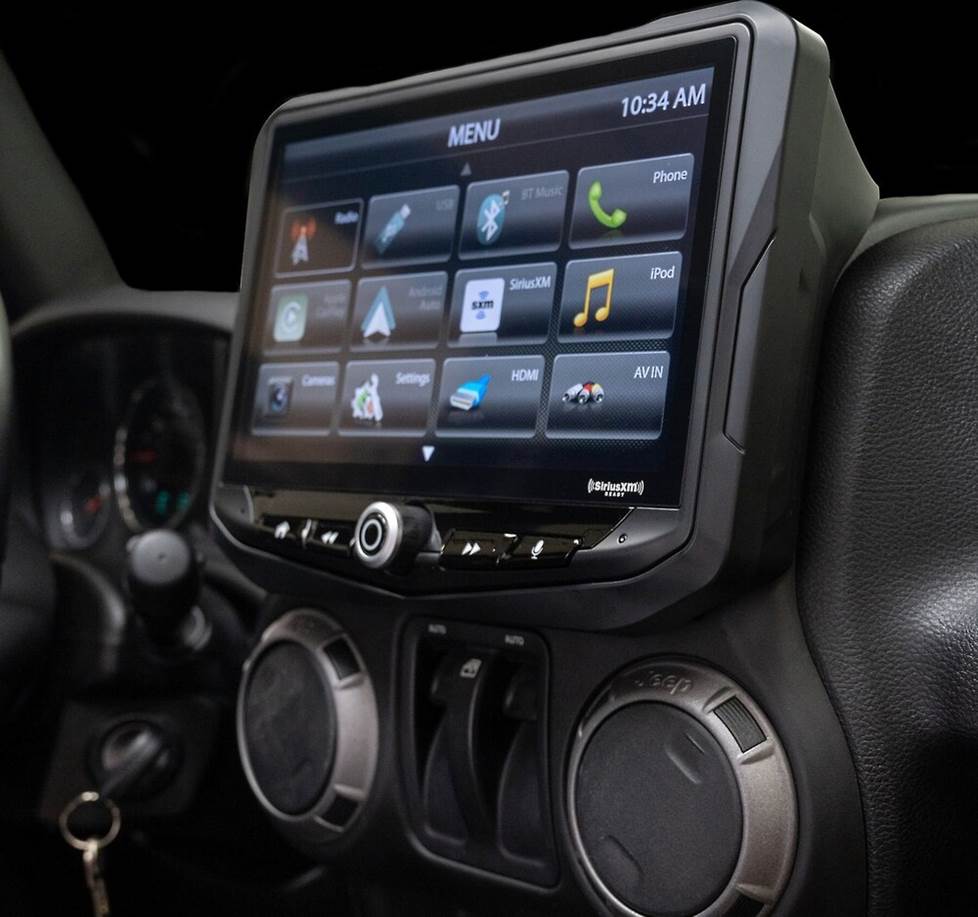 Stinger's RB10JK11B HEIGH10 Jeep receiver adds a floating 10" touchscreen to most 2011-2018 Wrangler JK models.
Each package includes a handsome two-piece receiver and bezel combo. They both offer Apple CarPlay and Android Auto integration, and retain many (but not all) of your Jeep's factory features. HDMI inputs on each allow you to hook up a disc player so you can enjoy old-school media during your travels, and you can add satellite radio as well. Both packages include a GPS antenna, so you can add turn-by-turn navigation by simply purchasing an optional mapping memory card from Stinger.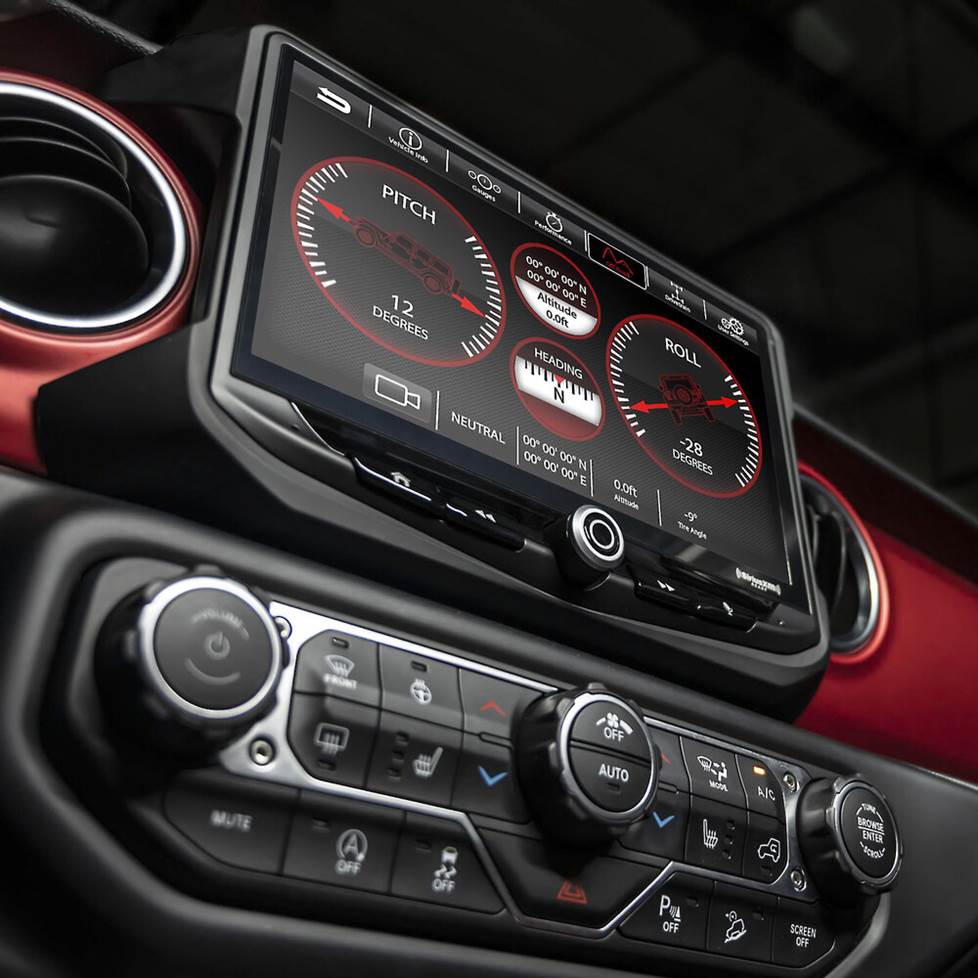 Stinger's RB10JW18B receiver works with Stinger's app to give you exclusive performance info for your Wrangler JL or Gladiator right on the 10" touchscreen.
Alpine accessories make it easier to control your add-ons
Both of the Alpine receivers mentioned give you plenty of room to expand your system with sound enhancements and accessories. Alpine's optional multi-camera selector interface gives you the freedom to add up to three cameras and quickly switch the view on the radio screen. Alpine's truck accessory controller (sample screen shown below) lets you command up to eight different 12-volt accessories through the stereo, including lighting kits, winches, and more. You can label the accessories for quick access, and keep your dashboard clear of multiple switches.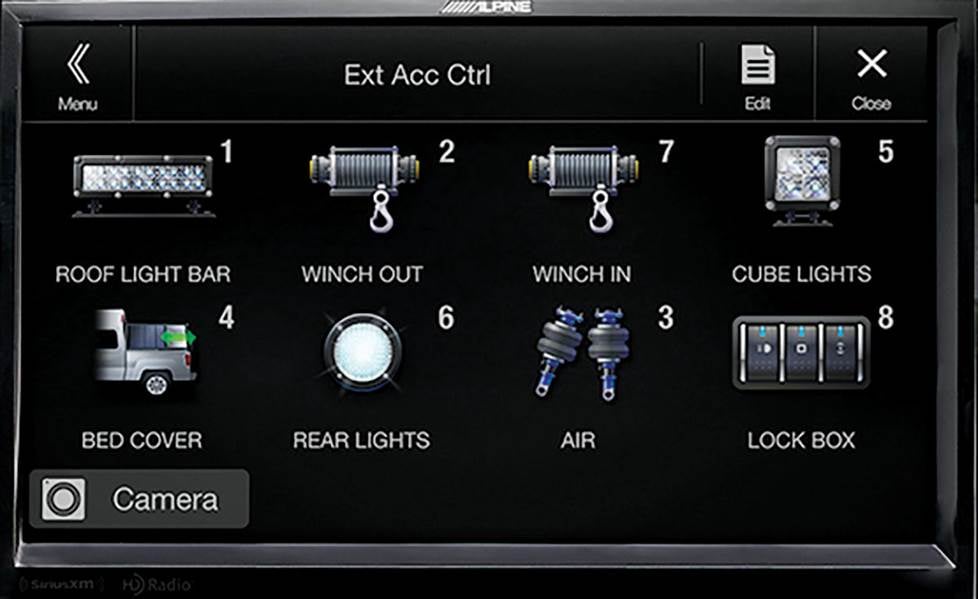 Alpine's optional accessory controller lets you command add-ons from the 9" screen.
Marine-rated receivers – not custom-fit but still great for Jeeps
If your Jeep spends as much (or more) time in the dirt as it does in rush-hour traffic, you need audio gear that's designed for life in the outdoors. Most of it is listed as "marine" gear, but it's also totally suitable for your Jeep.
Marine-rated receivers look and perform like regular car stereos, but they're engineered to survive in moisture, dust, and muck. Conformal-coated circuit boards, water-resistant faces, and special covers for CD openings and/or USB and AUX ports ensure that these receivers will stand up to whatever you can dish out.
We recommend digital media receivers (DMR) for off-road use, because who wants to put up with CDs that skip when you're rolling through the rough stuff? With a DMR, you can plug a flash drive into the USB port or use the Bluetooth® connection to play anything on your phone or other device. Secure the device in a cubby or a jacket pocket, and you're ready to go anywhere.
Gauge-style receivers for older Jeeps
Speaking of digital media receivers, a standard stereo isn't always the best solution. For older Jeeps, including CJs, a gauge-style receiver might be a better choice.
These digital media receivers are designed to fit into standard-size (3") gauge openings, so they'll give you the functions you want in the space you have available. And they're every bit as tough as their single-DIN cousins. You can find them listed with our other marine-rated stereos.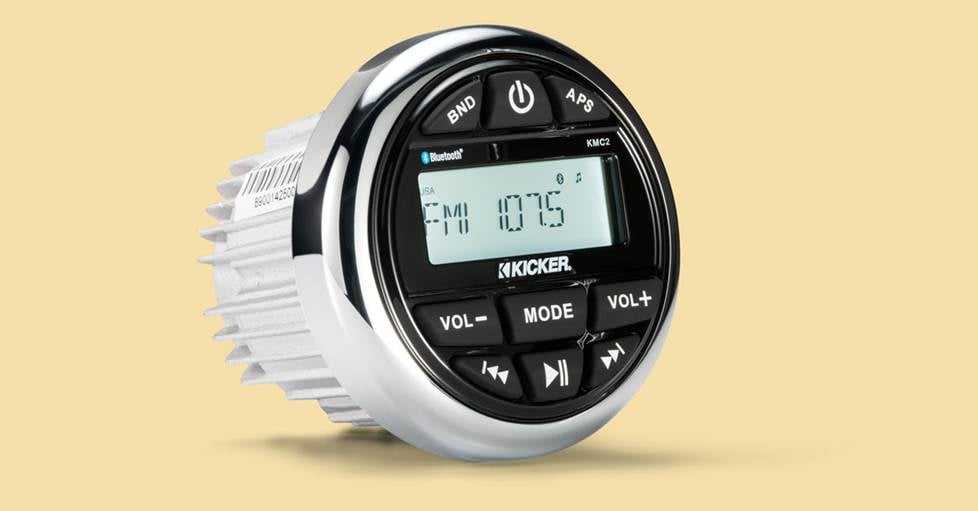 Looking for more options for your Jeep, especially Wranglers?
There are plenty of solutions for upgrading your Wrangler's audio system and overall performance, and new stuff's coming out all the time. Our "Best Audio Gear for your Jeep" article covers ideas for the rest of your Jeep's sound system and also gets into Jeep-friendly gear which is not necessarily Wrangler-specific. And remember: when you buy from Crutchfield, you get free tech support for the life of your gear.
---
Got questions? That's what we're here for!
A Jeep project is never truly "done," mostly because adding gear is part of the fun of being a Jeep owner. If you have any questions, our Crutchfield Advisors will be happy to answer them. Give us a shout via phone or chat.