When I first set up my Dell desktop computer, I connected the speakers that came with it. Their lightweight plastic cabinets each contain one 2-inch driver to cover the full audio spectrum. The built-in amp, powered by USB, is rated at 1.2 watts. If you like midrange sound at low volume, these are the speakers for you. If you enjoy bass and treble, and you like it loud on occasion, forget it.
I quickly replaced the Dell speakers with a better set of powered speakers. A modest investment yielded a big improvement. But the sound still didn't raise goosebumps. I realized I needed to change my approach to the problem.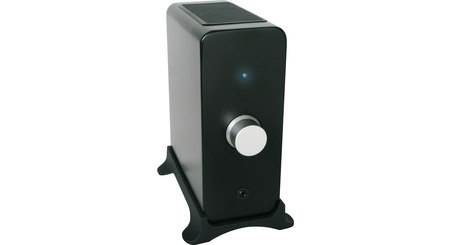 The N22's vertical orientation saves space on your desktop.
Powered speakers aren't the only way to get sound from a computer
Rather than think of the audio system as a computer accessory, what if I thought of the computer as a music source for the audio system? That would free me to think outside the powered-speakers box and to consider spending as much or more on the audio gear as I had on the computer.
I still need a relatively compact system. There's no room in my home office for a traditional stereo receiver or a big set of tower speakers. Enter the Audioengine N22 amplifier and their companion P4 bookshelf speakers.
What's in the box?
When I opened the N22's box, I found the amp, power supply, and cables enclosed in felt bags. The concise, well written, and clearly illustrated setup guide was another nice surprise.
The amp's power supply module connects to an AC outlet via a 6-foot cord. Another 6-foot cord connects the module to the amp. I also unpacked a pair of 16-gauge speaker wires, tinned on both ends. There was a stereo mini-jack cable to connect a computer or portable music player and an RCA patch cord to hook up a CD player, satellite radio, or other audio component.
While it's nice that speaker wires and connecting cables are included, the felt bags had me anticipating a higher grade of cables. Frankly, I'd trade the felt bags for better cables any day.
Vertical = versatile
The vertically oriented N22 fits comfortably on my desktop. It measures a tad over 4" wide at its base. With cables attached, it's less than 8" deep. It would be right at home on a bookshelf, a kitchen countertop, or a workbench.
What do you get from the N22 that you don't get from those other options? First of all, you get more power, which means more volume and cleaner, more dynamic sound at any volume level. You also get the freedom to choose from a wide variety of speakers and the flexibility to place them where they sound good in your room.
Those are advantages I associate with a traditional hi-fi system. And the N22 lets you enjoy these benefits without the bulk and needless complexity that I also associate with a lot of full-size hi-fi gear. If your main source of entertainment is a computer, do you really need full-size gear?
It depends.
The N22 delivers 22 legitimate watts per channel - enough to drive most bookshelf speakers to very satisfying volume levels in a small room. If you're sitting at your computer, with your speakers an arm's length away, you'll have power to burn. If you're trying to drive power-hungry speakers or you want to fill a large room with sound, you'll need more than 22 watts.
Simple setup and operation
Setting up the N22 is simple: Plug in one or two music sources. Connect two speakers and the power cord.
Operation is even simpler. The only control is the power/volume knob. If you plug in two sources, you can play them both at the same time. That may seem a little odd, but it won't hurt anything, and the upside is that you won't have to fiddle with a source selector. There's no balance control, which is not a problem if you're sitting at your desk, with your speakers placed at equal distances from your ears. And there are no tone controls. If you need to adjust the tone, you'll have to use the equalizer built-into your computer.
Speaker placement can make a big difference
With any audio system, speaker placement is a key to great sound. If at all possible, you want to position your speakers such that you hear mostly direct sound - sound that reaches your ears before it reflects off a wall, ceiling or other hard surface. When you're seated at a desk, two or three feet away from your speakers, you naturally hear a great deal of direct sound. This so-called "near field" listening experience can be very involving - almost like listening to headphones. The closest reflective surface in this scenario is the desktop itself. You can minimize reflections from it by elevating the speakers or tilting them so that they point directly at your ears.
Listening test
Once I had everything connected and properly situated, it was time to take a listen. I cued up Songlines by the Derek Trucks Band. It's a well-recorded album with plenty of inspired performances, a wide dynamic range, and many layers of delicious musical detail to savor.
The N22 and P4 speakers rendered those details crisply, with precise imaging. Songlines is one those records that makes you feel like you're in the performance space — if your system can render that sense of presence. In my home office, this Audioengine combo proved that it could.
Trucks discussed his approach to the ethereal instrumental cut "Mahjoun" in an interview with Guitar Player magazine. In the opening riff, he cranks up the volume on his Fender Super Reverb amp and sharply attacks the low E string of his Gibson SG with the side of a flat pick. He's attempting to mimic the sound of a Moroccan oud player whose tone he admired.
As I listen to the riff through the Audioengine system, I hear the pick strike very close to the bridge of the guitar. That close to the tailpiece, there's very little give to the strings. By picking there, Trucks gives his line a brittle, metallic timbre. The lick, panned hard left, is as much percussive as it is melodic.
The second guitar part emerges on stage right - a restrained response to the assertive call on stage left. Trucks turns his amp way down and plucks the strings with his fingers instead of striking them with a pick. The result is a rounder, cleaner tone that plays well against the edgy sound of the first part.
If I were listening to a high-end audio system in my den, I'd expect to hear all of these tonal colors shine across a wide, deep soundstage. It was a pleasant surprise to hear it all while sitting in front of my computer, especially from a combination of amp and speakers that sells for around $450.
For more bass, add a powered subwoofer
I found that the P4s' 4-inch woofers couldn't do complete justice to the big fat bass guitar part that anchors DTB's version of Toot's Hibbert's "Sailing On." (No 4-inch speakers could do that.) Just for kicks, I grabbed the 10" powered subwoofer from my home theater system and connected it to the N22's line output jacks. The addition of the sub really iced the cake. But it created another problem. The home office is supposed to be a workplace. How do I get any work done when I'm jumping up and down in full air-guitar frenzy?
Bottom line:
For not much more than the cost of a good set of powered speakers, the N22/P4 system gives you a big step up in sound quality.