Bose QuietComfort 45 review
A fresh update to Bose's classic noise-cancelling headphones
I
spent a few weeks with the Bose QuietComfort 45 Bluetooth headphones before their launch. They are the latest in Bose's legendary line of noise-cancelling headphones — a staple in airports, offices, and home offices.
And longtime Bose fans will be pleased. These headphones deliver precisely what I've come to expect from this iconic line, along with some new surprises.
What's new?
Bose didn't stray too far from the signature design of their predecessors, but they have introduced some key improvements. These headphones offer stronger Bluetooth, longer battery life, USB-C charging, an "awareness" button, and somehow — somehow — better noise cancellation.
Out of the box, they look sharp and clean, but they feel familiar and broken-in when worn — like throwing on a favorite jacket. And I found their sonic and noise-cancelling performance nicely complemented my new hybrid work reality.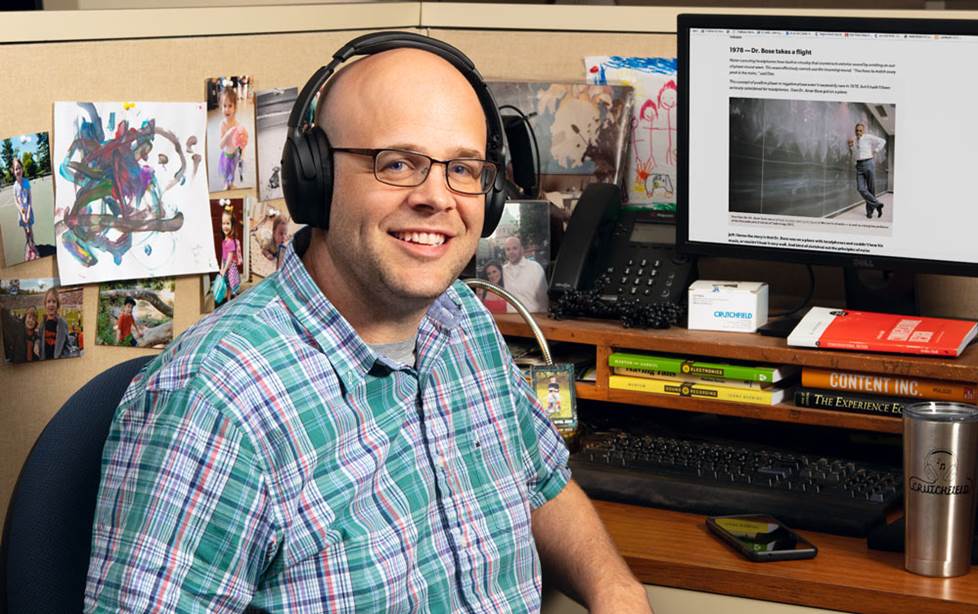 I'm splitting my time between Crutchfield HQ and my home office these days, and the QuietComfort 45 headphones create a consistent bubble of peacefulness.
Lightweight, relaxed fit
These headphones look almost identical to the previous-generation QC 35 II, one of our best-selling, best-reviewed headphones ever. But on closer examination, I realized the QC 45 'phones felt even lighter in my hand and on my head. That's saying a lot, because the QC 35s made our top 5 most comfortable headphones — and earned high marks on our in-house tests for feeling "ultra-light."
This newer model managed to feel softer and more relaxed, and stayed in place as I moved around. I could wear them for entire work shifts without fatigue or strain on my head or ears. And of course, work and travel are even more bearable when you have world-class noise-cancelling circuitry hushing loud distractions.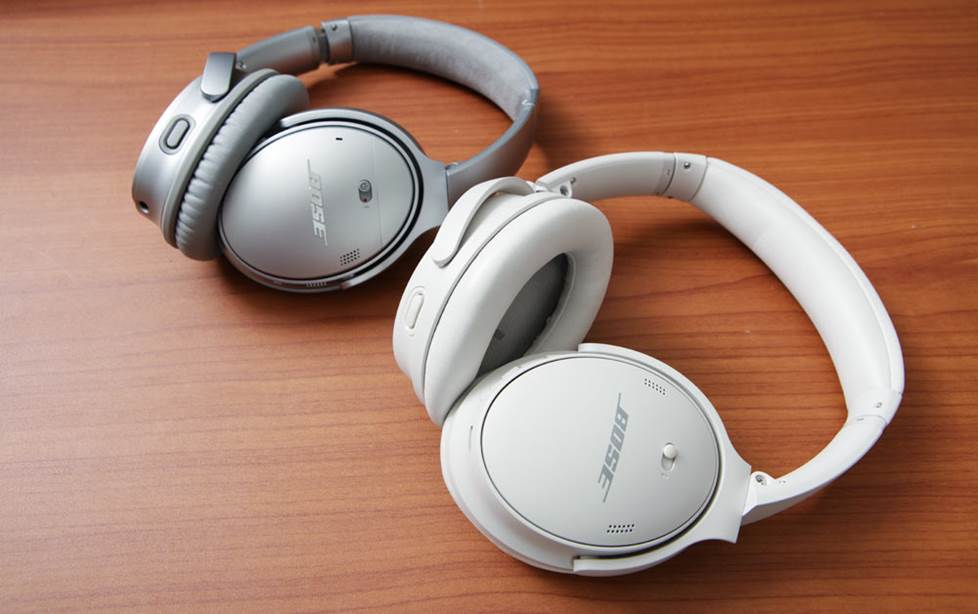 The Bose QC 45 headphones (foreground, in white) sport a similar look to the previous-gen QC 35 II headphones (background, silver), but offer better noise cancellation, battery life, and more.
Even better noise cancellation from Bose
Here's the scene: I'm in my home office plugging away on this very review, wearing the QC 45s, and I'm transported back to a smoky jazz club. I'm listening to a 1940s recording of Art Tatum's "Soft Wind," his swift fingers dancing across the piano keys right in front of me. The recording is of its time — muffled, a little distorted — which adds to the ambience, and I'm completely immersed, lapping up the whole vibe.
As I read over notes, I'm oblivious to the world around me — the breezy, yet intricate instrumentals keep my attention locked in. I only snap out of it when our foster cat, Jane, darts across the room. I lift an earcup to see what's up.
WHOA! My washing machine has started its spin cycle, and this is the first time I've noticed. But here's the thing: the bearings have gone bad, and it is only a slight exaggeration to say that it sounds like a helicopter is landing in my basement.
The whipping and gnashing sounds of the spinning metal washer drum is so intense, that I've had to leave Zoom meetings because I couldn't hear. But the QC 45s delivered a personal bubble of peace and quiet, while I sat only one room over.
And since the Bose QC 45s performed so well during my washer's "torture test," I'm confident they would easily cancel out the drone of a jet engine during air travel.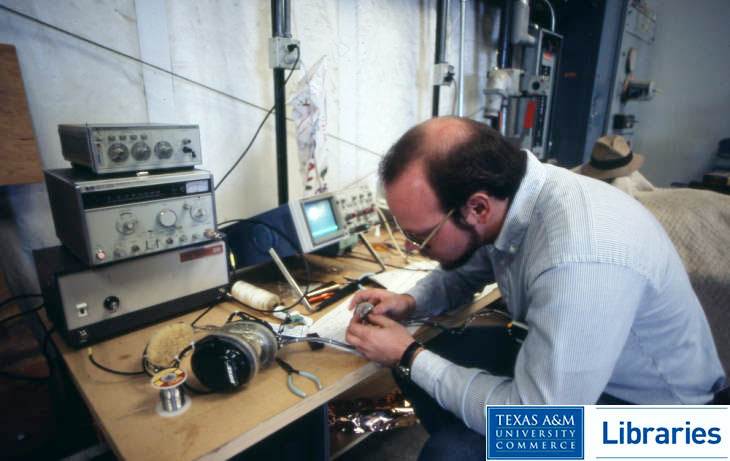 Last fall, I spoke to Bose Distinguished Engineer Dan Gauger (pictured), who's helped develop and create their world-class noise-canceling headphones and pilot headsets since 1980. Photo by Mark Greenberg, from the "Voyager around-the-world flight" archives at Texas A&M University-Commerce Libraries.
Bose seems to make a leap in noise cancellation every time they release a set of QuietComfort headphones. I shouldn't be surprised at this point — after all, I've spoken to their legendary engineer, Dan Gauger, who showed me how much research and effort goes into this. But the bar has been set so high, it still shocks me when they are able to clear it.
Bose QuietComfort 45 vs. Sony WH-1000XM4
In terms of absolute "quiet," the QC 45s are arguably the best ever — regardless of brand. Inevitably these headphones will be compared to the Sony WH-1000XM4, and when it comes to noise-cancellation, I feel it is a toss-up.
The main distinction would be that the Sonys are so reactive to the external sounds, that you can almost sense them working as the outside noises change. That's why I might give them a slight edge for adapting to higher pitched sounds that occur less frequently. But if you're looking for a fresh blanket of silence, the QC 45s are hard to beat.
Better Bluetooth for a stronger connection
Music plays wirelessly via Bluetooth 5.1, a newer version of Bluetooth that offers a strong, reliable connection. Pairing with my phone was quick and easy. And at Crutchfield HQ, I could keep the phone on my desk and trek down our long top-floor hallway without the audio dropping out.
Pair multiple devices
The QC 45s also offer a multi-point Bluetooth connection, so I could pair my work laptop and my phone at the same time. That really came in handy when I was working from home. It was easy to toggle back and forth between music, podcasts, and videos, grabbing an incoming phone call, or hopping on a meeting. I didn't have to stop and re-pair the headphones each time I started a new task on a different screen.
24 hours of wireless use with noise cancellation
The QC 45 headphones have a built-in rechargeable battery and include a charging cable. On a full charge, you can get up to 24 hours of wireless listening with noise cancellation on. I used them consistently for about two weeks, and only had to recharge twice. A voice prompt tells you how much battery life you have left every time you power them on.
Plus, their quick charge feature gives you up to three hours of use on just 15 minutes of charging. And even when the battery is fully drained, you can still listen to music without noise cancellation using the included listening cable. It connects to a standard 3.5mm headphone jack.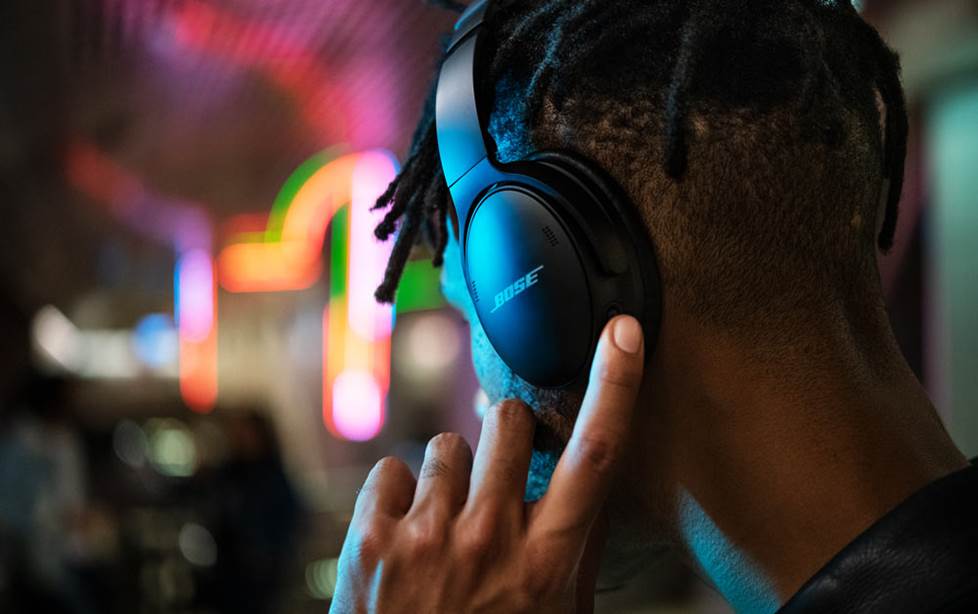 A button on the left ear cup lets you toggle between "Quiet" or "Aware" mode, which turns off noise cancellation and uses the internal mics to pick up nearby sounds and voices.
Hands-free phone calls and "Aware" mode
There are tactile buttons on the right earcup for controlling music, calls, and volume. When someone calls, press the "Answer" button and talk hands-free through the built-in mics. I took a few calls from my wife while I was outside with these 'phones. Even on a breezy, busy street, the conversation was clear.
Speaking of traffic — the left earcup button lets you toggle between noise cancellation and "Aware" mode. That mode uses the internal mics to pick up external sounds and voices, so you can hear your surroundings without removing the headphones.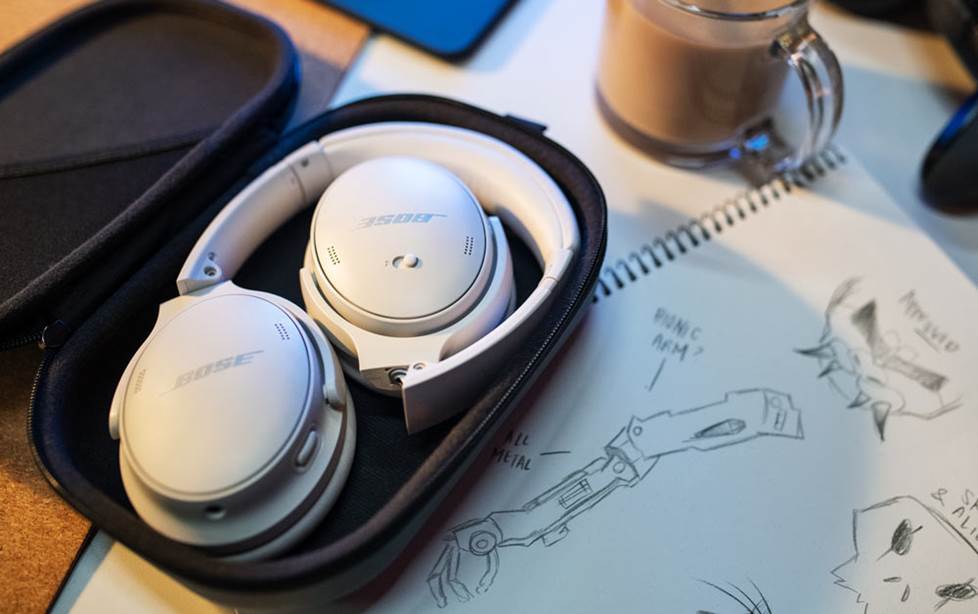 The headphones fold up neatly into the included carrying case.
Listening impressions: classic Bose sound
It isn't just the "Quiet" and the "Comfort" that make the QC 45 a pleasure to wear. The sound is relaxed, too. These headphones deliver a large, layered, and laid-back presentation.
Dorothy Ashby's 1969 album, Dorothy's harp, has the right mix of instruments to showcase these headphone's strengths. The biting percussion sat centered, and slightly in the background to keep the track grounded. Meanwhile in the forefront, the harp, flute, and string instruments grooved and frolicked around my head. The Bose headphones helped ease me into the vibe, like I was gently wading into the waves instead of diving head first.
It speaks to the inviting, accessible nature of the Bose QuietComfort 45s. The sound is as comfortable as the headphones themselves — like sinking into a cozy, well-worn couch.
Product highlights
lightweight, relaxed-fit over-ear headphones
Bose's top-of-the-line active noise cancellation blocks out external distractions
Bluetooth® 5.1 for wireless music listening and phone calls
multi-point connection lets you pair two devices at once
dedicated button on left earcup toggles between noise cancellation and "Aware" mode
free, optional Bose® Music app available for Apple® and Android™
rechargeable battery provides up to 24 hours of wireless use
15 minutes quick charge for up to 3 hours of listening
voice prompts provide information on battery life, device connection, and caller ID
right earcup buttons offer easy controls for music, calls, and volume
48" audio cable with 3.5mm plug for wired use
earcups rotate and fold for compact storage (carrying case included)
warranty: 1 year
Need more help? Contact us!
Have questions about how the Bose QuietComfort 45 headphones compare to others? Contact us today.
Our expert Advisors know headphones inside and out. Your Advisor can send specific Crutchfield pages to your screen, saving you a lot of browsing time. You'll get a shopping cart loaded up with everything you need.
Free lifetime tech support is included with your Crutchfield purchase.