If you're reading this article, you're probably a music lover and a Sonos fan. I am too. I've outfitted my main listening room with a pair of PLAY:5s and a SUB. This 2.1 stereo setup sees a lot of use and makes me very happy.
When I added a good 4K TV to this same room, I had some choices to make. I considered adding a Sonos PLAYBAR — these get rave reviews, have all the right connections for a TV, and are basically a no-brainer for anyone with a Sonos system.
But I didn't want to move my PLAY:5 stereo setup. After all, it's a listening room first, and my 2.1 system suits me — and the space — just perfectly.
And, as it turns out, I found a cool hack that has allowed me keep my PLAY:5s and SUB for music and also use them with my TV to give soundtracks a serious boost. If you think this setup might be right for you, read on to find out how I did it.
Note: Since the publication of this article, Sonos discontinued the Play:5. But this hack works just as well with the new Sonos Five.
Use the PLAY:5's old-school analog input
Sonos is famous for giving you easy access to your digital music collection, as well as a plethora of digital streaming sources. But did you know that some Sonos components — and the PLAY:5 speakers themselves — have a mini 3.5mm stereo input for an analog audio source?
This analog input was the key to my setup. But to put it to use, I had to find a way to convert the digital audio signals coming from my TV into analog signals.
Fortunately, Crutchfield carries a cool little problem-solver of a DAC — a digital-to-analog converter made by Metra for precisely this kind of scenario.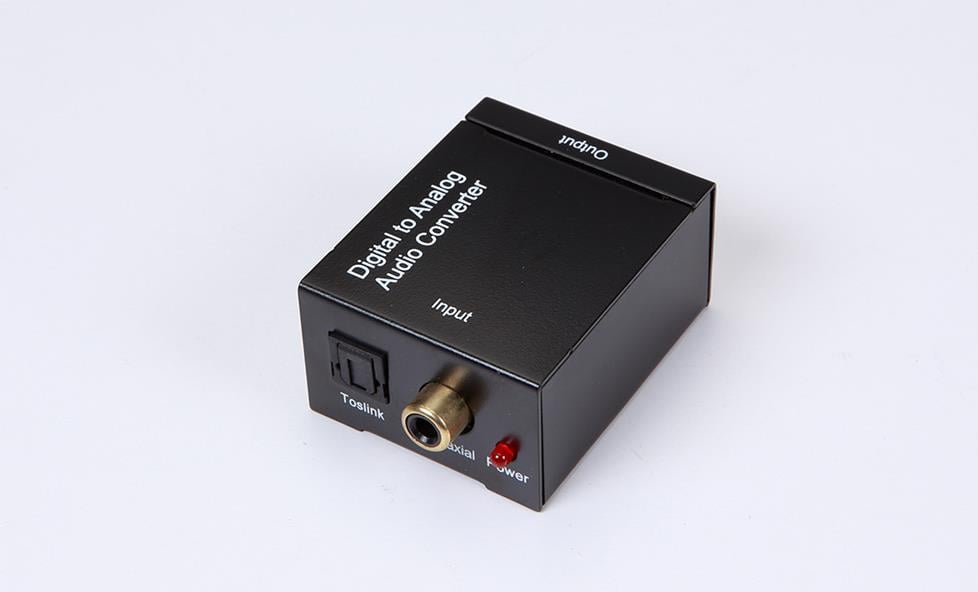 This inexpensive little DAC allowed me to hook my TV to my Sonos 2.1 system.
I hooked an optical digital audio cable from my TV to the DAC, and then an analog stereo RCA-to-3.5mm adapter cable from the DAC to one of my Sonos speakers.
The system took care of the rest, distributing the stereo channels and low bass information wirelessly among the speakers and sub.
CAUTION: Be sure to select "PCM" in your TV's audio menu
The Metra DAC is handy, but it doesn't have Dolby® Digital decoding. To use it with a TV, you need to first make sure to set the TV's output to "PCM" stereo, rather than Dolby Digital. It's an easy but absolutely necessary step for this setup.
Failure to make this switch in your TV's settings will cause unpleasant noises, potentially at ear-splitting volumes.
A word about lip sync
I want to be up-front about one potential drawback. Sonos's wireless system uses a little built-in "magic" to allow a whole houseful of speakers to play the same song together in perfect sync. For scenarios like mine, this feature causes a 75-millisecond delay between the images on the TV screen and the sound from the speakers.
I'm sure this potential lip sync issue could be a deal-breaker for some people. Here in Charlottesville, with my cable TV service (which I will not name, because I'm being nice), there are lip sync issues all the time anyway, which seem to vary from day to day and channel to channel.
No kidding, I experience less of a lip sync issue with my PLAY:5 setup than when I'm using the TV's built-in speakers. I know it sounds crazy, but that's the way I call it, after lots of A/B'ing. Keep in mind, most TVs have a lip sync adjustment feature which can help if it's a perceivable problem.
Keep your phone or tablet on hand
Here's another little something to keep in mind. When you use a Sonos 2.1-channel setup with your TV, you'll need ready access to the Sonos app on your phone, tablet, or laptop. It's through the app that you select the TV as your source and control the volume.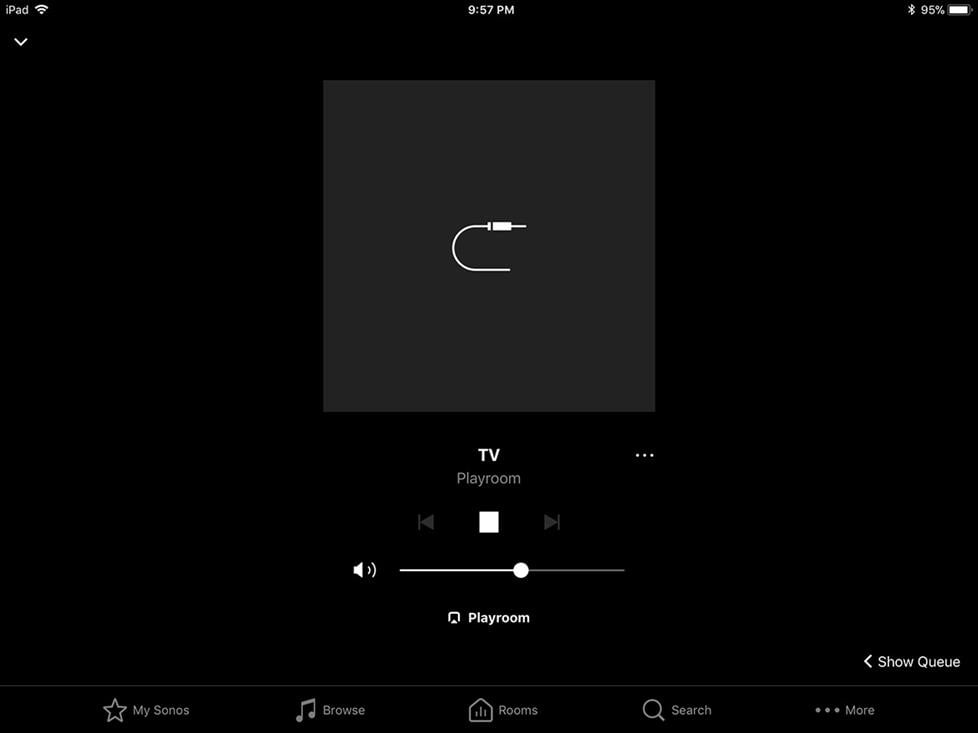 Sonos's iPad app is clean and easy to use.
What's in it for me?
The big win for me, using this Sonos hack, was that I got to keep my ideal stereo system in my favorite listening room. And when I select my TV as the source, the sound is much bigger, better, and closer to "home theater" than the sound from my TV's built-in speakers. That's especially true for deep bass, of which the Sonos SUB produces plenty, and which the TV's built-in speakers know nothing about.
I also find that this setup is awesome for watching concert discs or YouTube music videos. In fact, one really cool unforeseen upside: I can call up a YouTube music playlist using my TV's built-in smart app, and send that music all around the house to Sonos speakers in different rooms.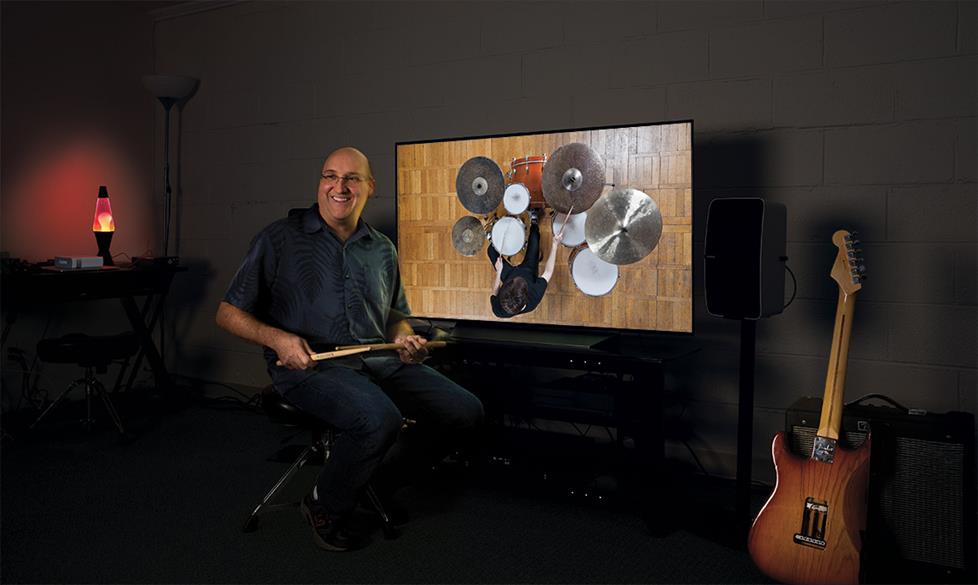 Sometimes the best TV sound system is the one you already have.
How about you?
Do you use a Sonos 2.1 system for TV sound? How is it working for you? We'd love to hear about it.