Building a new house? The pre-construction phase is the perfect time to plan your whole-home audio system. Our corporate sales account manager Mark knew he wanted in-ceiling and outdoor speakers throughout his home. So when he set out to build his new house last year, he planned and built his audio system right along with it.
Here's a look at Mark's construction to show you how to plan your own system before you build.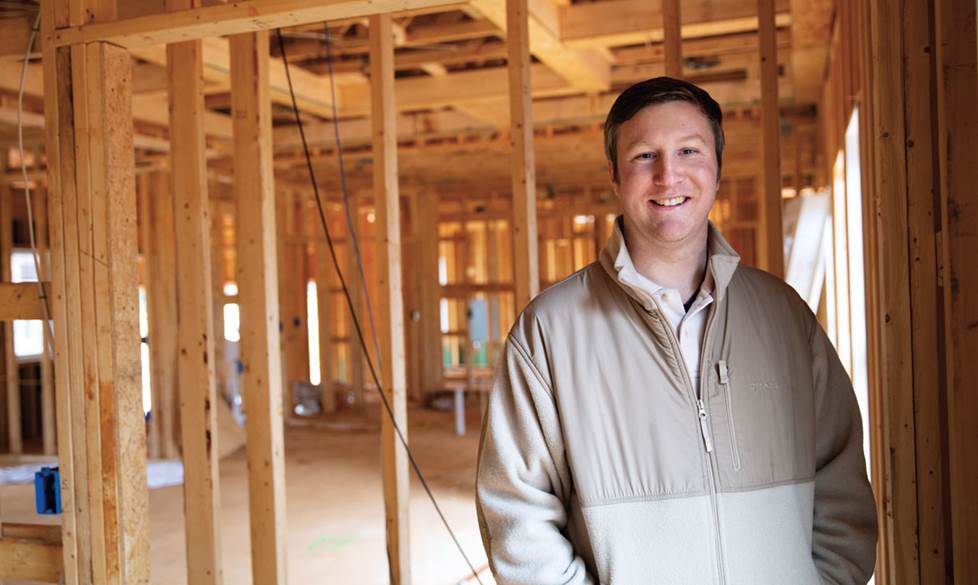 Mark started planning his A/V system before his construction began. "It's a lot easier to run wires everywhere before the walls go up," he told us.
Step 1 — Decide where you want music
A lot of people wait until their new house is built to decide where they want to put speakers. But if you plan before construction starts, you can choose the perfect locations for all your speakers. And it's a whole lot easier to run wires to them before the walls are in place!
After finalizing the blueprints for his house, Mark and his wife Brittany began planning their system. "We wanted to agree on where we wanted sound, how we wanted to control it, and then wire everything accordingly," Mark said.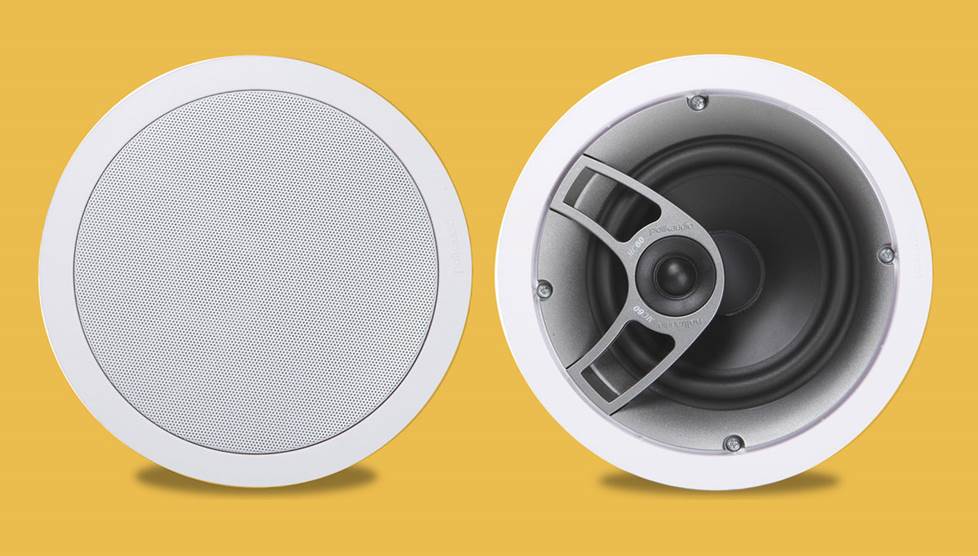 The Polk MC-60 in-celing speakers that Mark chose are a Crutchfield customer favorite for sound quality and affordability.
They decided on one pair of Polk MC60 in-ceiling speakers in the basement, one pair on the front porch, and one on the screened back porch. And for the master bathroom, they chose a stereo input speaker — a space-saving way to get two-channel sound from a single speaker.
For the back patio and out front by the garage, they chose two pairs of Polk Atrium6 outdoor speakers. "I like them because they have big woofers for more punch," Mark said of his outdoor speakers, adding that it's great to have tunes pumping by the basketball court and out back.
Step 2 — Choose gear to power and control your system
In-ceiling and outdoor speakers need power. So you'll need one or more amplifiers to hook them up. Mark chose a single 12-channel AudioSource amp that could direct power to all six of his in-ceiling and outdoor speaker locations.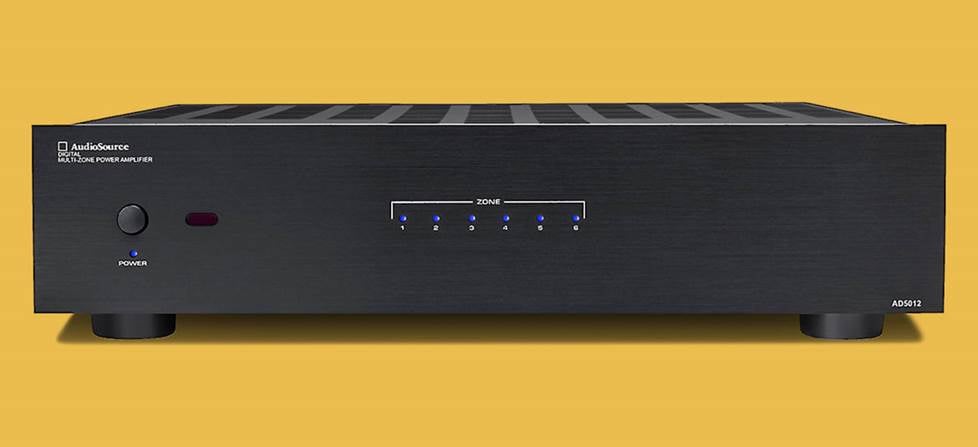 Mark's 12-channel AudioSource amplifier can power up to six pairs of speakers simultaneously.
Now that he had his speakers and amp picked out, Mark needed a preamplifier to add music sources to his system. He wanted to play Spotify, Pandora, and internet radio stations throughout the house from his phone. So he chose the Yamaha WXC-50 streaming preamp.
The WXC-50 uses Yamaha's MusicCast wireless multi-room audio platform to stream music through all of Mark's in-ceiling and outdoor speakers. "I've always been partial to Yamaha for sound quality and reliability," he said. He also mentioned that the MusicCast app is easy to use.
Mark also has MusicCast equipped Yamaha receivers in his home theater and basement surround sound setups, so he can use the MusicCast app to control everything at once.
Step 3 — Decide where your control center will go
Next, Mark had to decide where to put the amp and preamp. "We decided to put the gear in the basement so it was out of sight, and away from the kids," he explained. They had planned to build a closet under the basement stairs, which would be the perfect location for a rack to house the control gear.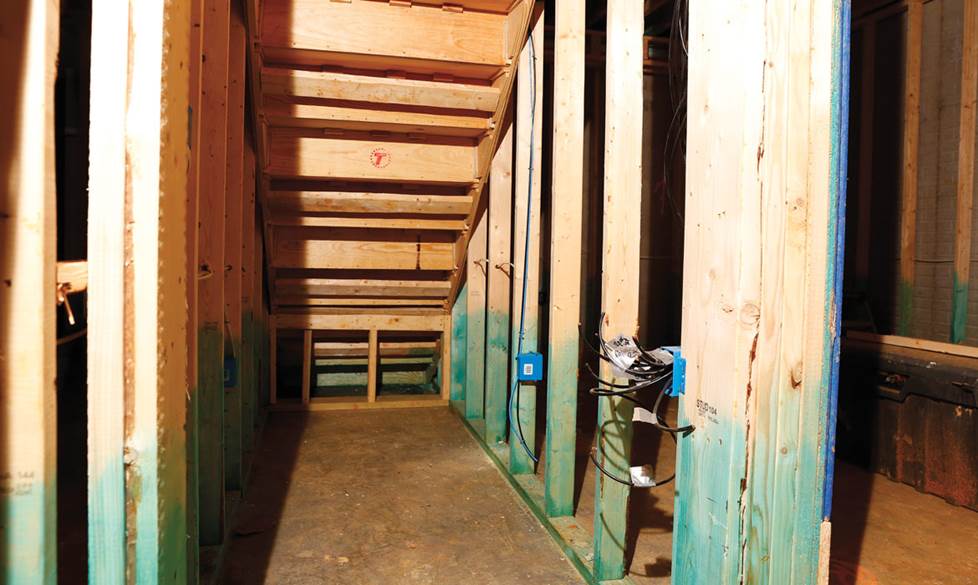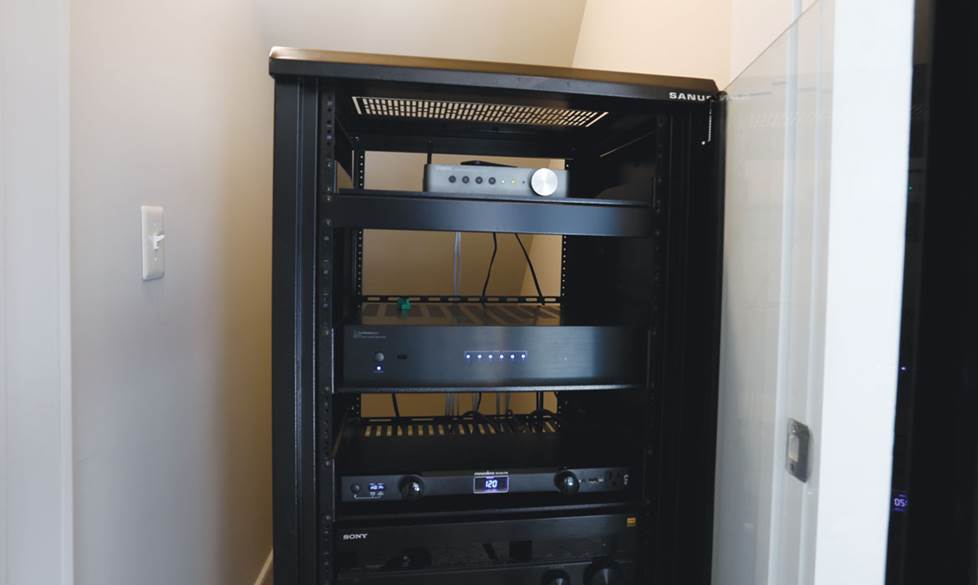 Step 4 — Run wire and install speaker brackets and volume controls before drywall goes up
Before walls go up, run all the wire you think you might ever need! Once the framework for his new home was in place, Mark ran more than 1,000 feet of speaker wire to the speaker installation locations, all leading to the basement closet where he would later install his amp.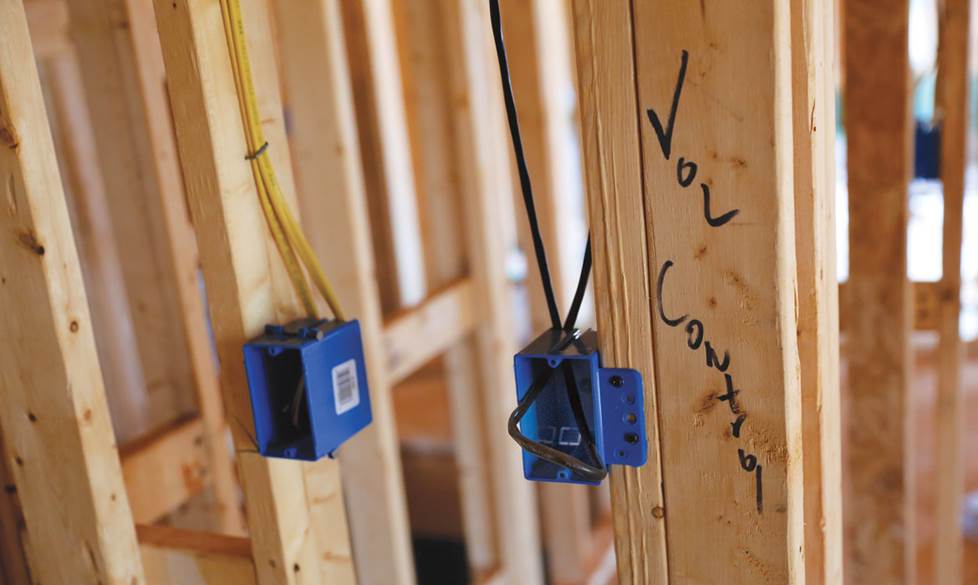 Mark installed his volume control boxes prior to putting up drywall.
Though Mark wanted to control the system with his phone, he decided to run his speaker wire through volume control boxes in each room. "We wanted volume controls in case the internet ever went out," he said. "It's not the best in rural America."
Mark also installed preconstruction brackets for the ceiling speakers. These brackets help pinpoint the exact location for each speaker and make installation easier. They have wings that can be attached to the framework with screws, staples, or nails.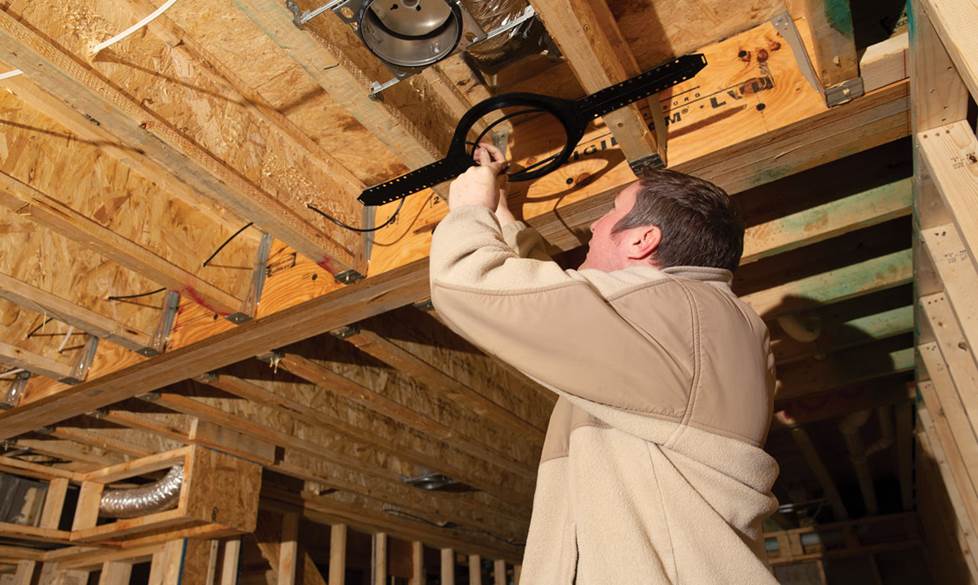 Preconstruction brackets simplify your in-ceiling speaker installation. Here's Mark pulling speaker wire through a bracket in his basement.
Once the wire runs were complete and the brackets and volume control boxes were in place, the drywall went up. Then Mark installed the speakers and volume controllers.
The finished product
When we visited Mark after the house was finished, he had music playing everywhere. "I'm really happy with how everything sounds," Mark said. "For get-togethers, it's nice to have music playing throughout my house that's easy to control."
Need help figuring it all out?
There's a lot to consider when shopping for whole-home audio gear. If you need personal advice, our expert Advisors are happy to answer any questions you might have. Contact us today.